Mousse 74 TIDBITS
Shady Optics: Kayode Ojo
Close
1
2
3
4
5
6
7
8
9
10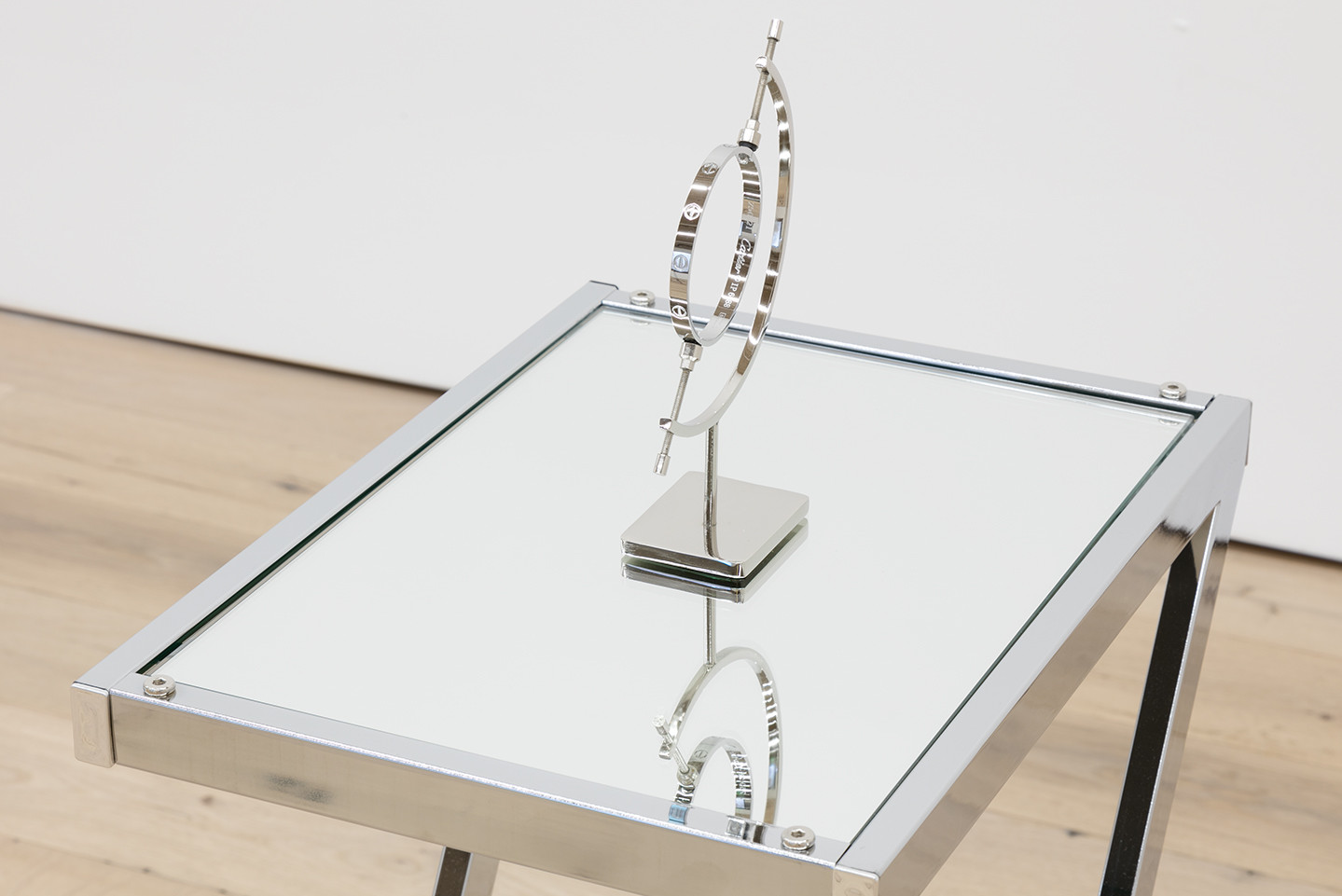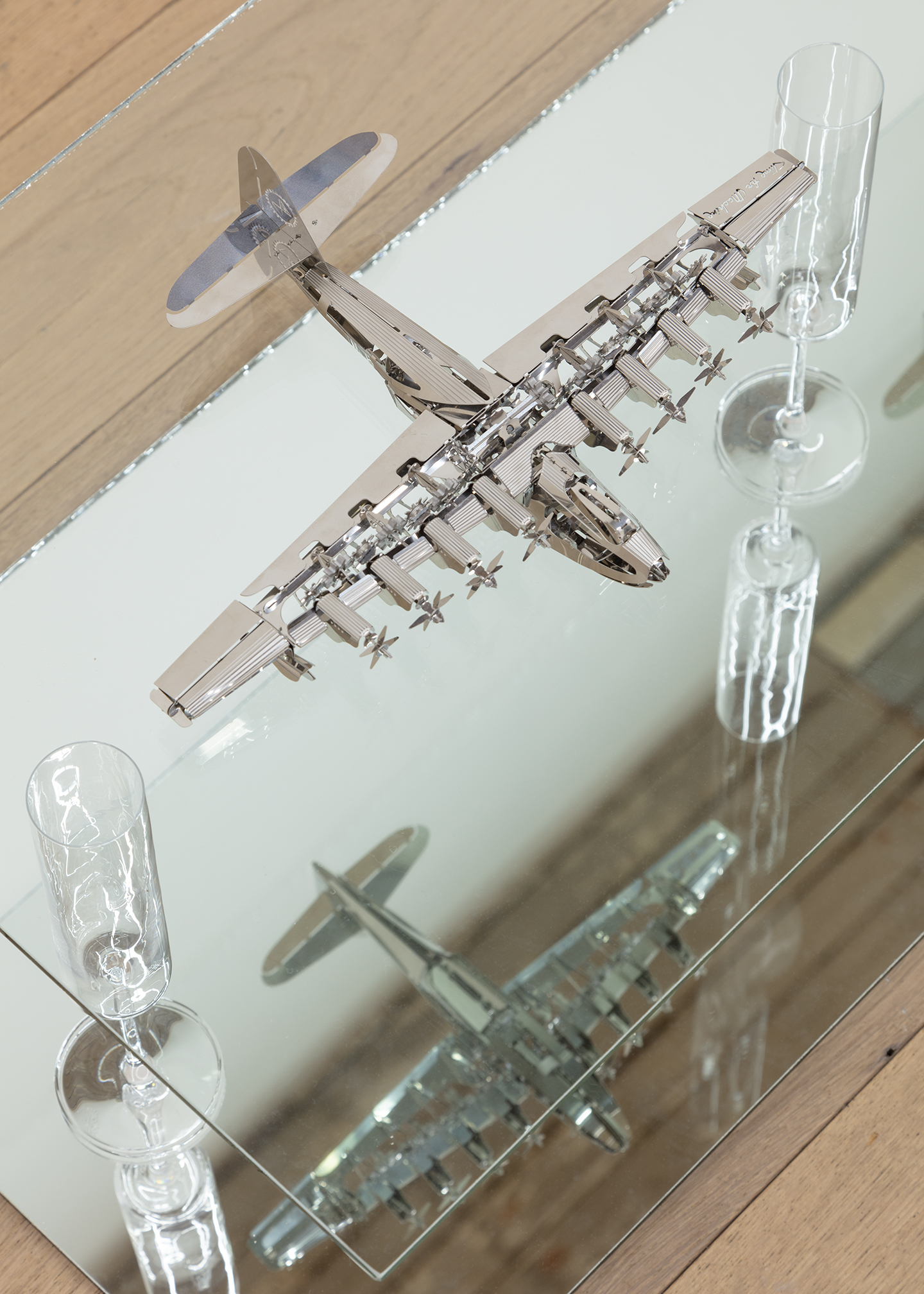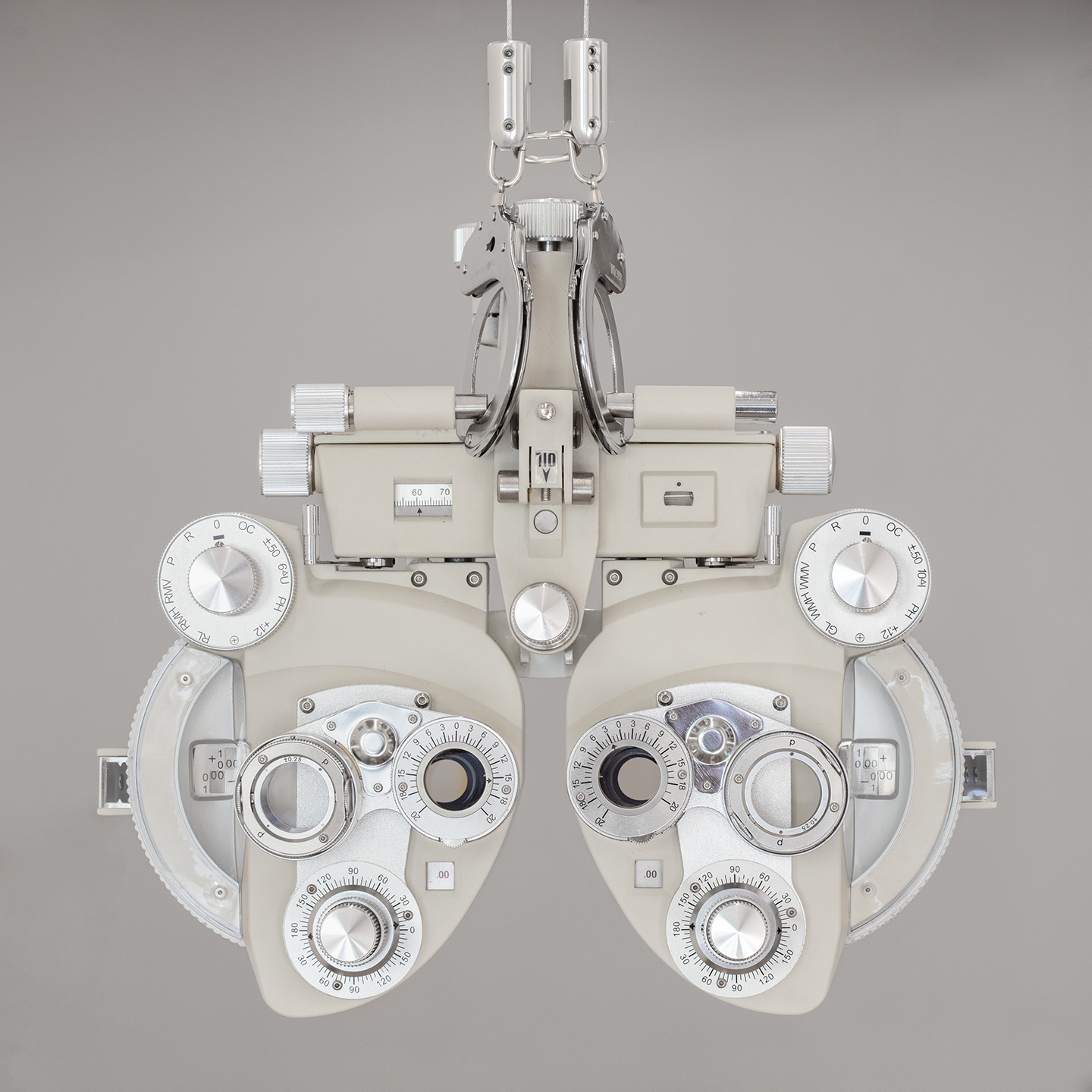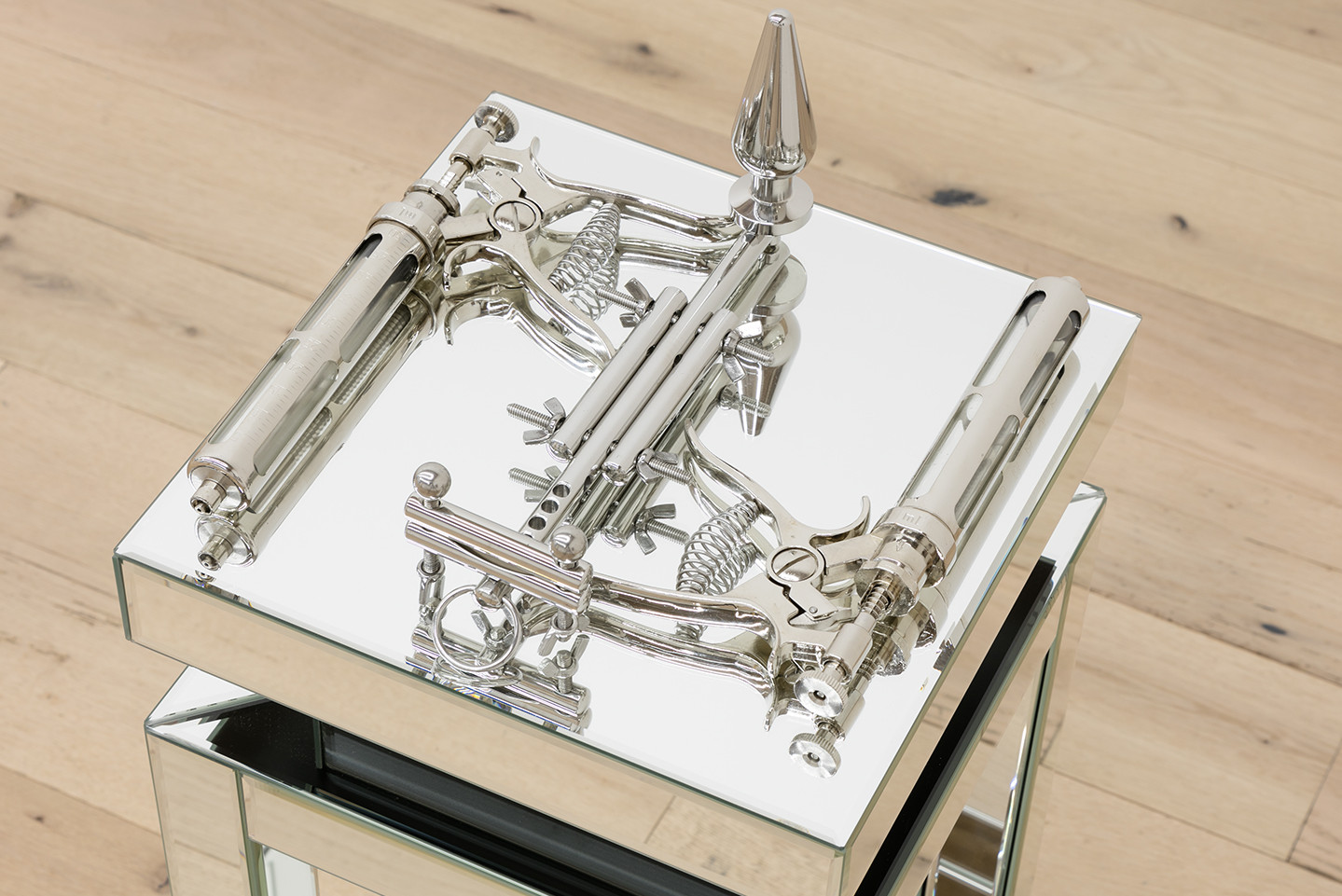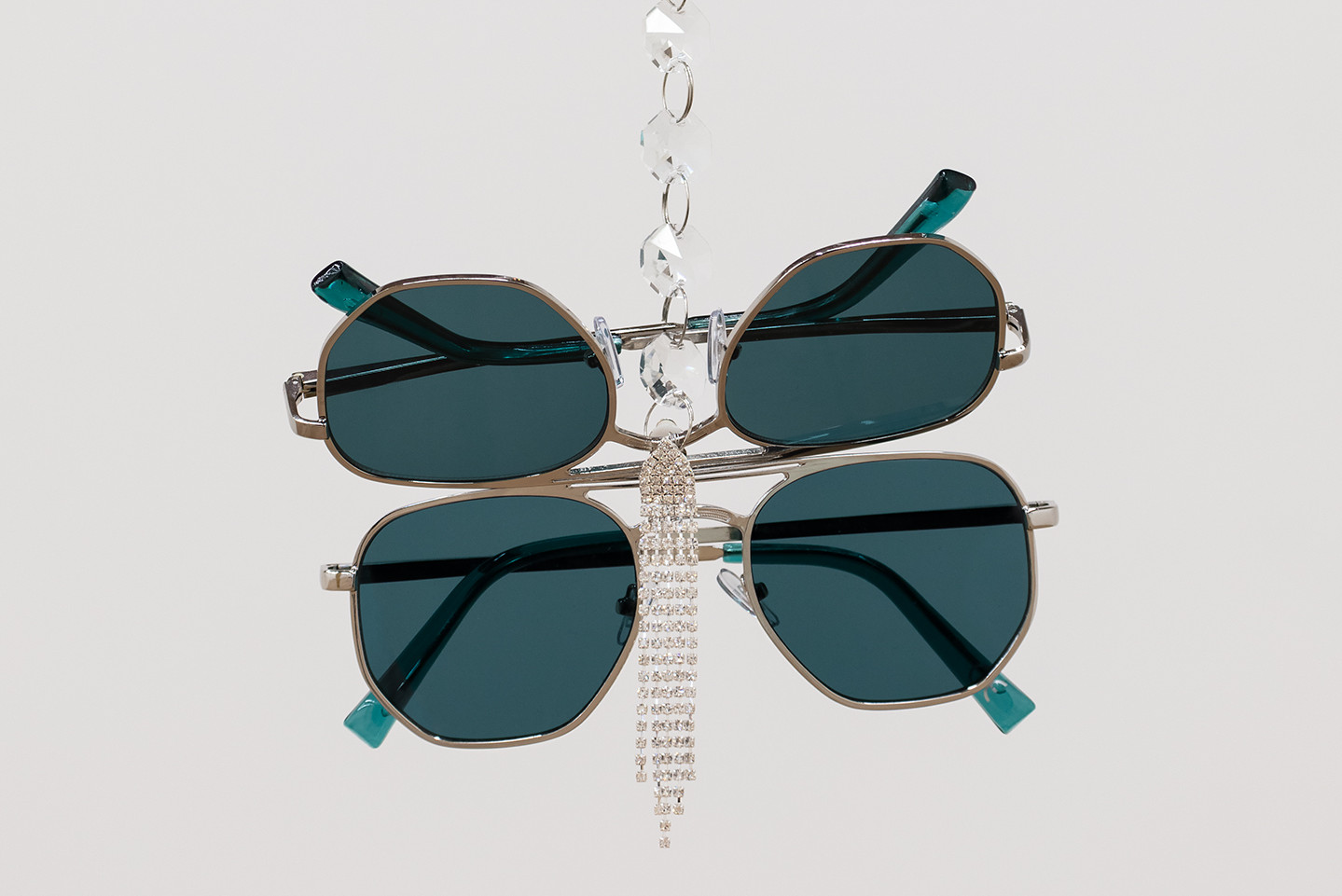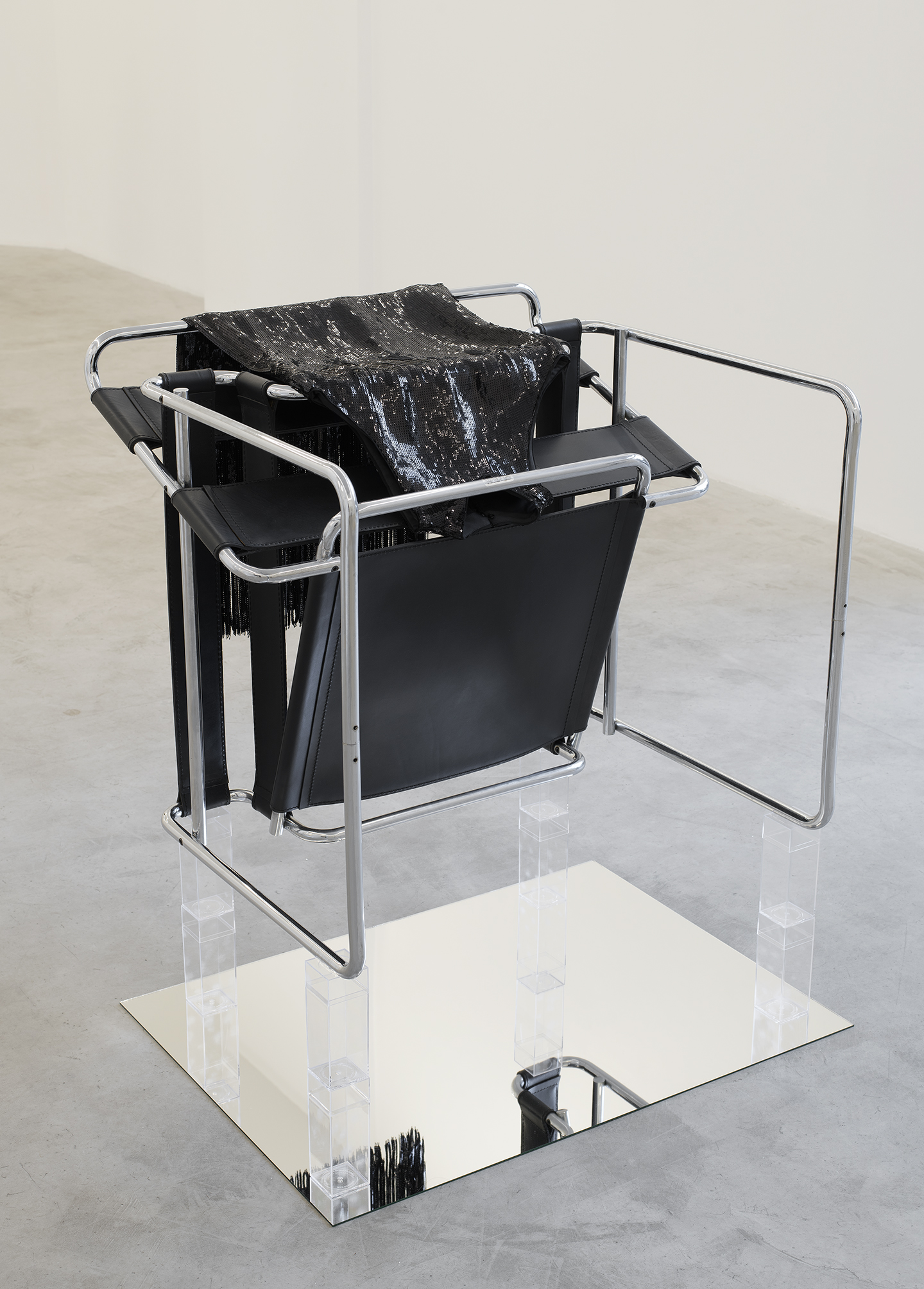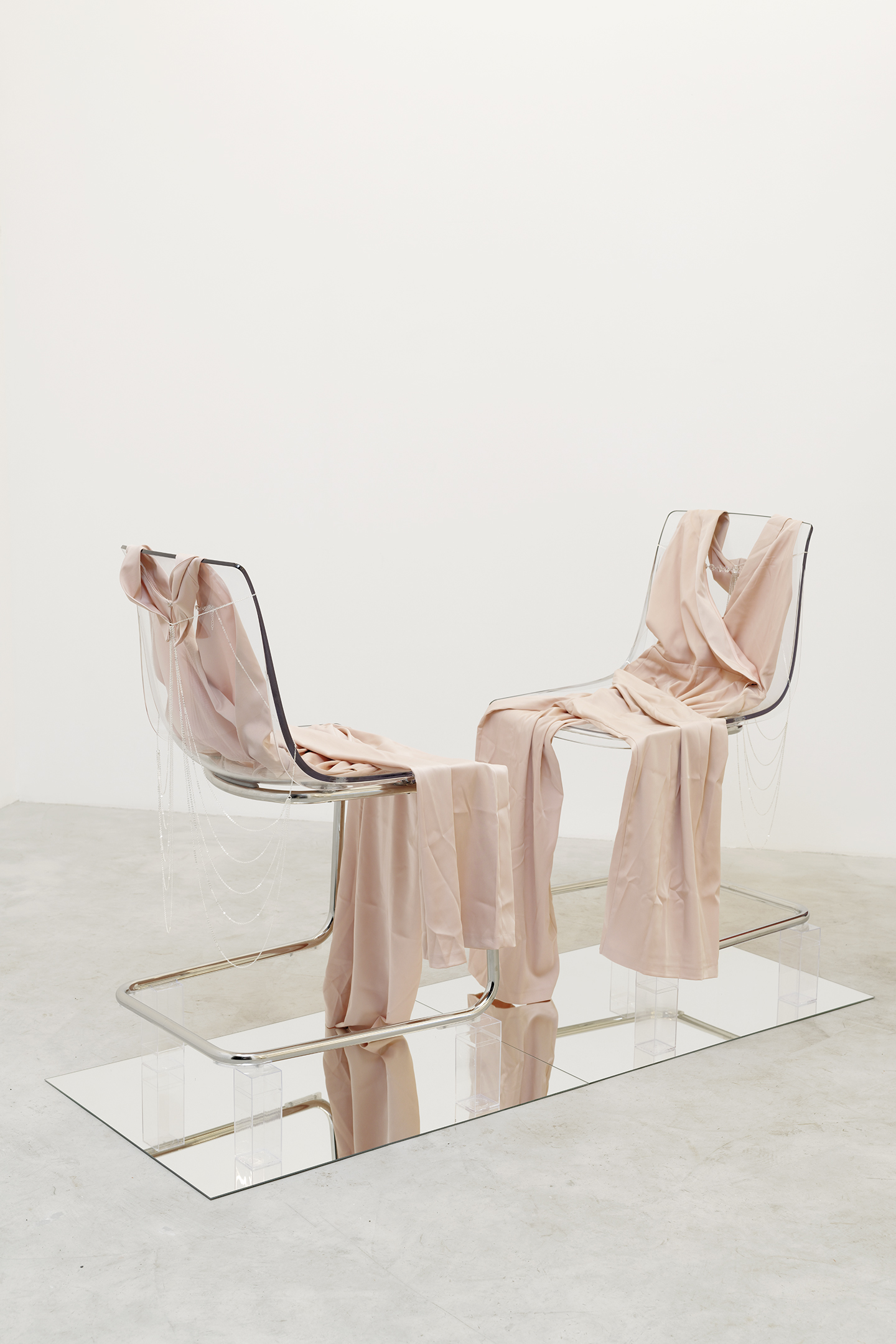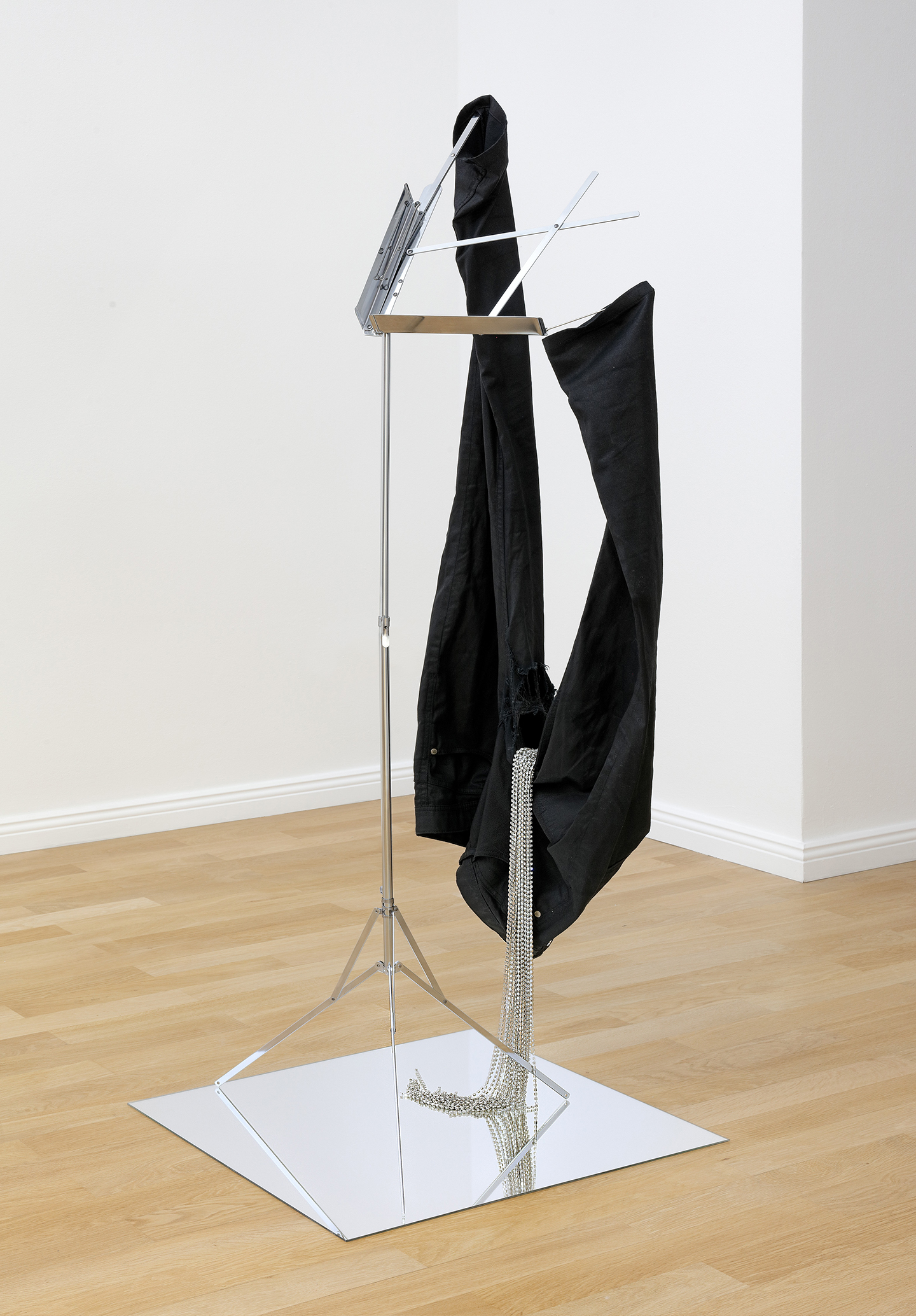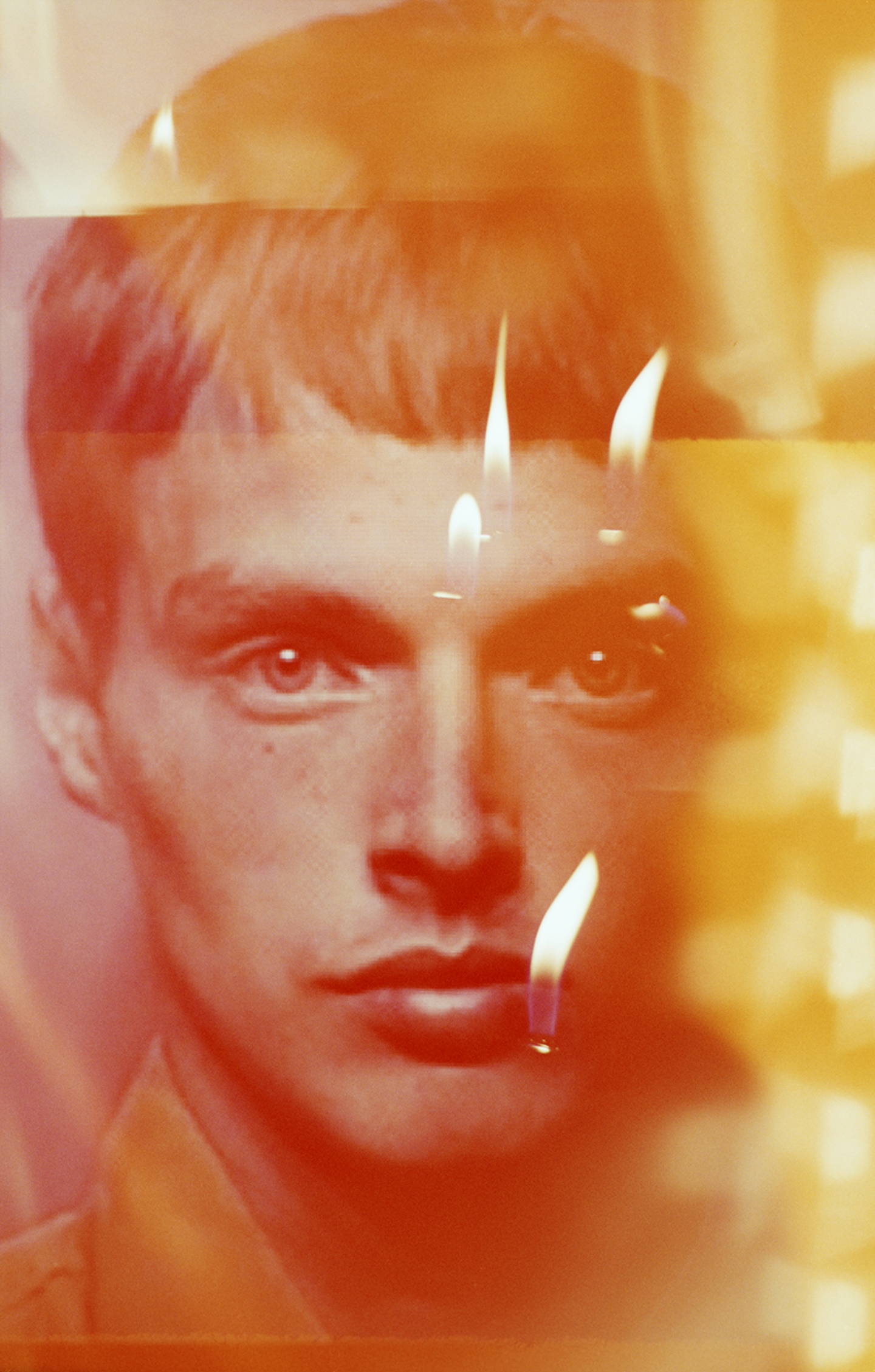 by Alex Bennett
That which shines manifests absence in the very moment it beckons attraction—which is to say, shine bears a subtext of duplicity, its essence distraction. Its values, however, are adamantine: celerity, surface, artifice, effect, projection. Steel, glass, Perspex, crystal, rhinestone: Kayode Ojo's sculptures involve such materials that mobilize or depend on visual attention. In assembly, however, these instruments, garments, and ornaments, extricated from their original optical economy, focus a clinical dissection of perception and seduction.
Aqueous, metallic, lustrous, and glossed, Ojo's materials attend to surface and superfluity. The seductive is always a diversion from something else, and it is this intrinsic lack that enables the process of seduction to be entirely mercurial. The hardness of shine: bedazzlement, blinding, blaze. Ojo returns to the viewer this lack that would otherwise be veiled, using throwaway excess against itself. Diamanté waterfall necklaces, faux-fur coats, sheeny body-cons, faux modernist furniture, polished ornaments, onanistic devices—Ojo's interest in such inexpensive objects concerns the values they impress upon subject formation as well as tracing the absorptive tactics of fetishization, applying a kind of counter-radiance as a stratagem to distort identitarian imagery.
In its glitzy crush, its louche and velveteen tenebrosity, its glacial and glittering display, the work interrogates the prismatic complex of optics: its technical particulars in photography, its bewitching modality in seduction, its bitter visibility and standardization in identity politics, and its metaphoric influence over political analysis. Ojo's sculptures undergo a rigorous auditioning of material and are photographed from multiple angles to ensure that the result is a clarified articulation of placement. Pose and presentation: construct is its cornerstone. Counterfeit Cartier Love bracelets, for instance, ordinarily encircle your lover's wrist with binding screws, but in Echo (Cartier Love Silver) (2018) the bracelet functions without sentiment as a quasi-sundial glinting with obsolescence, granting a knowing look to Cartier's wellspring of obscene, glammed confinement. Despite a conspiratorial mood and considered makeup, frailty scintillates in the works' nullified fetishistic adherence: champagne flutes are precarious supports, for instance, and silver music stands, propping up upturned jeans, teeter on collapse. And yet, in the perfect spillage of body chains from torn crotches, in the flawless drip of waterfall rhinestones, there's opacity, resistance.
Much like a narrative one tries to control or a representation one endeavors to own, however, efforts are compromised by the very thing that has not been made visible. Or the object or representation may signify too much, may speak in excess of the subject. Say, "I'm fine": nondescript, vacant, attracts all kinds of projections. Sometimes the most hidden things are the most obvious. I'm Fine (2018) features stainless steel revolver/syringes and a male chastity system on a mirrored pedestal table. In presentation, these objects fluoresce with an aura of extravagance, frosty utility, or hardcore evidence. In deconstruction, they are almost wholly adjectival and hold a mirror to the imagination.
A phoropter is an ophthalmic device typically employed to test eyesight. In 5'11 (2020), it is suspended by wires from the ceiling and connected to a pair of gleaming handcuffs draped at its crown. Two protruding nodes border the lenses, themselves barnacled by a sinister array of silver dials. The piece, featured in Ojo's solo exhibition Aviator at Martos Gallery, New York (2020), is a kind of failure. Its machinery appears eminently futile against the onslaught of technic, algorithmic, and ideological distortion that warps contemporary perception. Accentuating the object's naivete are the costume manacles that adorn it, branded for "Police Kids Role Play."
Ojo's scrutiny of commercial and political duplicity—as well as cinematic betrayal—lends his work a deceptive sumptuousness and enticing narrative potential, gently underwritten by his references to stage-to-screen adaptations. These films of interest involve a kind of fatalistic exposure draped in glamorous conspiracy, whose loaded symbolism and racial and gender bias determine the ensuing redemption, lionization, or downfall. In Aviator (2020, titled after Martin Scorsese's 2004 Howard Hughes biopic starring Leonardo DiCaprio), the pilot is wounded hero, sheltered innovator, gilded genius; in Flight (2012) meanwhile, a pilot (played by Denzel Washington) crash-lands a plane, saving nearly everyone on board, but might have been drunk. Selective vision may add polish to legacy or cauterize achievement. Aviator parallels moments of such construction: a "SlayStation" vanity table presents three pistols under glass like fetish-artifacts. The stylization of violence perversely meets self-preservation, but the guns seem almost neutral, as if their weaponization exists beyond them, determined only by the racialized body.
For Natural Selection (2012), Ojo recontextualized a Tumblr account that featured mug shots of exclusively Caucasian men which the account owner coveted to provide, as Ojo quotes of the now-shut-down account's owner, a "challenging [of] the stereotypical image of the criminal."1 Upon discovering other mug shot archives featuring cataloguing systems based on convicts' features, Ojo angled the source's original fantasy to a different end, choosing Aryan ideals figured in athletes and actors, ready to become "new faces" for Balenciaga, Calvin Klein, and the like. Each portrait has been exposed to light, with lambent flames photographed over the images. White prisoners afire: an apparition; a seducement; the effects of fetish just like a game of smoke and mirrors; a ripening assimilation at once uncanny and institutional if on trend. Versatility, they say, is what "makes" a face. Although like everything, apparently, it simply depends on your point of view.
[1] See: http://kayodeojo.com/natural.html. 
Kayode Ojo (b. 1990, Cookeville) lives and works in New York. Recent solo and two-person exhibitions include The Aviator, Martos Gallery, New York (2020); Never Been Kissed, Praz-Delavallade, Los Angeles (2020); You dressed him like me?, Via Durini 24, Milan (2019); Equilibrium, Martos Gallery, New York (2018); Closer, Sweetwater, Berlin (2018); Betrayal, Balice Hertling, Paris (2018); Kayode Ojo, Zoe Leonard, Paula Cooper, New York (2018); and Running on Empty, And Now, Dallas (2018). Kayode will have a solo show at Sweetwater, Berlin in 2021.
Alex Bennett is a writer and critic based in London. He is coeditor of Tinted Window, and has been published in magazines such as Flash Art, Art Monthly, and The White Review.