ESSAYS Mousse 15
The Control and Drama of Form: Kitty Kraus
Close
1
2
3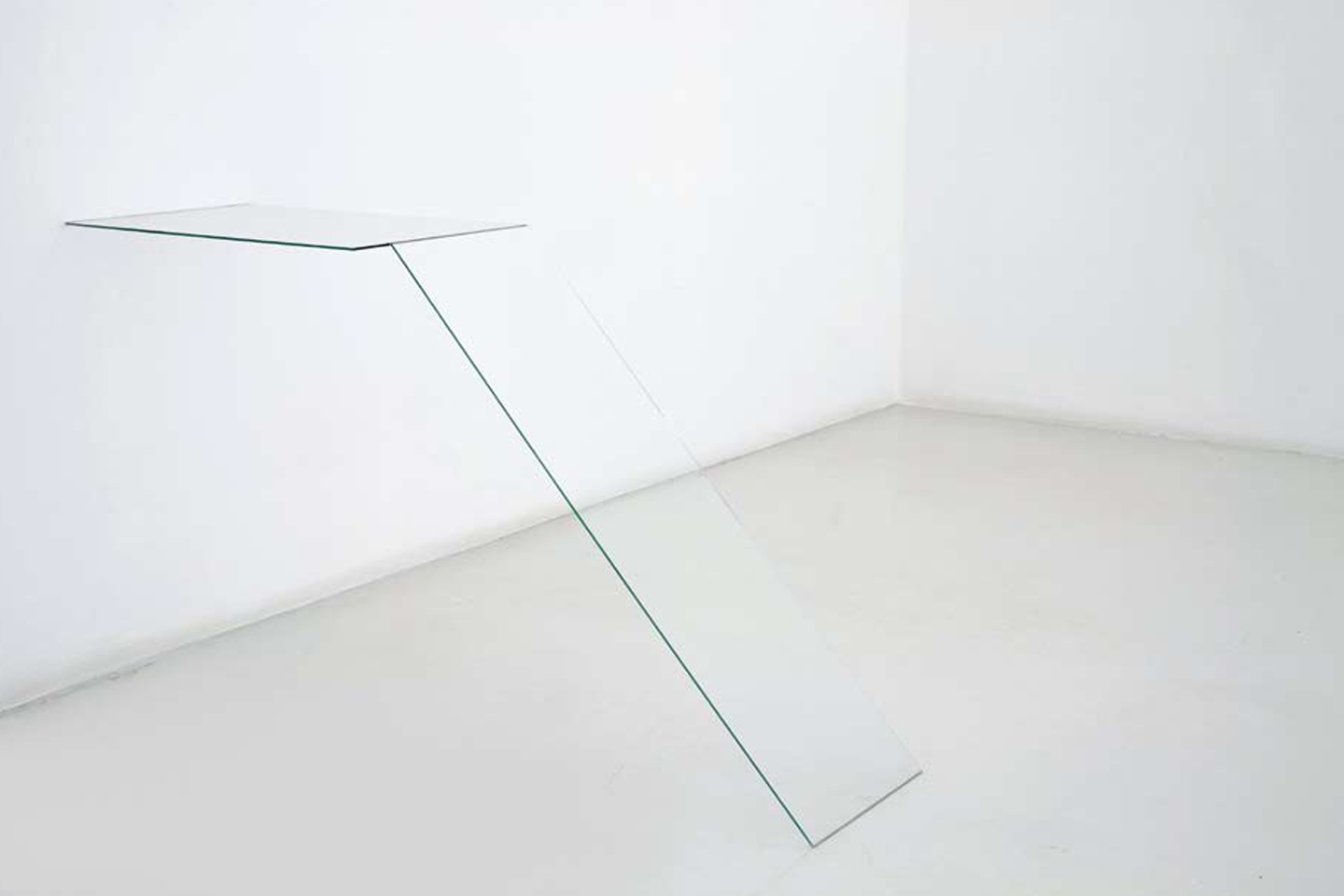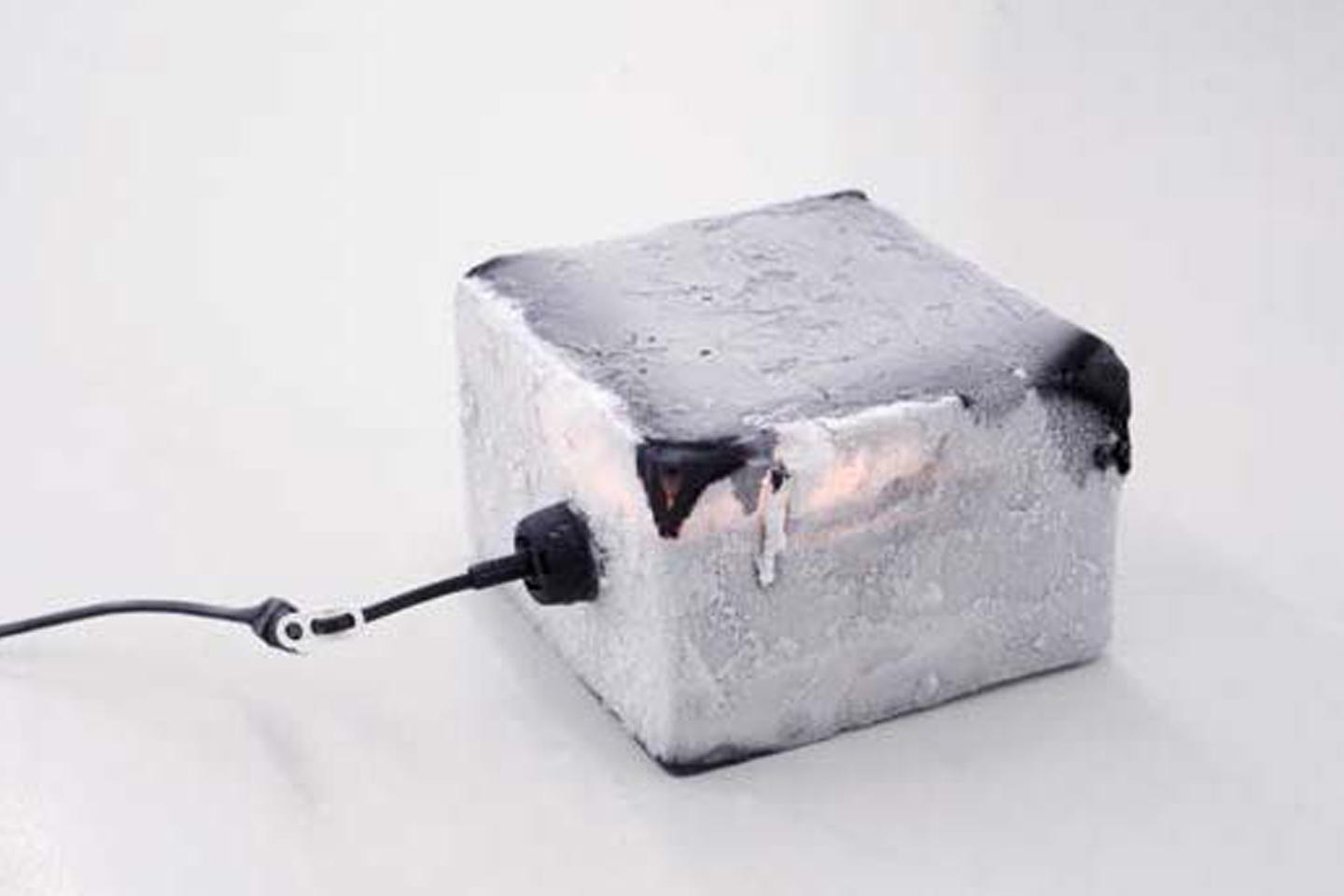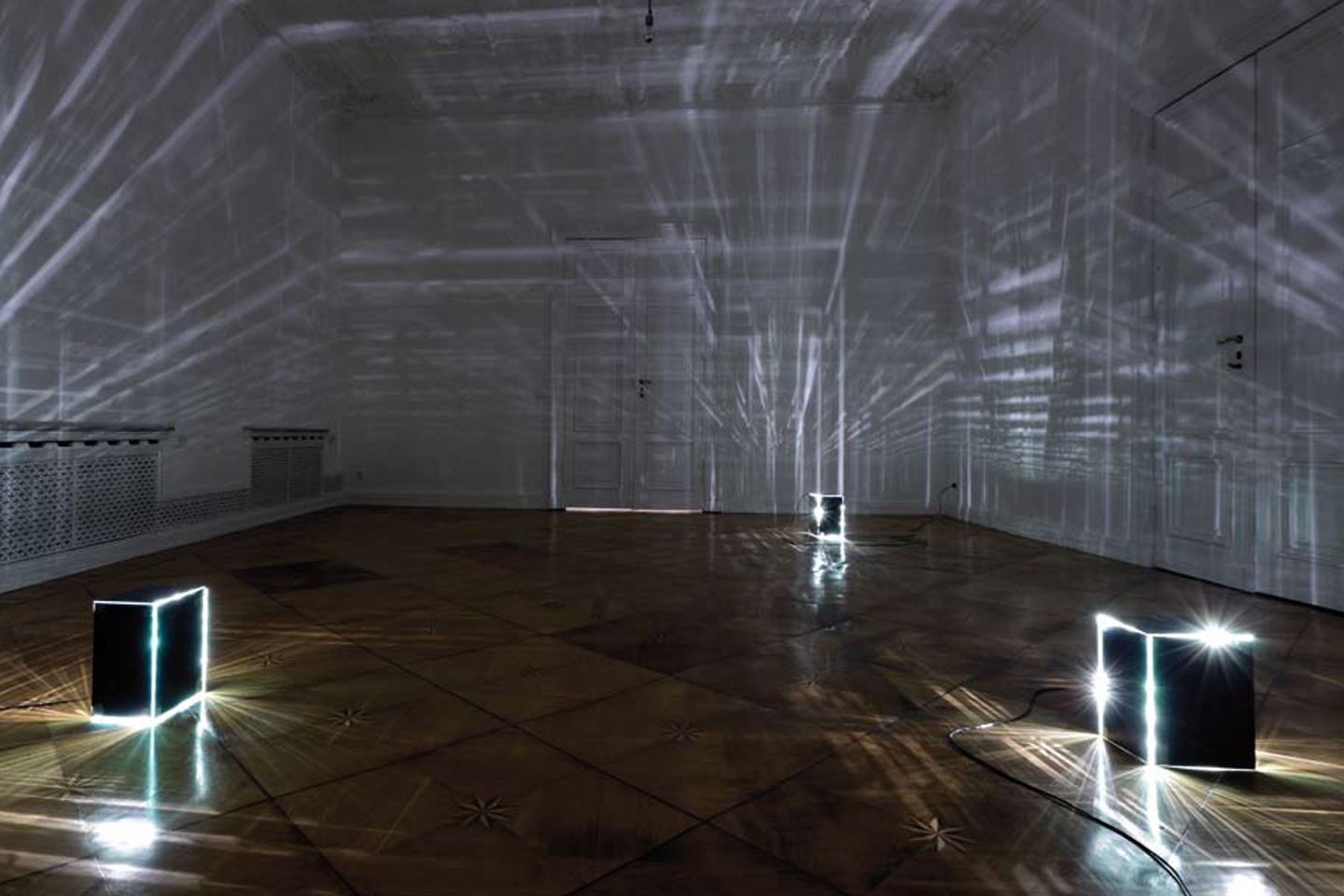 by Gigiotto Del Vecchio
Kitty Kraus takes a fresh look at Minimalism and Constructivism, with a goal that is only apparently perverse: to demolish an orderly world. But hers is merely an attempt to reinterpret history through emotion, to undermine and shake off dogma, to reveal the political subtext of form. Glass, ice, vessels of light and color, explosions and liquefactions—instabilities that mirror the growth and fragility of living organisms, the longing for perfection, and a failure that turns into poetry. With an across-the-board exploration of the most subversive, cerebral work of various moments in recent art history—from Serra's "splash works" to Blinky Palermo's fabrics, by way of Nauman's corridors and through Pistoletto's Cubic Meter of Infinity—Kraus selects forms that evoke bodies and physical threats. Gigiotto del Vecchio shines a neon light on the thicket of her cultural references.

The history of modern and contemporary art has tried to establish rather inflexible rules in addressing genres and languages. Conceptual art did not try to tell a story; Expressionism eviscerated emotions; political art expressed a cause; Minimalism was form and aesthetic intellectualization. But now, for several years, we have been seeing a spontaneous questioning of the dogmas and potential stereotypes in which we have tried to fit artists and the making of art. The fusion of styles and compositional freedom have defined the work of many who assimilated examples from the past and brought them back in a completely personal manner, freed from all conditioning.
One of the issues reflected upon over the last decade involves repositioning Modernism in society and contemporary culture. Form becomes a passage: no longer made of mere geometric shapes, it is now a possible mediation for emotion, a metaphor for a dimension of life that is taken in and returned, that touches and upsets. We are in an era in which, despite discoveries and social advances, we seem to feel a need to look to the past in order to understand what is happening and will happen. The more conservative among us, who champion a cultural model that represents history alone, should be happy to see young artists offering aesthetic and political reflections that draw heavily on quotations, using past experiences to explore new territories of thought and form. The debate continues, putting the dogmas of history to the test, inverting their convictions and their seemingly steadfast points.
Kitty Kraus is a German artist, born in 1976, winner of the Blauorange Art Prize in 2008. She implements a kind of subversion, seeking, from an existentialist political perspective, to create a metaphor for the possibilities of structure and form, and their related tradition. Death, life, growth, alchemy, and magic come into a space that chooses to express itself through minimal, carefully considered actions, and tries to open the stitches of a world that would otherwise be caught in a one-sided vision, perhaps due to too much historical dogmatism. This is a kind of Minimalist narrative, a need for repetition and aesthetic order, making it possible to recount the essential steps in conceiving the creative and existential act. Michelangelo Pistoletto's Cubic Meter of Infinity, Richard Serra's sculptural abstraction, Kasimir Malevic's geometric avant-gardism, are a few of points of departure (and arrival). They are an engine that starts up because of history, a history that is still in motion, that still offers a chance of being reinterpreted and retold. In the '90s, a series of works used the intellectual potential of Conceptual art to open new possible worlds. In Germany, Isa Genzken used stereotypes of structure to reactivate this potential. A block of cement was equipped with radio antennas, creating a narrative open to the possibility of merging what was with what is, history with the personal experience of the present. Today we have moved beyond the inflexibility that required Conceptual art to adhere completely to scientific, almost mathematical processes; the inflexibility which in the 1960s and 1970s pit Sol LeWitt against John Baldessari—one the proponent of non-emotional creative process, the other of the possible humanity of the artistic act.
Kitty Kraus seems to be in regular dialogue with the myths of Modernism, its formal convictions, its transcendence, and its optimistic faith in technology's utopian potential. The materials that Kraus uses—glass, ice, and light—are intentionally chosen to evoke a passage, a fragility that belongs to all of us, but that we too often avoid thinking about, perhaps out of the fear of verifying its existence. Yet Kitty Kraus does not take a moralizing ideological position. She uses her position as a method for developing a line of thought that, though open and universal, remains fully personal and individually poetic. Containers of color and light, bulbs that explode as the ice that binds them melts, glass panes that create forms and appear to merge with the walls that support them. These exercises in composition are clear attempts to implement a deeply rooted script, evoking the reflexive forays that formed the artistic and social experiences of Blinky Palermo (on the rational/ analytic side) and of Joseph Beuys (in the more political/poetic dimension).
This is Kitty Kraus's strength, her natural ease in implementing a mechanism of form and content, poetry and analysis. She starts from quotation, and looks to models that constitute a new, further possible line of thought. Oliver Koerner points out how, in 1921, Alexander Rodchenko maintained that every possible connotation of the line had already been determined. On the one hand, there is its meaning as an edge, limit, connection, and on the other its importance as a primarily element in the construction of every living being: "Both in painting and in any construction in general, line is the first and the last thing. Line is the path of advancement, it is movement, collision, it is facetation, conjunction, combination". It is this line that Kitty Kraus uses widely in developing every idea into a form, the line that takes on an almost sacred meaning, representing an almost absolute first sign. Whereas Rodchenko saw the line primarily as the first step towards construction, for Kitty Kraus the line moves in the opposite direction; it is a kind of rewind in which deconstruction is the process that is put into action, the motion that launches the subtraction and reduction of signs to render an ideal of the essential. This is the origin of a path that is intense and complex in intellectual structure, yet absolutely clean in manifestation.
Kitty Kraus launches a charge against a society that prefers a flattened landscape and offers mere surfaces. The Modernist mythology has been reduced from intellectual engine to boutique aesthetic, superficial and crass, reflecting a petit-bourgeois fashion system, a "do-it-yourself" culture that strips everything of its deeper meaning, reduces everything to a mere tool for entertainment. The charge is against a system that takes speed as the only way of existing, consumption as the only sign of a life, but that badly needs to take back its own time, a reflective time in which relationships can be reconnected. This represents a possibility that goes beyond the existential, into the realm of philosophy and culture, suggesting a way out and a capacity for refocusing attention. One of Kitty Kraus's most recent works is composed of mirrored cubes with a 500-watt bulb inside each. The reflected light is visible only on the outside edges of the construction. After half an hour, the bulb's heat causes the cube to explode. This act of violence is also a liberating force, an explosion of a form that suffers from constriction. Kitty Kraus opposes the control of formal operations with an experimental process, with this energy that makes simple elements, primary reactions, and "basic" structures uncontrollable in their trajectory.
Originally published on Mousse 15 (October-November 2008)