ESSAYS Mousse 15
Welcome to the Jungle: Klara Liden
Close
1
2
3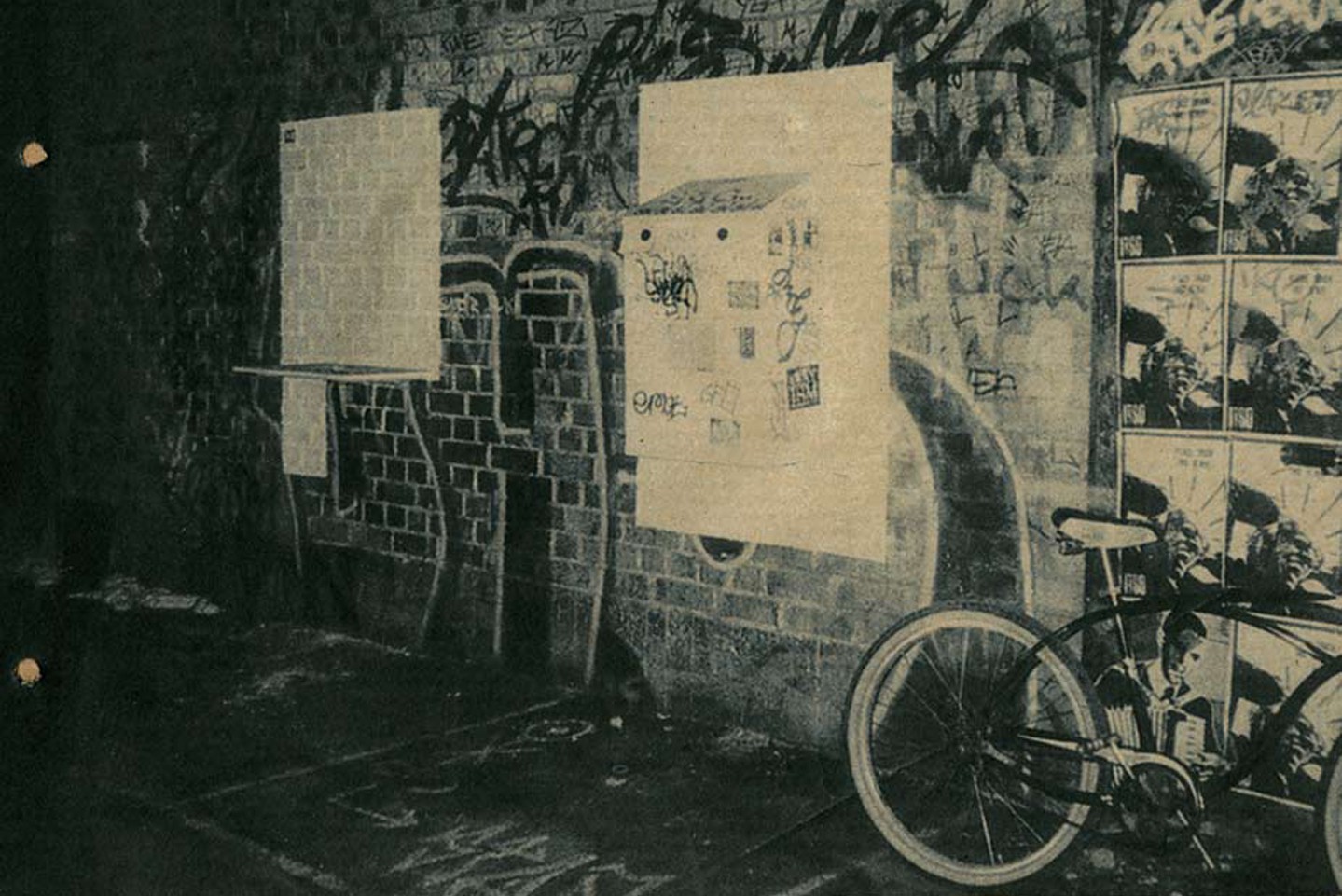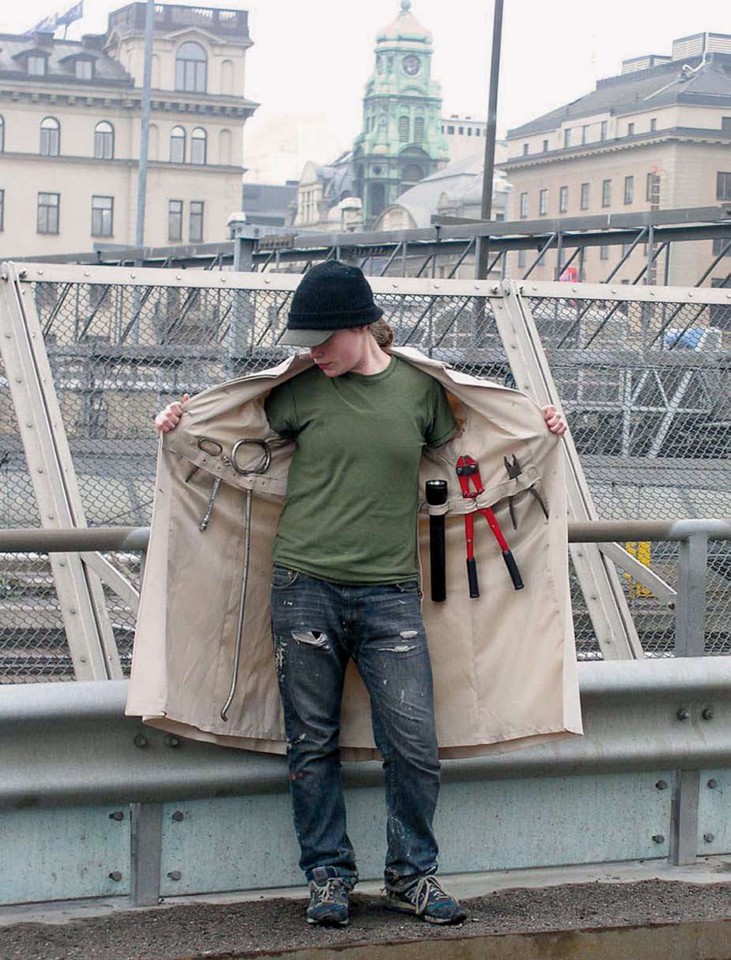 by Massimiliano Gioni
As the archeologist of an almost postatomic world, Klara Liden delves into the detritus of civilization, giving new life to the refuse of the streets in the form of ephemeral shelters. In the gallery housing her most recent one-woman show in New York, she built a lair for city birds that came in through the open window, amid heaps of furniture and gewgaws. Her work is also intimate, exploring the possibility of withdrawal and hiding, but then exploding into frantic, dramatic expressionism, as in the video where she performs a disjointed, anti-erotic striptease before stunned passengers in a subway car.


In one of her earliest self-portraits, Klara Liden adopts the pose of a sex maniac or a hawker of hot goods, her raincoat held open to show—instead of stolen Rolexes or something filthy—an armoury of pliers, wrenches, flashlights, and other burglary tools. It is a portrait of the artist as a young thief, armed with the keys to the city, as the title proclaims. Shot in Berlin, where Klara Liden lives when she is not stopping over in Stockholm or New York, the photograph speaks of an underground world of tunnels, shelters, secret passageways and break-ins—a clandestine world that seems to survive on the fringes of a civilization on the brink of collapse. It is a world where cities seem to be in a state of such near-total decay that shelters and lairs must be constructed for their rat-people. In Berlin, when she was still studying architecture, Klara Liden built a temporary house on the bank of the river Spree, without any permit or authorization—a house open to anyone who might need a roof or a refuge for the night. In Stockholm, Liden even ran a do-it-yourself postal service, personally committing herself to deliver letters free of charge to any part of the world—a week's wait, more or less, for a letter from Stockholm to London, up to a year for New York. Like Thomas Pynchon's The Crying of Lot 49, Klara Liden's postal system describes a parallel, vaguely paranoid universe in which one can ferret out secret connections between distant worlds. Like Pynchon's Tristero—the mail service that hides its postboxes in the trash—Liden's motto could also be W.A.S.T.E., given the obsessive way in which the artist recycles urban materials, turning them into rickety structures made of cardboard, pipes, and other scrap, even a few police barriers stolen from the street at night. For Klara Liden, the streets are a bottomless reservoir of inspiration and materials. Her most recent video – presented in the After Nature group exhibition at the New Museum – shows the artist walking backwards through a nighttime New York that is almost devoid of any human presence. Set within a cardboard construction, the video repeats itself in an endless loop, as hypnotic as a music box. For her latest one-woman show at Reena Spaulings, Klara Liden again built a lair, this time with plasterboard walls and heaps of old furniture. Hidden at the end of a long, narrow corridor, a dimly lit room echoes with the flapping and cooing of a flock of pigeons: on the other side of the wall, Liden threw open the windows of the gallery and made a shelter for the birds, who thus roam through the exhibit, as disoriented as illegal aliens who have just received a unexpected asylum permit.
What Klara Liden has created is an urban jungle, a degraded form of nature, as in Calvino's Marcovaldo, where people wrap themselves in cardboard blankets to keep warm and unnatural relationships are forged between parasites and hosts. But the corridor in this latest show naturally evokes the architecture of Bruce Nauman as well. Of course, it is an updated, adjusted version of Nauman that interests Klara Liden: made more ferocious—if such a thing is possible—less cerebral, as if invested with an even rougher, more primal existential power. Klara Liden's work isn't just a collection of speculations and syllogisms. Rather, one has the impression that the artist considers all this a matter of life or death, as if her urban projects and shelters had more to do with bums, outcasts, and jackals than with Sixties art, with Bruce Nauman or Matta-Clark. Klara Liden's work is post-atomic structuralism, environmental art for survivors, feral conceptualism, earth art taken to the streets. Creeping into her burrows or cardboard nests, you feel like a laboratory animal or a homeless person who has found a hiding place for the night. This may also summon up an involuntary recollection of Dieter Roth, at his most dark and anguished, in Solo Scenes (1997-1998), placing his entire life before the merciless scrutiny of the camera, to create an exploded portrait made from hundreds of hours and images; a river of the dullest days and most anguished nights of a weakened, haggard, exhausted man, who tries to keep himself away from the bottle and find some kind of equilibrium in a house that has become a refuge, a chaotic labyrinth, a cave. In Klara Liden's work, this confessional aspect crops up again in her many video self-portraits, where the artist is caught up in strange scenes that are little chamber dramas, episodes of domestic violence, in which the artist films herself smashing a bicycle or slamming herself in the head, falling out of a chair or launching into a striptease in the middle of a subway car. There is something deeply Nordic in these scenes, an abyss of melancholy, of long winters, of cabin fever, that again calls to mind the solitude of Roth's last years, barricaded in his house in Iceland. And for Liden as for Roth, these rooms that serve as a setting for psychodramas—sometimes tragic, sometimes comic, always for the most part incomprehensible—have something deeply hallucinatory about them, as if they were mental locations, cubicles brimming with memories and visions, forgotten closets at the end of the mind's darkest corridors. The spaces where Liden's videos are set, like her installations built out of cardboard and street rubbish, are both apocalyptic retreats and sanctuaries for meditation, places whose boundaries trace the secret geography of our fears.
Originally published on Mousse 15 (October-November 2008)