REVIEWS
Laura Owens at Sadie Coles HQ, London
Close
1
2
3
4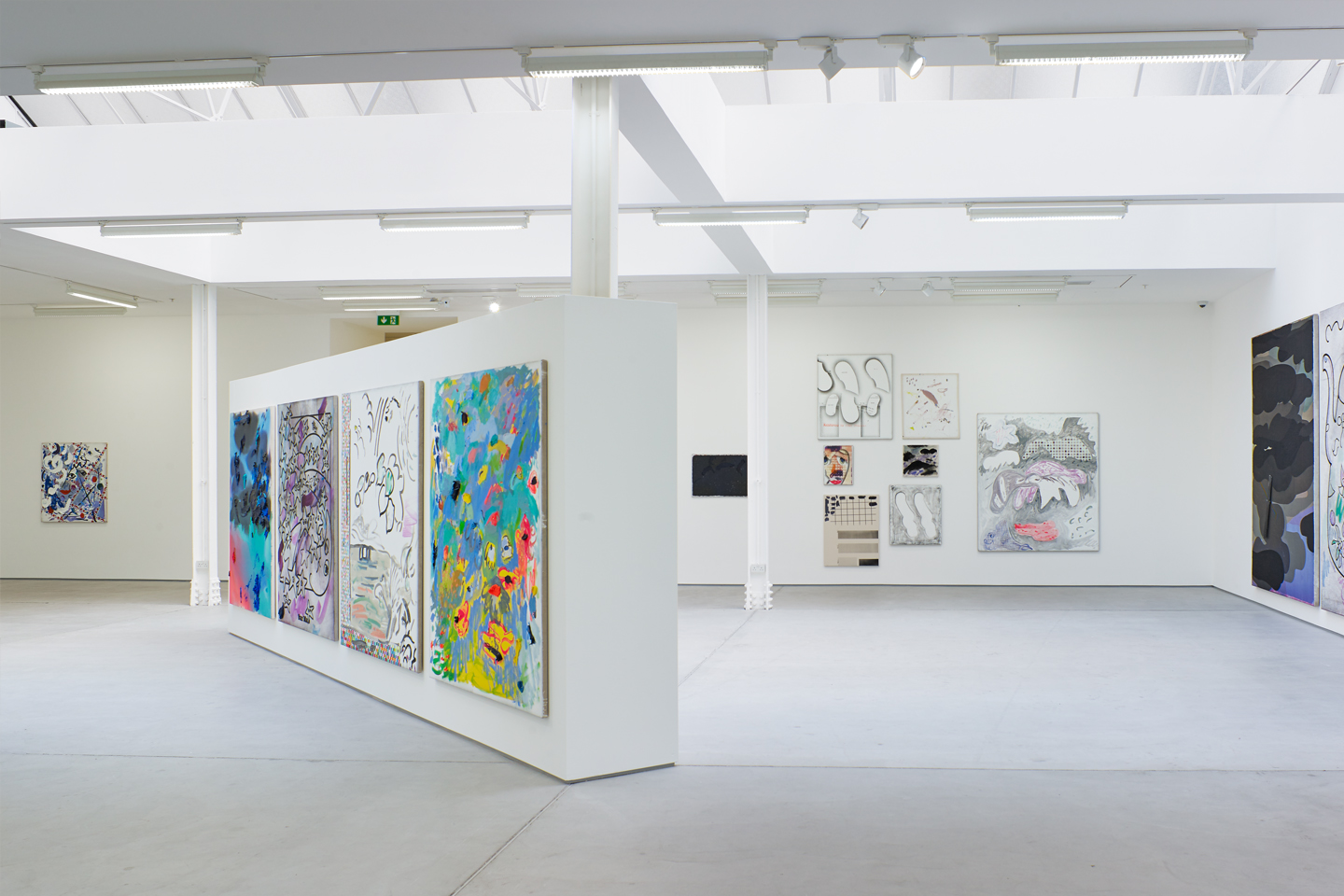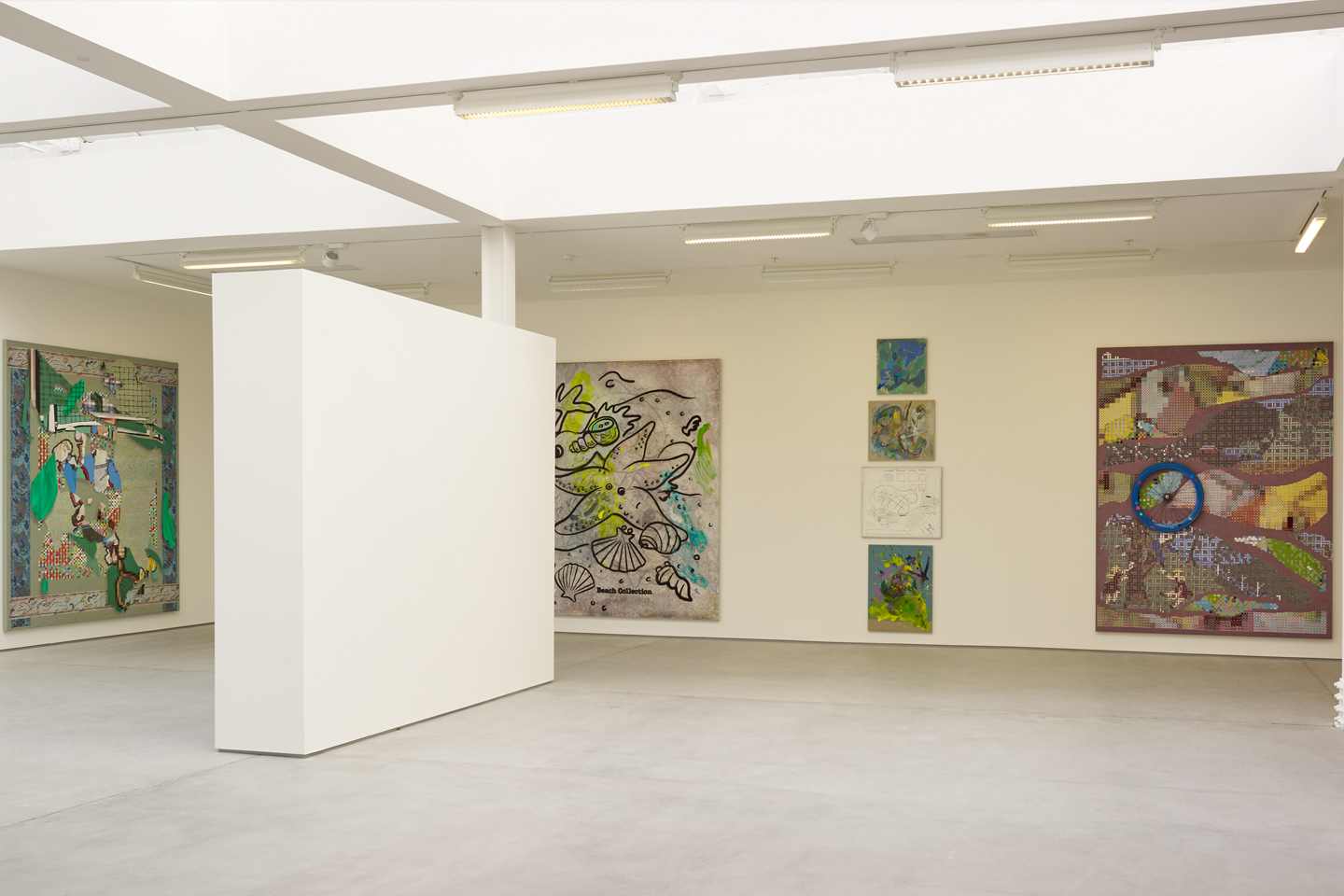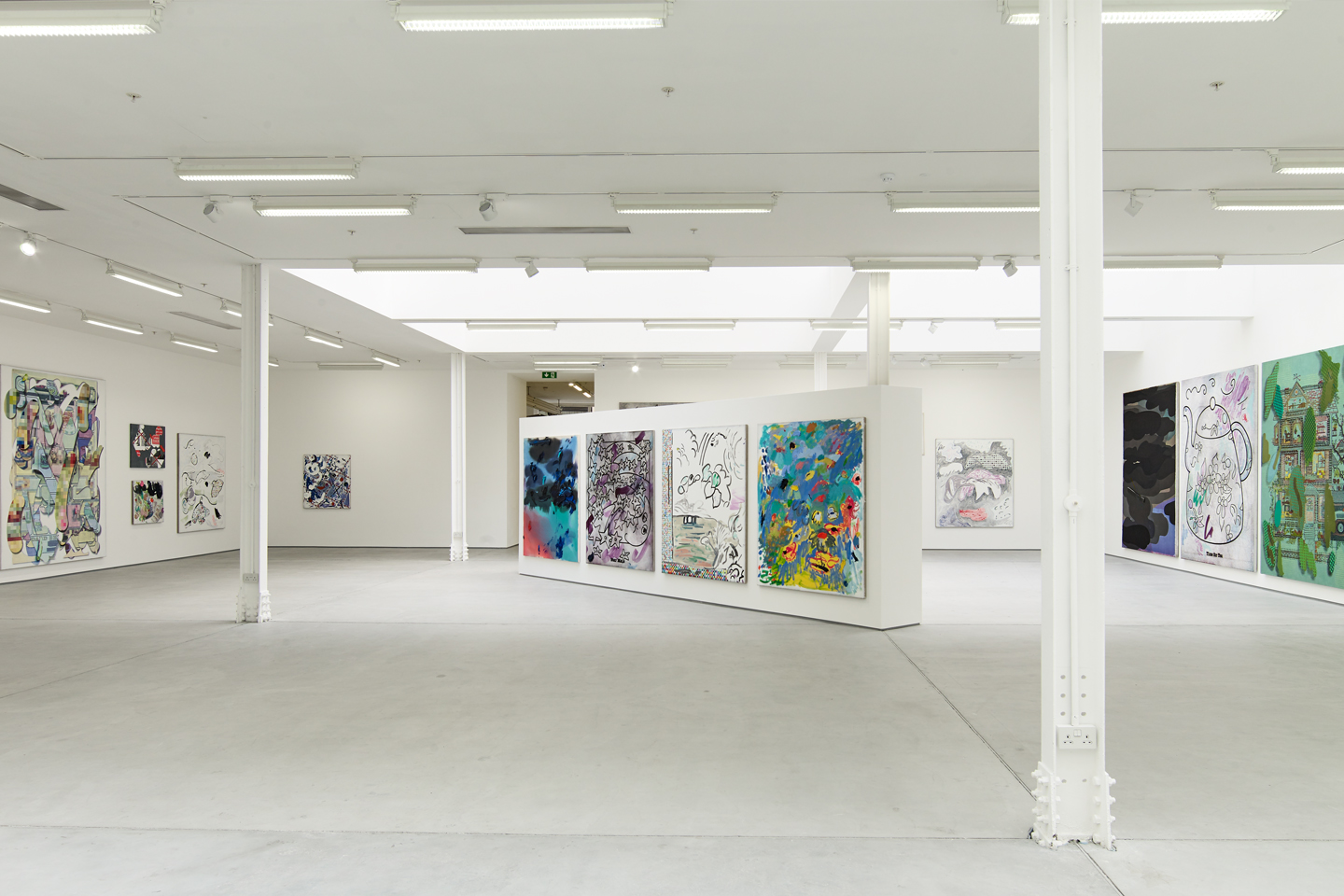 by Nicholas Hatfull
The accommodating rhyme scheme of Laura Owens's first show at Sadie Coles's Kingly Street space puts bitmap pixels, silkscreened threads and the often visible tooth of the linen support on neighbourly terms. Of a swath just shy of fifty paintings, knottiest are several large formats enacting a disruption of enlarged embroideries, or painting software efforts that echo the woven. An absorbing essay in moss greens is elaborated from a piece signed "E OWENS 83"—presumably the artist's grandmother—and shows a cross-section of a well-appointed period house. It's a while before you notice actual yarn leaping through the surface.
Pixels bubbling forth are unsettled in scale, evoking and freezing deep dives with the zoom tool, but are foamily expressive, too—tesserae breezily revealed. These glitches flag up granular richness, underwriting the open-weave scrambling of motif and picture. An off-kilter painting within a painting of a lighthouse caught in a kelp-colored sunset acquaints some descendent of pointillism with the sun-bleached palette of a favorite T-shirt. The queasy, deprived colors familiar from graphics of yore are given heft and self-assurance by their elaborate reincarnation—there have been exacting demands made of screenprinting, for sure. The subject calls to mind stuttering paint programs from more like thirty years ago—the passage of time kindly allowing nuance, even melancholy. A recently bygone mode, just as serviceable as found objects of a distinct vintage. This expansive frame of reference is not new, but the multitasking and cross-referencing of the juggling has been ratcheted up.
Chatterbox brushstrokes shift between the anonymous abandon of pen-testing pads to the practiced and weighed, like translucent scoops of viridian in a tennis net scene, which fractures a headband-sporting player, shot through with a dazzling cross-stitch. The actual racquet being sewn into an adjacent, modest canvas appears a curiously mute found object, and something of a backhand slice, but may be one of Owens's strongest suits: opening up space to speak extemporaneously. The by-now patented cookie-cutter doodle, and various spatial limbos originating in Photoshop, are still paralleled by caricatured physicality in cake-mix-thick paint, blithely dispensed sand, and insouciant charcoal. "Contrast" seems an inadequate explanation of how well this works; it's delicious in the way lime bursts through an earthy mole. The artist has offered onomatopoeia as a way of understanding the behavior of her marks, and indeed there are essences, like the sensual equivalents itemized by Roland Barthes on Cy Twombly, where a certain scrawl is casual like a sloughed-off pair of jeans.
Attentive surface grazing is certainly rewarded. Just when you've acclimatized to raw linen, you encounter a polluted sky squeegeed repeatedly on such pristine gesso that it becomes reflective. This ping-pong facture is worn lightly, but could hardly be more committed. There is a steely thoroughness in the scoping of avenues indicated by the work. One petite canvas seems to celebrate a typical glob of Play-Doh-ish paint. Except, impossible to discern online (or at five paces), it's a trompe-l'oeil retort—printed, not caked. Owens is not averse to the one-liner, delivered briskly. To some tastes, this might smack of completism—isn't this over-egging? But, as with a set of ceramic emoji—an idea that should be no more detaining than the plush hearts and turds stuffing the windows of souvenir shops—the premise is comfortably transcended.
A state change is often performed where something you might have considered twee is beefed up and invigorated. One work bearing the legend "Time for Tea" blows up a coloring-book page, rendering the teapot concerned positively philosophical. The fibers of the paper source, revealed by supersizing, are retained in the silkscreen, as is the ghost of a polar bear we would have encountered on the overleaf. But nowhere is Owens's transmogrification of vernacular sources more adventurous than in a customary array of artist's books. Rife with babbling tongues, from midcentury editions of the Los Angeles Times to disquieting spam, they eviscerate these materials and heighten their graphic properties. The old papers become inky heritage Pop, while mosaics of heavy pixellation seem an appropriate guise for unsolicited drivel. If anything, further subtleties of ineffable shallow space are found within these pages—peek-a-boo windows, the occasional deliberately dog-eared corner on a meta-page. One newspaper clipping is headed with what might be clung to as an aphorism for this resolutely untitled show—Screwball Ideas Essential.
The inclusion of what (anecdote has it) comprised the entire contents of the studio at the time of shipping, along with a puckish website matching thumbnails with oral accounts of technical challenges certain paintings entailed, feels declarative. Declining to hold much, or anything, back (though the hang negotiates a canny valley between more than enough and all too much) seems in keeping with the voluminous Studies section of the artist's personal website. This foregrounding of the strange practicalities, repetitions, even monotonies of the studio asks whether painting must retain some of its mystique by a counterintuitive up-front-ness. You could call this a form of brinkmanship. Taking in the show, we are held in a moment where a picnic blanket, laden with the full gamut of painterly utensils, dishes, and condiments, is once again tossed in the air. The tableware is sent tumbling, the rug billows as it's whisked away. What might have been trifles are writ large, with scything brio.
.
at Sadie Coles HQ, London
until 16 December 2016