Mousse 72 TIDBITS
Satyr Plays: Lewis Hammond
Close
1
2
3
4
5
6
7
8
9
10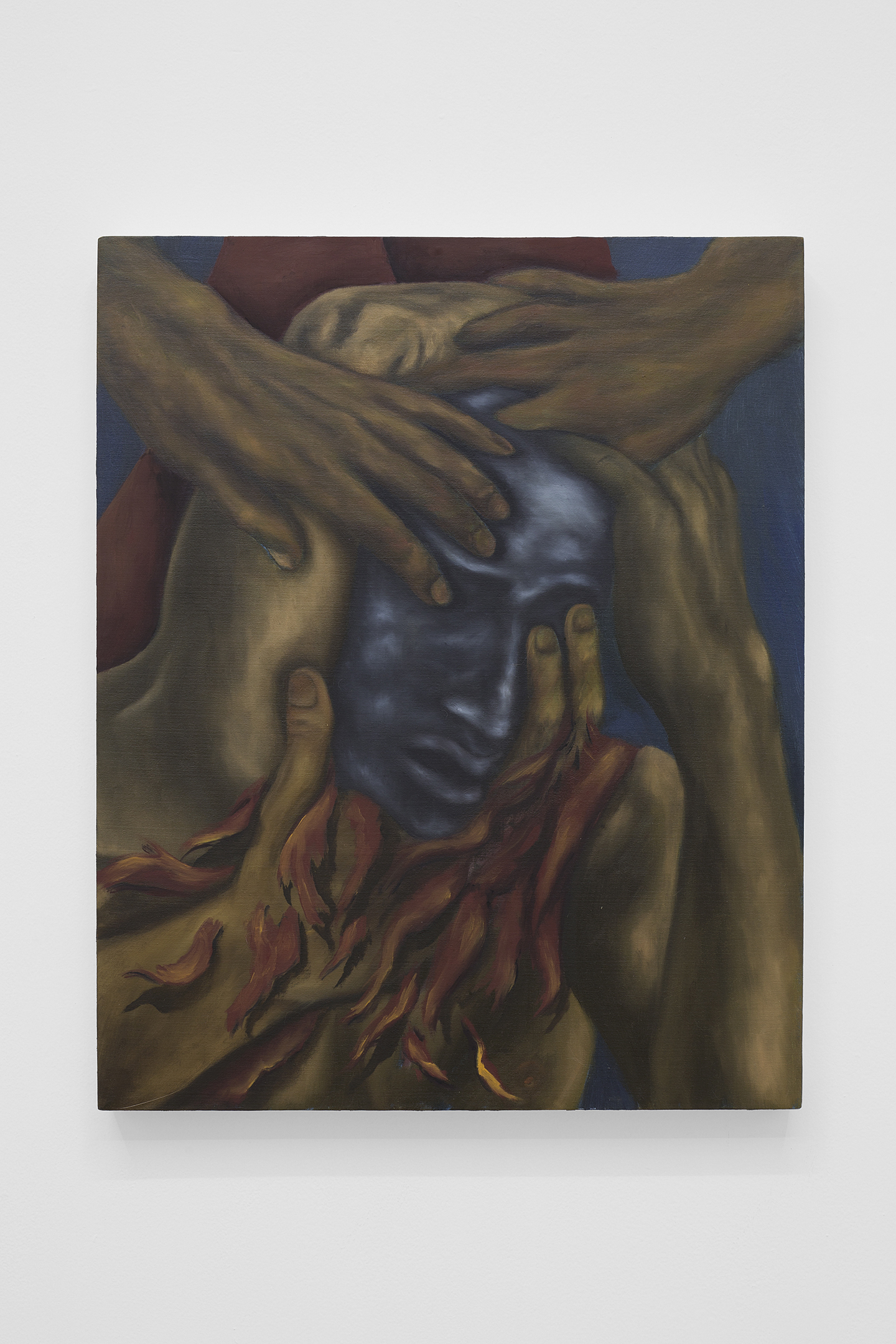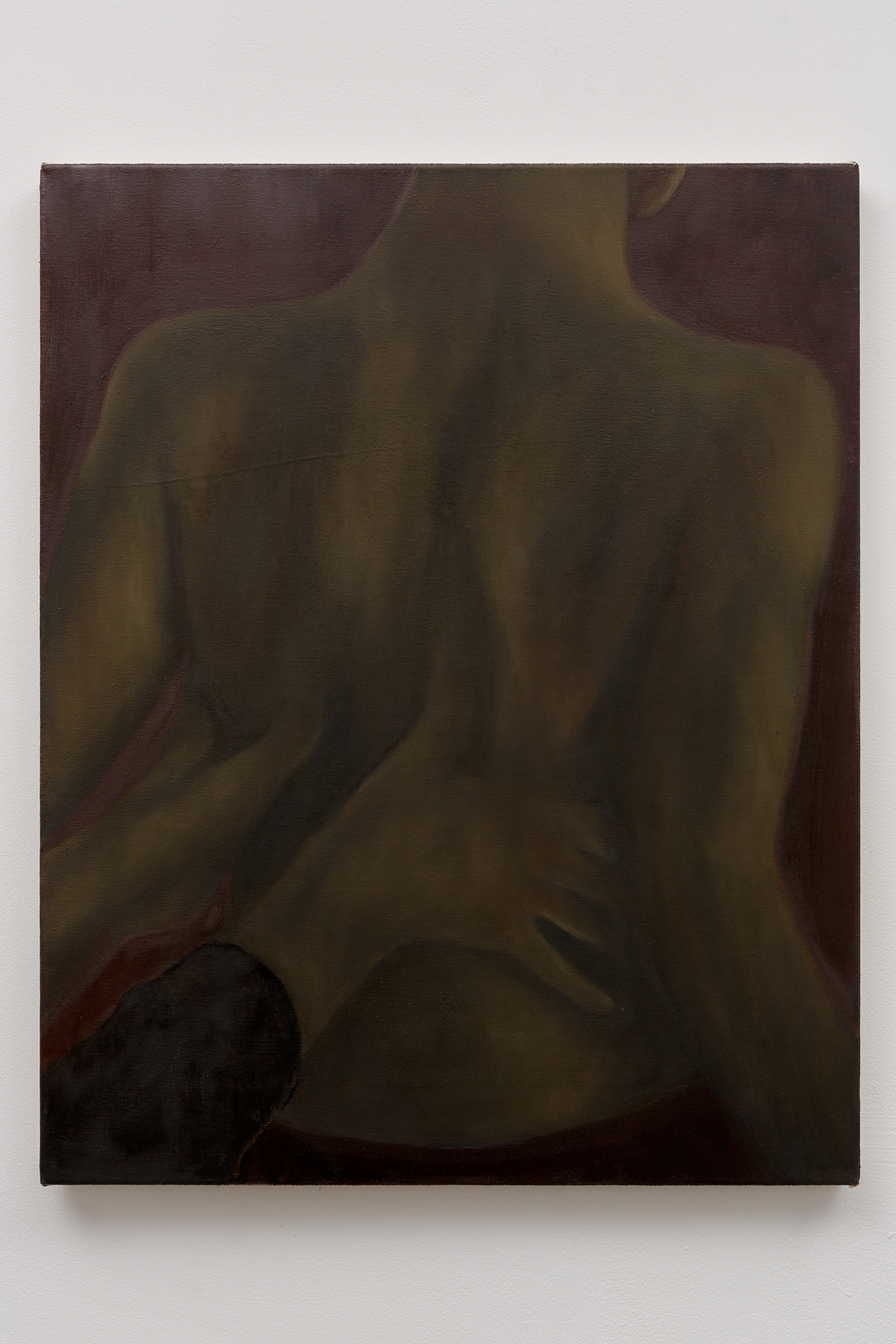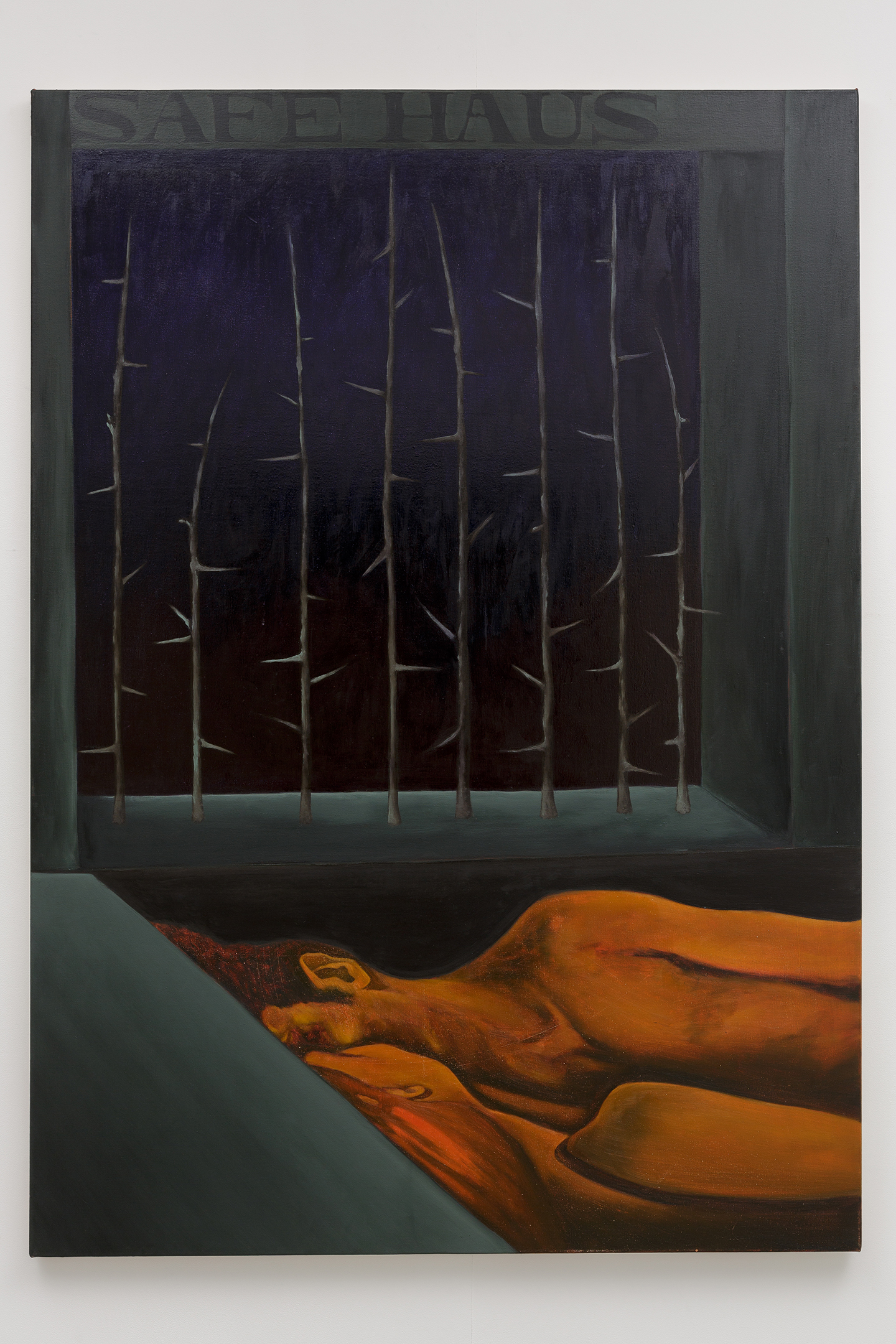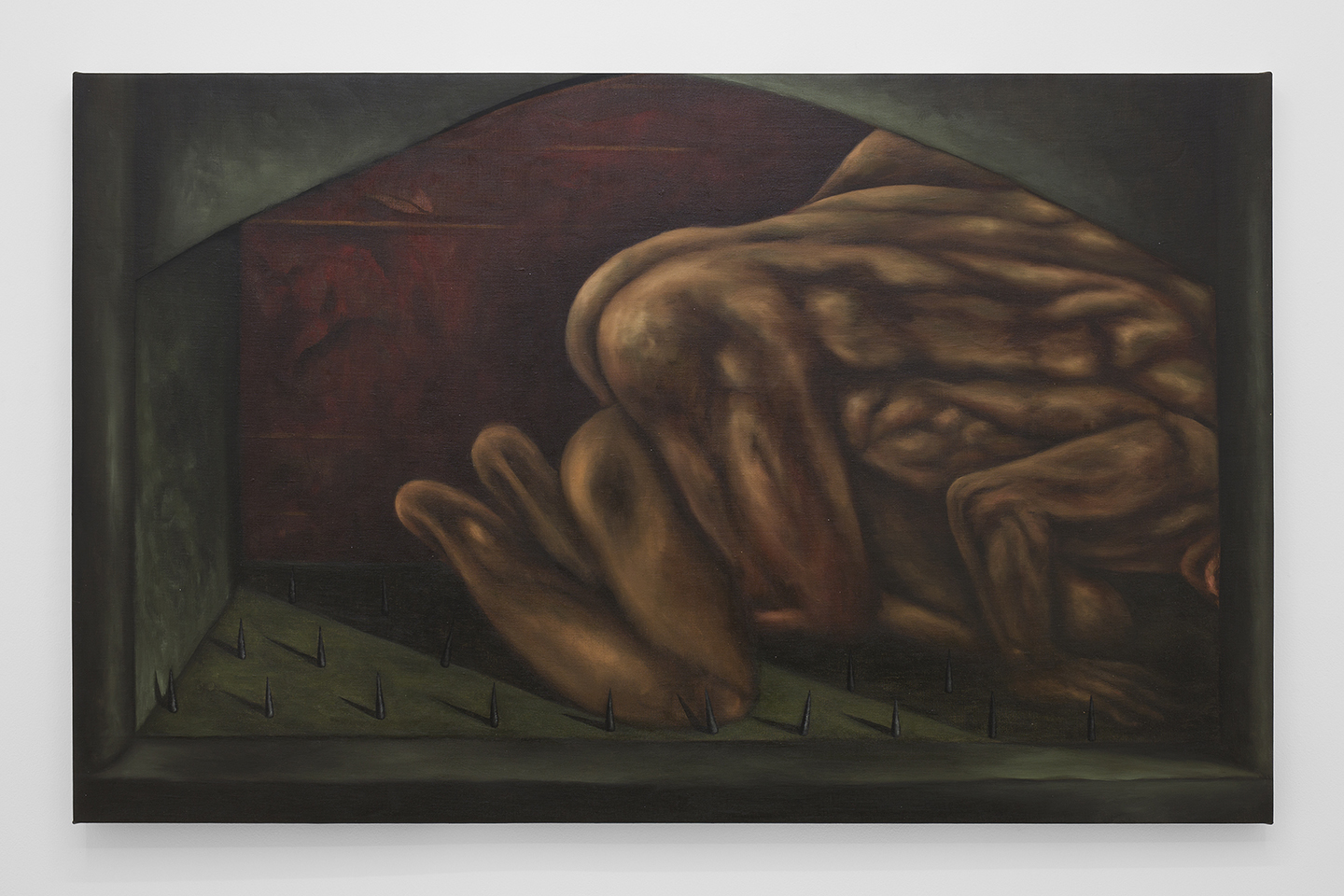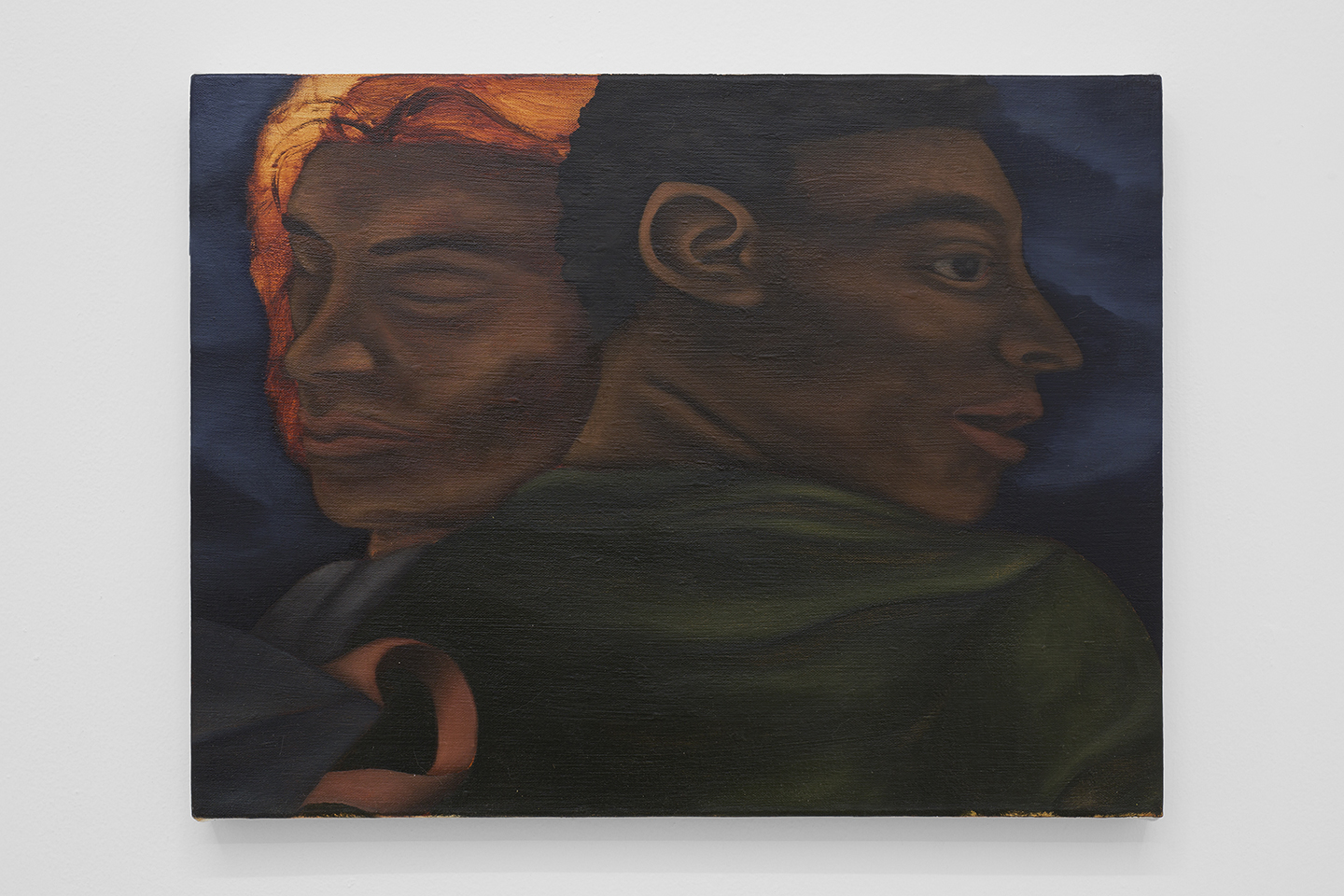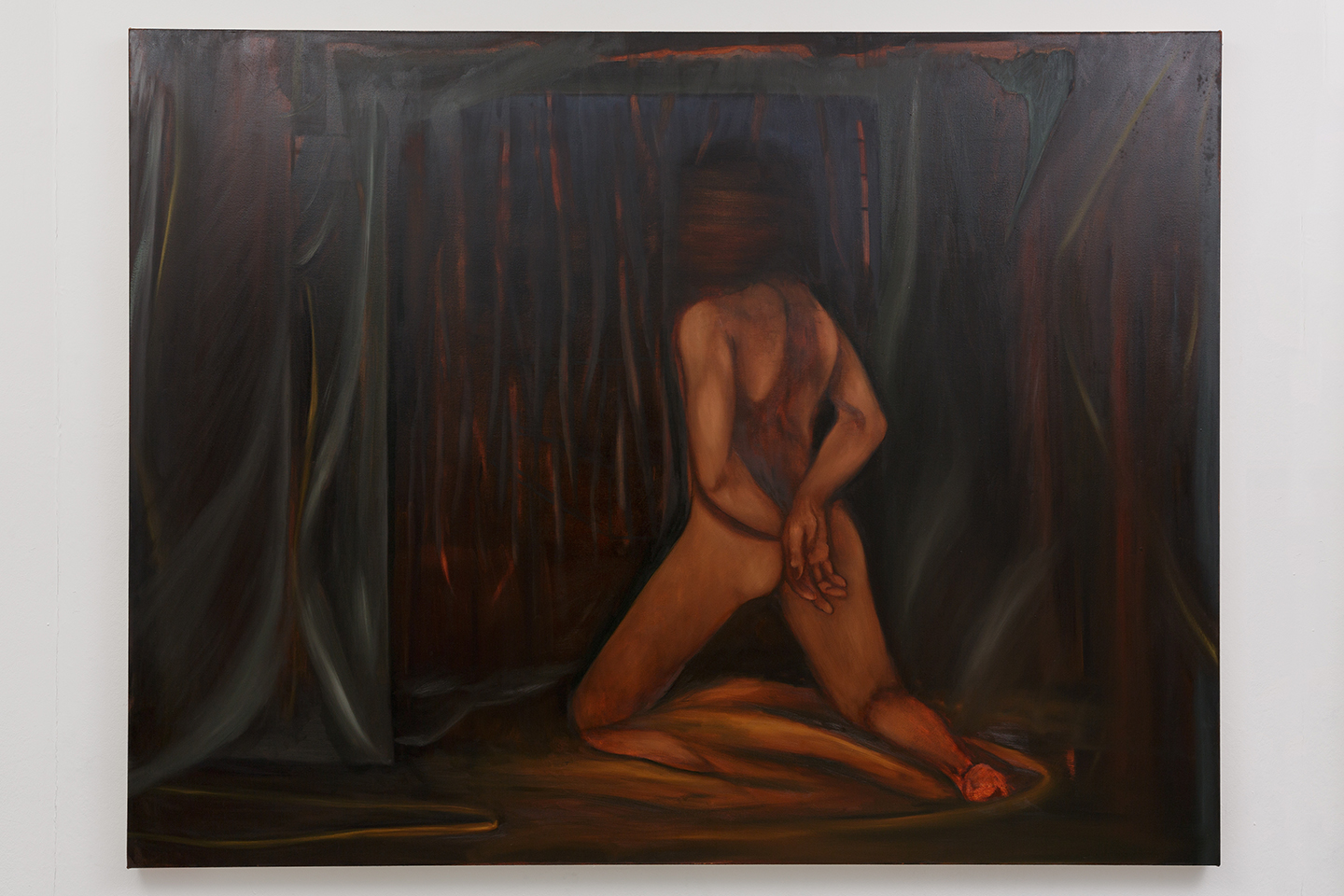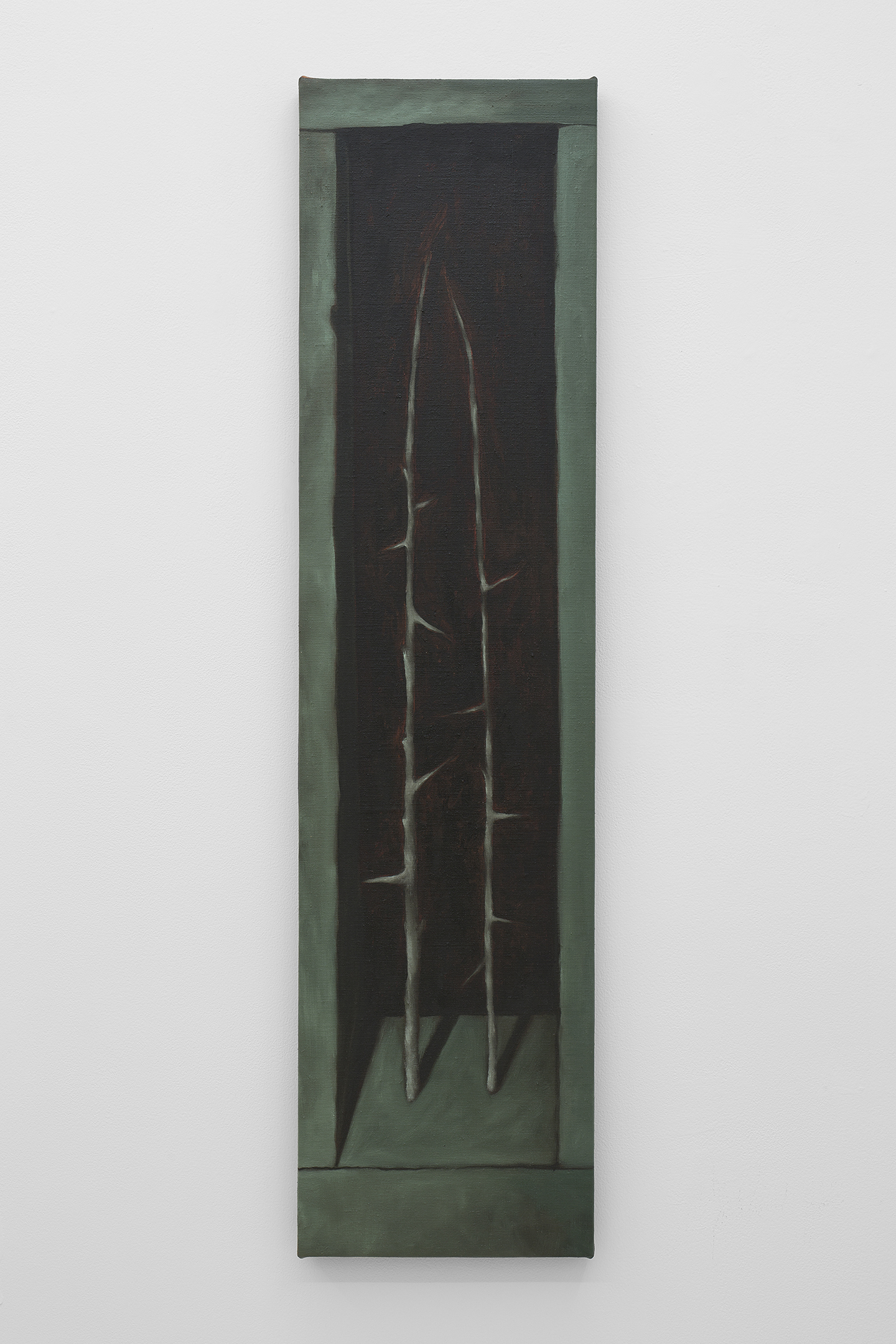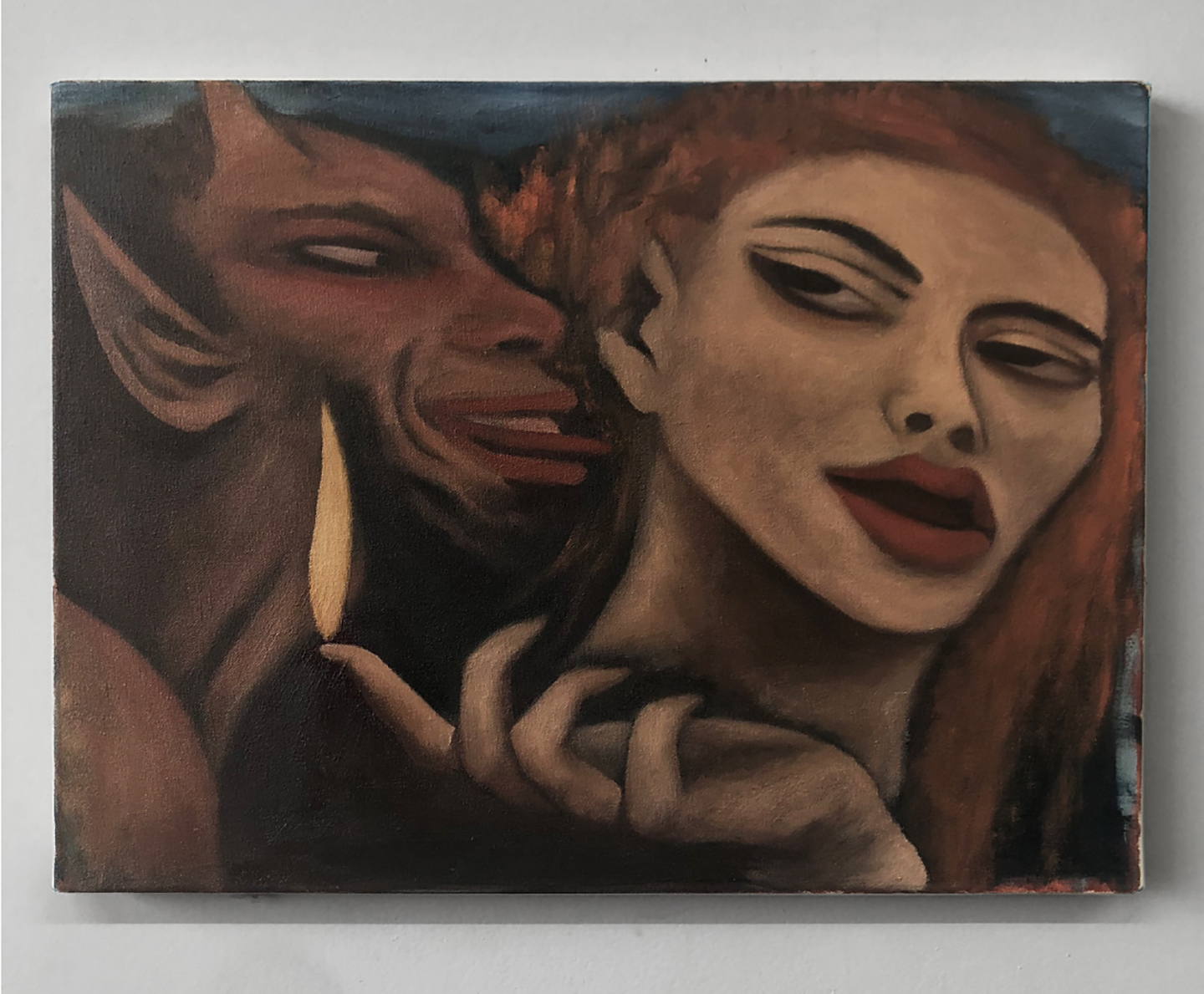 by Moritz Scheper
Are we really living in an Age of Darkness, as Lewis Hammond's apocalyptically charged paintings suggest? The wider world remains locked out in his works; the cosmos depicted is reduced to narrow, safe retreats where bodies surrender to one another and indulge in tender, sometimes ambivalently violent intimacy.
Looking at Hammond's Kyur (2020), which shows an intertwined couple on a couch, dreaming beneath a dramatically side-lit fetish object on the wall above, I'm reminded of Barry Schwabsky's 2008 essay on Peter Doig. It asked why Doig is perceived as a British painter when his painting is so profoundly "un-British."1 Of course Schwabsky doesn't view artists primarily as representatives (or not) of some mythically unified national character; rather, his question expressed his astonishment at the alien, outlandish quality of Doig's painted spaces given the cultural context of their making. In front of Kyur I felt a similar amazement about Hammond (also British), whose pictures open up spaces that are alternately somber and dramatic, containing figures whose skin seems almost to fluoresce—pictures that are not necessarily foreign per se, but far removed from all that is commonly associated with Britain's pictorial culture. 
Safe Haus (2019) exerts the same effect. Again we see two lovers in bed. Their bronze skin shimmers in an otherwise dark, bare room that encloses the couple in a strangely threatening way, recalling Giorgio de Chirico. Almost the entire canvas is occupied by a window whose bars are thorny branches. Thorns, we realize, protect against a hostile outside, but also highlight the vulnerability of the embracing bodies inside. But what makes this heavily symbolic blend of fear, fragility, and withdrawal especially peculiar is the baroque execution à la manière espagnole. As in an early seventeenth-century painting by Jusepe de Ribera, all of what we can see appears to have been wrested with great effort from a profoundly hostile darkness. This impression is stronger still in Study for a Threshold / Longing and Impermanence (2019), whose varnished surface, dark and apparently impenetrable, again conjures an Old Master.
Why on earth would a young British person with Afro-Caribbean roots paint in the style of a Spanish artist like Ribera? To my mind, the most probable explanation is that Hammond chooses a style that creates the greatest possible difference. Indirectly, he alludes to his black heritage and the exclusion and violence that sadly still go together with black skin (standing here for all forms of non-whiteness). The reference to a pre-Enlightenment visual program mirrors our society's blatant lack of "enlightenment" in its treatment of certain people. Yet with a twist that strikes me as somehow very Catholic, Hammond crosses this traumatic fear of physical harm with a celebration of the body—as in Safe Haus, where the bodies are the sole source of light in the profound darkness. The manner in which he does so leaves no doubt that this light comes from the fire of passion. Hammond also returns again and again to satyrs as subjects; these queer, forever horny creatures appear as a lusty seducer of a white woman in the small-format painting What is this desire? (2018), elsewhere as a crying (or laughing?) Afro-satyr in That time, when things were okay (2019), which superimposes two kinds of othering, representing both fear of the foreign and exotic desire simultaneously.
One might say that Hammond's painting describes the point where the fortress of the body is stormed—be it with hostile intent, as an act of passion, or anywhere in between. Every gradation, from horror to pleasure and back again, manifests in his constantly ambiguous work. Der Rücken (The Back, 2019), for example, offers a hazy rendering of a bare back being massaged by two hands. Yet the hands are painted such that the flesh of the thumb merges with that of the back. Is this a tender, caring gesture, or more a hostile incursion into an unprotected body? The pictures murmur more than they speak, as if some threat is lurking in the background—as in Ribera's black spaces. 
Recently, however, Hammond's baroque tenebrismo has been sliding into a browner visual idiom whose earthy tones and soft curves nod to Latin American modernism. At least that is what I perceive in Sorro (2020), perhaps his most striking work to date. It shows at least four hands of subtly different skin colors, and a blue metallic face possibly being pushed into or pulled out of a brown body. In any case, this act generates flames that simultaneously resemble falling autumn leaves. Once again, it remains unclear whether the physical ordeal we are witnessing is born of aggression or of kindness. But the blue face and the gently graded colors of the hands suggest that the construction of identity via skin color and the body is the subject—and that for the painter, this is the field of the greatest friction and the hardest struggles. Sorro exudes a peculiar pathos that seems to me so at odds with the cooled-down, subtly coded way art is predominantly made today in London or Berlin, where Hammond now works. And there it is again: difference.
[1] Barry Schwabsky, "Glimpses Beyond the Edge: Peter Doig," Art in America, May 2008, 168.
Lewis Hammond (b. 1987, Wolverhampton) lives and works between London and Berlin. Recent solo and two-person exhibitions include Still life, Lulu, Mexico City (2020); The Keep, Arcadia Missa, London (2019); Isle (with Rafal Topolewski), Smart Objects, Los Angeles (2018); and Room to Crawl (with Eva Gold), Becky's, London (2018). Upcoming and recent group exhibitions include Possessed, MOCO, Montpellier (2020); Particularities, X Museum, Beijing (2020); A House Is Not a Home, Kunsthalle Fribourg (2019); We Shall Survive in the Memory of Others, Galerie Barbara Weiss, Berlin (2019); In my Room, Antenna Space, Shanghai (2019); and Retrograde, Deli Gallery, New York (2019).
Moritz Scheper is a writer and curator based in Essen, where he works as artistic director at Neuer Essener Kunstverein.