ESSAYS Mousse 69
Resplendent Men: Louis Fratino
Close
1
2
3
4
5
6
7
8
9
10
11
12
13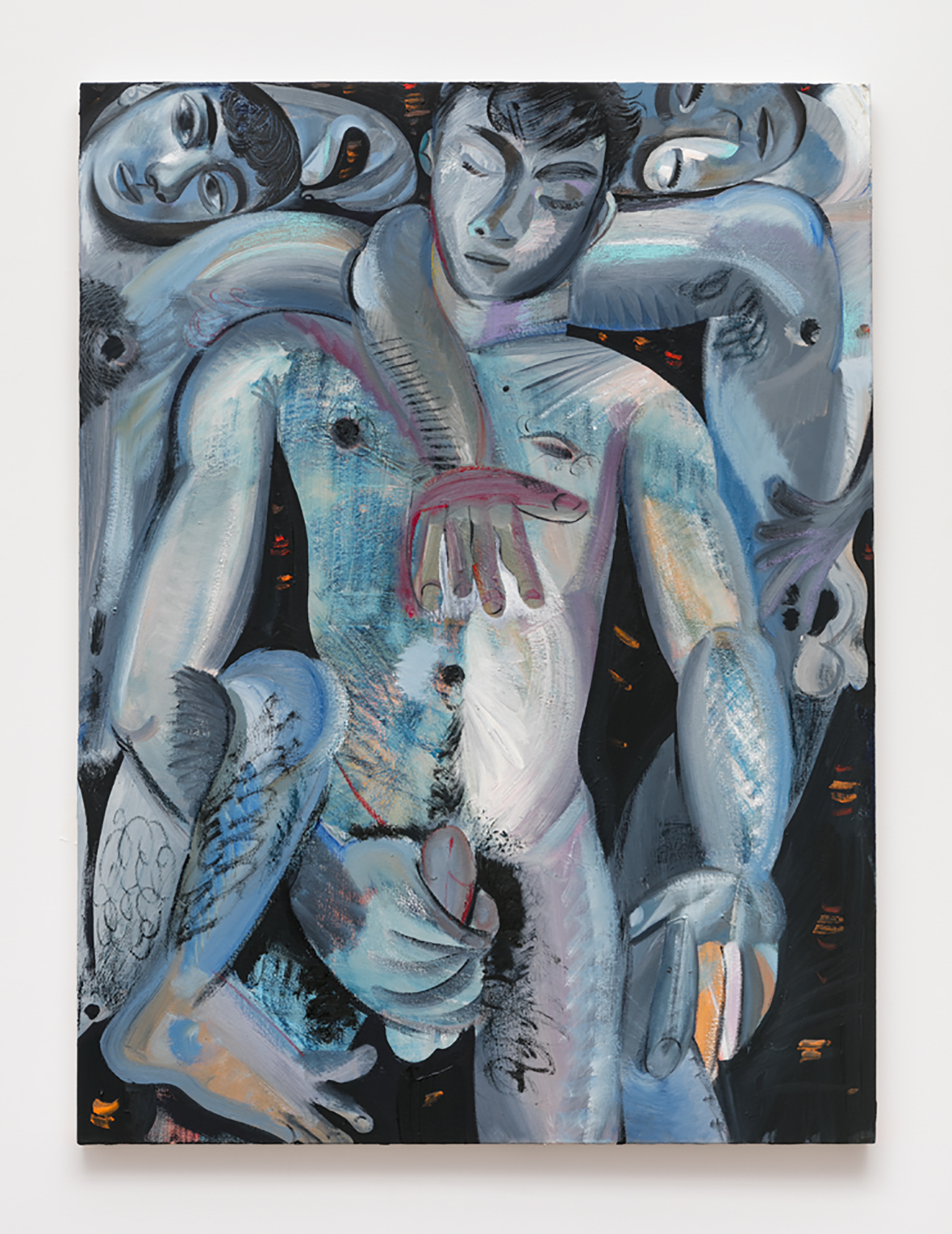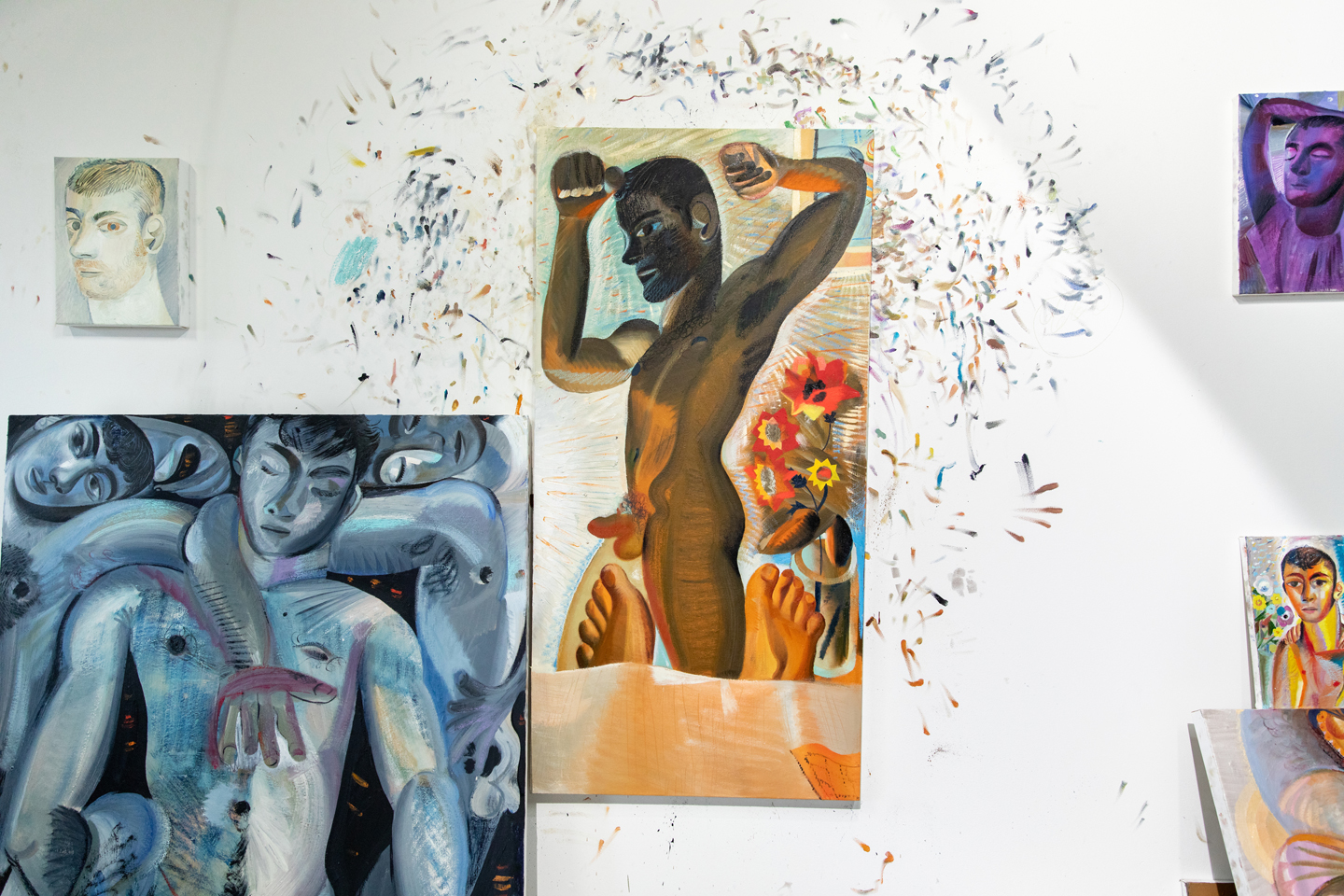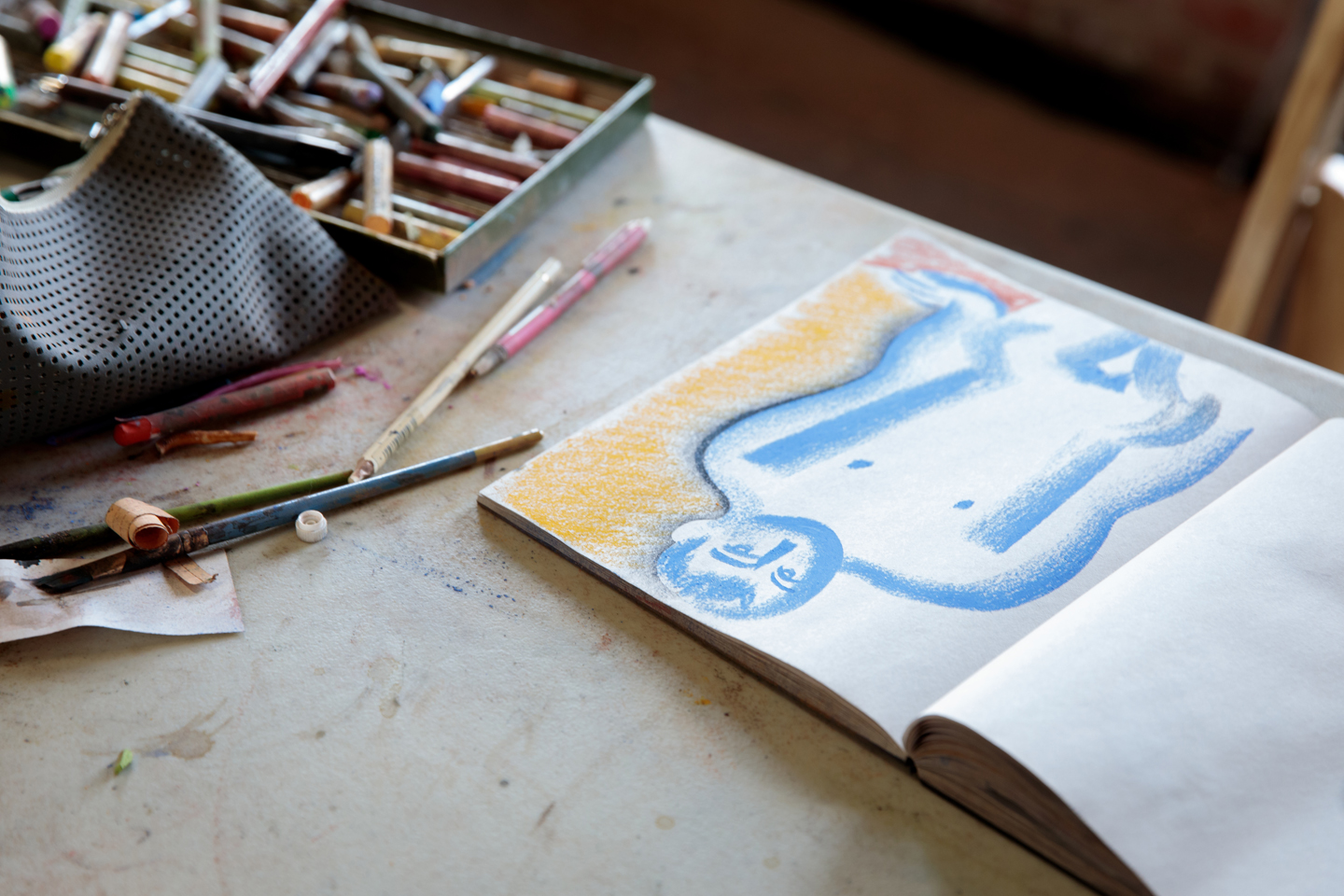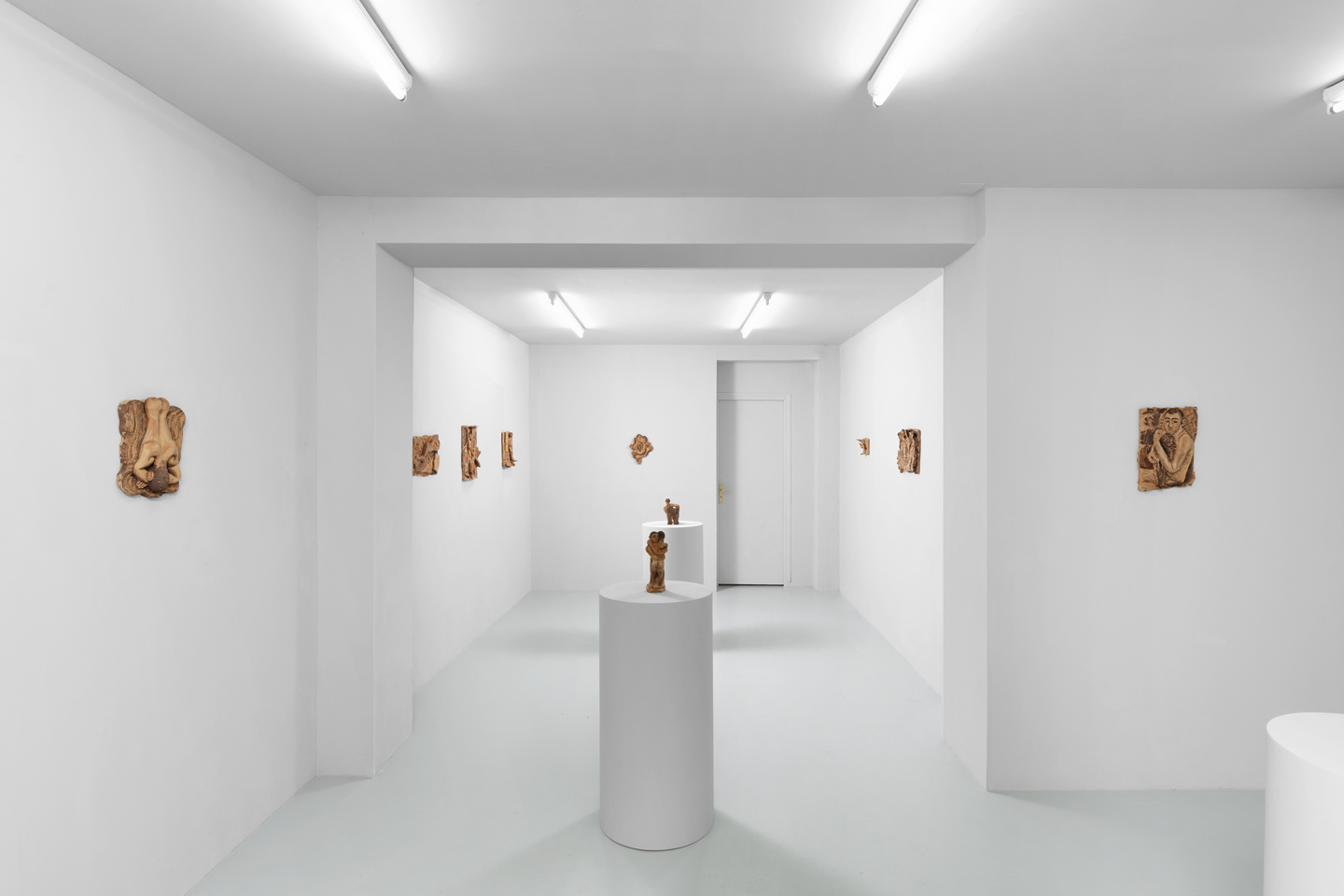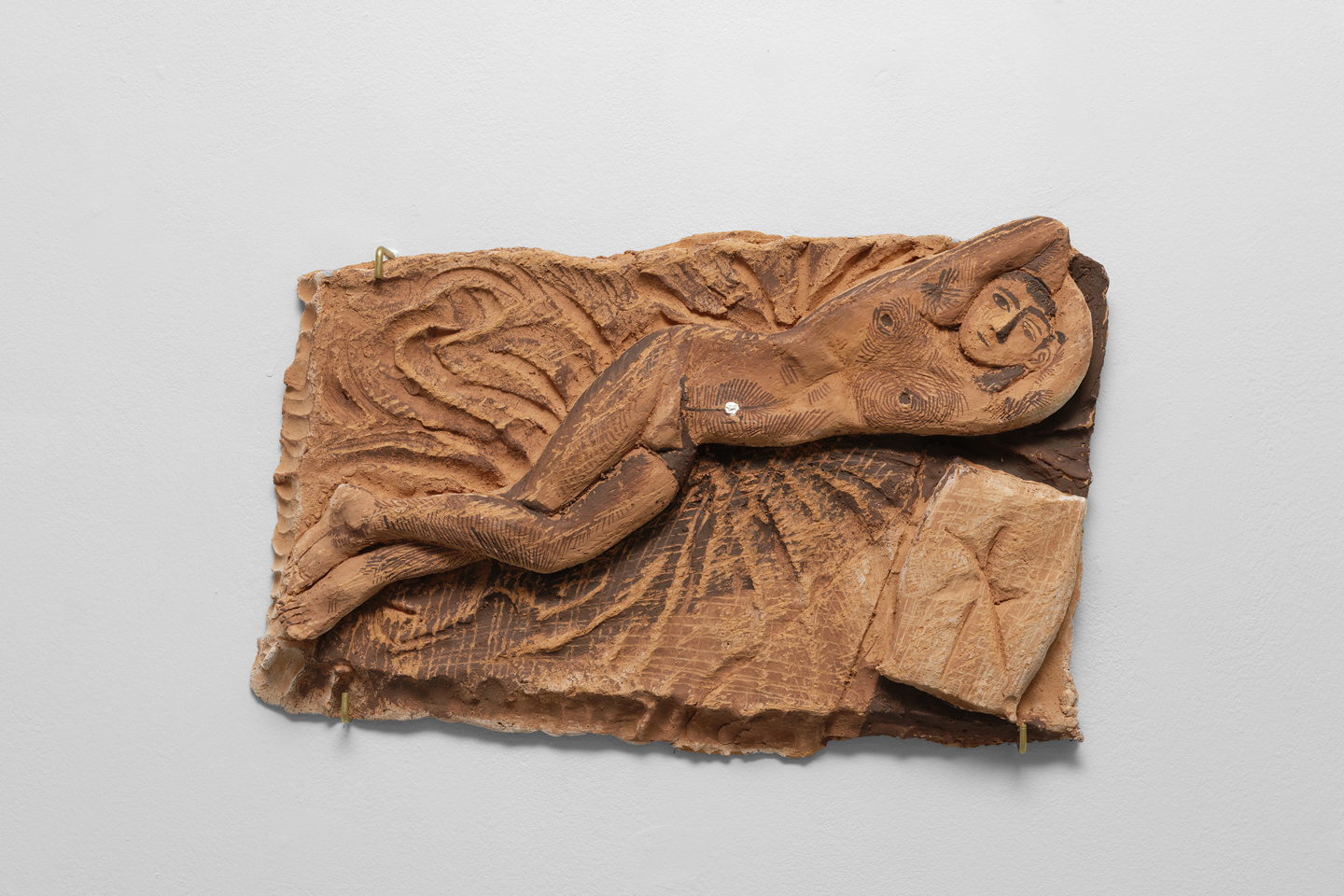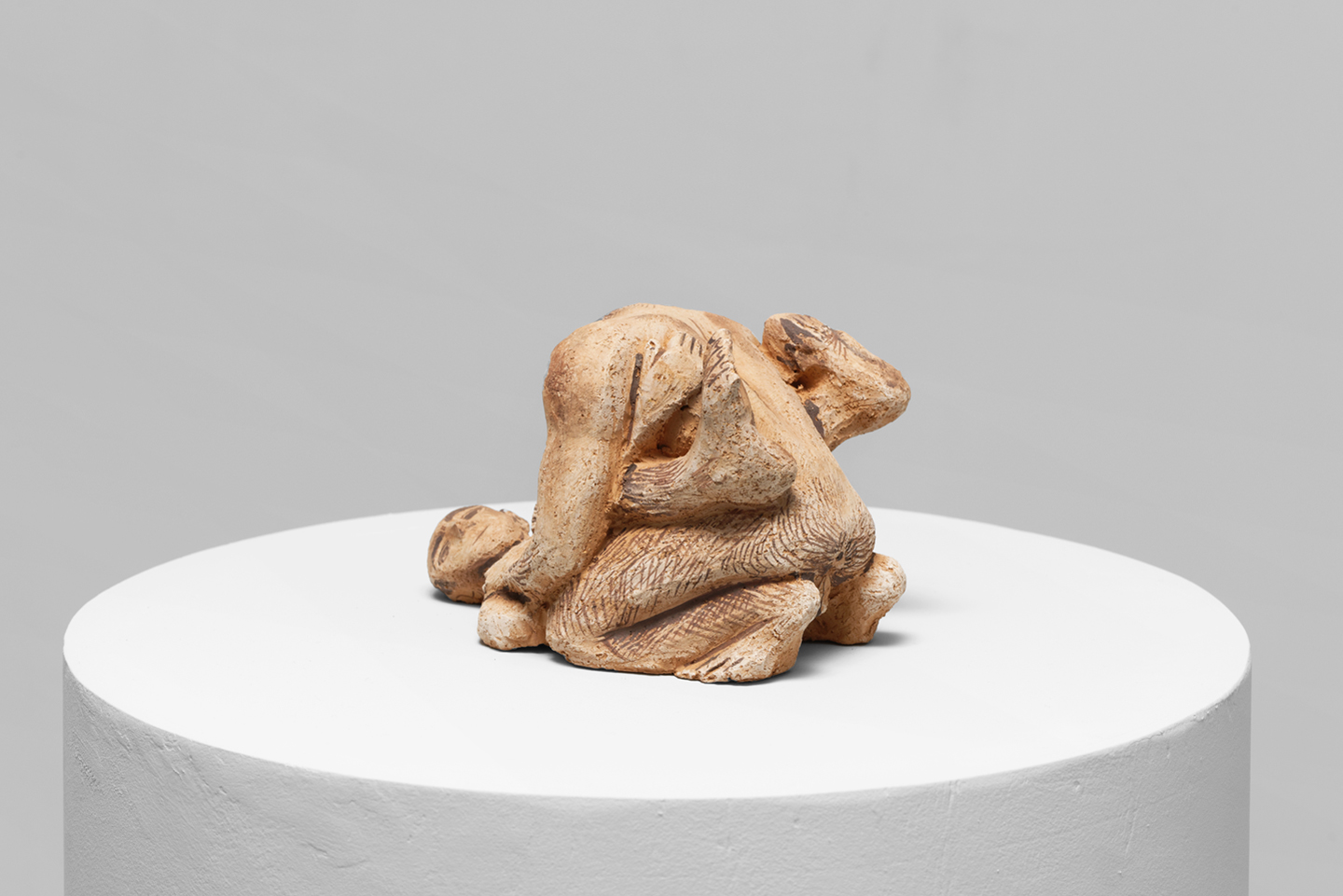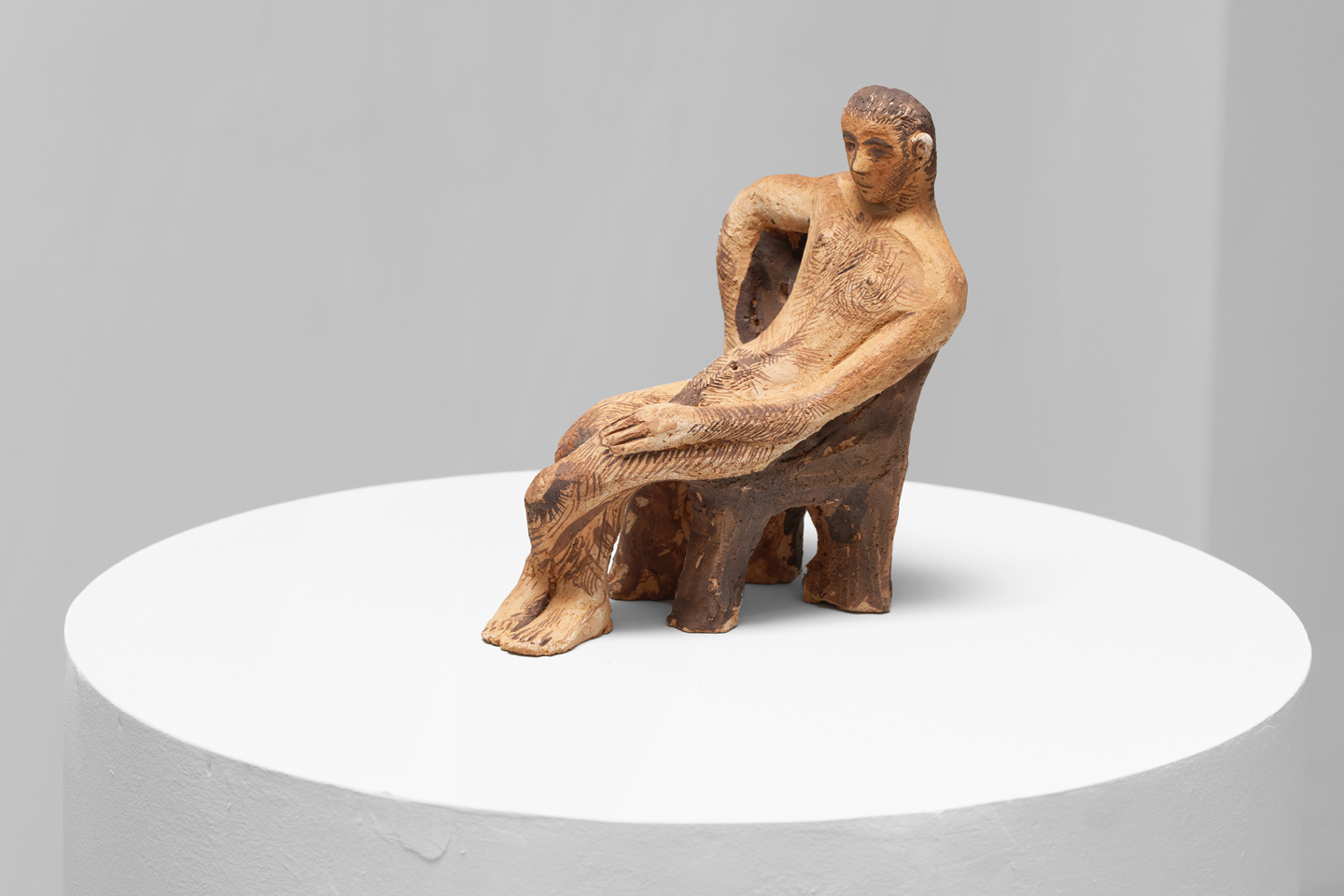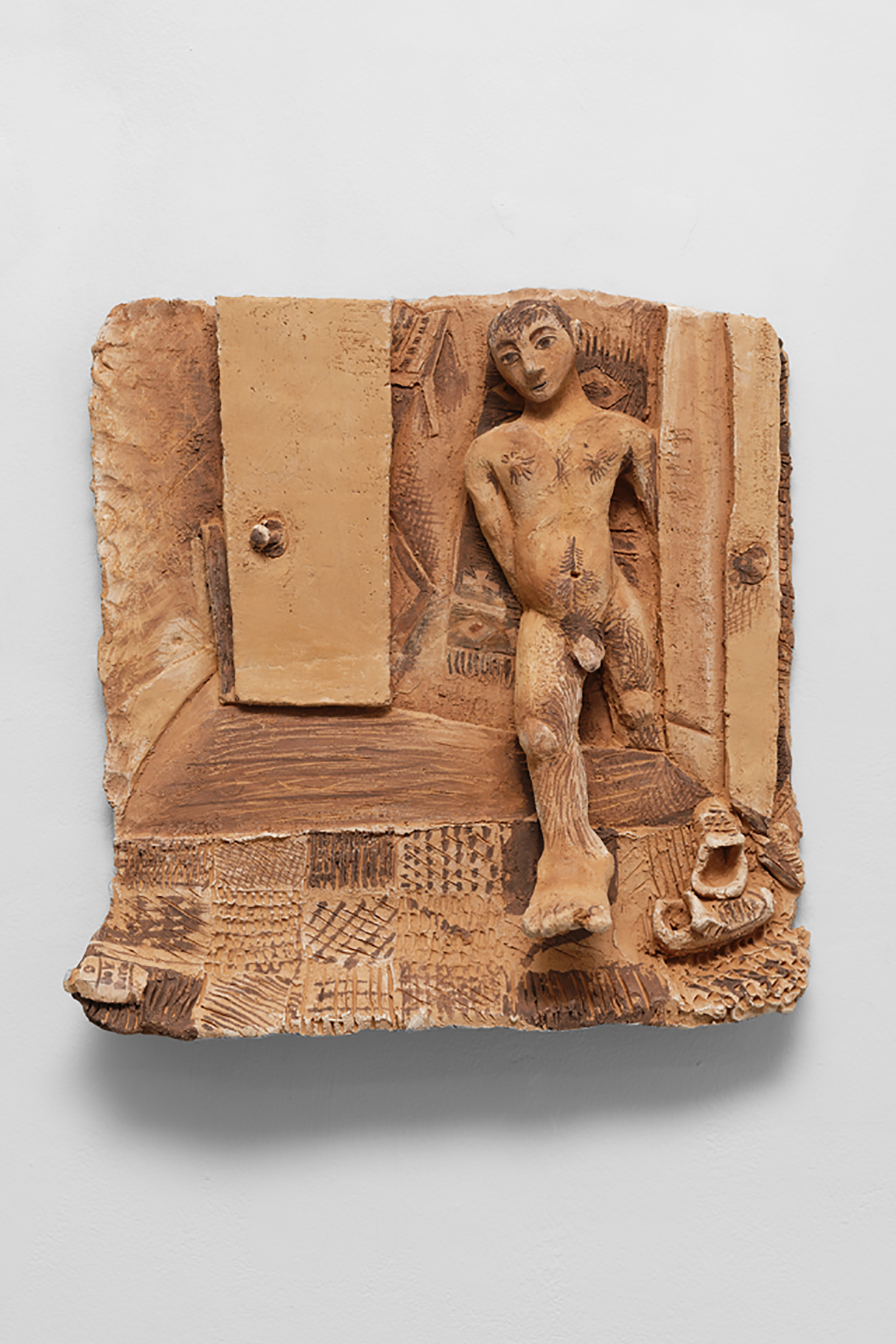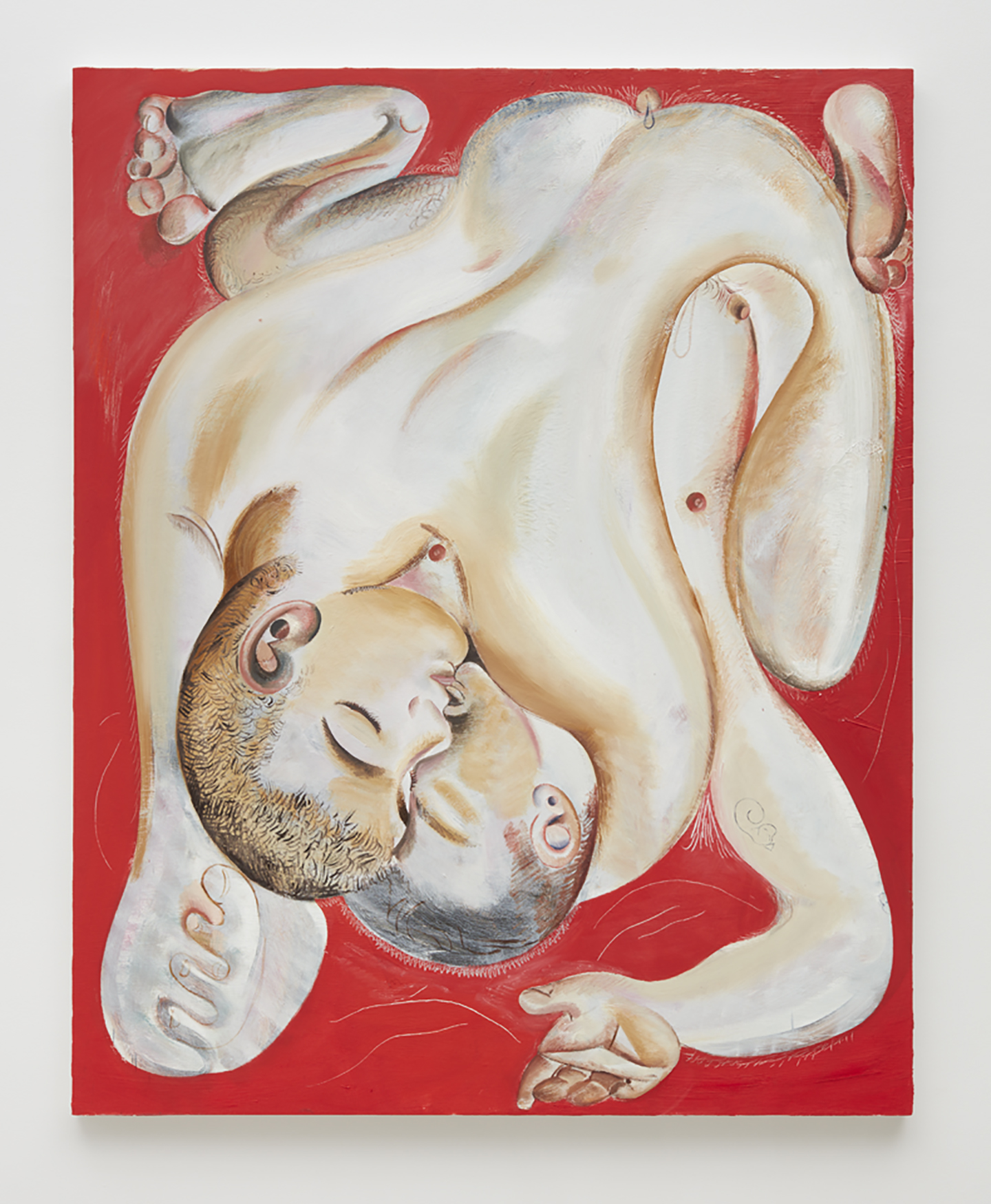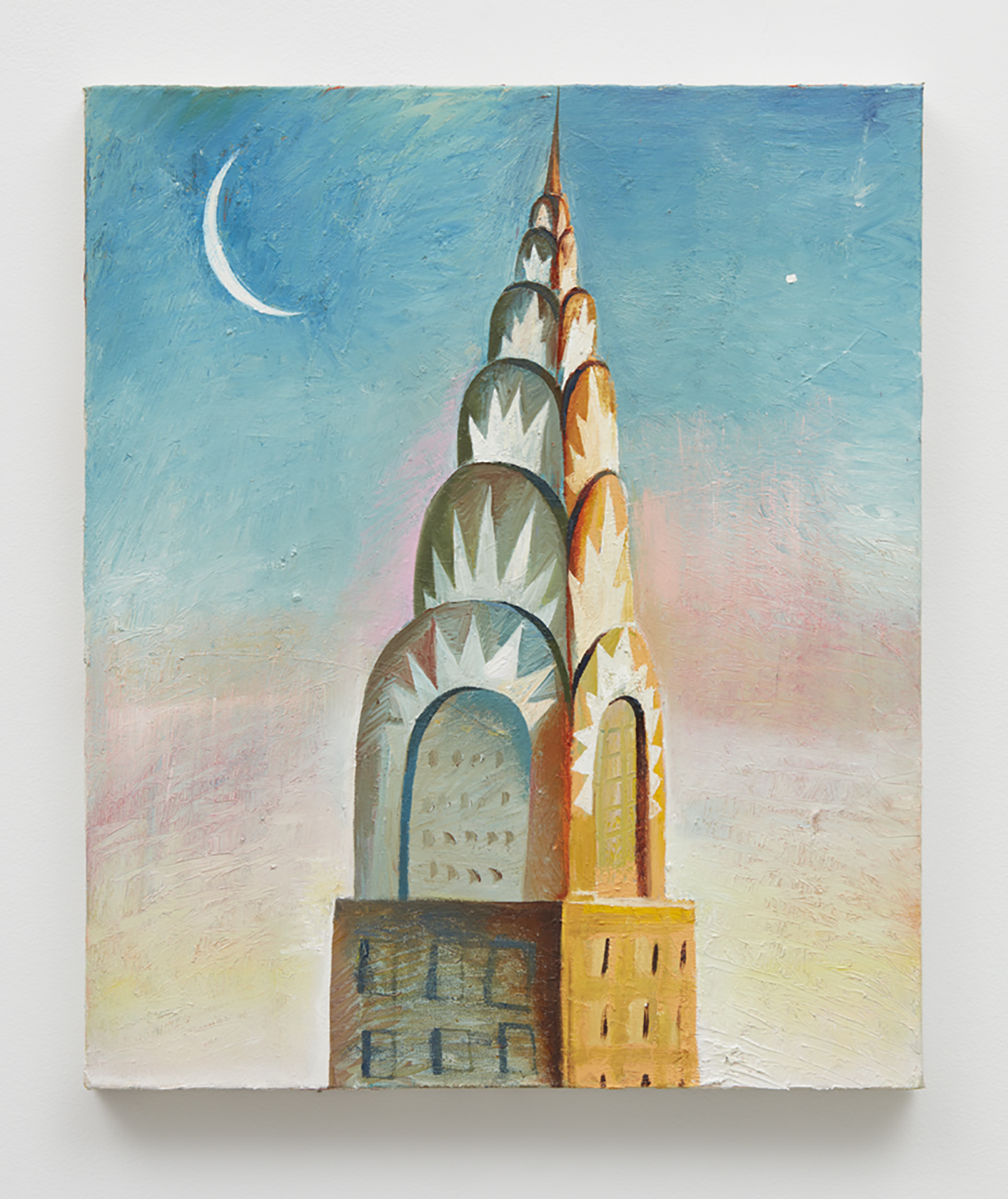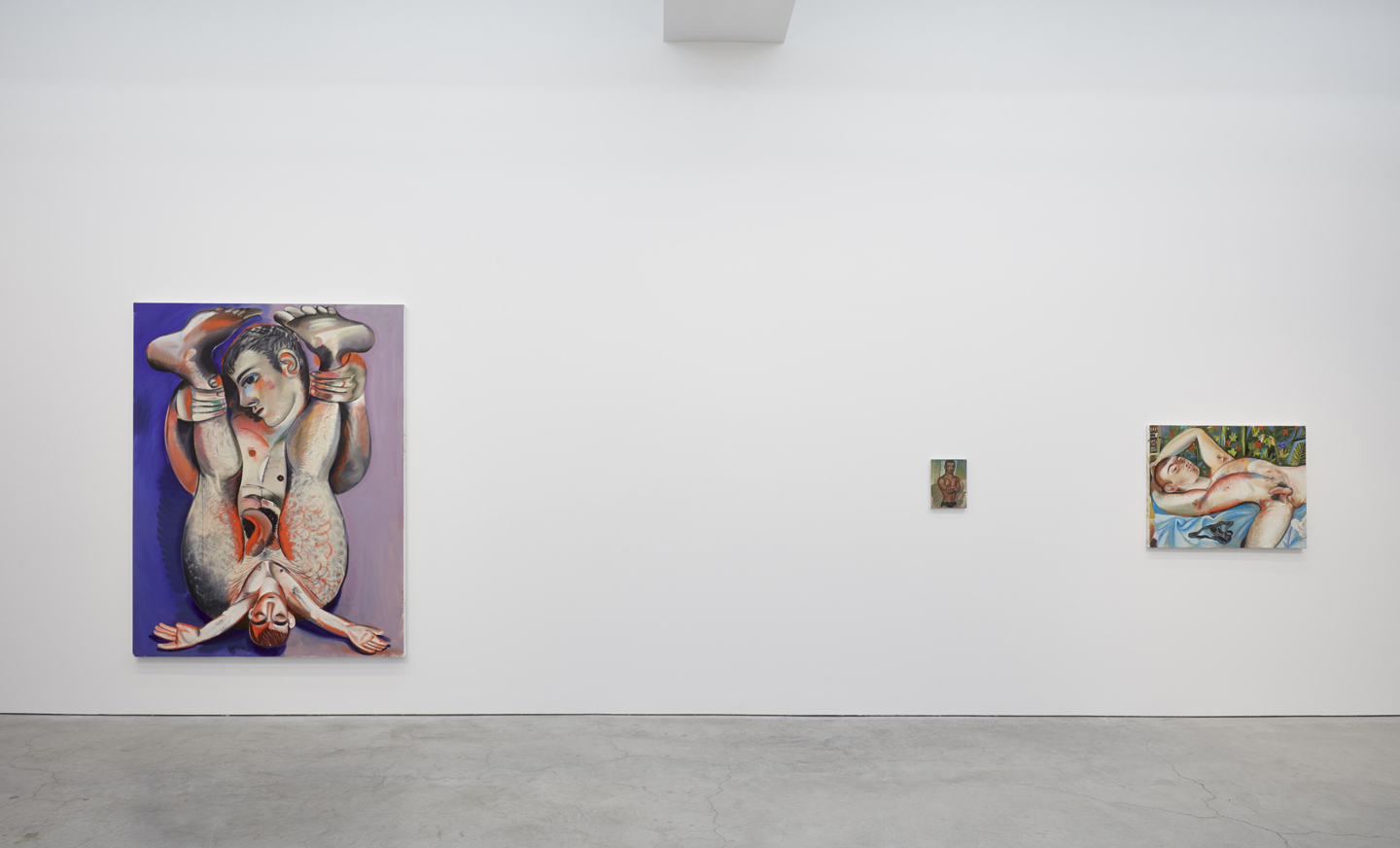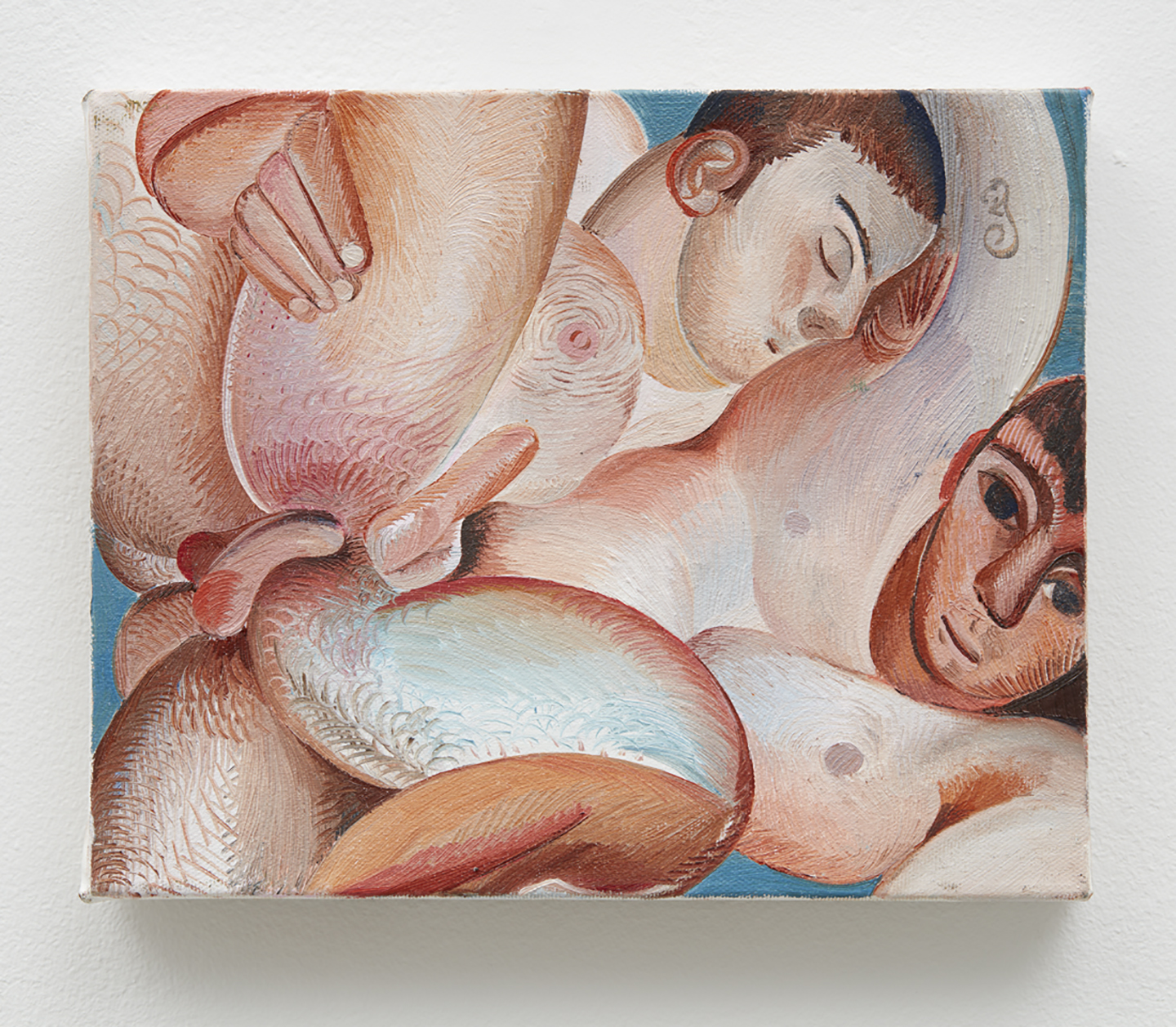 by David Everitt Howe
Louis Fratino's figurative paintings of friends, lovers, and domestic environments dazzle with technical virtuosity. But what sets the work apart is its tender, sensitive, and stylized portrayal of gay male sexuality.
Describing Louis Fratino's homoerotic paintings as exquisitely beautiful might seem like faint praise, or even something of an insult, as if that implied his work was
all style and no substance. Of course, there's substance. Put very simply, it's the vagaries of gay love, and the ins and outs of domestic bliss: boys lying in bed kissing and fucking, breakups and lonely nights. But what style! Fratino's Dionysian subjects are rendered with a skilled painterliness that takes its cue from Pablo Picasso and Marc Chagall, with figures marked by exaggerated, flattened features inspired, à la the master of Cubism, by Iberian sculpture and African masks. In fact, Picasso's Guernica (1937)—with its hysterical drama of wall-to-wall distorted limbs—is gestured to in scale and density of figures by one of the works in Fratino's recent exhibition Come Softly to Me (2019) at Sikkema Jenkins & Co., New York. There, though, Fratino dropped that work's fraught politics and opted instead for the dance club, though Metropolitan (2019) is nonetheless high drama of a different sort: a gaggle of shoulder-to-shoulder men preening, making out, and groping each other, a tangle of angular planes and lines that form exaggerated biceps, butts, and bulges, as if Fratino cross-bred proto-Cubism with Finnish artist Touko Valio Laaksonen, best known by his pseudonym Tom of Finland. The result, unsurprisingly, is a work dripping with sex, a queering of art historical precedent that makes the field's long history of straight men fetishizing women G-a-y with a capital G, as if stereotypical modernism going M4M freaky was long overdue. (It was.)
Fratino is well suited to freaky; he can paint canvases of blushingly graphic content, though they're rendered so lushly, and often in such diminutive scale, it's no wonder a reviewer likened them to jewels. At only eight by ten inches, Early Spring (2019) seems scaled for photography but painted with infinite detail, zooming in on Fratino himself lying on top of another man as he's getting fucked —though the only reason it's clear the man is Fratino is because of his arm tattoo. Elsewhere, sometimes it's the earring that gives it away. In other instances, it's totally unclear; sometimes he paints people in ways that somewhat resemble them, but other times—as in this work— he's made his eyebrows so arched, cheekbones so high, and nose so pointed he literally looks like a mask. Made up of bulging planes that form legs, arms, and chests, his and his buddy's bodies in Early Spring take up most of the canvas. The other man's nipples are surrounded by circular dashes, while both men's legs and thighs are shaded with hundreds of tiny crosshatches and arches forming patches of hair. Little touches—such as the shadow of a cheekbone rendered in a series of thin lines pressed tightly together—give Fratino's work the quality of an etching.
Much bigger in scale, Kissing Couple (2019) shows the artist in the throes of passion again—lucky man—this time missionary style, with the artist pinned against the floor, lips locked with his partner, and arms splayed apart like curvy noodles. Proportions askew, the figures appear both three-dimensional and flat; the shading of the back appears fairly true to life, but Fratino's feet are squeezed into the corner of the frame, while his left hand has been reduced to a claw-shaped flat line. His right hand looks as if it came out of the landscape by Georges Braque titled L'Estaque (1908). Untitled (2017), from an exhibition at Thierry Goldberg Gallery in New York, features a man lying down with a boner nestled in an expressive patch of pubic hair, his arms clasped behind his head. The boner is great, but look at the shades of color. They give the man's body a glistening, rainbow effect. His torso, covered in black, wispy lines of crayon denoting hair, is lined by bright red on the sides before shifting to tan, peach, and a purplish gray. A pornographic image has never been so resplendent. Not all of Fratino's work is pornographic though; Wild Rose in Red Hook (2018) is one of many lovely flower paintings, while Chrysler Building, Moon (2019) is an almost sentimental portrait of a city icon.

Hung in a gallery, works like these can look a touch rarefied if you're accustomed to seeing them worked on in the studio, where everything is a potential surface for the artist's obsessive image making. In the studio, tiny paintings rendered on the inside of crayon-box lids would be casually tossed among their box's contents or next to a pile of oil-paint tubes. A painting like, say, Three blue nudes (Tristan, Me, Ben) (2018) would be hung on the wall, surrounded by hundreds of paintbrush marks dabbed directly on the Sheetrock, as if the studio wall itself were a palette, or even a potential canvas; when Fratino moved out of his studio at Pioneer Works, New York, in the summer of 2018, he left behind a stunning, casual portrait on the wall next to his table. If they'd been savvier, Pioneer Works would've cut it out and framed it. Instead, it was painted over. While Fratino's works on canvas are fantastic, it's the way he paints on anything and everything that's most exciting; the humblest of materials can become a support.
Louis Fratino (b. 1993, Annapolis) lives and works in Brooklyn, New York. He received his BFA in Painting with concentration in Illustration from Maryland Institute College of Art, Baltimore in 2015. Recent solo exhibitions include Come Softly to Me, Sikkema Jenkins & Co., New York; Night and Day, Jeff Bailey Gallery, New York; Heirloom, Antoine Levi Gallery, Paris; Group shows include Youth and Beauty!, Museo d'Arte Provincia di Nuoro; and Matisse + Fratino, Cabinet Printemps, Düsseldorf. He is a recipient of a Ful- bright Research Fellowship in Painting, Berlin (2015-2016) and a Yale Norfolk Painting Fellowship (2014).
David Everitt Howe is a Brooklyn-based critic and curator. He is currently curator at Pioneer Works, where he has organized first-ever institutional solo exhibitions by Charles Harlan, GaHee Park, Tahir Karmali, E.S.P. TV, Doreen Garner and Kenya (Robinson), and Gerard & Kelly; mounted an exhibition of Jimmy DeSana's little-seen late work; paired Kathleen White's sculptures with Nan Goldin's portraits of the artist; and founded the organization's performance art department, which launched with the U.S. premiere of Alexandra Bachzetsis's Escape Act and continued with a major new commission by Tamar Ettun, Dead Sea.
Originally published on Mousse 69