News
Lucie Stahl and Fredrik Vaerslev at Giò Marconi, Milan
Lucie Stahl "Chinese Medicine"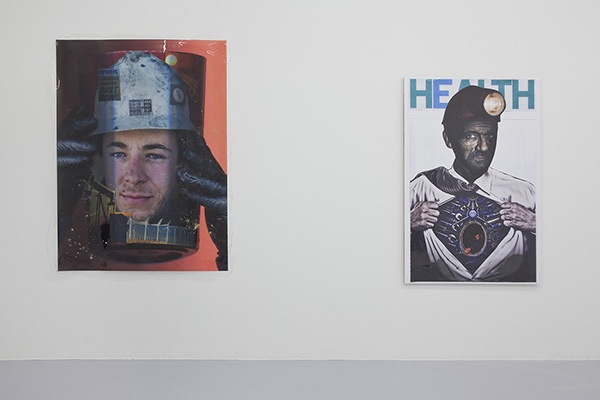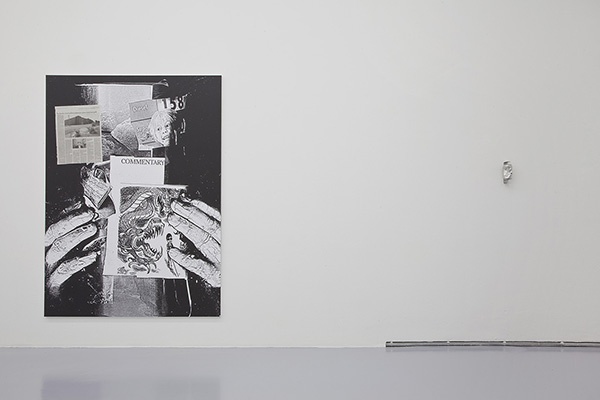 Lucie Stahl has developed a photographic working process in which she places and arranges everyday objects on a scanner and takes their digital imprint. The two- dimensional images are blown-up and printed out as large-scale inkjet prints, which she covers in a thick coat of glossy polyurethane that functions as a kind of frame. The works are fixed directly to the gallery walls like posters.
For her first exhibition at the gallery, Lucie Stahl has designed a series of new billboard and poster works utilizing the conventions of advertising and agitprop, alongside which she will show small sculptural objects made from old beer and soda cans.
"Last year I had my knee treated by a doctor of Traditional Chinese Medicine in Santa Monica, California, where along with acupunctural treatments I underwent a general evaluation. Dr. Lu recommended various life style changes, mostly dietary, which I should seriously consider and which I tend to follow or not. While waiting in the sitting room for my latest appointment and leafing through a copy of the ?Economist? I came across an article concerning US debt to China under the heading ?Chinese Medicine?. And as is often the case my mind drifted into that hazy blur of revelry I am so fond of when it comes to anything remotely serious, complicated or racist, since I have only the foggiest idea of what it means that the U.S. is indebted to China for a Quadrillion Dollars. Reading the article didn?t help but several things occurred to me during this rather long session of acupunctural treatment. Most importantly that this vague coincidence would be the starting point of my next series of works and that ?knowing? something doesn?t really mean shit. Suddenly out of the darkness behind my eyes various potential cover illustrations for an issue of the ?Economist? entitled "Chinese Medicine" appeared. Ginormous acupuncture needles threatening U.S. airspace in the spirit of Reagan era Star Wars propaganda hovered over a computer-generated globe of the world, and since the tips of acupuncture needles tend to break off in your body and are visible later in x-rays, the globe of the world which features the U.S. so prominently would be holographic so that when you turned themagazine a bit to the side the globe would turn dark as night with the U.S. energy grid made up of tiny broken off nuclear needles. I?m German. I?ve been living in Los Angeles for the past year. I bought a brown Subaru, which I?d sometimes drive into the desert where I?d collect old, bleached out aluminum cans of Bud and Coke. It wasn?t until I was lying on my back in my underwear in the cool dark confines of the Chinese doctor?s office that I knew what these cans could be, or to be more precise how it is that I could capitalize on trash collecting. Tibetan Prayer wheels."
(Lucie Stahl)
.
until 9 November 2013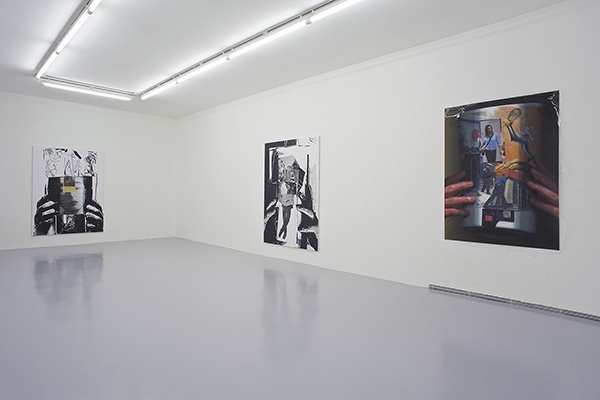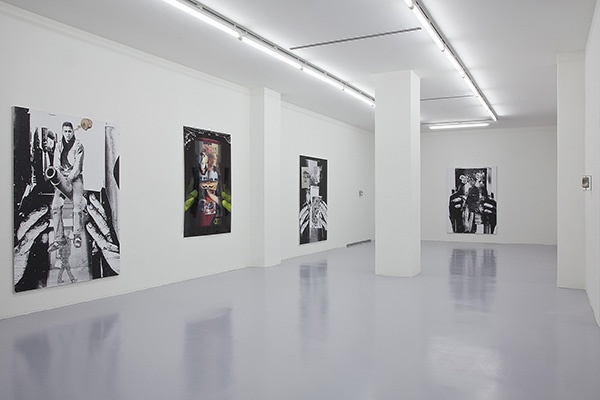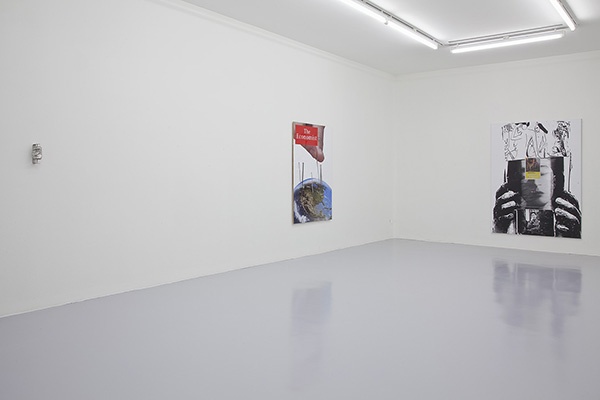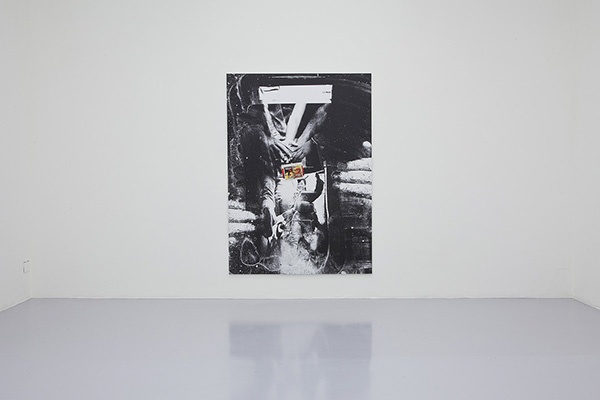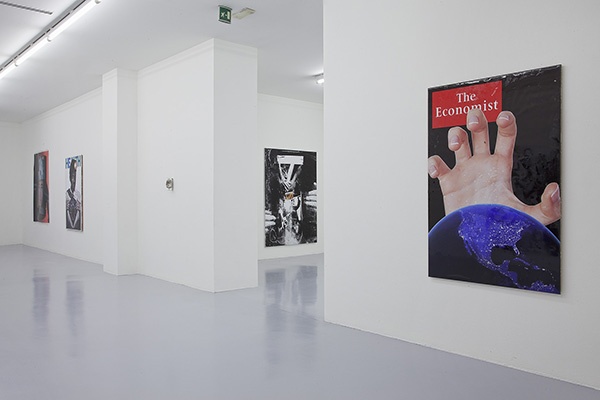 Lucie Stahl, "Chinese Medicine" installation view at Giò Marconi, Milan, 2013.
.
Fredrik Vaerslev "Choppy Times"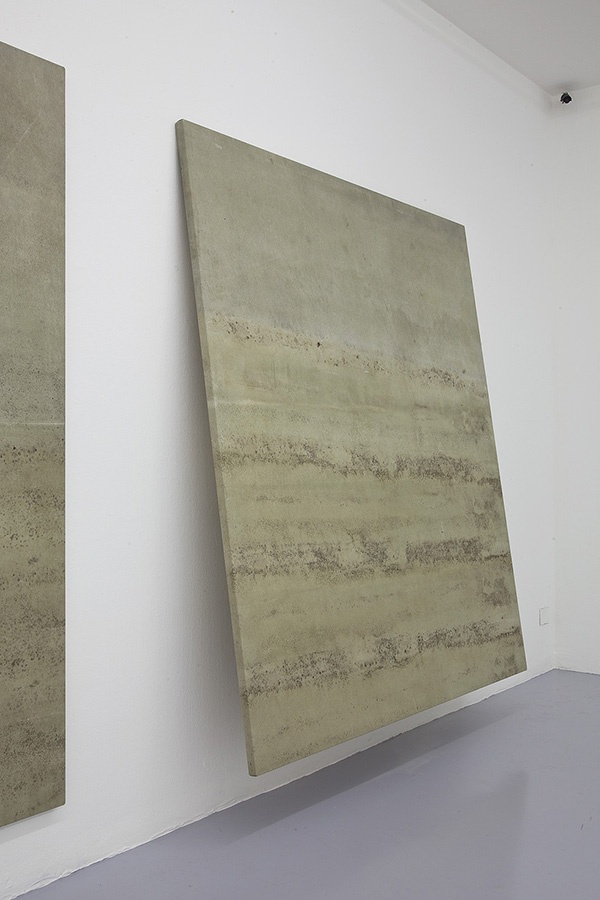 One of the most probing features of Fredrik Værslev?s painterly non-project is a relentless, yet palpably and rigorously quiet, destabilization of mark-making signatures, "signatures of the world," and different vectors and variations of pure contingency. It is as if the visual and tactile world that is teased out to the fore in his work is always on the verge of collapse on the weight of its own positing inexistence.
Mildew. The English word has an almost sweet sense of beauty to it as it derives from the Old English word mild?aw, "honeydew," and its first element contains the Latin and Greek words for "honey", – mel and meli. Strangely enough, as the word describes anything but the sweetness of honey; but conversely rot, decay, and fungal hyphae on organic material. If one considers the Norwegian word for mildew one immediately comes up against a stark contrast as "jordslag" literally means "earth/dirt stroke." This effective and associative contrast that emerges in translation between the English and the Norwegian somehow, as if by accident, also transfers itself into the ambiguity that is to be seen and felt in Værslev?s latest series of paintings. This is a series in which the phenomenon and processual noumenon of mildew constitute its core gestural element.
Untreated canvases have been prepared with primer mixed with pigment, left outside the artist?s studio to dry, then tightly rolled around plastic tubes to be left outdoors for almost twelve months. After a year of wear and tear, from all four seasons of the ever changing Norwegian weather, the canvases are un-rolled and more or less severe attacks of mildew are to be found on the top side of the canvas. Because of the folding technique, repetitive, yet unique, patterns of mildew and primer/pigment now become visible. The canvases are then subjected to a thorough wash with fungicides and then finally left to dry, both indoors and outdoors, throughout the winter. In addition to the potentially aversive associationsdue to the unpleasant rot of the mildew, the fact that the canvases have been processed with a patient methodology that in fact is reminiscent of the way one treats both meat and fish (Norwegian specialities like gravlax and rakfish (fermented fish) come to mind) the "mildew paintings" at display in Choppy Times carry with them a sense of base matter, decomposition, abject dirt, and even death. Perhaps even more so than in the earlier Værslev series like the paintings evoking the (now obsolete to "good taste") Venetian terrazzo, the ones engaging and exhausting the tattered canopy, and his "garden paintings." The latter would perhaps be the closest sibling to the newest addition to the family. That being said, these new paintings at display are also a deepened continuation of the monochrome "canopies" of the last few years. Albeit at a remove from the functionality and architectural sociality of the canopy.
These paintings, permeated with mildew, do, in this fashion, add a somber quality of graveness, death, and dying to the ever evolving oeuvre of Værslev. And, most importantly, they continue the artist?s patient and rigorous exploration of signature and repetition. If, say, the canopies added the anonymous and faceless signatures of architecturally and socially bland suburbia into the mix, and similarly the garden paintings eco-ontologically signatures of the "world," the latest series adds an element of temporality that one could call "temporal signatures" as the iterative patterns caused by both the folding around plastic tubes, mildew and weather distress—and the possibility of repetition is indeed the foundation of any signature—marks the cyclical passing of a calendrical year with both repetition and absolute, singular contingency. In this sense they also intensify, through channels of immanence and intercepted agency, the problematics of seriality that always is set to work in Værslev?s outings. These paintings are in a very remote way related to On Kawara?s date paintings, but summons a temporality, and an outdoors, without and outside of human interaction, gridding, and mapping out. A non-human and emphatically choppy epistemology of painting and mark-making. But only of sorts.
(Peter J. Amdam)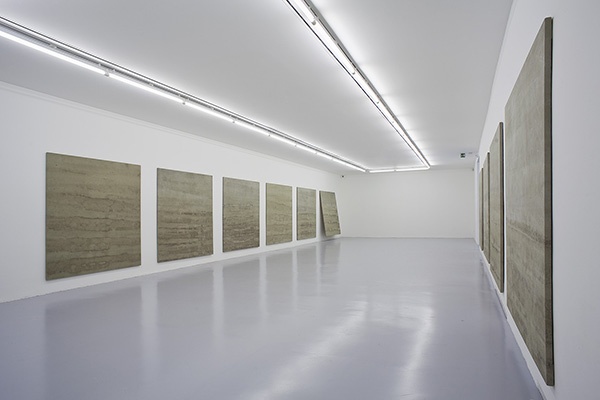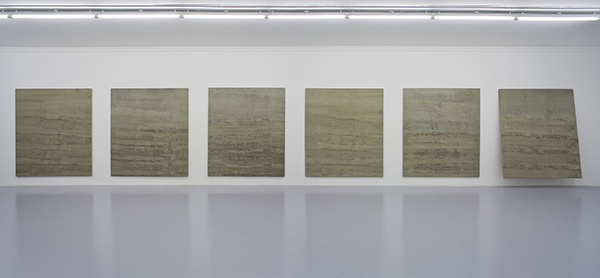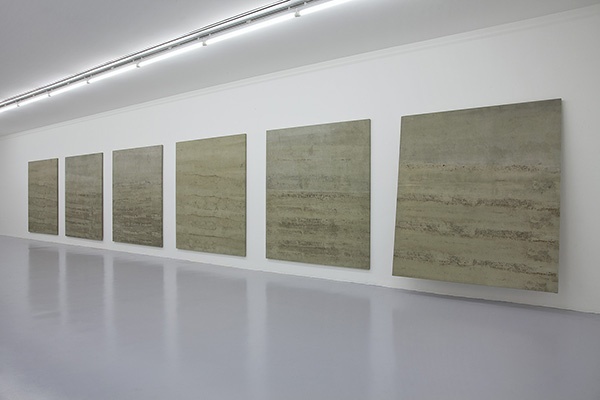 Fredrik Vaerslev, "Choppy Times" installation view at Giò Marconi, Milan, 2013