CONVERSATIONS Mousse 57
About Face: Luke Willis Thompson
Close
1
2
3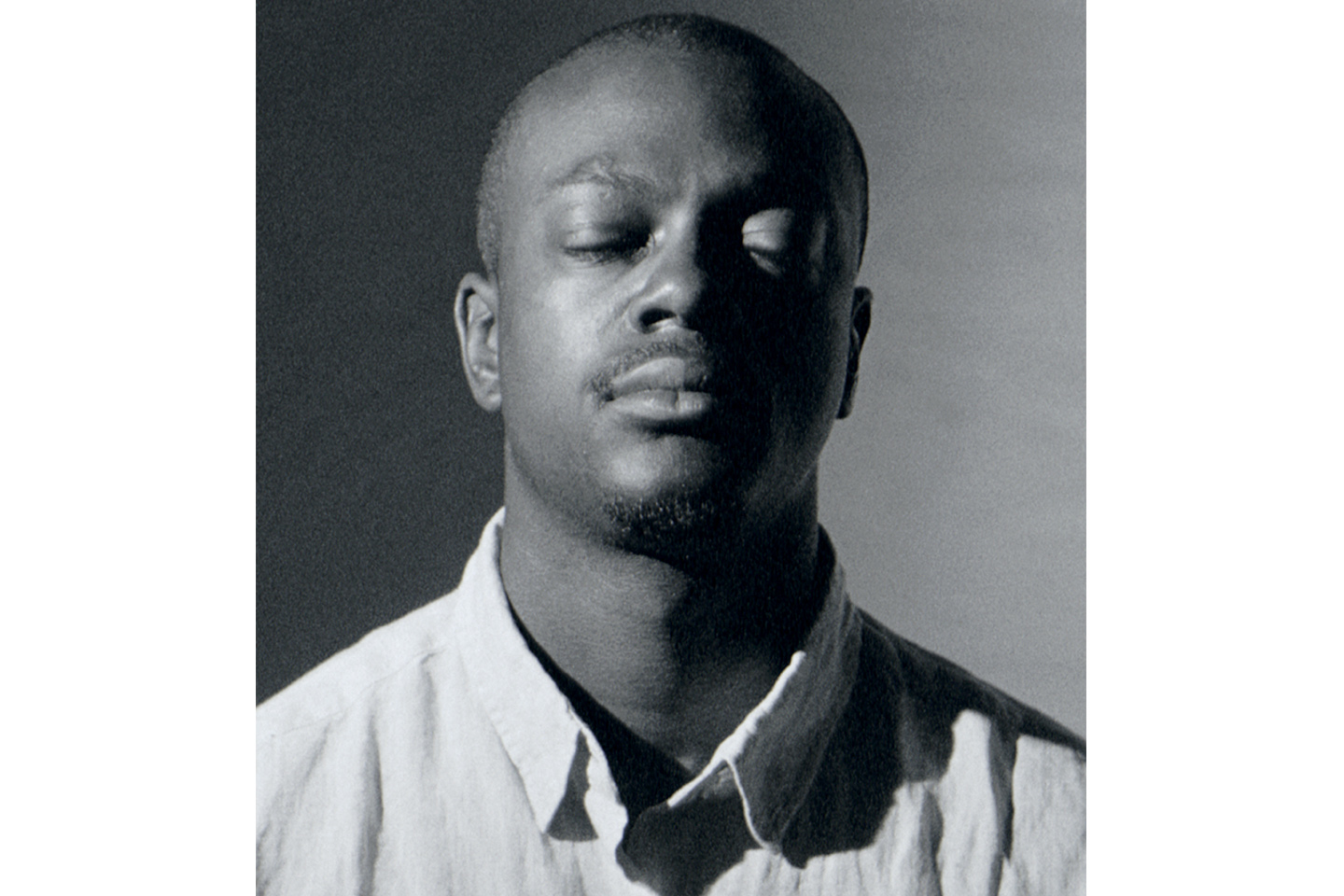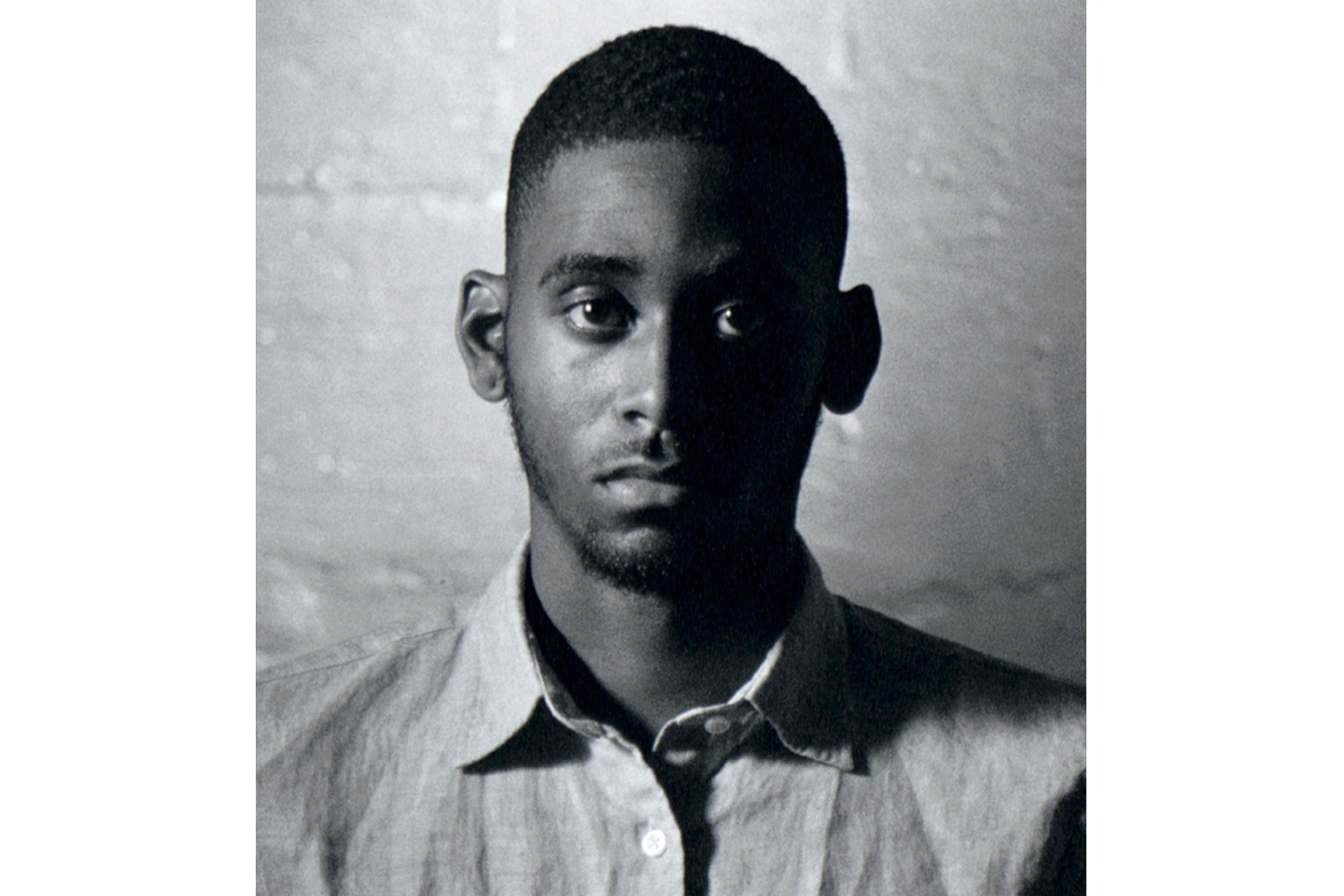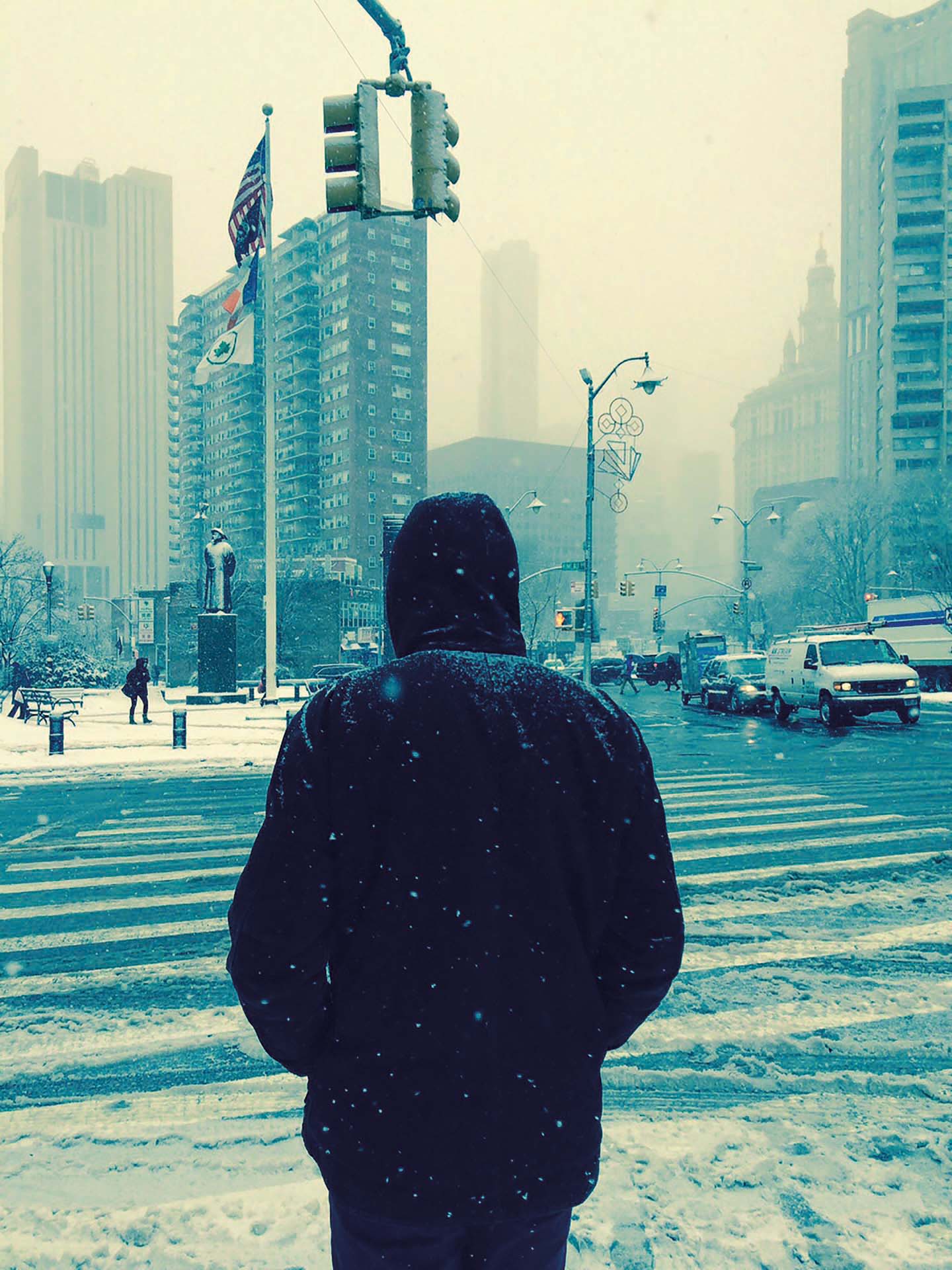 Luke Willis Thompson and Tobi Haslett in Conversation
Cemetery of Uniforms and Liveries is a new work by Luke Willis Thompson that recently screened as part of La Biennale de Montréal, Le Grand Balcon; as a solo exhibition at Galerie Nagel Draxler, Berlin; and as part of Misadventure, a survey of Thompson's work at the Institute of Modern Art, Brisbane. The work consists of two reels of film, each a portrait of a young Londoner with a maternal relative who was killed by police. Tobi Haslett recently saw the work, and this conversation follows.
I'm struck by the force of the frontal gaze. Both Brandon and Graeme look straight at us, barely blinking—their eyes confront and implicate, their very faces insisting on immediacy, contact. In the popular imagination, the solemn black face works like a logo: a stamp of authenticity and witness, one that bemoans a "problem" or articulates a plea. But these men are oddly removed from the traumas they're made to signify. The slain or wounded matriarch seems to float above the image, coyly fiddling with the directness, the raw truth, that the face promises. These aren't "victims" in the conventional sense. Victimhood is something they've inherited—inherited, that is, like facial features themselves.
TOBI HASLETT: How do you understand your use of film stock? It seems both dignified and dignifying. After all, we're looking at Kodak Tri-X Reversal Black and White—the same that Andy Warhol used—and it bestows a richness and prestige upon your subjects. We're accustomed to jerky, blurry footage of black death—moving images quite literally jolted by crisis. It's perverse to think of those cell-phone videos of police abuse as comprising a "genre," but it's true, they do. Certain formal properties emerge: brevity, pacing, the quality of the image itself. That last is strangely poignant. The pixels have an eloquent ugliness, as technology's limitations cloud and cut the picture, really forcing us to think of the cheap bits of plastic, metal, and glass that, when bolted and glued together, can capture trauma. The global economy that furnishes us with smartphones is the same one that disposes of whole populations deemed useless, disruptive, inessential to its functioning. So those amateur videos are a kind of acrid evocation of the capitalist totality. They make us think of production and excess, exploitation and trash. But this film doesn't.
LUKE WILLIS THOMPSON: I once shot a film on the DV tape of a handheld camera, certainly a "poor image" even by the standards of the time, of the visit I made to see my father's lifeless body in a funeral home. A couple of years later, I made it the basis of a show. It was a naive action, but I wanted to look at my own life, in a particularly painful time, auto-ethnographically. It made for cruel viewing, not least because his black body in state didn't look anything much like my light-skinned living one, and so the relationship between us—or the video's protagonists—wasn't immediately obvious. Incidentally as it would seem now, I remember I had been reading Warhol's diary at the time, and was thinking of his use of a tape recorder as a machine of commodification—as a way to synthesize bad news into a readily distributed product. I don't disclose this anecdote to imply that I know what it means to produce the type of video evidence that is coming to constitute both the archive and the genre of videos of state violence. Instead I want to suggest that the decision to document life at the moment where one may experience a scene of violence or suffering against themselves or their community is unlikely to ever be accidental or unconsidered, even, or especially, if the quality of the video suggests so. It has been pointed out that these tragic images are in fact not usually useful as evidence. Instead their value lies in their transmission, their prayers and appeals to dispersion. At this point, I wonder if the recent catalog of evidence of black death can be considered a form collaborative filmmaking, and if so, what should the aesthetic response be? The use of Tri-X wasn't a singular choice; I wanted to take the entire filmic apparatus readymade from Warhol, as recorded by Callie Angell's catalogue raisonné. I made the decision to apply the logic and machine of the screen test, which has its shallow roots in police photography and the mug shot, and its historical ones in the project of criminal physiognomy, eugenics, and coloniality. This design was so much about effecting force on its sitters to trigger a performance. When I began to work with the protagonists, we spoke of ways to resist the fixity of the entire apparatus, and ways to try to record their own tactics of evasion, or moments of self-dispossession. Tri-X was never metered for nonwhite skin tones, and my work with the cinematographer involved figuring out ways to work against the film itself. I hope the dignity you read in the work also comes through the strength of performance of Brandon and Graeme, as underperformed as it may be. One of the more moving aspects of my role as the director was to talk with them about the single circulating images of each of their relatives, which for whatever reason became the portrait that is always conjured up, from news media to memorials. For Cherry Groce, it's an image of her in black and white, although it's already 1985, on a hospital bed. For Joy Gardner, it's a drugstore print, probably on Fuji Long-life film, of her standing on a leafy street in Jamaica. We wanted to think, then, about a kind of counter-image, and to appreciate that making a portrait was against that history. I think the Tri-X, as an anachronistic material choice, does a good job of temporally misplacing them and their ancestors. There is a way—I hope—in which it hides them from the totality you refer to, and gives them a chance to speak trans-generationally.
TH: I wonder if my last question about trauma can be rephrased—which is to say that the placidity and lavish texture of your film don't merely undo the logic of, say, the Eric Garner video. Your work's formal attributes might actually register loss in a way that invokes Freud. Cathy Caruth has that famous essay in which she reads Moses and Monotheism as Freud's stuttering attempt to explain the horror of the Holocaust. Freud thinks of the creation of the Jews as a massive historical deception; he dreams up this theory that there were actually two different Moses figures, that the first one was Egyptian, that all subsequent history has been a fraudulent enterprise, and so on. (This is strange, even by his standards.) But the fiction is necessary, as it smooths over these abrupt gaps and gashes in the history of a people. Trauma, then—and this is Caruth's point—is never properly experienced. There's a latency to the present moment itself, a muffled pain that makes itself known in its future reverberations, such that it can only be retroactively recognized. How were you thinking of delay or submersion in this work? And to shove Freud even deeper into this: Are there wishes being fulfilled here? Fantasies evoked? Losses overcome, even provisionally?
LWT: There is a long artistic history of the representation of trauma, which tends toward focusing on its incomplete traces, its watermarks, the ways it shows up indirectly. I would say this work is consistent with that, although a complicated example in that it is a literal and very physical embodiment. It attempts to locate the residue of trauma in a pair of faces, through a chain of genetic inheritance, perhaps through their expressions over the duration of the minutes they sat for the camera. Ultimately this attempt is a fantasy. The vulnerability or stoicism one detects in the film is still necessarily a performance. As the trauma of the loss repeats, so to do the phenomena that gave way to these killings. Brandon and Graeme have both been stopped and searched multiple times, and as the Stephen Lawrence case evidenced, their families are likely still surveilled. In fact, the ubiquity of misrecognition, as both a catalyst and a defense, in contemporary narratives of police violence is overwhelming. I'm not just talking about the way a "wide-set nose" can get one killed. When I first began researching Cherry Groce's story, I was caught by the metropolitan police's admission of seeing a family home as a squat. This trauma is visuality.
TH: Cherry Groce was shot in 1985; Joy Gardner was killed in 1993. Those in charge—those who manage state power, who pull the biopolitical strings—would have us believe that these women were unintended victims of an otherwise righteous crusade against urban crime. The prolongation of that crusade, as much as it may horrify you and me, is therefore cast as a valiant, continuing effort to confront a particularly intractable problem—by which I mean crime, and not the social factors that obviously prop up "crime" as a category in the first place. So both sides of this debate (though "debate" is too sanitized a term for something so cruel) insist on their lack of agency. I wonder if the still silence of your film alludes to or reflects a feeling of political fatigue.
LWT: I was at the United Families and Friends Campaign's annual march to Downing Street recently and as we stood outside No. 10, Marcia Rigg (sister of Sean Rigg, killed in 2008) read a letter to Teresa May. It was inaudible, not only to the line of police in front the building, let alone the official headquarters, but also to most of the marchers gathering with her. It was very clear that the reading was a gesture, but the effect was like that of a pantomime, enacting speech to the deaf ears of the state system. In the context of art, when the content is politics, mourning, or protest, I'm really interested in what silence can do. I think there is a lot of potential in the act of refusing: to speak, or to produce information, or to translate content into data. My practice has for a while involved stripping any direct verbal communications from the work, and redacting the language from the experience of the art. But in this film, and the work I'm doing as a part of my residency at Chisenhale Gallery in London, I want to think about silence more metaphysically. Neither Brandon nor Graeme were asked to speak, nor attempted to, and the film itself couldn't capture sound. The work was also played at what was called "silent speed," as Warhol's were, which distorts the viewing experience by slowing it down almost imperceptibly. I also think there is a connection between silence and airlessness, feeling like not being able to breathe and therefore not expelling speech. In my current research, I'm also thinking of ways to literally suppress and strip the sound from the image, so that the phenomenology of cinema is its subject. I don't think it's about a discursive stalemate. It's about connection.
TH: I remember being in the cast for the performance you did for the New Museum's triennial, in which I led the audience on a wordless walk around New York, all the while moving briskly, keeping my distance, leaving them to stare at my back. This project seems a reversal of that. Rather than an ephemeral performance, we have a congealed and prestigious aesthetic object; rather than a journey, we have a stationary camera; and rather than a black back, we have two black faces. That last reversal really fascinates me: how it speaks to two different ways of regimenting or recording black corporeality. There's the black body as it lurches through urban space, but then there's the black face, which invites all sorts of lovely Levinasian speculation about particularity and the ethical responsibility that makes itself known in the pure alterity, the phenomenological thunderclap, of the Other's face. But the face is also what exhibits so-called racial characteristics. It humanizes, in a sense, but it's also brutally "legible." Damning little distinctions in grooming, demeanor, and comportment reveal themselves. Has your relationship to looking changed? This video seems to revel in a kind of ambivalence.
LWT: It was really because of the piece you performed in, Eventually they introduced me to the people I immediately recognized as those who would take me out anyway (2015), that I was propelled to make the work we're talking about. That earlier work was described as dreamlike, the audience being pulled through the city in a real-life, durational, rear-view figure shot. You told me in New York that the experience felt like "being both a camera and a dolly," that you knew you were fixing their sights into a picture, your body and the street. However, many audience members described the moment when you and the other cast members would flick around to check on them, to measure the distance and catch their eyes, as the most destabilizing aspect of the work. It was this, I think, that prompted Cemetery of Uniforms and Liveries, which disorients the viewer by making that minor moment from our work the sole image. The decision Brandon and Graeme made to be the subjects of these portraits, knowing they would not just be subject to the gaze you describe, but also be archived and serialized, was a serious one. But because of the discussions they and their family members are tied to through their proximity to their maternal relatives who died, they both already have digital selves, and have had lives given closer media attention than others, so they know what their pictures can mean. The last time I screened this work, in a small forty-seat cinema, where the room felt suffocating, I realized that their objecthood—as we, the audience, faced them—isn't something they have to live or experience in that moment, but that you do as an audience member. The non-simultaneity of a moment of contact playing out in real time was a form I was happy with. Their spectral form is the ethical charge to make them real. I wonder if this is where the latency of trauma we described earlier reveals itself. Graeme's citizenship was the result of his mother's killing, the bitter compensation for a botched deportation in a moment of anti-immigration fervor. His presence in the film and what it means is all on you.
Born 1988, in Auckland, New Zealand, Luke Willis Thompson is a graduate of both the Städelschule in Frankfurt am Main and the Elam school of Fine Arts MFA program. In 2014 he was awarded the Walters Prize, New Zealand's most prestigious contemporary art prize. Recent group exhibitions include Live Uncertainty, 32nd Bienal de São Paulo, and Le Grand Balcon, Montreal Biennale, both 2016 and Surround Audience, New Museum Triennial, New York, 2015. He lives in London, where he is undertaking the Chisenhale Gallery Create Residency 2016-17.
Tobi Haslett was born in New York. He has written about art, film, and literature for n+1, The New Yorker, Artforum, The Village Voice, and elsewhere.
Originally published on Mousse 57 (February–March 2017)