ESSAYS Mousse 25
Managers & Improvisers
by Andrea Viliani / Kitty Scott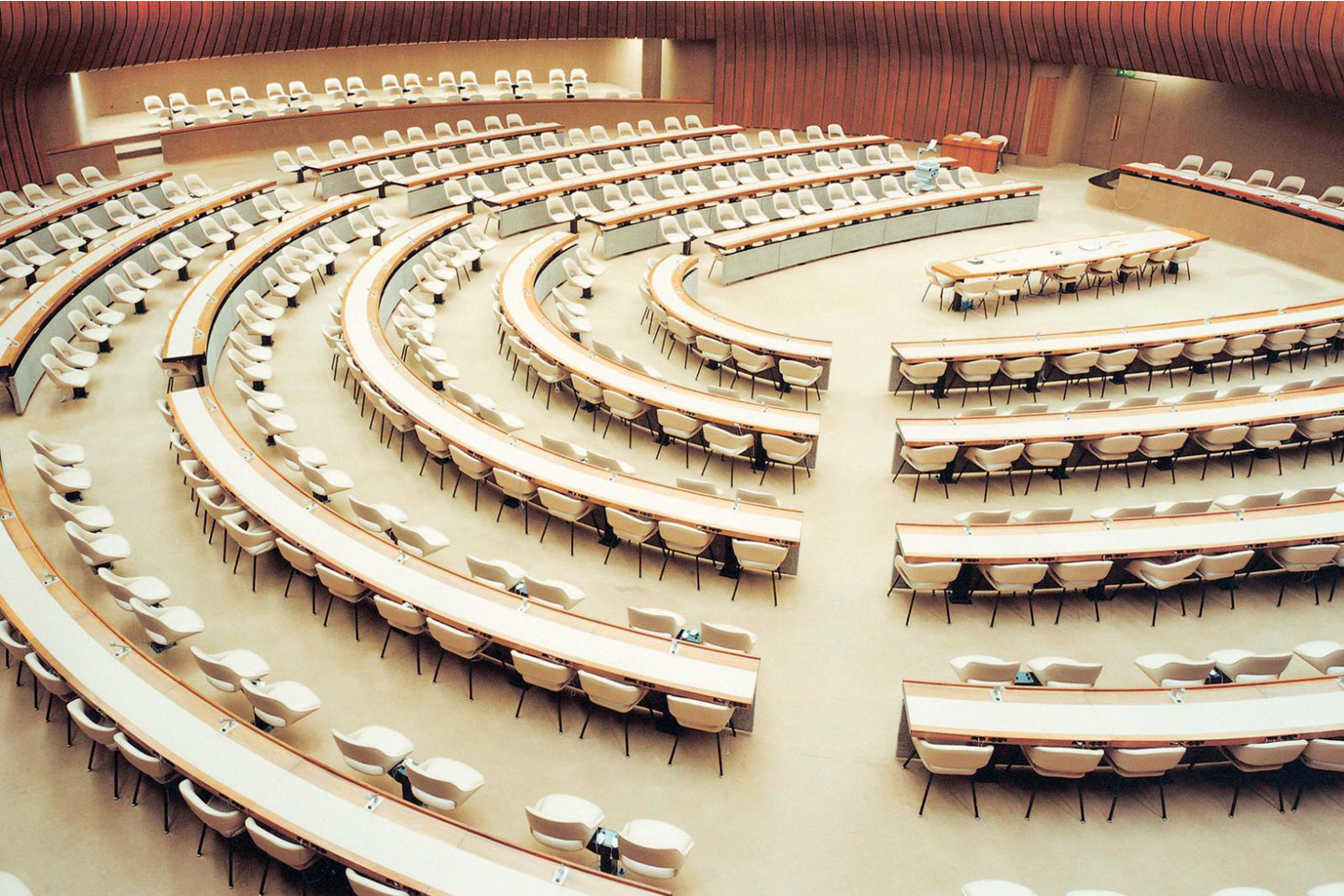 John Palmesino, Anselm Franke & Eyal Weizmann, Neutrality, 2006. © John Palmesino, Anselm Franke & Eyal Weizmann 

The field of curating is constantly changing. While in the 1960s and 1970s, with the first independent curators—from Szeemann with his "agency for spiritual work" to Siegelaub with his original exhibition formats—the role was connected to individual brilliance and total freedom, today the plethora of schools, the globalization of biennials and the festival approach to culture have made the practice more predictable. Kitty Scott wonders just how professional curators are today, and to what extent professionalism is useful…
In November 2010 the Banff Centre will stage Are Curators Unprofessional?. This symposium will examine the curator's complex and changing relationship to notions of professionalism, expertise, ethics and modes of conduct.
In Curating Now: Imaginative Practice/Public Responsibility, Nicholas Serota suggests that the curator who works in public galleries is the brain of the museum, and describes his ideal museum as a place of "discourse, debate, reverie, enlightenment, and inspiration through an encounter with an object, which is a primary experience of a work of art". As "the brain", the curator's role is, in Serota's words, "to give structure to the experience, and to take responsibility for creating the frame through which the public will see the work of art."
Serota emphasizes the importance of curatorial agency and articulates the finer contours of the profession. We could extrapolate his formulation of the curator as the brain of the museum and suggest that the curator might also be the conscience, and we could extend the curator's domain beyond the museum to include the globally expanding field of contemporary art institutions, temporary exhibitions, biennials and other events that take place in the public realm.
As critic and curator Cuauhtémoc Medina observes, curating contemporary art is a field demarcated by flux and change, and thus it remains to a great extent—and perhaps by—an improvised and unregulated practice. In recent decades, however, it has experienced an unprecedented turn toward professionalization; the proliferation of curatorial and museum studies programs is evidence of this shift.
Coincidentally, we have also witnessed the turn of museums and culture more broadly toward "festivalization", with the worldwide vogue for biennials of contemporary art and a continuing parade of spectacles. In the scramble to remain relevant and reach mass audiences who will buy tickets, the curator's work—which has traditionally been defined as researching, collecting, caring for and interpreting—often gives way to another set of priorities, ones aligned ultimately with revenue generation.
In this context the power and authority of the curator of contemporary art has undergone a simultaneous expansion and diminishment. Twenty years on, after the introduction of the first post-secondary curatorial studies programs, there now exists an ever-expanding curatorial class, which must contend with this unstable identity persisting between practice and profession.
If you ask people working in the field of contemporary art whether curators of contemporary art are unprofessional, they will respond, not surprisingly, with an array of possible answers—answers that hinge, I think, on the dramatic changes in the profession and the diversity of contexts in which curators practice.
A common response to the question "Are curators unprofessional" is, "No, in fact today's curators are too professional, they are not unprofessional enough".
This suggests that some contemporary curators are perceived to fit too easily into frequently market-based definitions of success, travelling continually on a predictable international circuit, and turning contemporary art into an adjunct of the culture industry.
An interpretation of the response that curators are not unprofessional enough seems to revolve around a sense of what might have been lost in the drive towards efficiency and global reach. Perhaps the professional curator finds it increasingly difficult to sustain an idiosyncratic imagination, unorthodox interests, a risk-taking mentality and the desire to question authoritative positions. Perhaps curators are too concerned with professional prestige and social status, the celebrity attendant on prominent institutional positions.
Such a response also suggests there's a yearning for the kind of curator who knows how to be "unprofessional" in the right way if necessary, or even for "unschooled" curators who identify as artists, critics or even something completely other. Of course, this latter kind of "curator" or "improviser" lives and works amongst us, and they are far from extinct.
But someone else answering the question "Are curators unprofessional?" might answer simply in the affirmative. They might mean that curators do not possess art historical knowledge or the ability to write well—the skills and expertise they need to make effective exhibitions and other kinds of projects—or that they do not behave responsibly towards art and artists. Who has not heard of a story from an artist who has been invited to be in a seemingly significant exhibition, only to find out on arrival to install that they will have to fend for themselves? Perhaps an assistant walks them to a completely empty space where they will be exhibiting and leaves them there with little or no further information. Or in another scenario the artist arrives as the exhibition is being installed and learns their work has been placed with little, if any, consideration of its spatial needs or of any of the accompanying instructions. The work has become something other than what the artist intended.
If it is agreed upon that the curator is responsible to the artist, the work and the public, then yes the curator is all too often unprofessional. The "ethical" questions that arise in these circumstances include: What does it mean to be a professional and when is it necessary to become unprofessional? Does curating have a code of conduct? What are its ethical considerations? What is the relationship between curatorial power and responsibility? What is professional and what is amateur in this hybrid field?
Originally published on Mousse 25 (September-October 2010)