REVIEWS
Plants as Other: Manuela Infante's Estado Vegetal
Close
1
2
3
4
5
6
7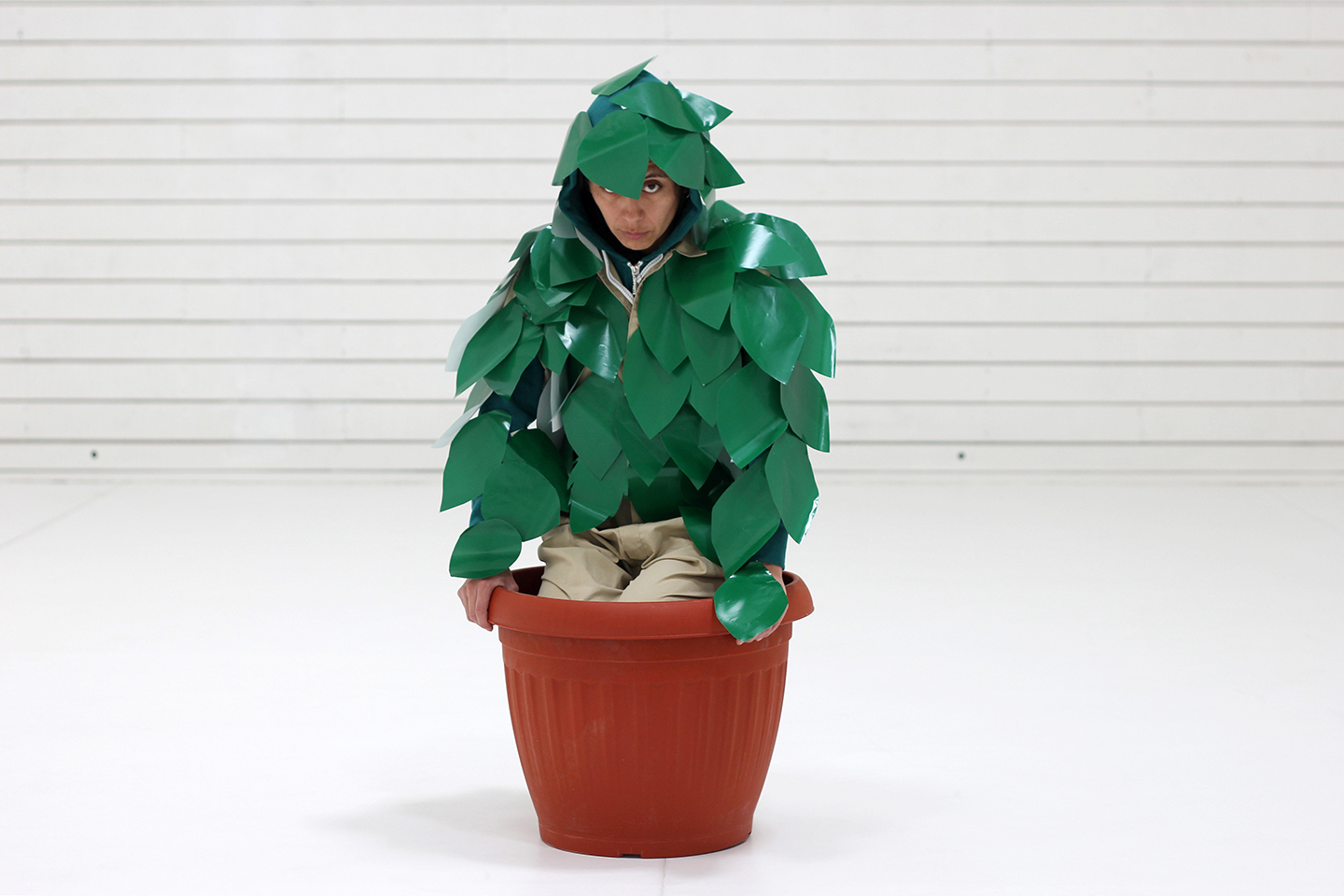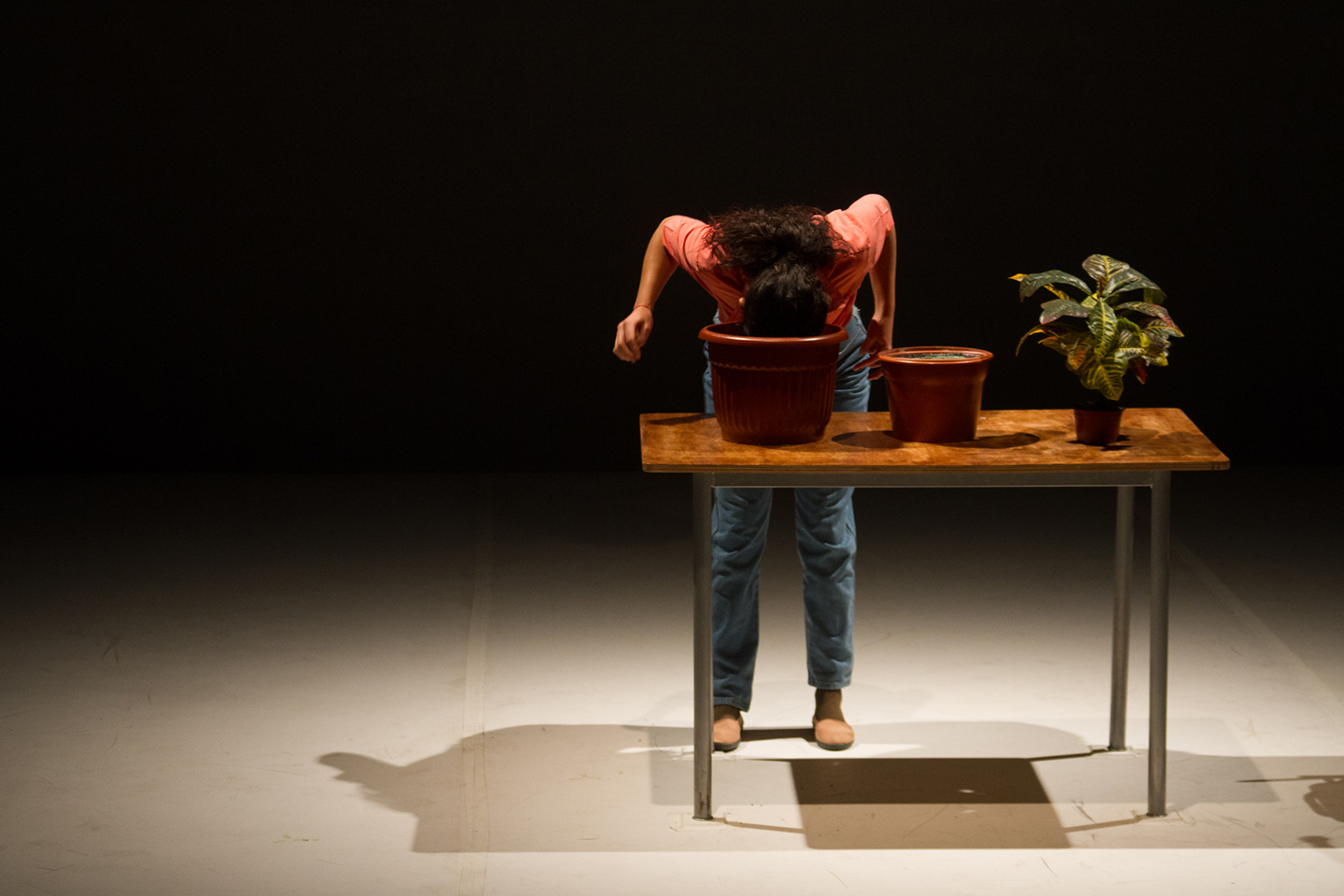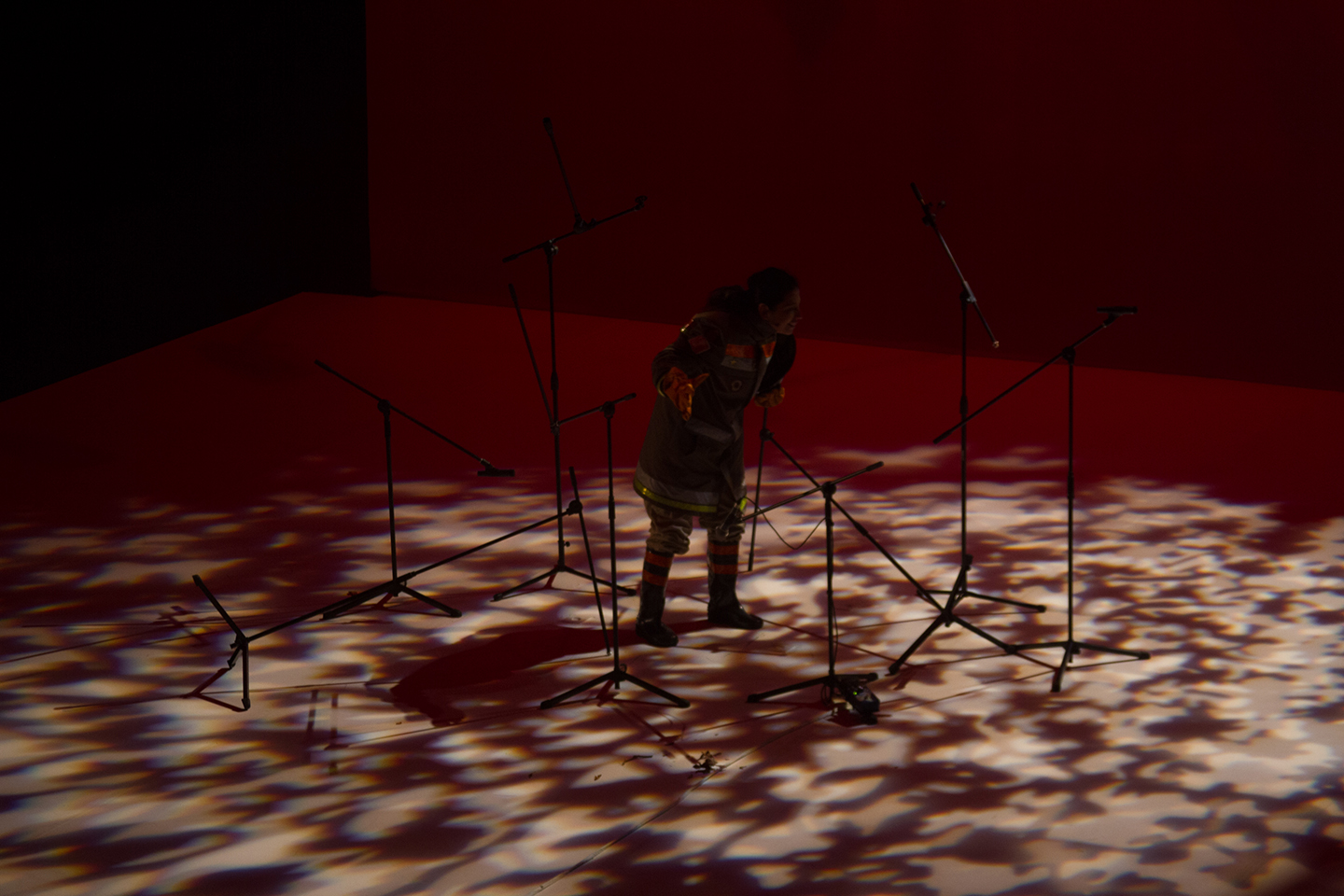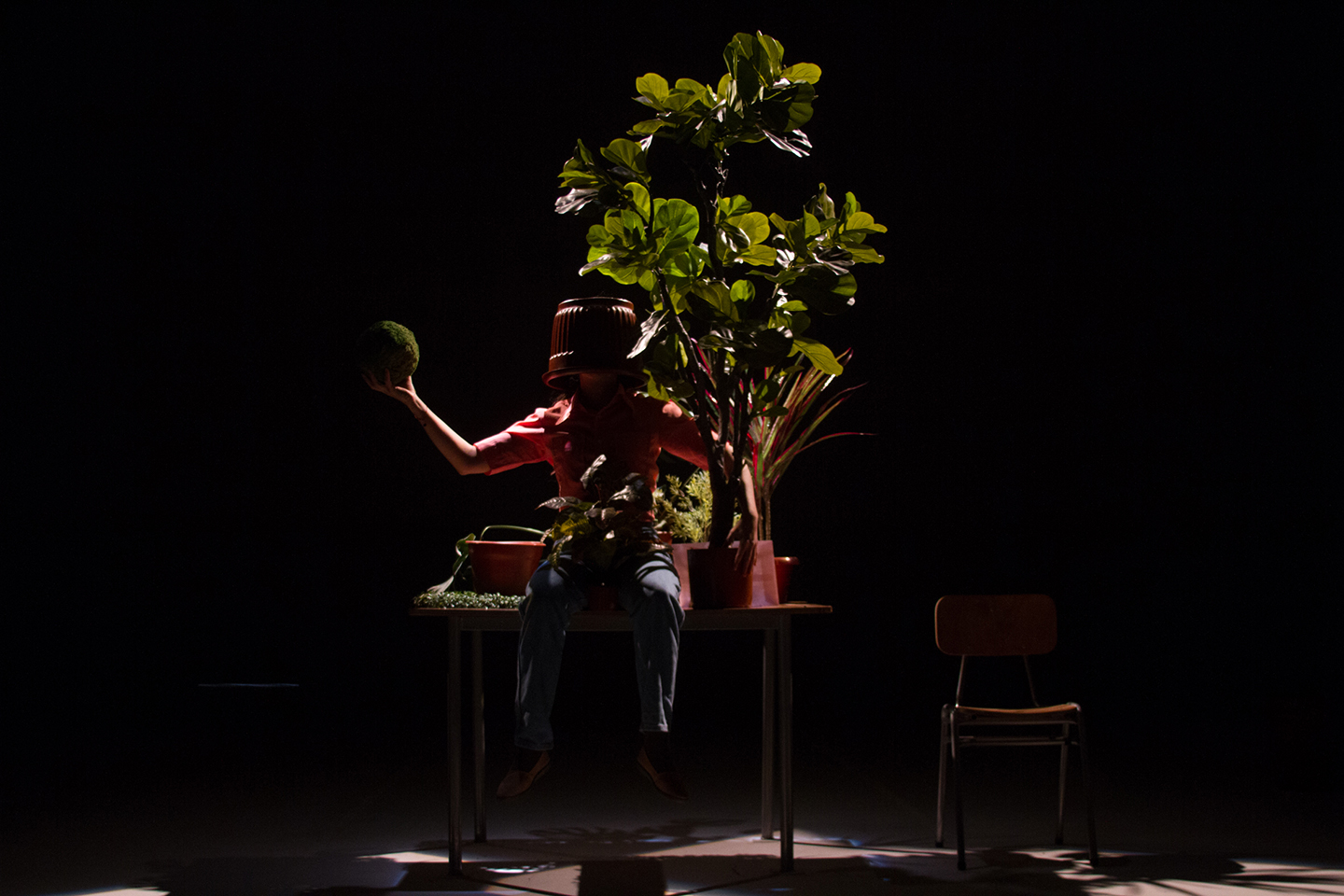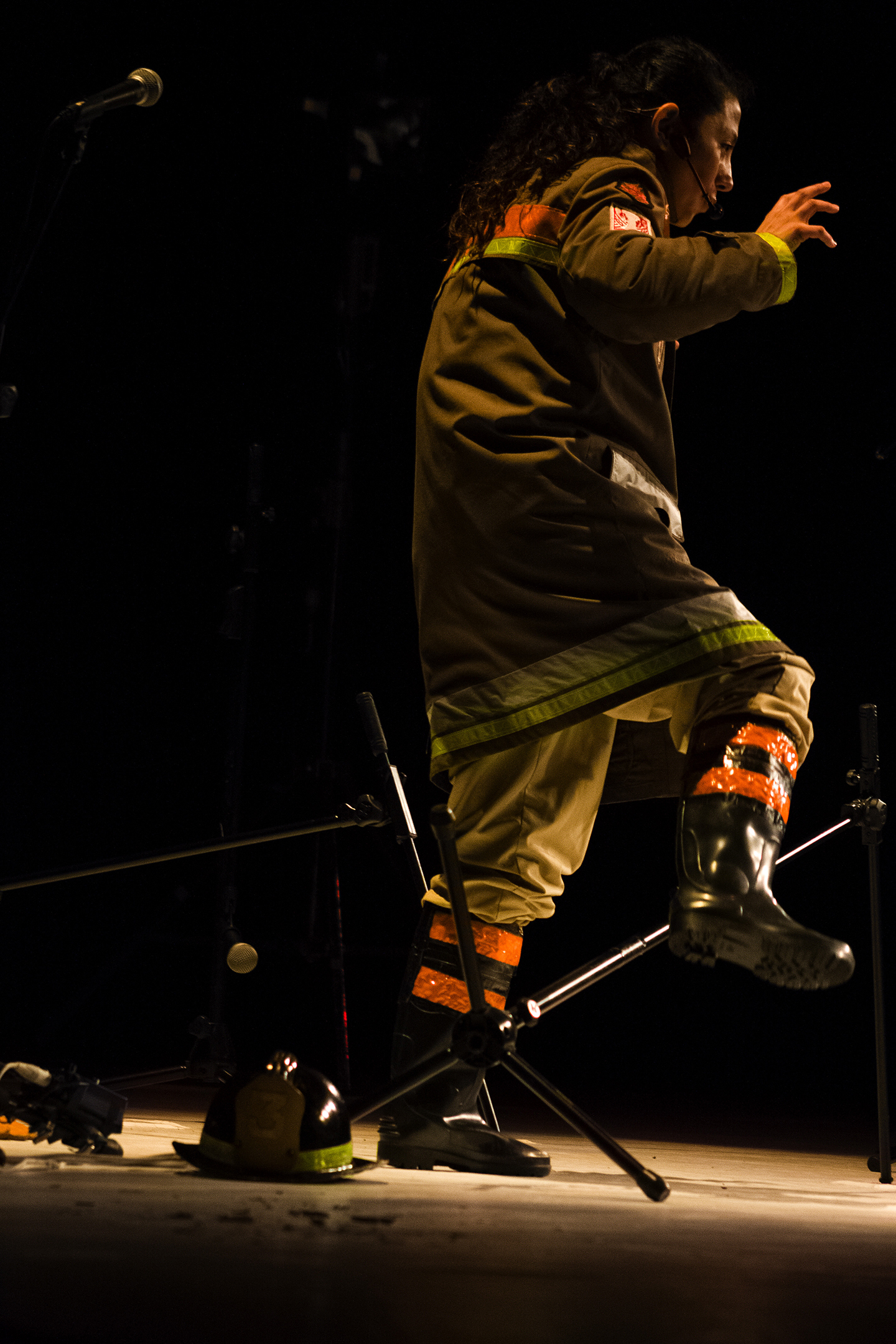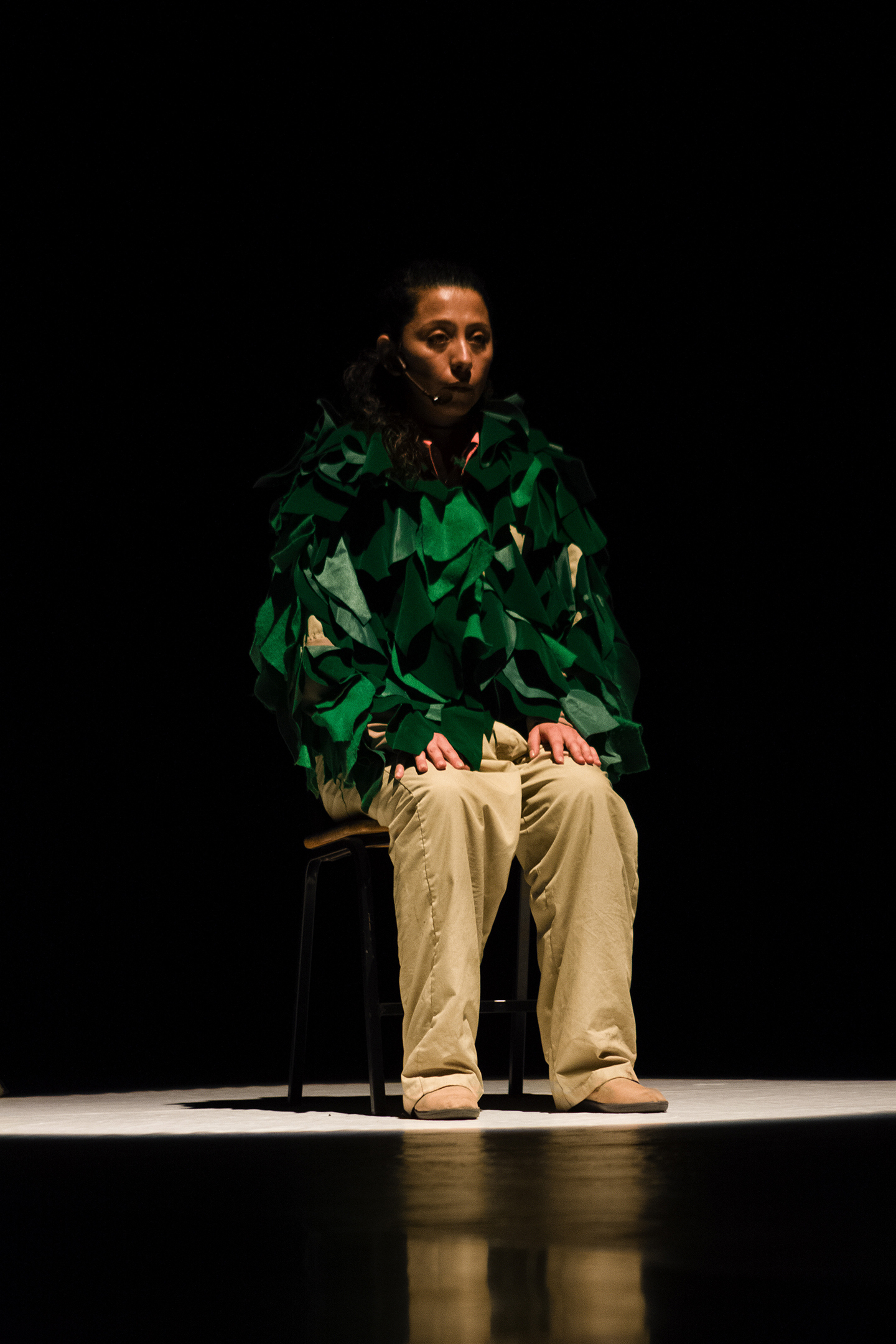 by Lucy Cotter
Estado Vegetal (Vegetative State) by Chilean theatre artist Manuela Infante explores how plant intelligence could change human perspectives. Drawing on plant neurobiology and plant philosophy, it proposes that the recognition of a valid "other" in plants is also the beginning of recognizing that vegetal other within us.

In one of the many striking moments in director/playwright Manuela Infante's fascinating one-person play, Estado Vegetal (Vegetative State), the chameleon-like performer and play's co-author Marcela Salinas momentarily becomes an old woman who converses with her houseplants with the intimacy of a "real" relationship. The geriatric protagonist's close listening to—and hilarious flirtation with—her plants takes an unexpected turn when they start to make demands, beginning with the insistence that their pots be placed on the ground. This leads to the old lady removing all the floorboards of her house in order to enable the plants to root in the earth. The plants' subsequent reclamation of her house, and its ultimate disappearance in a jungle of weeds, pre-empts a recurring proposition in the play that plants will reclaim the earth following the demise of human beings. Later, Salinas rolls a fake-plant-covered ball across the stage, silently evoking this potential fate with a comedic absurdity that is a hallmark of the show at large. It's precisely through this absurdity and occasional slapstick humor that the performance digs into and hacks at humanist self-conceptions and a widely shared underestimation of the importance of plants to planetary wellbeing. Estado Vegetal is not a plea for conservation, however, but a quietly subversive politicization of plant life, grounded in a post-Haraway conception of nature-culture. The plants on stage are visibly made of plastic, and their habitat is a desk-like table, overhung with a low-hanging row of stage lights.
The new field of plant neurobiology, established some fifteen years ago, affirmed that plants are cognitive organisms and thus intelligent beings. They "communicate" with neighboring organisms by releasing chemicals to warn of danger, pests, or drought, among other insecurities. Infante incorporates the findings of Stefano Mancuso—one of the field's pioneers—and explores the ideas of plant philosopher Michael Marder, who notes that "to recognize a valid 'other' in plants is also beginning to recognize that vegetal other within us."[1] Rather than being a metaphor, this is an acknowledgement that human beings are partly made up of plant genomes. The half a dozen or so protagonists in Estado Vegetal—all played ingeniously by Salinas—act out the external resonance of this inner reality as their lives intertwine with each other in ways that are circular, synchronistic, and plant-like. A firefighter who spends his days putting out forest fires crashes into a tree on his motorcycle ride home, leading to the vegetative state evoked in the play's title. A child who talks to trees seems to be a younger version of the old woman who talks to her plants, as time and the sequencing of events becomes as encircling as a creeper vine.
The singular brilliance of Estado Vegetal lies in the ways it renders the state of planthood tangible. It manifests plant-thinking as "a non-cognitive, non-ideational, and non-imagistic mode of thinking proper to plants," as Marder describes in Plant Thinking: A Philosophy of Vegetal Life.[2] Infante takes up his proposed challenge of bringing human thought back to its roots and rendering it plantlike. In fact, most of the play was not conceived or written in the traditional sense but evolved using improvisation as a research process into planthood, undertaken in a close collaboration between Infante and the play's co-author Salinas. Consciously extending beyond rational thinking, Infante proposed in the Q&A following the performance: "there's a lot of space [in the play] for obscurity, for things you can't access or make sense of," aiming to foreground "that which cannot dissolve into human knowledge."[3]
Salinas's use of her voice as an instrument, with many registers between silence and speech, holds much of the play's insoluble material, along with her constantly permutating bodily dispositions. The evocative sounds she produces with her voice and breath allude to the existence of non-anthropocentric languages. While strictly theater, her experimental performance draws on mime's tendency to capture moments just before articulation (or that which is on the brink of being representable), as her gestures and facial expressions move through states of delinquency, infantilism, senility, and mourning. That Salinas is speaking Spanish seems little interruption to this immersive experience, perhaps because the play's words, accompanied by projected subtitles, offer only a fraction of its expressive interest. Rather, taking seriously Bruno Latour's questions in Reassembling the Social: "When we act, who else is acting?" and "How many agents are also present?", Infante's "post-human theater" includes such reversals in hierarchy as the actor following the lights (as plants always do) rather than vice-versa, and the use of a repeat-pedal to make the actor's voice reflect the inherent multiplicity of vegetal structures, rather than reaffirming individualized existence.[4] These sound effects were developed by Infante, who is also a musician.
And yet, the exceptional achievement of Estado Vegetal lies equally in its vegetal structuring of words. The almost obtuse repetition of everyday phrases containing plant-related terms such as rooted, planted, leaf of a book, etc. takes on force when entire phrases are re-articulated by different characters, creating a circular narrative structure. "I can't move" is a statement uttered by the firefighter as he lies on the ground following the motorcycle accident and later whispered by plants contemplating the dangers of their inherent immobility. These subtle variations and loops echo Gertrude Stein's Landscape Plays, with Infante's foregrounding of the medium of writing creating a comparable meta-drama. Yet, Infante derives this branching structure from plants, noting how they have evolved within a modular system, with each sub-part being different but repeating basic systems—such as breathing apparatus—to make them more sustainable. This reflects the long evolution of plant DNA, which is older than that of humans.
By rendering plant intelligence deeply into its own structure, Estado Vegetal also makes a political proposition. The distributed organization of tasks in planthood offers an alternative model of organization and governance. Infante explains that "rather than having a central government, plants have governments in every leaf and root. So, plants make collective decisions that happen to be individual." The title of the play also toys with the idea of the State. This is not surprising given that this Chilean theater-maker has been acclaimed for twenty years for plays that engage with history and politics in radical and experimental ways, raising profound philosophical questions. Indeed, Infante has described her own work as "a lab for embodied philosophy."[5] It is only in the last few years that she has processed the Nonhuman Turn and Object-Oriented Philosophy, although she attributes this engagement with "vital materialism" as an extension of her long-term commitment to feminist thought. Infante's wish to create a post-human theater was first put into practice with Realismo (2016), made in collaboration with her former theater company Teatro de Chile. A transgenerational narrative in which objects became the central protagonists, this play also echoed the material choreography of artists Fischli and Weiss's renowned video work, Der Lauf der Dinge (1987), which was among the play's many sources of inspiration.
There is no doubt that Infante's collaboration with Salinas, which started with Realismo, has enormous potential. Their next project will engage with rocks, the most notable material manifestation of sedimented time. Plants too have a sense of duration that includes time before and after human existence. During Estado Vegetal one of the protagonists observes that a tree "moves so slowly that it appears to be still." This reversal of the logic of movement allows the tree itself to become a protagonist, who caused the firefighter's crash into it because "you couldn't see it coming."[6] Near the close of the play, Salinas incarnates this firefighter, standing alone on an orange-lit stage, surrounded by standing microphones that echo the skeletons of charred tree trunks. Sitting in the darkened theater of the Portland Institute for Contemporary Art, the scene evokes the 150 fires that raged in Oregon's forests last summer and the days when it was uncomfortable and even unsafe to breathe in the city.
As I write this review, a panel of thirty-seven international scientists are gathered to vote on whether or not a new geological age can be made official—that of the Anthropocene— which signals the devastating impact of human activities on the Earth's surface. Estado Vegetal speaks to the sense of urgency of this moment, but it resists moralism and didacticism as it plunges the audience into the intelligent and necessarily opaque world of planthood. Instead, the comedic gestures of Salinas remain imprinted on levels beneath the rational, prompting even the most die-hard urbanite to reconsider their innate relationship to plants.
[1] Marder, M. Cited by Manuela Infante during a lecture entitled "Post-human Theatre", held at Portland Institute for Contemporary Art, 27 April 2019.
[2] Marder, M. (2013). Plant-thinking: A Philosophy of Vegetal Life. New York: Columbia University Press.
 [3] Q&A followingEstado Vegetal, with Manuela Infante and Marcela Salinas, moderated by Craig Epplin, Portland Institute for Contemporary Art, 26 April 2019.
[4] Latour, B. (2008). Reassembling the Social: An Introduction to Actor-Network-Theory. Oxford: Oxford University Press.
[5] Fabian Escalona,"Manuela Infante Makes Space for Ideas", American Theatre, posted 22 April 2019. See https://www.americantheatre.org/2019/04/22/manuela-infante-makes-space-for-ideas/.
[6] Citations from Estado Vegetal, co-written by Manuela Infante and Marcela Salinas.
Lucy Cotter is a writer, artist, and curator currently based in Portland, Oregon. Her edited volume, Reclaiming Artistic Research, is forthcoming with Hatje Cantz, and she is completing a book entitled Art Knowledge: Between the Known and the Unknown. Among other curatorial projects, she was curator of the Dutch pavilion at the 57th Venice Biennale (2017).