CONVERSATIONS
Deconstructing and Confronting Different Iconographies: Marc Bauer
Close
1
2
3
4
5
6
7
8
9
10
11
12
13
14
15
16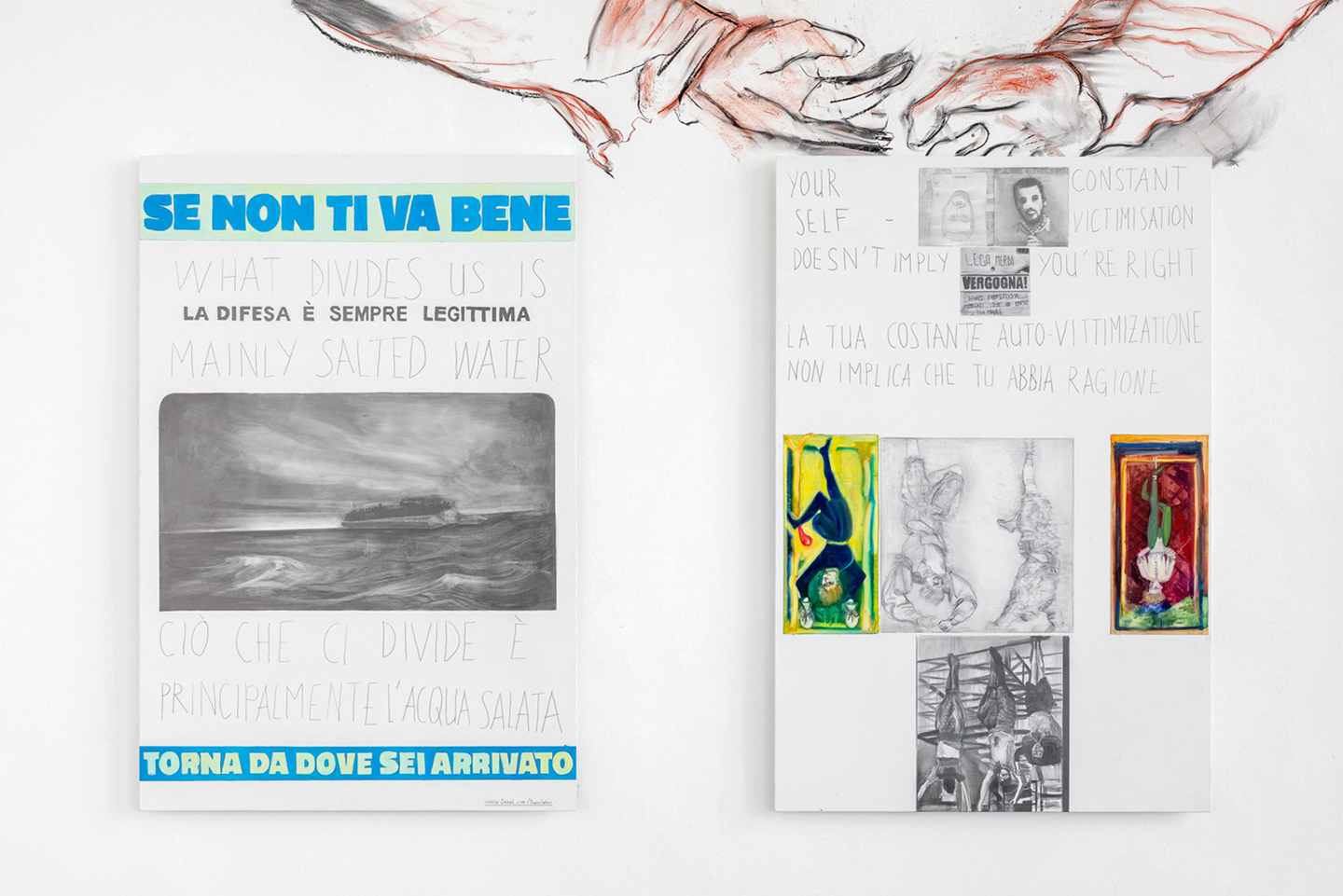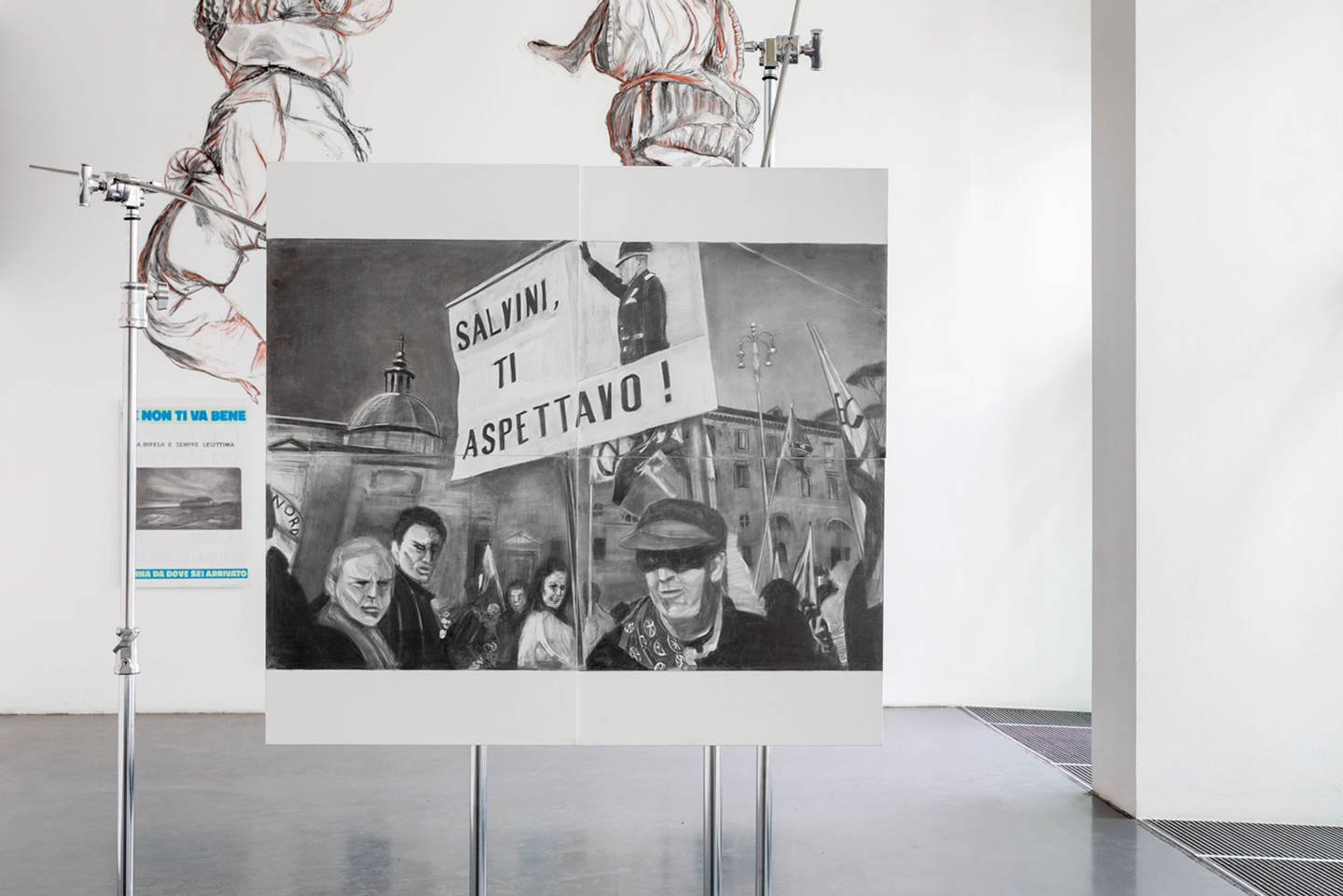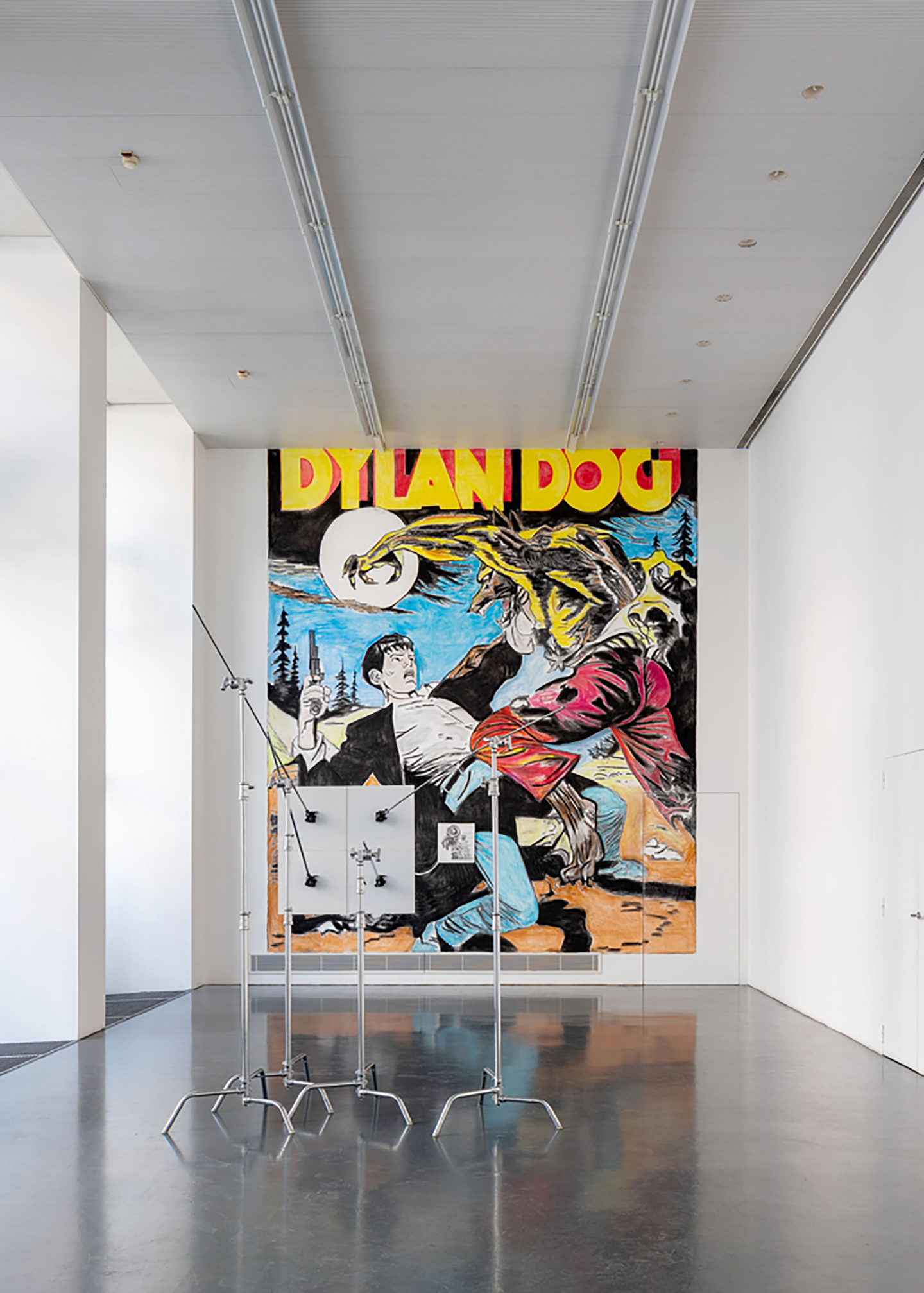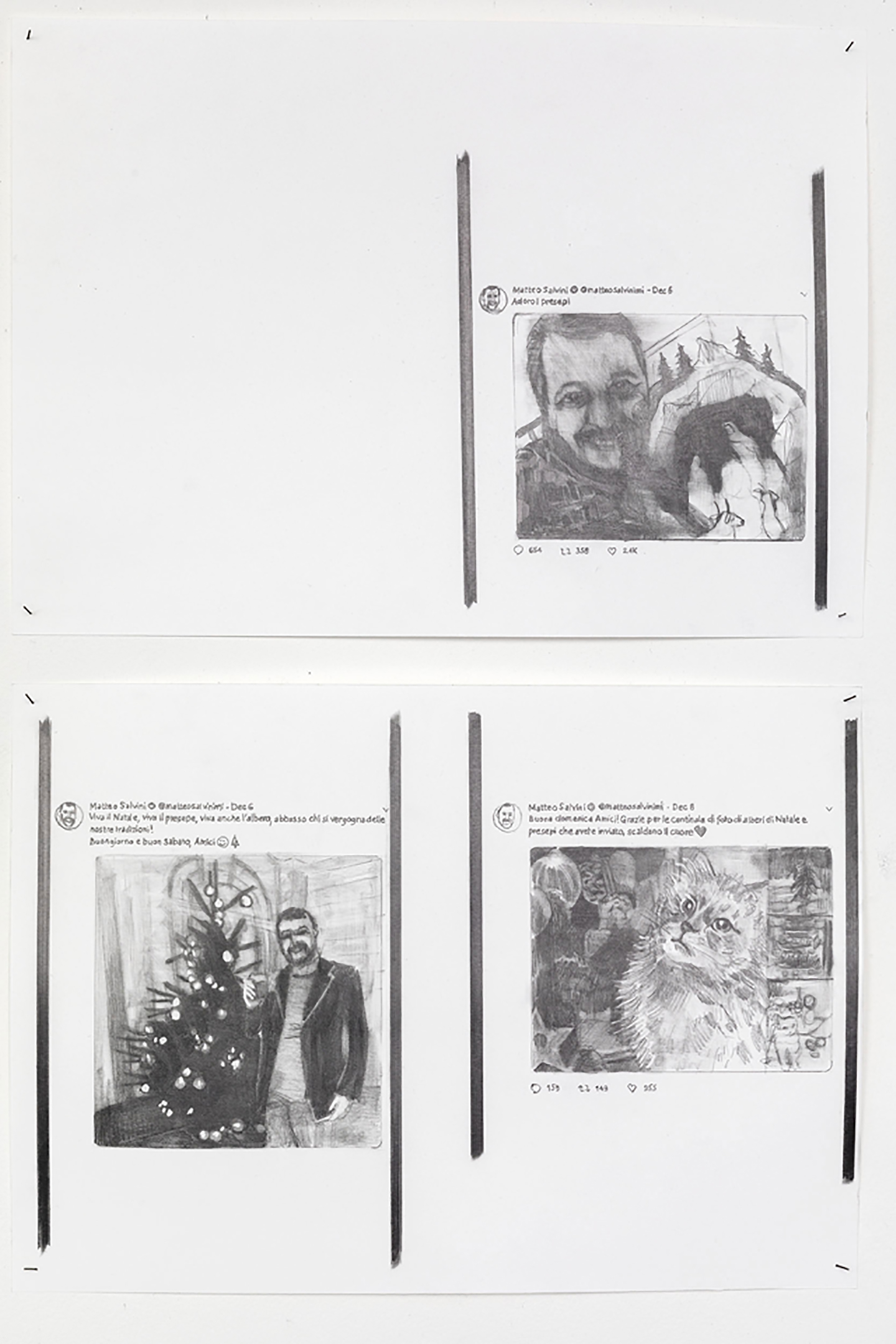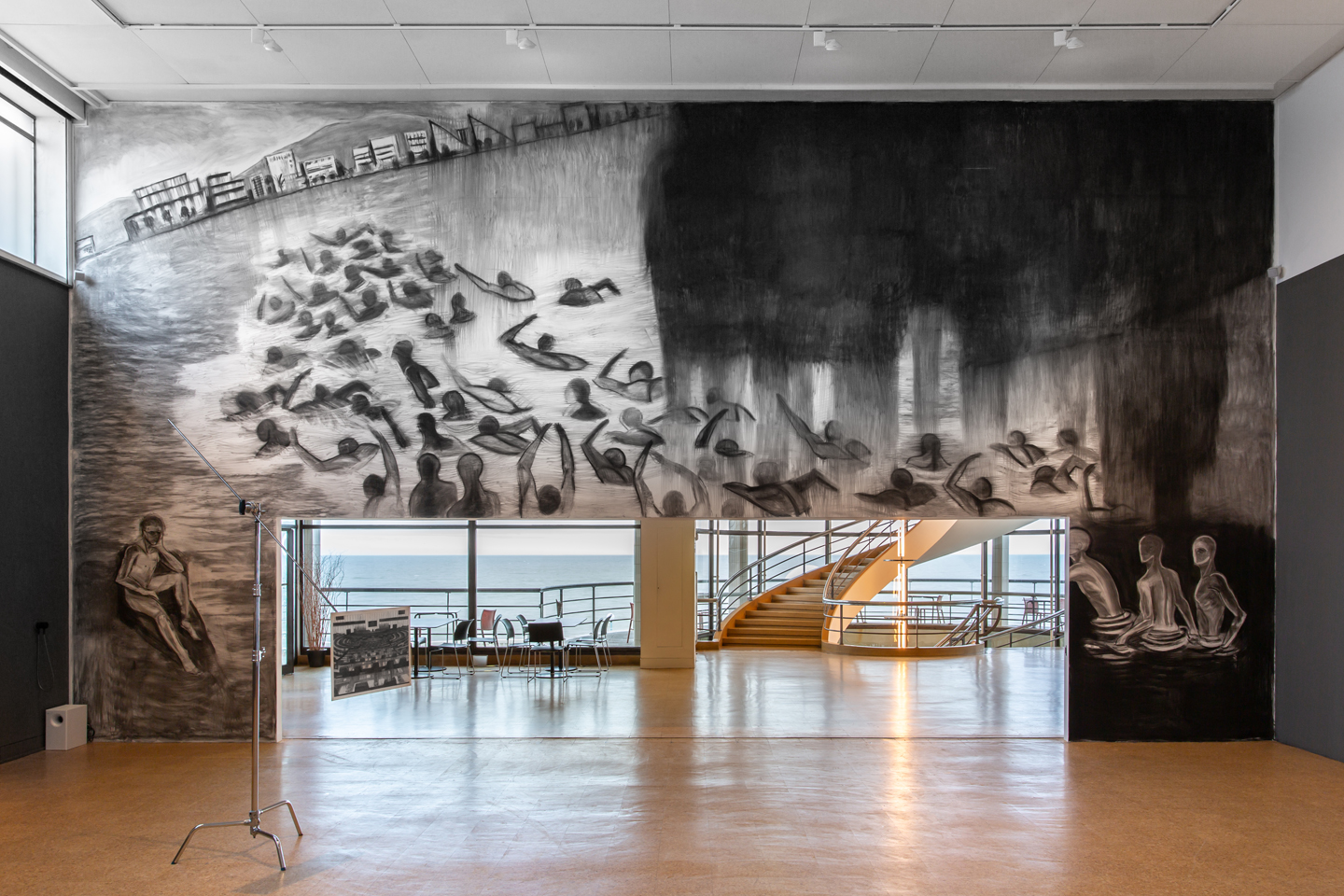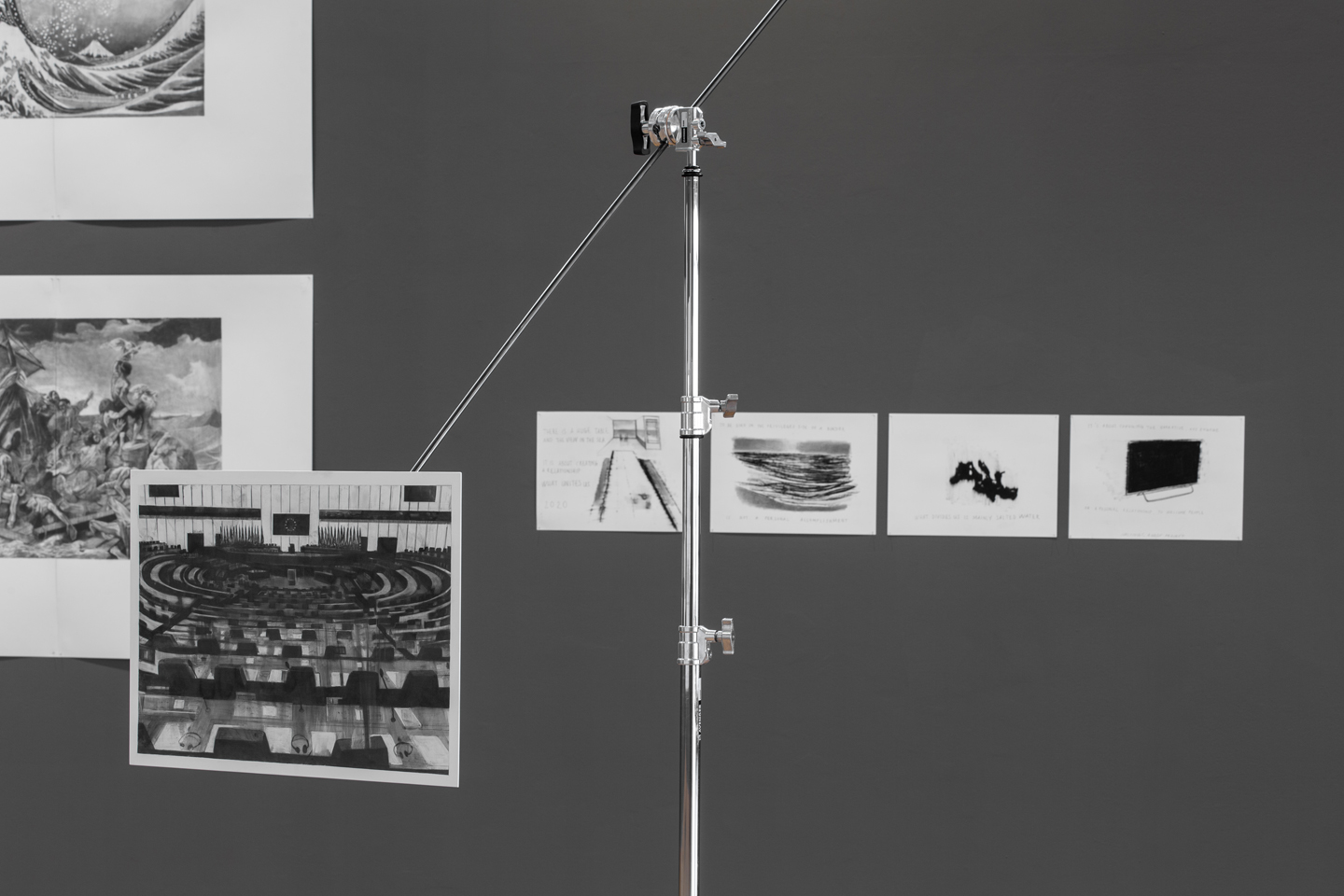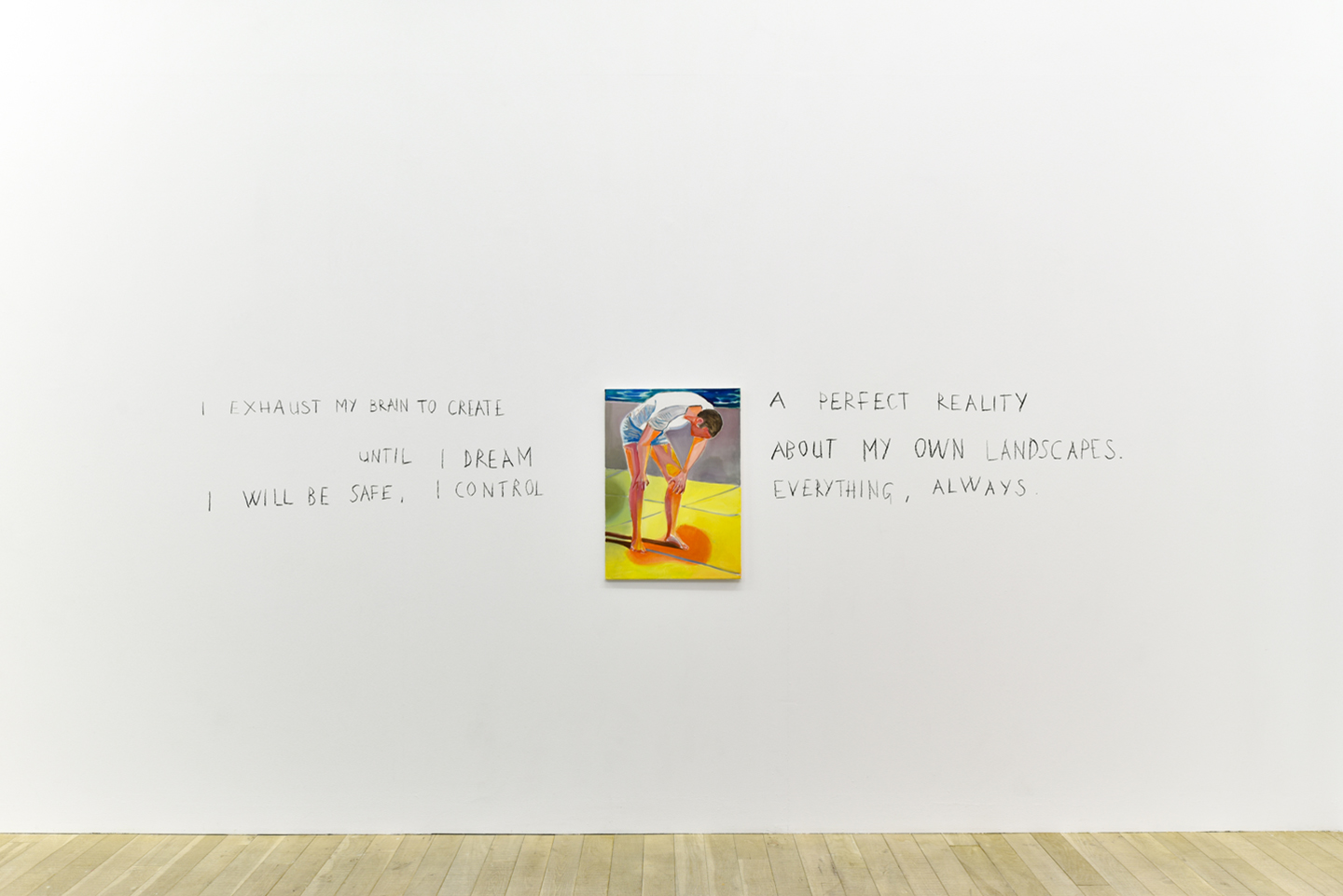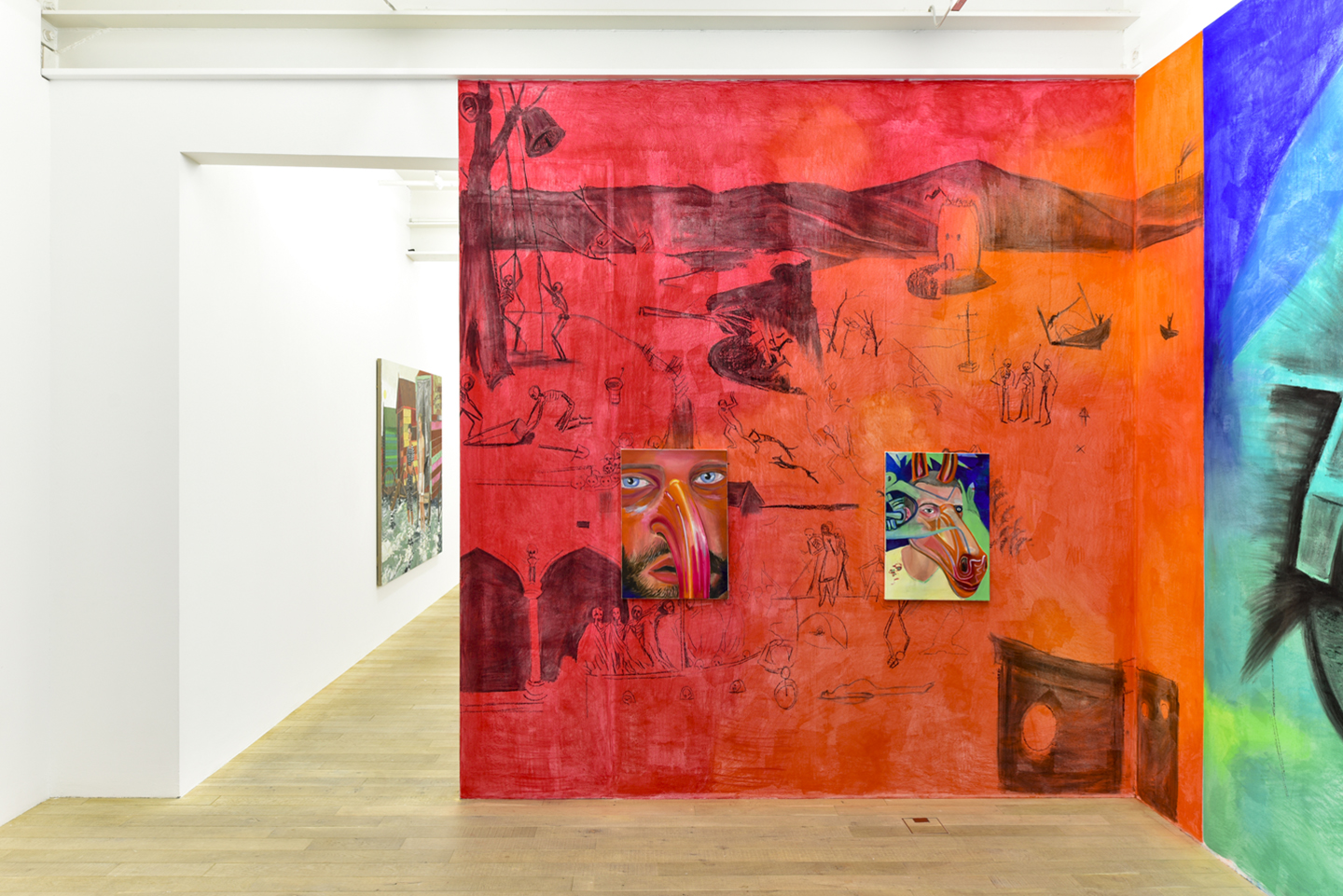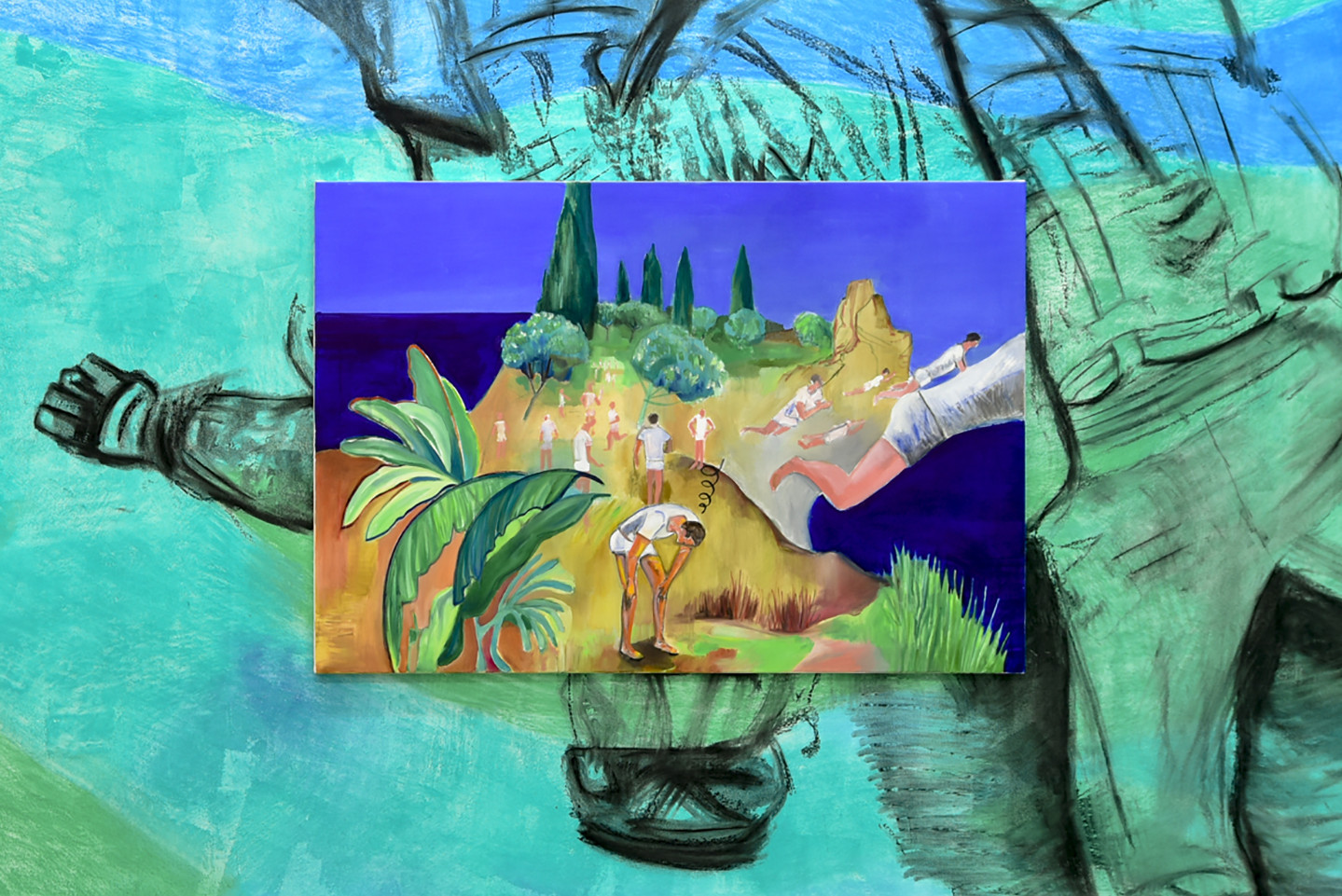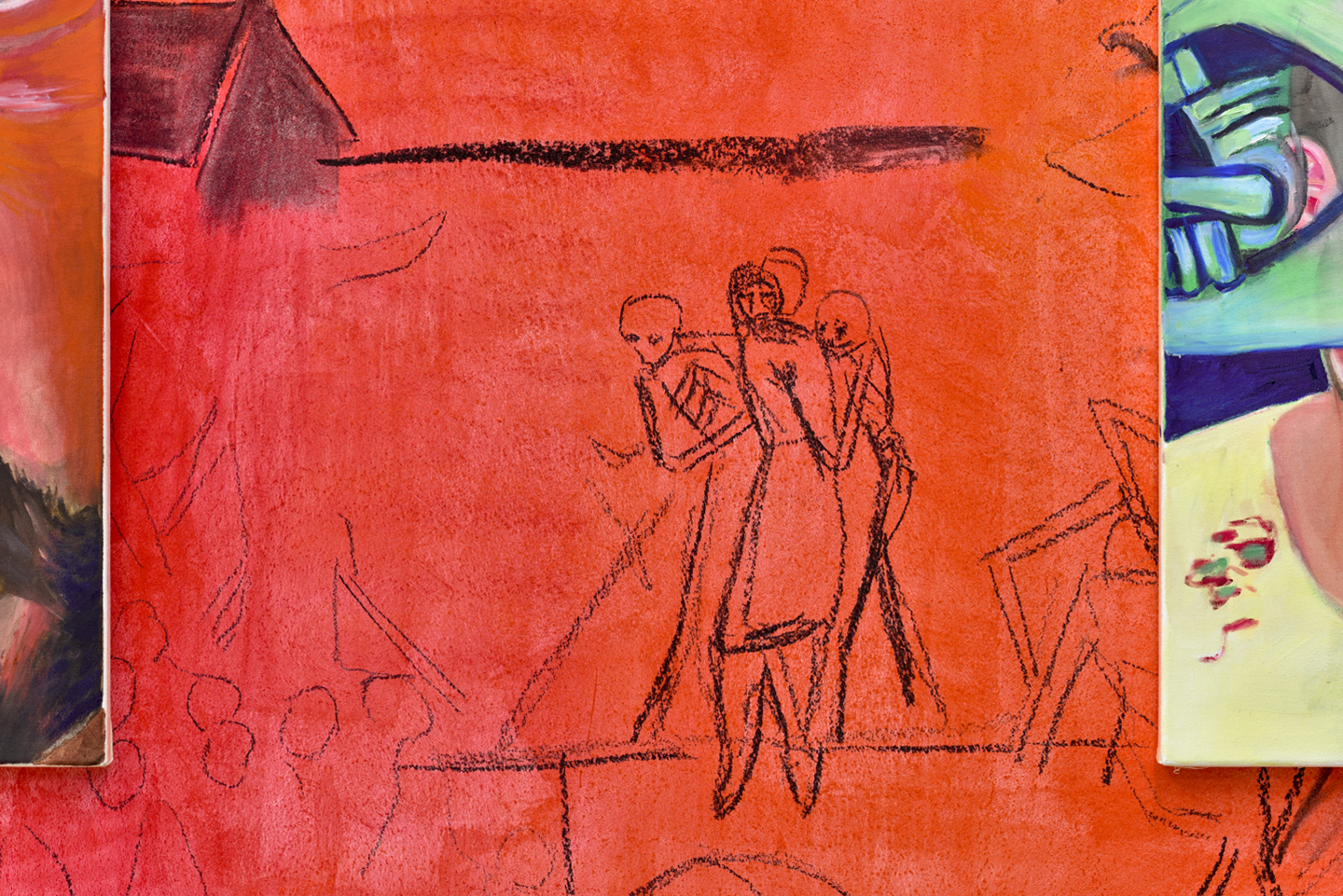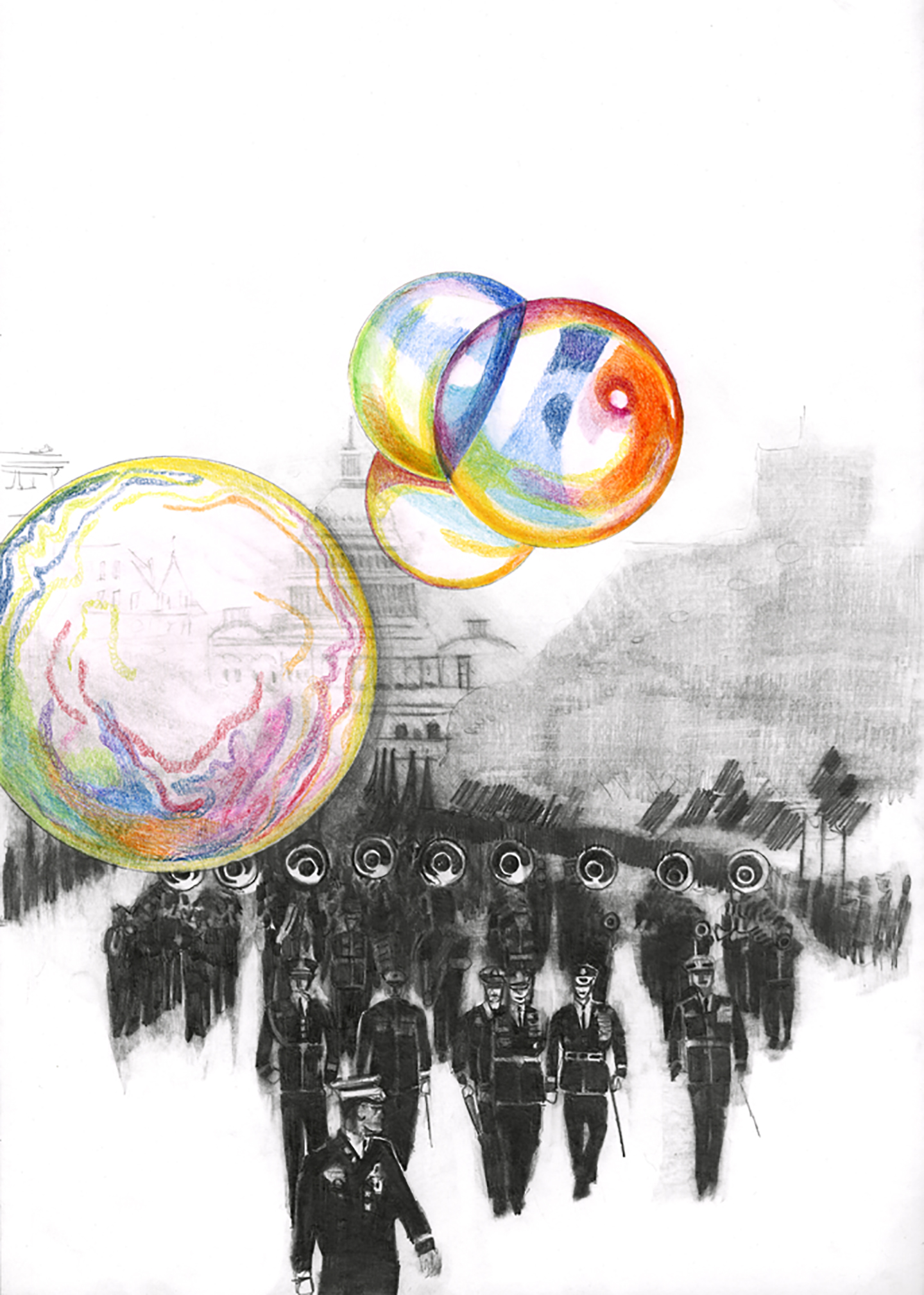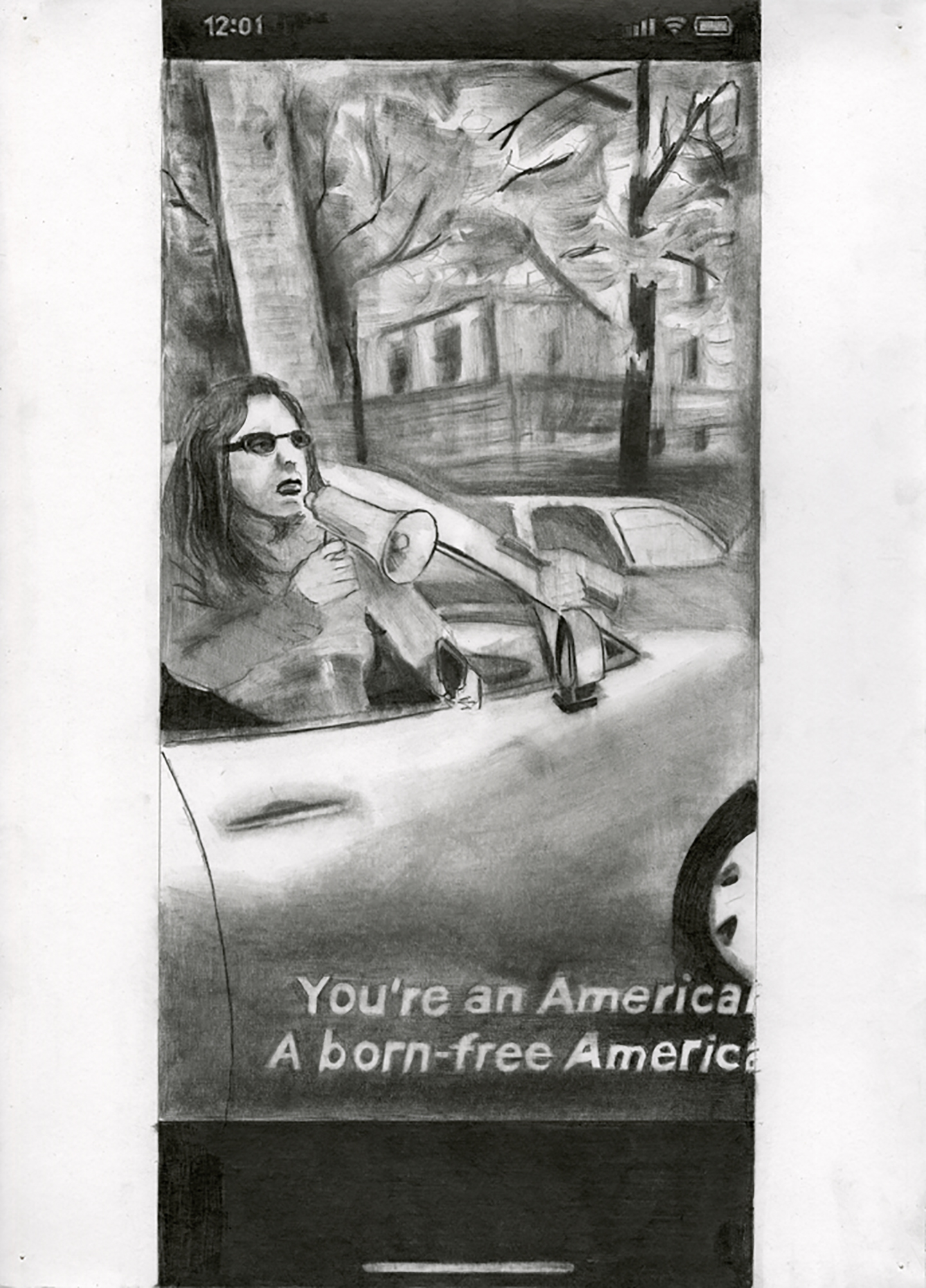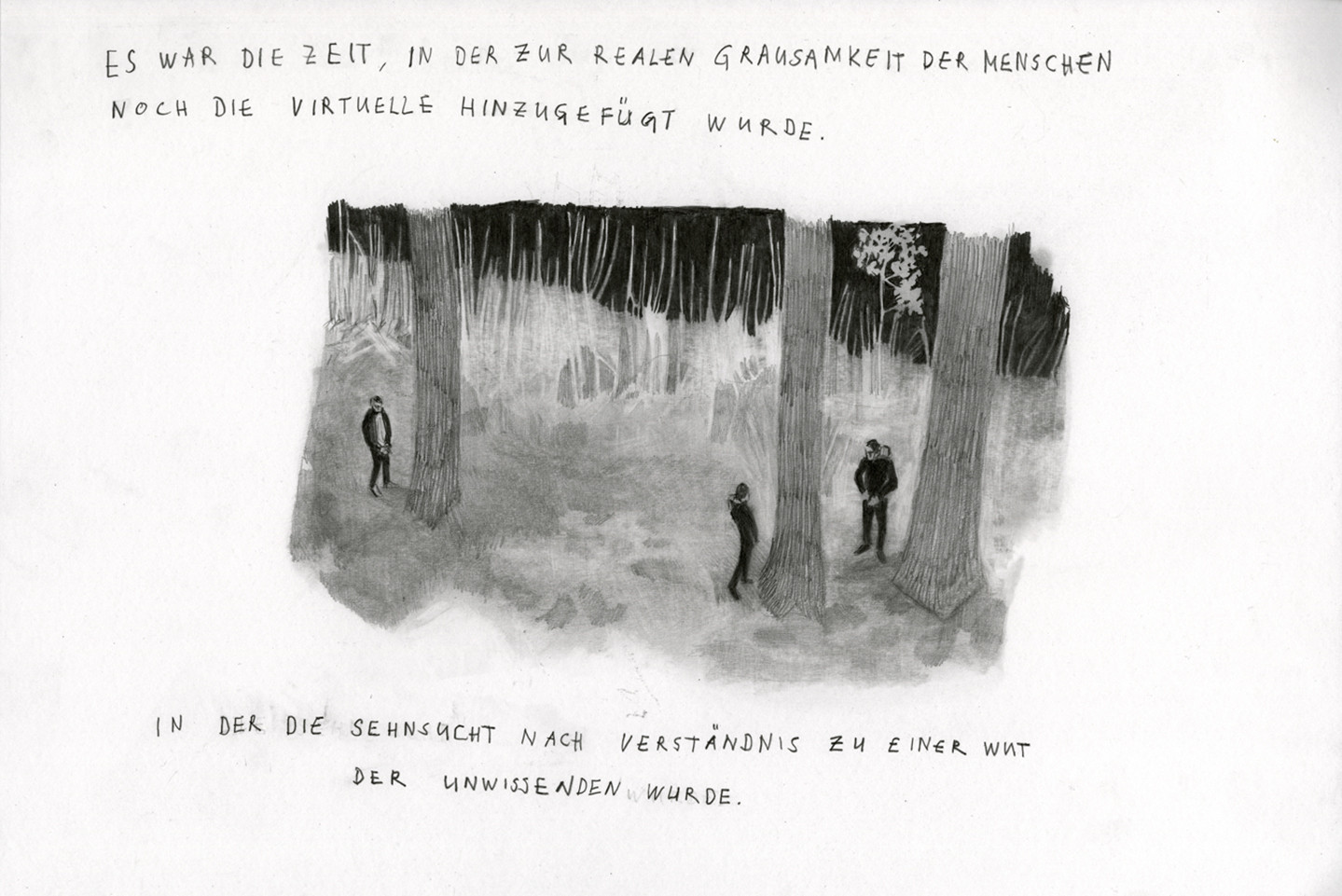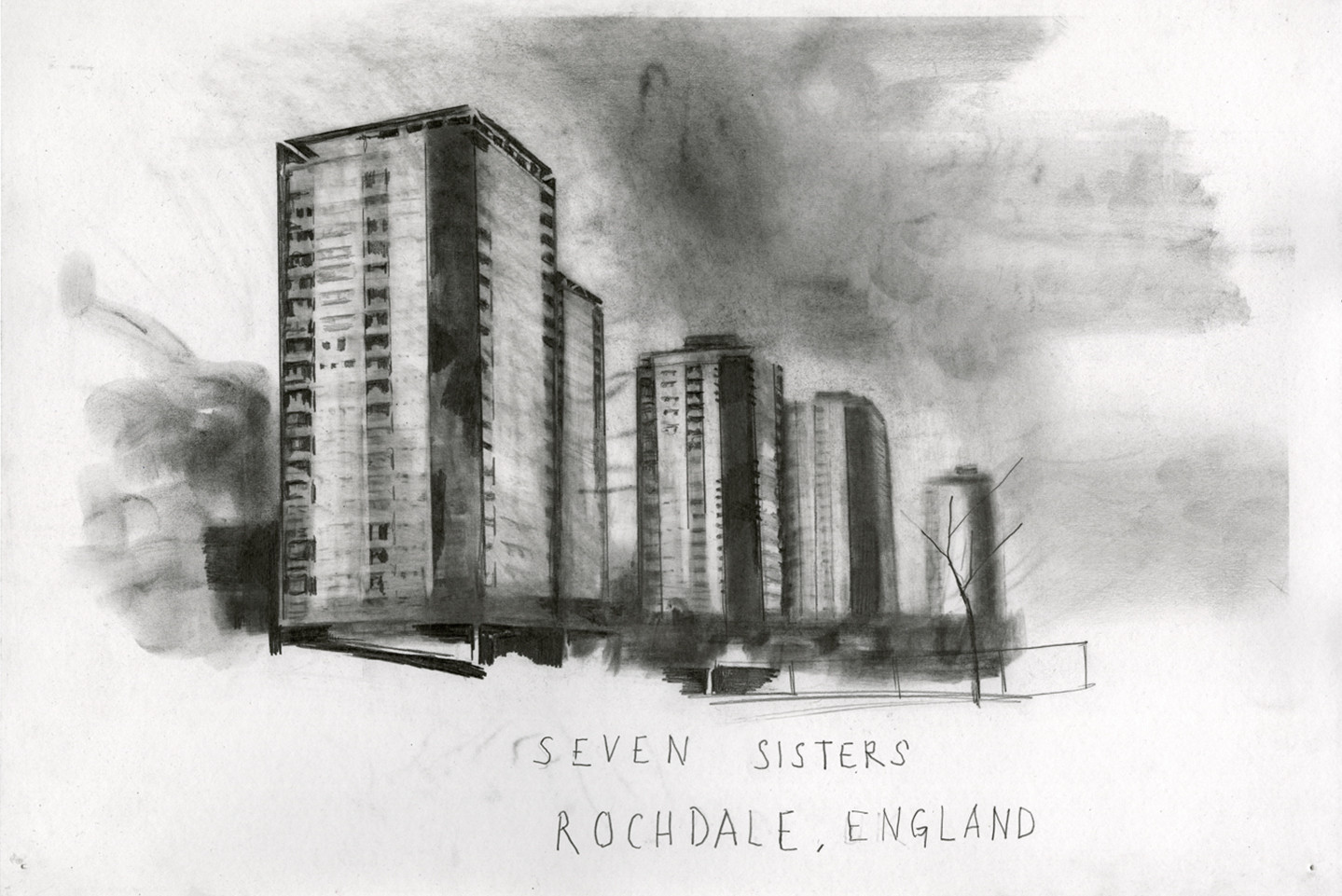 In this conversation with Mousse, Swiss artist Marc Bauer discusses his artistic explorations around the mechanisms and rhetorical devices of digital communication, the ceaseless circulation of images today, politics, history, and, indeed, our very perception of reality. Bauer's work is intended to trigger memories in the viewer. His drawing process, which is often on a monumental scale, acquires a physical and spatial connotation, and the compositions reveal a panorama of associations spanning narrative and memory, both personal and collective.
MOUSSE: Before we delve into your recent and upcoming projects, tell us something about your relationship with the graphite pencil. What drew you to this mode of working?
MARC BAUER: There is an immediacy and a fragility inherent to drawing. Another important component is time. It's a medium in which you can show the whole process: the drawing mirrors the process of creating it. There are traces of eraser, or fingerprints. Some parts remain undefined. To draw is to remember. Something emerges that is shaped by your unconscious, your mood, your experience. With my work, viewers always have an active role. They have to reconstruct the fragmented narrative that I provide by filling in the gaps with their own memories and experiences. The drawings are like triggers for them.
In exhibitions I like to play with different scales and supports (drawings on paper, wall drawings) so the observers have a variety of experiences and relationships with the images. For the wall drawings, I work with charcoal and pastel crayon, so it is just powder pigment directly on the wall. It is also very physical act: I erase lines with my fingers or smear lines with my hands.
M: Your practice also extends to film animation, ceramics, oil paint, and sculpture. What draws you to these varied methods?
MB: It is interesting to "unfold" drawing into different fields. The animation was a natural development, since I work often in large narrative series of drawings. For the ceramics, I was interested in creating a diary, but I wanted to do it with objects. I had the idea to develop it on plates and cups to retrace a story of a fictional character: a French female worker in the north of France. I would say each project calls for a specific configuration, and I am always excited to try new forms.
M: Your 2020 exhibition Mi piace Commenta Condividi, A Rhetorical Figure at Istituto Svizzero, Milan, included the site-specific murals Wolf, Mary, and Margherita (all 2020), the new series of black-and-white and colored drawings titled A rhetorical figure (2019), and a sound installation. Together they illustrated your sensitivity to associative accumulations of images, mechanisms, and rhetorical devices related to digital communication, with an explicit focus on the Italian political climate. Can you explain how these strategies operated throughout the exhibition?
MB: That exhibition was about Matteo Salvini's communication on Twitter. My departure point was to follow his campaign through his Twitter account. By literally redrawing his tweets and editing them, you see a very clear, simple political message: anti-migrant, pro (traditional) family, pro-Catholic, anti-Muslim. It is very much like Donald Trump. Italy has always been a political laboratory. They invented fascism, and in recent years were the first to have a right-wing and left-wing populist government.
Wall drawings give me the possibility to choose the different images at the last minute—as opposed to the large-scale drawings on paper, which can take two weeks to complete. I wanted to be very reactive to the political situation. I also like the idea that they will be destroyed at the end of the show. They are quite physical: I work with my whole body. I see it as a fight with the wall to make the image emerge.
The sound was a quote of the demonstration where the people were singing "Bella Ciao." It is a bit like a film soundtrack in that it brings the drawings into a certain emotional atmosphere. It also plays on the memories of the viewer, especially for those who personally participated in the demonstration.
M: In your in-depth research procedure, how do you engage with stereotypes, ideological systems, power, human behaviors?
MB: Since my childhood, authority is something I've struggled to understand. Why does this person or this group of people have power over this other one? What makes it legitimate or not? What kind of construction makes it acceptable? I am interested in visualizing this construction. My first works were about the link between the construction of masculinity and fascism. Those sets of drawings were regrouped in my artist book History of Masculinity (2007). Power needs images to communicate and to represent itself. To fight this, we need other images and representations. I think that images are still very powerful. My work is about deconstructing and confronting different iconographies in order to allow the viewer to experience them in different contexts and in a deeper way. By modifying representations of reality, I do believe that art can change reality.
M: How do you select the characters who populate your narratives?
MB: My characters are often trapped in the gray zone of history or defined by a political context over which they have no power. I start by researching the history and political context of whatever topic I choose. Usually it is something I feel strongly connected to. If the character is based on someone real—for example, for the work about a female worker in Brittany, which was exhibited at the Biennale of Sydney in 2018—I interviewed several female workers and each one brought something to my fictional character. There is always a lot of research until something clicks. I feel close to what the author Marguerite Yourcenar says about her work—that it is not about projecting yourself onto someone, but more like channeling a voice, making an empty space inside of you, where this voice can come and resonate and finally reside.
M: Could you share some insights regarding your upcoming solo show at the Berlinische Galerie, Berlin, scheduled for September 2020?
MB: It will be an immersive drawing installation with very large wall drawings and sound, but also animation. I am developing e-paper or e-ink screens specially to show drawing animation. It is a very collaborative project. For instance I worked with the electronic musician Pyrit to make a soundtrack for the show. The noise will expand the visitor's experience of the drawings. Another collaboration is with the author Sibylle Berg. Her last book, GRM: Brainfuck (2019), depicts a dystopic post-Brexit UK reality and is the inspiration for the whole show. The exhibition is titled The Blow-Up Regime. It started out as a wide-ranging research into the history of the internet, from the first computers to the present day. The central question is how omnipresent connectivity influences our perception of reality, the individual, and society.
Marc Bauer (b. 1975, Geneva) lives and works in Berlin and Zurich. He studied at the Ecole supérieure d'art visuel in Geneva and the Rijksakademie van beeldende kunsten in Amsterdam. He has shown his works in numerous solo exhibitions in Switzerland and abroad, notably at Istituto Svizzero, Milan (2020); Berlinische Galerie (2020); Drawing Room, London (2019); Museum Folkwang, Essen, Germany (2014); Centre Culturel Suisse, Paris (2013); Kunstmuseum St. Gallen, Switzerland (2011); and MAMCO, Geneva (2010). He has contributed to group exhibitions at the Guggenheim Museum Bilbao (2021); Migros Museum, Zurich (2019); Kunsthaus Zurich (2019); the Biennale of Sydney (2018); S.M.A.K., Ghent (2015); the Albertina Museum, Vienna (2015); and the Liverpool Biennial, UK (2014). His works are in major public and private collections, including the Berlinische Galerie; Kunsthaus Zürich; Centre Pompidou, Paris; the Museum Folkwang, Essen; the Migros Museum, Zurich; Kunstmuseum St. Gallen; and the Nouveau Musée National de Monaco. Bauer is a tenured lecturer at the Zurich University of the Arts (ZHdK). In 2001, 2005, and 2006 he was awarded the Swiss Art Award. In 2020 he is the laureate of the Swiss Grand Award for Art / Prix Meret Oppenheim 2020 and winner of the GASAG Kunstpreis. Bauer was a fellow at Istituto Svizzero in 2005–6.