EXHIBITIONS
Markus Schinwald at Museum Leuven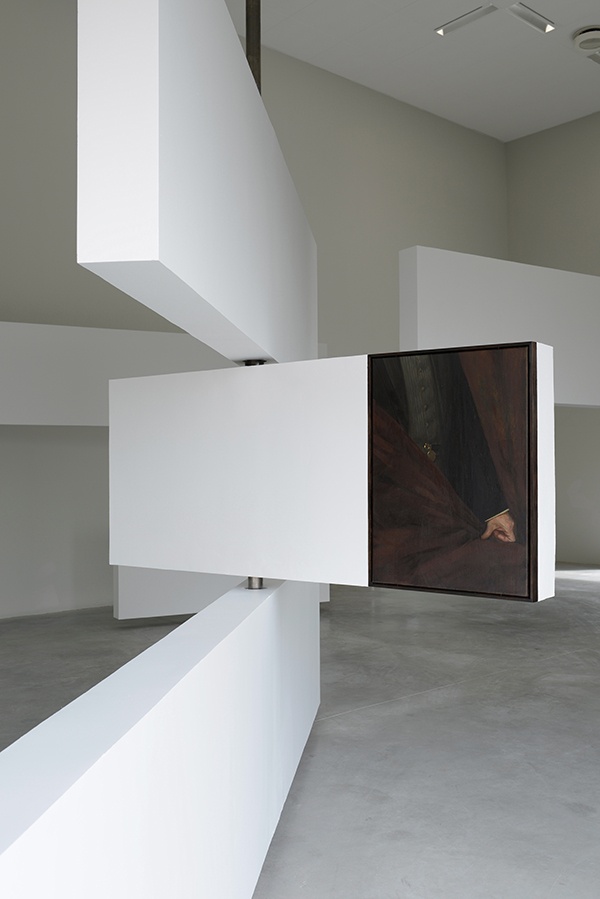 Markus Schinwald is a versatile artist. In each of the consecutive rooms at M, he reveals a different facet of his recent oeuvre. The artist selects his medium based on his ideas or on the intensity he wants the artwork to exude. Sometimes they are paintings or sculptures, but at other times they might be films or performances. This exhibition features several new works that have never been shown before.

Underwater scenes featuring colourful fish, mechanical dolls, furniture reminiscent of body parts, films and a mobile wall covered with paintings. At M, contemporary artist Markus Schinwald (b. 1973, Salzburg) has created a theatrical setting with moving artworks and characters.
In Markus Schinwald's installations, films, paintings, sculptures and interactive work, he explores humanity's place in the world. His leitmotif is a special interest in the human body and his investigation of the way we are physically or mentally constrained by our cultural context, our habits, our emotions or the space around us. Schinwald is also particularly interested in the way people look at art and the way this experience differs from other forms of perception. What do we expect? What excites us? What are the differences between looking at static objects and looking at moving bodies or fish in an aquarium?
As a visitor, you will leave the ordinary world behind and enter the weird and wonderful world of Markus Schinwald. The artist creates a bewildering atmosphere. He has sealed the first rooms off completely from the outside world and has blocked out all the daylight. Enveloped in total darkness, he draws the visitors' gaze directly towards the artworks, which are lit or which light up the space. The central theme throughout the exhibition is 'to animate' or 'be animated'. The artworks might be animated through technical interventions, form the décor for fish, or suggest a certain movement.
Markus Schinwald has set up six aquariums in this totally dark space. Each aquarium is arranged as an exhibition space, complete with decorative pieces, artworks and fish swimming around. Each underwater scenography features a different species of fish, from lobster to hundreds of neon tetra. The aquariums look like animated paintings or compositions in which the viewer's gaze alternates between the swimming fish and the static sculptural elements. In the meantime, the sound of gurgling water in the background gives this work a special soundtrack.
In Orient, two films that were first shown at the Venice Biennial (in 2011), Schinwald depicts how the spirit influences the body. In the films, a group of male and female characters carry out strange performances in a picturesque and abandoned building. While their choreographed movements are familiar actions, such as scratching one's leg or wiping one's forehead, the figures are also floating on ropes, climbing on top of doors and attempting to untangles themselves from twisted wires. The protagonists' movements symbolise their mental state. A voice-over invites us to reflect on the connection between the body and the spirit.
The same familiar movements recur in the following room, where Markus Schinwald presents a group of life-sized motorised puppets in a theatrical décor. The puppets perform a live show in which each of them repeats a very banal action that is reminiscent of a nervous tick. The puppets were made and dressed by the artist himself. Their stylised faces make them look somewhere between childhood and adulthood. Their naughty facial expressions make them look like "gangster kids."
Markus Schinwald is also presenting a series of new paintings that were made over the past year. His paintings are always based on canvasses that he finds at flea markets or auctions. After they are restored, he adds various elements to them. In his new works, Schinwald leaves the intimate format of his earlier paintings behind. He is exploring a new avenue at M, in which the figures seem to disappear in the enormous canvasses. In the same room, you will also find a number of wooden sculptures made of table legs. The sculptures are evocative of body parts and twist like moving dancers or enlarged insects beside eight-metre-high polls.
In contrast to the previous spaces, this room is flooded with light. The artist is thus commenting on the white museum architecture and extending it. Three moving white walls subtly move into each other. Each of the walls is decorated with paintings and turns on its axis, so that visitors can manipulate it. Schinwald thus also plays with different perspectives on the paintings. The new paintings are older canvasses that he bought and then painted over.
.
until 8 February 2015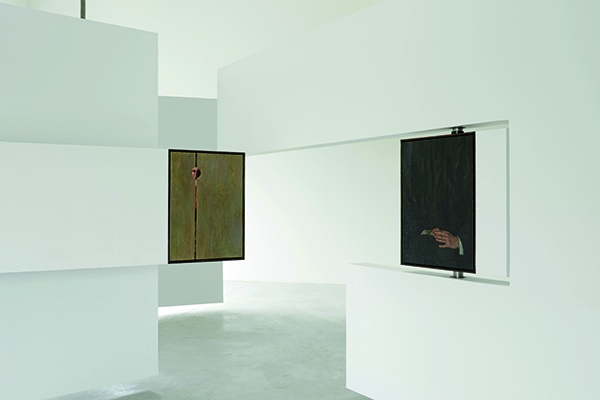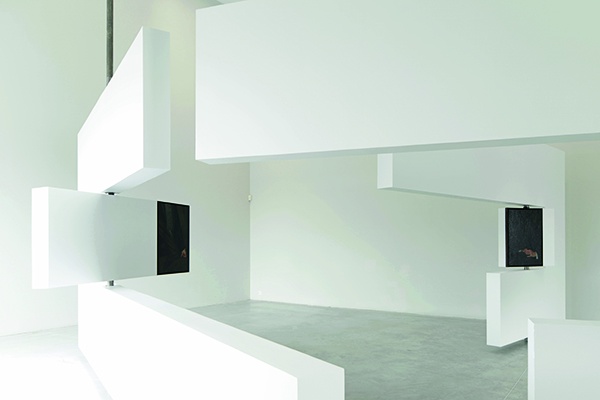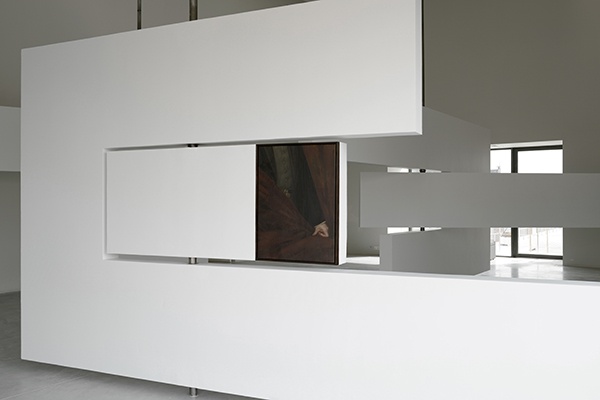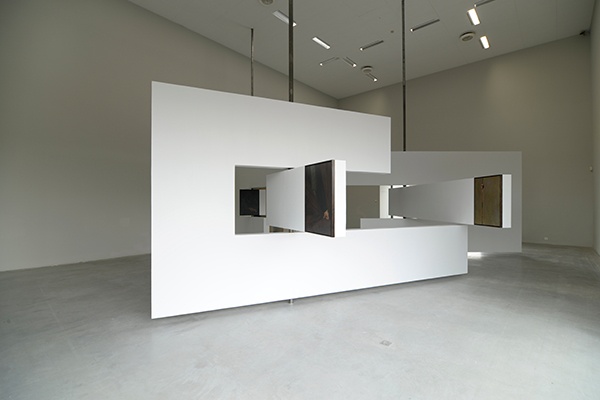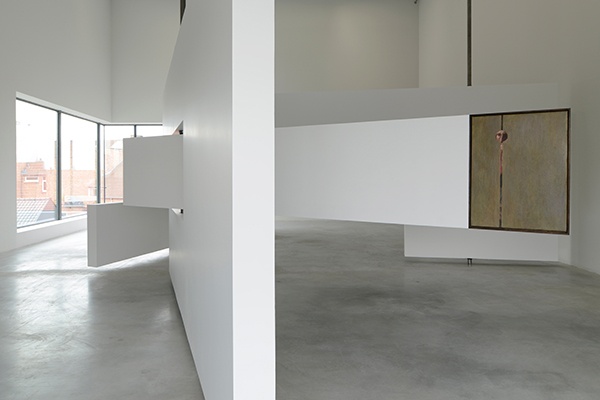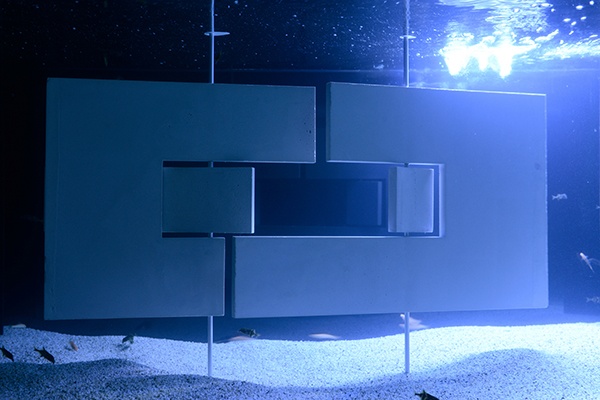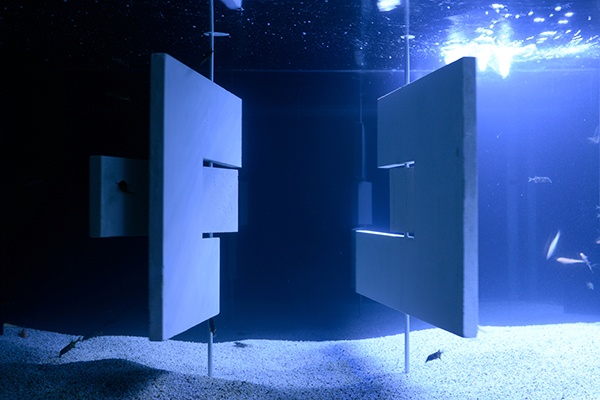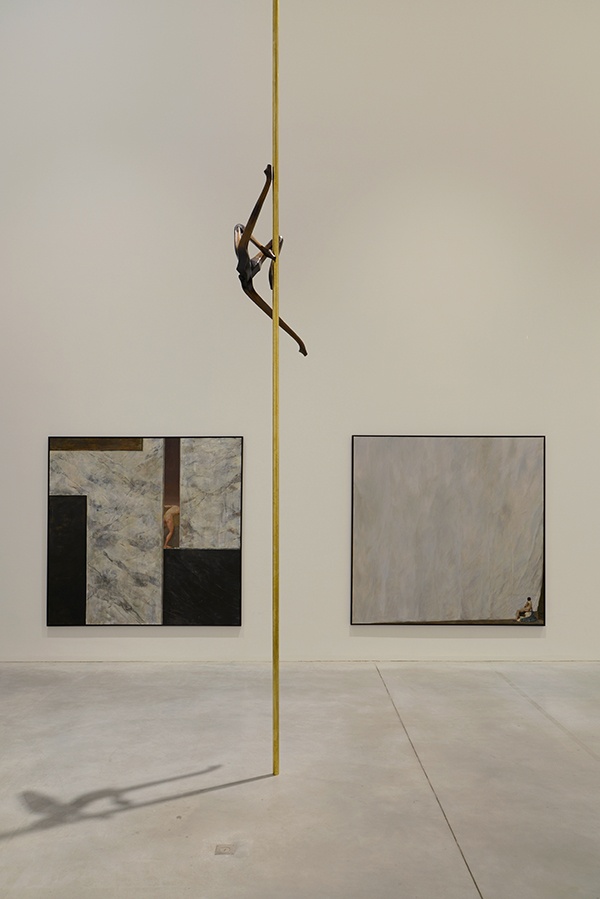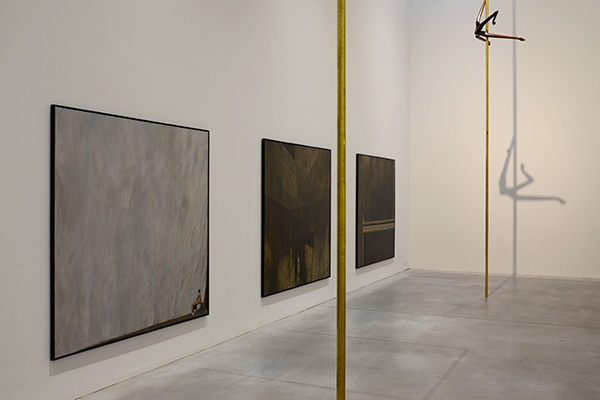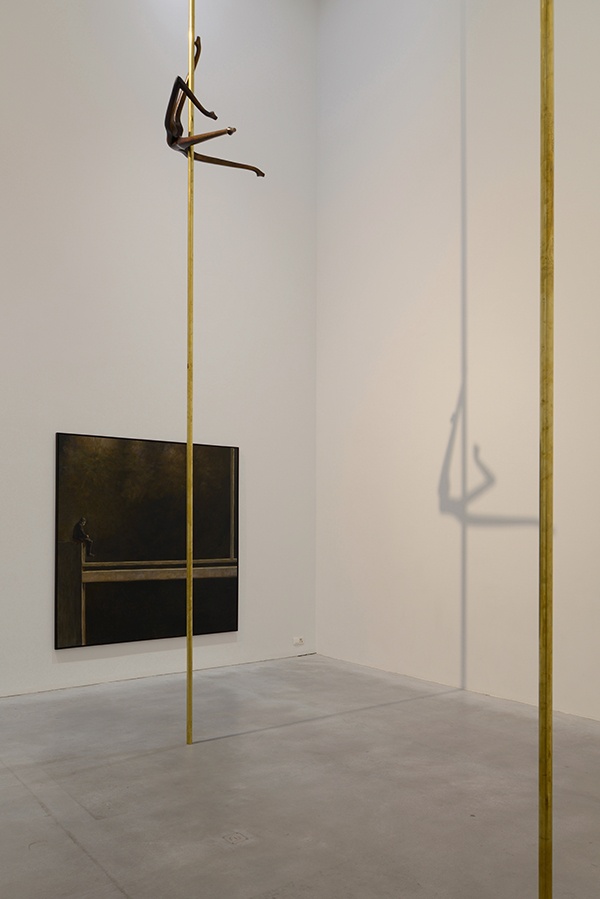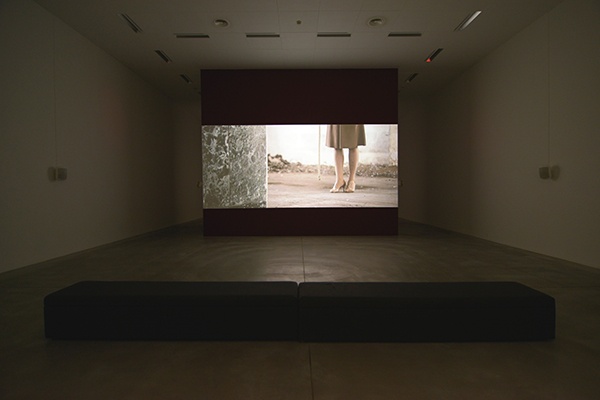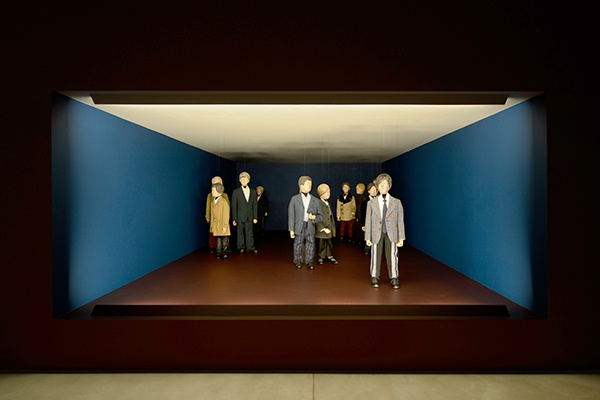 .
Markus Schinwald installation views at Museum Leuven, 2014
Courtesy: Museum Leuven. Photo: Isabelle Arthuis.