EXHIBITIONS
Mathieu Mercier "Sublimations" at Centre d'art contemporain d'Ivry – le Crédac, Ivry-sur-Seine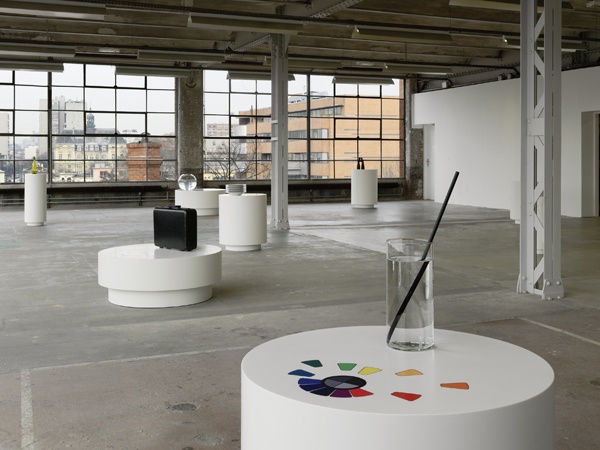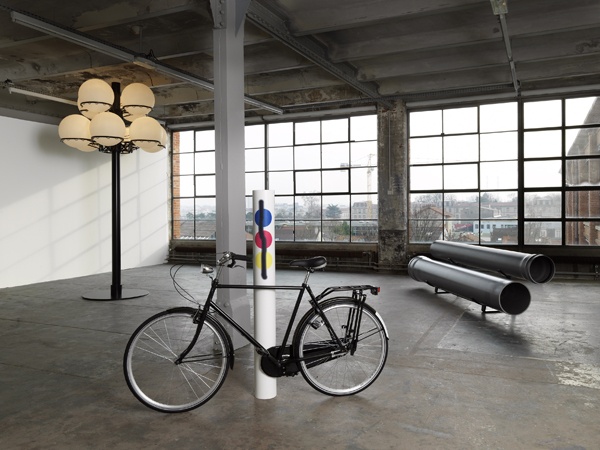 Mathieu Mercier's work is an indecisive crossing of the avant-gardes' project, which attributes a practical value to the artistic object, with the Duchampian gesture that imparts a symbolic value to the object that normally serves a useful function. Mercier's output constantly redefines the production modes of objects and their passage into the field of art. The project championed by modernity (De Stijl, Bauhaus) involved linking industrial mass production with the artist's creativity and making design an integral part of everyday objects. Meanwhile, a century ago, Marcel Duchamp did the opposite, taking an object produced by industry and making it an integral part of art, notably with his Bicycle Wheel (1913), considered the first readymade. One of Mercier's favorite subjects is the particular relationship to objects that modernity introduced and how it is carried on today, where each of us in this part of the world possesses twenty times the number of objects that one would have had in the past.
The Mercier show is divided into three distinct sections or galleries. First, there is the "museum" gallery (where the artist's interest in supermarkets can be seen). Here Mercier continues to expand his creation of systems for producing associations of ideas. He associates objects of everyday use with depictions of tools for measurement, encyclopedia illustrations and pictograms intended to convey directions or instructions. All of these representations are slightly distorted and printed on white Corian pedestals through a process known as sublimation. The artist's depiction of different elements mischievously situates the works somewhere between science and esthetics.
What do we see here then? A bunch of bananas posed near a twisting Kodak test chart; further on a color wheel is associated with a vase from which a black rod juts out; a compass rose is juxtaposed with a suitcase; a sponge, with a chromatic scale in the shape of a flattened nautilus shell; a candle, with the Itten color wheel; a stoneware jug, with motifs indicating measures of the speed of rotation; an aquarium and goldfish, with primary print colors; a pile of dishes, with the visual scientific diagrams of a planisphere; fuzzy-edged circles of primary colors, with a green bottle; a maze looking like a flattened out version of the brain's convolutions, with a pair of binoculars. So many combinations between the concrete and the abstract, so many memento moris (perishable fruit, animals, candle) that have long figured in the artist's work. Mercier practices collage, or, as he himself puts it, "how two objects, placed together, can create a radically different object… This brings to mind Godard when he formulated this curious equation, 1+1 = 3, meaning, with regard to editing, which is a form of collage, that one image plus another image yields a third image in the mind of the viewer. " Each of the works in this series is actually a trilogy. The tension between the two objects creates a mystery, a stimulating question between reality, the object, its referent and the viewer, who is meant to fill the vacuum between the two using their own tools.
In the "street" gallery (where Mercier's interest in museums can be seen), the artist has composed a cityscape. Playing on the transformation of standards, the setting rewrites our relationship to the outside world and our way of perceiving forms around us. Mercier makes use of three distinct elements. A bike is leaning against a column sporting three circles in the primary colors that are slashed by a single black stripe of spray paint. Nearby, a bench made up of two lengths of underground PVC pipe seems to offer us a seat. And finally a streetlamp, whose design recalls the shape and dimensions of basketball hoops, conjures up both city playgrounds and the light fixtures that Gino Sarfatti came up with in the 1960s.
The artist's references are part of a common ground for identifying objects, yet his allusions never suffice by themselves. The meaning of the work doesn't draw on any self-referentiality. The pieces only count thanks to their capacity both to connect with greater fields of cultural reference, and to fit into a particular political and social field.
The visit continues in the "natural history museum" gallery (where Mercier's interest in forms of popular culture can be seen). Plunged in darkness, a kind of large display case, a legacy of museums, is home to a pair of axolotls. Diorama, vivarium, aquarium, theater and system for display, the space is an unspecified landscape where the idea of the box within a box multiplies the representational filters. Introduced to Europe in the 18th century, axolotls are "walking fish" that apparently run counter to typical assumptions about evolution, having gone from land back to water. Throughout their lives, they remain in the larval state.
Just as the objects taken as a whole introduce the immediacy of daily life into the show, the axolotls break down any distance, even arouse the viewer's empathy. Unlike the diorama, which was merely a successful form of illusionism, a popularization of science through spectacle, only the literalness of objects exists here. This work of art brings us back to our depiction of origins and leads us to reflect on our pre-established templates for knowledge and representation.
Throughout the show Mathieu Mercier pursues his reevaluation of standards for production and hence for the mental depiction of objects, forms and images. He turns to elements of formal vocabulary related to the 1950s, that peak era for our faith in industry and standardization as factors in the notion of progress. (Claire Le Restif)
–
Centre d'art contemporain d'Ivry – le Crédac, Ivry-sur-Seine, France
through March 25, 2012
–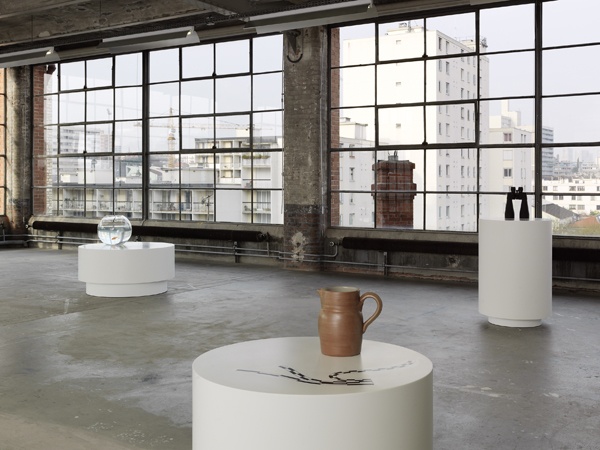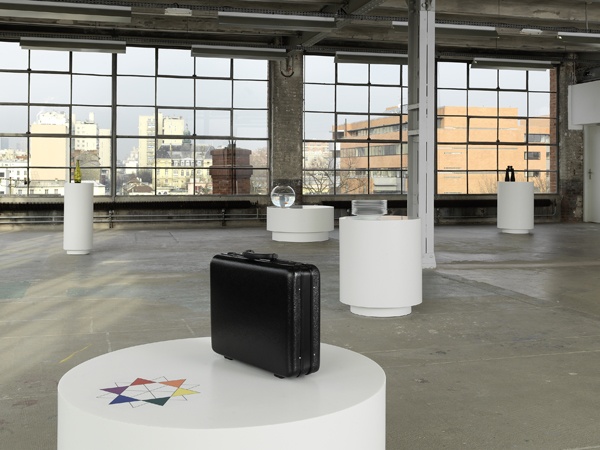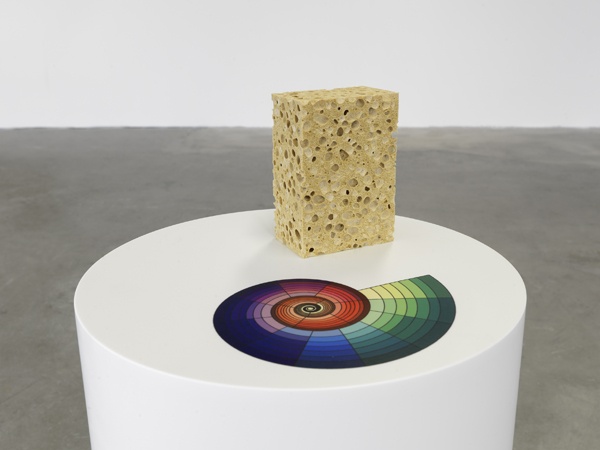 Mathieu Mercier, Sans titre (éponge/nuancier), 2012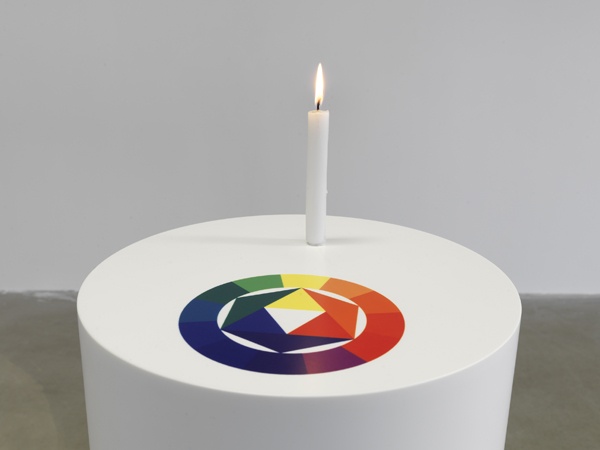 Mathieu Mercier, Sans titre (bougie/cercle chromatique de J. Itten), 2012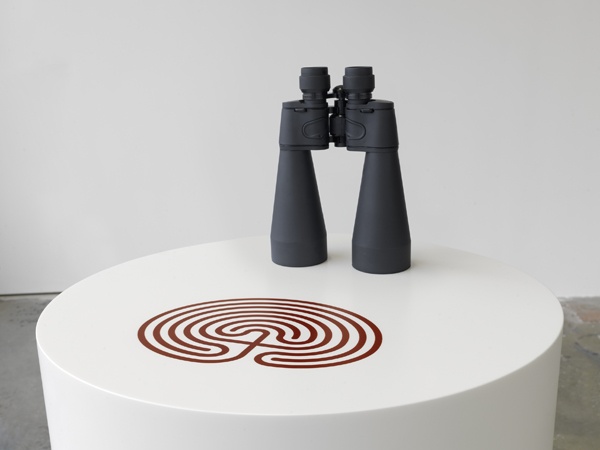 Mathieu Mercier, Sans titre (jumelles/labyrinthe Crétois), 2012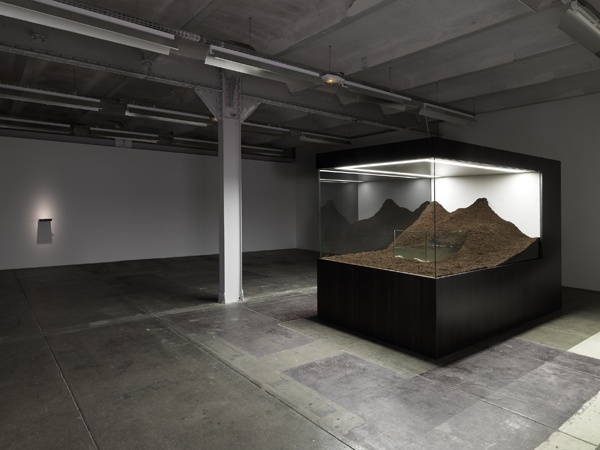 Mathieu Mercier, Sans titre (couple d'axolotls), 2012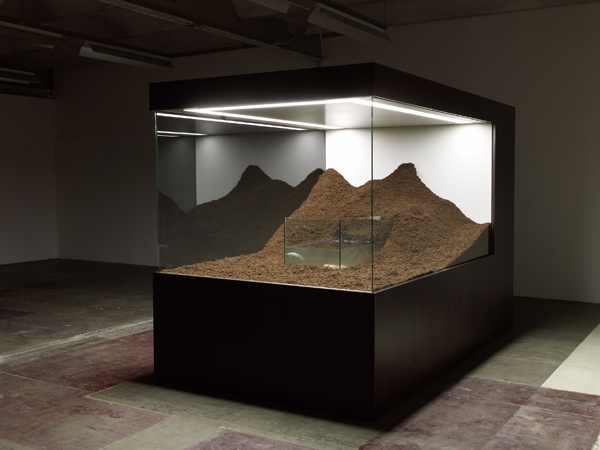 Mathieu Mercier, Sans titre (couple d'axolotls), 2012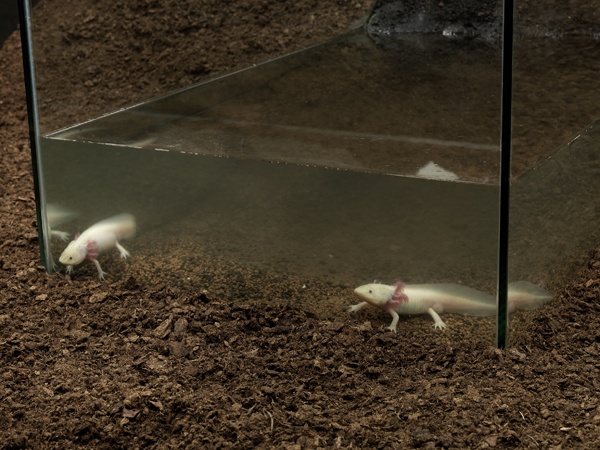 Mathieu Mercier, Sans titre (couple d'axolotls) (detail), 2012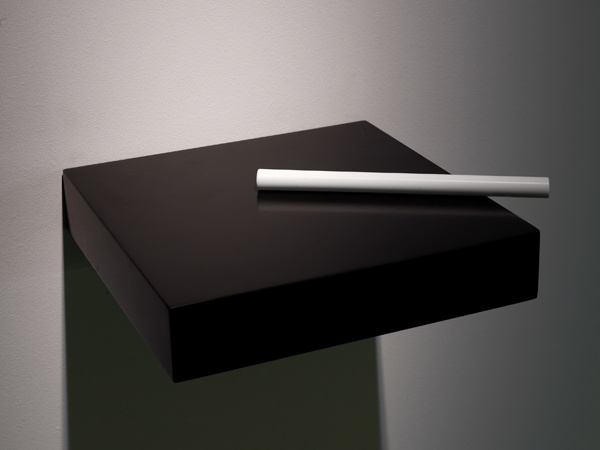 Mathieu Mercier, Sans titre, 2012
–
All images – Courtesy: the artist. Photo: © André Morin / le Crédac