Mousse 71 TIDBITS
Dark Povera: Matthew Angelo Harrison
Close
1
2
3
4
5
6
7
8
9
10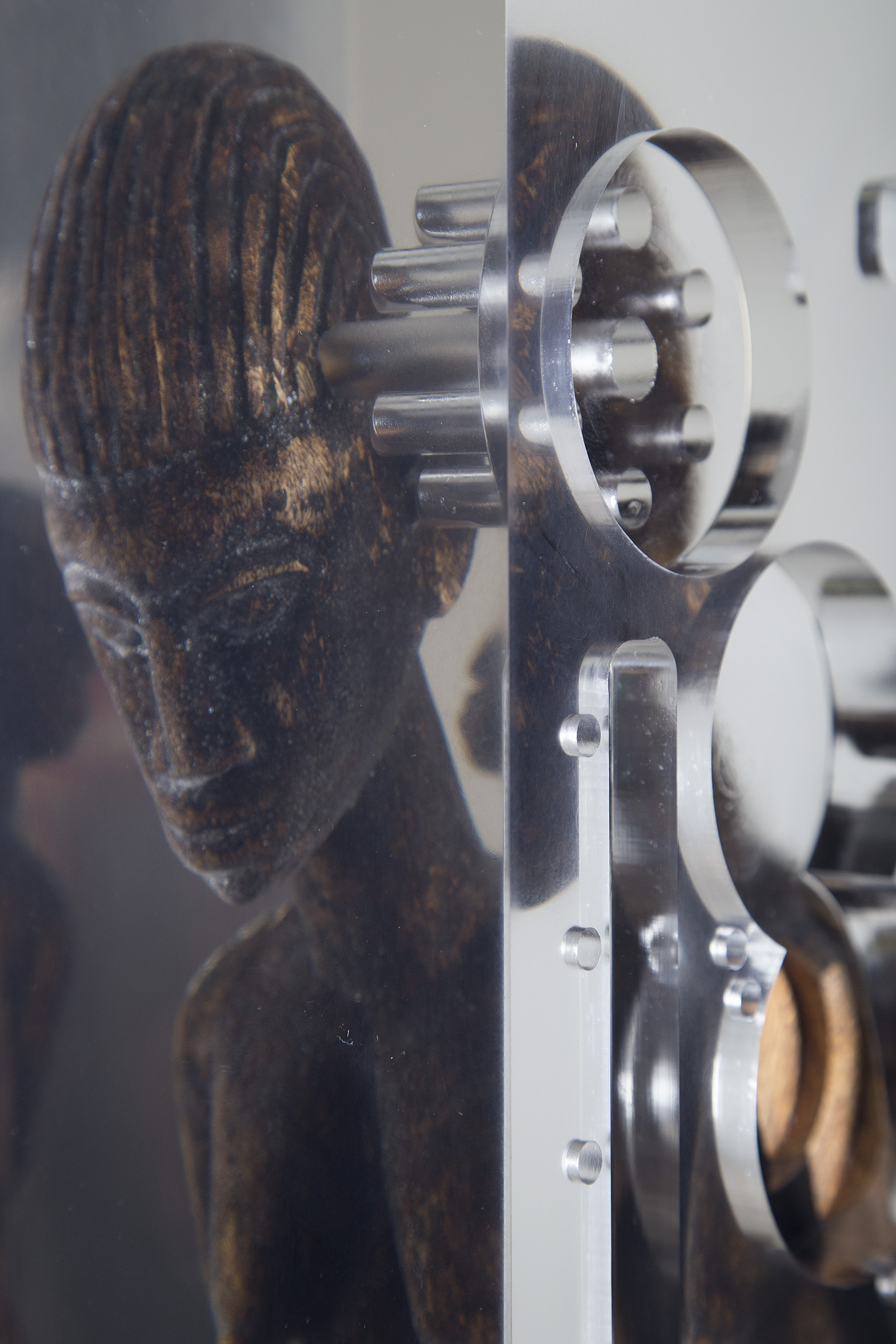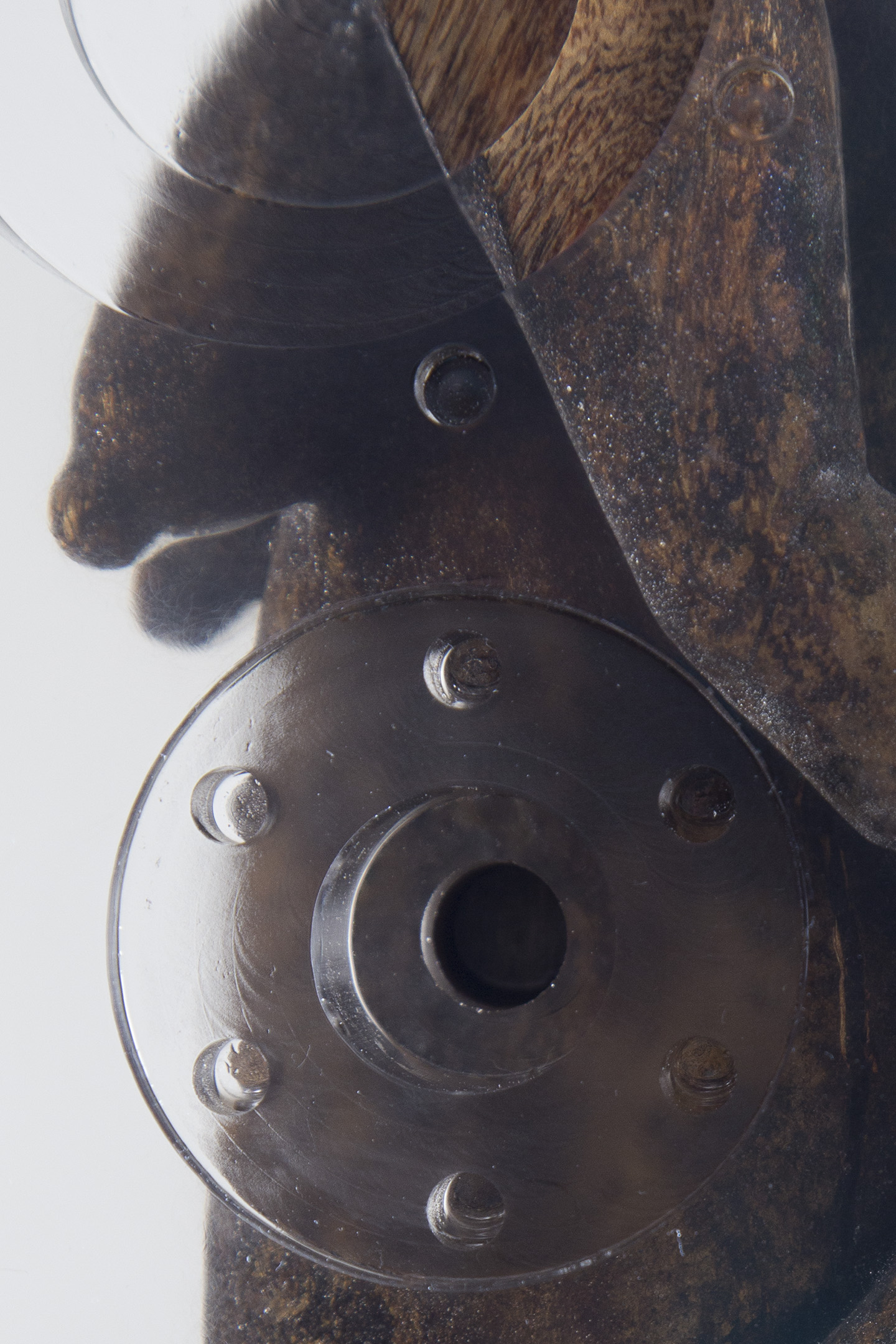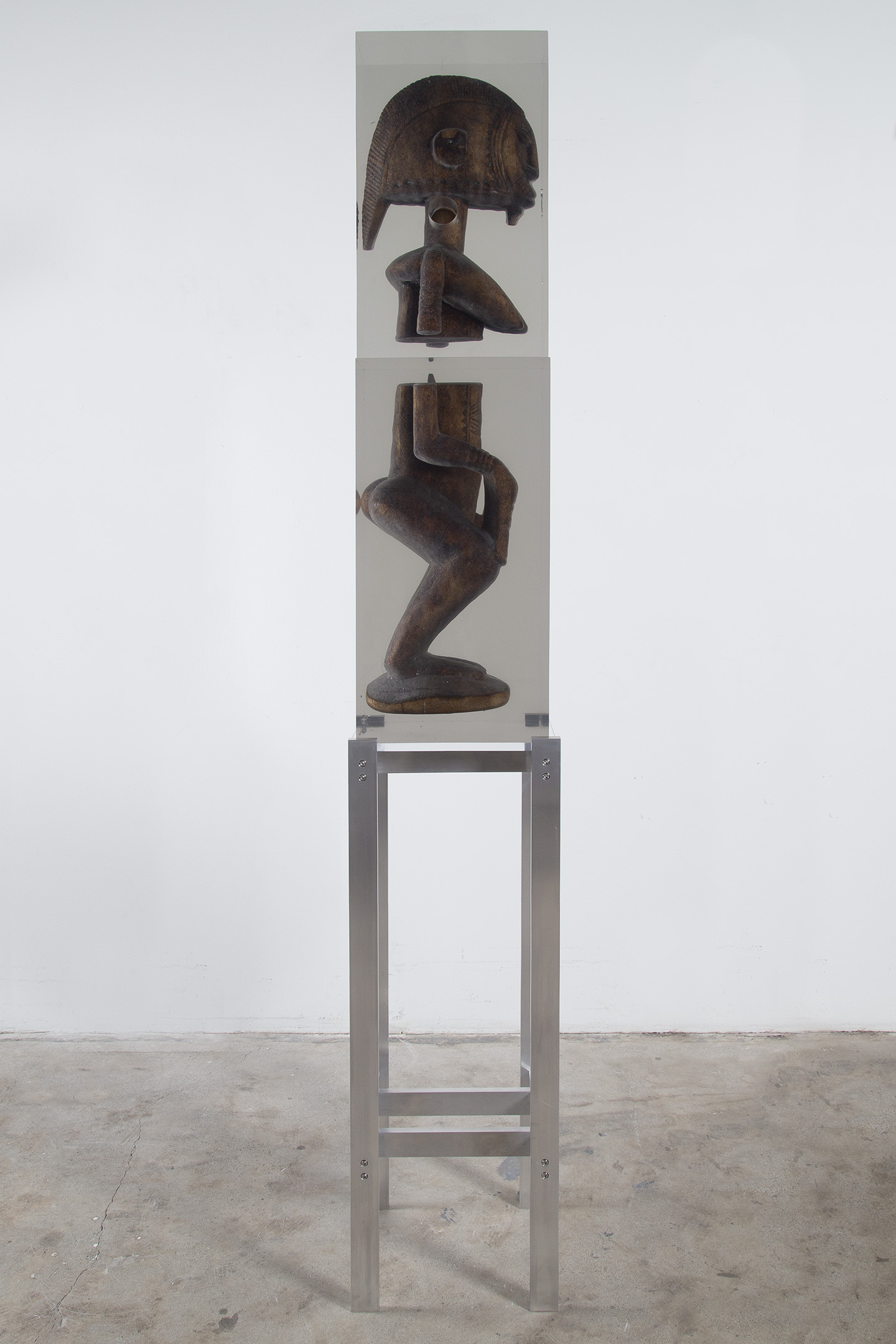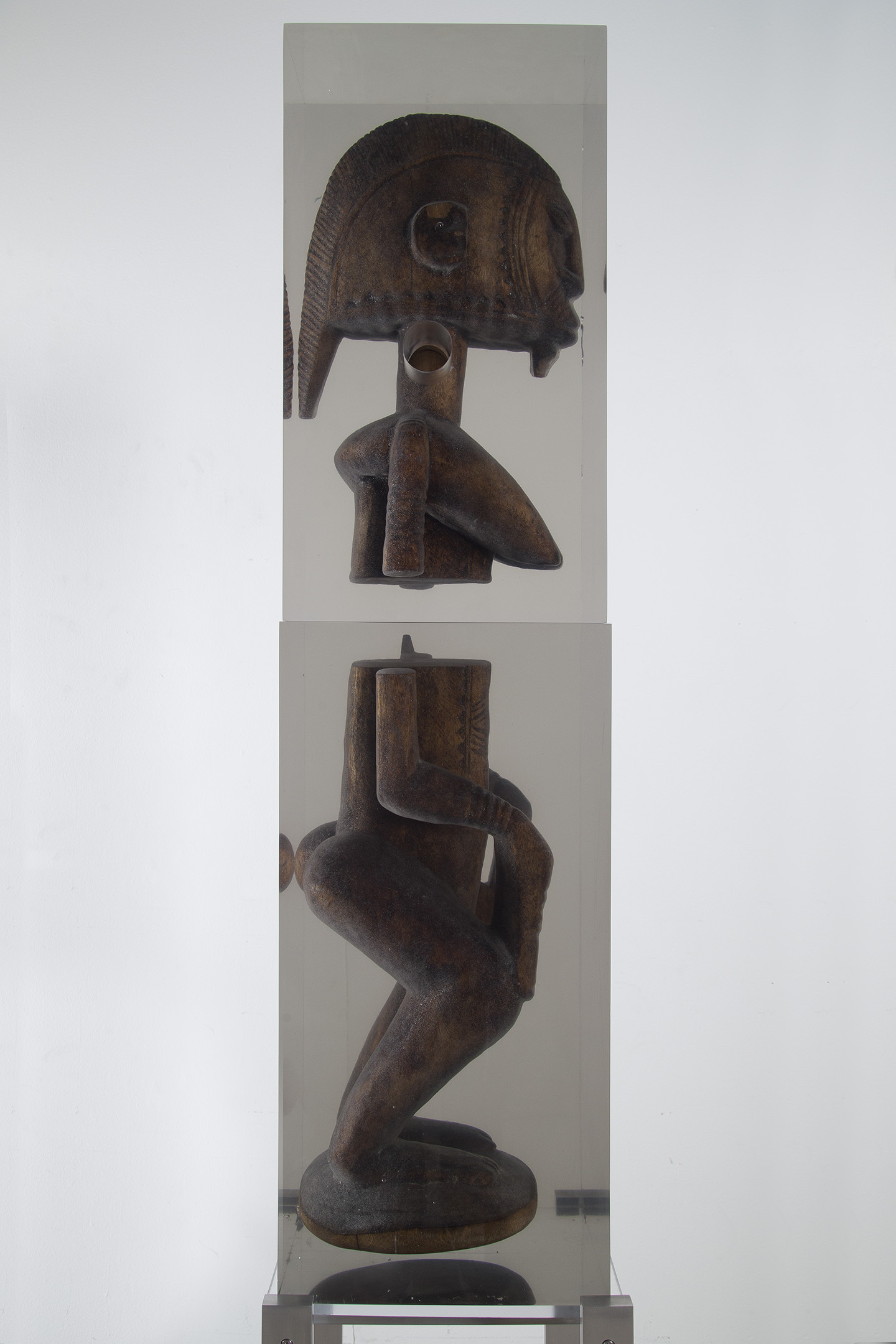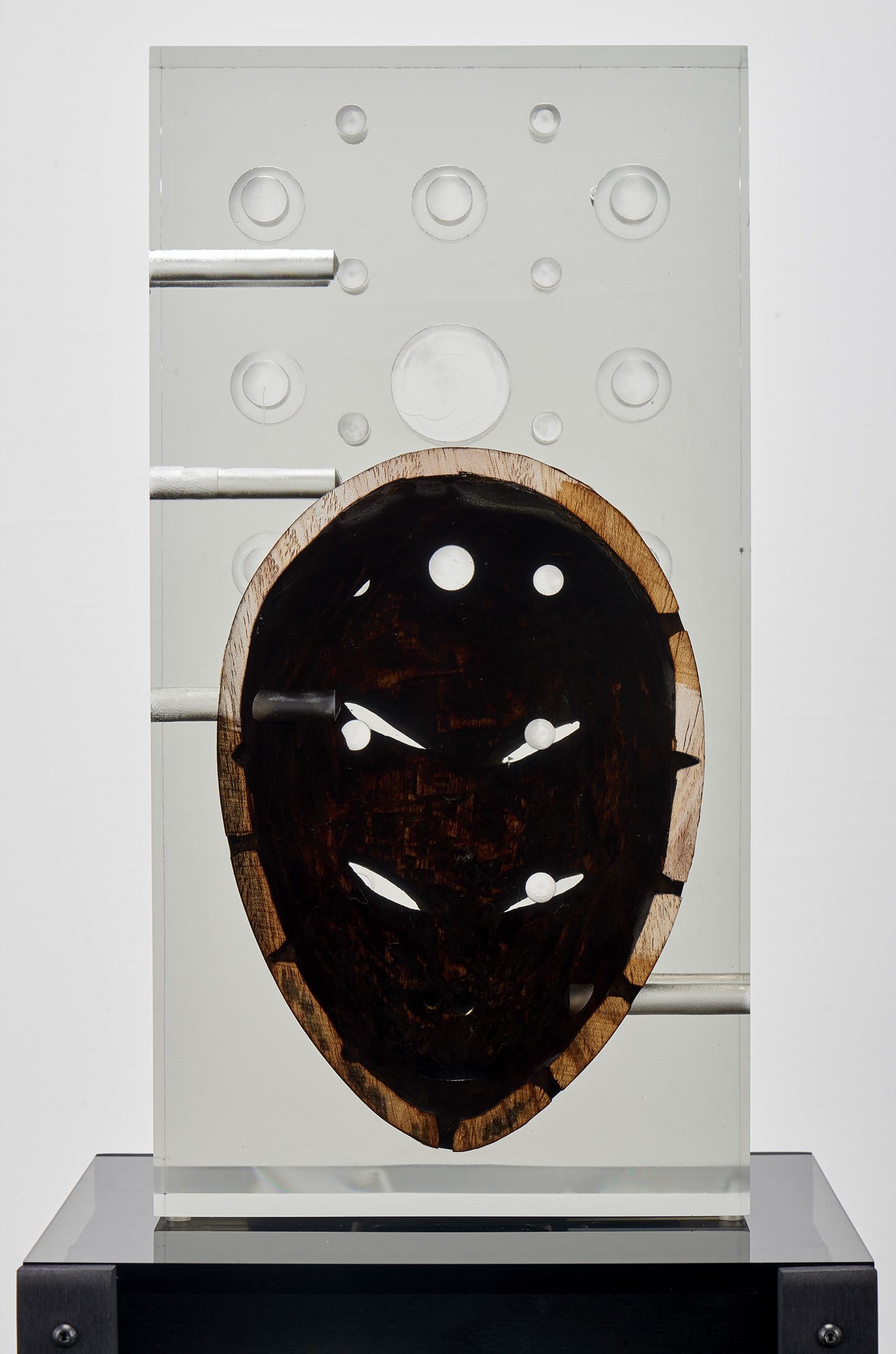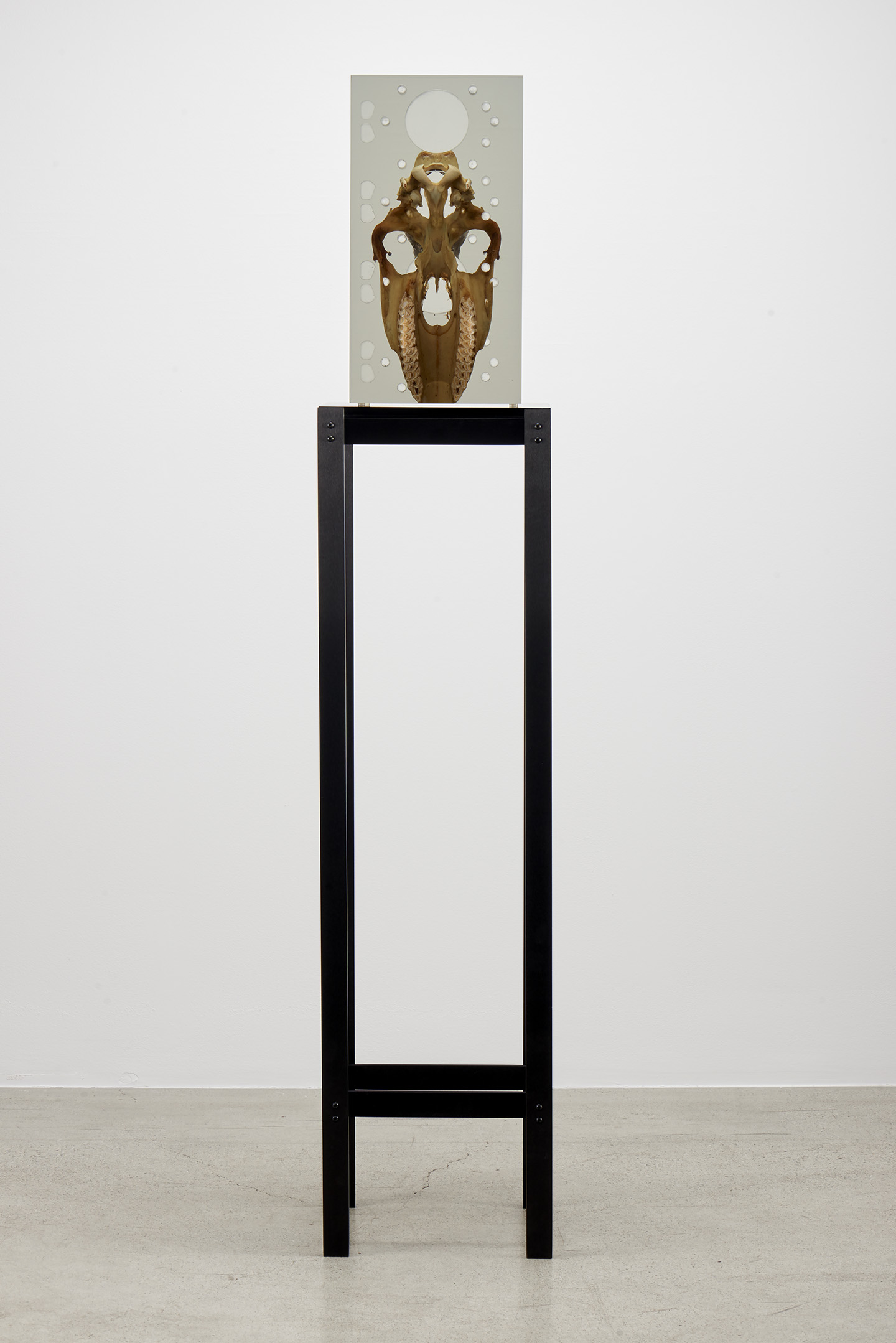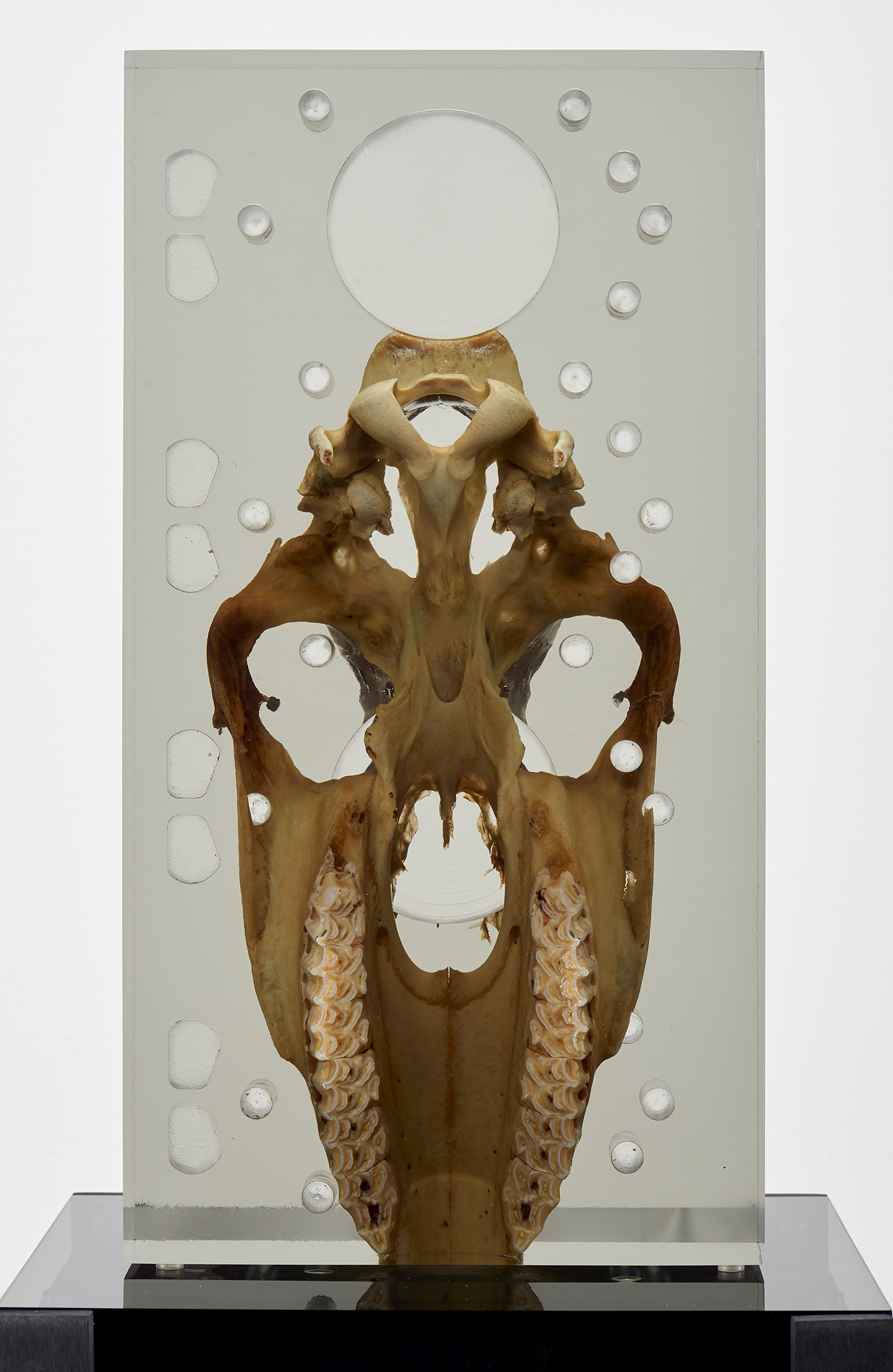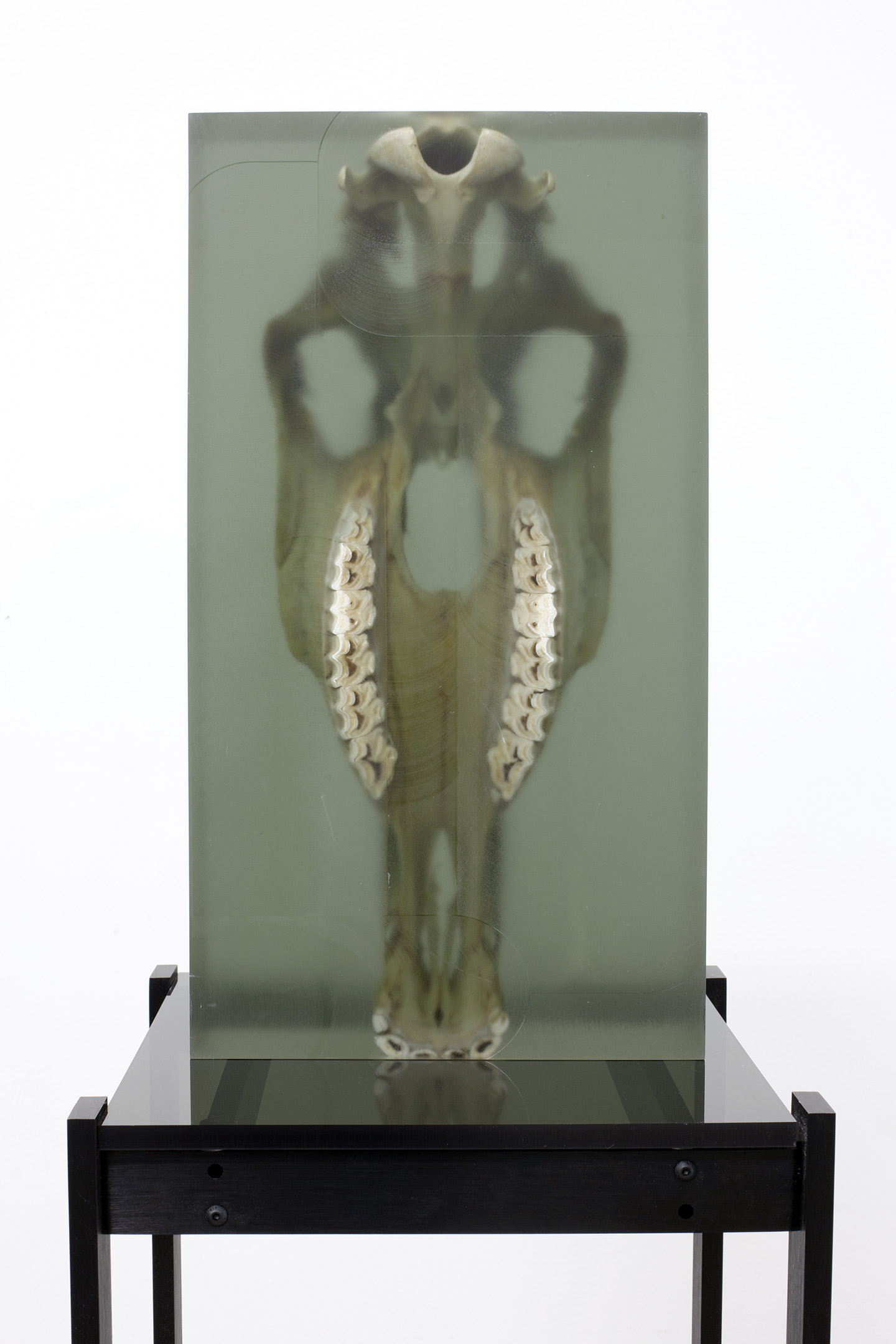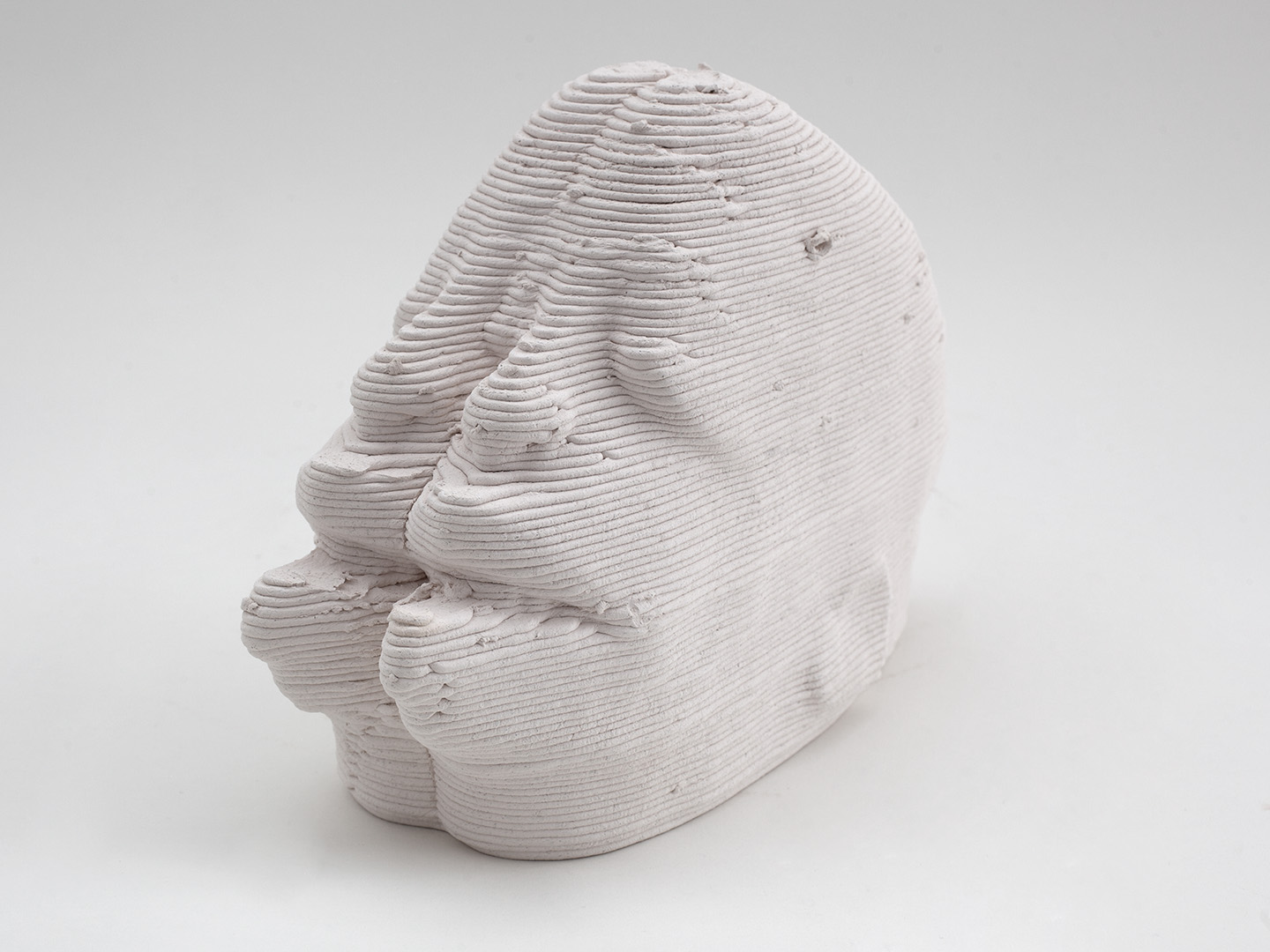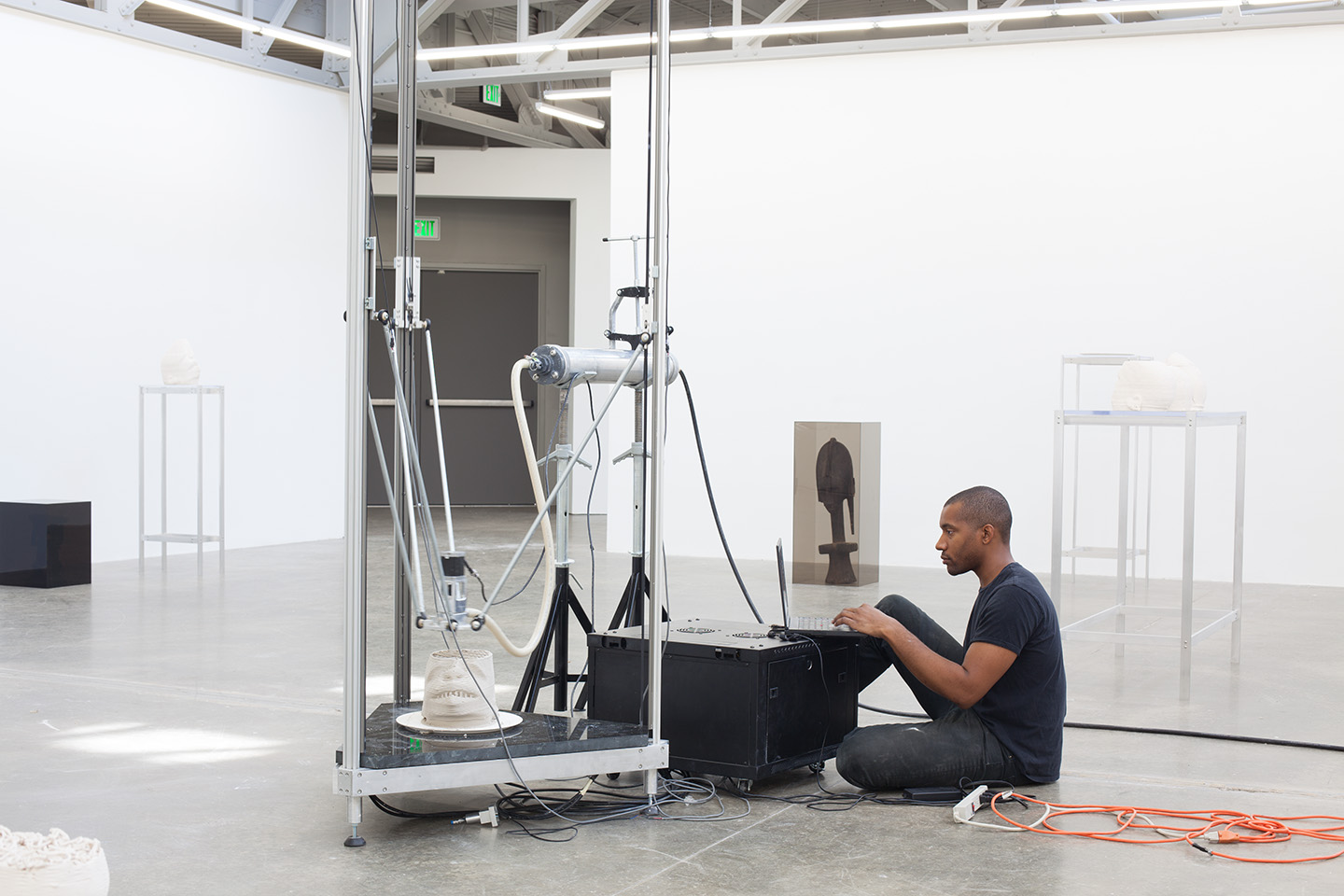 by Rahel Aima
In the liner notes of their 1997 album The Quest, Detroit electro-techno pioneers Drexciya proposed an aquatic Afrofuturist mythology. Their eponymous society was populated by the descendants of pregnant enslaved people thrown overboard during the Maafa; born underwater, the babies could breathe without air. This imaginary has been as influential as their music, spawning a rich ecosystem around the concept of a Black Atlantis.
This airless world is eerily invoked in the Dark Silhouettes series (2018–ongoing) from another Detroit artist, Matthew Angelo Harrison. Wooden West African figurines primarily sourced from the internet—some bona fide antiques, others mass-produced for export to the West—and skulls of savanna animals are suspended in cloudy resin blocks of varying opacity. The blocks sit atop anodized aluminum stands that link Belgian industrial design—a nod to that country's especially brutal colonial history—with the bulletproof glass prevalent in Detroit's gas stations, liquor stores, and fast food joints. It's all terribly austere, with a minimal, almost icy ambiance.
The figurines appear to float, as if cryogenically frozen aboard a spaceship. Sometimes, body parts protrude slightly from the blocks—a tip of the nose and mouth, perhaps—but there is never a sense of gasping for air. Often, the figures are bisected, suggesting both the violence of museum displays and the severed connection to the African continent. The artist describes this as "abstract ancestry," even as other facets of his practice work to send up this kind of vague invocation of a generic African identity. Many of the sculptures have been bored into, creating debossed cog-and-wheel patterns that remind us that American Blackness has always been rooted in industry, from plantations to the auto factories that historically employed a majority of Black Detroiters.
Harrison's practice is quite literally post-Fordist, a term used to describe today's dominant socioeconomic regime which replaced the modes of production pioneered by Henry Ford. Not only does it engage with the detritus of failed capitalism but the artist also spent several years working at the Ford Motor Company itself. There, he made clay prototypes, teaching himself 3D modeling by watching YouTube videos; many of the techniques he learned inform his practice today. Importantly, he doesn't seize the means of production so much as build his own. He feeds homemade 3D printers scans of African masks, which are then printed out in clay. The resulting sculptures sport grim rictuses, striated like seashells or other underwater artifacts, and presented on bulletproof glass in a nod to Detroit's many shuttered liquor stores. The scans include masks from the Malian Dogon people and the Makonde of Tanzania and Mozambique, as well as others of unknown origin, to create a kind of composite pan-Africanism.
Harrison samples in a way that a techno producer might, but there's a museological logic at work, too—one that transmogrifies an object's internal energy through material interventions (stabilizing rods, perhaps) and strategies of display. The art museum is recast as encyclopedic: the masks are decontextualized not just geographically and temporally but materially, too, in their translation to clay. In a recent show at Atlanta Contemporary (2017), Harrison showed both sculptural bodies of work together, upending the presumed superiority of the original, encased masks by placing them on the floor (and the masks on pedestals), and deepening the resin tint to a 1970s brown sepia. Harrison's 3D printer is fabricated of marble, aluminum, and steel—he calls his printers "platforms"—and is shown alongside the masks, blurring the lines between machinery and product, tool and sculpture. It is set to quite a low resolution, introducing a dimension of corruption and variability. Sometimes, the artist programs an element of mutation too, creating a mask that resembles a pair of closely conjoined twins, or one in which only the front or bottom half of the head is printed, revealing the ramen-like extrusions within. This body of work includes a performative aspect in which the artist replenishes materials or operates the printer, reminding the viewer of the invisible labor integral to the assembly line, or any machinic production.
Today, most of the automotive plants that gave Detroit its "Motor City" nickname have been shuttered. The artist compares the resulting decline to the postindustrial slump that sparked Italy's Arte Povera movement; he refers to his own practice as "Dark Povera." While there's certainly no technophobia, and a decided emphasis on Black identity, Harrison remixes several artistic strategies, including the use of juxtaposition and incorporation of ready-mades (nature gives way to eBay) to complicate notions of value. But even as they critique the current deprivations of today's capitalism, whatever stage it may be, Harrison remains a prototyper at heart. Here, however, he isn't prototyping products so much as new forms of identity formation, relationships to ancestry, modes of storytelling, and simply, ways to be.
Matthew Angelo Harrison (b. 1989, Detroit) lives and works in Detroit. He studied at the School of the Art Institute, Chicago (2012). Recent solo exhibitions include: Field Station: Matthew Angelo Harrison, Broad Museum, Michigan State University, East Lansing (2018); Abstract Ancestry: Machine Works on Paper, University of Michigan Institute for the Humanities, Ann Arbor (2018); and Prototype of Dark Silhouettes, Jessica Silverman Gallery, San Francisco (2018). Group exhibitions include: Colored People Time, MIT List Visual Arts Center, Cambridge (2020); Other.Worldly, Fries Museum, Leeuwarden (2020); and Emissaries for Things Abandoned by Gods, Estancia FEMSA – Casa Luis Barragán, Mexico City (2019). Harrison's first solo exhibition in a European institution is scheduled for 2021 at Kunsthalle Basel. 
Rahel Aima is a writer, editor, and critic from Dubai currently based in Brooklyn. She is the special projects editor at The New Inquiry, and a contributing editor at Momus. She is currently working on a book about petromateriality and contemporary art in the Arabian Gulf, and a collection of essays about Enya. Aima was a 2019 recipient of the Andy Warhol Arts Writers Grant.