REVIEWS
Exercises in Emptiness: Matti Braun at Esther Schipper, Berlin
Close
1
2
3
4
5
6
7
8
9
10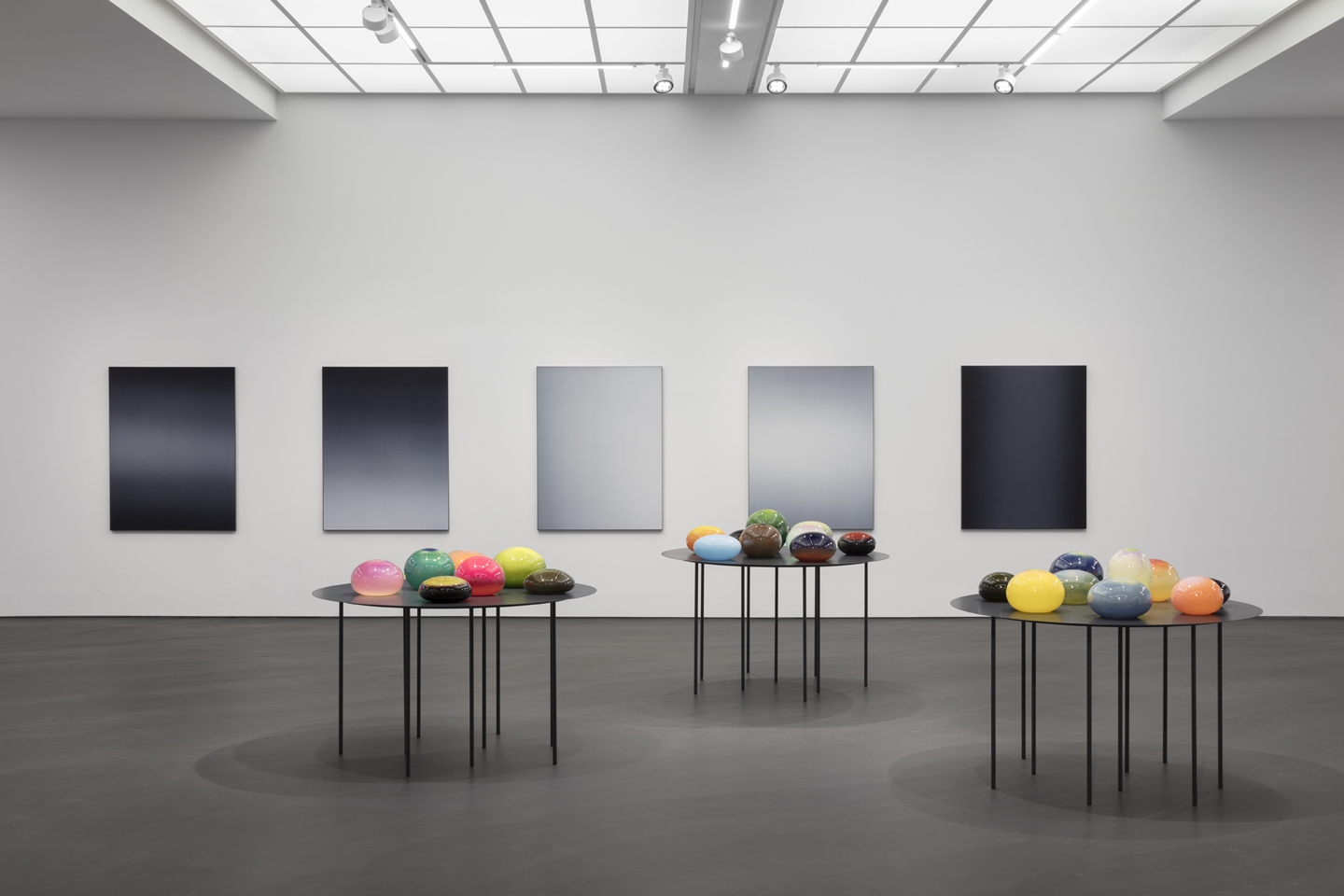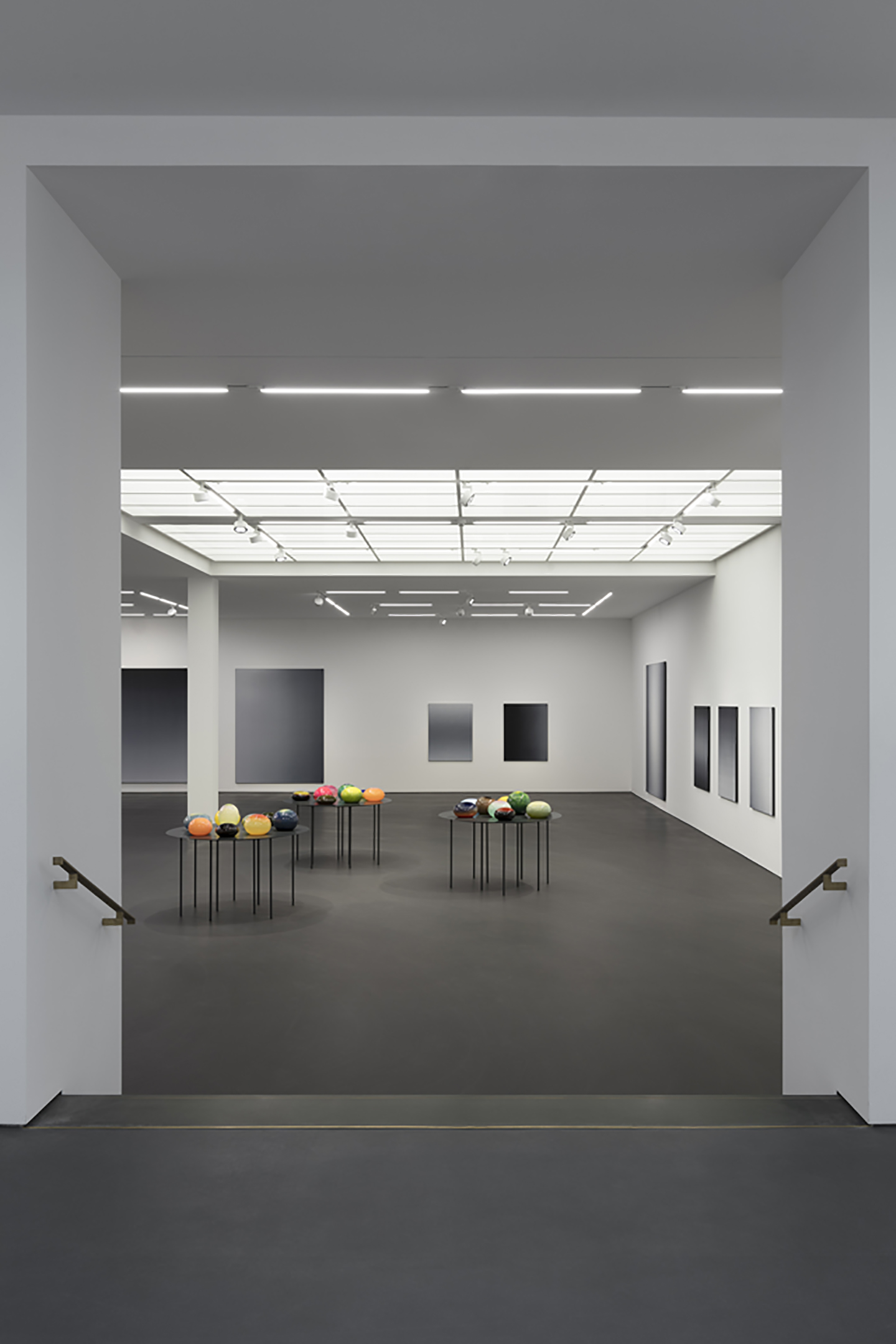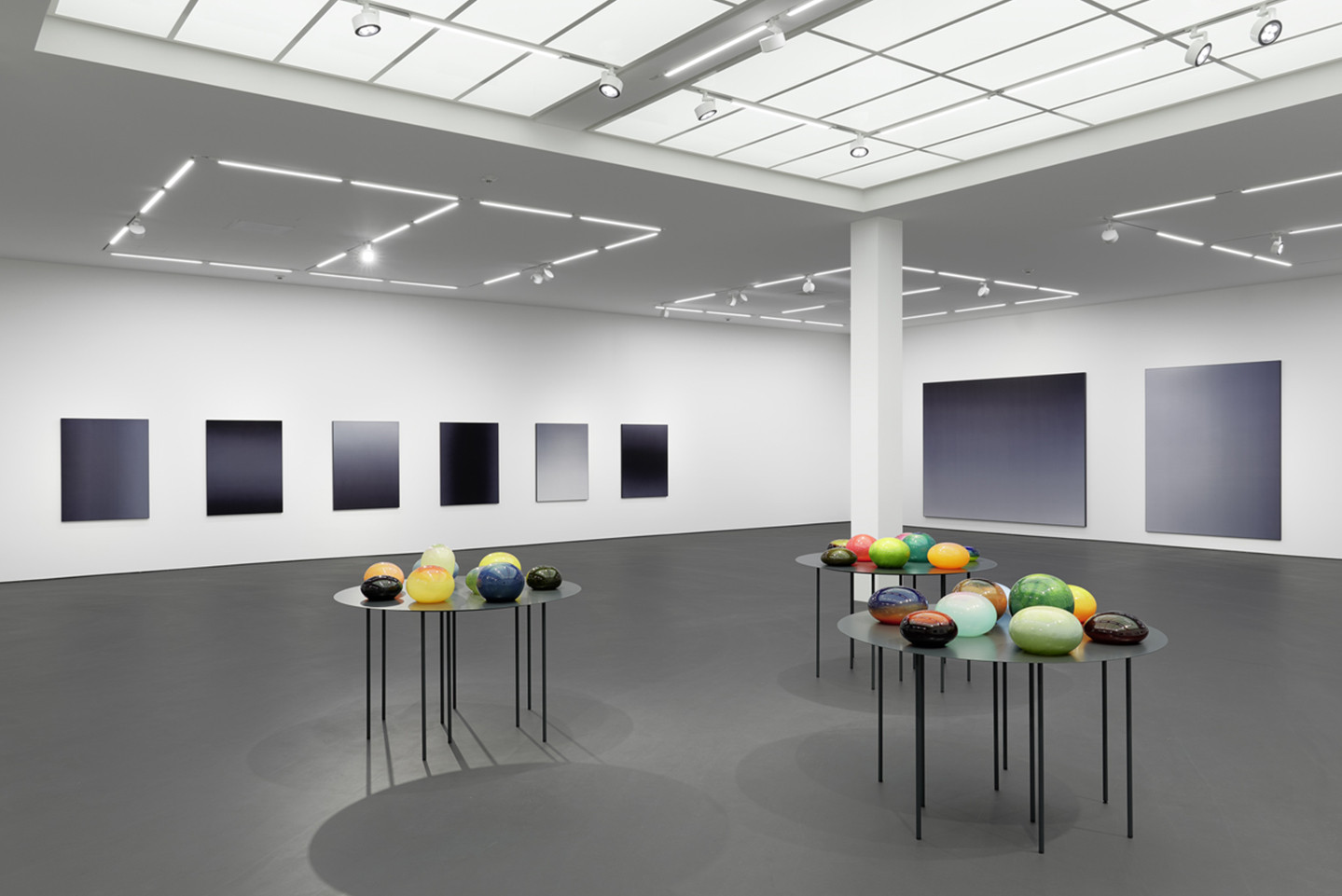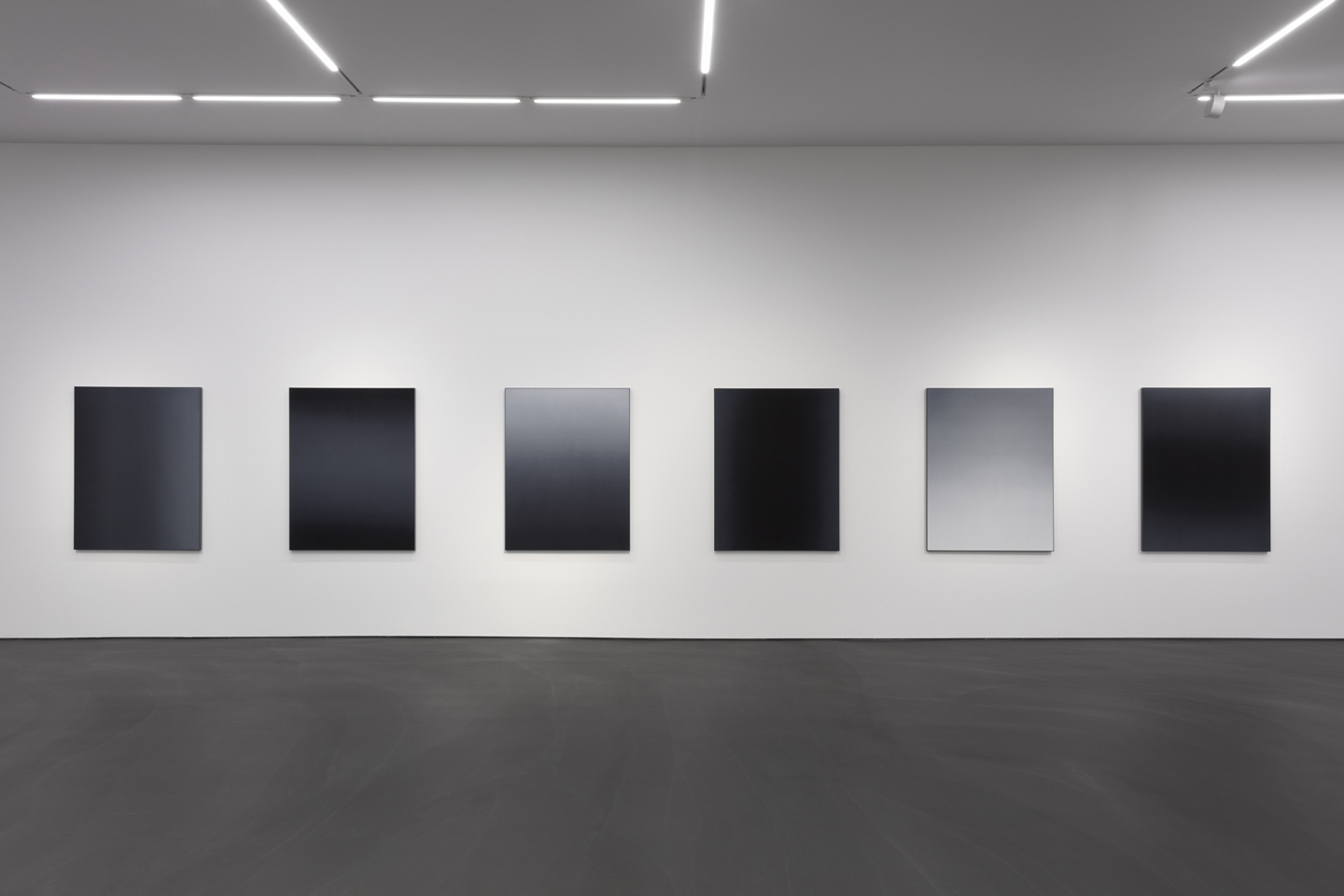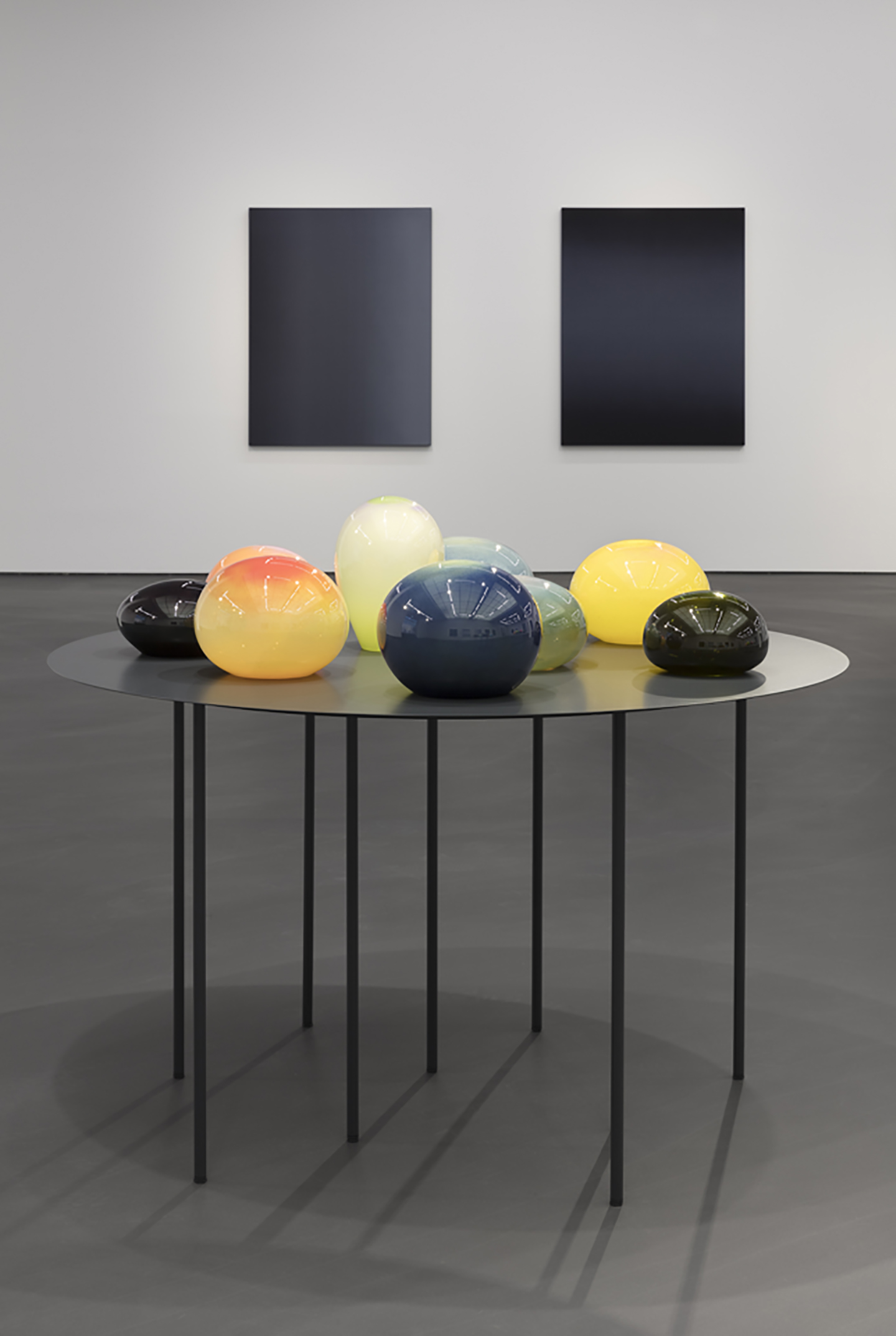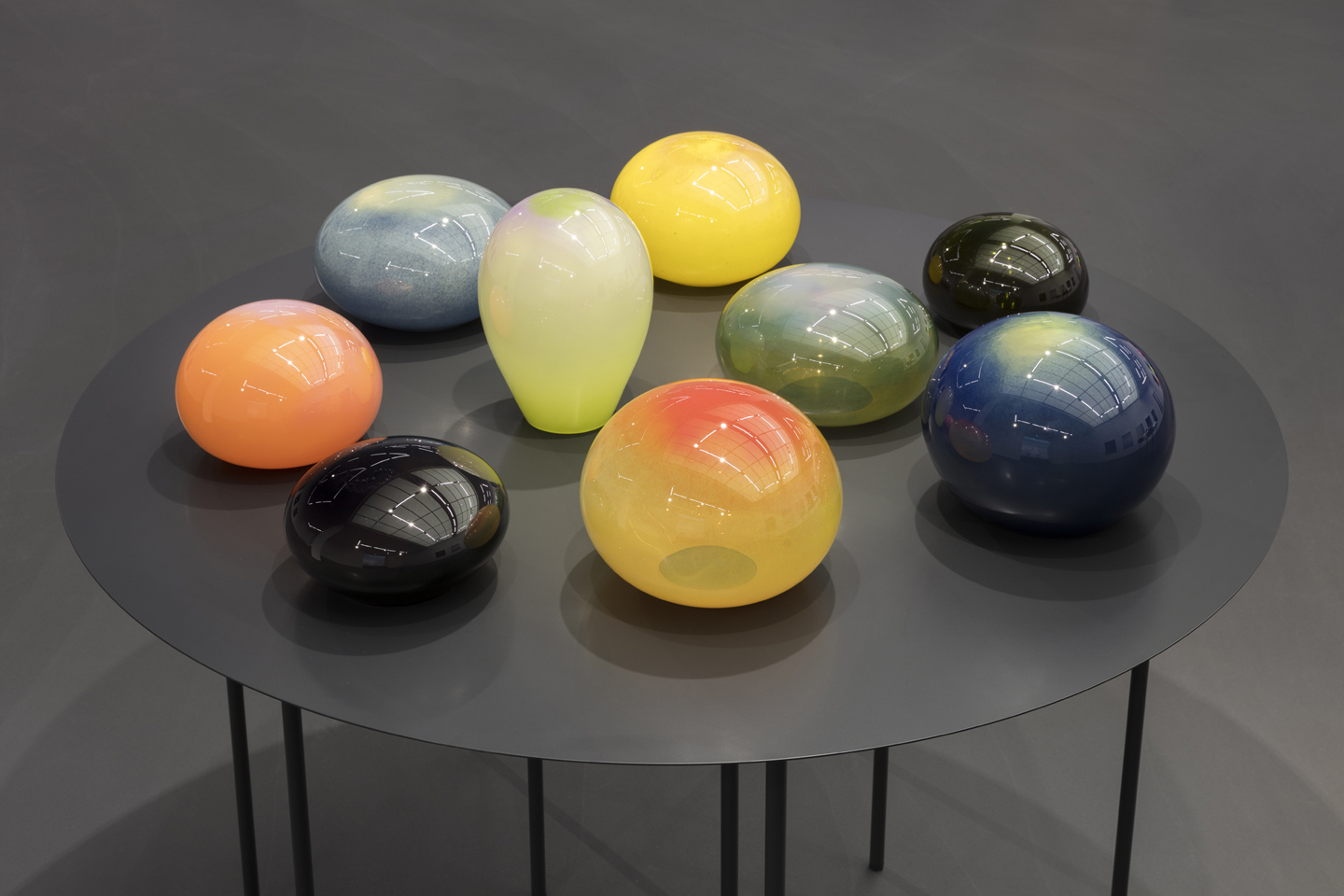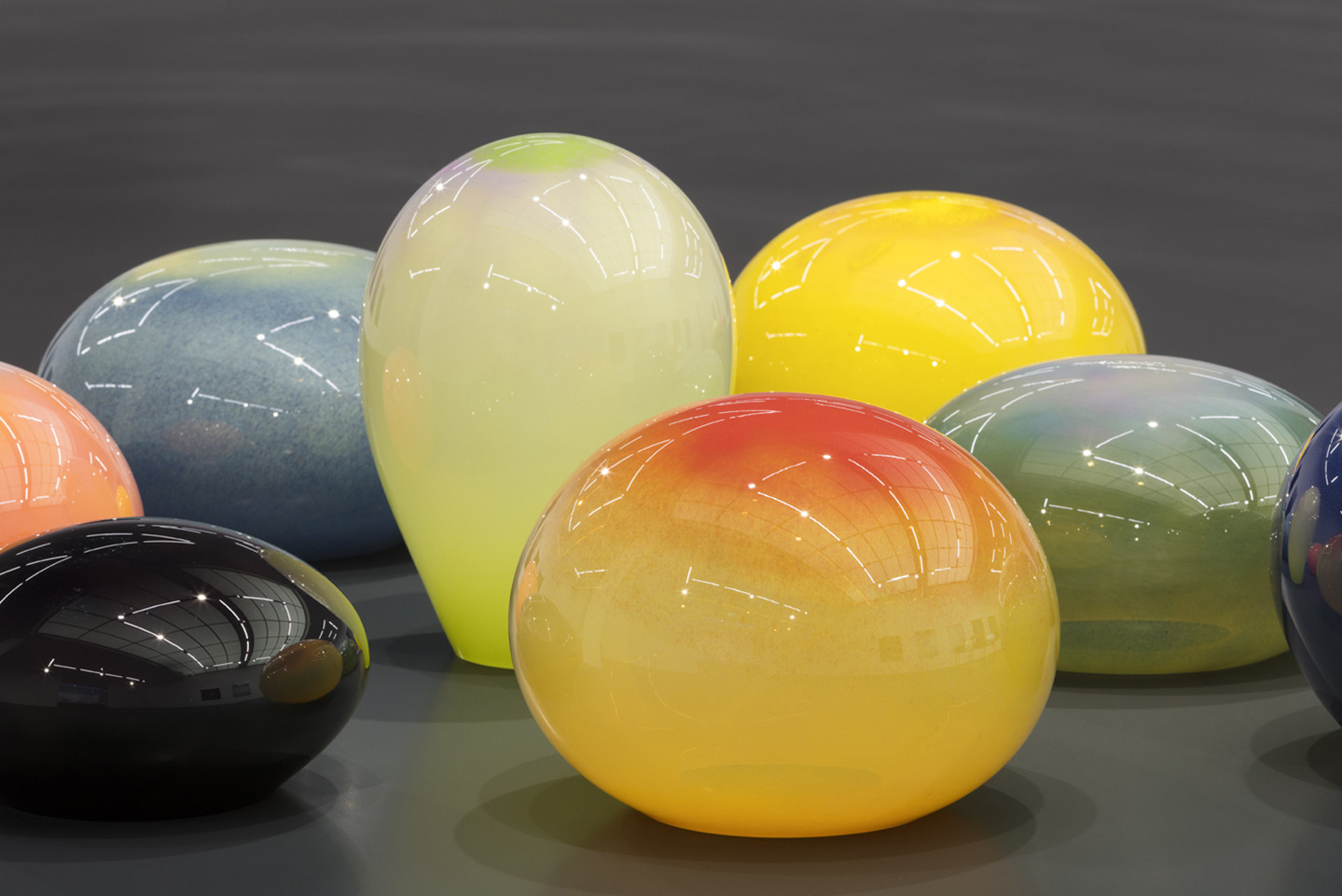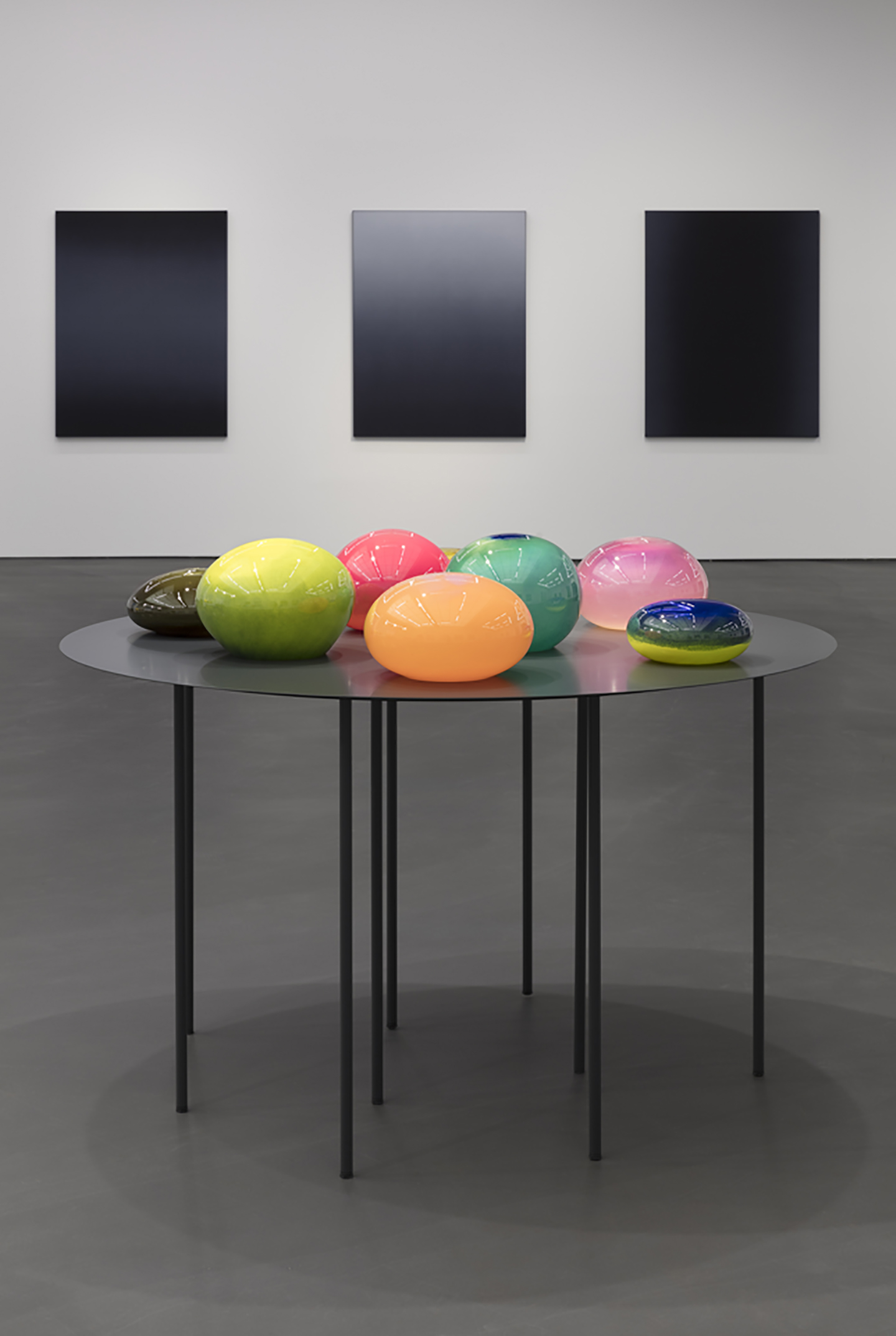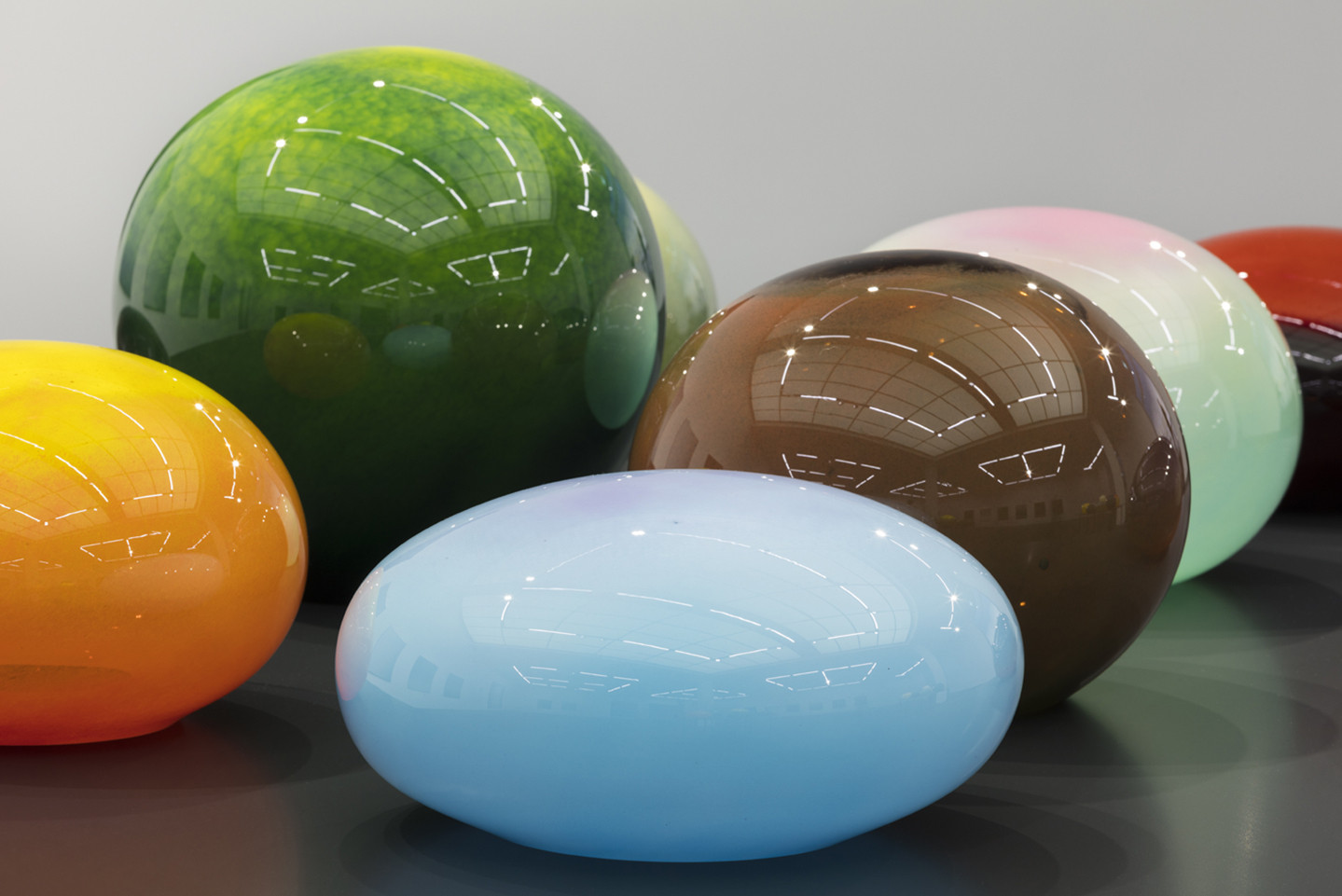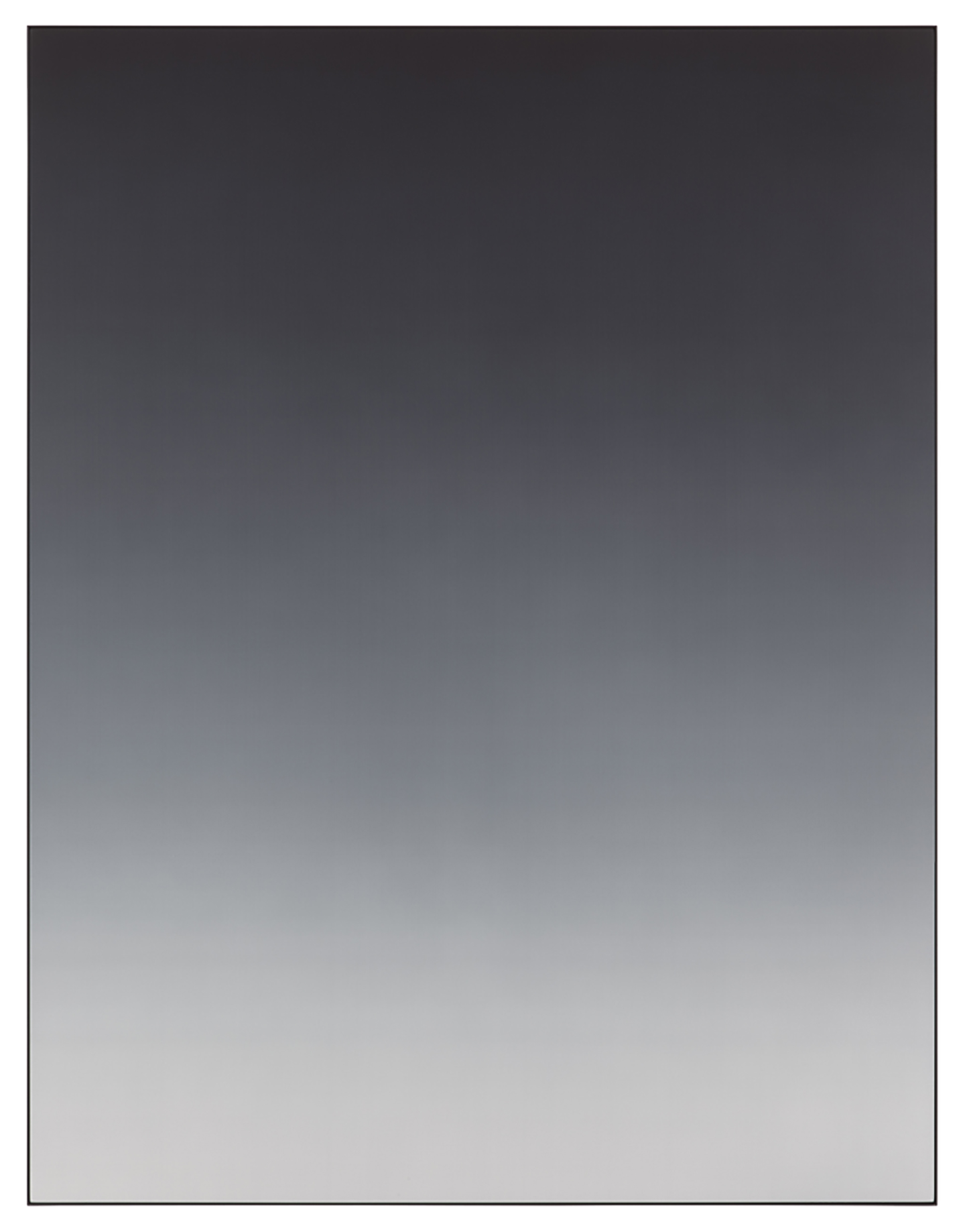 by Philipp Hindahl
The elegant minimalism of German artist Matti Braun's latest works at Esther Schipper in Berlin conceals the complexity of his paintings and glass objects. But the artist's real feat consists of flattening this complexity into a meditation on emptiness.

Minimalism is a strange thing. It has come a long way, from a movement of aesthetic asceticism to the prevailing look of Instagram, accompanied by a surge of self-help literature on how to declutter your life. The longing for less has invaded popular culture, but it has also never left the art space.
Matti Braun's current exhibition at Esther Schipper looks like a meditation on minimalism. The bright space is sparsely filled with new paintings on silk and with glass pieces. The walls of the gallery hold sixteen paintings. They are grouped by size, suggesting a series, which they are not. But they betray an organizing principle, well established by historical minimalism: repetition, with slight variations. At least since the early 2010s, Braun has been making these gradients on dyed silk—run-of-the-mill silk from India—framed with powder-coated aluminum. The earlier versions featured gradients of two, sometimes three colors, mostly cheerful tones: orange, like Indian sunsets, or the calming hues of rose gold, which later became known as millennial pink. The ones on view in Berlin are more subdued. They seem like black fading via gray into a luminous white, but a closer look shows that the black is a dark blue and that between the darkest and the brightest areas, there are a lot more nuances. Braun's silks resemble, for instance, Ad Reinhardt's Black Paintings, which are also meticulously crafted and, contrary to the title, anything but just black. Something sinister looms over this exercise in pictorial effacement.
The twenty-six glass pieces create a sharp contrast to the cool canvases. They are laid out on three tables like bulging eyes or extraterrestrial fruits, glinting in the bright ceiling lights. None of them are precisely spherical. Some are flattened, others stretched, as if in a constant state of becoming. Their colors vary greatly, from a bright, citrus-like yellow to a dark, otherworldly violet that, with its gradient, looks a lot like the eerie eye of HAL, the malicious supercomputer in Stanley Kubrick's movie 2001: A Space Odyssey (1968). The pieces were made in a glass workshop in Bavaria, which, like many traditional manufacturers of its kind, is about to close. The tables are made of matte black metal; each has eight spindly legs, which seem almost too fragile to hold the weight of the glass bodies (though they are hollow), just as the objects seem too smooth and small to contain the metaphorical value they are burdened with.
Braun, who was born in 1968 and studied at the Städelschule in Frankfurt and at the Braunschweig University of Art, is interested in the migration of cultural practices across continents and throughout the ages. Painting on silk is not a new medium to him, and for the past decade, the artist has worked on raw silk. Parallel to the minimalism of his gradients, Braun has done expressive, tie-dye-like works, which throughout the 2010s have gotten increasingly colorful. Others are composed of strict geometric parallel lines or restrained outbursts of black and white. Those are done in batik, an ancient technique from Indonesia; still others feature patterns that resemble tapestries, except they are colored by hand, and on cotton. The latter pieces, however, are from the early 2000s, and it seems like the artist has tried to purge all iconographic reference from his paintings since then.
Braun himself speaks little about his pieces, and his work seems increasingly closed to interpretations. He once made installations that were less restrained but equally elegant, and which can be read as pars pro toto for his artistic practice. Consider his 2003 show S.R. at Kunstverein Freiburg, for which Braun filled the atrium with black water, out of which stuck sections of tree trunks, very much like stepping stones in a swamp. The pond is a reference to the opening scene of an unproduced  film by the Bengali filmmaker Satyajit Ray, who championed science-fiction movies in India in the 1960s, and the show's title refers to the director's initials. Ray's screenplay The Alien—the first sci-fi movie in which the extraterrestrial was a friendly creature—was to be produced in the United States in the second half of the decade, with Marlon Brando, Steve McQueen, and Peter Sellers in line to act.1
But, due to complications with the production company, it was delayed indefinitely. The script was mysteriously lost, and more than a decade later, Steven Spielberg made his hit E.T. the Extra-Terrestrial (1982). To those who remembered Ray's screenplay, the parallels were astonishing. The American director was accused of plagiarism, but since Ray's script was lost, those claims could never be verified. An iteration of S.R. at the Rubin Museum in New York was titled R.T./S.R./V.S. (2018–19), the initials of Bengali polymath Rabindranath Tagore, Satyajit Ray, and the physicist Vikram Sarabhai, who initiated the Indian space program, all of this adding more references.
Walking across the ponds, the curator Beth Citron assures us, enables visitors to "experience slightly the sensation of hovering above the ground and water."2 Braun's art is equally about intertwined cultural allusion and about evoking a visceral pleasure of being in the space. But what to make of this dense web of references that runs under the restrained surfaces of Braun's work, like under the surface of the black water?
Braun may eschew iconography and figuration, Citron continues, but his work is connected to "a certain register of liturgical art history."3 What that means becomes evident when looking at Braun's untitled series from 2003, the copies of Indian patolas. Traditionally, these tapestries are woven with dyed thread and used in religious ceremonies in India. Like an interior narrative, all this is contained in Braun's work. But, like silken threads, these narratives become invisible in the finished installations. The additive complexity of narrative is obliterated by the formal subtraction in his oeuvre. For instance, in its original context, the silk might have held liturgical meaning, but it now becomes the raw material for almost meditative purification and repetition. It has become, literally, a blank canvas for repetition and variation. Isn't it strange, as musicologist Robert Fink has observed, how we find solace in repetition? "It's just playing the same thing over and over; repetitious like factory work, or like beginning meditation," he writes of minimal composition in music.4 Once minimalism Marie Kondo-ed out Western modernism in the 1960s, repetitive cultural practices became a staple of New Age subculture, and the austerity of emptiness migrated to Instagram and self-help books.
Matti Braun goes to great lengths in order to fold many subnarratives into his hermetic-seeming works. But maybe their true merit is that they themselves fold into repetition as a cultural practice, where the transcontinental references are flattened, creating objects that escape hermeneutics but lend themselves to aesthetic asceticism. This recalls the show's mysterious title, Ku Lak. It is without meaning, claims the artist, and maybe this emptiness is its ultimate function.
1. Catrin Lorch, "Matti Braun: Kunstverein Freiburg, Kiel, Germany," Frieze, no. 78 (October 2003), https://frieze.com/article/matti-braun.
2. Beth Citron, "Becoming Alien," in A Lost Future (New York: Rubin Museum of Art, 2018), 81.
3. Citron, 81.
4. Robert Fink, Repeating Ourselves: American Minimal Music as Cultural Practice (Berkeley: University of California Press, 2005), 4.
at Esther Schipper, Berlin
until 22 February 2020