EXHIBITIONS
Maurizio Nannucci "Where to Start From" at MAXXI, Rome and "Top Hundred" at Museion, Bolzano
"Where to Start From" at MAXXI, Rome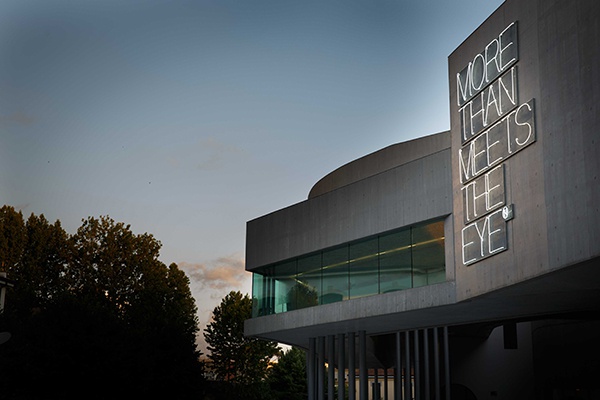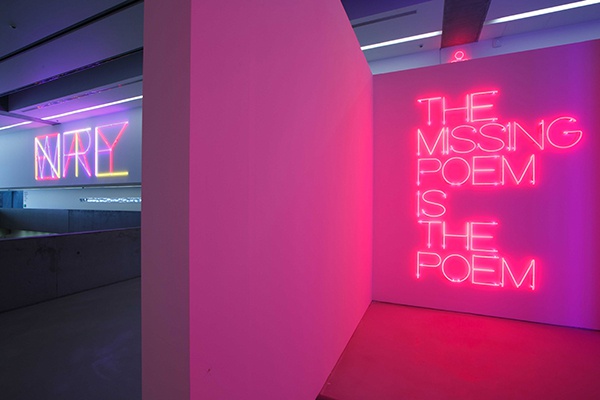 MAXXI dedicates to Maurizio Nannucci, one of the most important names in Italian contemporary art from the 1960s to the present time, a major exhibition entitled Where to Start From, curated by Bartolomeo Pietromarchi.

The exhibition explores, with works both early and recent, the importance and the central position of Nannucci's  artistic research. Two new installations were made for this occasion, including the sound installation Sound Samples and More Than Meets the Eye, a large-scale work for MAXXI's facade which, thanks to Amici del MAXXI, will join the museum collection.
Since the 1960s, Maurizio Nannucci, a point of reference for many generations of artists, architects, musicians, critics and curators, has examined the relationship between art, language, and image. His research, which has always been characterized by the dialogue between the various disciplines, explores the relationship between light, color, sound and both real and imagined space, which becomes particularly evident in his large neon writings. Nannucci's work is conceptual—it is an exploration between culture and society, with a close connection between architecture and urban landscape—whose language restores a symbolic and spatial value to the single words.
As concerns his research the artist says "I believe that the image transcends the limits of the representation, becoming a mental image, a virtual one, an image born from a dream or a dream with eyes wide open, a visualized and relative image, which can be evoked by a single word, a sound, or a scent. The same can be said for the images that refer to each other and require the absence of an object; I do not limit them, nor do I reduce them to a figure; I give them freedom and fantastic independence…"
His works, on view in the museum's Gallery 3, share a reciprocal dialogue.
On display are the following: the installation Anthology (1967/2015…), an index of texts and concepts that are continually being updated, and the large wall in white neon: There Is Another Way of Looking at Things. The exhibition presents historic and anticipatory works such as the pages of Dattilogrammi (1964/1965), Alfabetofonetico (1967), M40 (1967), Corner (1968), Colors (1969), the large installation The Missing Poem Is the Poem (1969), the "sound explorations" (since 1966) and the photographic series "Giardini Botanici" (1967) and "Scrivere sull'acqua" (1973). An integral part of the exhibition is the presentation of the multiples that the artist has produced since the 1960s: more than one hundred editions including multiples, artists' books and records, photos, magazines, ephemera, which express another fundamental practice of the artist's work. Along this trajectory the works interact with the museum space, perceptively changing it,  as in the case of the installation Sound Samples. This work creates a further ideal connection to the nearby Auditorium Parco della Musica for which the artist made, in collaboration with Renzo Piano in 2002, a large permanent installation of neon texts entitled Polifonia.
.
until 18 October 2015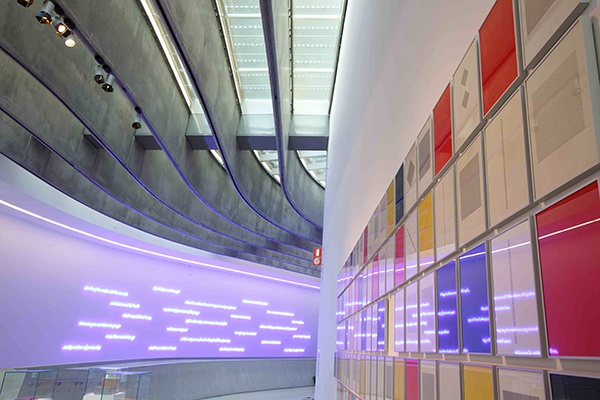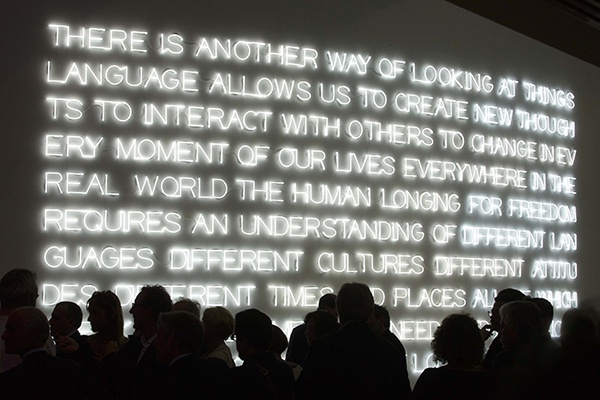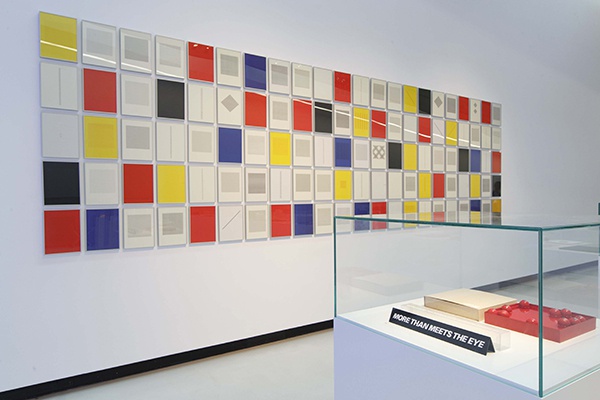 Maurizio Nannucci,  "Where to Start From" installation views at MAXXI, Rome, 2015
Courtesy: the artist and MAXXI, Rome. Photo: Musacchio Ianniello.
.
"Top Hundred" at Museion, Bolzano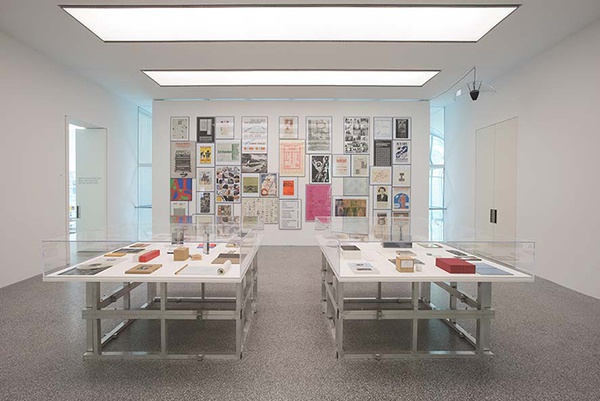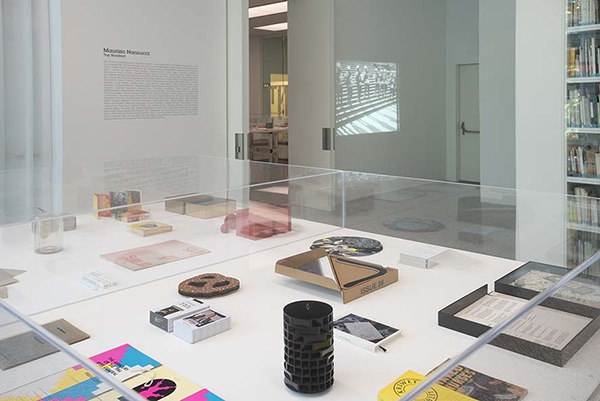 "Top Hundred" is a project by Maurizio Nannucci that presents a hundred works selected from artists' multiples, publications, books and records, as well as videos, magazines, documents and ephemera belonging to a hundred leading artists on the international scene from the 1960s to the present, from the Zona Archives collection he started in 1967.
The exhibition aims to offer a cross-cutting panorama in which the biographic aspect of Nannucci's research coincides with the historical presentation of various artistic practices. It reflects on the concept of the reproducibility of the artwork, which, freed from its aura of uniqueness and singularity, can circulate more freely, more democratically.
"Top Hundred" documents various art movements, from Concrete Poetry to Fluxus, to Conceptual art, experimental and multimedia works and the most recent directions emerging in the new millennium.
It therefore offers a guide to the art of the last 50 years, revealing the richly varied and innovative nature of its many strands (ramifications?). In order to display more than 100 artists' multiples, books and records in Museion's studio collection venue, Nannucci has designed an original layout that features a number of site-specific neon, sound and video installations by other artists.
The show presents items, multiples, documents by Vito Acconci / Saadane Afif / Vincenzo Agnetti / Laurie Anderson / Carl Andre / Archigram / John Armleder & Ecart / Art & Language / Avalanche / John Baldessari / Robert Barry / Base progetti per l'arte / Joseph Beuys / Pierre Bismuth / Bit / Alighiero Boetti / George Brecht / AA Bronson & General Idea / James Lee Byars / Chris Burden / Daniel Buren / John Cage / Maurizio Cattelan & Permanent Food / Christo / Claude Closky / Gianni Colombo / Concrete Poetry / Martin Creed / Guy Debord & Internationale Situationniste / Herman de Vries / Antonio Dias / Nico Dockx / Brian Eno / Cerith Wyn Evans / VALIE EXPORT / Hans Peter Feldmann / Robert Filliou / Ian Hamilton Finlay / Henry Flint / Lucio Fontana / Terry Fox / Marco Fusinato & John Nixon / Katharina Fritsch / Rainer Ganahl / Liam Gillick / Global Tool / John Giorno / Piero Golia / Felix Gonzales Torres / Dan Graham / Rodney Graham / Guerrilla Girls / Hans Haacke / Damien Hirst / Jenny Holzer / Pierre Huyghe / Dorothy Iannone / Isidore Isou / Christian Jankowski / Allan Kaprow / Martin Kippenberger / Peter Kogler / Koo Jeong-a / Joseph Kosuth / Jannis Kounellis / Ferdinand Kriwet / Barbara Kruger / Yayoi Kusama / Robert Lax / Le point d'ironie / Sherry Levine / Sol Lewitt / Roy Lichtenstein / Richard Long / Francesco Lo Savio / George Maciunas & Fluxus / Piero Manzoni / Christian Marclay / Gordon Matta-Clark / Allan McCollum / Cildo Meireles / Méla / Gustav Metzger / Maurizio Mochetti / Jonathan Monk / Olivier Mosset / Matt Mullican / Antoni Muntadas / Maurizio Nannucci / Bruce Nauman / Carsten Nicolai / Olaf Nicolai / Claes Oldenburg / Yoko Ono / Gabriel Orozco / Ou / Giulio Paolini / Philippe Parreno / Richard Prince / Markus Raetz / Recorthings / Tobias Rehberger / Pipilotti Rist / Gerwald Rockenschaub / Dieter Roth / Allen Ruppersberg / Ed Ruscha / Seth Siegelaub / Gianni Emilio Simonetti / Something Else Press / SMS / Michael Snow / Daniel Spoerri / Spur / The Fox / Rirkrit Tiravanija / Niele Toroni / Franco Vaccari / Ben Vautier / Bill Viola / Wolf Vostell / Andy Warhol / Lawrence Weiner / Franz West / Emmett Williams / Christopher Wool / Heimo Zobernig / Zona…
.
until 7 January 2016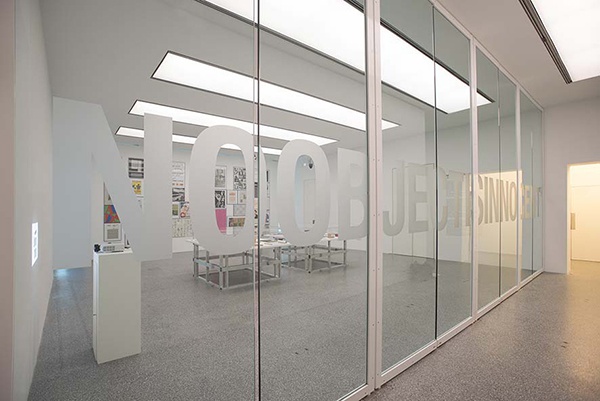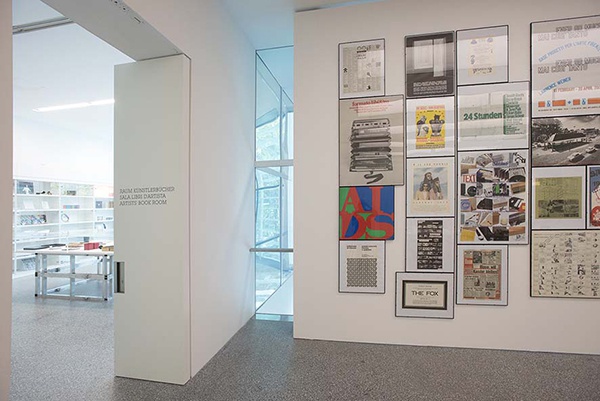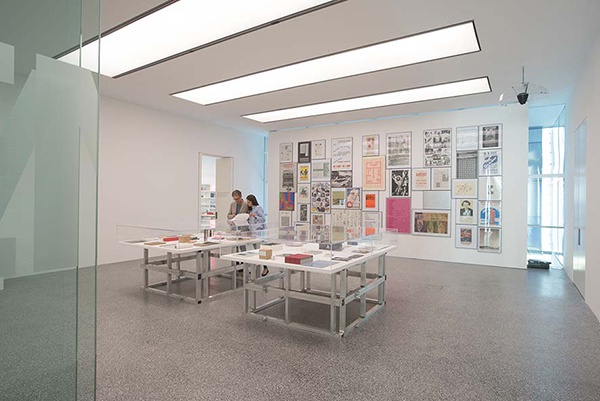 Maurizio Nannucci, "Top Hundred" installation views at Museion, Bolzano, 2015
Courtesy: the artist and Museion, Bolzano.