EXHIBITIONS
Max Ruf "Phthalo Green" at Union Pacific, London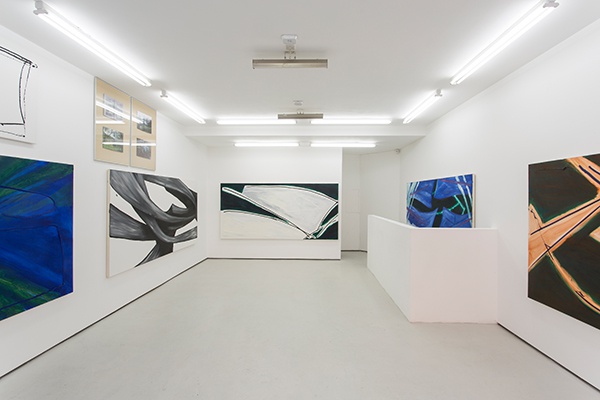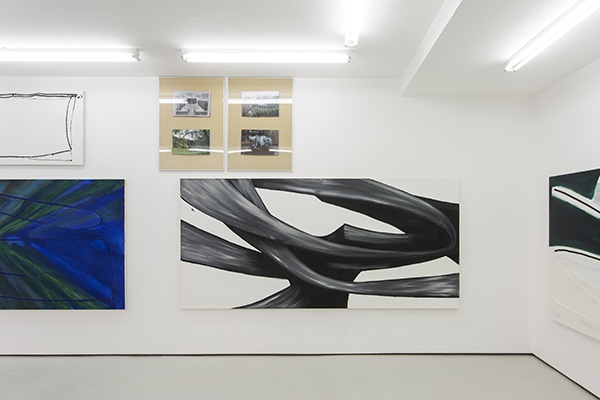 STILL
An unfocused gaze held momentarily upon a discarded paper. White glossy surface yellowed under the dulled glow of street lamps, the bold graphic layout of the page is disturbed by a pockmarked texture of scratches that moves across the surface creating an almost seamless consistency with the coarse background of concrete. The top banner a grubby but intended pastel blue, bordered by a pre-generated curve, stroked with white and filled left to right by preselected purple, blue, red. Screening down a female figure in black night robe caught in mid step, left foot forward, right arm perched upwards supporting her weight on a largely scuffed out to reveal the paper stock. A white mat is thrown to the forefront with an unexplained protrusion reaching down from the corner warping its perspective, between a softly laid out bathroom textile and a graphic speech bubble.
"A warm welcome for wet feet"
AS SEEN ON TV
PAN RIGHT
AN ENHANCED ARTIFICIALITY TO THE NUMEROUS BULBS OF LIGHT GLOWING SYNTHETIC SHADES OF RED, PINK, YELLOW, BLUE. TEMPERED BY THE SCREEN, MISTY AND CONDENSED, WITH PATTERNS THAT MOMENTARILY FOCUS, FORMING SMALL INTERLOCKING ISLANDS THAT REACH OUT FROM AND BECOME SEPARATED BY CONTINENTS, TO SUBSEQUENTLY DISAPPEAR INTO THE BANAL GRADIENT OF GREY TARMAC RISING UP INTO DULL BLACK HORIZON. THE FOREGROUND IS INSISTENT, A CURVED PLASTIC BAR UNFLATTERINGLY VISIBLE, A SHADE OF YELLOW THAT GREENS AROUND THE EDGE LIKE BADLY MIXED PAINT, NONE OF THE DUSKY ROMANCE OF THE LIGHTPLAY.
Laboured frictions of surfaces clicking over rising in intensity. Shuffling. Sharp bell rings
SWEEPING PAN RIGHT
Distracted glances backwards against the sweeping pan tries to capture some detail against the fogged, uniform black texture only affording a cursory distinguishing of mass, a voluminous tower reaching upwards beyond the frame, overlooking more modest outcrops.
HIS HANDS CLASPED AROUND THE DANGLED YELLOW GRIP PULL UPWARDS BRINGING WEIGHT OFF THE FLOOR AND THE NUMEROUS TINY MIRRORS SOWN INTO HIS HAT REFLECT UNDER THE STRIP LAMP.
THE UNIFORM TEXTURE OF BLACK GREY GIVES WAY TO A SERIES OF OVERLAPPING GRIDS. INFRASTRUCTURAL BEAMS ON HORIZONTAL AND VERTICAL PLANES SUPPORTED BY SPINDLED UPRIGHTS ANCHORING HUNDREDS OF GLASS SHEETS, FORMING A MOMENTOUS CURVED WALL STRETCHING FROM THE CORNER AND BEYOND THE FRAME. LED BLUE IS RADIATED FROM WHAT COULD BE AN ENLARGED PEG BOARD, AN AMATEUR ELECTRONICS SIGNAGE OR CRAFTWORK WITHOUT THE RESOLUTION FOR A SEAMLESS DIGITAL IMAGE, ONLY CAPABLE OF ATOMISED SHAPES WHICH FORM AT A DISTANCE FROM THE EYE. ALL THE HOLES HAVE SIMPLY BEEN PLUGGED AS AN EXTERIOR DESIGN. […]
(Excerpt of the text published on the occasion of the exhibition "Phthalo Green," at Union Pacific, London, following conversations between Max Ruf and Ali Eisa, and in response to the authors travel between Wandsworth Road, London and Vilnius International Airport, Lithuania.
Ali Eisa is an artist living and working in London. He also works collaboratively as half of Lloyd Corporation.)
.
until 24 October 2015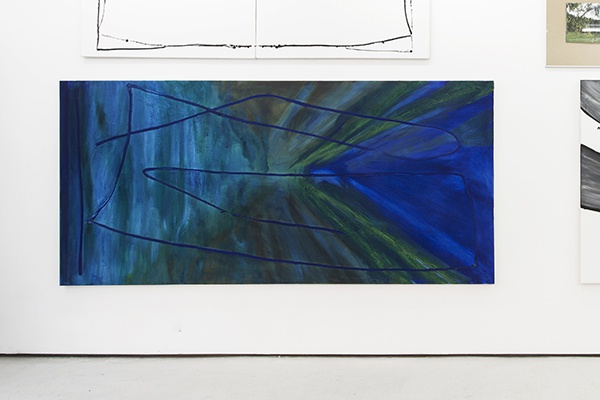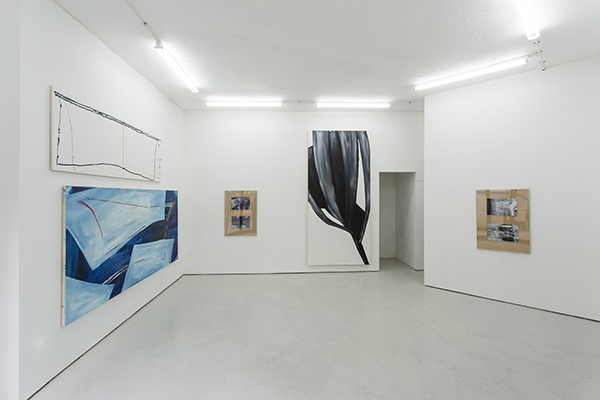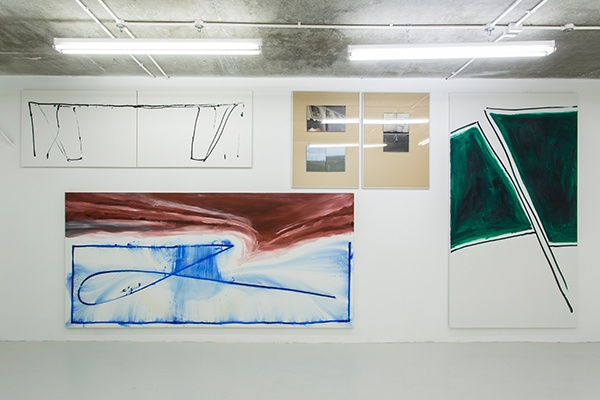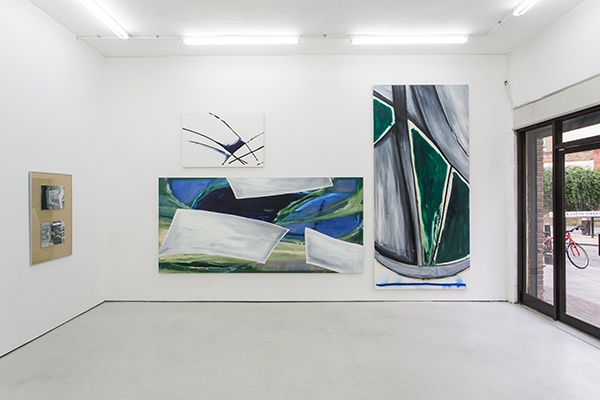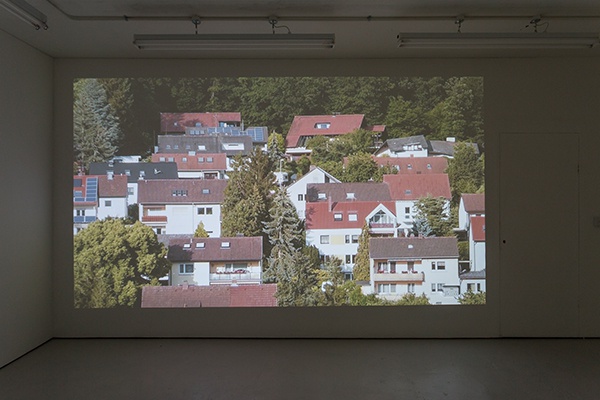 Max Ruf, "Phthalo Green" installation views at Union Pacific, London, 2015
Courtesy: the artist and Union Pacific, London.