REVIEWS
Of Mice and Mortality: Ryan Gander
Close
1
2
3
4
5
6
7
8
9
10
11
12
13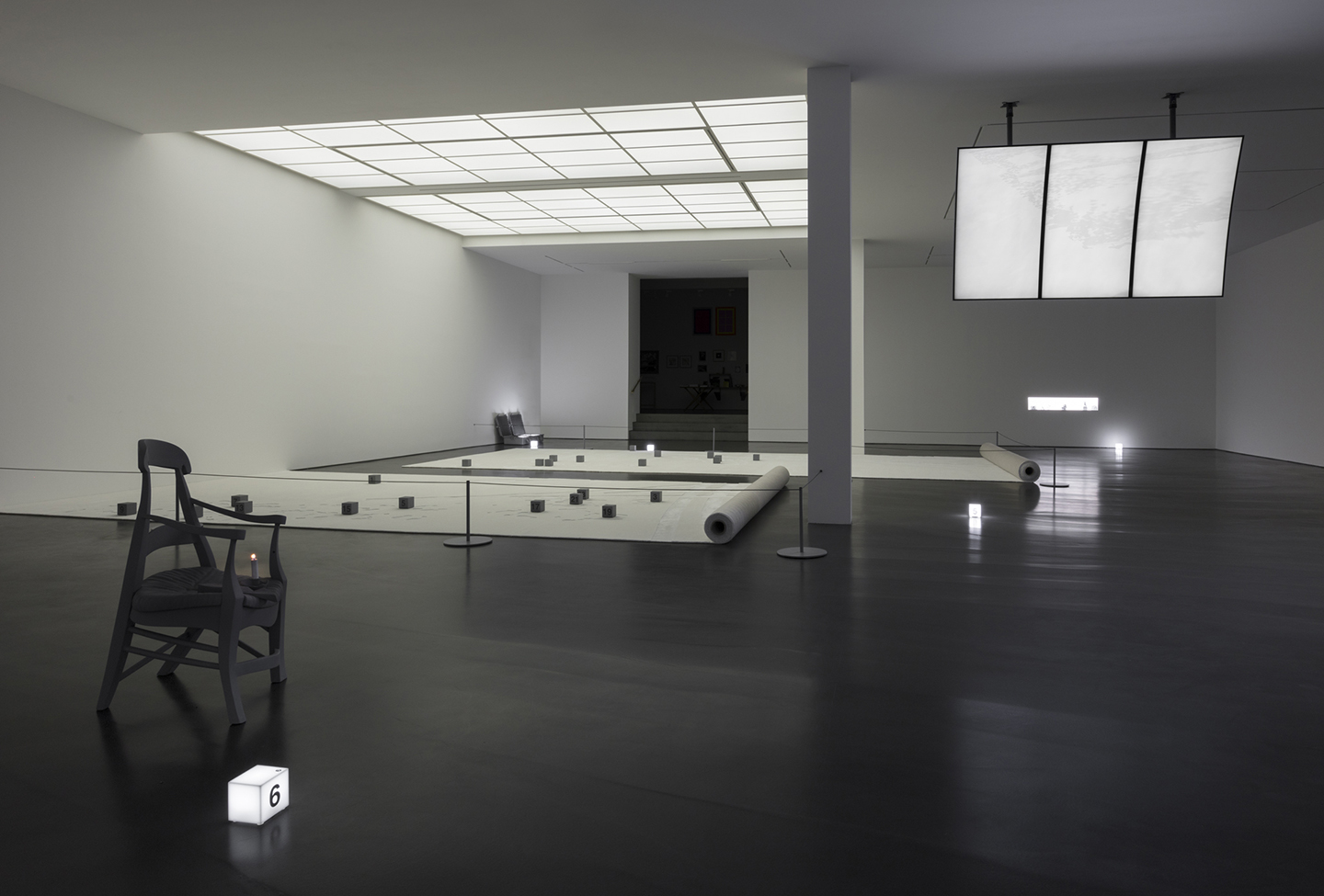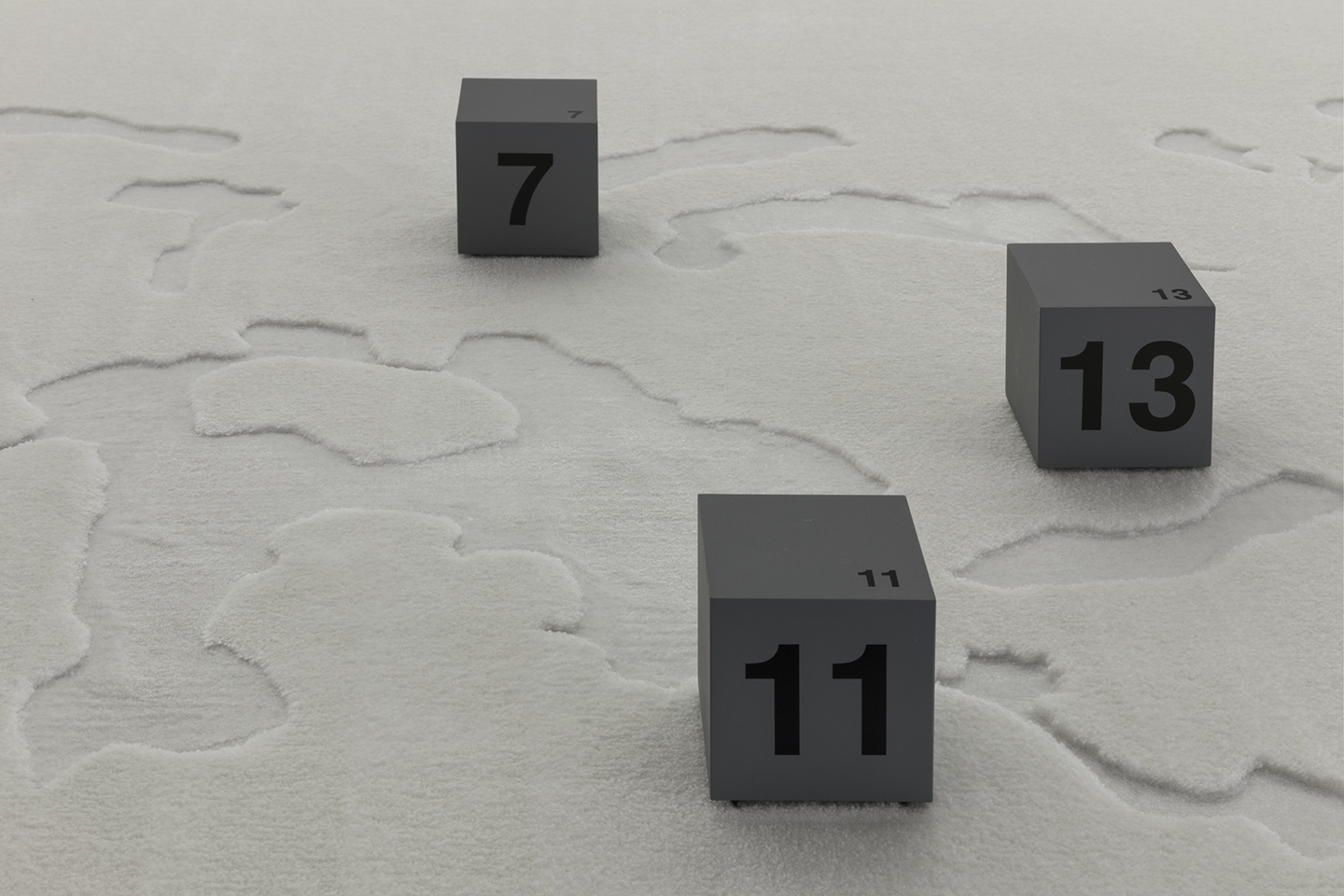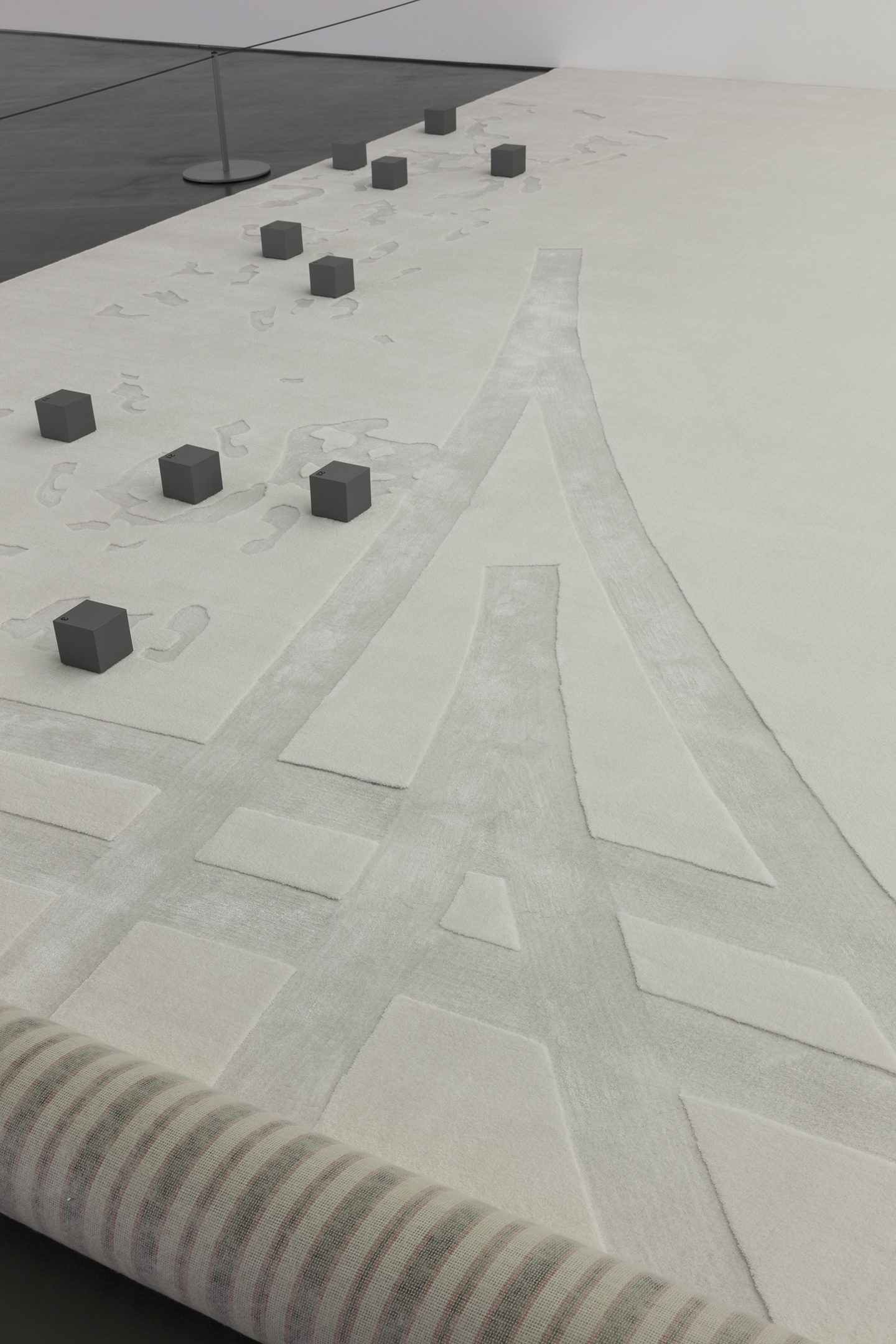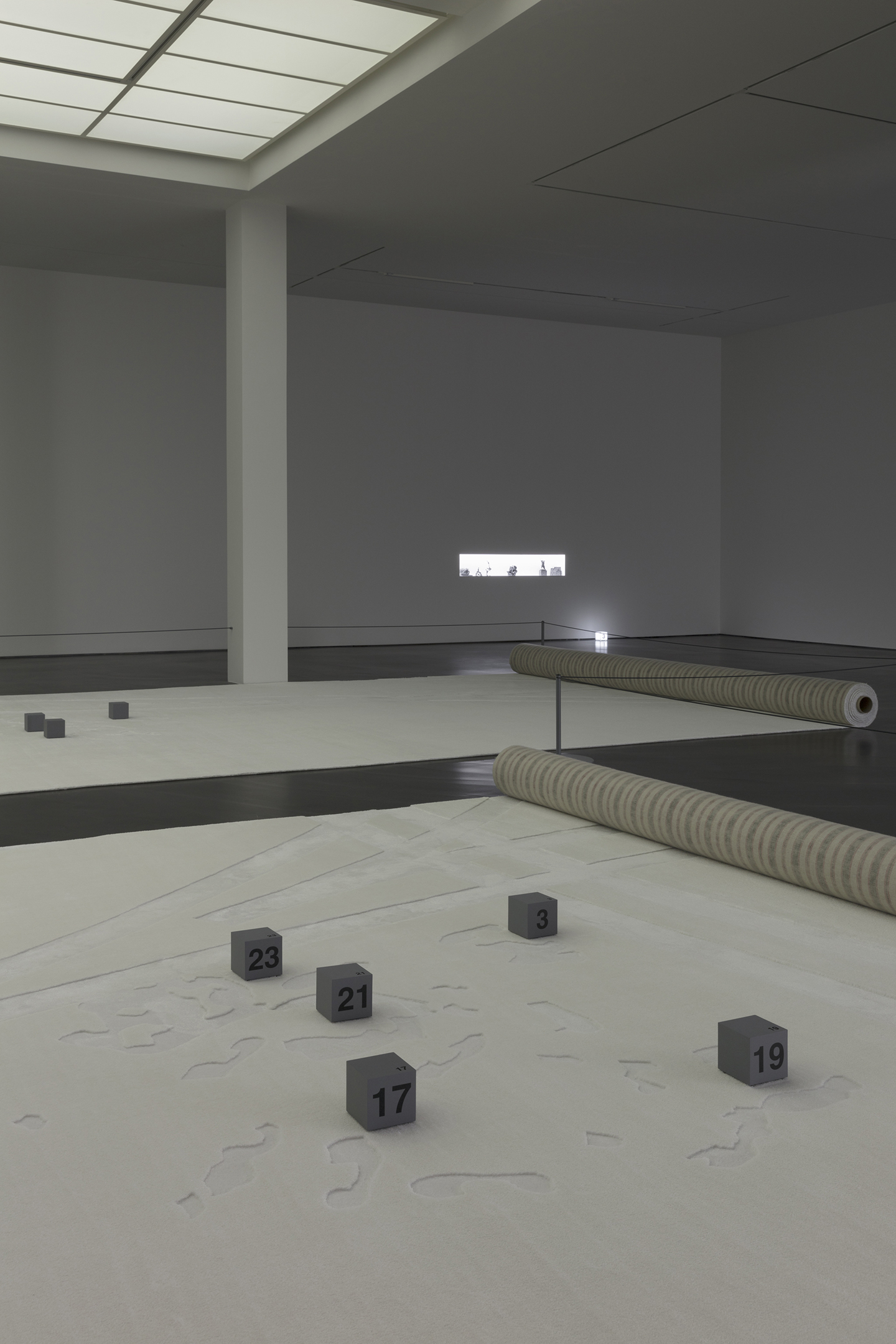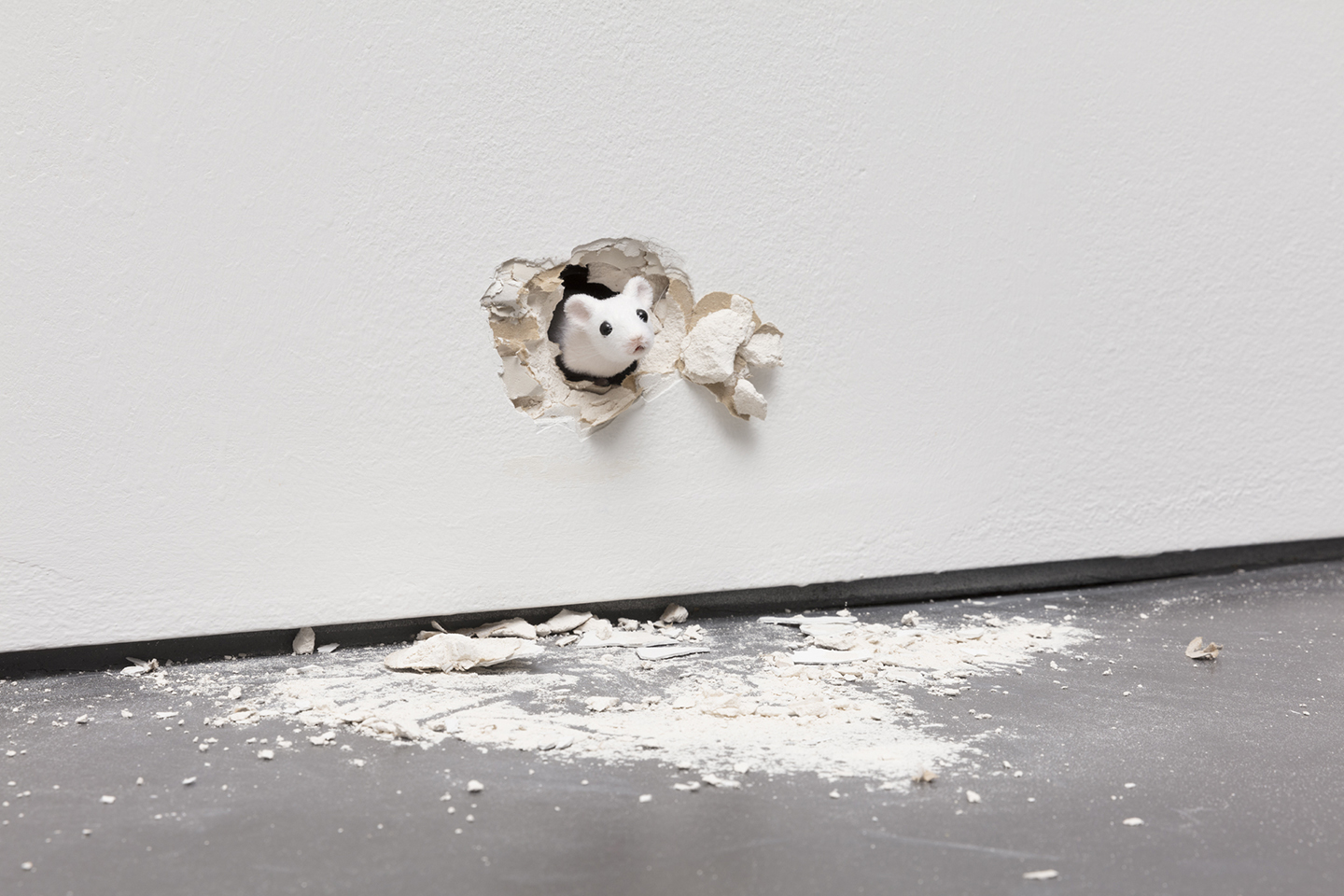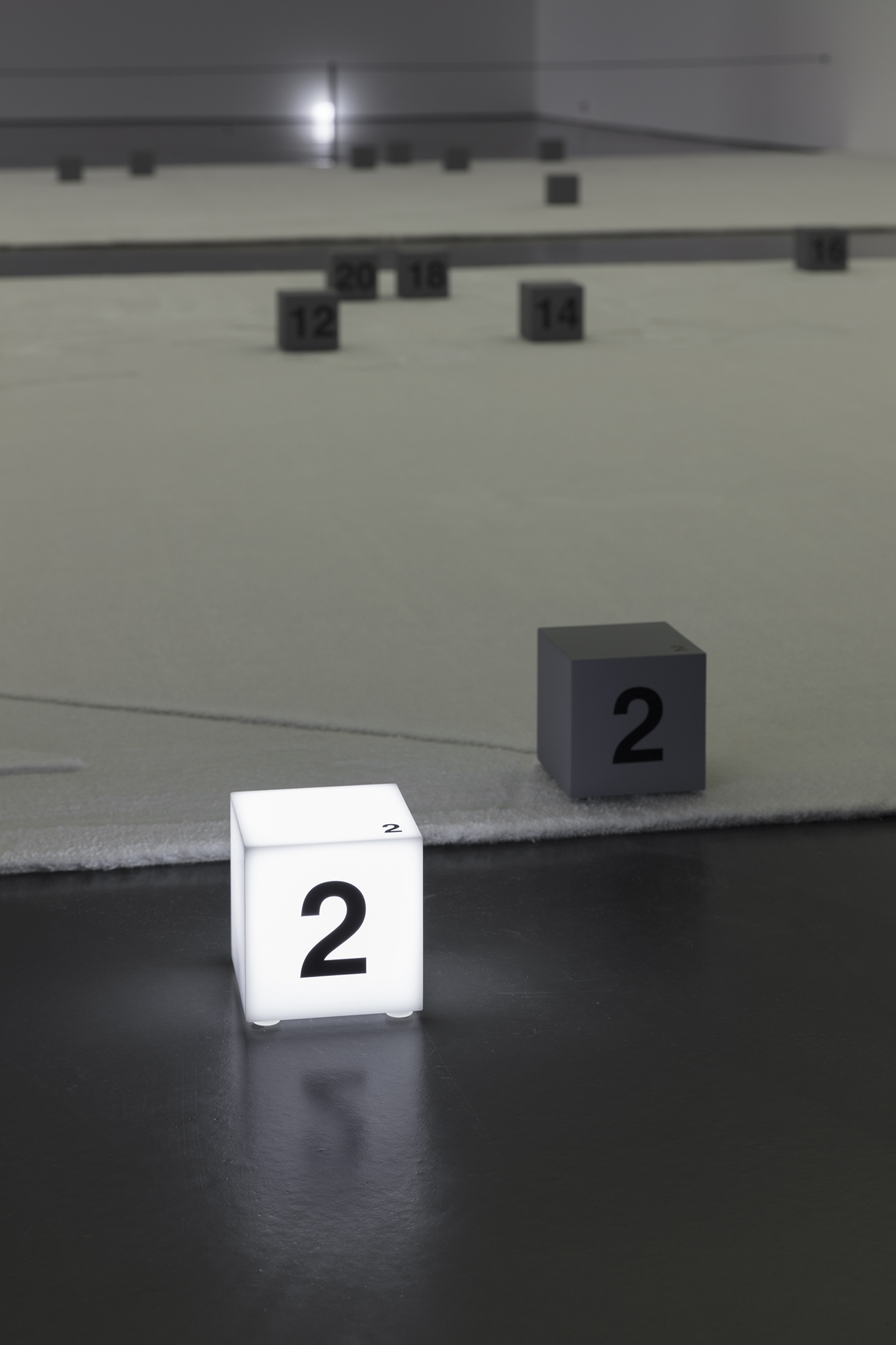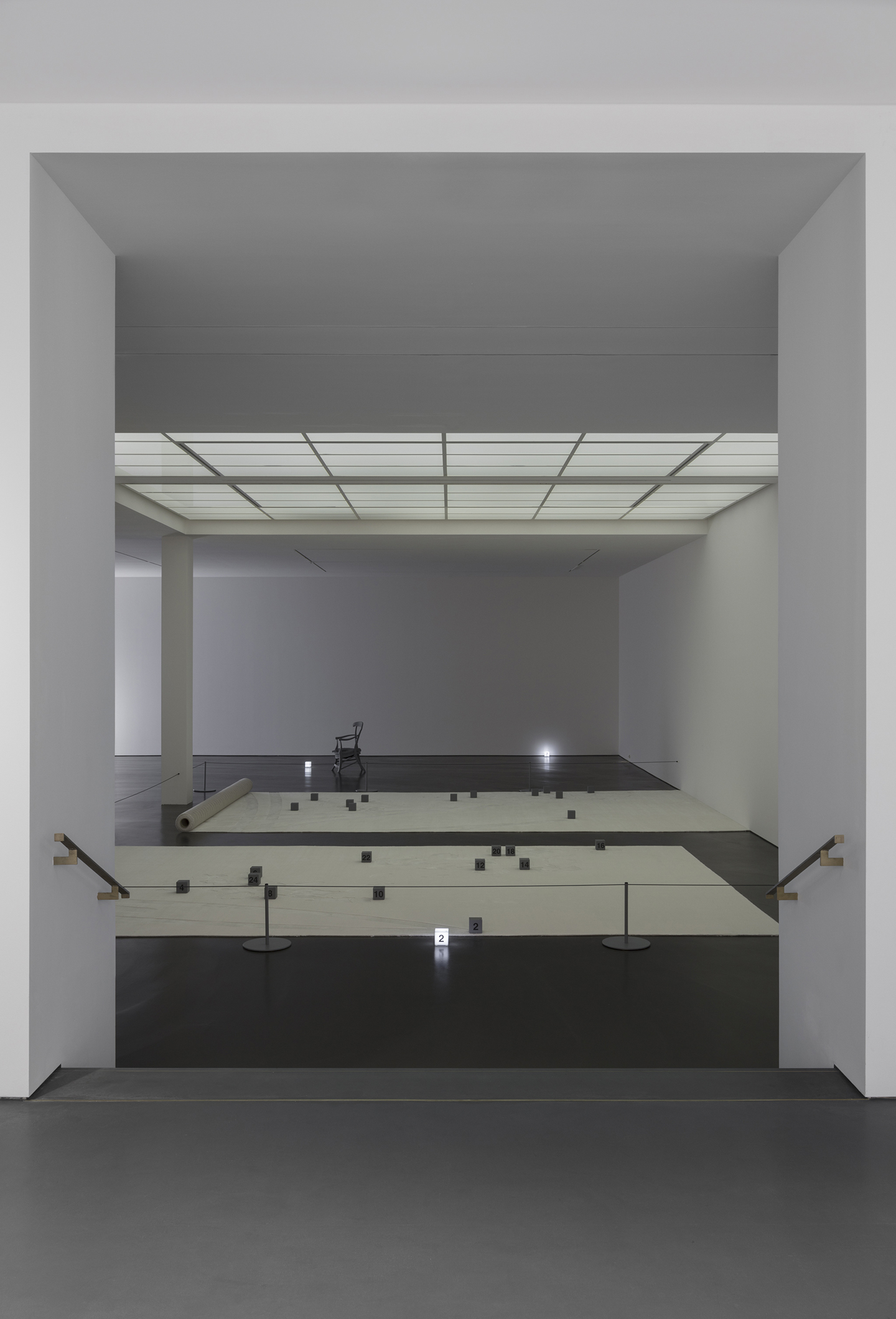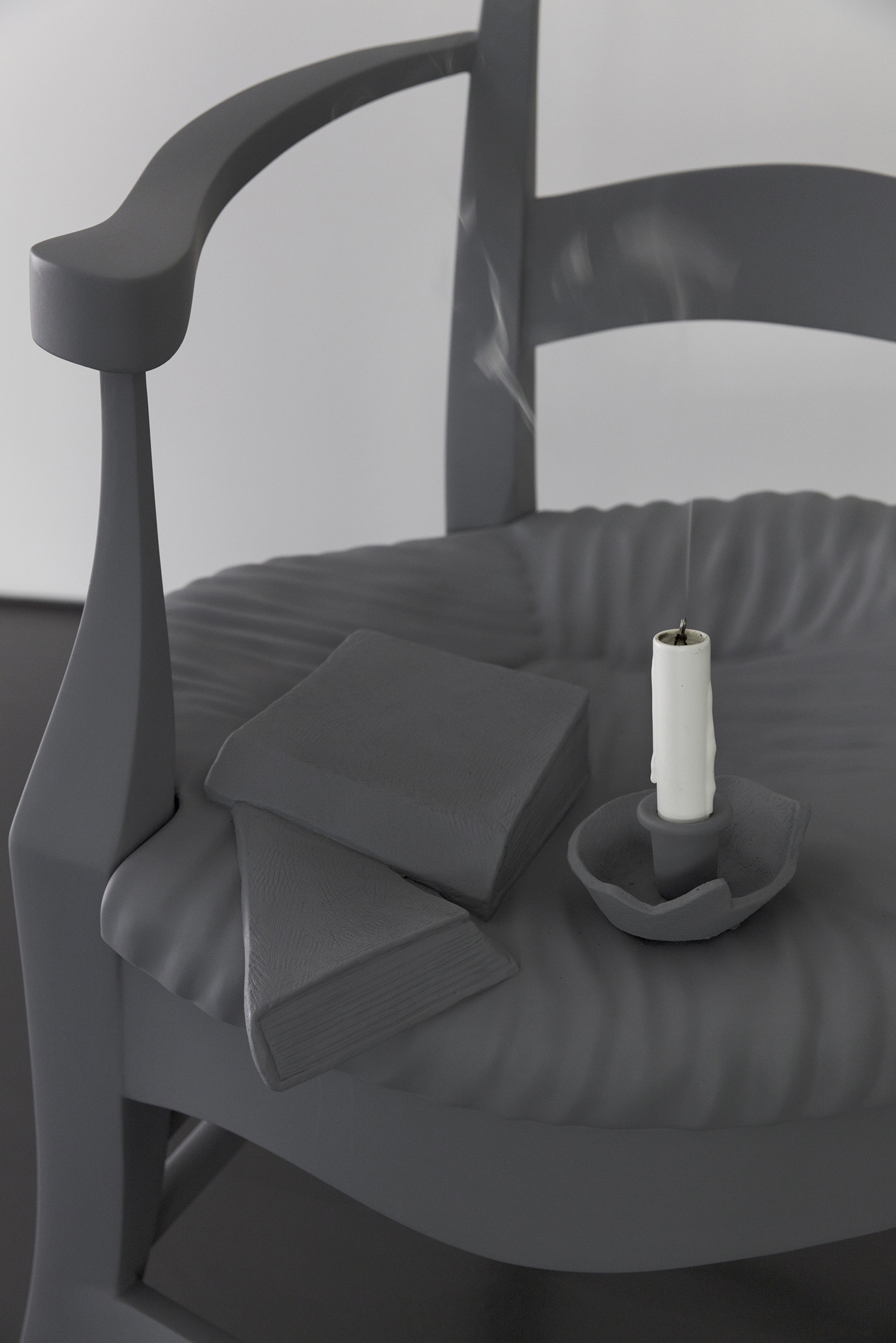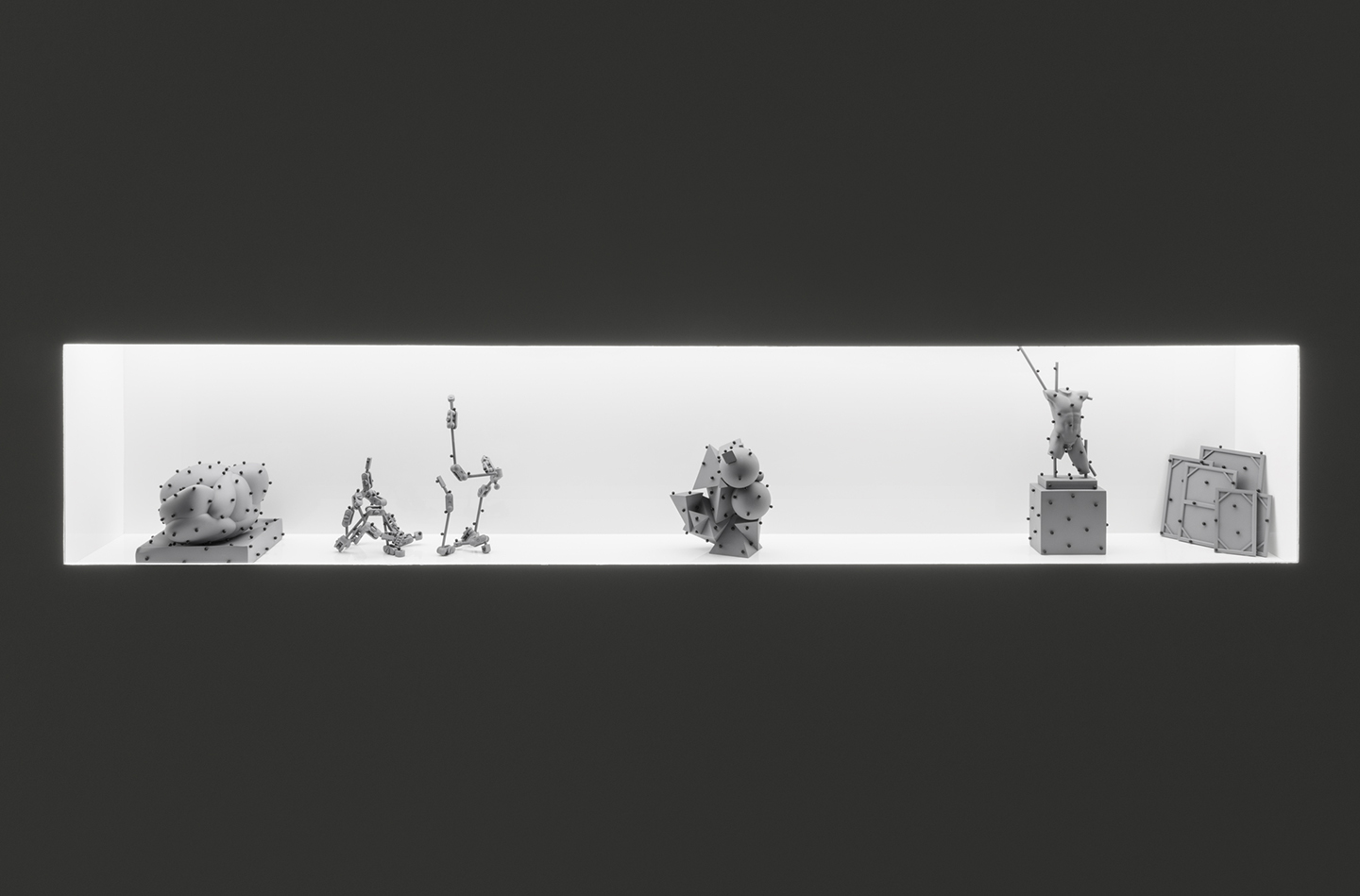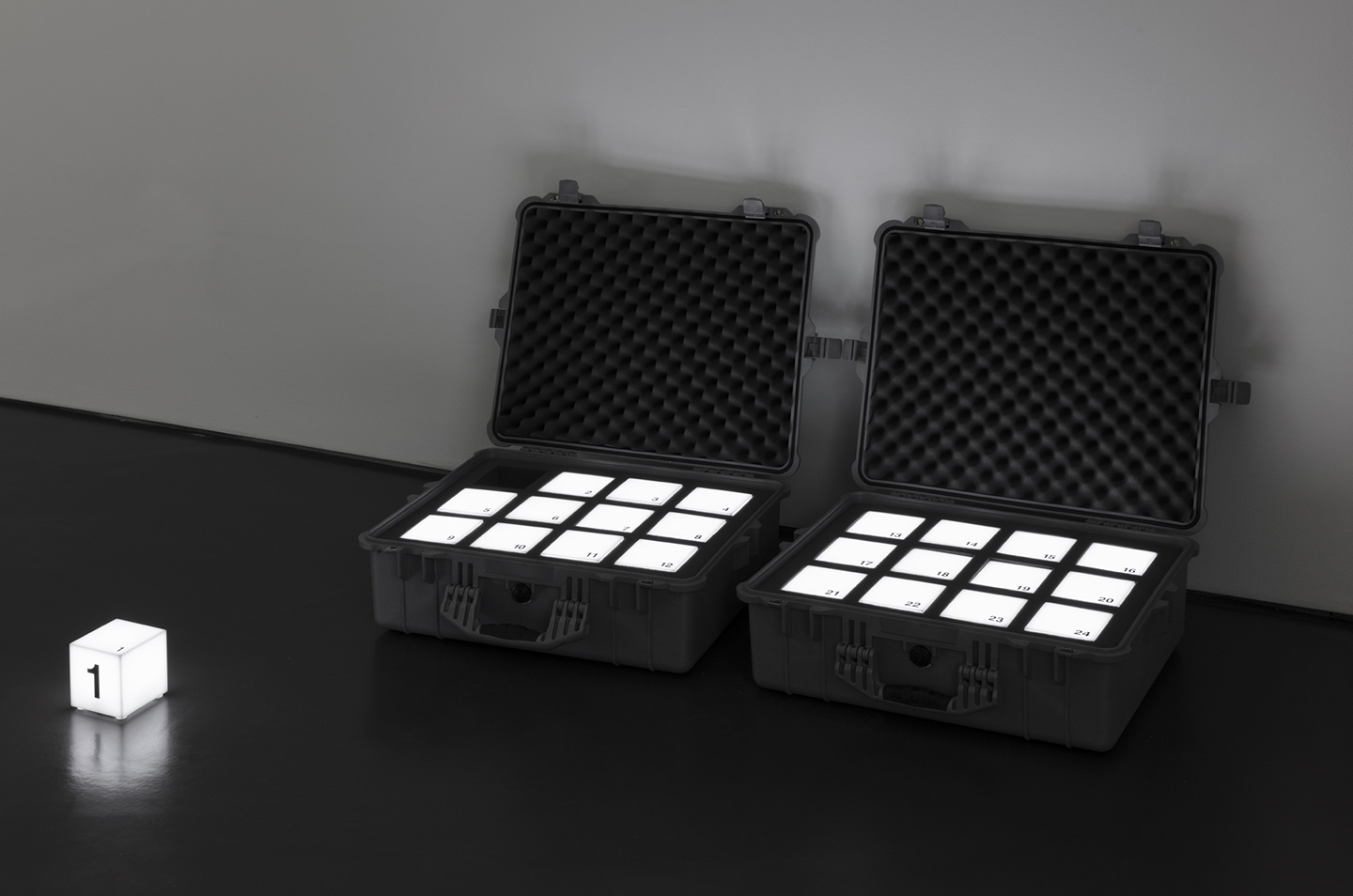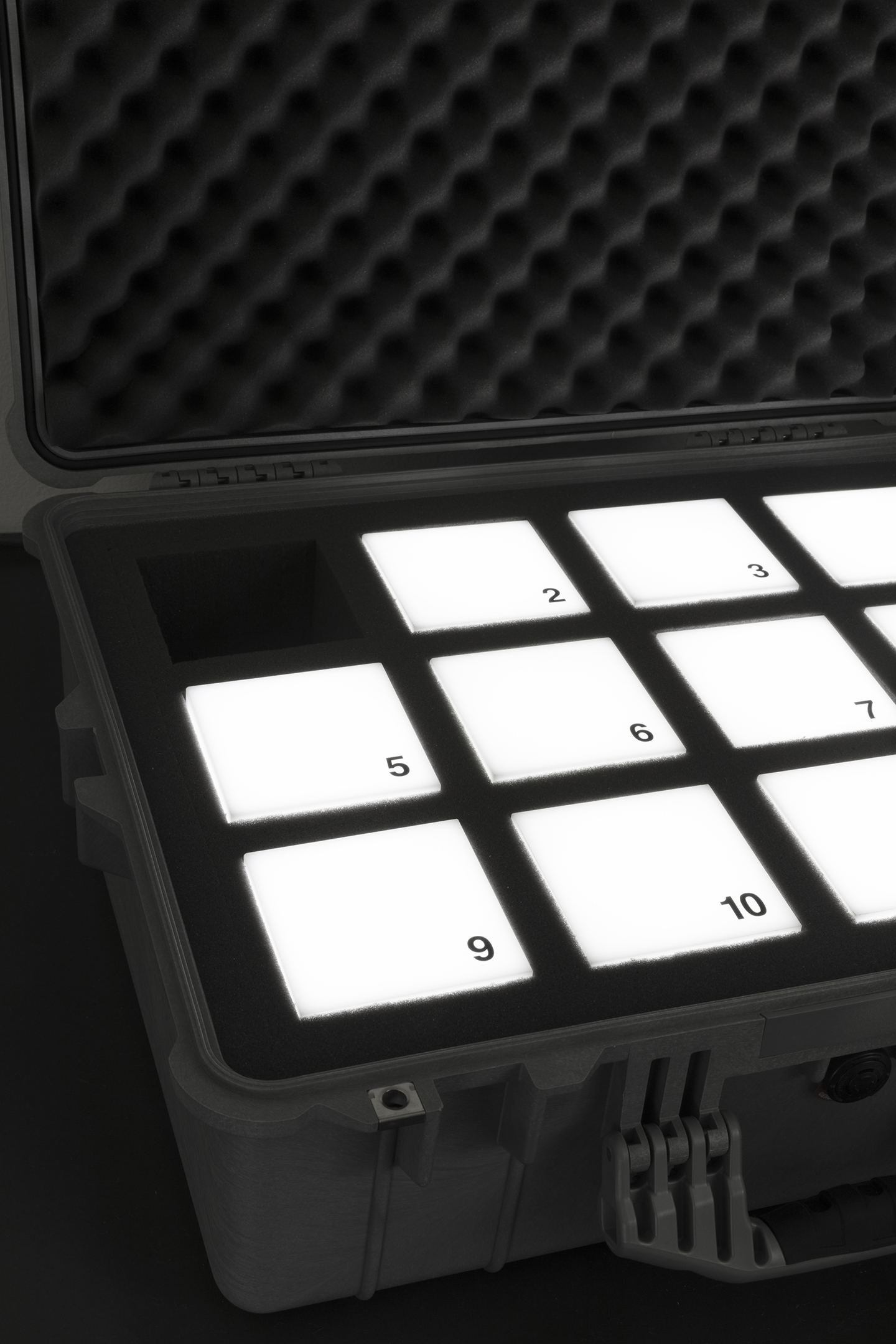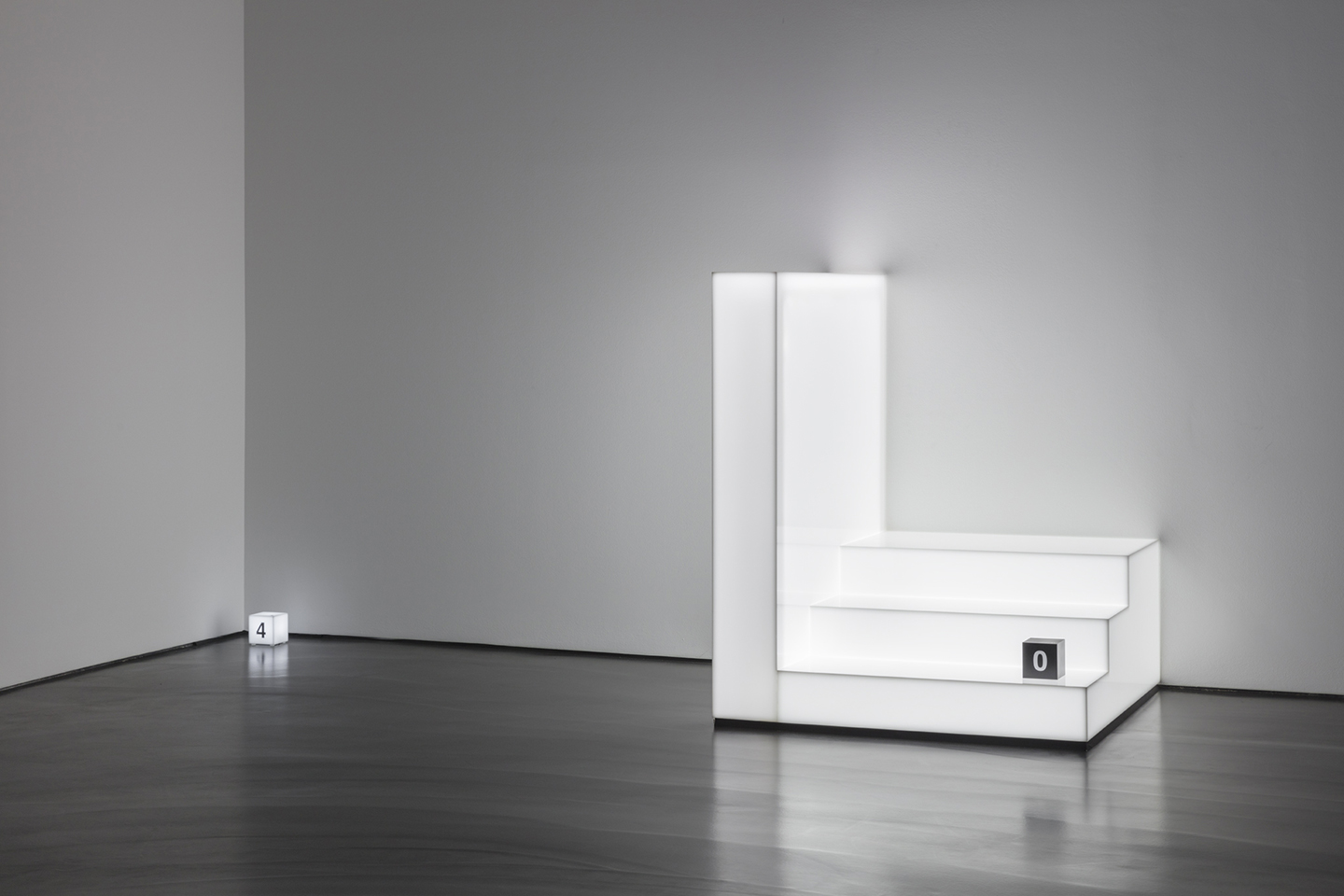 by Philipp Hindahl
The biggest piece in Ryan Gander's show Some Other Life at Esther Schipper in Berlin is also the smallest. Big, if you count the exposure it got on social media. It is a tiny animatronic mouse whose head protrudes from a hole in the wall, and in spite of its littleness, it makes the strongest aesthetic statement.

Ryan Gander's second solo exhibition at Esther Schipper's Berlin gallery turns the space into, well, a gray cube. With no artificial lighting except for the skylight, the gallery is unusually dark. The eyes need a moment to adjust. Some Other Life counts seven pieces in different media, plus eight drawings that function as a coda (or a prelude) to the show. Like a motif, most pieces feature a certain type of gray, the so-called 18 percent gray. It is the mean of all colors that occur in nature, and photographers use it to calibrate exposure. This hue in almost all of the pieces creates a nondescript, aseptic gallery interior.
The visitor is first presented with something that looks akin to a crime scene. Two rugs are half-unrolled on the floor; tire tracks and footprints are shaved into the surface of each of them. The fiber glows dirty white in the half darkness, like snow. Gray cubes, numbered 1 to 24, are strewn across the rugs. The arrangement suggests a narrative, two instances, both of which can only be experienced post hoc, like in a detective novel. The cubes tick like a polyrhythmic symphony, each in its own time. They are all equipped with a battery that lasts forty-eight hours; over this time, the ticking fades. A meditation on entropy, vulnerability, and ultimately mortality, like the entire show. The pieces are each marked with a light cube, numbered, this time, 1 to 7. More cubes lie ready in two cases. In total, there are twenty-four (again), and they can be reused for other exhibitions. The objects create a parcours: before you look at anything else, look at this piece; then you can move on to the miniature sculptures, to the video, to the light box.
Sometimes Gander's works tell stories of possible worlds. In a niche, gray models of unrealized projects are subtly illuminated; there is a three-dimensional rendition of Paul Gauguin's chair as painted by Vincent van Gogh (only gray in this version). On the opposite wall, a staircase leads up three steps to the white wall, but there is no door, as if to say, an entrance might well be here, just not for you. This work is titled So I see (So I see, the light is changing constantly, as is your perspective), and it recalls the artist's Escape Hatch to Culturefield, an inconspicuous hatch well hidden in a park in Kassel, devised for documenta 13 in 2012. Variations of it make an appearance in several shows. "Culturefield is an imaginary place, a dream state where good creative energies lie," said Gander in a lecture, and "You could get there by jumping the fence at the bottom end of my primary school playing field."1 And don't we all have a place like that? While the term "field" has a sociological ring, it also evokes the Elysian fields, the mythological place of blissful oblivion after death.
To say that death looms over this exhibition makes it sound more macabre than it is. For the video work, shown on three perpendicular screens hanging from the ceiling, Gander has imagined his studio in a postapocalyptic world. Not much can be seen except for faint shadows of leaves in the wind. No hint of what his studio looks like, or what the postapocalypse might look like, no hint of a climate catastrophe or nuclear fallout. The future seems very bright and very clean.
Ryan Gander, born in 1976, once said, "If you make enough work with enough diversity, you can make shows from the art. You can self-curate. Recombine. Works are made with the possibility of recombination into interesting shows." For documenta 13, Gander left a space at the Fridericianum empty except for the wind created by a machine. For adidas, he has designed a sneaker; he wrote a children's book; he has created sculptures for public space and for the gallery. Some of the work he did under pseudonyms. Gander creates output so diverse that it sometimes is impossible to tell if you are seeing a show by the British artist or a well-curated group show. But this time, it is different.
The objects all invite calm observation. Only one commands immediate attention. It is the mouse, stringing phrases together: "of course, in one sense, well," and stuttering in a high-pitched voice. Its tiny mechanical face moves, as if struggling to return the viewers' gaze, from the debris of a hole nibbled into the wall. It speaks with the voice of Gander's nine-year-old daughter. Small, helpless, childlike, failing at enunciating—you feel the mouse has something important to say, but it just won't come out. This final piece makes the strongest aesthetic statement: Because, to properly see it, viewers have to stoop, and it actively appeals to them. As if endowed with animated personhood, it demands empathy. And it is cute.
"Cute" is a very hazy aesthetic category, one that emerges from commodified mass culture. Gander is no stranger to the commercial realm. He is familiar with allegedly minor aesthetic categories—the soft categories, beyond "beautiful" or "sublime." I… I… I… (2019) fits that category. The stuttering animal is not self-sufficient, like the other pieces; it does not exude coolness, like the gray cubes and the dirty white rugs. The mouse is antiheroic—unlike the many talking mice in the Disneyfied bestiary of popular culture. But it also hints at a pastoral prehistory when animals talked, a prelapsarian state before the loss of innocence. But it is out of reach, very much like the thing the animatronic mouse tries to communicate, on the other side of the wall, and possibly like the Elysian realm of Culturefield.
Sure, cuteness has been a part of commodity aesthetics since the industrial age. Gander knows that the same old magic tricks still work. This last piece in the show is an antithesis to heroic art, which tries to reboot the Kantian aesthetic of sheer force, either as overwhelming data-based pieces that want to teach about the digital age, or as the sublime updated for the age of climate change. Gander, on the contrary, has chosen to make the very little the star of his show.
[1] Aileen Burns and Johan Lundh, "Definitely Unfinished: Welcome to Culturefield", CUTUREFIELD (London: Walther König, 2014), 543.
at Esther Schipper, Berlin
until 15 June 2019