EXHIBITIONS
Michael Bauer "Creme Wars – Snoopie" at Lisa Cooley, New York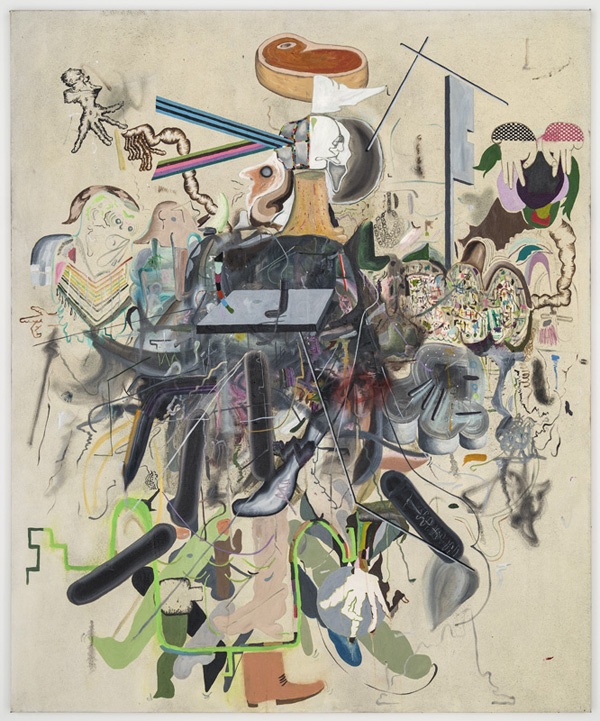 Lisa Cooley is pleased to present Creme Wars – Snoopie, Michael Bauer's second solo exhibition at the gallery. This show will include the largest paintings that Bauer has presented in a gallery exhibition, as well as a new series of screen prints.
In Michael Bauer's declarative paintings, caterpillar-like arms, crawling fingers, swung-around legs, and booted feet race through and around dark orbs of painted, abstract, smokey protrusions, many of which are festooned with cartoonish eyes, suggestions of noses and mustaches, and the odd tiny sock or giant German helmet. The artist employs a distinctive mix of painting styles cheek-by-jowl. Realistic steak, pointillist abstraction, serifed text, cartoon piano, and black-scratched-out void all co-habitate. However, besides variety and versatility, two of his cardinal strengths are line and color, and his new works continue to display these facets. An array of high-chroma colors shoot through his characteristic neutral ground, with particular emphasis on a certain acid green, while every permutation of line piles one on top of the other, weaving between and building upon automatic washy mark and impastoed blorp alike. The artist's mastery of line manifests most dramatically in a new series of screen prints. Presented in New York for the first time, they adopt the speed and activity of the paintings, transforming quick notes, doodles made while stuck in a phone tree, and throw-away scribbles into a body of work equal to the artist's sculpture, drawings, and paintings.

The gallery is excited to present Bauer's work at a time when many painters have abandoned composition in favor of casual gestures or endgame conceptual processes. His new paintings generally omit the checkerboards and geometric arrays which previously grounded his chaotic, primordial masses in favor of simpler means. Instead, his new compositions find their foundations in intense marks, the brute force of his densely layered figures, and the occasional flat, grey monolithic platform. Together, they create an idiosyncratic visual rhythm which balances the centrifugal force found in almost all of the artist's works. Additionally, his compositions of the last few years tended to avoid the margins, but slowly, they have metastasized, accumulating and growing further in scale and ambition. In fact, the largest works in the exhibition suggest the scale of history painting, a fitting format for the meandering, epic, ambitious scope of Bauer's thought-maps.
Bauer occasionally described his paintings as portraits of groups, meaning the cast of a play, or the members of a band. He used this conceit to identify the flatness of each individual body part in relation to the amniotic conglomerations in his painting and to de-emphasize the body as individual. However, as his works have grown, perhaps portraits of the artist's thoughtsmight fit better. Each six-fingered hand, each beautifully rendered steak, each droopy boob is a symbol, a stand in for the idea the image represents. Each mark is a thought, a moment in time, which leads to another thought, another moment, parapatetically pulling the viewer through the painting, like a wide-ranging conversation about songs, bands, plays, jokes, novels, movies, actors, friends, experiences, some known, many obscure, but above all, about painting and its daily practice.
Bauer's sprawling canvases are rife with humor, perhaps made most evident by the exhibition's title, Creme Wars, a combination of words which Bauer thought sounded funny, combined with Snoopie, the name of a skinhead who once beat the artist up in his younger days. The artist's attempts to amuse himself in the studio take palpable form and always have. His works also concern memory and time, not only in the visual re-telling of remembered jokes, but also in the artist's renderings of his earliest painted works, and the daunting amount of time required to unravel his arrangements. Finally, mistakes and the artist's reverence for them permeate his practice. He transforms anything wrong, or dumb, or awkward into a strength. For instance, the artist describes the green piano in Fleetwood Mac (Creme) originally found on a friend's record cover, " It was so terrible that I had to paint it to understand why it was so terrible". This embrace of the neglected also explains the artist's use of multiple mutated hands (they were always the hardest to render), and absent-minded sketches. Bauer's work illuminates that which is awkward, sincere, powerful, weird, and above all, inexplicable.
.
until 22 June 2014
.
Above – Fuhl-Bar (Anti-Creme), 2014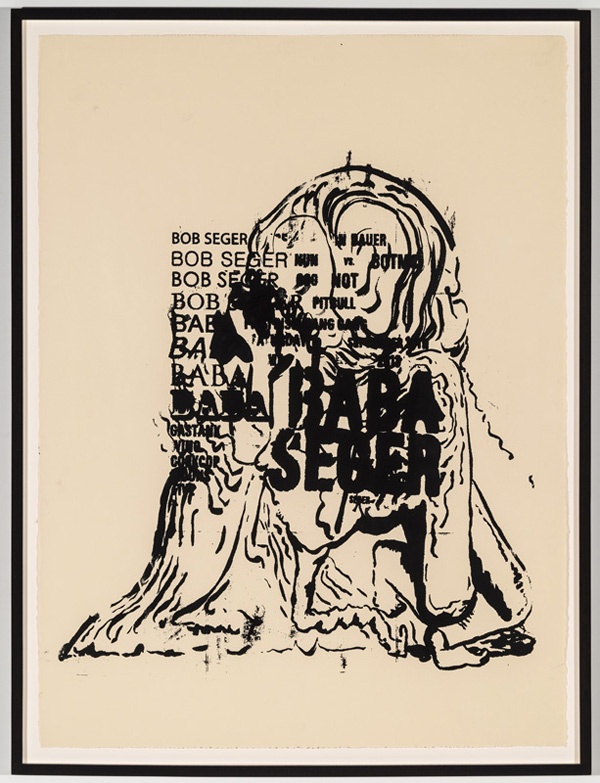 BABA, 2014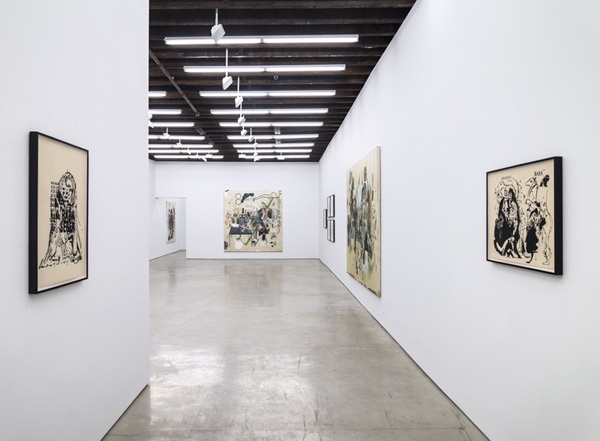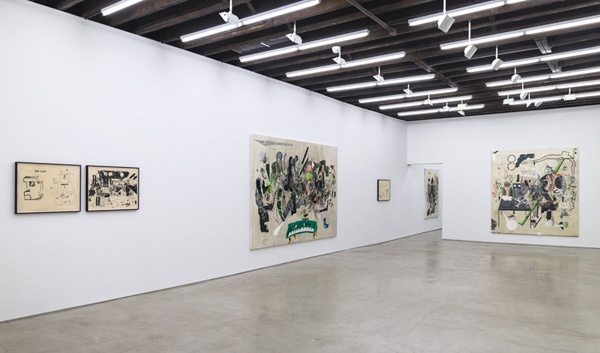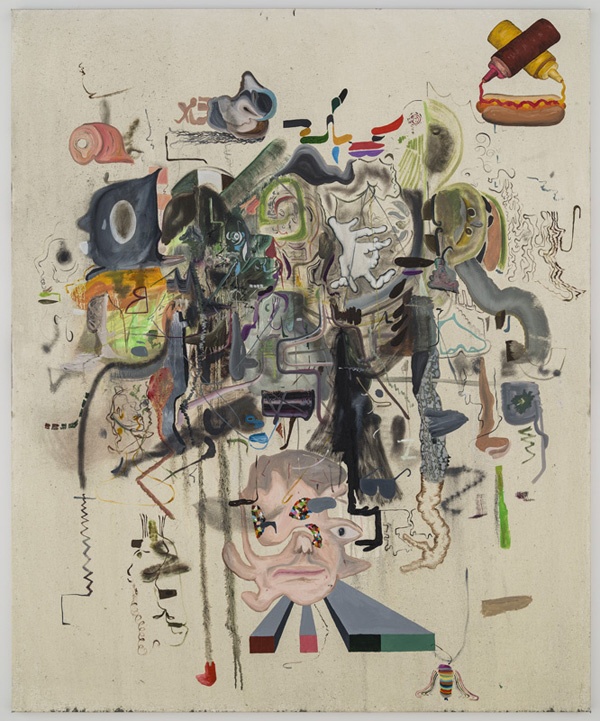 Sops-Bar (Anti-Creme), 2014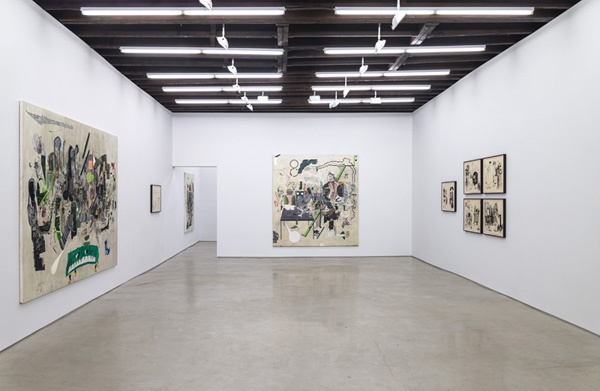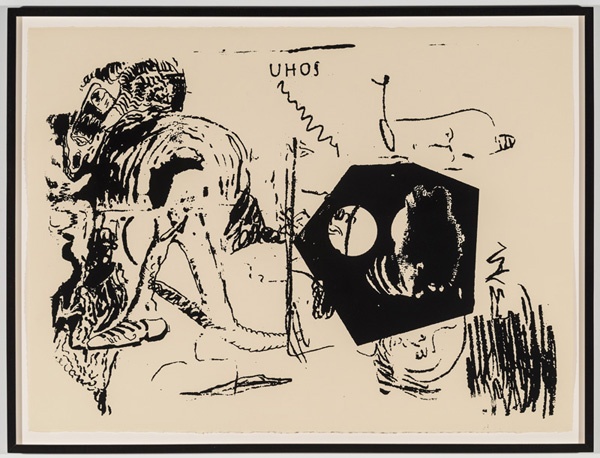 Baba vs Seger 9, 2014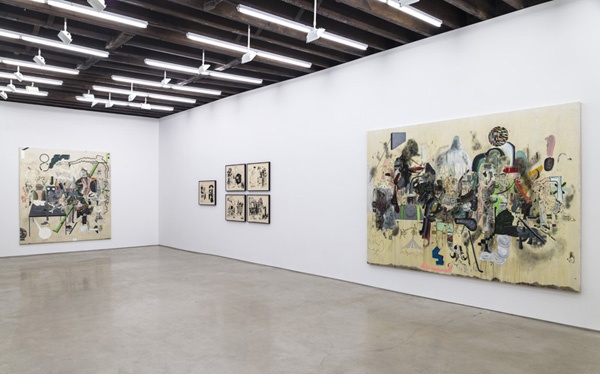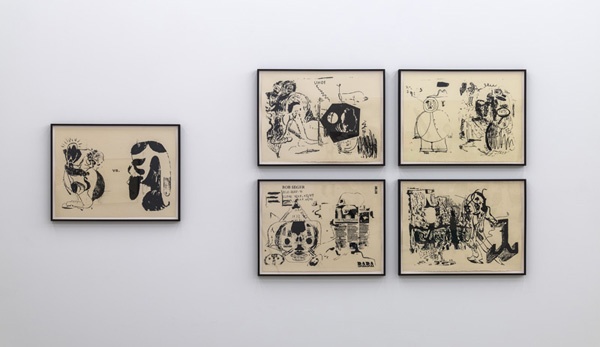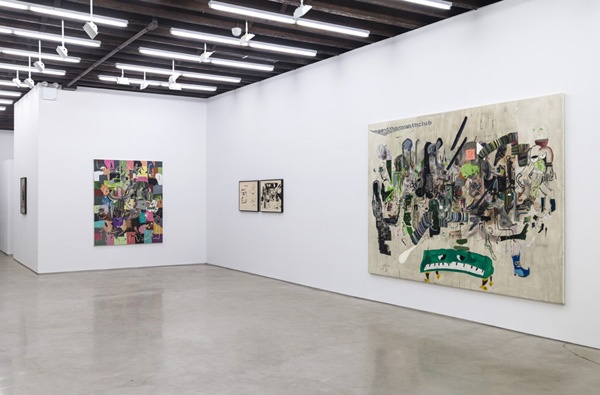 Baba vs Seger 8, 2014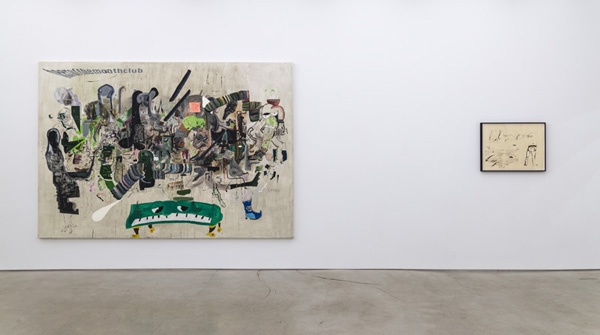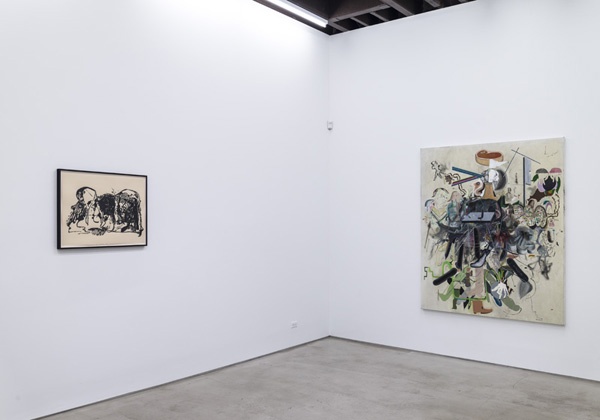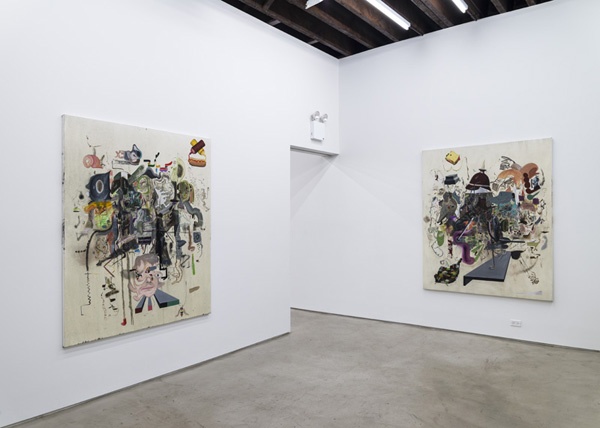 Michael Bauer "Creme Wars – Snoopie", installation views at Lisa Cooley, New York, 2014
.
Courtesy: the artist and Lisa Cooley, New York. Photo: Cary Whittier.