EXHIBITIONS
Michael Dean and Jessi Reaves at Herald St, London
Close
1
2
3
4
5
6
7
8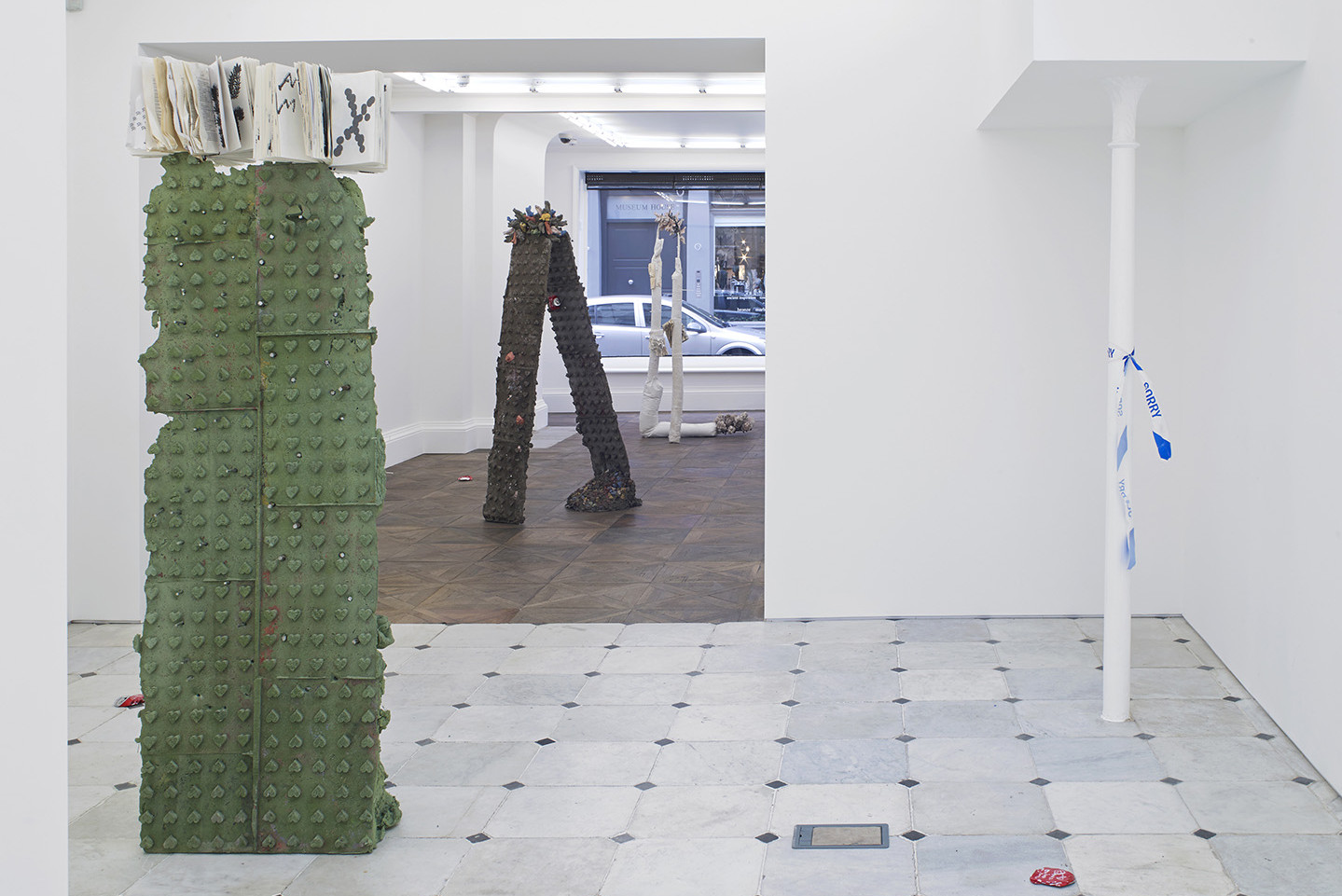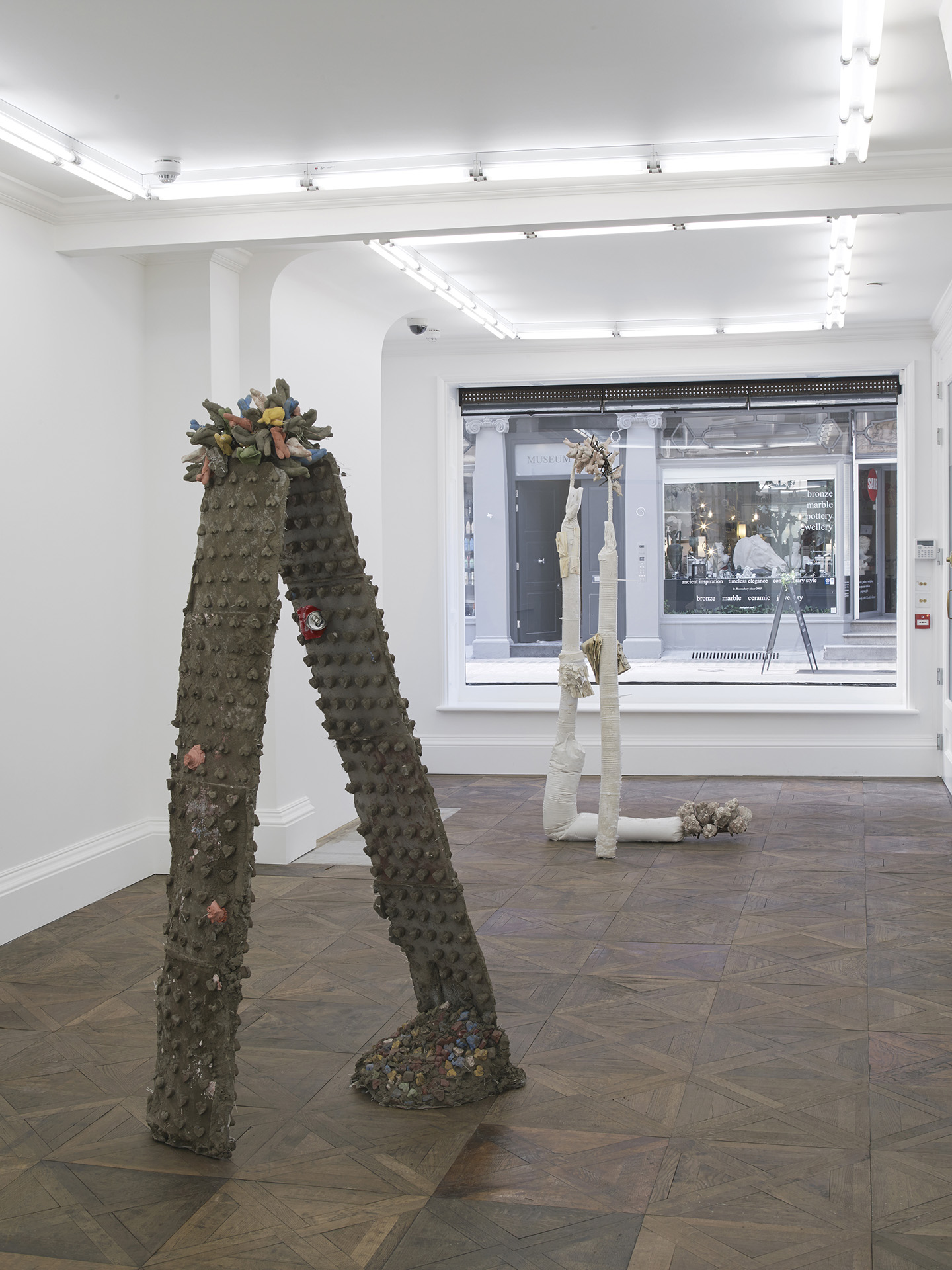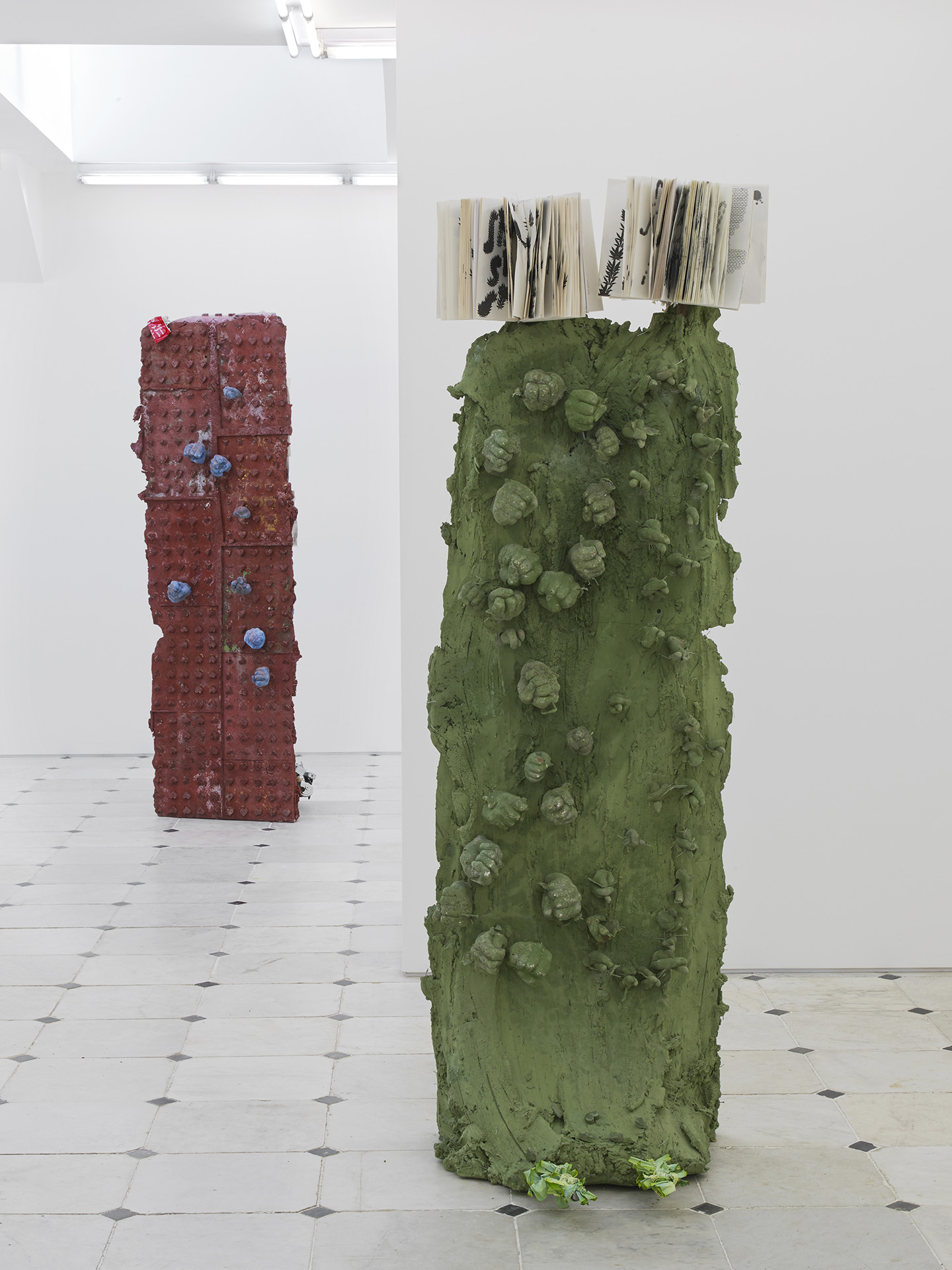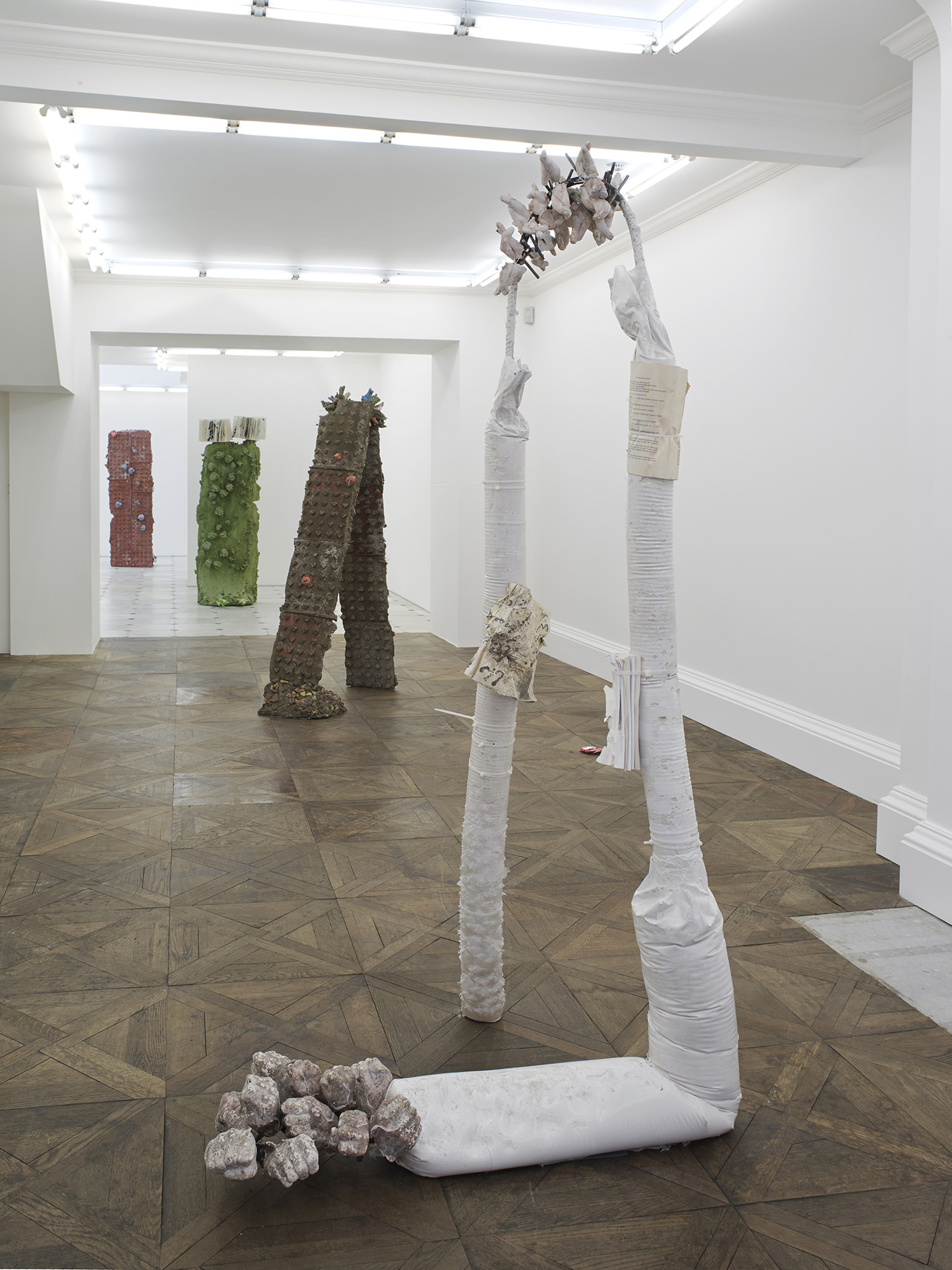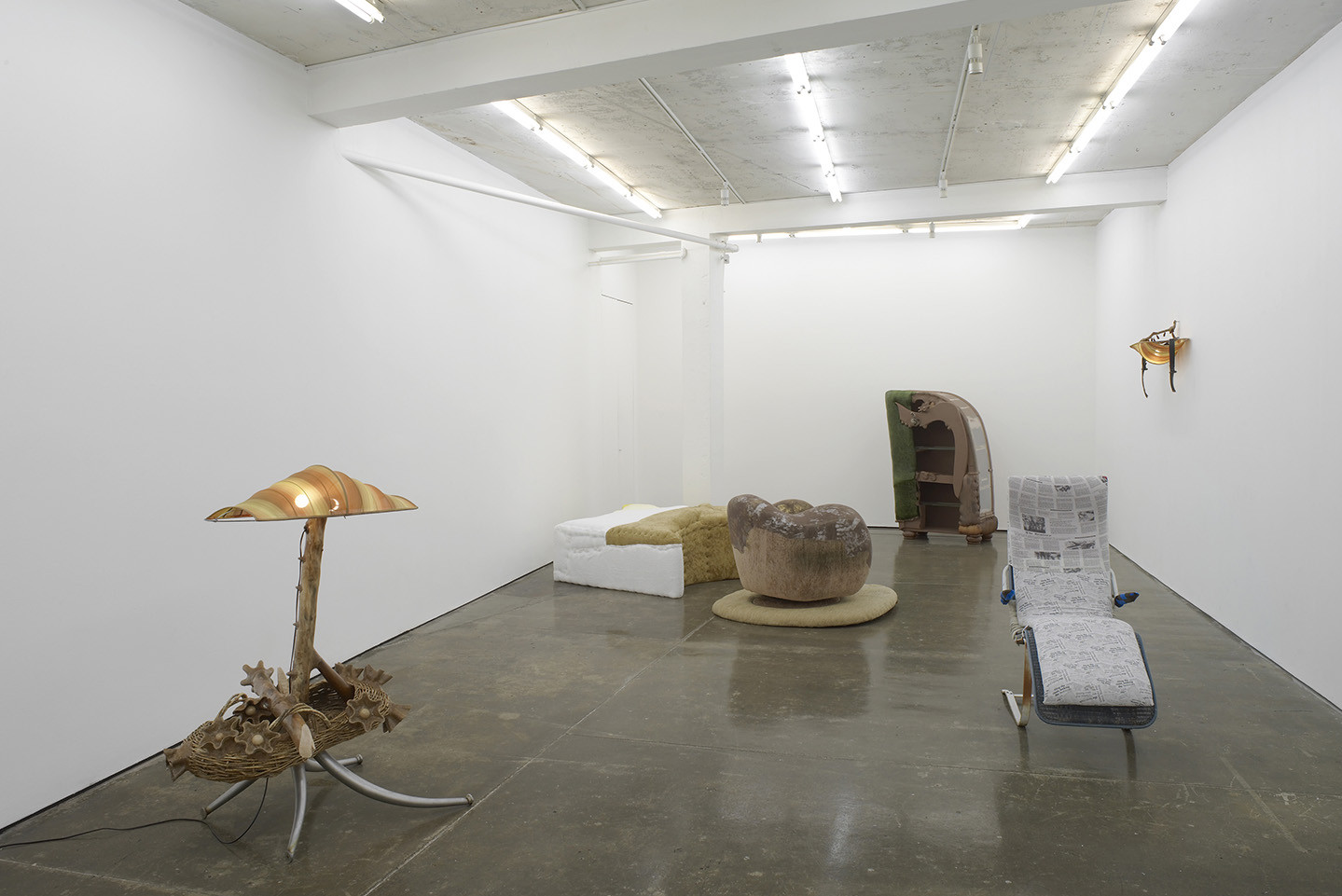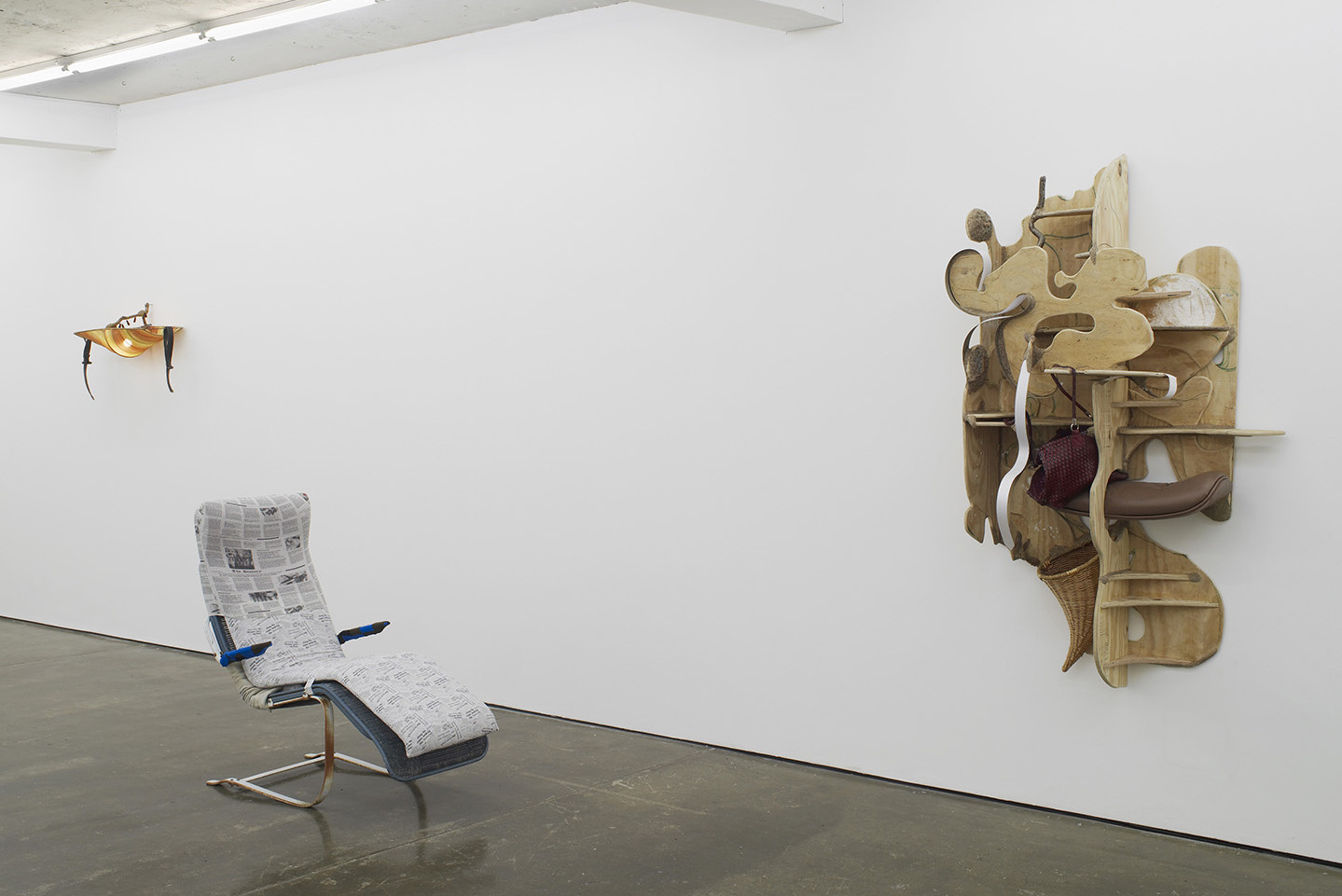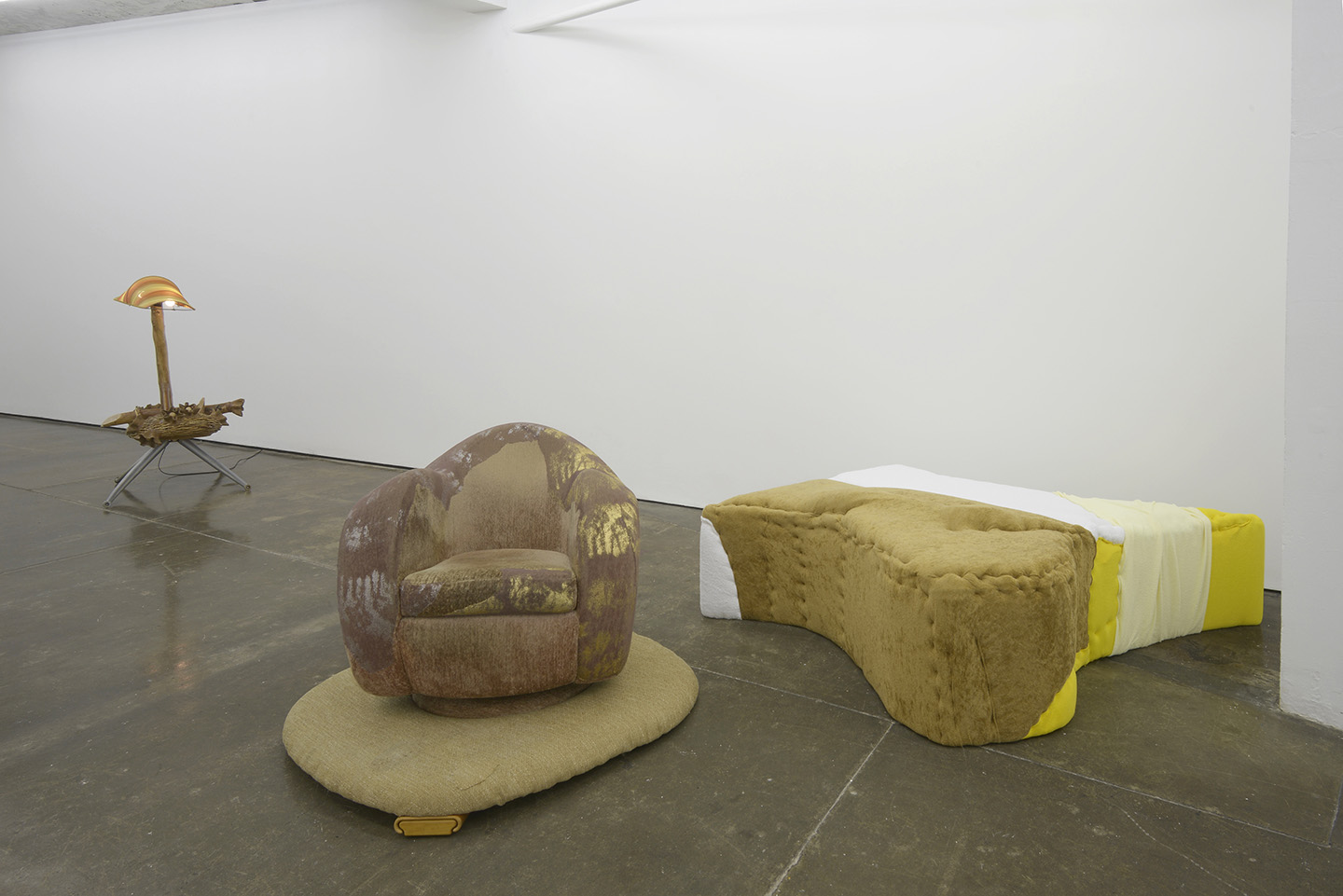 Michael Dean "Four Fucksakes"
(Based on a conversation between the author and the artist in September 2017)
The city street and its complex accretion of human experience is fertile soil for Michael Dean. A palimpsest vulnerable to time's vicissitudes, the street is perennially overwritten by use, defiled by litter and the grey pebble-dash of gum, routinely effaced by smooth layers of cement awaiting fresh inscription.
For Herald St | Museum St's inaugural exhibition, Dean draws on many of the ideas and motifs developed for his recent installation Tender Tender (2017) in the historic courtyard of Münster's LWL-Museum, examining how our experience of text exists in the realm of the street. There, the central works allude to lampposts and paving stones amidst a chaotic field of urban residue bearing writing. The commonplace signs and symbols attached to the plastic bags, squashed cans, shutter stickers and police tape have been replaced by Dean's own typographies and nonsensical poetic fragments, emptying them of their original meaning.
The transformation of written words into a language of concrete objects is characteristic of Dean's work. Typically beginning with his own writing, he abstracts and deforms these texts into new typographies, subsequently materialised in solid, physical forms. At Museum St these concrete glyphs appear as four derelict monuments, wryly named 'four fucksakes'. "Just as you have a memorial to things lost, what about a memorial for things fucked?" Some of the sculptures appear to be violently bent back on themselves, a reimagining of public statues which, having existed for centuries, are now weathered and treated with disdain or simply ignored by alienated observers, "as if that is what they were there for, specifically to be fucked with."
Islands of tactile paving stones (first created for the Skulptur Projekte Münster) have now grown into vertical anthropomorphic bodies, continuous with the ground they emerge from. Having borne the unrelenting assaults of the human imprint, the street rises up to challenge us, becoming what the artist has called "vertical collaborators of my presence in the world." Often found on pavements or in train stations to assist the visually impaired, the typical pattern of tactile paving has been replaced by heart-shaped protrusions. Dean desecrates the concrete slabs with variations of his text 'fucksake', smashing out the pustule-like hearts to render letters, treating their gridded rows like a dot-matrix board. These hearts are at times overlaid with lattices of inverted hearts, as if the body has been contaminated by a new layer of script. Playing on the abundance of hearts in popular culture and their role as superficial emblems of love, he adopts these symbols to form his own composite language of urban debris.
Disfigured by the onslaught of language, grotesque casts of disembodied crossed fingers and contorted fists sprout from the steel skeletons of the fucksakes' bodies "like spores, growing fat on the dead flesh of the fucking bastard things". With Fuck Sake (Analogue Series), the hearts that have been broken off the body lie congealing at the base, coloured like the industrial plastics one finds washed up in the mud by the Thames. These correspond to the crossed fingers, bleeding from the bare steel armature at the top. Some spell out the letter 'f', a recurring element in his work. The physical experience of withholding breath through the lips to make the sound 'fffffff' (which may culminate in 'fucksake') simultaneously evokes in him feelings of pain, sadness, exasperation, ecstasy or joy – moments of intensity with which we can all identify. Mangled pages of Dean's self-published books (such as the repeated fragments of the letters comprising 'I love you' or a dictionary solely comprised of 'n's and 'h's) are chewed up and pressed into the concrete bodies. Others are saturated with ink, resembling tensed muscles or enormous fossilised tongues. This visceral proliferation of signifiers resolutely evades coherent verbal translation as Dean concludes triumphantly, "It's as messy as nature."
There is no privileged position from which to encounter these monoliths: poetic resonances are born out of remnants of the everyday, trodden into the stratum of public space. "What's important for me is that my presence, my being in the world, can facilitate somebody else's presence on a symmetrical level in relation to a possible poetic." The seamless transition from the vandalised street floor into the concrete glyphs is a powerful indication of the fluidity between language and the world it names. Far from language failing us, Dean's work demonstrates its elasticity. Its physical abstraction gives voice to the dense materiality that forms the literal bedrock of our daily lives.
by Jessica Freeman-Attwood 
.
at Herald St, London
until 12 November 2017
.
Jessi Reaves "android stroll"
For her first show at Herald St, Jessi Reaves has built sculptural chairs, shelves, lamps and cabinets which obscure traditional distinctions between the functional and the aesthetic. While her constructions employ the structural and technical lexicons of furniture-making, utility is resolutely downgraded in favour of the grotesque and the excessive.
Reaves enters an almost exclusively male domain of artists who have worked with furniture to challenge the fixed binaries of design and fine art. Isamu's Noguchi's iconic modernist coffee table, created for Herman Miller in 1947 and described in the original catalogue as "sculpture-for-use" and "design for production", has been a particularly significant point of reference. And yet Reaves brutally re-imagines this and other such hallowed relics of modernist furniture, fetishised as art objects in design history. By combining such "art objects" with unrefined industrial materials and objects that many of us might describe as junk, she transgresses their codes of elegance and good taste to create a new idiosyncratic language.
The sculptural shelving units which protrude from the gallery walls are surreal bricolages of plywood (the marker lines from initial measurements still visible), remnants of wicker chairs and baskets, gnarled branches of driftwood and gaping handbags emptied of their prior purpose as vessels for belongings. Within the broadly geometric frame of the shelves, space is articulated by a complex layering of planes and curving lines. In the larger shelf, an amputated headpiece of Eames' iconic recliner is wedged into the assemblage and painted in a plain brown paint, undercutting the austere autonomy of the original form and denying its function.
In a similar way, the chair titled The History merges high and low junk, combining the skeleton of an outdoor reclining chair with the seat of Marcel Breuer's famed Long Chair. The fabric that binds these two forms together is a knock-off version of John Galliano's brazen newsprint dress for Dior, which was covered with sensational headlines from the news stories of his sullied reputation. Galliano's use of the raw material of newsprint to make a functional textile provides a fitting parallel to Reaves' wider practice. The fabric at the top of the chair reads 'The History', perhaps a playful comment on how the materials in her work are being 'read' in the art gallery context.
Unlike the mid-century ergonomic furniture made from sleek steel, wood or plastic, Reaves' ottoman in two parts (X chromosome and Find it on a map) is heavy, impractical and inconvenient, constructed out of plywood, foam and blocks of fabric stapled aggressively into place. Split in half where Reaves would usually have incorporated a recognizable furniture element, we are left with two voluptuous biomorphic shapes and no obvious place to sit. Similarly disconcerting our expectations of function, one of the cabinets is draped in a translucent yellow slip that renders its interior shelves largely inaccessible and instead strangely eroticizes it. Yet the partially unzipped cover heightens our awareness of what is underneath as we begin to discern the painted plywood, wicker, plexiglas, encrusted sawdust and patterned fabric upholstery.
Reaves' lamps also pervert their assumed purpose. One hangs upside down from a nail like a sconce, adorned by two futile straps – fake balancing mechanisms. The standing lamp is of an intentionally awkward scale, too small to light from above but far too large to place on a table. Whilst we struggle to understand where the light is being cast, a purposeful purposelessness, the work is never totally divorced from the utilitarian.
The basket at the base of the lamp is embellished with floral motifs which Reaves has made by mixing wood glue and sawdust swept from the floor of her studio. Construction techniques are constantly conflated with the ornamental as this typical carpenter's trick, more usually employed to repair imperfections, is here transformed into a crude and exaggerated decorative gesture, replacing the flourishes and ornate inlays used to adorn traditional furniture. Lumpy accretions cling to many of the objects' surfaces, a stark contrast to the reductive tendencies of both modernist and minimalist forms.
This body of work is not without its contradictions as delicacy coexists with the crude. The round swivel chair is adorned with gold and silver thread, painstakingly hand-sewn, though it might easily have been spray painted or even singed. A box beneath the base props it up awkwardly, creating tension between the intricacy of the texture and its implied instability. Displacing practicality, Reaves sculptures are instilled with subjecthood, turning the modernist autonomy of the design object on its head.
by Jessica Freeman-Attwood
.
at Herald St, London
until 12 November 2017