CONVERSATIONS
Michelle Grabner "I Work from Home" at MOCA Cleveland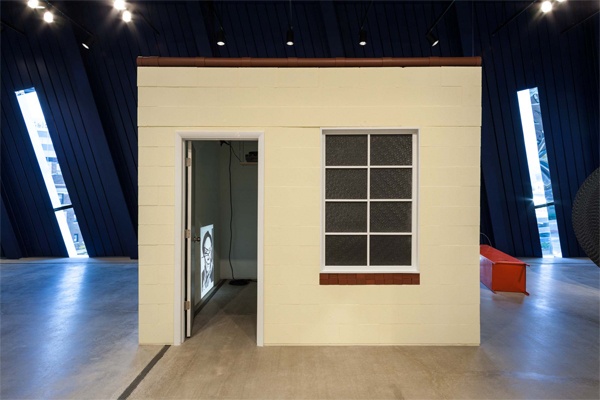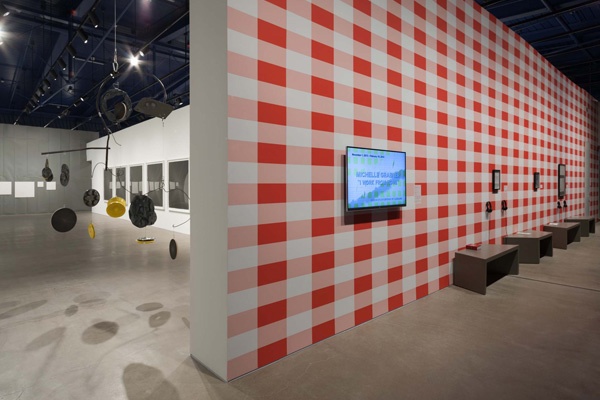 Kris Paulsen: "I Work from Home" at MOCA Cleveland is the first comprehensive museum survey of your work, and covers your artistic and curatorial practice. The exhibition centers on the idea of "home" as the site of both your studio and your exhibition space, The Suburban. But it also activates a nexus of ideas about how we live, work and make art, and whom we do it with.
Michelle Grabner: Do you remember the anthology titled Not at Home: The Suppression of Domesticity published in the mid-'90s? It is a nice collection of essays that examines both the profound neglect and the anxiety of home and family in modern art and design. Because the domestic was concerned with "the mundane details of home life and housekeeping", it was the antipode to high art. I guess what I am trying to say is that I intellectually understand the politics of the domestic and its fraught relationship with the avant-garde. But perhaps more importantly, I am pragmatic; ambition, criticality and creativity needed to find a place (in time and space) within my domestically contoured life. When I was in graduate school in the late '80s I assumed that the theories underpinning art's relationship to the domestic, and to art and life discourses, were soundly in practice, conventionally entrenched in late twentieth-century culture. Of course I was wrong. But that only made me more resolved to work from home. To be perfectly frank, it ended up being a very efficient base to examine abstraction and raise kids. So all this said, home is simply home-base for all my activities. Or more romantically stated, where "you bind the goods and trappings of your life together with your dreams to make a place uniquely your own. In doing so you build a semblance of the world you know, adding it to the community that surrounds you." I stole that from Charles Moore's The Place of Houses (1974).
Do you see this as a feminist practice?
I don't know. This question always confuses me and I try to simply get away with only saying "yes". Of course that is a dodge to actually saying why it is a feminist practice. I say yes because I hope it is, yet I don't elaborate because if I am honest, the concept of working from home is a subjective reality first, a strategy second. Can I ask you what you think?

Yes, I think it is. Since having a child, I've found I must leave the house to get anything done because my work and "my life" are now two separate things. What really struck me about the show was how thoroughly intertwined and interdependent the two are: your children's schoolwork becomes the basis for your woven paper collages; your family becomes your collaborators; your garage becomes your exhibition space; your houseguests are artists-in-residence. Though very different in form and delivery, the show reminded me of Mary Kelly and Merle Laderman Ukeles's work that highlighted the unrecognized or invisible labor associated with raising children and "homemaking". In this context your work, particularly the textile paintings, appears as a kind of "piecework"—the fragmented labor that one does in the home part-time. But rather than being something that simply happens in between, they hold the larger practice together and show the seams between private time and collaborative events. Can you talk a bit about your paintings, drawings, and the work you do "alone"?
Repetition is foundational, both as a platform for conditional boredom but also as discovery and experimentation in a Deleuzian sense: "To repeat is to begin again: to affirm the power of the new and the unforeseeable". Rearticulating found compositions, whether a gingham pattern, a crocheted blanket, or abstract radiant geometry, allows for invention to be embedded in the process or act of painting and drawing and not in the imagination. So I am not in my studio musing over image-making, but instead trying to find the sweet spot between being bored out of my mind and paying attention to redundancy.

You've described The Suburban as a "pro-artist and anti-curator site". How has The Suburban and the anti-curator tactic informed your approach to the Whitney Biennial?
I am learning a lot about curating at a "proper" institution and I have engaged in a methodology that I feel is appropriate for the task of organizing the 2014 Whitney Biennial. The fact is that I visited nearly 150 studios from San Diego to Savannah, GA, and I selected artists and artwork to be included in the Whitney Biennial. But who and what I selected are specific to the fact I am an artist and a teacher. I went about this process as if I were developing a curriculum for other artists, feeling confident in this role due to the fact I am not a professional curator but an artist and teacher. Thinking about a curriculum means a consciousness toward edifying. So I built an exhibition that examines three ideas that I feel are prominent in contemporary art and discourse: painting and its relationship to gender and power; practices that engage in critique; and, finally, work that explores craft and concepts of materialism. Of course there is also work that I am including that slips between these themes, but they are works that will help viewers understand difference. Although I am not interested in creating closed systems or compartmentalizing, I am not averse to developing a range of associations and meanings through degrees of consolidation. So in a way I am intentionally over-curating and over-interpreting work for an exhibition that is typically organized in a taxonomical structure. But it is very important to note that I am not "over-curating" in order to play out some subjective curatorial narrative; instead, I am attempting to frame very common themes occupying our contemporary art discourse. So with that, I would say that my approach is the perfect inverse to my anti-curatorial methods that drive The Suburban.

Speaking of the anti-curatorial model, on November 17 Dana DeGiulio did a performance in which she drove a car through The Suburban, structurally damaging the building. What's the future of The Suburban?
For fifteen years The Suburban has been about saying, "yes" to artists. We are not rethinking this position but instead reveling in the possibilities of new ways to say "yes."
(Michelle Grabner interviewed by Kris Paulsen. Paulsen is Assistant Professor of History of Art at The Ohio State University and Co-Director of The Center for Ongoing Research and Projects in Columbus.)
.
until 16 February 2014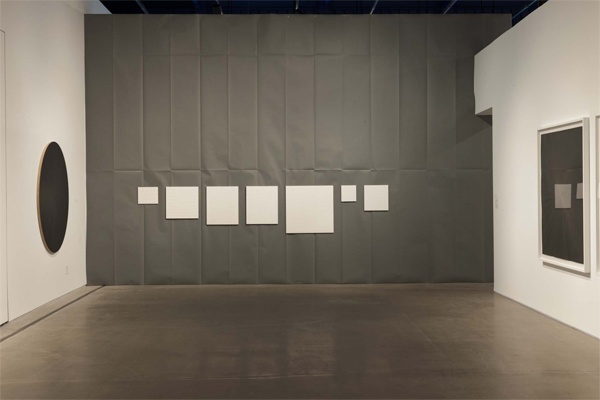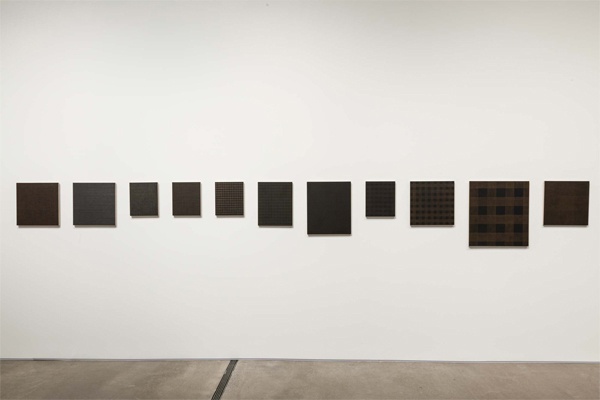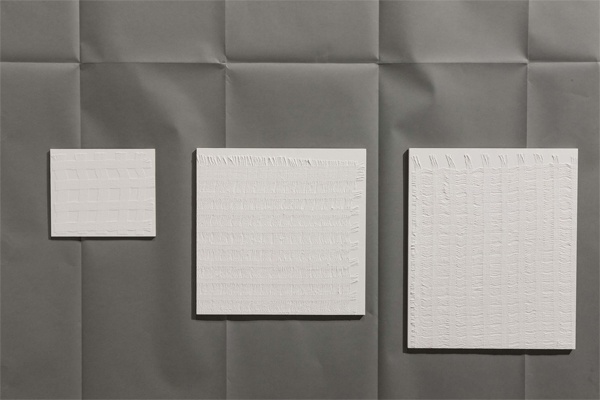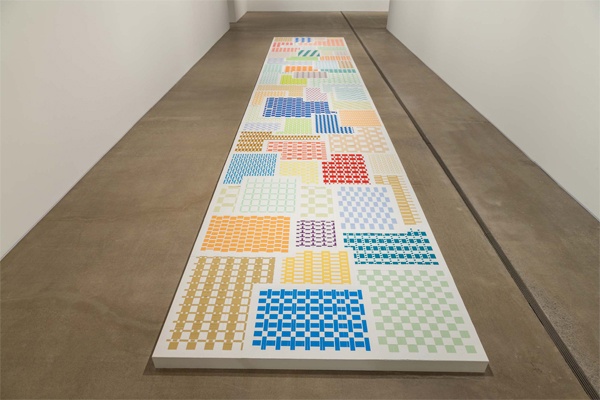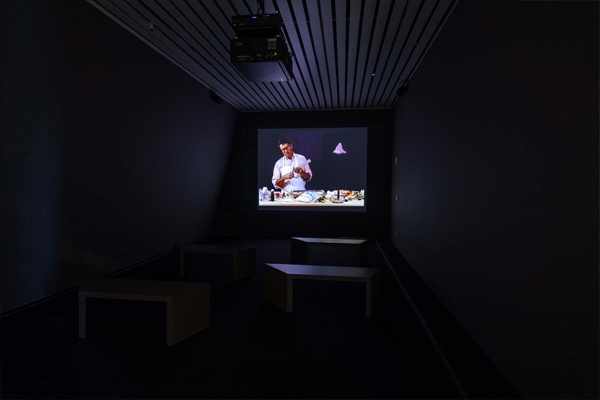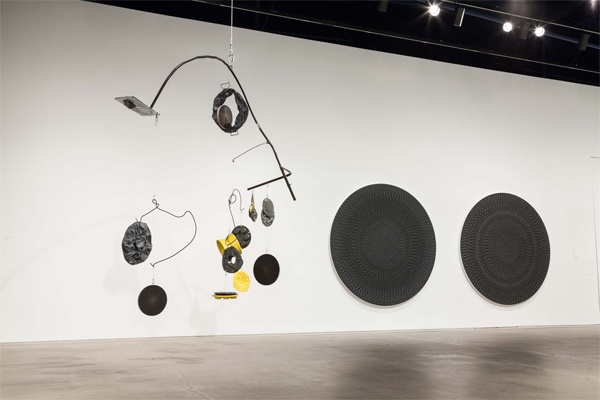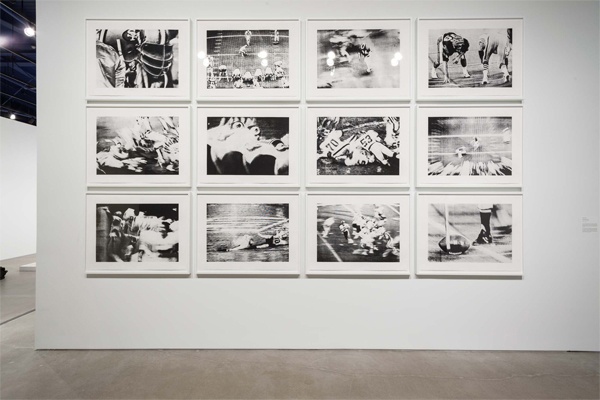 Michelle Grabner, "I work from home" at MOCA Cleveland, 2013.
Photo: Howard Agriesti.