REVIEWS
Monika Sosnowska at The Modern Institute, Glasgow
Close
1
2
3
4
5
6
7
8
9
10
11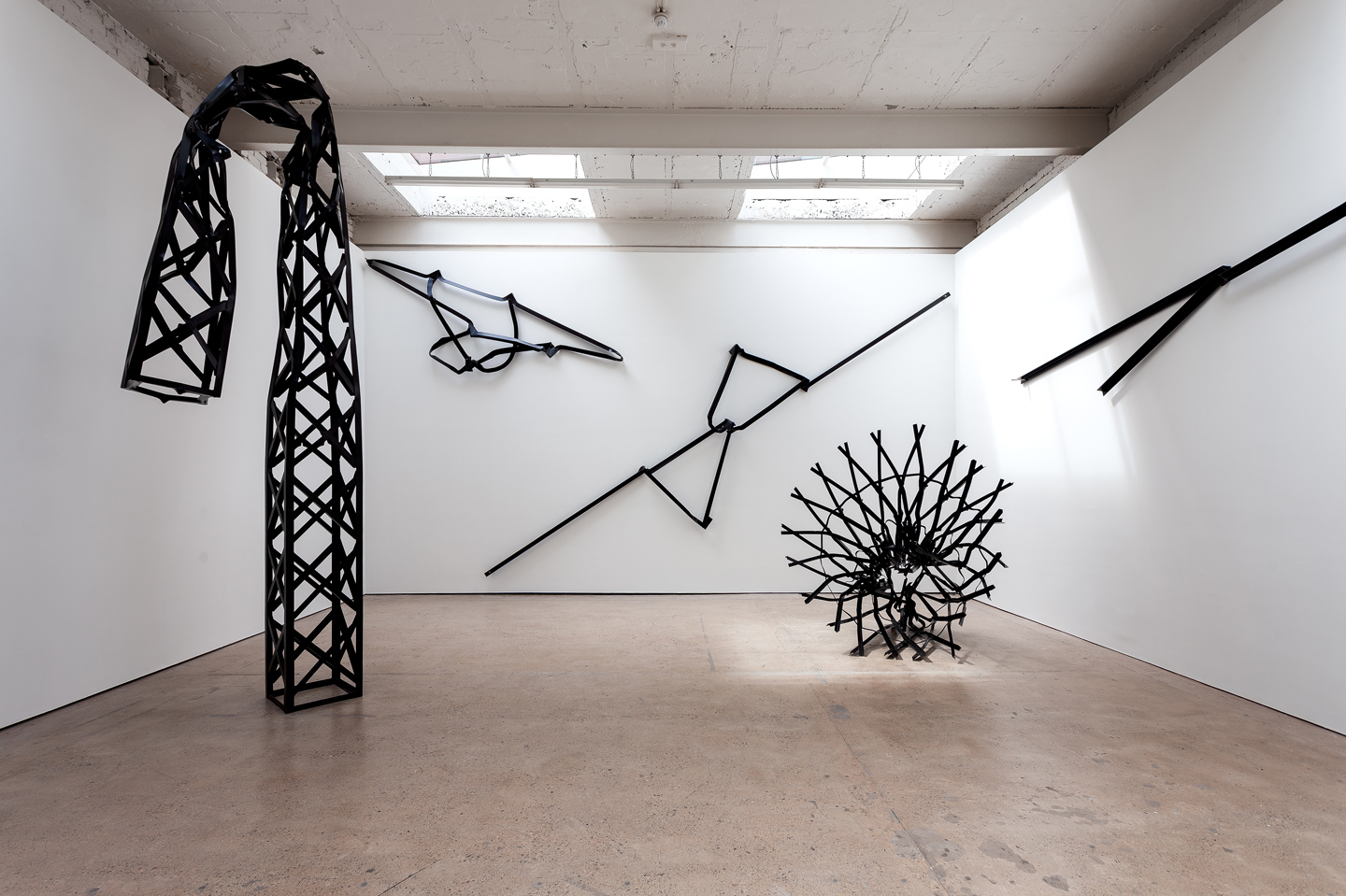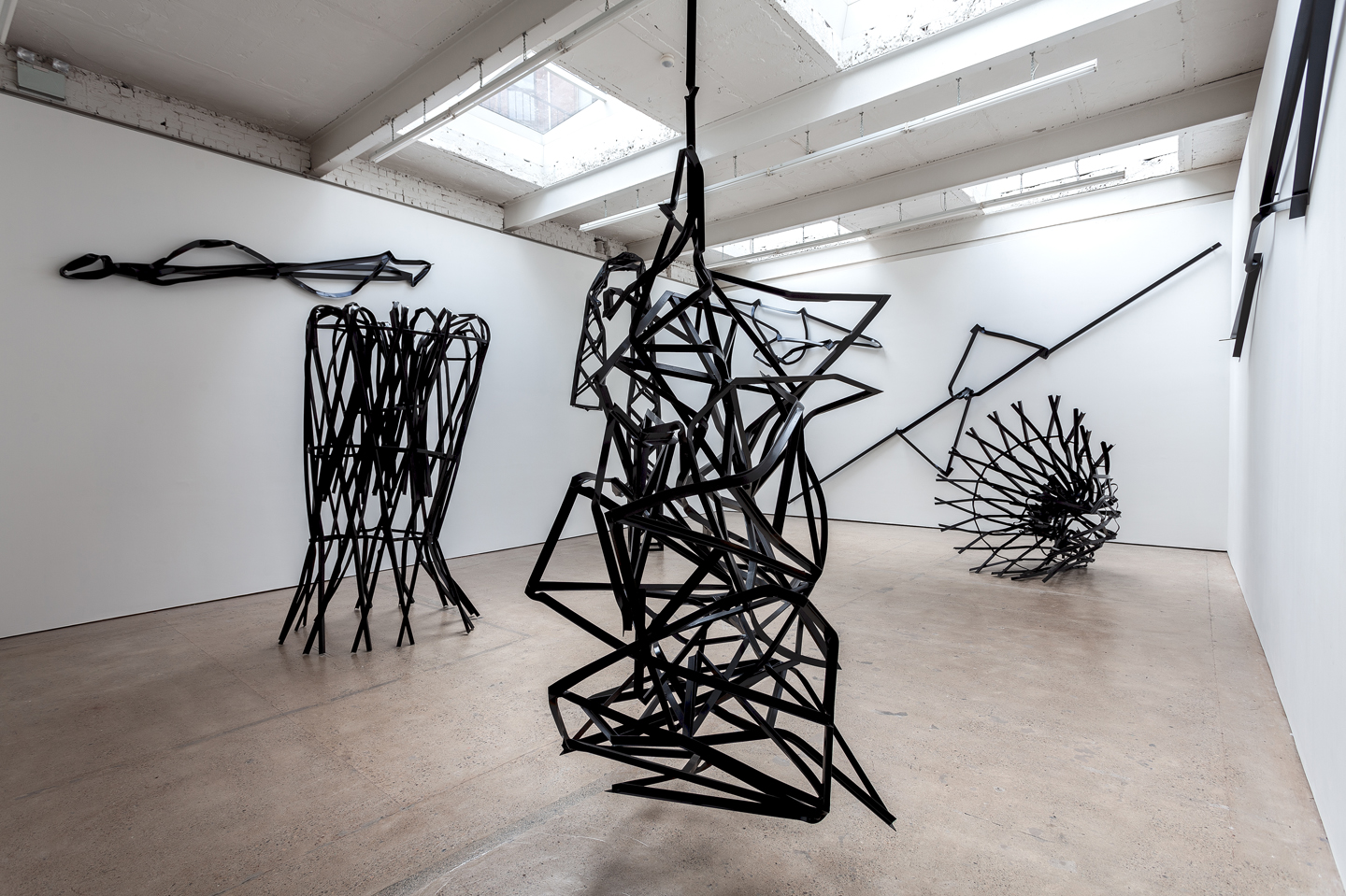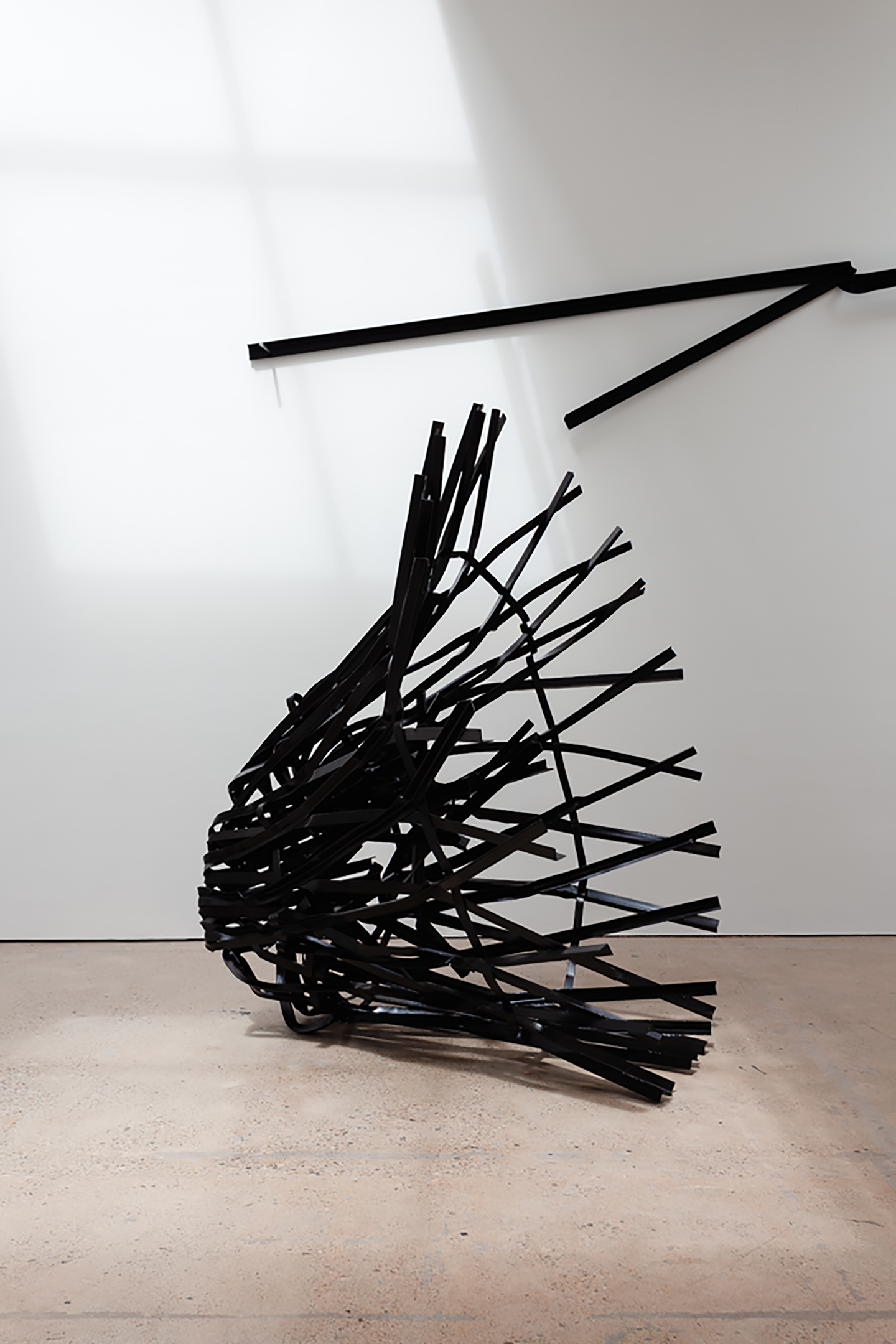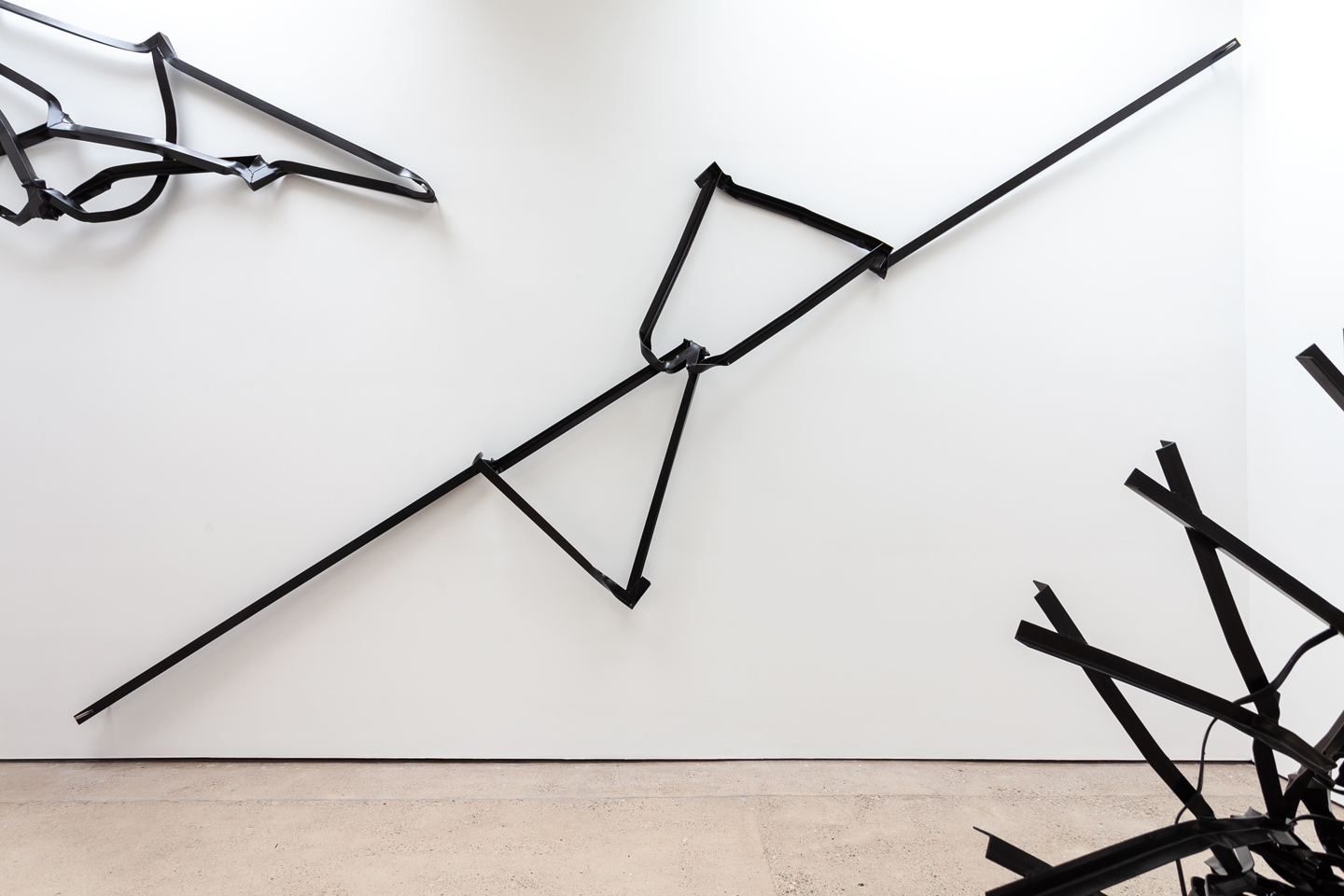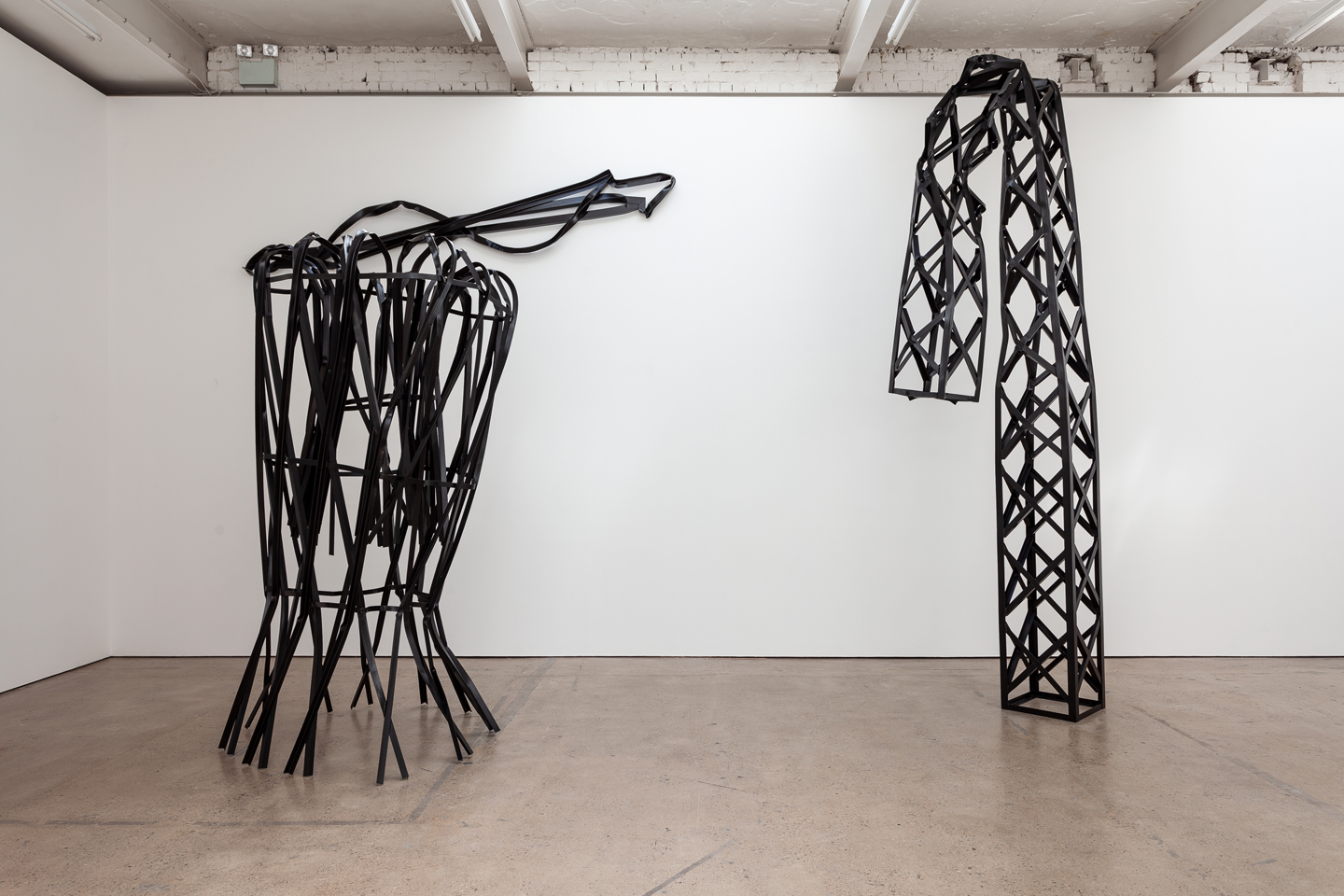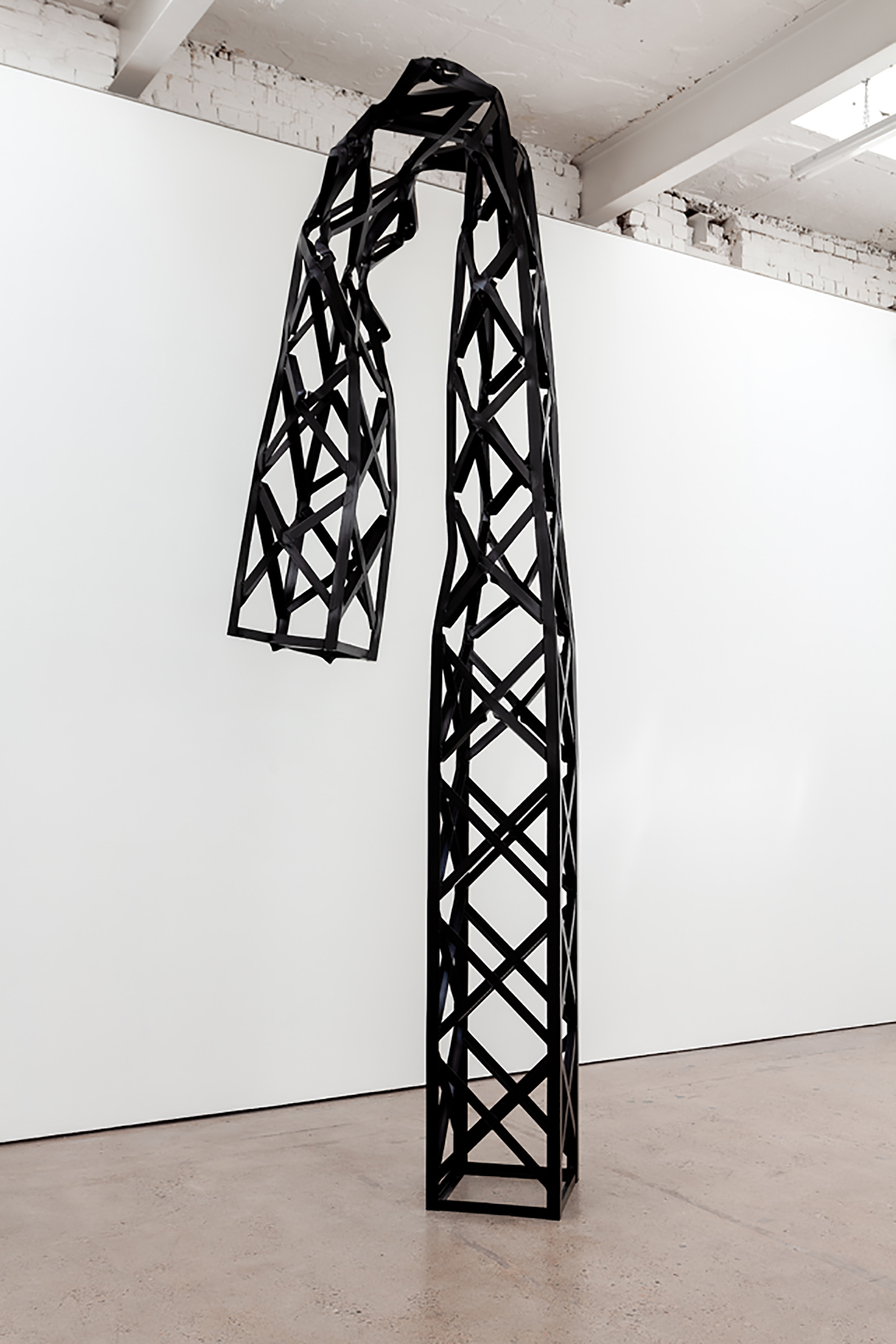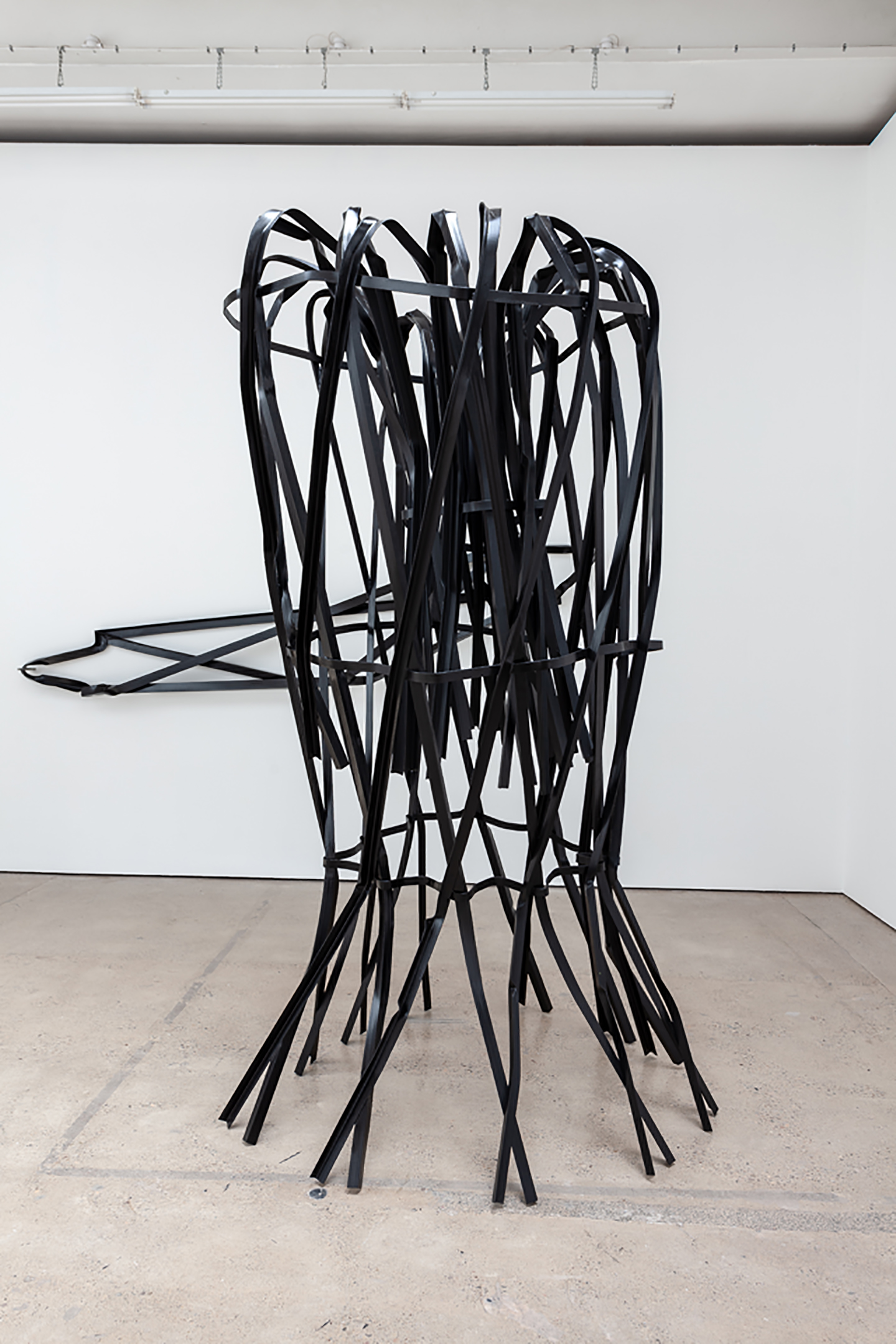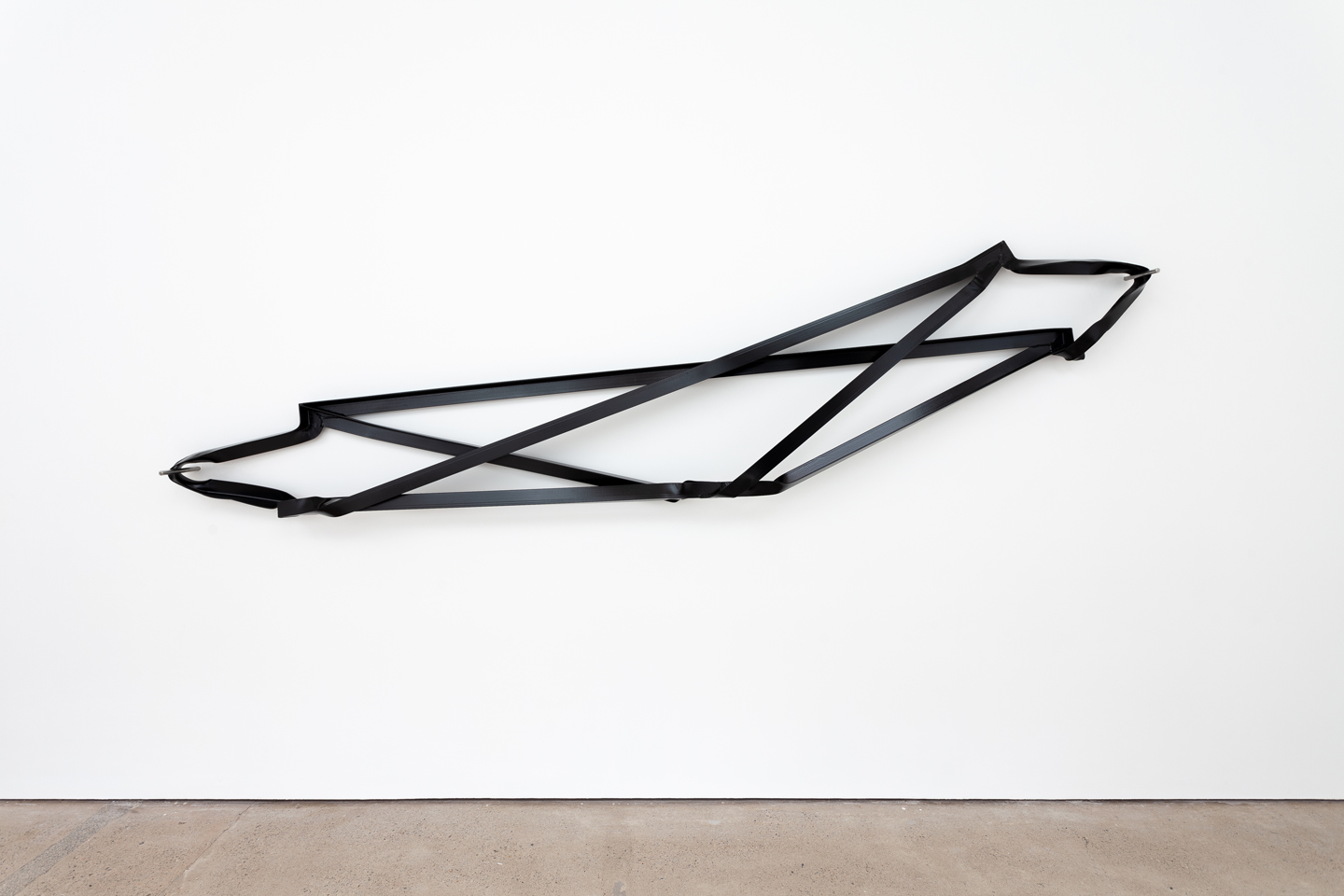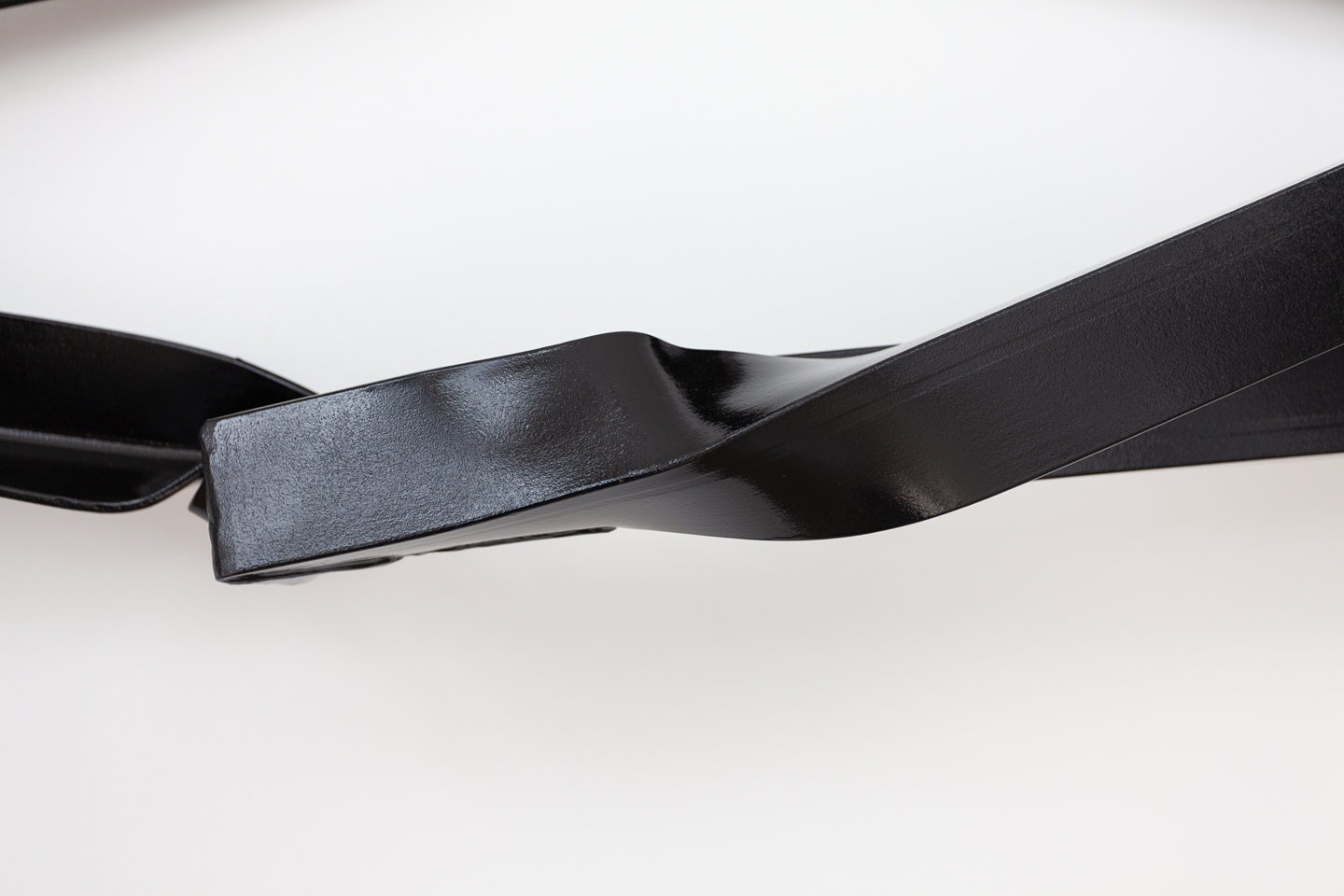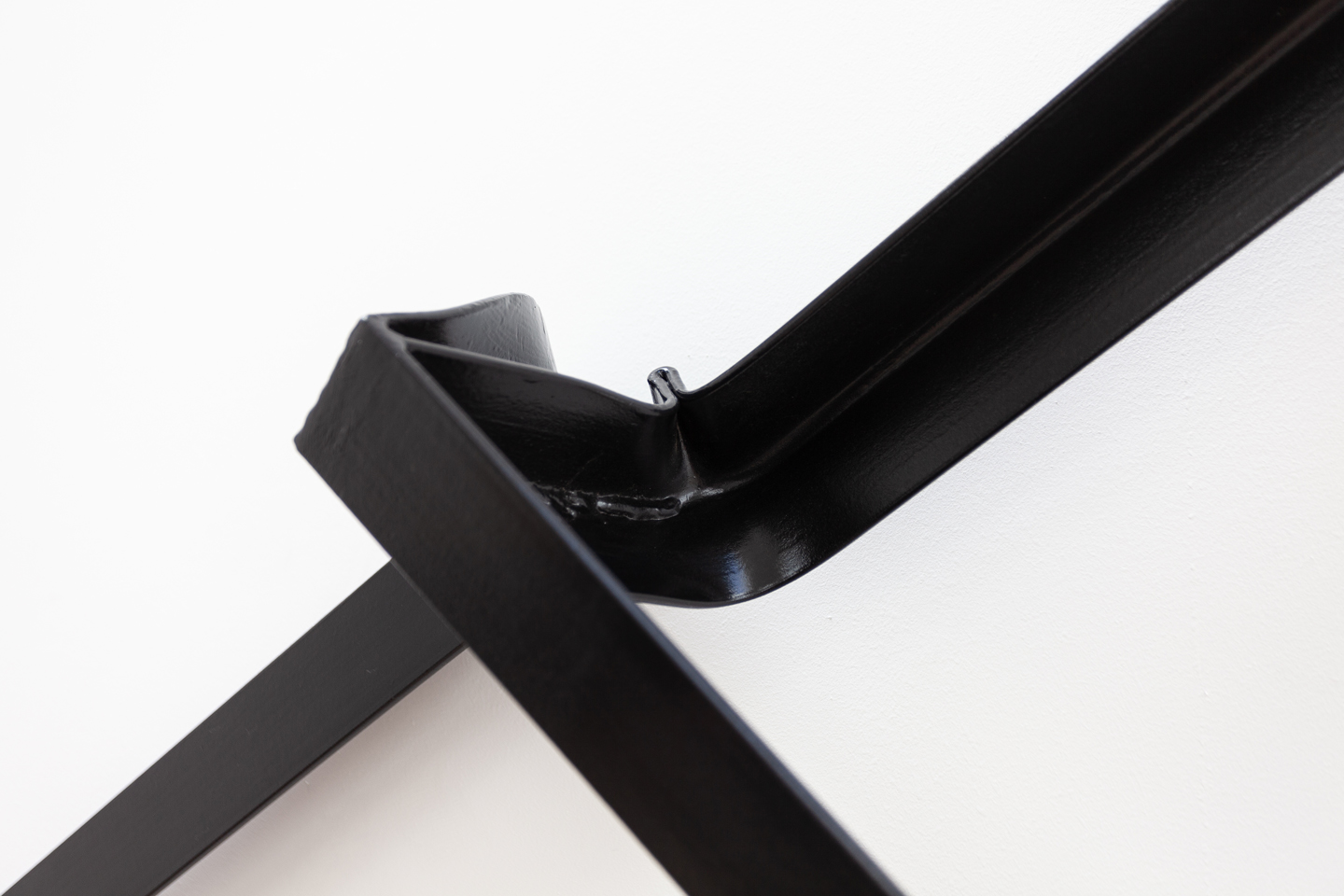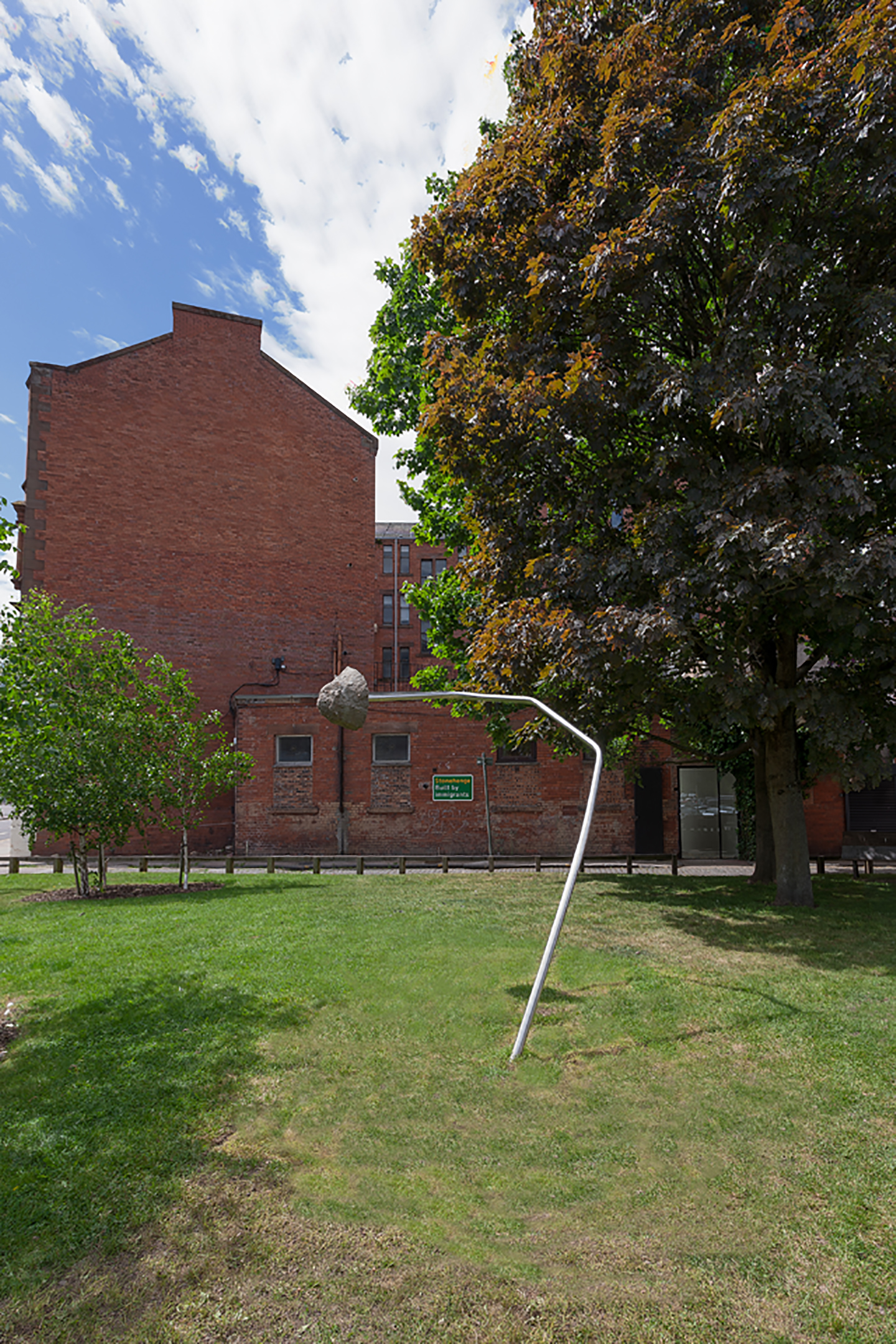 by Giulia Gregnanin
"Dear wife, burn those New York magazines and hang up a portrait of Lenin in the studio."
This is the last intertitle of the silent film The Extraordinary Adventures of Mr. West in the Land of the Bolsheviks, directed by the pioneer auteur Lev Kuleshov in 1924. Adopting a bizarre and grotesque register, it chronicles the vicissitudes of the American Mr. West and his faithful bodyguard, Jeddie, as they visit Moscow. Through various mishaps, Mr. West discovers that U.S. stereotypes of the Soviet Union are wrong, and by the end of the film he informs his wife of his ideological maturation through a radio message. The transmission is emitted by Shukhov Tower, a Constructivist radio tower designed by the engineer Vladimir Shukhov between 1919 and 19221, today one of the most iconic symbols of the Soviet era—both a simulacrum of the foremost technological achievements reached at the time, from science and engineering to arts and literature, and a relic of propaganda and its power to control the citizenry.2

Shukhov Tower plays a key role in Monika Sosnowska's current exhibition at The Modern Institute in Glasgow, which includes nine indoor sculptures plus an outdoor intervention inspired by Shukhov's lightweight skeletal and hyperbolid constructions. The radio tower is just one piece of architecture part of her visual archive, which comprises Constructivist and modernist structures throughout the so-called Former East.3 Sosnowska re-elaborates and defunctionalizes her references in steel frameworks that seem to twist and compress beneath some invisible pressure. They give the impression of violating physical laws, reaching what seems like a provisory balance or an inconceivable play of forces. This "gymnastic of materials"4 was achieved thanks to cooperation with specialized metal workers on the outskirts of Warsaw.
The works massively occupy the gallery. Hanging on the wall (Cross Brace [2019]), suspended from the ceiling (Struts [2019]), lying on the floor (Tower [2019]), or sticking out of the ground (Pipe and Concrete [2019]), they inhabit the space like fragile but monumental corpses—metallic fossils that once breathed via porous membranes. Their presence is enhanced by the contrast between the white walls and their opaque iron grids. Despite their volume, they look like weightless, dry leaves about to fall—in this regard it is significant that artist's creative process involves small paper models that she soaks in water.5
Breaking the relation between form and function, Sosnowska's anti-monuments invite reflection on utopia's collapse, and how hopes for a better society were often embedded in ideologies supporting totalitarian regimes. In our contradictory and turbulent times, we can no longer raise radical imaginaries because we have lost the ability to look beyond the present. Post-truth politics, the death of facts, fake news, deep-state conspiracies, and paranoia are fertile ground for fascism and xenophobia. According to the philosopher Hannah Arendt, "The ideal subject for totalitarian rule is not the convinced Nazi or the convinced Communist, but people for whom the distinction between fact and fiction and the distinction between true and false no longer exist."6 And the critic Erika Balsom points out, "Looking closely at images that affirm their status as traces of actuality provides one way that we can begin to reestablish the reality of experience."7 I would add that we'd be well advised to operate like Mr. Smith visiting the Soviet bloc: we must be ready to revise our judgments and undermine our beliefs, even if we don't have any Lenin portrait to hang on the wall.
[1] Shukhov Tower also impressed Walter Benjamin, who referenced it in his Moscow diaries as "the enormous Moscow radio transmitter, whose shape is different from any other I have seen." Walter Benjamin "Moscow Diary," October 35 (1985): 112.
[2] Both Lenin and Stalin used radio during the days of Revolution; in 1920 Lenin called it "a newspaper without paper and without distance!" Shukhov Tower experimental broadcasts began in September 1922, and regular ones started in 1924. P. S. Gurevich and N. P. Kartsov, Lenin o radio (Moscow, 1973), letter of January 26, 1921.
[3] See Maria Hlavajova and Simon Sheikh, eds., Former West: Art and the Contemporary after 1989 (Cambridge, MA: MIT Press, 2016).
[4] Gabriela Switek, "Elements of Modernism According to Monica Sosnowska," in Monika Sosnnowka: Architectionisation (Porto, Portugal: Serralves Fonudation, 2015), 39.
[5] Switek, "Elements of Modernism According to Monica Sosnowska," 42.
[6] Hannah Arendt, The Origins of Totalitarianism (New York: Harcourt, 1979), 474.
[7] Erika Balsom, "The Reality-Based Community," e-flux journal, no. 83 (June 2017): https://www.e-flux.com/journal/83/142332/the-reality-based-community/.
at The Modern Institute, Glasgow
until 7 September 2019