ESSAYS Mousse 63
Mother Tongue
by Rose Vickers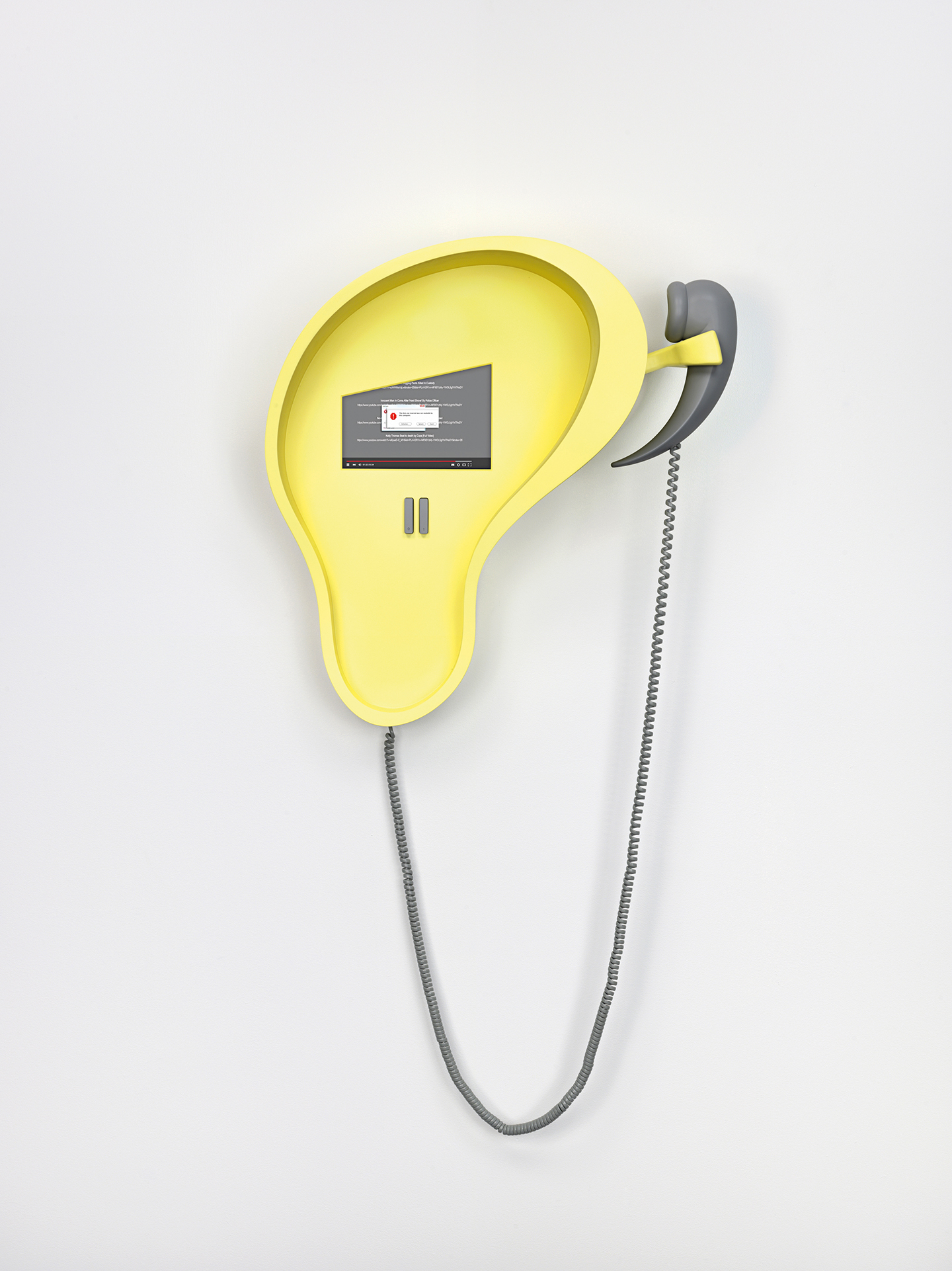 Camille Henrot, Bad Dad & Beyond, 2015. © Camille Henrot by SIAE, Rome, 2018. Courtesy: the artist and Metro Pictures, New York

Reconsidering outcomes in contemporary art practice as relative to the default vocalities of Siri, Alexa, and her peers, in an increasingly under-examined technological context.
The voice begins in the lungs as an exhalation of air. Passing through certain organs of the body—the trachea, larynx, and mouth—that air transmutes into interpretable sound. To understand the meaning of the sound requires speaking a common language; this is at least the case if meaning is to be communicated. There are also less tangible factors at play when we hear a human voice. In addition to the speaker's identity, voice might variously provide clues to emotional state, health, education, nationality, ethnicity, and demography, as well as the transient condition of an external environment, for instance pollution or climate. When excited or nervous, modulation can occur. The musculature around the larynx tightens up and a voice's tenor rises correspondingly. When relaxed, the reverse happens. It's said a woman's voice breaks four times over the course of her life, and that tone of voice rises at times of peak fertility. No two voices are the same.
Amazon—creator of digital secretary "Alexa," and chief competitor to Apple's relatively new operator "Siri"—recently announced the launch of a new feature that will match the identity of a human speaking voice to that of a voice sample in order to verify the person's identity. Google has recently released technology mimicking the cadence of a more "natural" human voice, moving current technology further away from the "uncanny valley" effect theorist Clifford Nass described. This emerged last year, following Google's 2014 acquisition of WaveMind software from British artificial intelligence start-up DeepMind. Neither of these developments comes as a surprise. In film, AI continues to capture the public imagination. Alexa's ever-present ear now resides in a great many residences throughout "connected" society. Satellite navigation has incorporated digital voice for decades and has evolved to the point where we can now choose a personalized intonation in terms of gender and ethnicity. We speak to our devices and our devices speak back. Accent and inflection are just another part of the customized experience.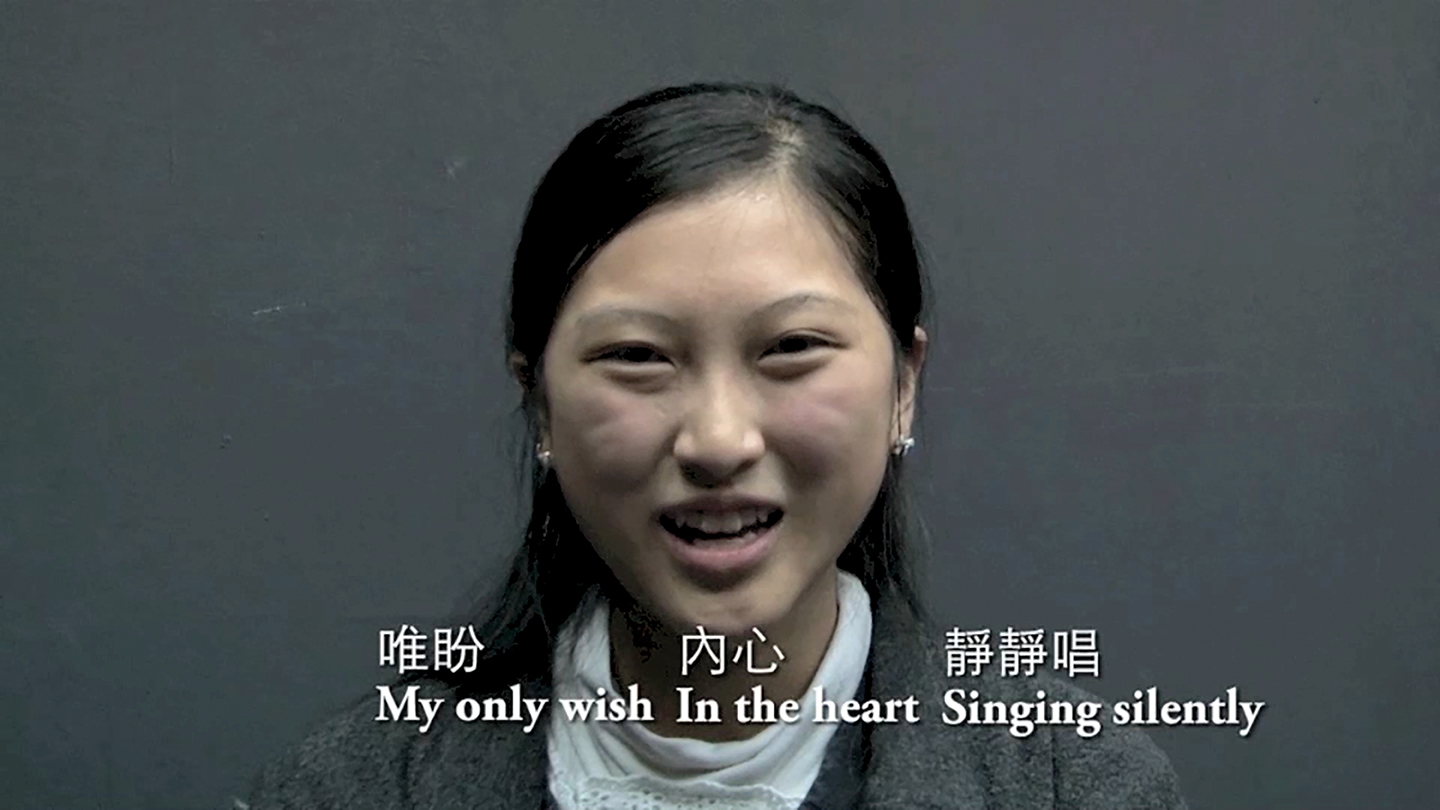 Samson Young, Memorising the Tristan Chord (Institute of Fictional Ethnomusicology) (still), 2013. © Samson Young. Courtesy: the artist
In theory, a more human-sounding artificial voice would naturalize user communications. But there is a gap between how we think about voice as an individual characteristic and the global, ready availability of artificial voice. Voice, as an entity, is changing; artists are reflecting this in their practices; and art criticism may be on the verge of catching up. 
In studies on the relationship between voice and perceptions of feminine authority and helpfulness, there is a strong consensus ascribing the widespread programming of "default" technological voices as female to deeply ingrained societal attitudes about gender.1 Foundational ideas of what gendered speech "is," and represents, are paralleled in the (largely unrelated) fields of accent recalibration and speech training. As a gendered construct, we might say that in both areas, the speech act is perceived as something somehow cosmetic, as for instance in the widespread tendency to interpret any particular way of speaking as a superficial indicator of education or intelligence. The programming of an accent is, in technological industries, largely commercial; in speech therapy, respectively, the aim skews more personal.2 Though other connections and differentiations may be made between fields using or manipulating voice, the overriding point of this comparison is to posit that, when viewed critically, the symbolic idea of defaulting to a chosen accent is shaped by certain contemporary cultural tropes and characteristics.
In this and other ways, the act of renovating an indigenous accent—that is, removing, reducing, adapting, or erasing it—is naturally imbued with dialogues of (neo)colonialism and notions of authenticity. Though some critical literature on voice exists in sociology and cultural studies, such writing usually aims to take lexical implications into account.3 This is to examine a practical, "real-world" deployment of the voice function. Perhaps as a result of this modus, very little extant sociological material has spread to current art theory. By extension, there is also a dearth of critical literature on the subject of voice and accent as deployed in art. This is remarkable considering the significance of voice and spoken language in art practice, as an element encountered across diverse performance media, sound and video art,
or even at times in installation art.
We can explore this proposition in relation to several artists who have incorporated voice within praxis that tends to an engagement with social, political, and cultural conditions. In 2015 Metro Pictures in New York debuted an exhibition by the French artist Camille Henrot featuring an installation of candy-colored, aesthetically modified telephones spouting fictional, preprogrammed audio in line with the argot of self-help hotlines.
BAD DAD & BEYOND
Written for a male actor
Direct, neutral voice, a little clipped/robotic/helpful/upbeat (all of the "goodbyes" should be a little reminiscent of the AOL log-off "Goodbye")
Music for a few seconds before speech comes in.
1_BadDadMenu: [knowing advice] Fathers have become an important part of everyday life, so when the unit we depend on malfunctions, it's easy to panic. The truth is that many problems also have an easy fix. …Why don't you begin by telling me the nature of your father's problem. Press 0 for software, 1 for hardware.
Another telephone contains audio of what appears to be a tongue-in-cheek, male-only sex hotline, where the actors' personalities—and corresponding voices—are transgressive, inappropriate, and also poetic: 
1. 1_MasoMenu: [lascivious, a bit nasal] Welcome, guest. Sixteen men are currently waiting to meet you. If you would like to hear Leopold's message, press 1. If you would like to hear Job's message, press 2. …
2. PierreMenu_A: [Frank, needs to take audible breaths because overweight] My name is Pierre.4
The telephone-embedded scripts are written for different voices, and each script takes on a distinct aspect of modern anxiety: cheating, canine behavior, fatherly responsibilities and parental relations, complaining, guilt tripping, meditations on age, sex, and time, isolation, confessions, and shame. Some of the dialogue verges on the surreal. Each "actor" is accompanied by a new voice. The dialogue was conceived in collaboration with Jacob Bromberg, a Paris-based American author and poet. It is at once familiar, uncannily American, and predictably futile. The combined impact of this script and the physical "vestibule" of the telephone places voice front-and-center to Henrot's most topical concerns as an artist best known for her work with memory, interpretation, subjectivity, and anthropology in digital culture.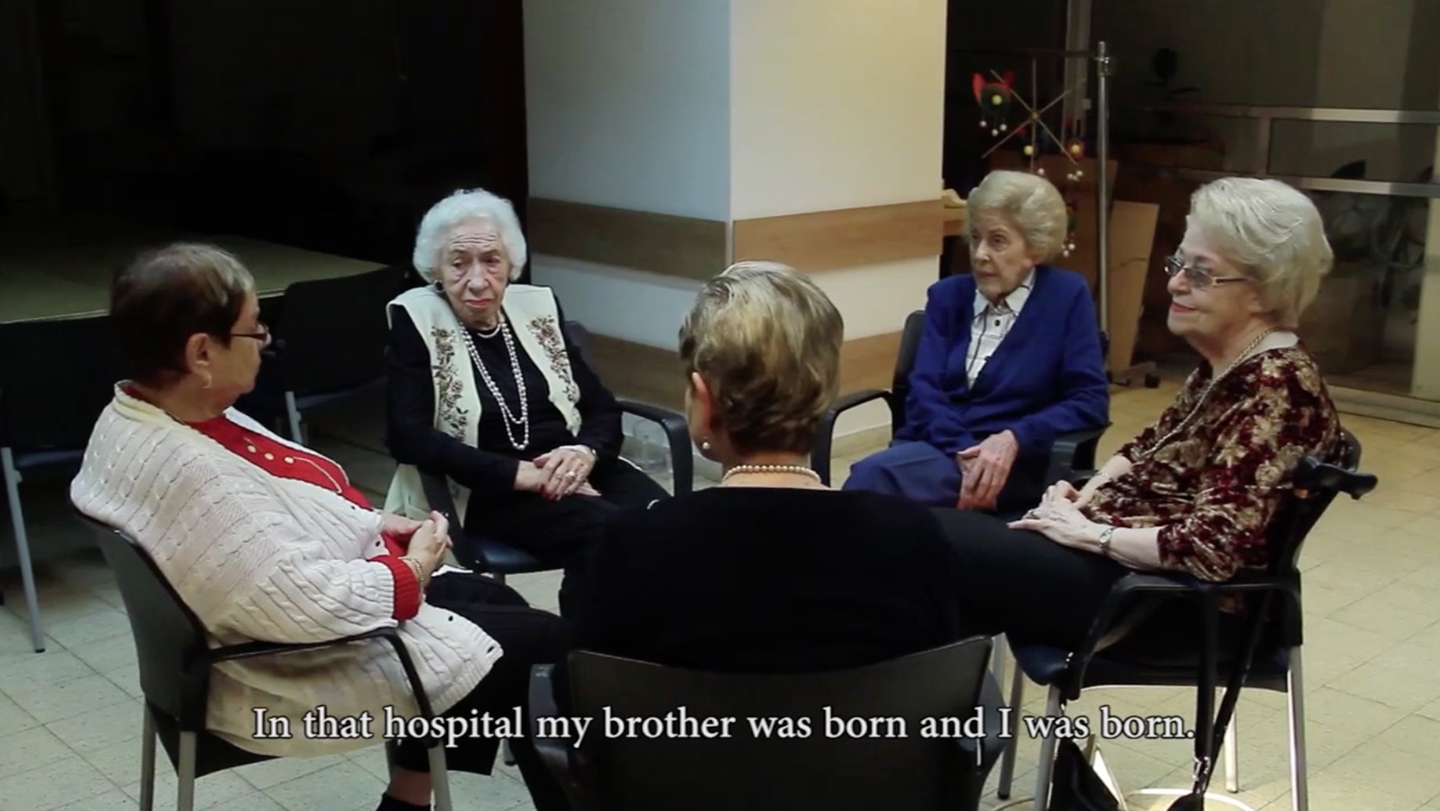 Clemens Krauss, Berliner Runde (still), 2015-2016. © Clemens Krauss. Courtesy: Dominik Mersch Gallery, Sydney and Galerie Crone, Berlin / Wien
The Austrian artist Clemens Krauss takes on voice as an aspect of video installation, casting a lens on acts of speech and conversation in the artwork Berliner Runde (2015).5 For Krauss, voice serves to communicate underlying social and political frameworks (or a combination of the two). Berliner Runde is a single-channel video artwork that runs just over forty-five minutes, depicting the casual roundtable dialogue of a small group of Berlin-born women. Chosen by Krauss on the basis of their biographical details, the participants share in the commonality of having emigrated to Israel between 1933 and 1938. The artwork was filmed live in the Anita Muller-Cohen Parental Home in Tel Aviv, colloquially known also as the "German House." The discussion is recorded in a documentary mode, and predominantly centers on recounting individual and group childhood experiences assimilating to a foreign, occasionally hostile culture.
At times the correct pronunciation of an initially misremembered word punctuates the women's accented German. In one conversational thread, debate emerges over the correctness of pronouncing convergent street names when recalling particular sites from (pre-emigratory) childhood. As one woman concludes, "It's called Alexanderplatz but there is no square whatsoever anymore… It's not called Blumenstrasse anymore." It becomes apparent the square's disappearance in the present tense is due to wartime bombing. Linguistic transitions in Berliner Runde also occur in shifts from German to Hebrew. A double dislocation is at play: the women have transitioned from their birthplaces, and those places' physical situation has also changed. Accordingly, so has the place of history and memory in the interstitial consciousness of the group. Looking at physicality as an appropriative, personal harbor for history and identity—and as a performative vestibule to experience—Krauss brings voice into play mostly where it serves to register context. He hones in on the body as a site of political conflict and interpersonal relationship, and in this way positions voice as an extension of the body, an audible manifestation of embodied history and memory. In Berliner Runde, voice—both individual and collective—serves as a vehicle for comment on hybrid national identities and the prescience of a graying sense of indigeneity within diasporic communities.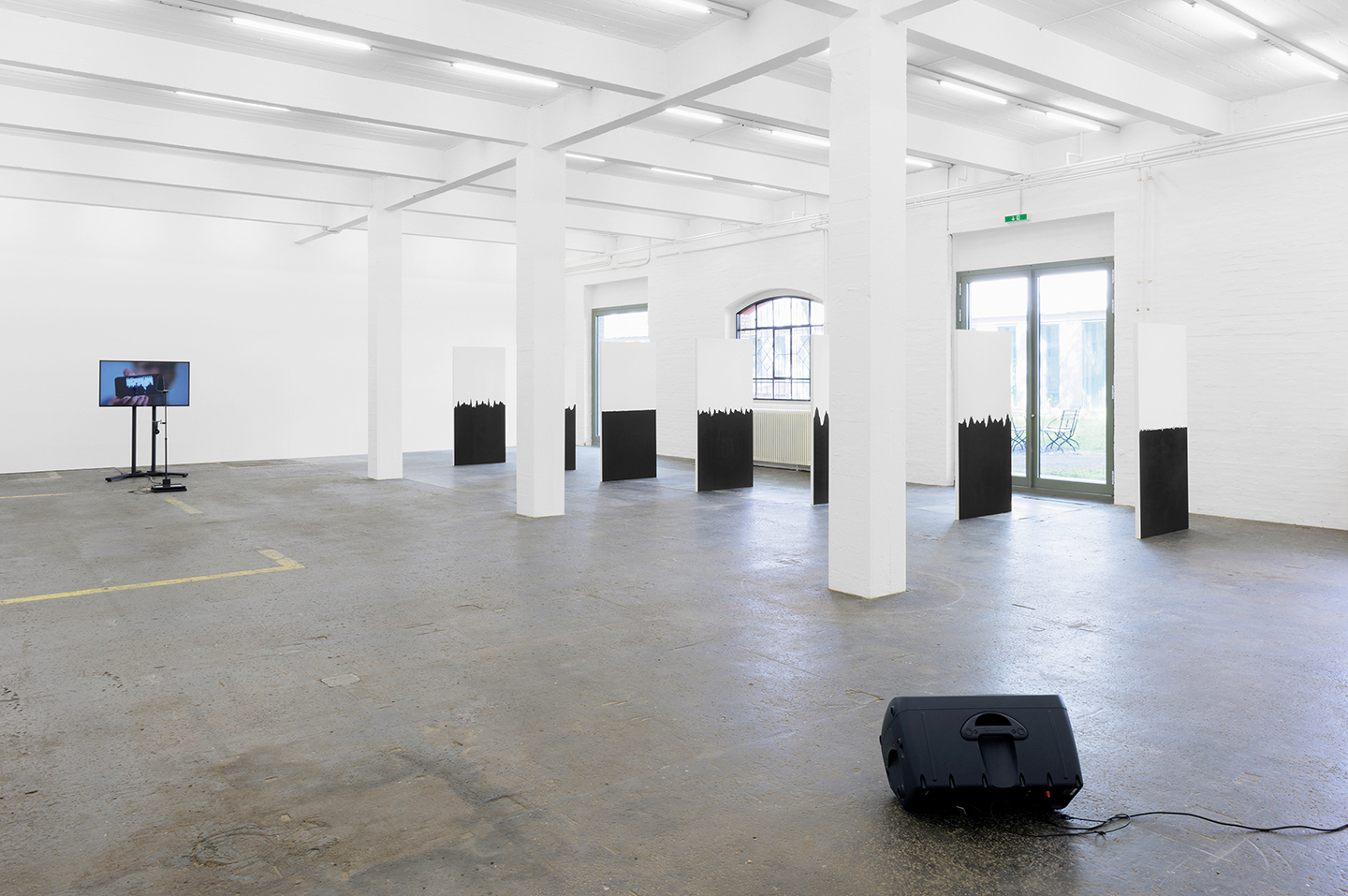 Lawrence Abu Hamdan, Contra Diction (Speech Against Itself), 2015; Beneath the Surface, 2015. تقيه (Taqiyya) – The Right to Duplicity installation view at Kunst Halle Sankt Gallen, 2015. Courtesy: the artist; mor charpentier, Paris; Maureen Paley, London. Photo: Stefan Jäggi / Kunst Halle Sankt Gallen
Other works could be mentioned here, for instance examples in which, as a transnational phenomenon, the deliberate and creative deployment of voice (an artist's own or the voices of others) takes on a communicatory function within art practice. Jordanian artist Lawrence Abu Hamdan examined voice as a political device in his 2015 exhibition تقيه (Taqiyya) – The Right to Duplicity, which questioned the dialectic between concession and freedom of speech under Islamic jurisprudence in Palestine, Syria, and Israel. In these areas, the minority-ethnic legal philosophy of taqiyya is comparable (in the Western canon) to the concept of diplomatic immunity. Under taqiyya, for instance, scripts are legally excluded from binding status as testimony. The artwork comprises a two-channel video installation, seven black-and-white panels, and a large audio speaker. In Hamdan's analysis, the act of speech—which the artwork presents in audio playbacks—is fundamentally altered. As speech is bound by specific laws of disclosure under taqiyya's unique jurisdiction, voice, correspondingly, inhabits an interstitial space between truth and fiction.
Hamdan emphasizes the specific dilemmas of self-representation (and the representation of others) that come with a cultural overemphasis on telling, retelling, and bearing witness. It is in some ways not dissimilar to the one-sided, dead-ended (or occasionally circular) communication at play in Henrot's telephone "hotlines" at Metro Pictures, despite the fact the works speak from politically oppositional Islamic and United States cultures. There appears to be tight control in تقيه (Taqiyya) – The Right to Duplicity with respect to speech patterning and the permitted direction of a delivered narrative. Despite the appearance of being organic, or spontaneously recalled, speech under taqiyya is essentially static and (in the sense of being "prompted") somewhat forced. In both artworks, speech—rather than silence—is the natural resting point. Both can be said to question the problematics of overcommunication.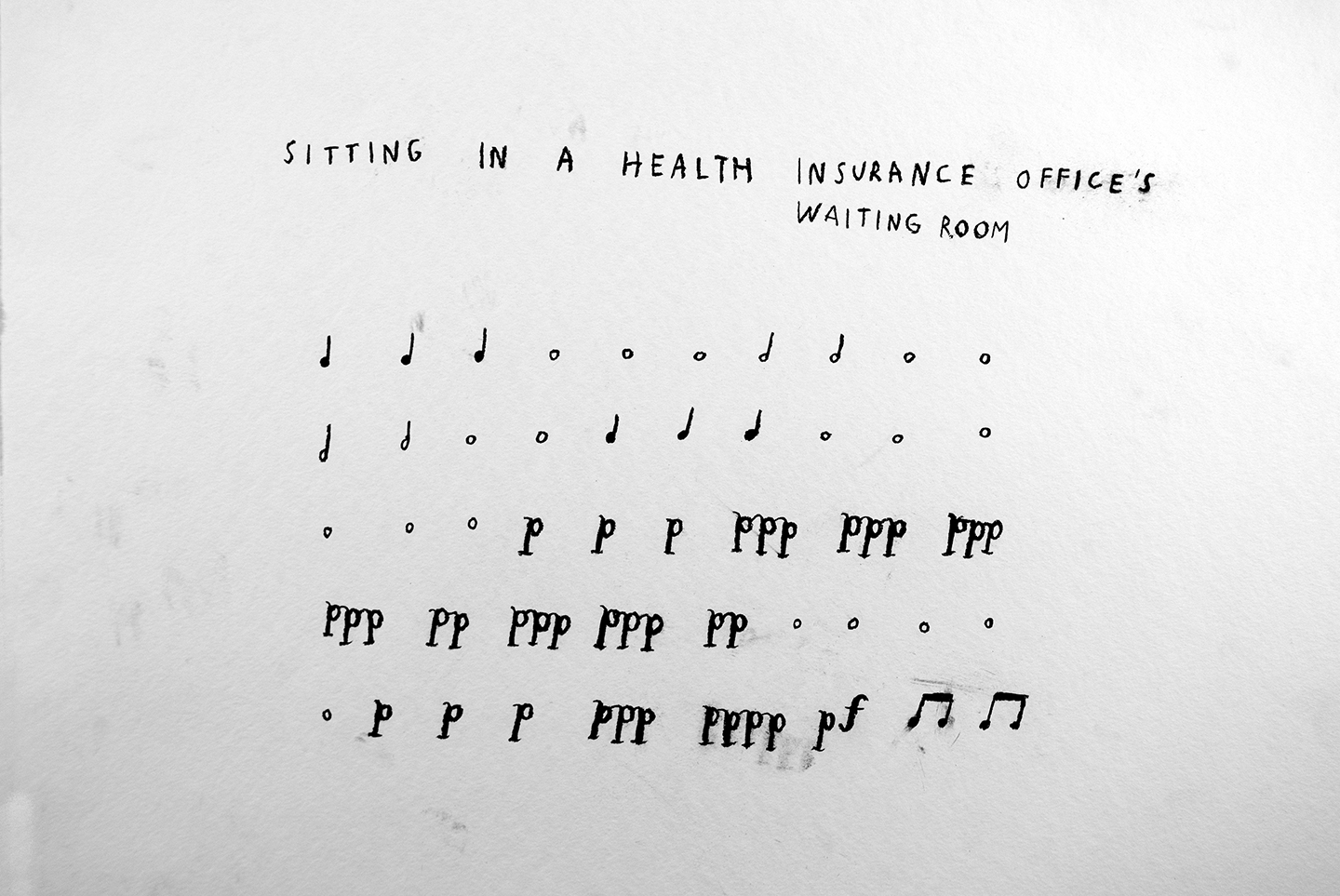 Christine Sun Kim, Sitting in a Health Insurance Office's Waiting Room, 2017. Courtesy: the artist
The significance of silence in relation to the spoken word is of central concern to New York–based artist Christine Sun Kim, who—as a profoundly deaf creator—emphasizes the absence of voice as a potential communicative component of sound. Although other artists, such as Carsten Nicolai (of Germany), have remarked on sound's visual properties, Kim's perspective is unique in that several of her works privilege the spatiality of silence as language. In the artwork Six Types of Waiting in Berlin (2017), Kim effectively dedifferentiates between the vocality of language and the nonverbal sounds in her immediate aural environment. Paradoxically, the overall effect of these sounds serves only to highlight the existence of an underlying yet prescient silence. The artwork presents a series of hand-drawn musical scores, with each element from a particular everyday experience accorded a musical sign, place, and duration. In these scenarios—which take such whimsical titles as Sitting in a Health Insurance Office's Waiting Room and Waiting for Customer Service at an Art Supply Shop—all aural elements are accorded a particular "weight." In Kim's hands, they are subject to a process of legible transcription.
Thus, silence in Six Types of Waiting in Berlin becomes something other than a form of negative space between sounds. Instead, it takes on what we might term "thing characteristics" in the sense of holding space and conveying meaning. The register and value of silence is effectively made equivalent, on the page, to those of other sounds.6 Voice, sound, and silence's performative aspects are reflected in Kim's engagement with ASL interpreters, whom she occasionally employs when (in her own words) she needs to "wear a voice."7 The enormous potential accord between sound, voice, and music presents itself in a related style of artwork by Hong Kong–based Samson Young, who takes on Cantonese as an isolated element in Memorizing the Tristan Chord (Institute of Fictional Ethnomusicology) (2013). Young asks native speakers in Hong Kong to parallel the opening chords of Richard Wagner's Tristan and Isolde (1859), producing an uncanny, sometimes provocative synchronicity of language, sound, and accent.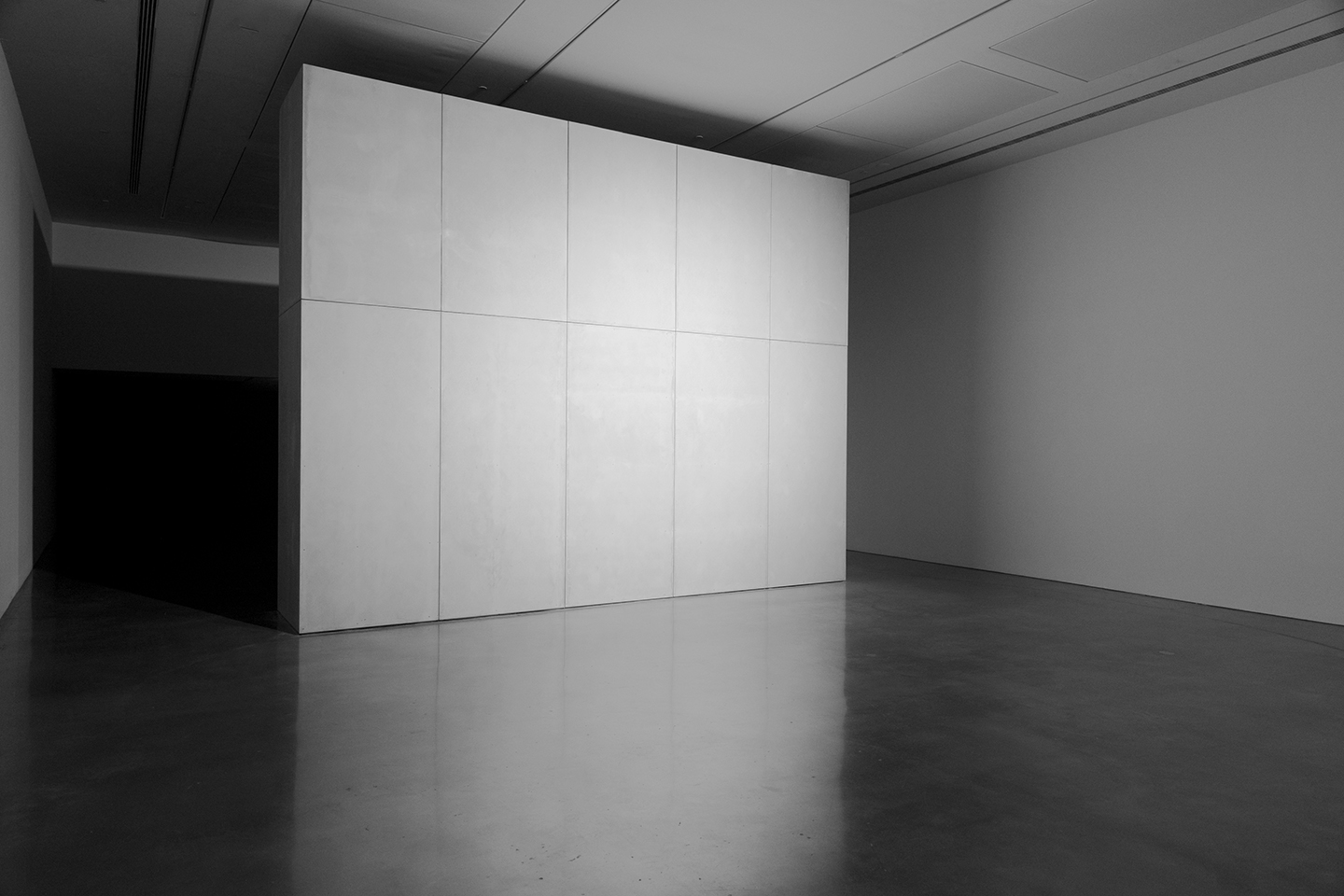 Jacob Kirkegaard, Through the Wall, 2013, installation view at 21st Biennale of Sydney: SUPERPOSITION: Equilibrium & Engagement, Museum of Contemporary Art Australia, Sydney, 2018. Courtesy: the artist and Galleri Tom Christoffersen, Copenhagen. Photo: silversalt photography
A recent installation at this year's 21st Biennale of Sydney, Danish-born, German-based artist Jacob Kirkegaard's Through the Wall (2013) employs voice in relation to specific modes of installation practice in which the spectatorial body comes into contact with discreet and combinatory elements of time, space, and projected audio. The work draws on a long history of artistic relationships between body and site, and is comprised of built-in speakers on a large, physical wall and a series of movement-activated sensors. The speakers project recordings of a merged soundscape: a thirty-minute composition sourced from adjacent sides of the Israeli–West Bank barrier, pieced together from several acoustic recordings Kirkegaard made at locations roughly targeted to correlate on both sides. The Israeli–West Bank barrier is also known as the "apartheid wall"—a thick concrete barrier up to eight meters high, centered within a two-hundred-foot-wide exclusion area. Constructed in 2002 under the mandate of then Prime Minister Ariel Sharon, the wall is intended to separate Israel from Palestine. As an art object, it "recounts" legible and illegible sounds: sonic vibrations, the Islamic call to prayer, a familiar background of traffic noise, birdcalls, and far-off vocal sounds taken from Palestinian and Zionist settlements.
Kirkegaard's wall is a symbolic reconstruction of the barrier, allowing an imaginary kind of access to the original site's context. Lacking sound, the surface is dark and impenetrable. The act of listening "enables" the artwork, in that access to it can only fully occur via sonic immersion. In interviews probing the political dimensions of his practice, Kirkegaard encourages viewers to focus on "the act of listening," that is, eschewing (perhaps suspending) an ideological position for the duration of their encounter with the wall. The artistic act of isolating sound (as voice and song) supports an understanding of shared experience across cultures and dialects, and appears to be Kirkegaard's intention.8 While there is no neat conclusion to possible spectatorial experiences, Through the Wall is notable as an artwork in which others' voices are deployed to register nuance. We are called upon to apply this detail to a highly politicized context (perhaps more accurately, the gestalt of a context), without participating in any of that context's explicit visual aspects. This provides a unique insight into a remarkably visible contact zone within the global political arena. Listening to the wall becomes a sensorial encounter via the vehicle of sound and voice.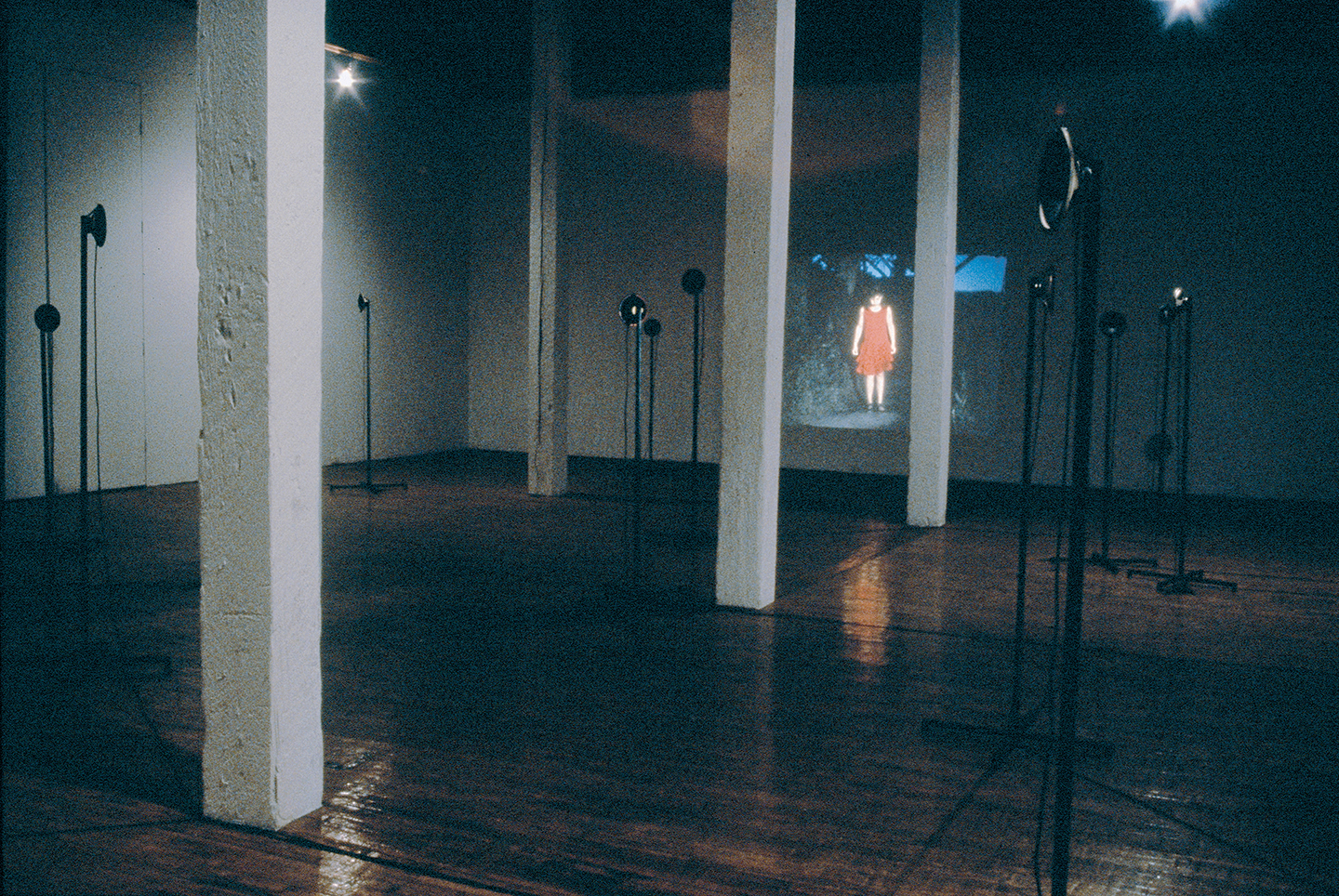 Janet Cardiff, Whispering Room, 1991. © Janet Cardiff. Courtesy: the artist and Luhring Augustine, New York
Voice can be deployed in other immersive ways, for instance in conjunction with installation-practice-specific acoustics, environmental integration, and contextual detail. The Canadian-born artist Janet Cardiff has created a lineage of installation artworks in which voice frequently converges with narrative and movement. Her practice demonstrates vast possibilities for installation-based practices when it comes to incorporating voice. In two artworks, The Whispering Room (1991) and Forty Part Motet (2001), Cardiff's own voice forms part of a highly interactive installation. The Whispering Room is an audio- and film-based work arrayed on sixteen speakers mounted on metal stands. The same number of audio slices plays across the speakers. A projection strikes the background wall (or the foreground, depending on how the piece is installed and entered).
Voices come together in harmony. The disparate relationship between voices functions as an overlay, creating a dreamlike scenario where voice and visual come together in layers of suggestion and disseminated meaning. Notable installations that incorporate voice include works by Susan Philipsz, a Scottish artist based, like Cardiff, in Berlin. Philipsz tends to present voice as part of an overall aesthetic experience.9 Her recent artwork A Single Voice (on view last year at BALTIC Art Center in Gateshead, England) takes voice as a metaphor, via music, depicting concert violinist Leila Akhmetova's movements and performances. Prior to this, Philipsz's own voice might have been best known as part of her a cappella rendition of David Bowie's album Ziggy Stardust (1972), in an earlier installation from 2001. Despite their temporal gap, both artworks take up the relationship between sound and architecture, even as one is almost purely instrumental and the other entirely vocal.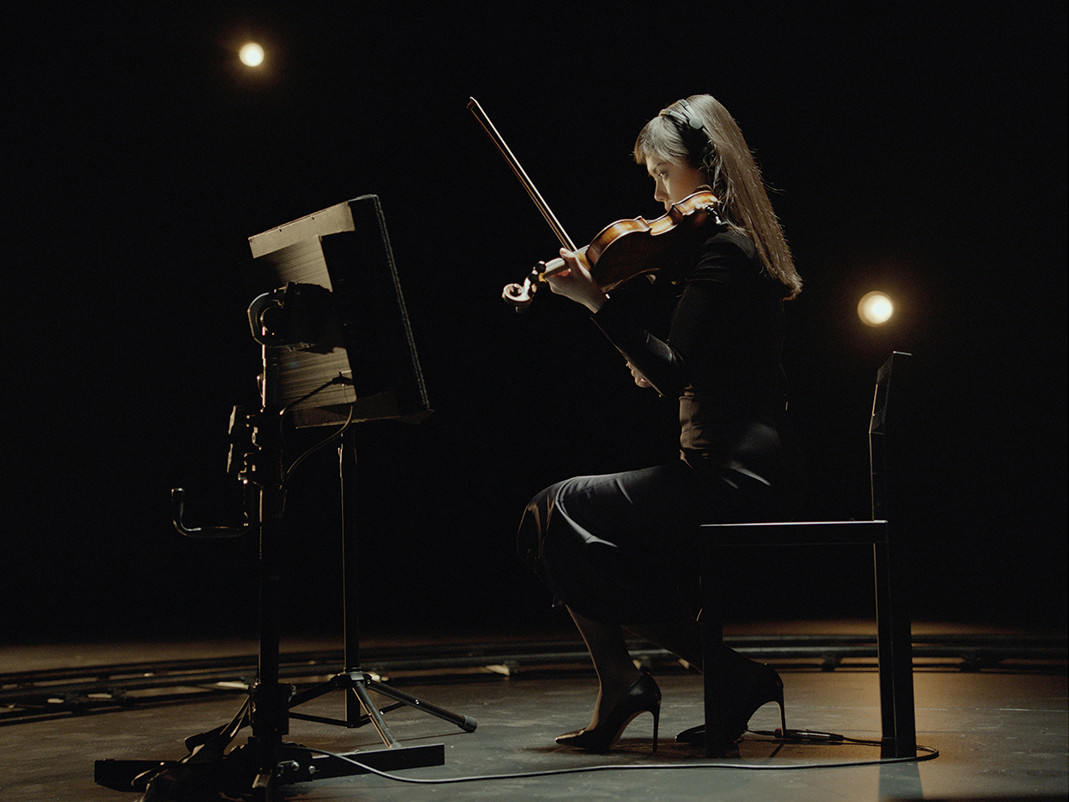 Susan Philipsz, A Single Voice (still), 2017. Courtesy: the artist and Tanya Bonakdar Gallery, New York
To return to technology, the "uncanny valley" thesis is an idea most broadly treated by academic and communications theorist Clifford Nass, and applied in contemporary discourses of sociology and artificial intelligence (AI). The notion comes from a 1970 essay by Tokyo-based robotics professor Masahiro Mori, originally published in Energy, a lesser-known Japanese journal. It refers to the "eeriness" observers experience when technology too closely mimics human characteristics. According to some theorists, the phenomenon may also apply to a very specific "glitch scenario" in which a human-sounding artificial voice drops unexpectedly toward a register that sounds digital. In a context where manufactured voices share a great deal of space, uncomfortably, with a historical presumption about the "innateness" of voice and accent, an increasing number of contemporary artists may be motivated to examine the "uncanny valley" effect. In fact, a fringe spectrum of contemporary artists are already on board. As an emerging practice, contemporary treatments of voice and technology may still be outliers. Artists like Fatima Al Qadiri, Florian Hecker, and Mark Leckey are well recognized for their experimental work in postmodern electronic music, voice adaptation, and glitch technology. Al Qadiri, for instance, inhabits a dystopian, culturally hybrid aesthetic that integrates both lyrical and spoken aspects of voice. Born in Senegal, raised in Kuwait, and presently living in Brooklyn, the artist and composer's sonic and visual artworks serve as a vehicle for voice to combine with a potent collage of Eastern and Western simulacra, hyperreality, and pastiche. Her work with electronic sound and music takes full account of these devices' utility for contemporary artists, yet acknowledges a quite loaded inherency when it comes to voice as a singular medium ("The human voice is the purest instrument," she declares in the Berlin journal mono.kultur).10
It might be proposed that voice treatments are not a composite medium for completing an artistic whole, but rather a somewhat more isolated element. Consumer society demands may be expected to drive multiple future explorations of the near-generic in technology. Our accelerating contemporary context demands as much, as developments are progressing at a rate far exceeding reflexive analysis. Just as programming decisions about digital voice are inherently informed by a spate of political, social, cultural, and environmental determinations, the purpose of this short manifesto is to propose a basis for exploring questions such as: What is the place of voice in art now? How do commercial stakeholders' decisions about digital voice deployment align with deeply held societal beliefs, as well as contextual and environmental preconditions? Are these beliefs shifting with a changing digital landscape in art and life? Is there an argument for a treatment of "voice aesthetics" in art practice that takes into account certain pertinent implications that stem from the nature of voice?
[1] A broad spectrum of writing by Clifford Nass best illustrates this point. See for instance Clifford Nass, Youngme Moon, and Nancy Green, "Are Machines Gender Neutral? Gender-Stereotypic Responses to Computers with Voices," Journal of Applied Social Psychology 27, no. 10 (1975); Clifford Nass and Scott Brave, Wired for Speech: How Voice Activates and Advances the Human-Computer Relationship (Cambridge, MA: MIT Press, 2005); Clifford Nass and Corina Yen, The Man Who Lied to His Laptop: What Machines Teach Us About Human Relationships (New York: USA Current, 2010). See also Wade J. Mitchell, "A Mismatch in the Human Realism of Face and Voice Produces an Uncanny Valley," i-perception 2, no. 1 (2000): 10–12.
[2] An example might be an individual's decision to alter the semiotic presentation of a voice via the elective recalibration of an accent toward the demands of a certain career or social hierarchy—an Eliza Doolittle scenario.
[3] Such as accent's place in relation to nationality and subculture.
[4] The Maso Meet Maso script's full title is SUB-MEET / THE UNKNOWN JUSTIFIES THE MEANS / THE MEANS AND THE END / CRUEL ENCOUNTERS / MASO MEET MASO / AFFLICTED AFFECTIONS SCRIPT.
[5] The artwork was created in the same year as Henrot's exhibition at Metro Pictures, and Lawrence Abu Hamdan's تقيه (Taqiyya) – The Right to Duplicity (explored later in this piece).
[6] Interestingly, Kim's soundscape also encompasses the imaginary experience of sound beyond language in, for instance, the artist's transcription of her (non-audible) experience of closing of a door.
[7] Paulette Beete, "#FlashbackFriday: Art Talk with Sound Artist Christine Sun Kim," National Endowment for the Arts blog, March 2, 2018, https://www.arts.gov/art-works/2018/flashbackfriday-art-talk-sound-artist-christine-sun-kim.
[8] Julie Martin, ed., Earside Out (Roskilde, Denmark: Museum of Contemporary Art, 2015).
[9] Philipsz says: "In A Single Voice I work with a musician and a film crew but the title also refers to my own voice." Imelda Barnard, "I'm Interested in the Architectural Concerns of Sound," Apollo, October 30, 2017.
[10] Fatima Al Qadiri, "Embedded Narratives" (interview with Daniel Berndt), mono.kultur, no. 43 (Spring 2017): n.p.
Rose Vickers is a writer and curator with a research background focusing on indigenous and photographic arts. She has been published in anthologies and publications including the AIM100 database, Oyster, Art World, Art Month Sydney, Un, Das Superpaper, Das500 and Vibewire. Rose is currently a PhD candidate in art history at the University of Sydney and is the present recipient of an Australian Postgraduate Award for research in the arts. Rose is the former Director of Donald Ellis Gallery in New York.
Originally published on Mousse 63