Events
Mousse and MY BAUHAUS IS BETTER THAN YOURS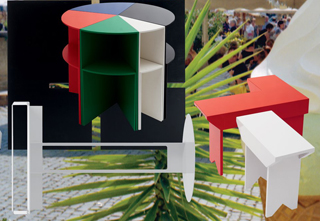 Mousse and MY BAUHAUS IS BETTER THAN YOURS
April ~ 2012
Event
During the Salone del Mobile in Milan in 2012, Mousse teamed up with MY BAUHAUS IS BETTER THAN YOURS for an exhibition of brand new design by the Weimar collective.
The exhibition—which also functioned as a showcase for Mousse Publishing's latest publications—ran from April 18 to April 22 in a temporary showroom at Via de Amicis 51, Milan. On April 18, Mousse organized a reception to celebrate the event, drawing more than 500 guests.
MY BAUHAUS IS BETTER THAN YOURS also furnished Mousse's booth at MiArt 2012, where the Weimar collective's design pieces created an alternative display for Mousse #32 and Mousse Publishing's titles.