ESSAYS Mousse 69
Lean on Me: Nairy Baghramian
Close
1
2
3
4
5
6
7
8
9
10
11
12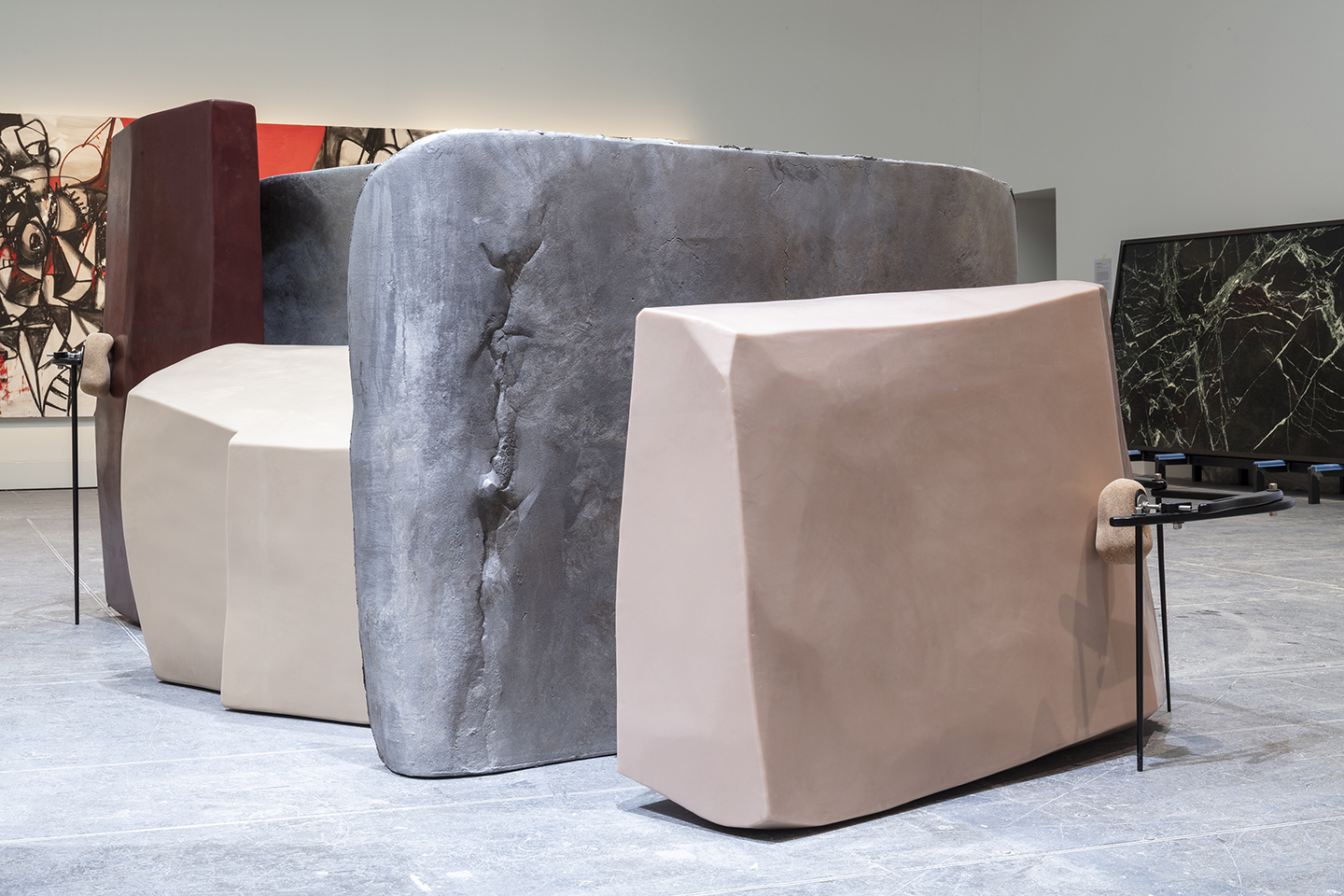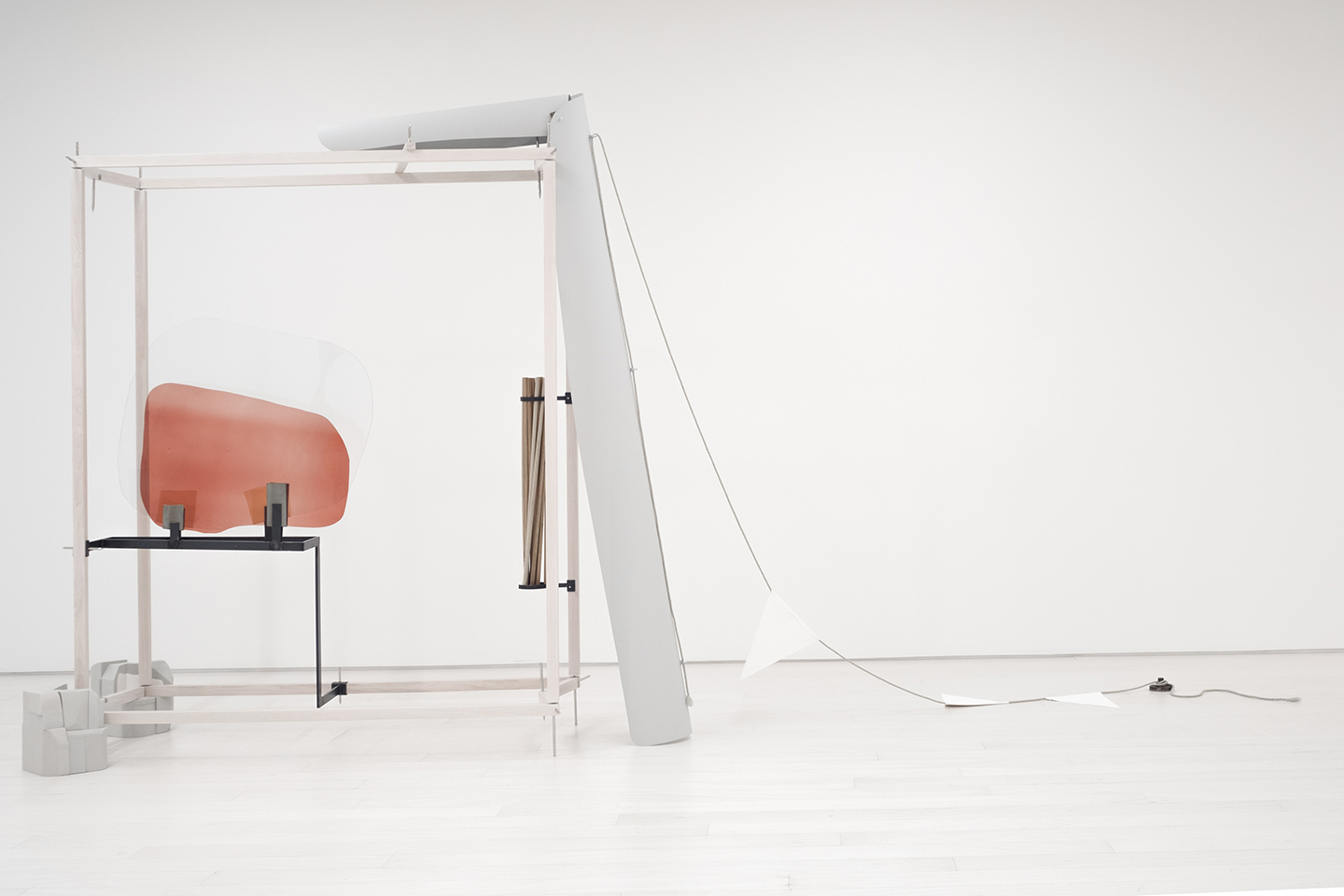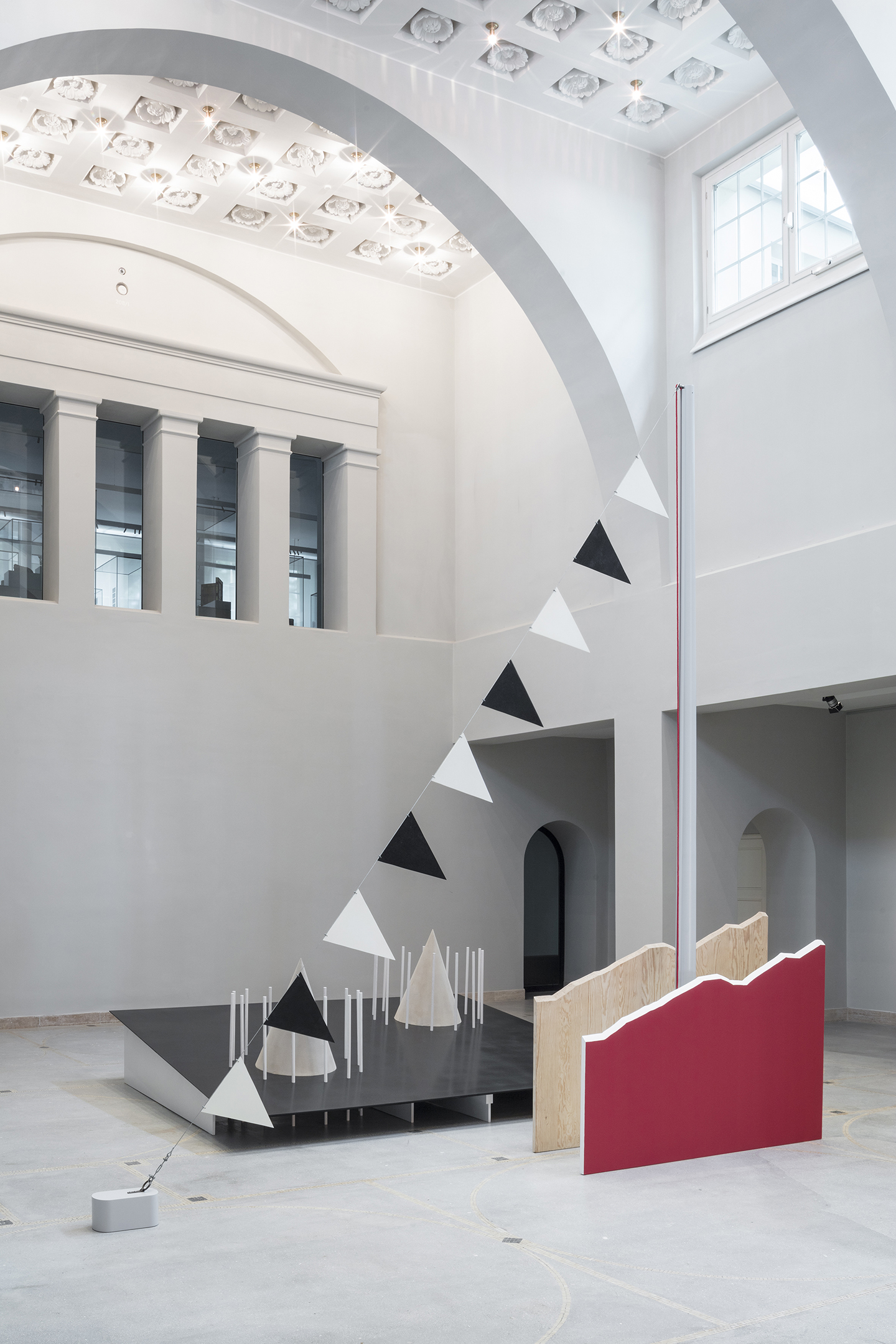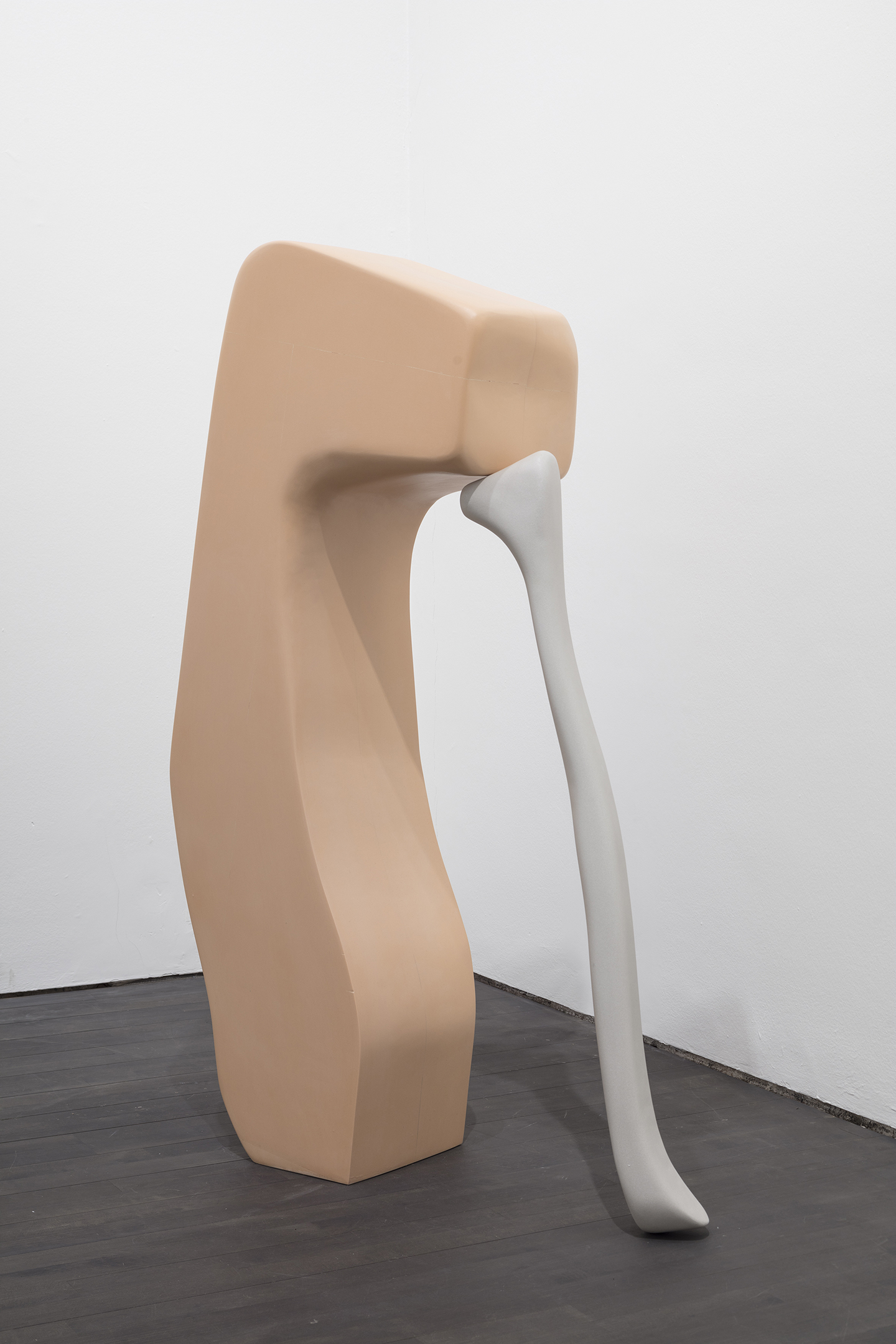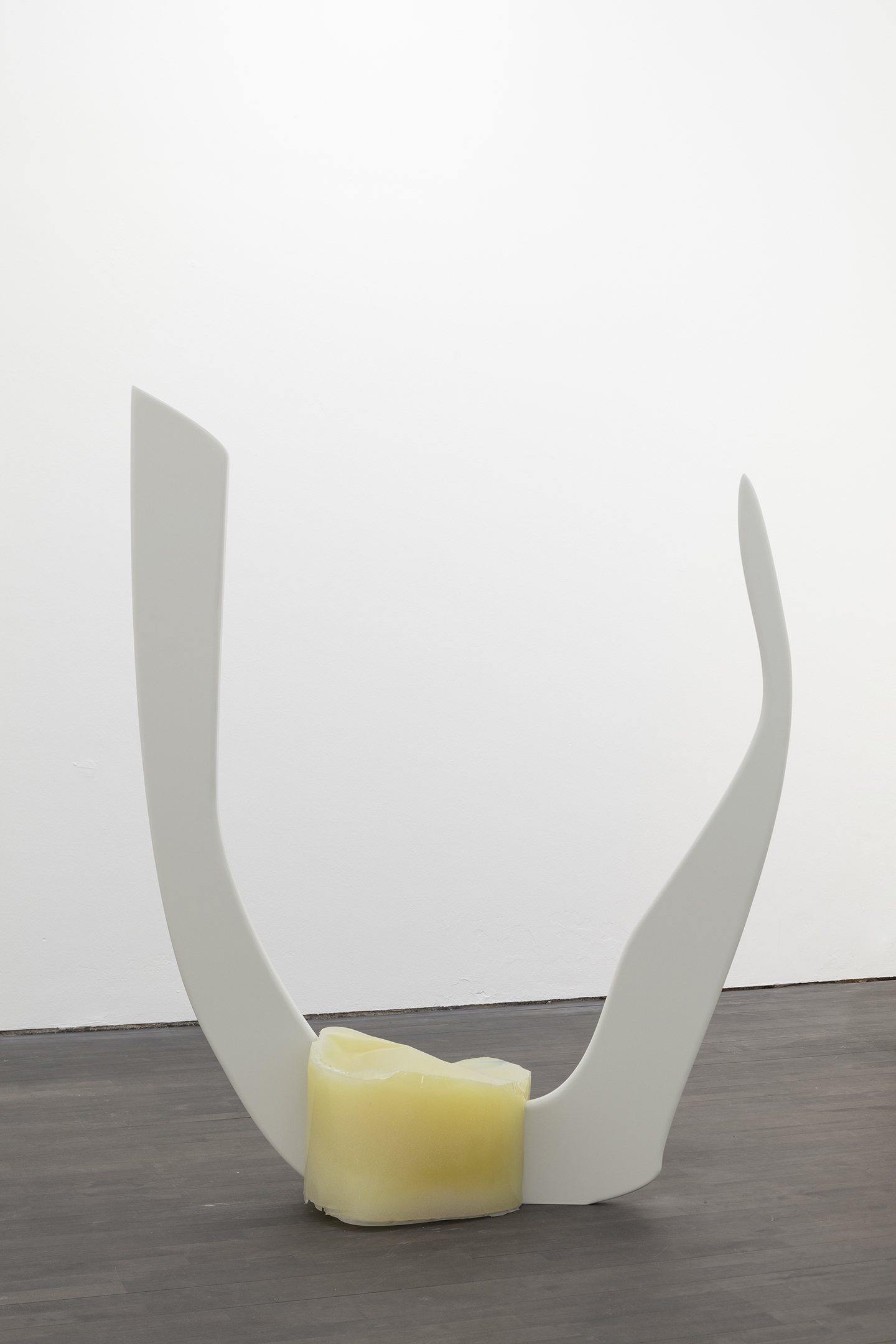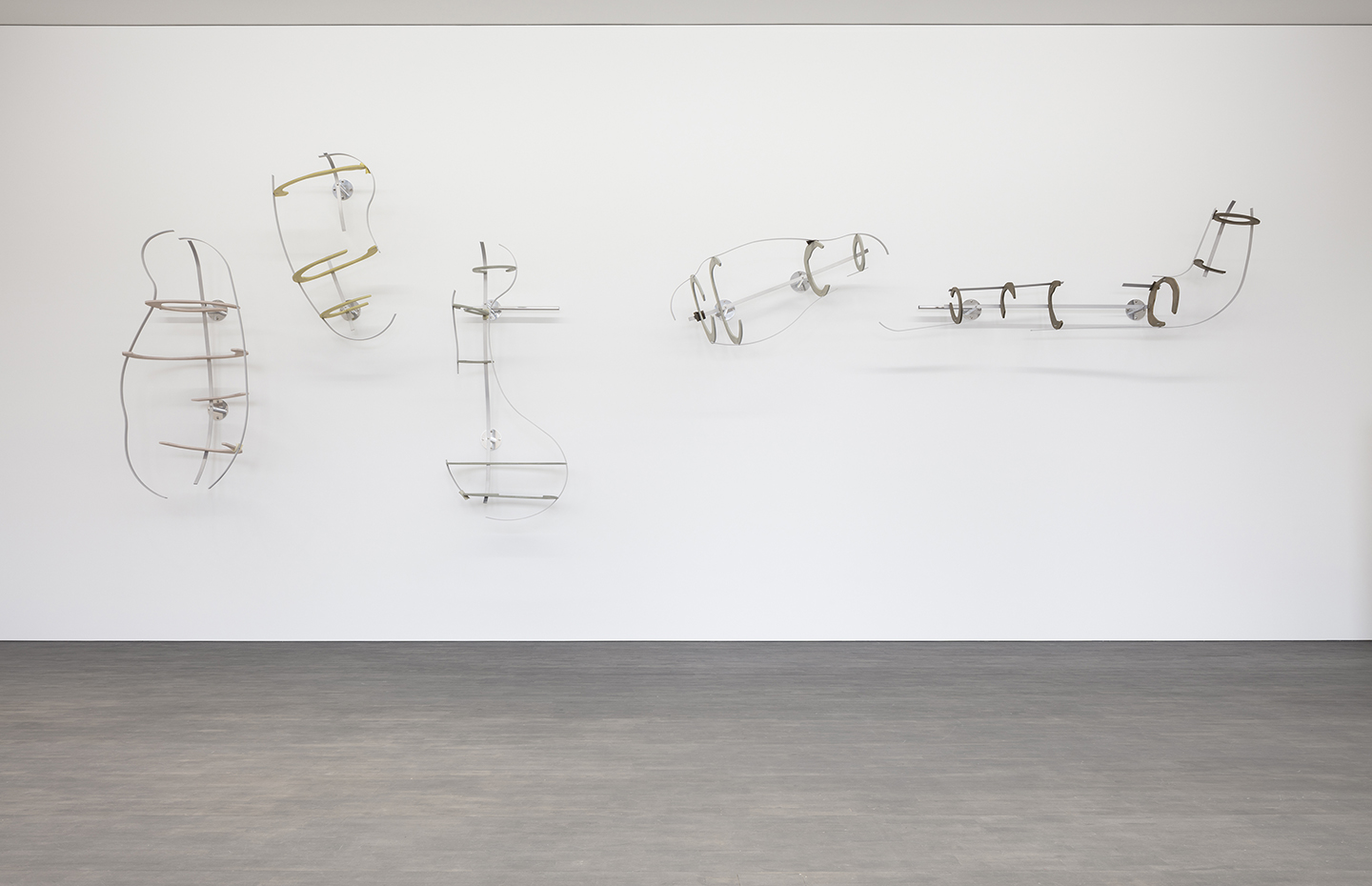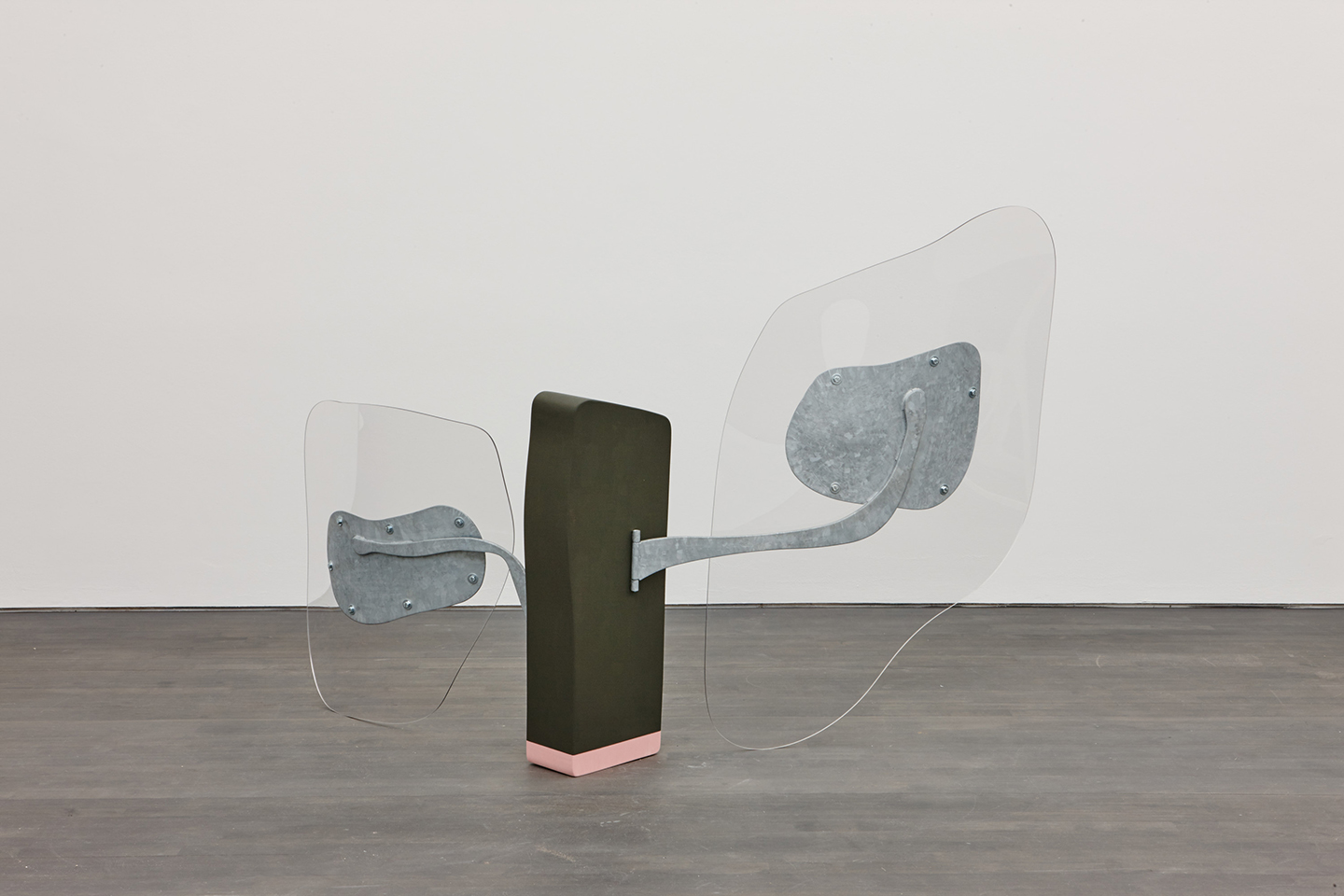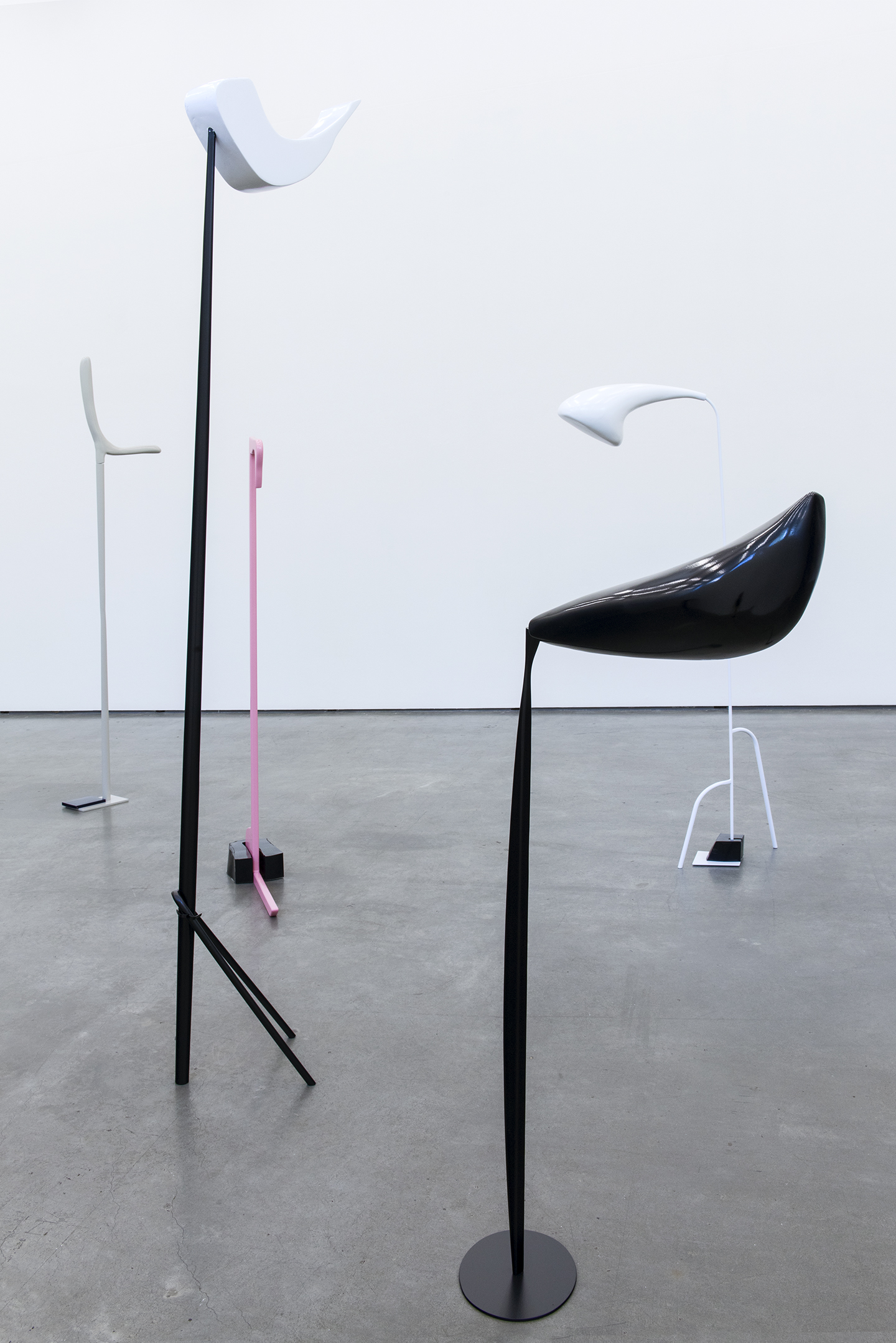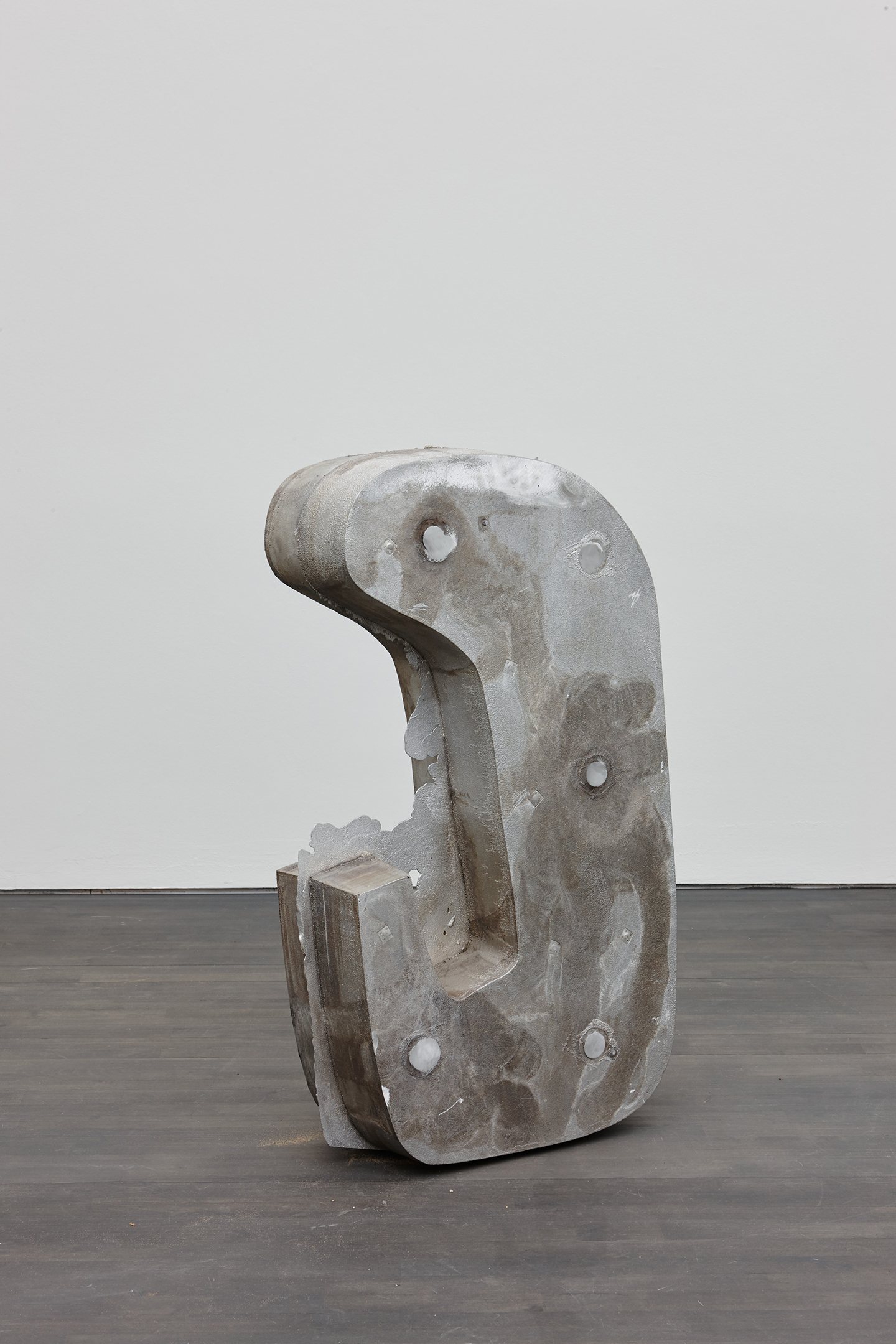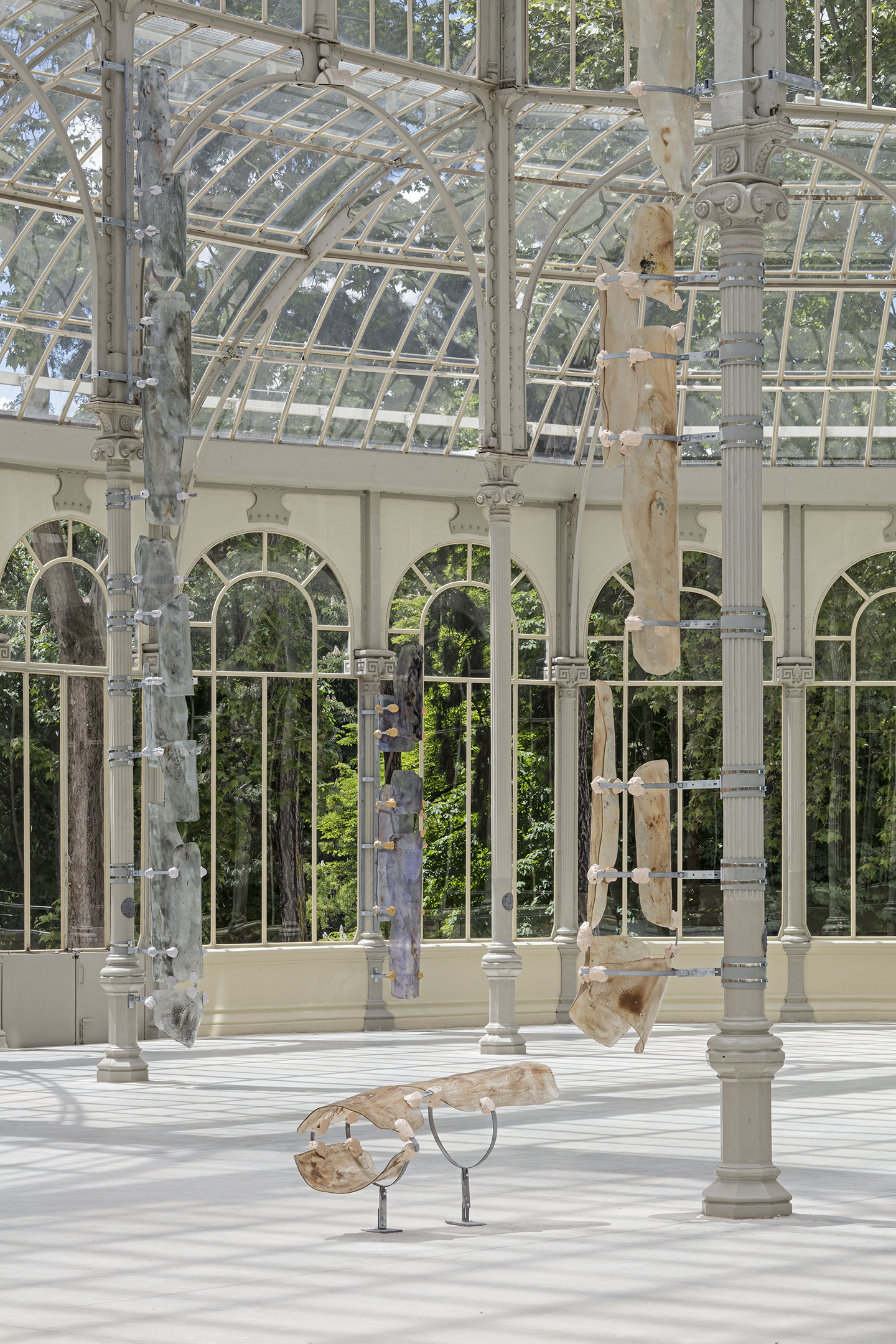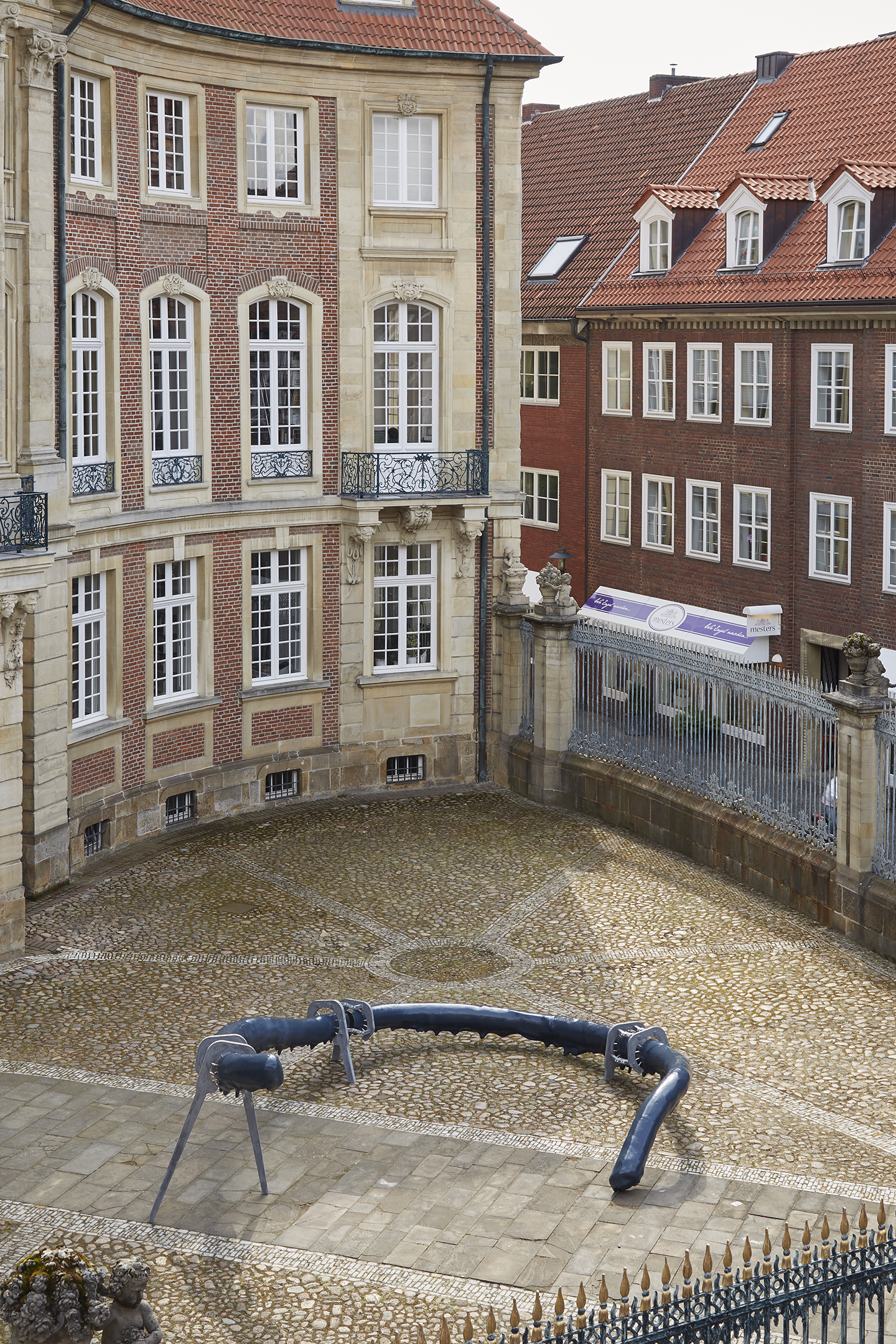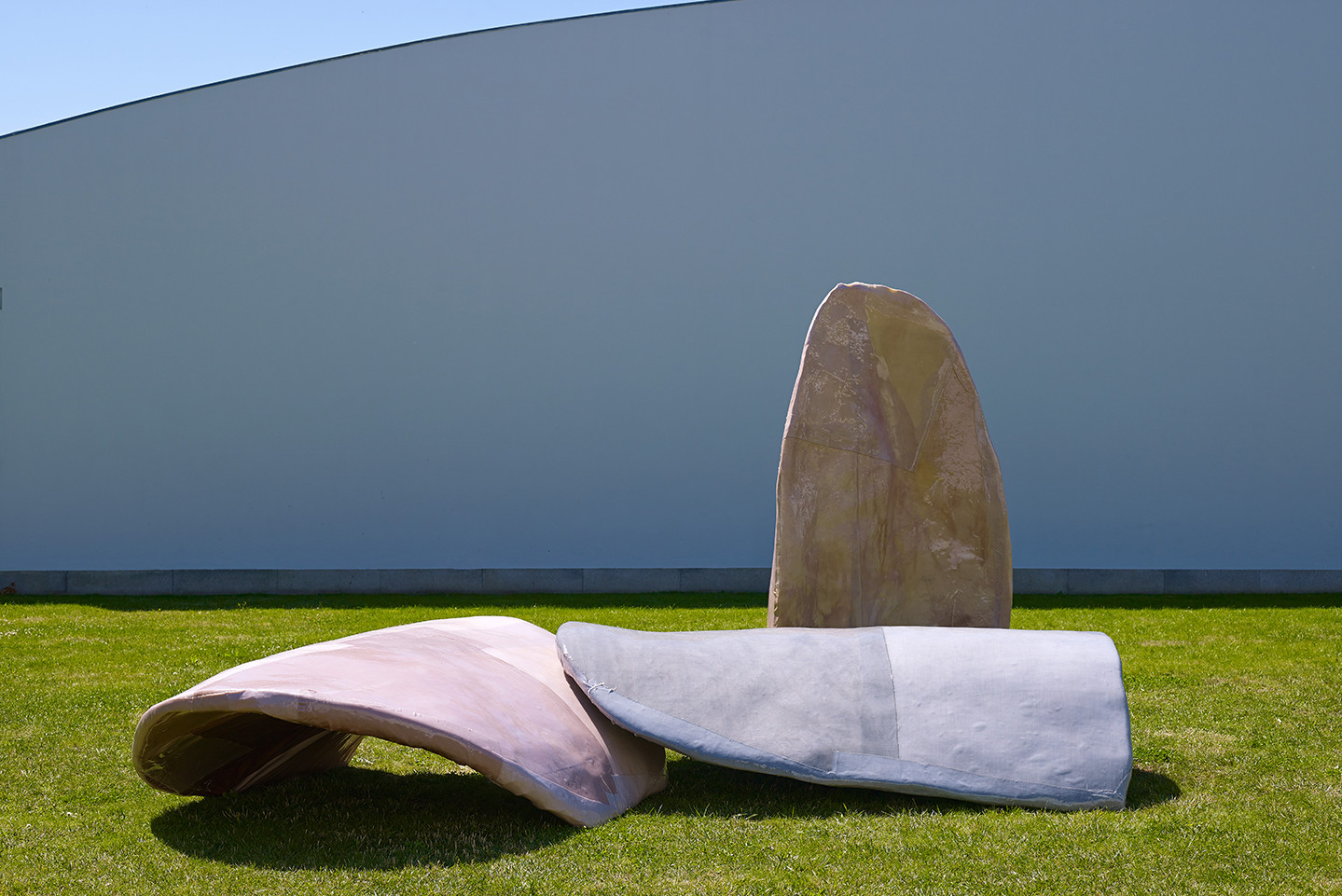 by Andrew Berardini
Misshapen, often unfinished, or just a little broken, leaning on crutches or held up with braces, skulkingly unemployed or like lost intellectuals, hitched to each other and their worldviews, debating escape, Nairy Baghramian's sculptures are held together with surprising humor and spatial intelligence. Angular and sensual, animal and inanimate, ethereal yet and freighted with gravitas of physical presence, sometimes they reflect back on themselves as loose, provisional sketches. In their inchoate and otherworldly shapeliness, I feel like the work of Nairy Bagramian needs us.
The works lean on one another, on the buildings they've been placed against, on the art they've evolved from, and on us—their audience. At first I worried that the sculptures (and the photographs that often accompany them) might be too insular in their intellectual games, but then I saw the bony crutch placed just so under the bent form of the fleshy peach Truant (2016) from the series Stay Downers, and decided that this sculpture and I could be friends, supporting each other as best we can.
Spending a lot of time looking at them, I grew to trust the works' interior weirdness and corporeal pathos. Their quirky colors, occasional ooze, and limping charm suggest that you don't necessarily need to be in on the joke or reading the right book to like them. (Some art requires a doctorate in philosophy to understand it; often invisible, those works are the loneliest of all). One could make the argument that Baghramian is deftly reflecting on modernism, and more squarely minimalism, imbuing their formal strategies with subtler narratives (gender, material, bodies) and greater frailty than industrial progress generally allows. Her "body of work" is a body that needs braces, crutches, a little support. It's work that gets by with a little help from its friends.
The meanings manifest and layer as the pieces lean just so, and their stories shape these sculptures into creatures. Baghramian made a sculpture in 2002 inspired by Jane Bowles's short story "The Iron Table" (1950). The story relays a conversation between a cis-hetero couple, "Anglo-Saxons," in an out-of-the-way hotel in a Muslim country (probably Morocco) rehashing an argument about escaping into the desert to live in an oasis, far from the corrupting influence of Western civilization and industrialization. It is clearly a routine, this argument, but one they perform together until some "serious grief" in the future will silence them, a moment to be held off. They are arguing in a specific space described in the opening paragraph as an old iron table on cement between a grand new boulevard and a hotel filled with Spanish tourists next to a half-empty flowerbed. "A string stretched between stakes separated the hotel and the boulevard." This flimsy separation is a metaphor for the equally flimsy argument that separates the couple, the difference in their genders, and the gap between the tourists with their fantasies and the people who work and struggle in the place the travelers are visiting. Baghramian's sculpture The Iron Table (Homage to Jane Bowles) (2002) includes all these elements, drawing from the language of modern sculptural materials, with a flourish where that flimsy string becomes a string of black-and-white flags like Daniel Buren might use. The sand spread at its base is perhaps a reference to the desert. The various shapes look essential and referential—conical structures, painted wood cut into waves (dunes?). If it's drawing from the material language of minimalism, it's bending it to another purpose. 
As a preamble to Baghramian's career survey that toured Europe and the United States from 2016 to 2018, Deformation Professionnelle, she made another table for documenta called Drawing Table (Homage to Jane Bowles) (2017). This one looks hammered—a table left out in the sun, diminished by wind and rain. Time and the meaning we've heaped on it have wearied this sculpture. This second homage is battered, half-undone, its string of flags broken and loose from its tether, with only the black ones still clinging on. But just to play around with meaning for a flicker: when The Iron Table becomes a Drawing Table, perhaps the hard divide of all things iron (something like the Iron Curtain) has transformed and what we're stuck with as authors is a way to remake the world. The divider then becomes a site for creation, a sketch for what's possible rather than a reflection on boundaries. Back to the old drawing board… And creation, the act of summoning a world into being, ain't easy. Stuck with the broken language we've inherited, whether it be text like this or the language of sculpture, we do what we can to bend it into something different and hopefully better. Even if you haven't read Bowles's story, or don't even know who Jane Bowles is, these two sculptures have a distinct physical presence: the first a metaphysical mise-en-scène, the second its weary, sketchy cousin. And if you want to peel and dig even deeper, there are many atmospheres beneath the surface. Baghramian has tipped her hand, so to speak, enough for us to get a good look. A writer like me can grab that thread and find the story and tell my tale. But so often the references, if any, are not totally clear, and we have to put together the elements and shapes, colors and materials, to find our own meaning. And the works are generous enough to let us. Bowles is one point of reference, but many visual artists also make fleeting cameos (even if they're not always the object of homage).
Squinting at the work just so, I can glimpse some of the past artists Baghramian has evolved through. In the heavy-metal curls of Richard Serra, I see not so much influence per se as perhaps a kind of rejection. In 2017 Baghramian installed a piece in the same site at Skulptur Projekte Münster as a Richard Serra from a previous edition. Serra's work was a two-piece, twenty-four-ton welded steel tower meant to reflect the architecture of the Baroque building next to it. The people of Münster hated it. The sculpture was eventually moved to Switzerland in defiance of its intended site specificity. Though Baghramian's piece for Münster is also a bit of curving heavy metal, the supine, primered bronze squiggle feels distinctly less menacing, a bit more mobile, and purposely unfinished—a giant worm soft enough to ride, rather than an oppressive prison tower (sorry Richard Serra, I hope you didn't intend it, but that work of yours freaks me out). If the new piece is not a joke about poor Richard's detested sculpture, her unfinished squiggle enacts at least a sly wink at the erasure of meaning that Serra's work suffered, not to mention its freighted machismo. If I squint really hard at Baghramian's works, I can see in their curious pathos and play with scale and context Claes Oldenburg's early soft sculptures (often made as collaborations either unofficially with his first wife, Patty Mucha, or later officially with his second, Coosje van Bruggen). Baghramian's work always makes sense in its site, and the works need each other, and the space, and us, the audience, to make any kind of sense. The soft shape of Cold Shoulder (2014), an outdoor sculpture made for the Serralves Foundation in Porto, Portugal, clearly resembles a shoulder pad, and references (to my mind and the accompanying press materials, at least) Oldenburg and van Bruggen's gigantic common objects from dropped ice cream cones to abandoned matchbooks that litter cities and sculpture gardens across the world. Subtly turned toward the specific experience of women, the title is a play on words with a scattering of meanings, none too too easily pinned down. Sometimes when I'm inside an installation by Baghramian, I'm just for a blink inside an Yves Tanguy painting, with all those dreamy and sometimes difficult shapes composed into melty-sexy-gross underwater space operas. In 2012 in Vancouver at the Contemporary Art Gallery (and later did a kind of reprise reflection on in her retrospectival Deformation Professionnelle), she filled a long, narrow-ish room with metal sculptures resembling microphone stands, or mini Alexander Calders—in any case, creatures from a much more angular plane of alter-reality. The show was called Class Reunion, and all the sculptures were named after high school archetypes, like Stiff and Dandy and Mr. Hunger. Moving around that room, thanks to their placement, was super awkward. Of course, circulating at actual class reunions is also super awkward. The metal sculptures were too hard and thin and wiry for me to be tempted to touch them, but they still had pathos. I felt bad for them and for me, forced to move through so many awkward encounters with nary a hug in sight. Their shapes made me laugh a little, sympathetically. Baghramian can expertly summon so much subtle human emotion from abstract three-dimensional objects when framed just so (here by their title and arrangement, but sometimes using other tactics). While distinctly less gooey than Tanguy's surreal creatures, their abstraction still beam odd emotion and personality.
Sometimes Baghramian seems to joke that sculpture is like food—meaning, if you only have the right ingredients and instructions, anyone can do it well. Or that sculpture is like furniture, these smaller domestic things that bend to our bodies and shape our spaces. She learned about a brilliant interior designer, Janette Laverrière (b. 1909), in a bookshop one day while trying to stay out of the rain (so the story goes, anyway, according Skye Sherwin in the December 9, 2009 issue of The Guardian) and shortly thereafter began a collaboration that blossomed into an exhibition at the Schinkel Pavillon at the 2008 Berlin Biennale. Laverrière's informed, playful, poetic work reflects back with its warped mirrors an image that Baghramian clearly admires.
Even knowing her ease in traipsing through diverse fields and materials, I can't help feeling that Baghramian central concern is what it means to make a sculpture, an essential speculation about bodies and things. When she pours huge, gross slabs of silicone, as she did in her 2011 show at Galerie Buchholz, Berlin, the result was enough like flesh to make my skin crawl. Biomorphic forms like those in Stay Downers (2017) are not just spacy synthetic forms but somehow alive. Our bodies have always been the measure against which we understand sculpture, but Baghramian's sculptures lean in—to us, to their buildings, to each other. Perhaps we're all leaning on each other to survive all the time, caught in a support structure that's sort of sweet and sort of sad and altogether meaningful. 
Andrew Berardini is a writer and Los Angeles editor for Mousse. He recently co-curated Kris Lemsalu's solo presentation for the Estonian Pavilion at the 58th Venice Biennale (2019).
Nairy Baghramian (b. 1971, Isfahan, Iran; lives and works in Berlin) explores forms and concepts inherited from the history of art to address issues of functionality, decoration, abstraction, and feminism. Her sculptures—made from a wide range of materials including steel, silicon, resin, and leather—bring art historical references into the realm of the subjective: the human body is dismantled and recombined through the politics of interior design. Instability, a recurrent theme in Baghramian's work, becomes evident in the use of tenuous and flimsy supports to hold and display her sculptures: dangling or leaning, always on the brink of collapse. Baghramian's most important exhibitions include: Privileged Points, MUDAM, Luxembourg (2019); Nairy Baghramian, Palacio de Cristal del Retiro, Madrid (2018); Déformation Professionnelle, Walker Art Museum, Minneapolis (2017-2018); Museum der Moderne, Salzburg (2017); S.M.A.K. Stedelijk Museum voor Actuele Kunst, Ghent (2016); Scruff of the Neck (Supplements), Haus Konstruktiv, Zurich, Switzerland (2016); Hand Me Down, Museo Tamayo, Mexico City (2015). She has recently participated in the 58th Venice Biennale, May You Live in Interesting Times (2019).
Originally published on Mousse 69