REVIEWS
Nairy Baghramian "Déformation Professionnelle" at S.M.A.K., Ghent
Close
1
2
3
4
5
6
7
8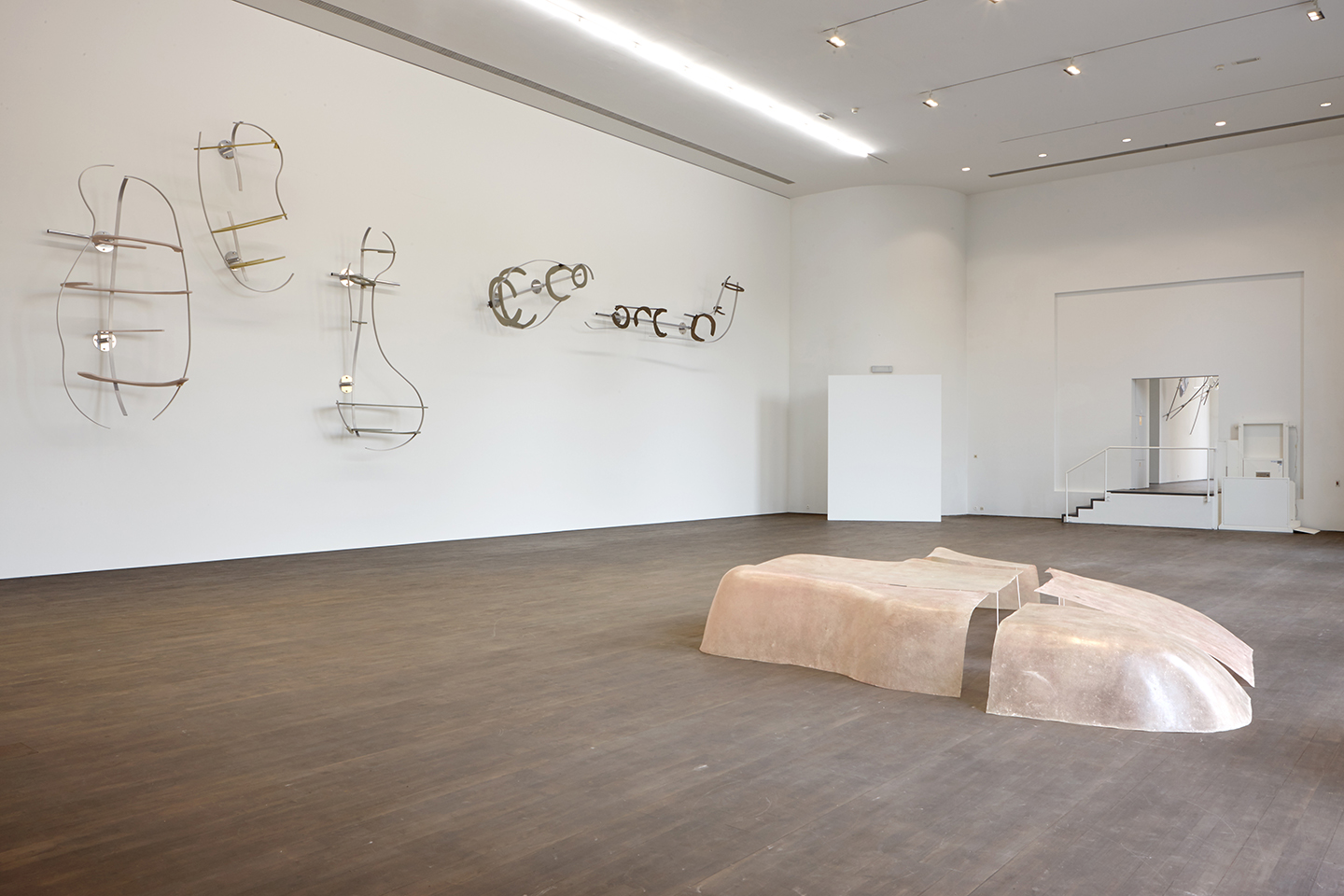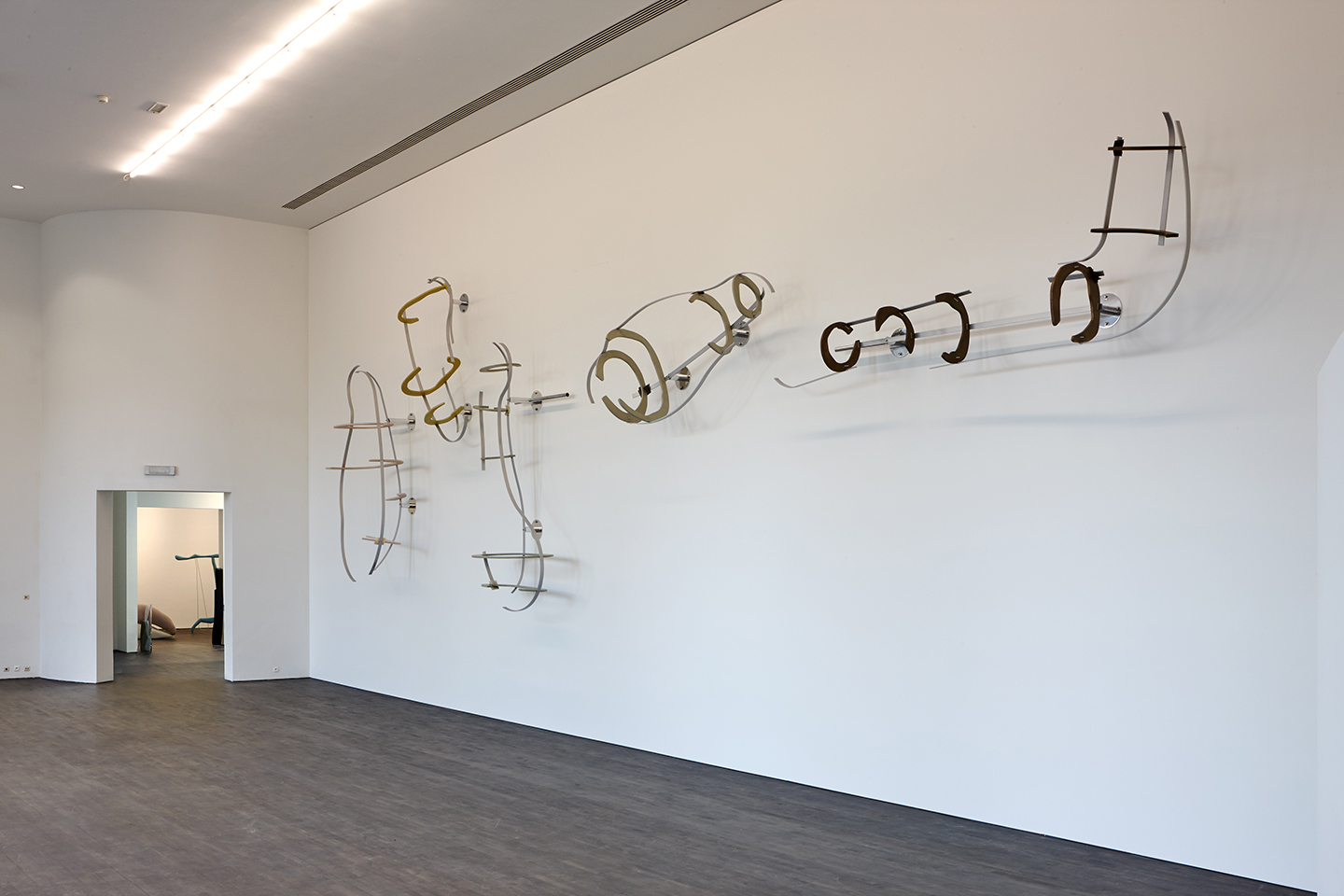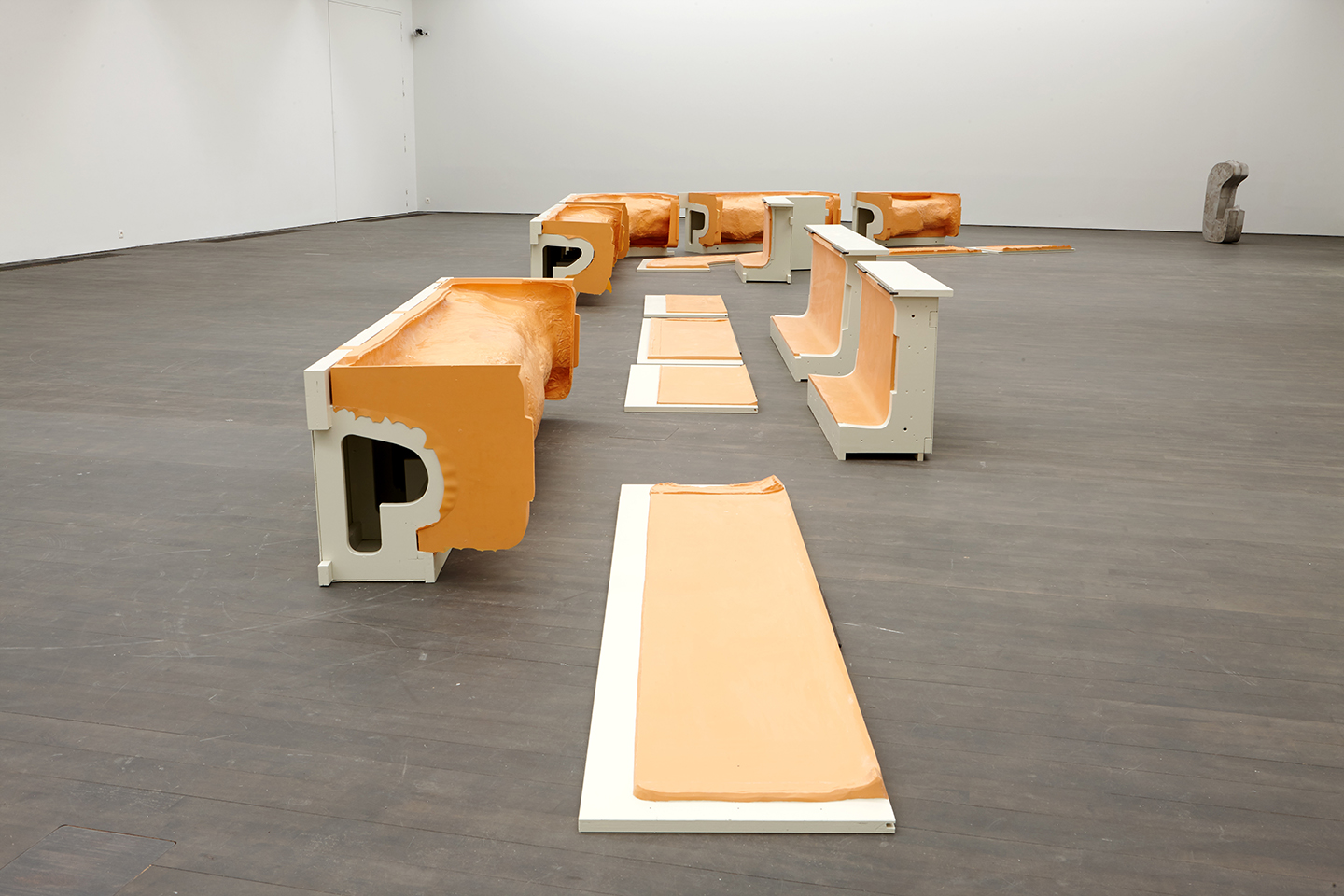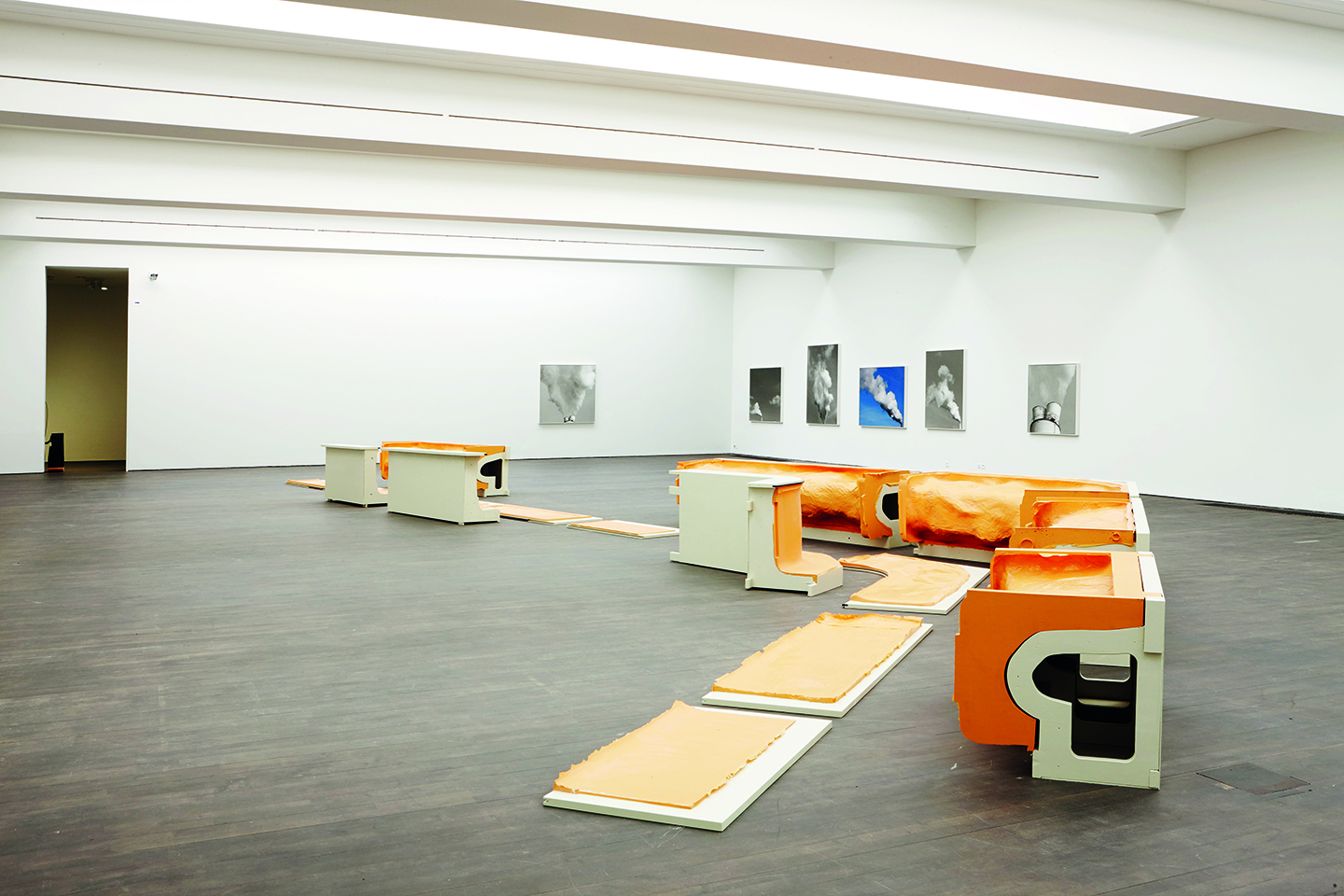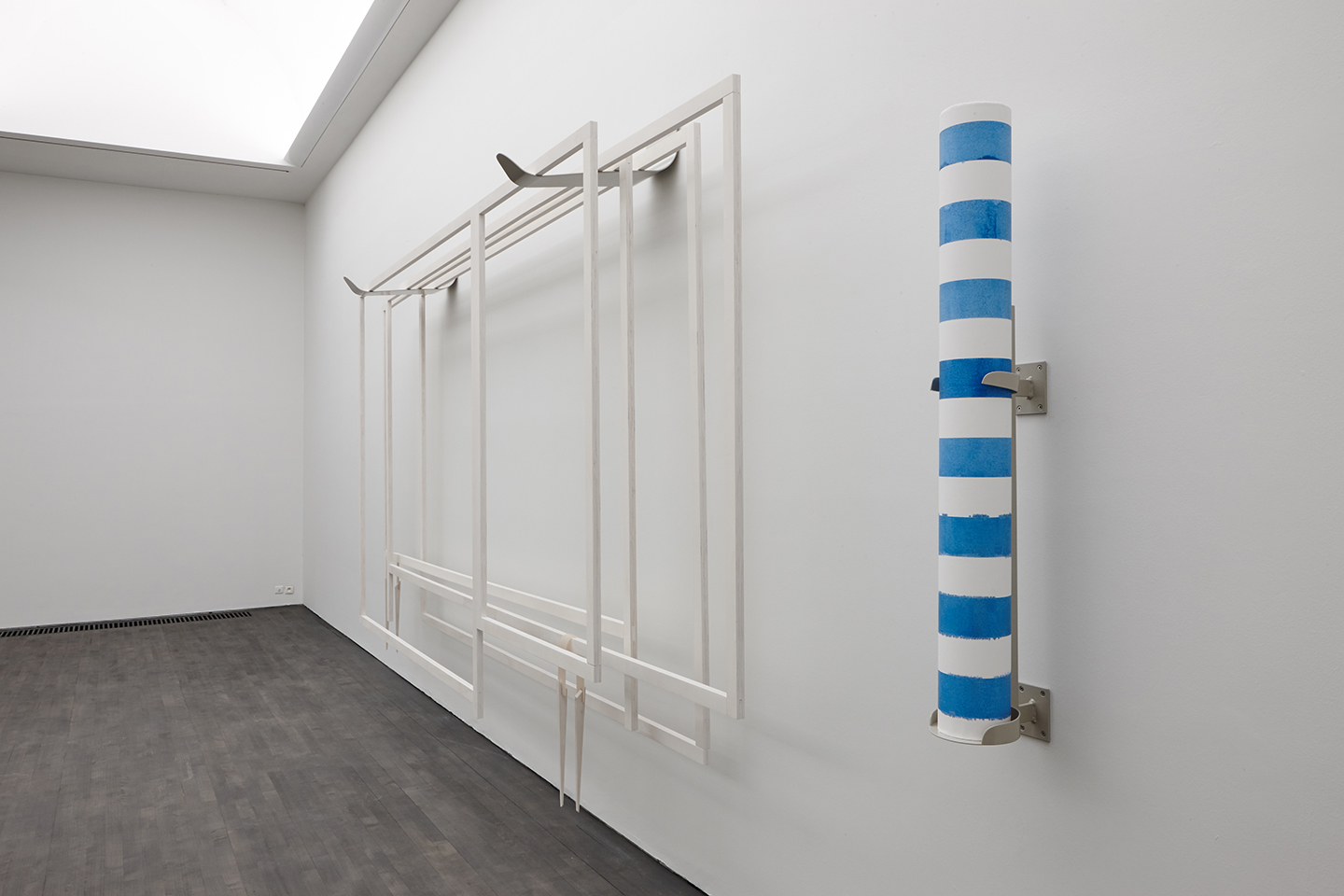 by Luk Lambrecht
An entire museum floor is the scene of action where a complex exhibition struggles like a rhizome in and with a detachedly interlinked ensemble of works of art that in an almost surgical manner dissect, investigate, and meticulously, site-specifically "exhibit" the theme of the "identity" of humans and art.
At this exhibition the surgical element is synonymous with a certain force majeure with regard to our perception, which causes our glance to strike/rebound off the impenetrable skin of the sculptures that stand, hang/float there, in perfectly chosen "positionings" in the as such atypical museum context of the S.M.A.K., with its particularly great variety of rooms, hallways, and strange leftover spaces—and with the extra advantage of the numerous crosswise viewing passages that create a multitude of perceptions.
The fact that Nairy Baghramian's oeuvre reproduces her work in a reworked context, with reinterpretation, is unique: She recalibrates her work, which like all art and material creations shows the best a creative individual (the artist) can do within the specific context of time, space, and "ability." Baghramian recognizes the relativity of the inadequacy of the creative process—an inadequacy she uses again to push "further" and create new work. In the "style" her work manifests itself, the human "body" moves around like an echo of the makeability of this body because of the progress in biomedical technology and robotization. The disinfected, sterilized manifestation of her sculptures results in a mental distance, a detached approach, and a safe evasion of taste. The question arises as to how the public relates to the idea that this exhibition is based on the absence of an oeuvre that hides like an alibi for new series of sculptures that also question the concept of oeuvre as such. This exhibition floats on an underlying, invisible leaf, as an echo on its path, enlightening the visitor through a public brochure that provides meaningful references. Baghramian's art therefore does not draw the causal-visible quality from this artistic-autobiographical reference, and the oeuvre-analogue reinterpretation of her own artistic work is simply a refreshing strategy that stimulates the dynamics within her elastic and form-eclectic production.
In the S.M.A.K. the artist manages, like a plastic surgeon, to extrapolate the idea of the prosthesis as an emanation of a longing for physical well-being and as the ideal of "youth and health" and turns it into an abstract visual language that consists of braces, (cardiac) valves, membranes, and even teeth that literally bite to defend themselves like transparent Perspex shields. This shows Baghramian's ambition to relate the museum as a scientific "place destined for art" to a ruthless scan of the makeable body, which despite all our technology and science can never be mentally controlled or conditioned.
At the heart of the exhibition there is a "full" emptiness with the intervention Peeper (2016). The huge space, two side entrances of which have been closed off with (white) walls, aspires to provide a theatrical perspective. Baghramian leads the visitor to an "ideal" wide vantage point at an imaginary place without seats, where a transverse, tightened boundary, made with various materials, physically marks the limit of our looking. Peeper is literally kept under tension with a conspicuous crank. Obviously it alludes to the art-institutional criticism of the 1960s and 1970s, but in this instance it is mainly the idea of "a forum" that is important—a forum like a blank leaf, a huge space that stimulates reflection,
a space that provides oxygen for the rooms around in a museum that presents itself as a "body" that has been brought to a standstill.
The works Egg Caul (2016) and Portrait (The Concept-Artist-Smoking Head) (2008) are conceptual and probably refer to Marcel Broodthaers's work, to whom the S.M.A.K. will devote a permanent space shortly. Egg Caul is very fragile and alludes to the soft, diaphanous form of the chorion, the outermost membrane of an egg just under the shell. In the central exhibition space this frail membrane presents a vulnerability that links the entire exhibition. Like Broodthaers's egg, its contents belongs to the private needs of the visitors, who can "add" content as they please. Egg Caul functions as a counterpoint at an exhibition that is like a melody that moves back and forth between hard and soft instruments that shine, menace, seduce, repel, and/but finally call forth a sort of healing.
Portrait (The Concept-Artist-Smoking Head) shows a photographic image of smoke that escapes from factory chimneys. Once more a reference to Broodthaers, for whom a factory, like a pipe, was like a mold for smoke.
Thinking is not a mechanical activity, but a form of production, as is the case with all works at this physically overwhelming exhibition. The exhibition is a statement, a toilsome and refreshing, invigorating choreography that guides us through the mental and physical catacombs of the human species, turned into art by means of a visual language that does not shy away from the history and legacy of Auguste Rodin to Bruce Nauman, let alone deny this history or legacy. This is an anti-noiseless exhibition—a rare event in Belgium, a small country that lives off a pictorial tradition and a safe, value-free art that lacks dancing pegs that fundamentally cause our thinking to vibrate and crackle.
.
at S.M.A.K., Ghent 
until 19 February 2017