ESSAYS Mousse 13
The Pornography of Pain: Nathalie Djurberg
Close
1
2
3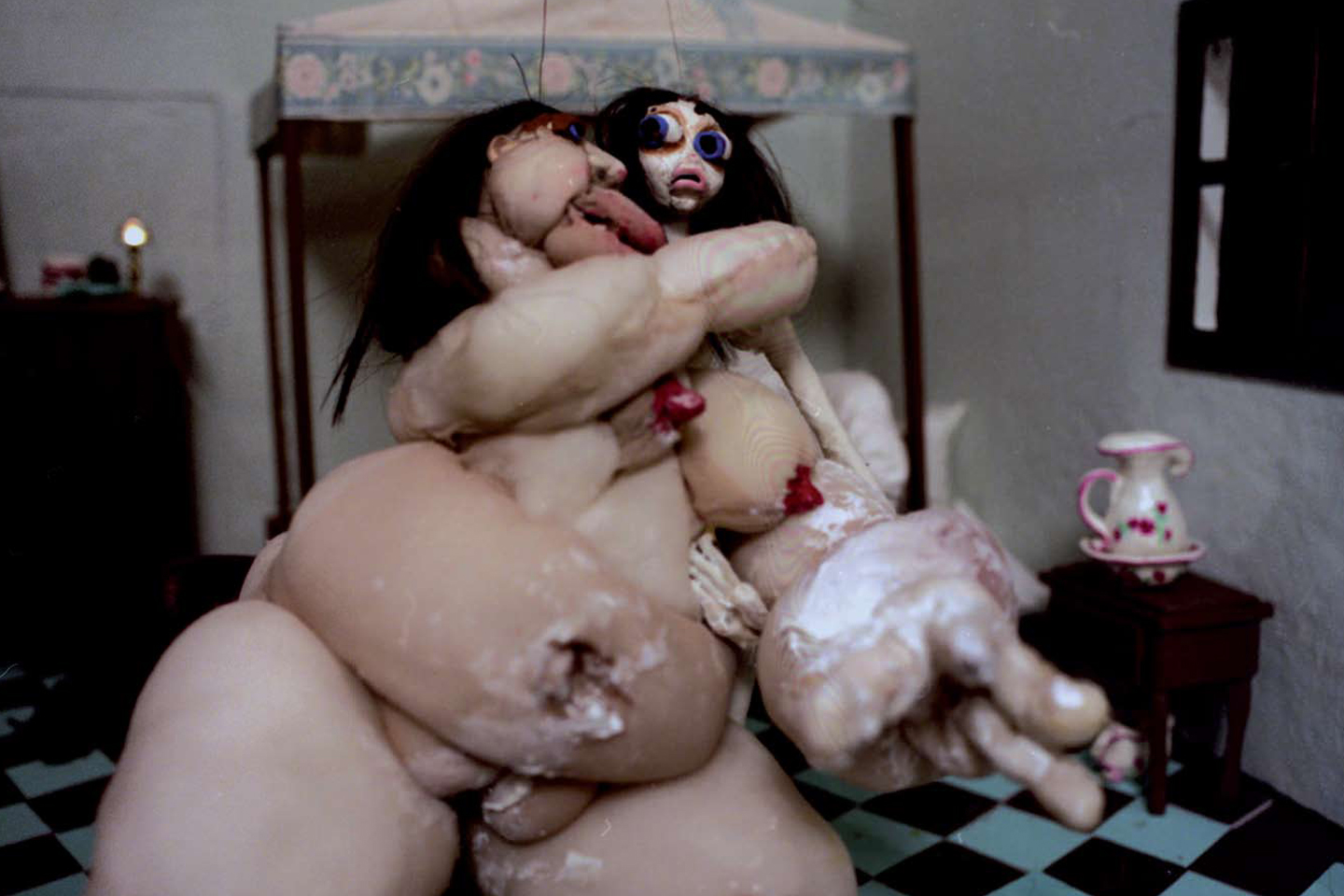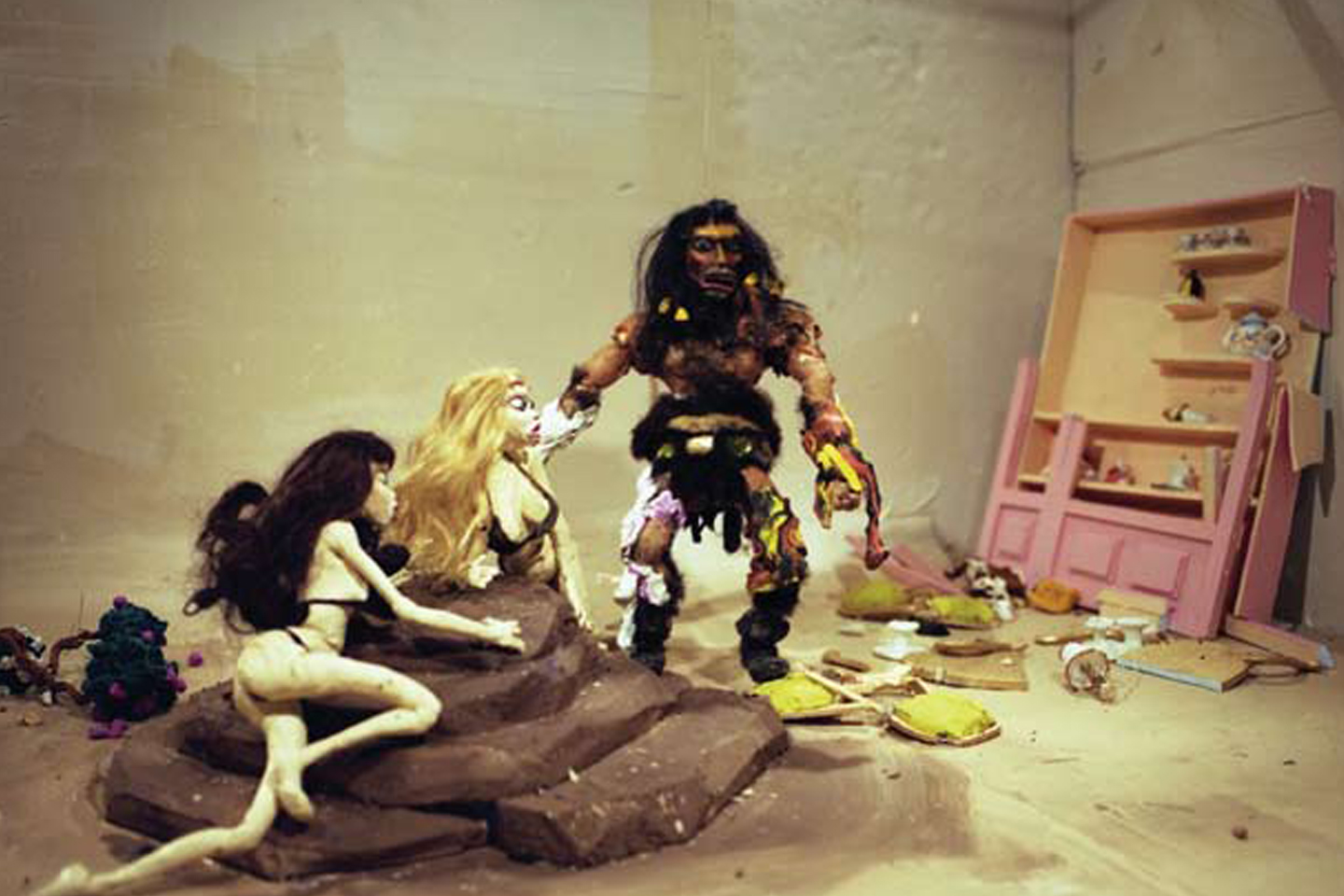 by Caroline Corbetta
According to the legend, when Nathalie Djurberg was not Nathalie Djurberg yet, her stepfather accused her of making pornography, and yelled horrified in front of the images originated from his stepdaughter's mind. It is legend, of course, but it is not hard to believe that this might be happened for real, because the video-animations that made famous this 1978-born Swedish artist are filled with morbid, brutish, extreme scenes driven by bestial, loathsome sexuality and terrible violence, and they tell shamelessly the tragic obscenity of the human condition. Caroline Corbetta came to know Djurberg years ago, when these scenes were not yet world-known: in this article, she speaks of their first meeting and of the meantime, on the occasion of the artist's large solo show opening on April 18 at the Fondazione Prada in Milan.


Like in a second-rate sentimental film, Nathalie and I still remember even the dullest details of our first meeting. I had just arrived by train from Copenhagen, twenty minutes across the Strait of Öresund; she was already in Malmö, where she was attending or had graduated from the art institute. It was 2003. I was around there scouting for new Scandinavian talents together with the Norvegian curator Per Gunnar Tverbakk, with whom I was working on the third edition of the Nordic Biennial "Momentum". The Signal Gallery had scheduled us a long series of meetings with artists based in the city. Nathalie Djurberg was the last name on the list, and at the end of the visit she came out of the gallery and lent us money for the lunch: both my colleague and I had only Danish Krones in our pockets, but there in Sweden the kebab seller had no intention to accept them.
A few days ago, Nathalie confessed to me that that money was the very last left until the end of the month. At that time, she hadn't told me anything about this: it was her first important meeting. For me, on the contrary, she was the umpteenth artist to be met in a tight and sometimes tiresome work schedule. Super embarrassed, Nathalie put in the VHS tape and left the room. When she came back at the end of the projection, I said almost nothing: I couldn't get out of my mind what I had just seen, those tormented yet over-vivid bodies, and their rough yet energetic constitutive matter. Women victims of sexual abuse or engaged in erotic gymnastic contortions, moulded from the boisterous and organic materiality of plasticine and made even more disturbing by the "faux-naive" language of step-motion animation, that is traditionally used for stories for children. I was wondering how one can create, without any malice but with a sense of awareness and real urge, such despicably explicit scenes.
Five years are gone and lots of excessive characters have originated from Nathalie's mind and hands, among which, in open order, are: children who lightheartedly bump off men (Florentin, 2004) and animals (Dumstrut, 2006); over-obese ladies who rape a thin boy (Happy Happy Hippoes, 2007) and a man who self mutilates until he becomes a sexual plaything (The Necessity Of Loss, 2006); a drunkard wolf in disguise (Fruitcake, 2006) and people who shot at unarmed crowds (It's All About Painting, 2007).
A collection of freaks that appears especially perturbing because it combines childish memories and extreme fantasies, brutishness and affection, laughter and loathing (on this purpose, my mind goes to Bataille who said about Nietzsche: "Whoever reads him without laughing, and laughing heartily and often and sometimes hysterically, is almost not reading Nietzsche at all."). But what is most disquieting is that, within such kaleidoscope of delirious stories, one cannot distinguish the victims from the persecutors. Not for some hypocrite relativism: it's just that one is induced to have a confrontation with his own shadows, and therefore to play all characters in order to perhaps draw a moral. During one of our first conversations, Nathalie touched on this crucial point: "When I work on my films, I interpret every role, because if I am the one who gives life to the characters, then I have to side with all of them, both the good and the bad. But spectators have to decide what part to go for, or at least they must have doubts about this. I cannot solve the problem in their place, because I do not have the solution. And if I did, I can tell that my works wouldn't be the way they are, and most likely I wouldn't even feel the urge to do them." Nathalie often adopts the term "urge." It also appeared in one of her earliest films, Tiger Licking Girl's Butt (2004), where images of a tiger in Disney fashion engaged in exciting a young woman alternate with the phrase "Why do I have the urge to do these things over and over again?".
The reason for the intense production of the artist—who often creates several animations in the same time, in a creative frenzy where each image devours the other, and the clots of plasticine coagulate in the puppets' features, alluding to the obscene perishability of man—is to be searched in fear (of death, ultimately) and in the will to overcome it. Her characters act as if they were wondering: "What if fear didn't hold me back?". In my view, this is why the protagonists of her works are most of the times children or animals: because they share a state of "prehuman" unconsciousness free from the terror of death. Another element that is recurring in Djurberg's imagery is the weeping. A collective weeping, I would say, that conveys all the human nostalgia for an unsatisfied and unsatisfiable desire. The soundtracks by Hans Berg emphasize the inexorability of such melancholy: "The music works as an extra layer over the films; it can twist the content of the film one extra turn, or it can influence the viewer on an emotional level", says Nathalie. Now the artist is at a scaring challenge point. For her solo show at the Fondazione Prada (opening on April 18), the artist has expanded the format of her video-installations in order to measure herself against an environmental installation, that will be composed of several sculptures juxtaposed to a few new animations. Given the scale of the project, after many years of creative solipsism, for the first time she has had to accept the collaboration of others to realize her works. I am sure that she will be able to win the challenge because of something she told me the last time we met, last February at Prada's parade. When I asked her what she liked most about that tight, glamorous show, she replied: "Well, clothes, sure. But above all, I was struck by the strain of the models to climb on the catwalk/ramp on their dizzy heels." Perhaps Nathalie Djurberg has widened her horizons, but her glance is still focused on the body intended as flesh, to the point that the models' immature, undamaged bodies seemed for one moment to be more perishable and indecent than her puppets.
Originally published on Mousse 13 (March 2008)