REVIEWS
Brick By Brick: Nathalie Du Pasquier at MUT, Mutina for Art
Close
1
2
3
4
5
6
7
8
9
10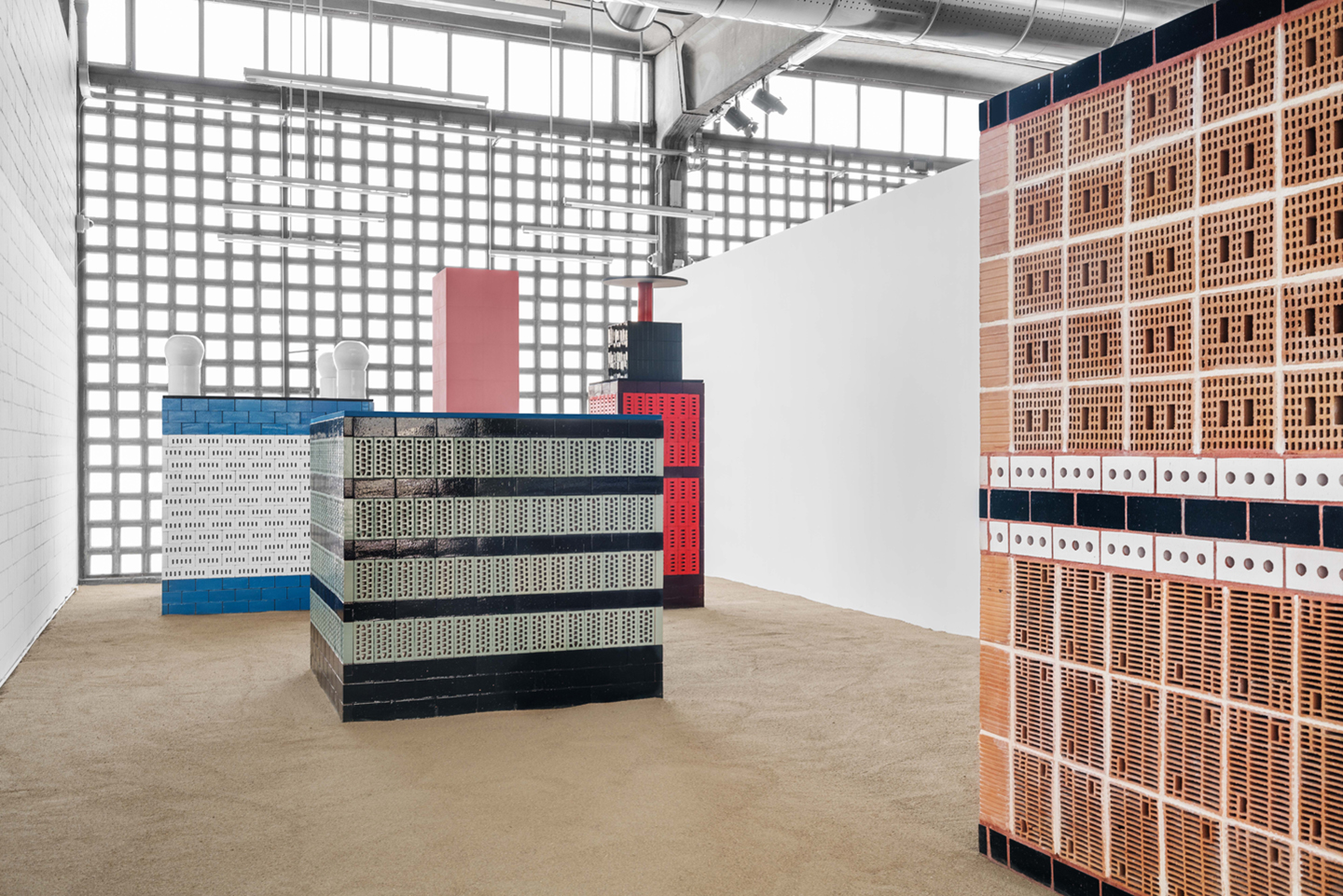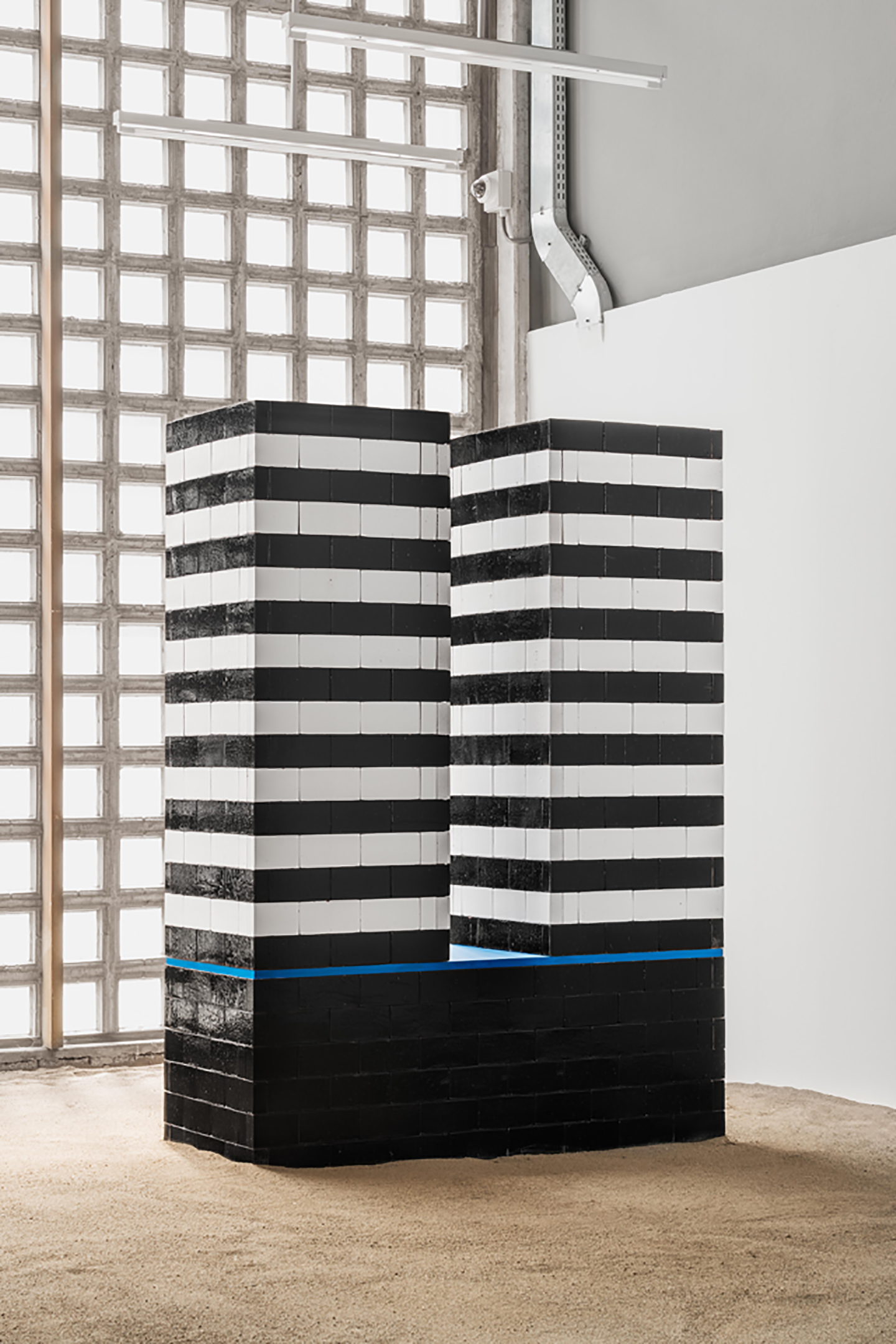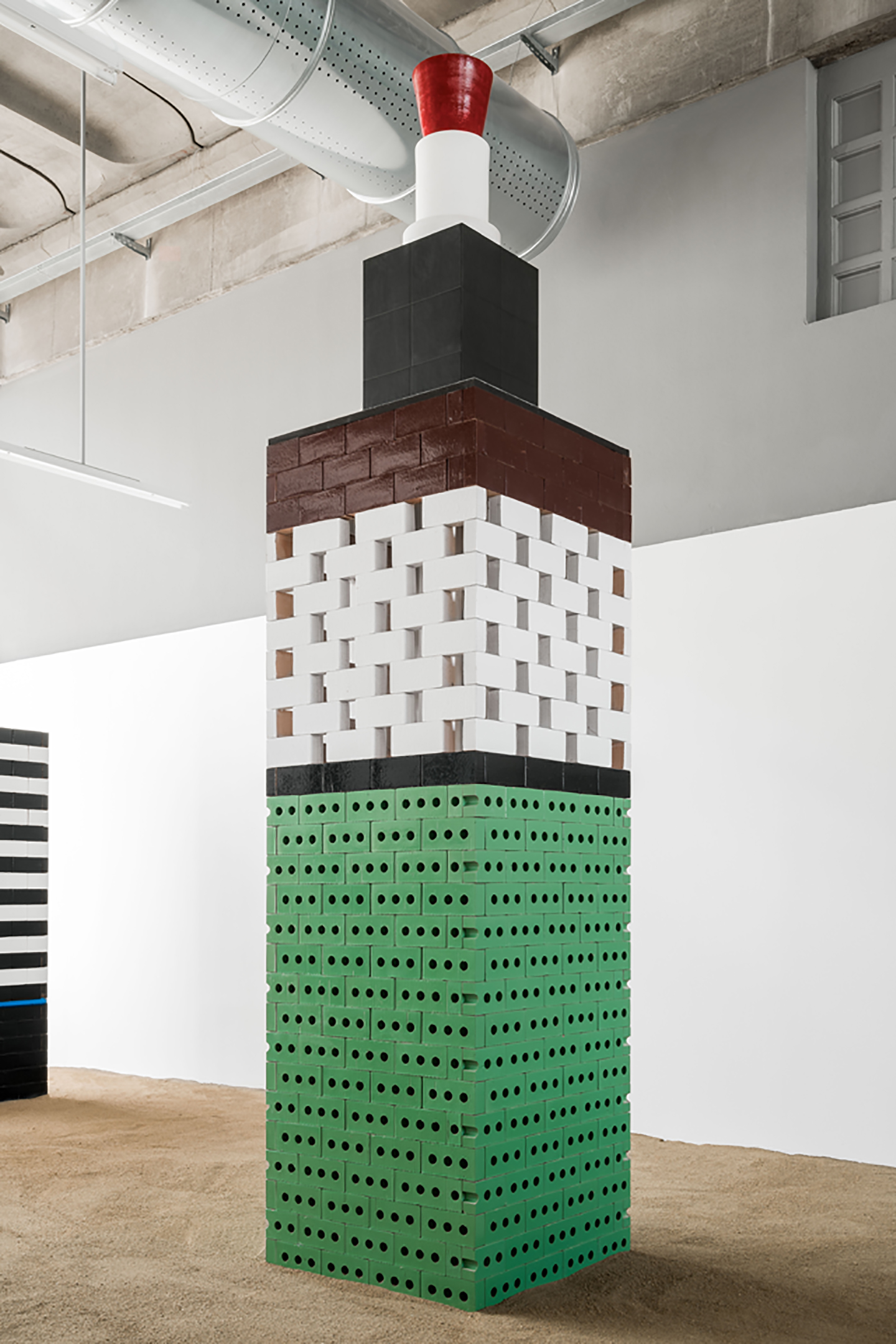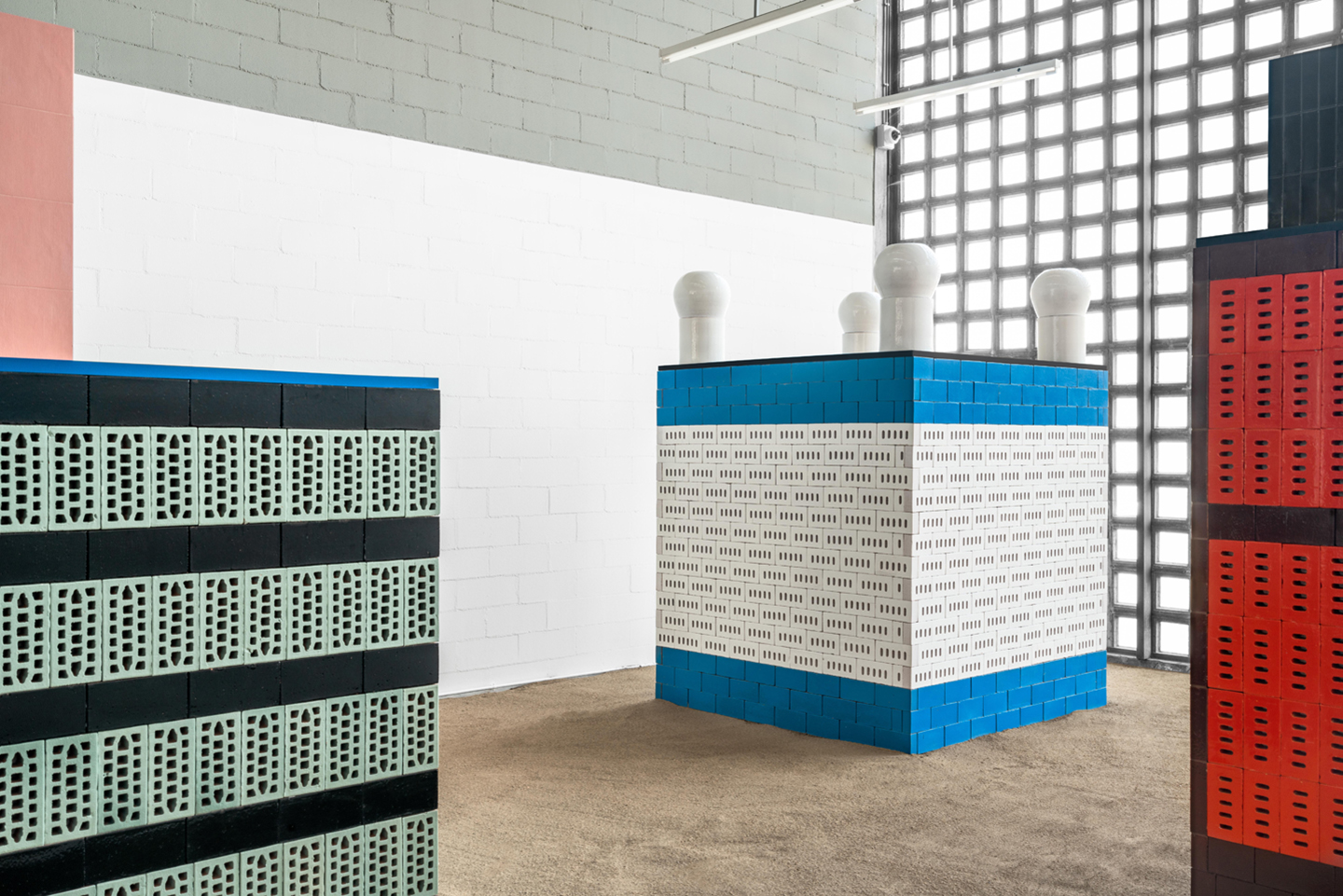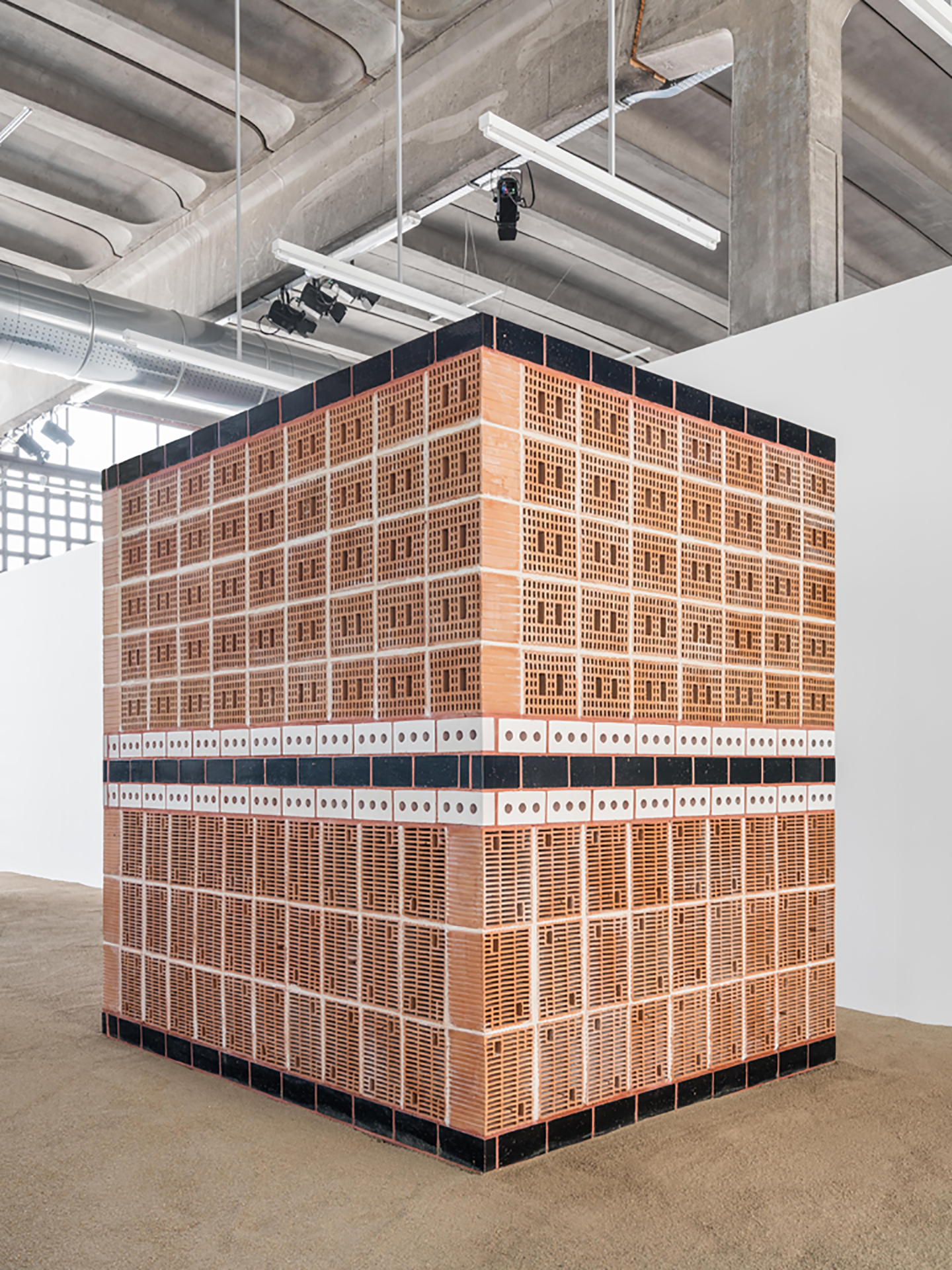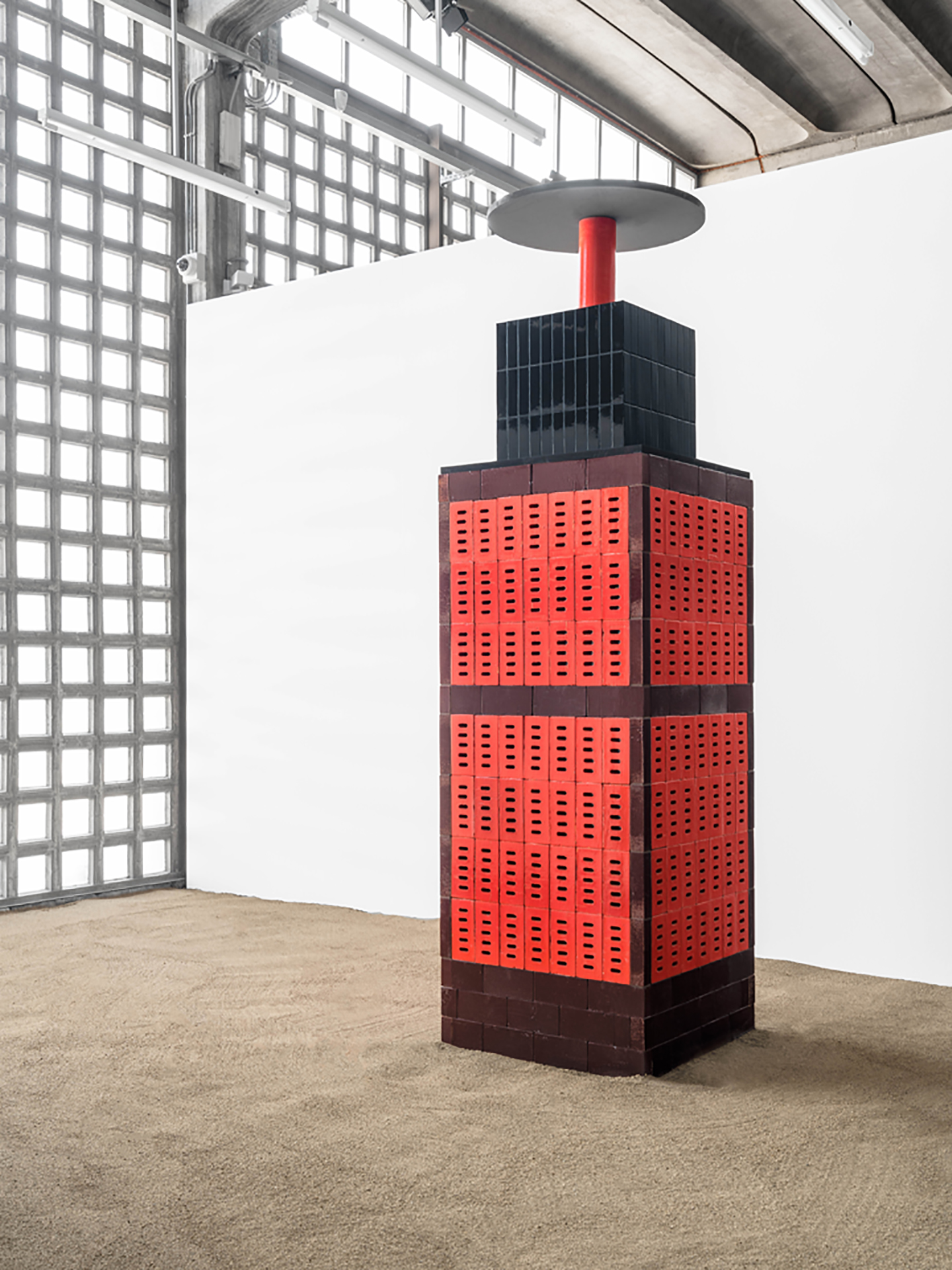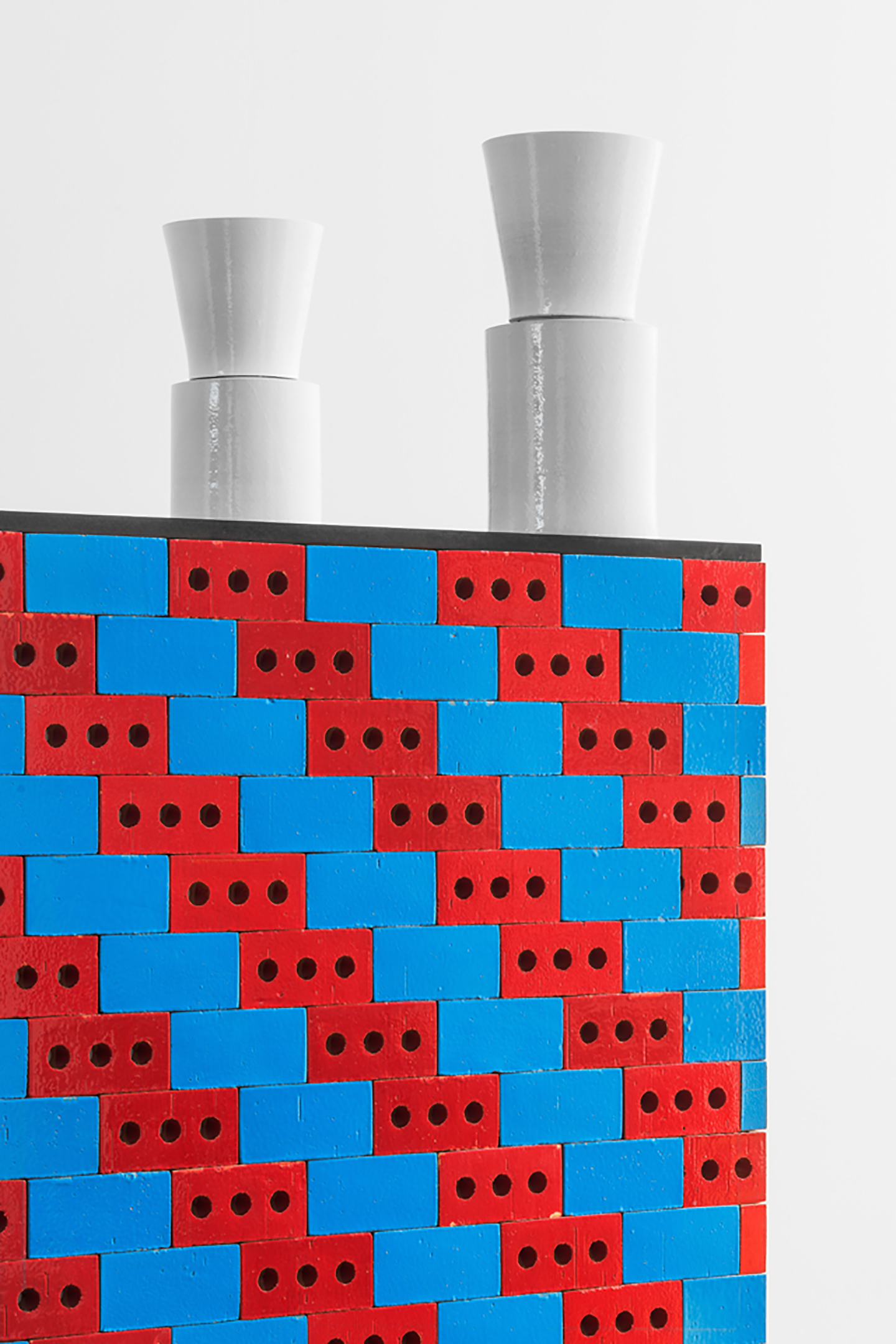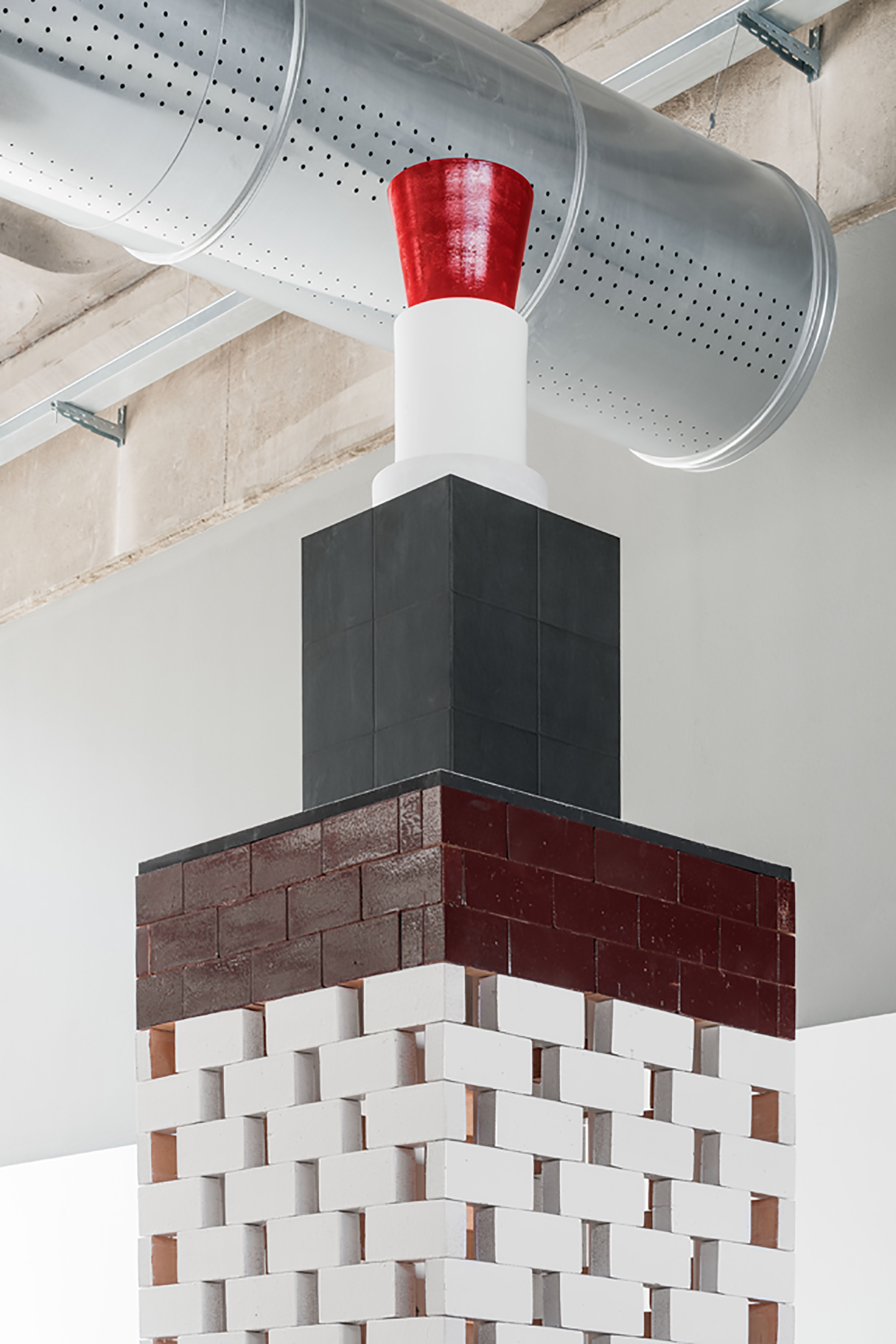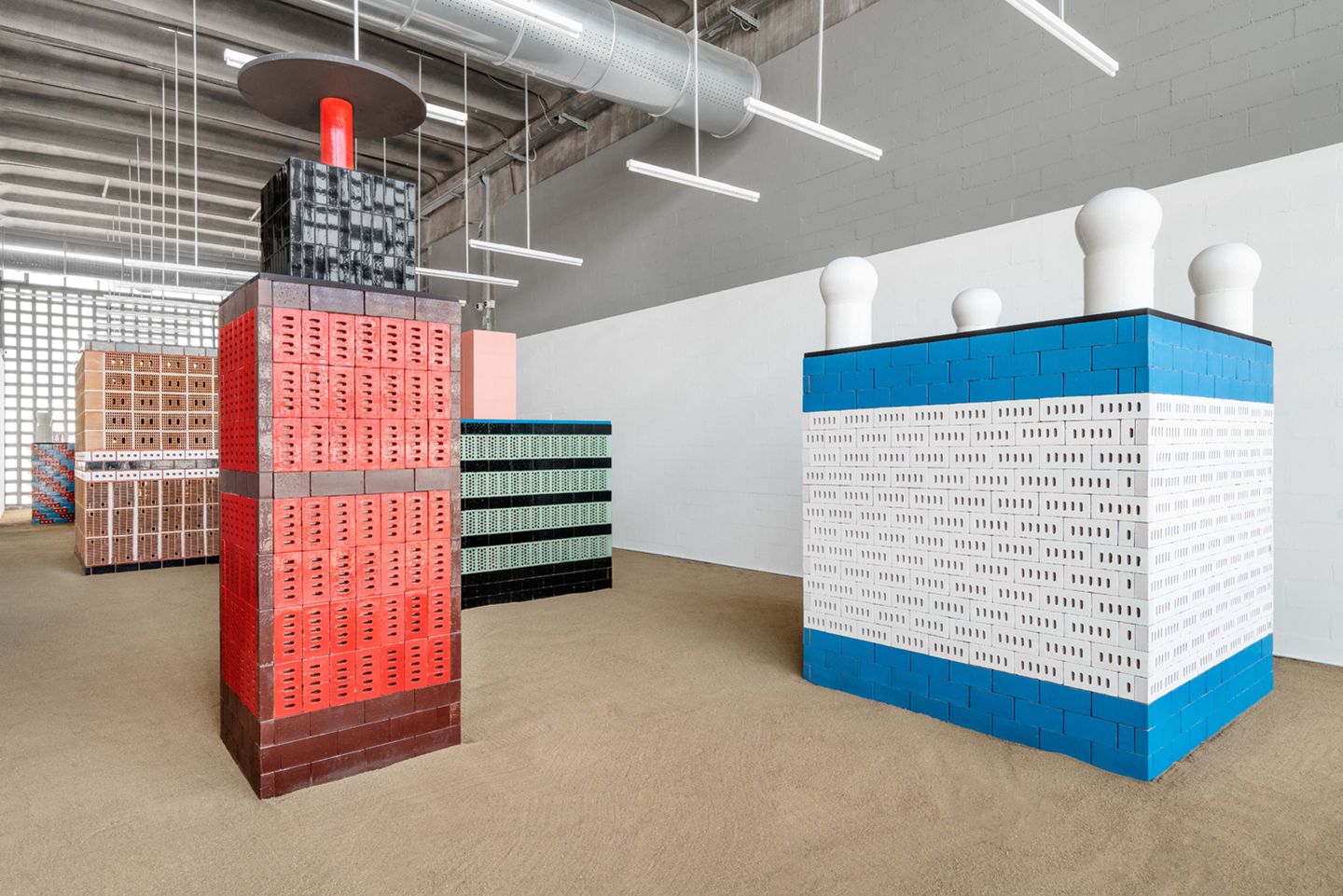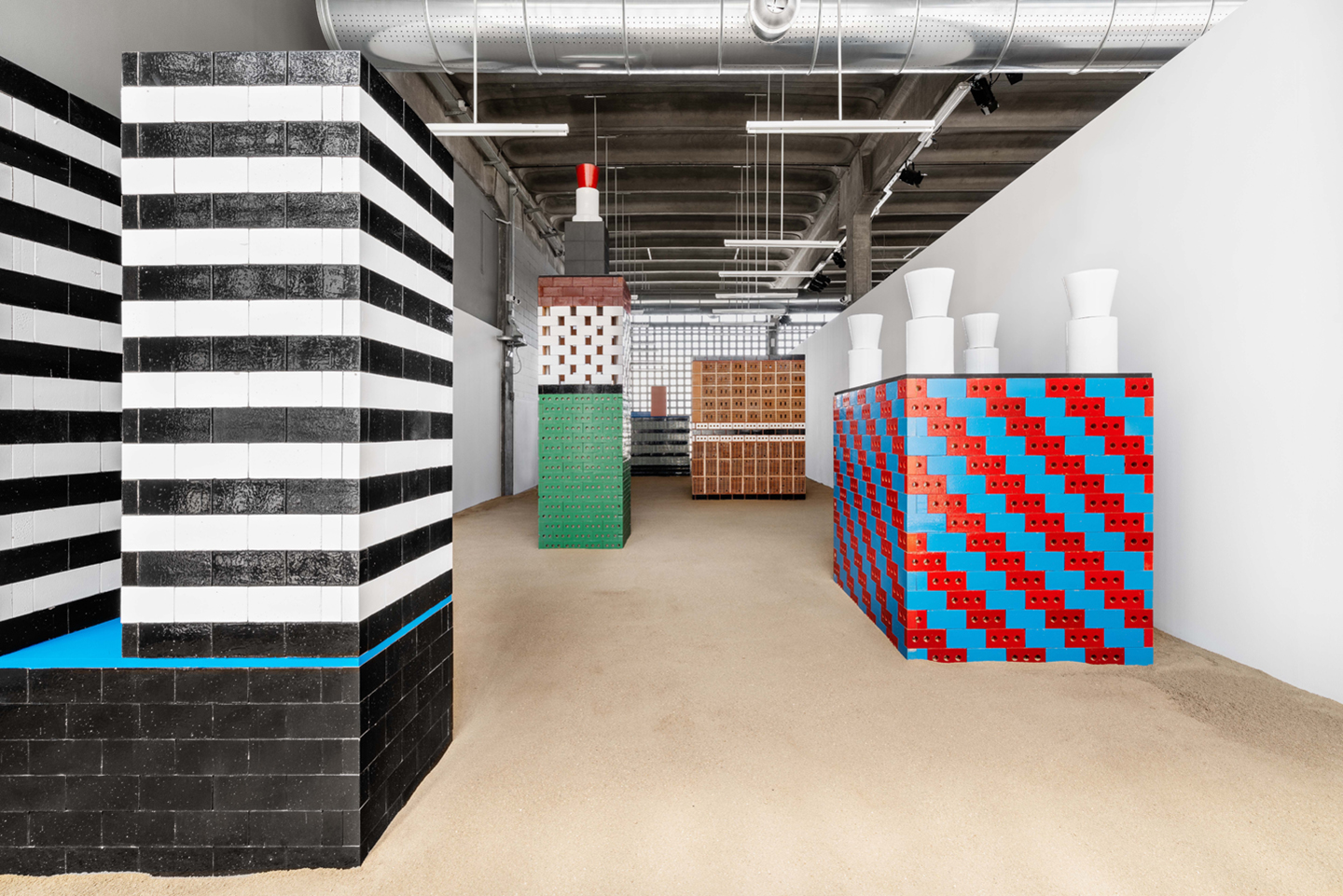 by Giovanna Manzotti
Brick as shape, sound, connection, and democratic module. Brick as unitary building, "space for an ant and bedroom for a bee." Brick as part of a modular landscape, an archetypical element linked to the earth and the tradition of ceramics. Brick as unit of measure, as rhythm. Brick as way of thinking about ourselves, as individuals and as collectivity.


There's always a certain of curiosity and pleasure arising from the obsessive and rhythmic use of the same motif—its repetition in time; its interlocking in different modules in modeling architectural spaces, drawings, paintings, or musical scores; its converging in structures, compositions, shadows of colors. This visual grammar of continuous play with seemingly simple forms, geometries, and representations of space is a distinctive trait of Milan-based artist Nathalie Du Pasquier (b. 1957, Bordeaux).
The artist's first influences in art came from her parents: "From my mother, who was an art historian, I learned a classical way of looking at classical art; my father, who was a virologist, taught me a more naturalistic perspective on different aspects of the world… When I was thirteen years old, I visited Italy with my mother. We had started our trip in Ravenna, where we saw the wonderful Byzantine mosaics. They seemed to fit the architecture so well, beyond being decoration, to the point that it didn't make sense to think in terms of which came first. This is something that has stayed with me."1
After leaving France for West Africa (specifically Gabon) at the age of eighteen, Du Pasquier started designing textiles. "I was absorbing patterns in the same way I was listening to the music in the bars and on the radio,"2 she recalls. She moved to Milan in 1979 and worked as a designer there until 1986, creating numerous decorated surfaces: textiles, furniture, plastic laminates, and objects with influences spanning from African patterns to Arts and Crafts, William Morris, and forms of decoration investigated by Wiener Werkstätte. She was a founding member of Memphis, the postmodernist design and architecture collective created under the leadership of Ettore Sottsass. "For me," she observes, "designing pattern is a way to condense a state of mind, memory, aspirations."3
In 1987 she decided to dedicate herself to painting. With a strong fascination for the "tools" of this everlasting (despite everything) technique—line, color, form—Du Pasquier investigates and creates a pictorial alphabet whose fluid and natural language intersects art, architecture, and design. She uses her minimal, repeatable, adaptable syllabary to write and interweave different stories. All these peculiarities are embodied also in the geometrical form of the brick, the element chosen by the artist as the physical and conceptual essence of her project at MUT space. Conceived as a site-specific installation within the headquarters designed by architect Angelo Mangiarotti, the show is part of a program curated by Sarah Cosulich and promoted by Mutina for Art, the high-quality Italian ceramic company located in Fiorano Modenese, Italy.
For BRIC, Du Pasquier has "painted" one section of the building with a compositional set of seven sculptures rising from a sandy floor. Partly houses or small towers, partly pawns or chimneys to be circumnavigated as in an abstract Lilliputian landscape, the installation "activates delicate perspectives and architectural contrasts between solid and void, highlighted in turn by the bright colors of the glaze."4 The compositional display and modular approach to the space—reflected in the sculptural entities—is evident in Du Pasquier's exploration of all qualities of bricks, including the ornamental one: "Overturned, the bricks lose their structural virtue and become decorative modules of a pattern that reflects the visual mechanism of the ceramic tiles produced by Mutina," Cosulich states. "Bricks have this odd characteristic of seeming like buildings when you look at them."5 Devoid of architectural rules but synergistically in dialogue with MUT's industrial space, each part of the installation is free of hierarchy. Tracing a pathway made of colors (red, bright blue, pale green, and black and white), lines, angles, volumes, and different heights, the elements speak to a certain complicity aimed at delineating a universe of recurring signs and traces. They are a patchwork whose tiles tell of craftsmanship, painting, design, and architecture.
1. Nathalie Ddu Pasquier, "Nathalie du Pasquier: My Influences," Frieze, September 25, 2015, https://frieze.com/article/nathalie-du-pasquier-my-influences.
2. Du Pasquier, "Nathalie du Pasquier".
3. Du Pasquier, "Nathalie du Pasquier".
4. BRIC press release, Mutina for Art, Fiorano Modenese, Italy, https://www.mutina.it/downloads/5332/253/Mutinaforart_press_release_BRIC_EN.pdf
5. Andrew Ayers, Sarah Cosulich, Nathalie Du Pasquier, Nathalie Du Pasquier BRIC (Mutina for Art), 7, 25.
at MUT, Mutina for Art
until 19 June 2020