EXHIBITIONS
Nathan Hylden "More Over" at Galerie Art : Concept, Paris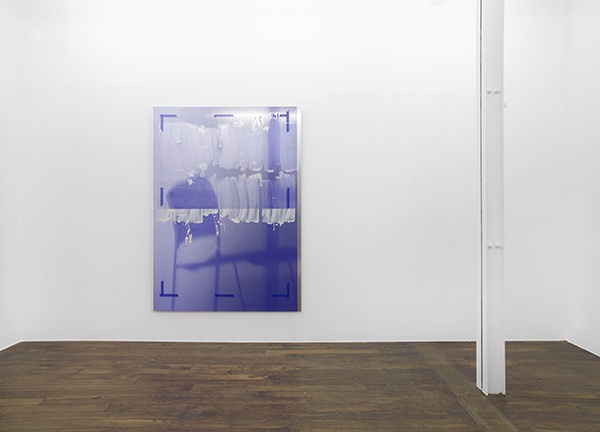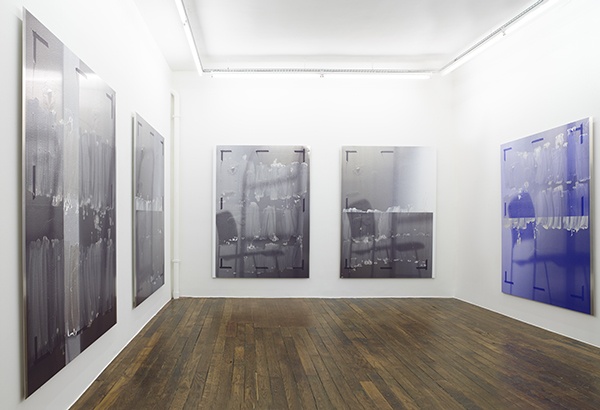 Art : Concept is pleased to present the third solo exhibition by Nathan Hylden, in which he will present a new series of paintings on aluminum.

"Once I get started", "Meanwhile", and now "More Over" are three exhibition titles that not only inscribe Nathan Hylden's work within thoughts related to time, but also within a reflection on the creative act of making an exhibition, both ideas working together within the artist's conception. The gallery turns into a receptacle for works, but is also promoted to the status of work of art in itself, turning into a kind of total sculpture, temporal in nature. There are essential links between this temporality and the agency of visitor, and from Nathan Hylden's work multiple questions arise.
At first glance, Nathan Hylden's paintings seem almost ghostly, each with its own density, yet creating a sequence, a decomposed set of images from the studio: here the shadow of the camera itself, there the shadow of a chair. The starting point of each aluminum painting lies in a photograph taken in the studio, a photograph of the very wall that will support the painting upon completion. Silk-screened on aluminum sheets, these photographs are elements in a sequential matrix that is rearranged in each work. The sheets are superimposed on each other, overlapping, each receives its part of a field of white sprayed paint, and a wash of metered gestural brush strokes, developing a common thread of a narration, that of the creation of a painting, but perhaps a painting that does not exist, or can never be present. From abstraction emerges a parallel reality in which visual temporality is overwhelmed by imaginative temporality. Time realized as representation will have an effect on the piece; turning it into a strange trace of reality and leading us to question the relationship between perception and image.
Halfway between a suspended moment and the revelation of an image, Nathan Hylden's paintings prove that there is a difference in quality between the existence of certain objects from his studio, the existence of the "absent" painting formed by our mind and the plain existence of a real object. The mental image built by the viewer corresponds to a sort of annex world and allows us to settle on the absence or existence of an object. Graphic and mechanic reproduction used by the artist are a means of substitution for the symbolism of a possible living reality.
Playing with almost cinematographic codes, Nathan Hylden's multiple images are inscribed in a given time, a time suspended between the half-present and near-future. Each painting thus becomes the symbolic summary of a stage of development that is exclusively dictated by the sequence.
Aurélia Bourquard  (Translation: Frieda Schumann)
.
at Galerie Art : Concept, Paris
until 26 July 2014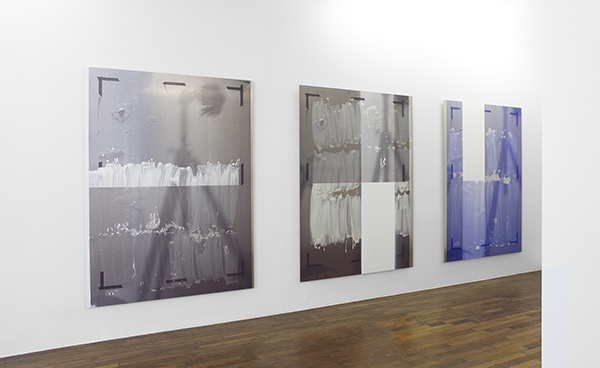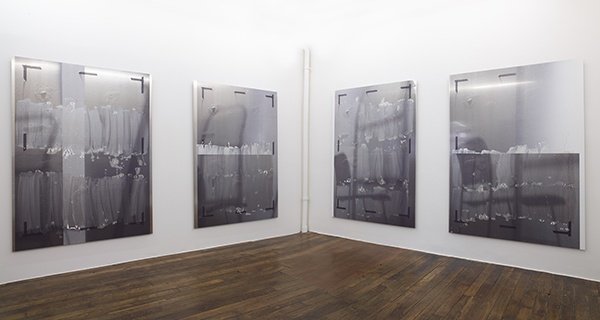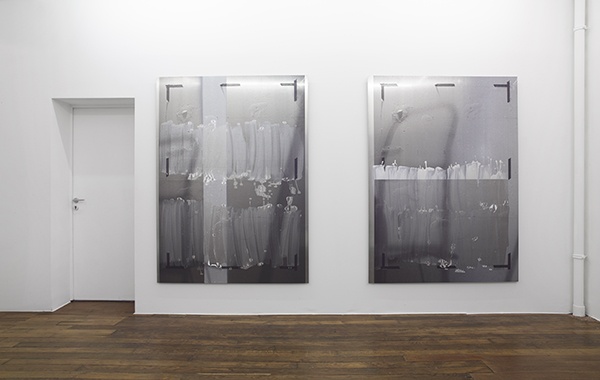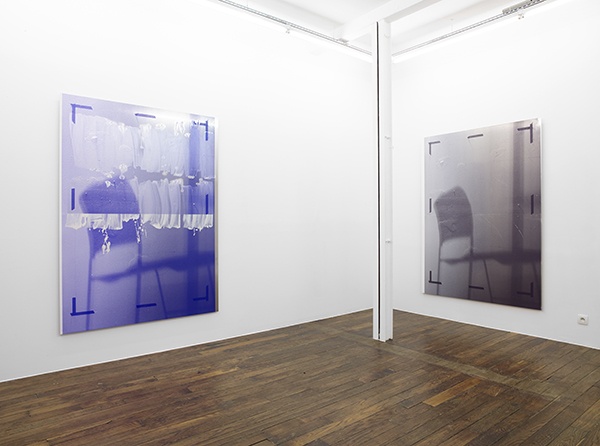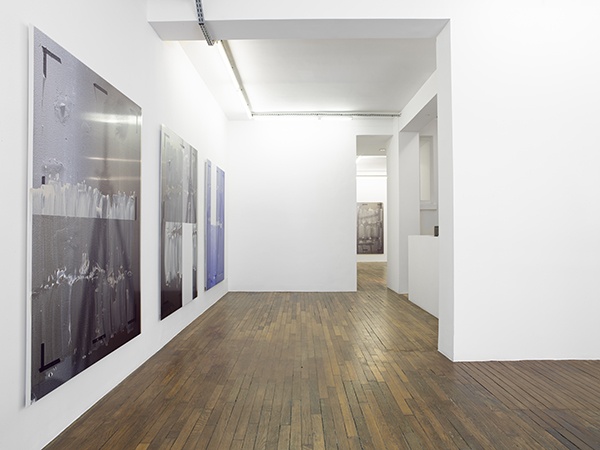 Nathan Hylden "More Over" installation views at Galerie Art : Concept, Paris, 2014
Courtesy: the artist and Galerie Art : Concept, Paris. Photos: Fabrice Gousset.