EXHIBITIONS
"Naturally Obscure", Lola Gonzàlez and Anita Gauran at PASSERELLE Centre d'art contemporain, Brest
"Naturally Obscure"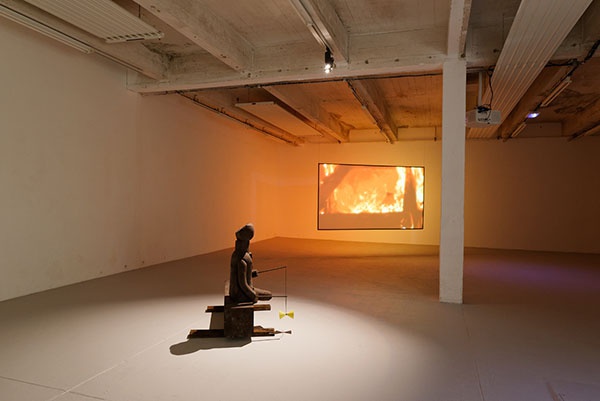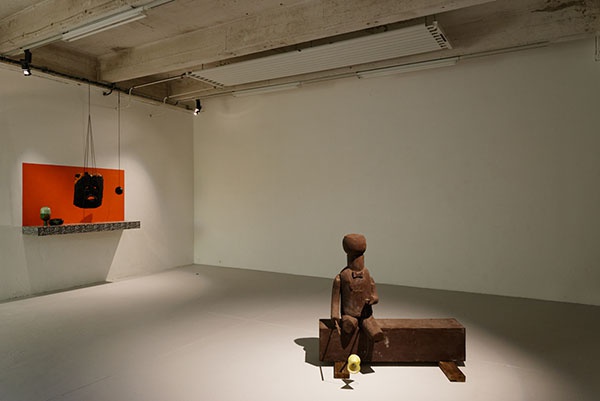 Participating artists: Jean-Luc Blanc, Matthew Day Jackson, Alain Declercq, Koenraad Dedobbeleer , Jeremy Deller & Alan Kane, Nathalie Djurberg & Hans Berg, Hubert Duprat, Matias Faldbakken, Sam Falls, Francesco Finizio, Elise Florenty & Marcel Türkowsky, Michel François, Lola Gonzàlez, Laura Gozlan, Sven't Jolle, Charlotte Moth, Ciprian Muresan, Jean-Marie Perdrix, Andres Ramirez, Oscar Santillan, Superflex, Sarah Tritz et Franz West
Even id it's been thought in relationship to the exhibition "Vernacular Alchemists", presented at Passerelle Contemporary art center in 2014, "Naturally Obscure" is not its logical poursuit. When the first show revisited forms of vernacular culture, folklore or pagan traditions and develop real mythologies, the second is rooted in a different reality, less oniristic. Indeed, more than twenty-five years after the great hopes inherited from the fall of the Berlin Wall and the end of the cold war, it is now clear that the events took an unexpected turn, far form th announced happy tomorrows. Instead has emerged a fragmented world, divided, often at the edge of chaos. The events occurring in France and Belgium in recent months are evidences.
However, if the works of the artists echo the general instability, they primarily seek to instill a little magic in our lives. Far from proposing a "statement" overtly political or offering an overview of the decay of contemporary society, "Naturally Obscure" gives to see a shifted perspective on world after great utopias. In attempting to generate new narrative forms, full of poetry, guest artists transcend the limits of traditional realism, more inclined to narration.
Some of the works collected here are based on our most trivial daily life, others echo major political and societal events, and others convene archetypal images. However, despite these references from a common cultural background, it is difficult to identify right away what is on view in this exhibition. If the general mood seems, at first, quite dark and, a more careful analysis allows to feel the energy which emerges from all the works presented. The artists all seek to create a new relationship in the world, sometimes embodied in very simple steps.
Curators : Antoine Marchand and Etienne Bernard.
.
at PASSERELLE Centre d'art contemporain, Brest
until 27 August 2016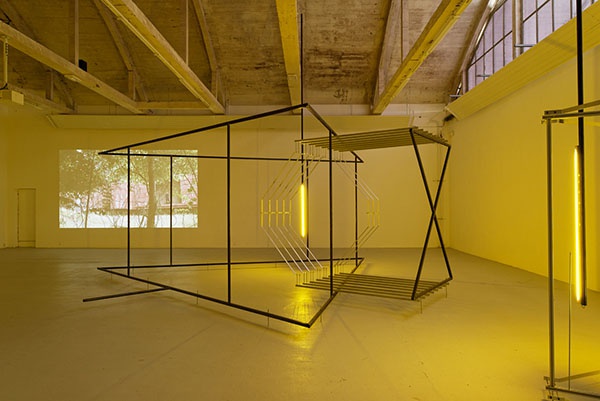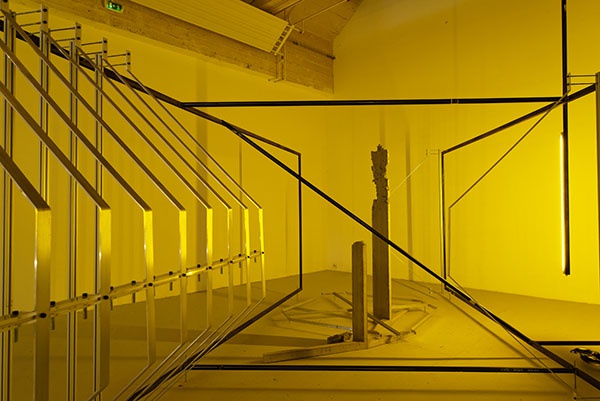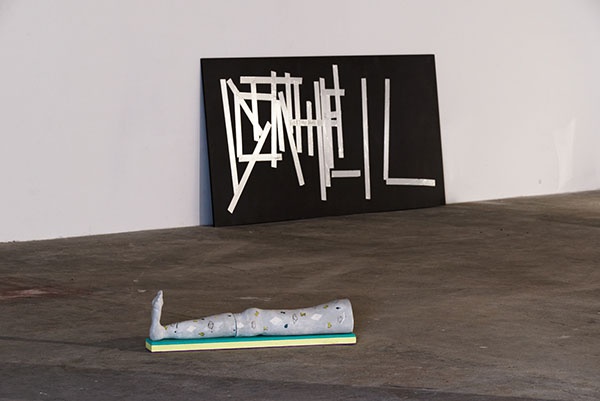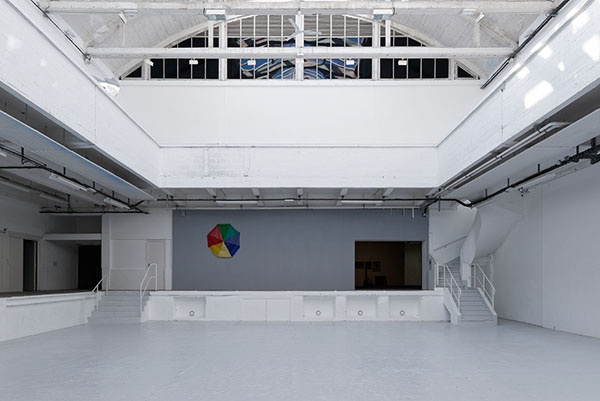 "Naturally Obscure" installation views at PASSERELLE Centre d'art contemporain, Brest, 2016
Courtesy: Passerelle Centre d'art contemporain, Brest. Photo: © Aurélien Mole
.
Lola Gonzàlez "Veridis Quo"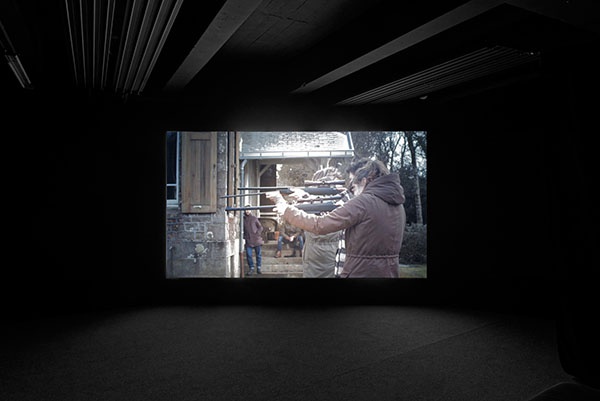 Each of Lola Gonzalez's movie invents the following. All draws an obsession, like an neverstopping dream, night after night, that gain its influence during the day.
The starting point is always the same. Four people, ten, sometimes more, live cloistered away from cities. Impossible to know who they are or what holds them together. Deserters, utopians, brainwashed mercenaries? But it doesn't really matter after all to understand what their actions prepare. Let's rather suppose that their only requirement is to learn to live together, to agree intuitively to come as close as possible to a fair coexistence. What matters is the connection. They form a band who opposes and replaces at the same time the rest of the world. The apparent lightness that emerges of the first films has evaporated in favor of a desire more open to the world.
As a ritual, Lola Gonzalez' movies open on these young people facing outward, toward the landscape. Are they able to see a sign they all interpret the same way? Each time, communication passes through bodies that graze and touch voluntarily.
In the two most recent films, Summer Camp (2015) and Veridis Quo (2016), a quasi-military training accompanied in the first by a hypnotic litany and in the second by a traumatic noisy sea storm. If Summer Camp is a long collective prayer, Veridis Quo looks like the last supper of an enigmatic troupe guided toward a cliff at the size of this common dream.
Whether in writing, production, or the choice to work with her friends, the works of Lola Gonzalez deal with authenticity, spontaneity and fluidity with simple visual forms. From the individual to the collective, they question us about the power of the collective, and its limits too.
.
at PASSERELLE Centre d'art contemporain, Brest
until 27 August 2016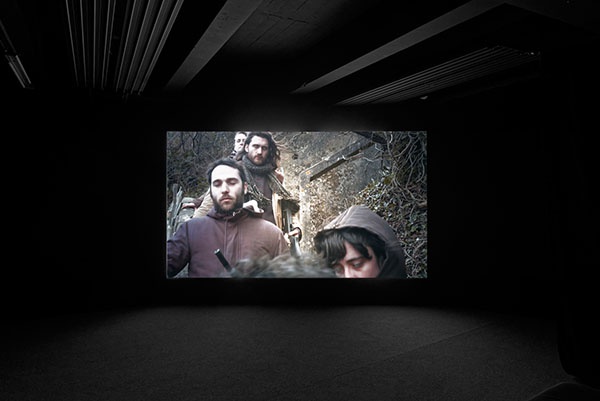 Lola Gonzàlez "Veridis Quo" installation views at PASSERELLE Centre d'art contemporain, Brest, 2016
Courtesy: Passerelle Centre d'art contemporain, Brest. Photo: © Aurélien Mole
.
Anita Gauran "Polyregard in the dark"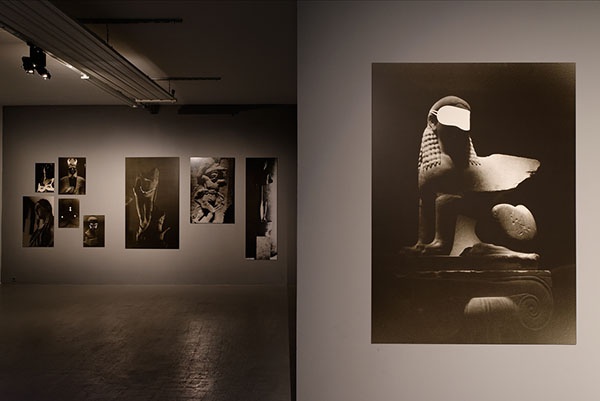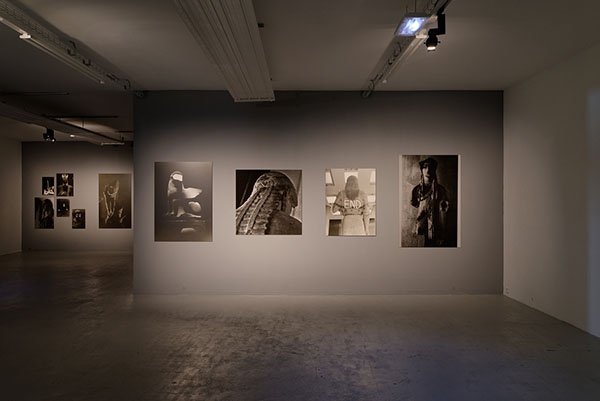 Anita Gauran visits museums and archaeological sites with a film camera. Back into the studio, no photoshopage or digital printing, therefore, but a patient work in the darkroom. Even if her universe is made of ancient and medieval figures, Anita Gauran's work is not anachronistic but rather militant. Indeed, her attitude is unique within a generation that intensely pursues a practice of image appropriation now all available on the web : this infinite catalog of Greek columns that nourrishes the strangely called post Internet aesthetic.
Her approach has nothing to deal with nostalgia or romantism. Rayograms, impressions or transfers do work symbolically as auscultation technics in what could be called a process of materialistic revelation. Moreover, it seems that the artist uses all the tools and chemical formulas of analogue photography within a dialectic of duplication or even a white magic. As such it is not trivial to extend Man Ray's radiation experiments in which Breton saw the figure of the artist mediumship. In Anita Gauran's rayograms, the ghost of the object in direct contact with the image establishes in the rest of the work a mechanic working on presence-absence, disappearance-appearance or discovered-hidden.
.
at PASSERELLE Centre d'art contemporain, Brest
until 27 August 2016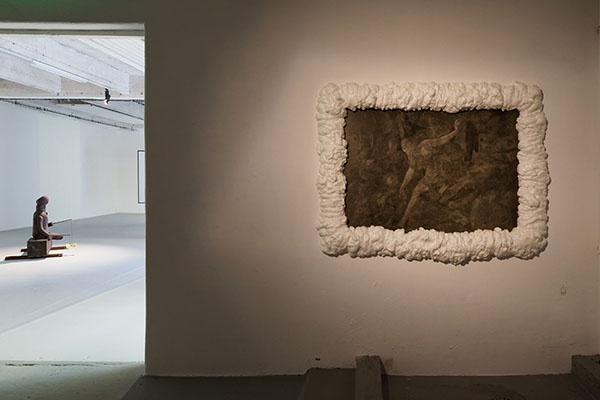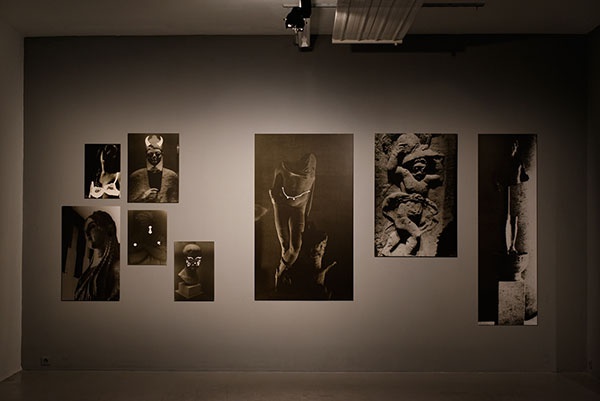 Anita Gauran "Polyregard in the dark" installation views at PASSERELLE Centre d'art contemporain, Brest, 2016
Courtesy: Passerelle Centre d'art contemporain, Brest. Photo: © Aurélien Mole