REVIEWS
Neïl Beloufa "L'Ennemi de mon ennemi" at Palais de Tokyo, Paris
Close
1
2
3
4
5
6
7
8
9
10
11
12
13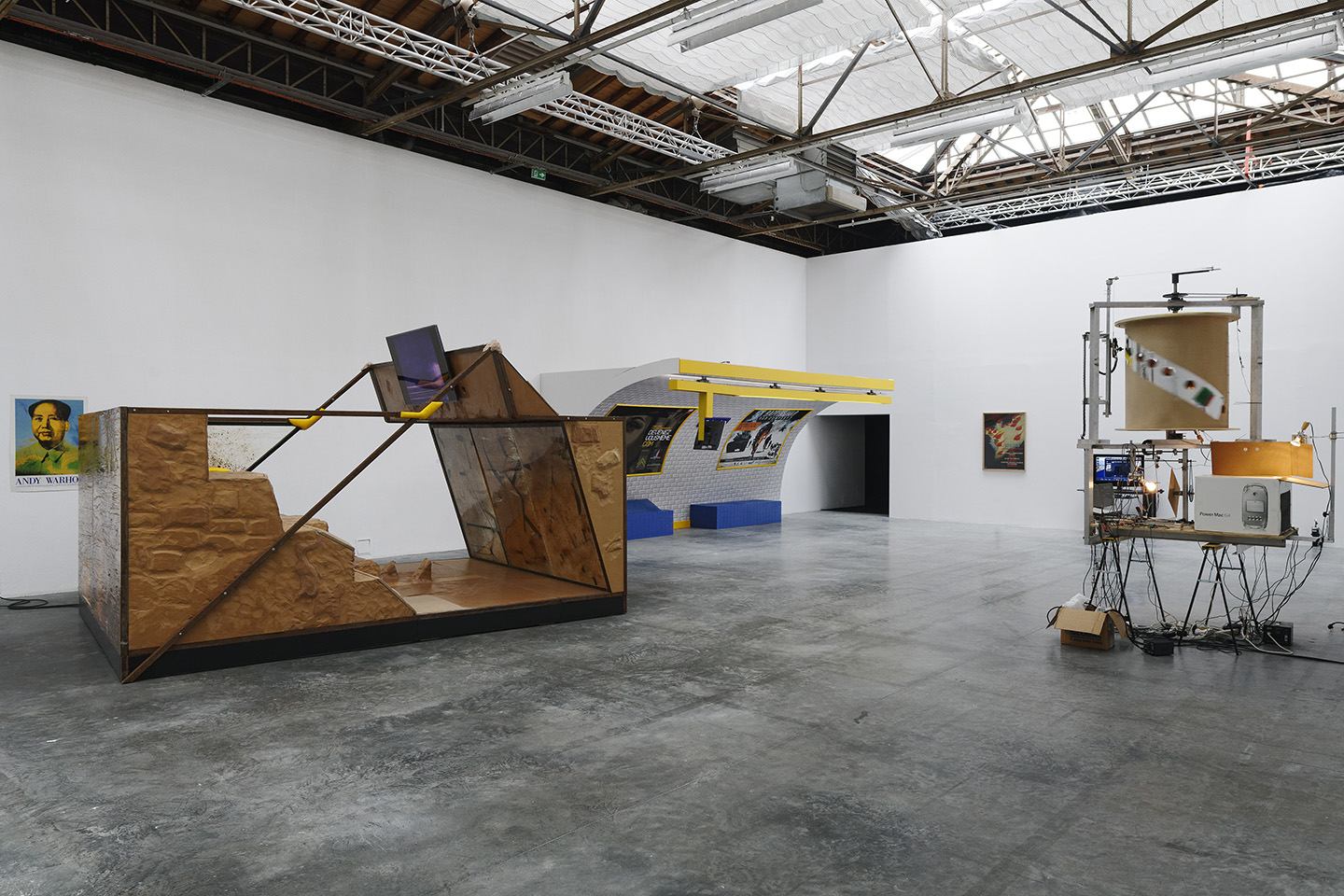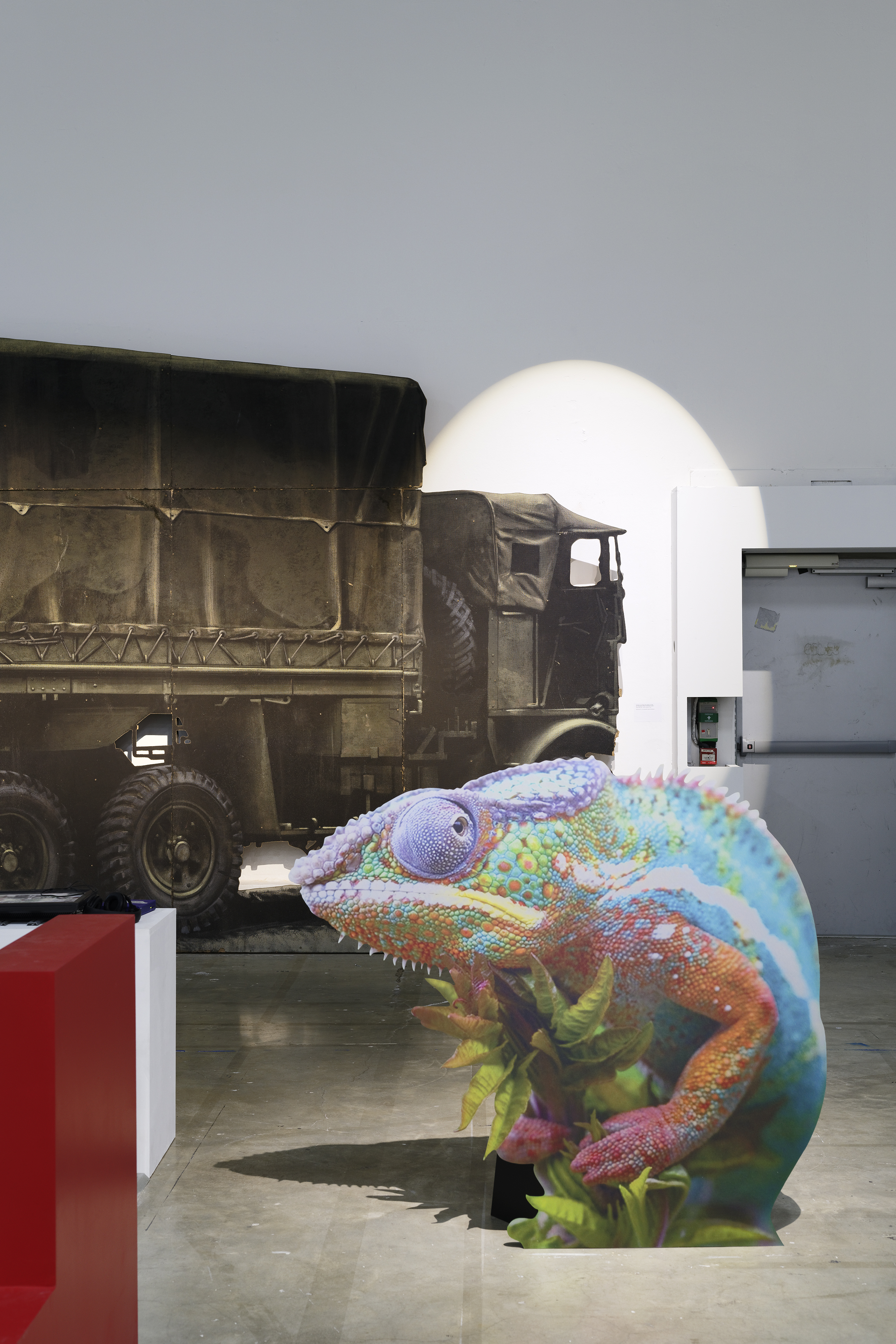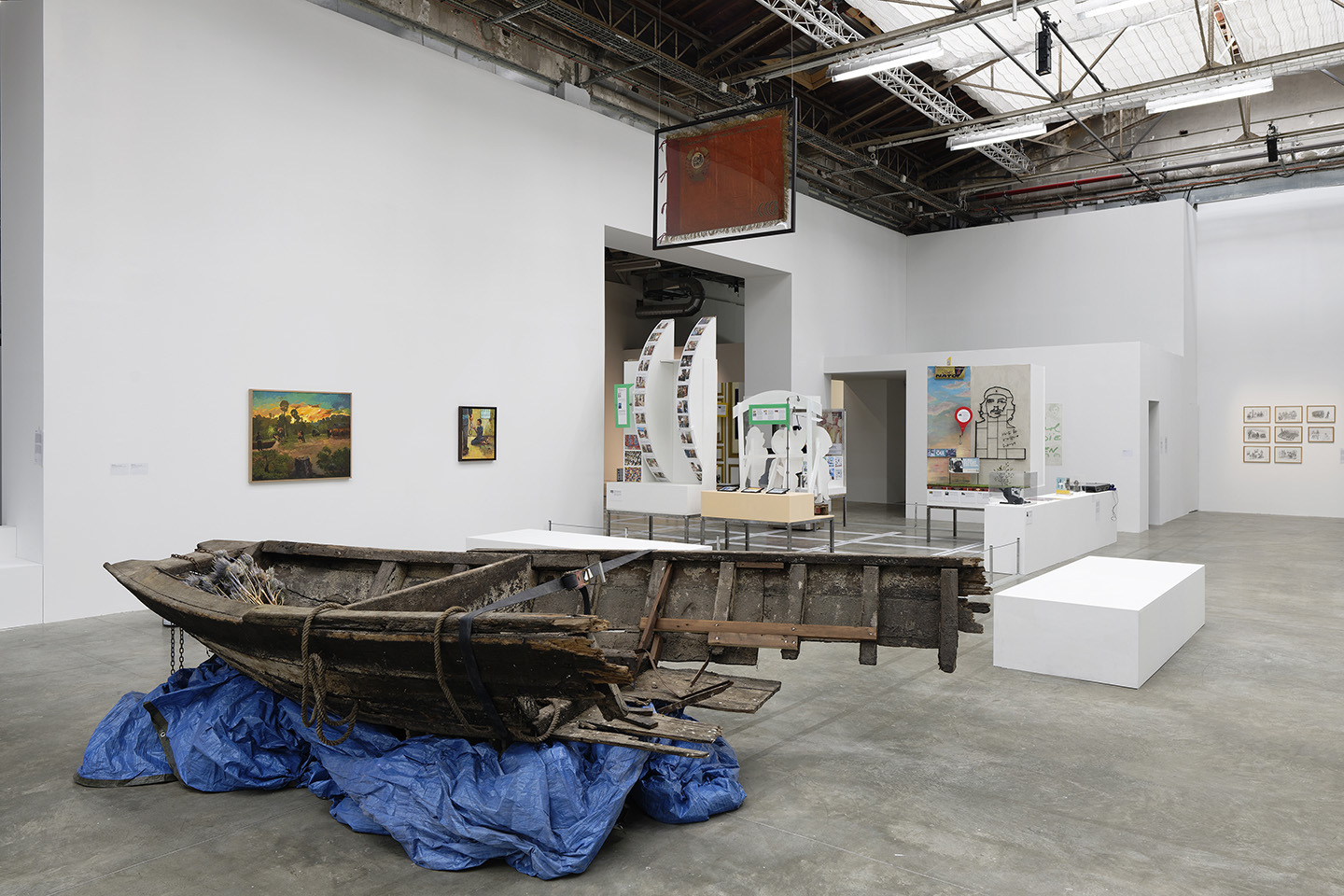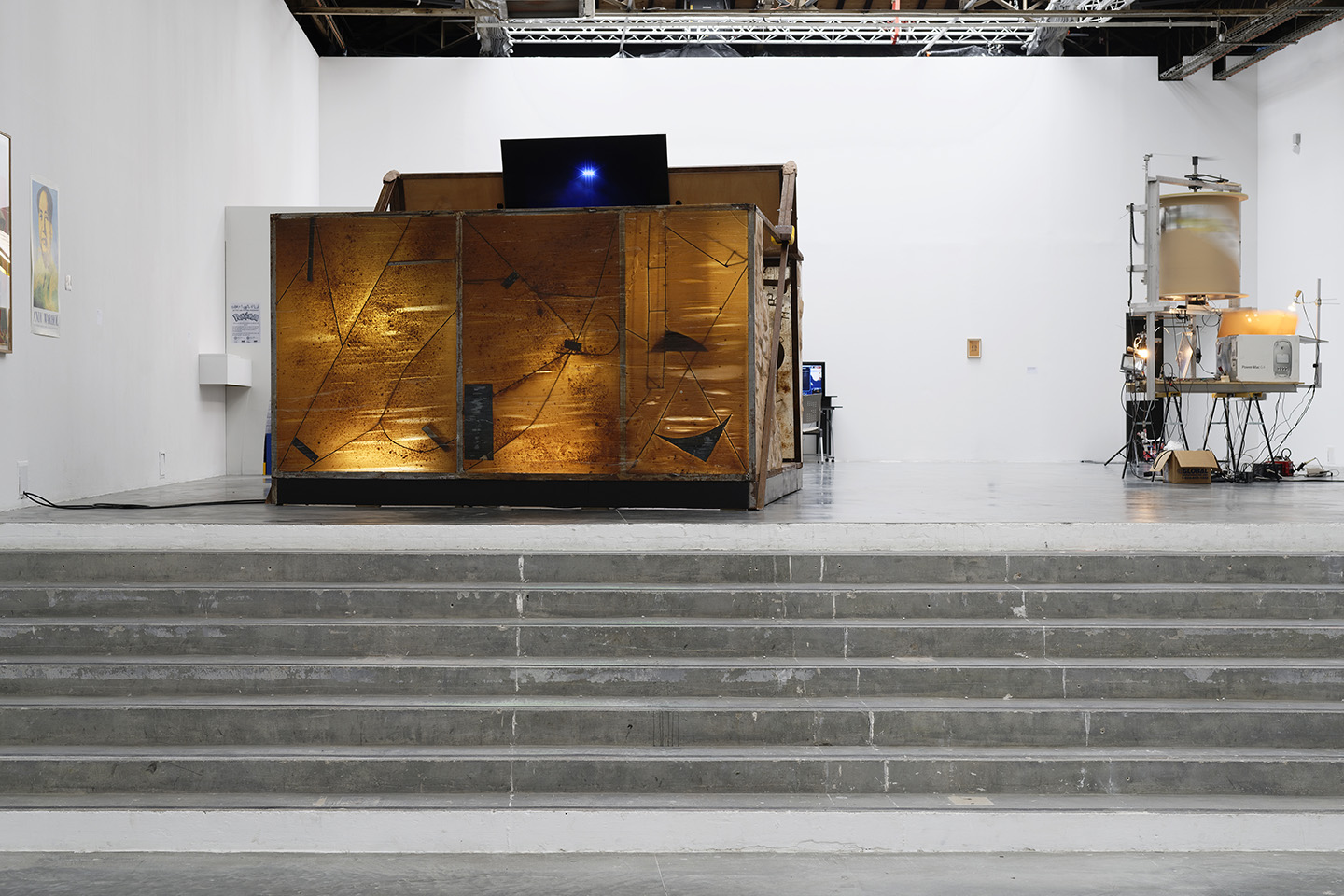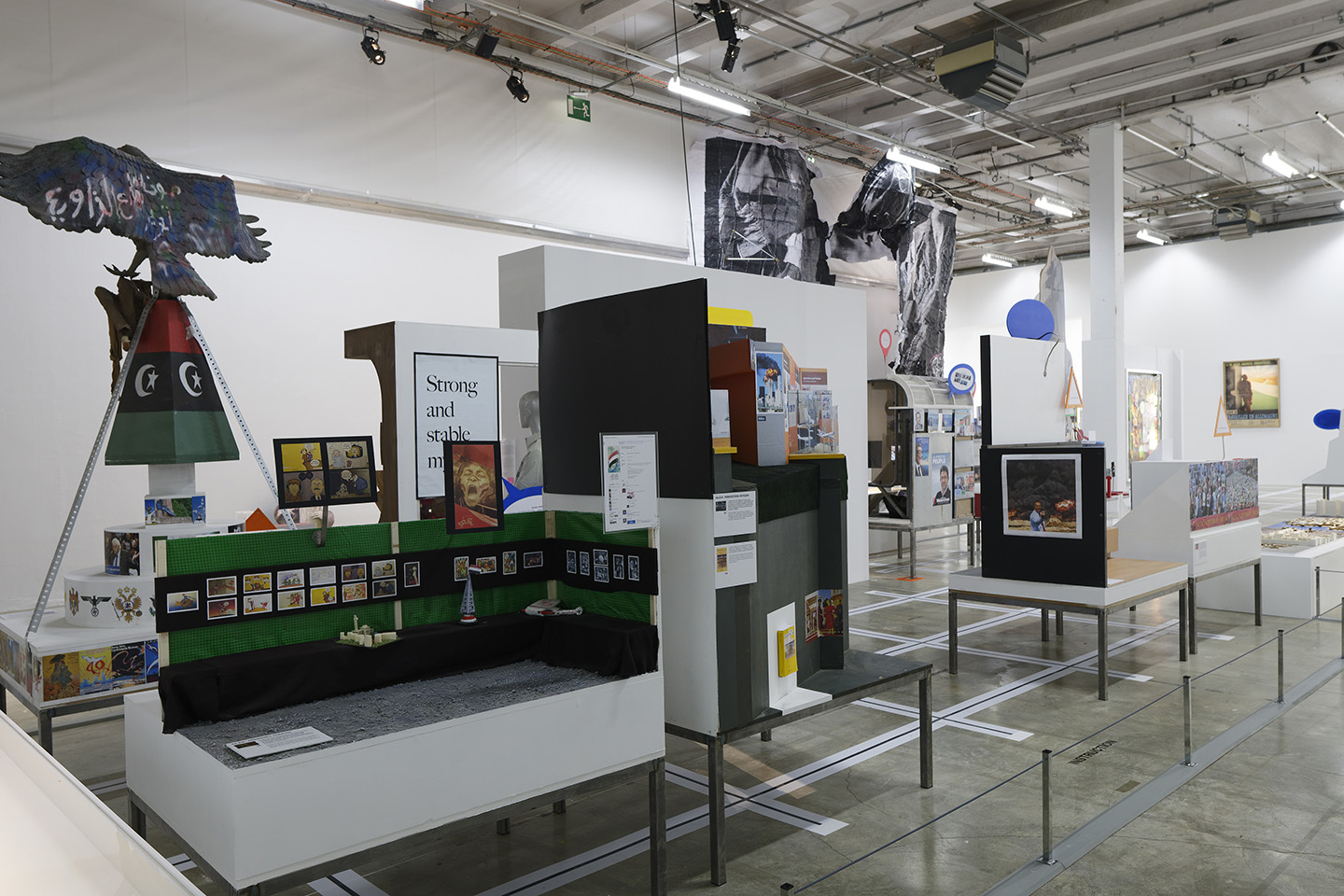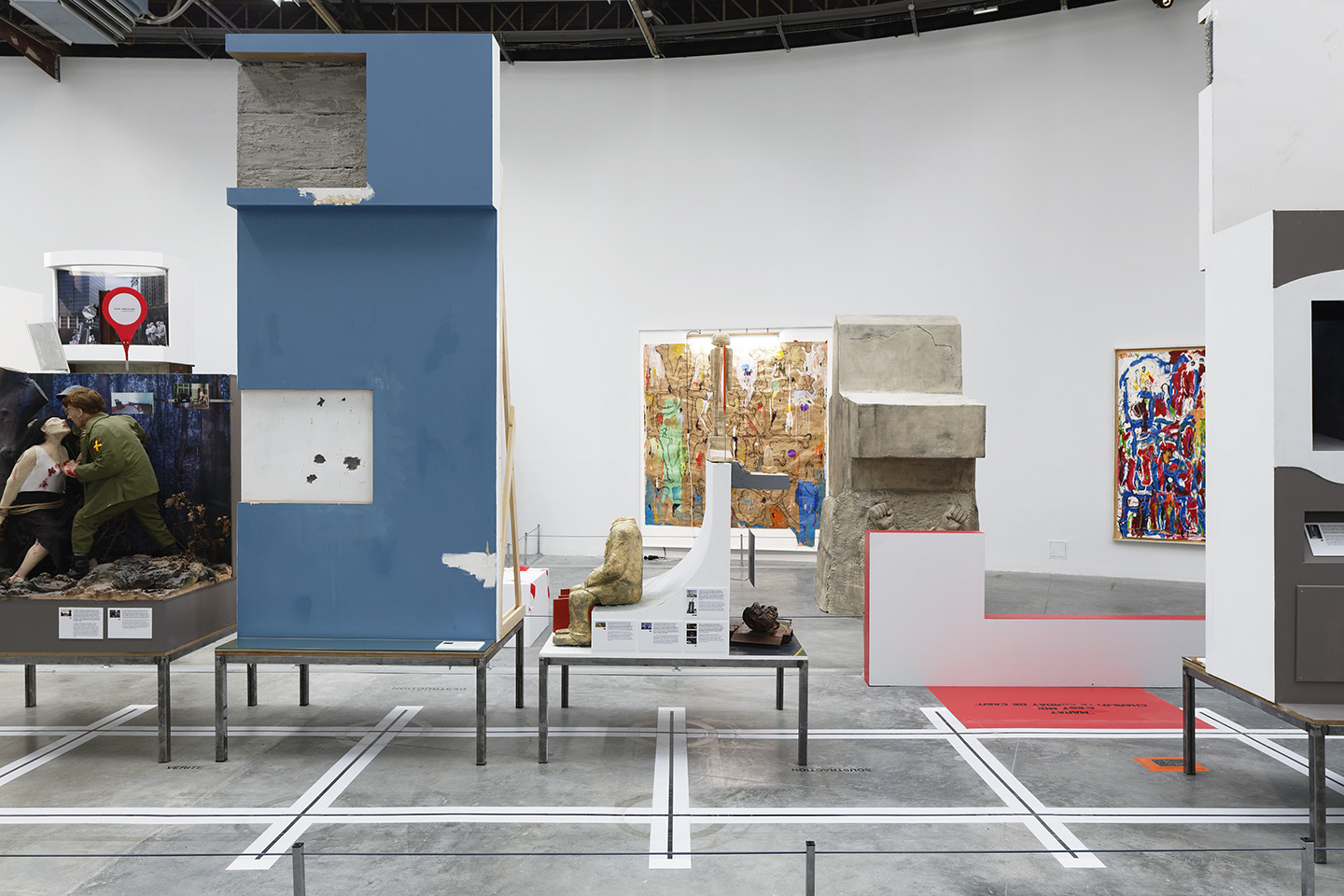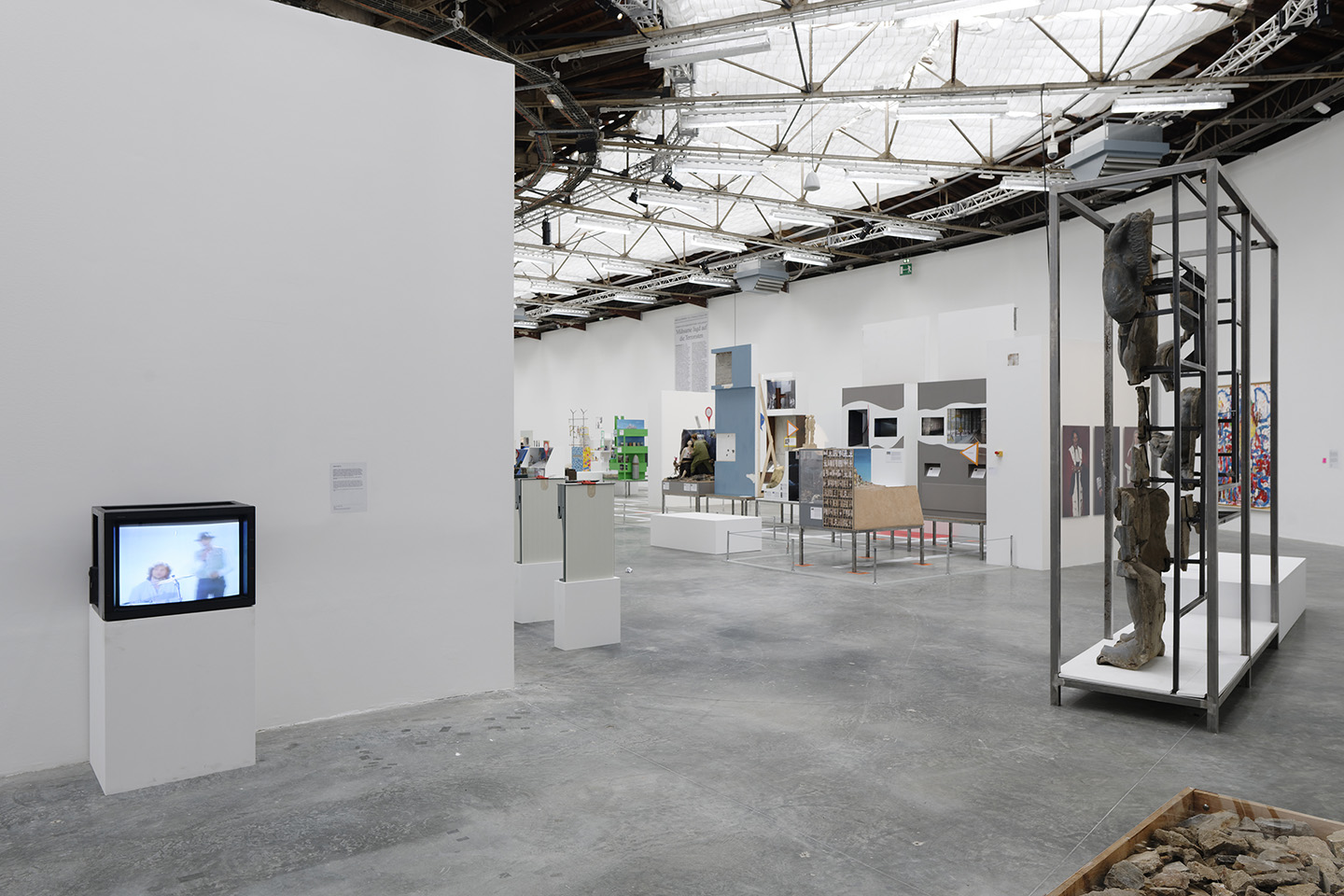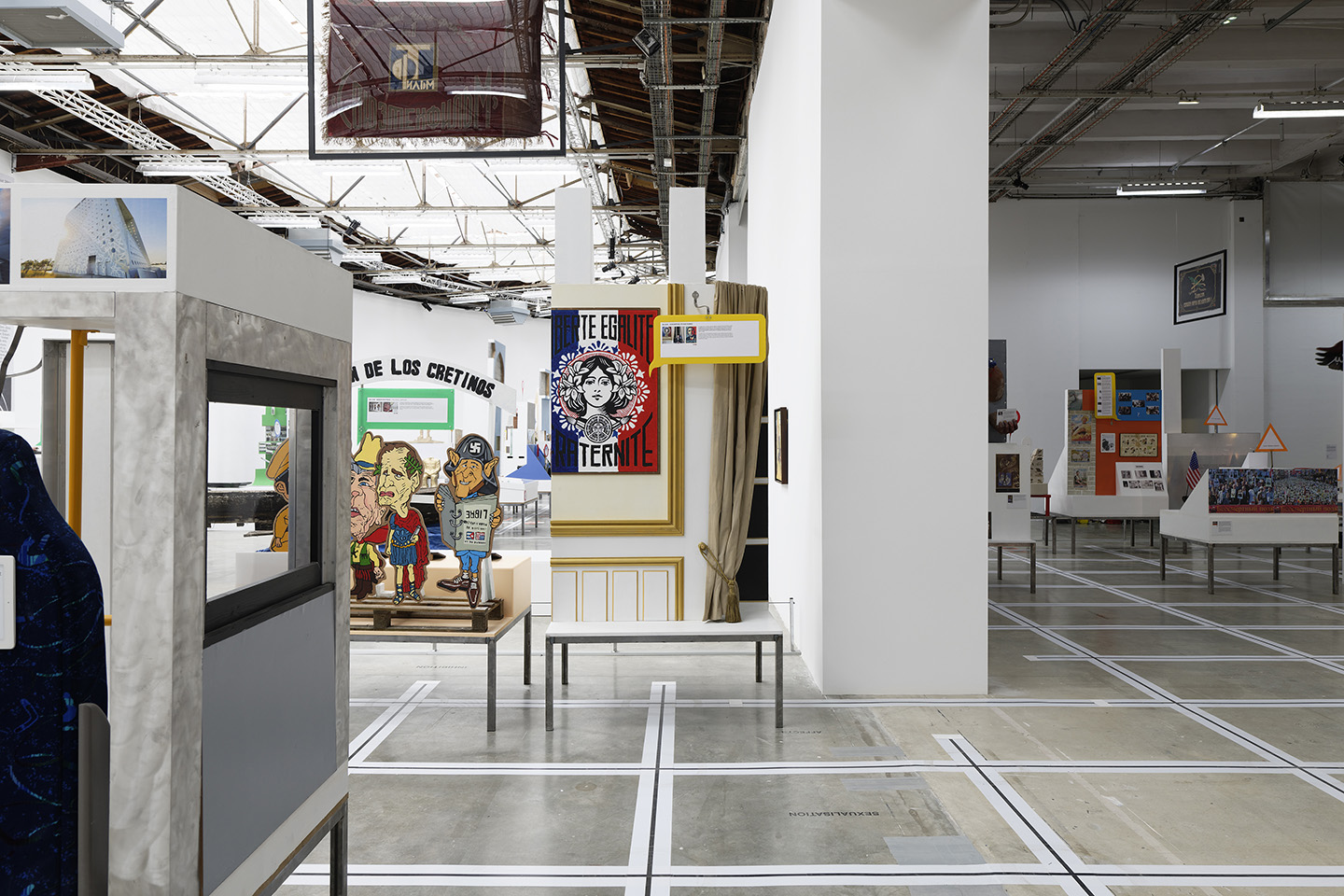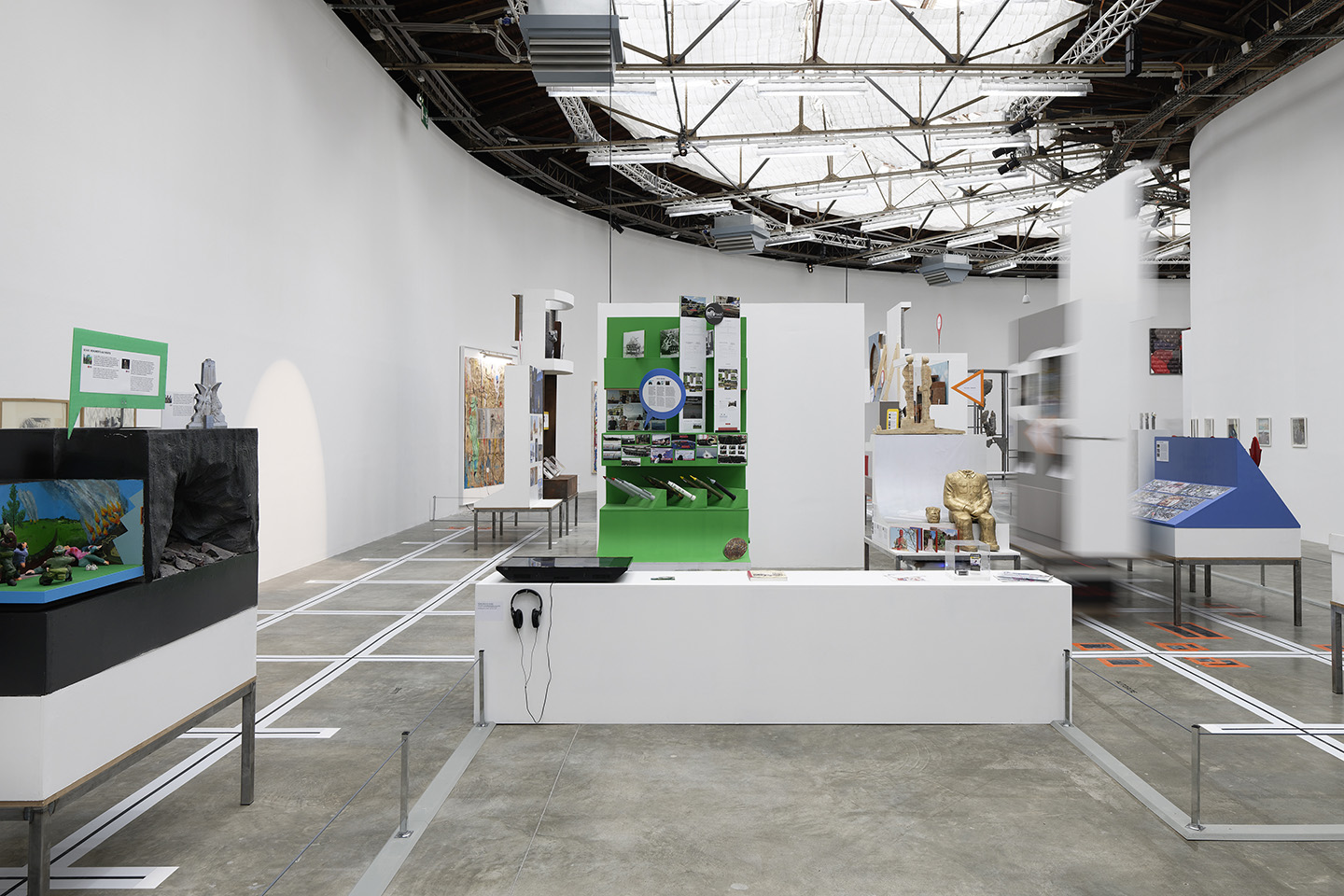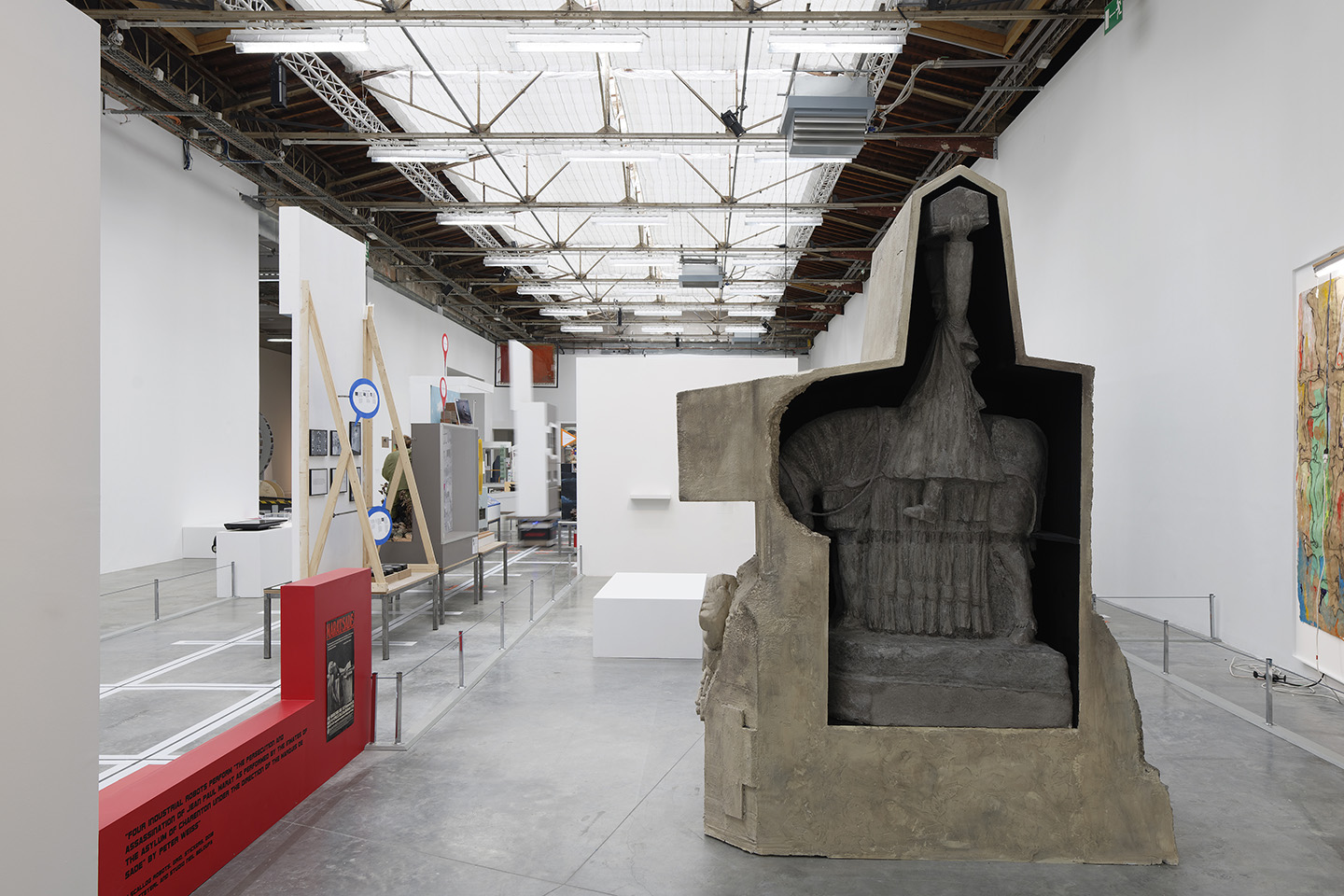 Text by Leonie Radine
The enemy of my enemy is not necessarily my friend. It's not as simple as a wide range of media, advertisements or political propaganda tend to suggest. Although asserting power through simplifying notions and images of good and bad seems to function better than ever before. The more complex and unstable our global political reality, the more calculable and effective, it seems, is the appropriation and circulation of key visuals and slogans through blunt emotional outbursts of shares, likes, or dislikes on social media. It is not by chance that for the show's title Neïl Beloufa adopts only part of the notorious ancient proverb, which has been reused as a doctrine in various foreign policy conflicts and wars all around the world, and leaves out the rest. It is as if he is putting us to the test, like the eponymous quest in the video game World of Warcraft.
Visitors to Beloufa's exhibition at the Palais de Tokyo are confronted not only with a selection of his past works—as one might expect of an artist given the stage of 2,000 square meters—but moreover with a vertiginous number of enemy images, figures of identification and enigmatic in-betweens. Highly power-political visual material, copied or reprocessed from newspapers and the internet, but also taken from film sets and gaming worlds, as well as borrowed originals from international art, history and war museums, and replicated miniature sceneries of historic events are assembled and collaged on wall charts that are constantly moved, turned, and rearranged around specific buzzwords on the floor by robots.
Having passed a dark room introducing us to Beloufa's lambent mindset and futuristic universe furnished by his ever-changing video installations and sculptures, one is lost in a cacophony of voices, some of which are loud, frightening and aggressive, some of which are subtle and manipulative, some of which you can hardly stand and some of which you might feel passionately about. A replica of Gaddafi's shirt with photos of pan-African political leaders placed next to portraits of Star Wars' Princess Leia mounted on protest banners for Women's Marches is only one example of many that culminate in a replicated bomb simulator from the Tehran Museum of Holy Defense. This exhibition echoes the boundless worlds of images and symbols of power that reach far beyond the bubbles of the limiting networks and algorithms of our individualized news supply.
But what does it mean for a 1985 Paris-born French-Algerian artist to fill these enormous halls of one of France's flagship institutions for contemporary art that is known for its experimental formats like "Carte Blanche" which augur the boundless freedom and autonomy of the artist? What defines the autonomy of an artist today and how democratic, liberal or neoliberal has the (art) world become, now that institutions call for institutional critique and thus internalize the criticism of their own system?
Beloufa first takes us back to the nineteenth century and the figure of Courbet, this proud and pretentious, provocative and highly politically engaged artist, who at the same time declared his independence—for instance by opening his own Pavilion of Realism in 1855 or raging against the Vendôme column during the Paris commune in 1871—but also didn't conceal his own dependence on private capital by caricaturing himself as a social outcast or side by side with his powerful patrons, like in Bonjour Monsieur Courbet (1854). A persona that is impossible to grasp in a simplified reading.
Our gaze wanders over to the output of central figures of twentieth-century art history caught by Picasso's Stalin portrait in the Communist cultural journal Les Lettres françaises from 1953, Andy Warhol's poster promoting the German Green Party from 1978 (at the suggestion of Joseph Beuys, who also appears in the exhibition), or Robert Rauschenberg's poster for the United Nations' International Conference on Population and Development in 1994.
Artists today are still facing the challenge of finding a unique and stable position not only in a politically and socially complex global art network and its dependencies but also in a constant overkill of visual and textual influences. Overlooking the chaos, they are confronted with the everyday task to develop a unique language of abstraction that takes on the power to change certain perspectives of the international viewer, the critique, the curator, the gallerist and the collector. Beloufa invited some artists to contribute who have managed over the past years to gain consistent credibility by raising urgent issues of current socio-political development, among them Hito Steyerl, Thomas Hirschhorn, and Pope L., and also a younger generation of artists like Katja Novitskova and Camille Blatrix.
Beloufa kicks the ball back. The mass of information and mix of copy and original, fact and fiction that is presented here cannot easily be consumed. Except for extensive labels aiming to capture the contradictions of the exhibits, there are no instructions or suggested methods of perception. One is forced to find one's own way. Even having seen the exhibition twice, it is impossible to perceive it in its entirety, but "that's the game," Beloufa says with his usual nonchalance and cunning modesty. Indeed, this challenging, nervous, maybe piercingly painful game has a serious reference: the exhibition is a commentary on the state of civilization now and points to the interchangeability and contradictions of (empty) power gestures. Today, what we expected to be the entities and basic values of our democratized civilizations is questioned again. So that we come to the point that leaders of authoritarian regimes adopt terms like Trump's "fake news" to obscure their human rights abuse. When it becomes harder and harder to draw a clear line between "fake news", "alternative facts" and propaganda, we are not far away from robots moving content from one context to another. "Strong and stable my arse," as artist Jeremy Deller put it in a poster campaign in London reacting to Brexit, which is also documented in the exhibition.
Whether this exhibition is good or bad is the wrong question. It is a courageous and radically new attempt to lay all the cards on the table. It doesn't offer solutions, but rubs salt into the wounds. It can be questioned and criticized in the same ways that we can question and criticize our own double standards, self-legitimized authorities, easily polarized opinions and everyday appropriation, but that is what makes it so brilliant.
at Palais de Tokyo, Paris
until 13 May 2018