ESSAYS Mousse 67
The Way Out: Listening to, and Looking at, New Age Now
by Dieter Roelstraete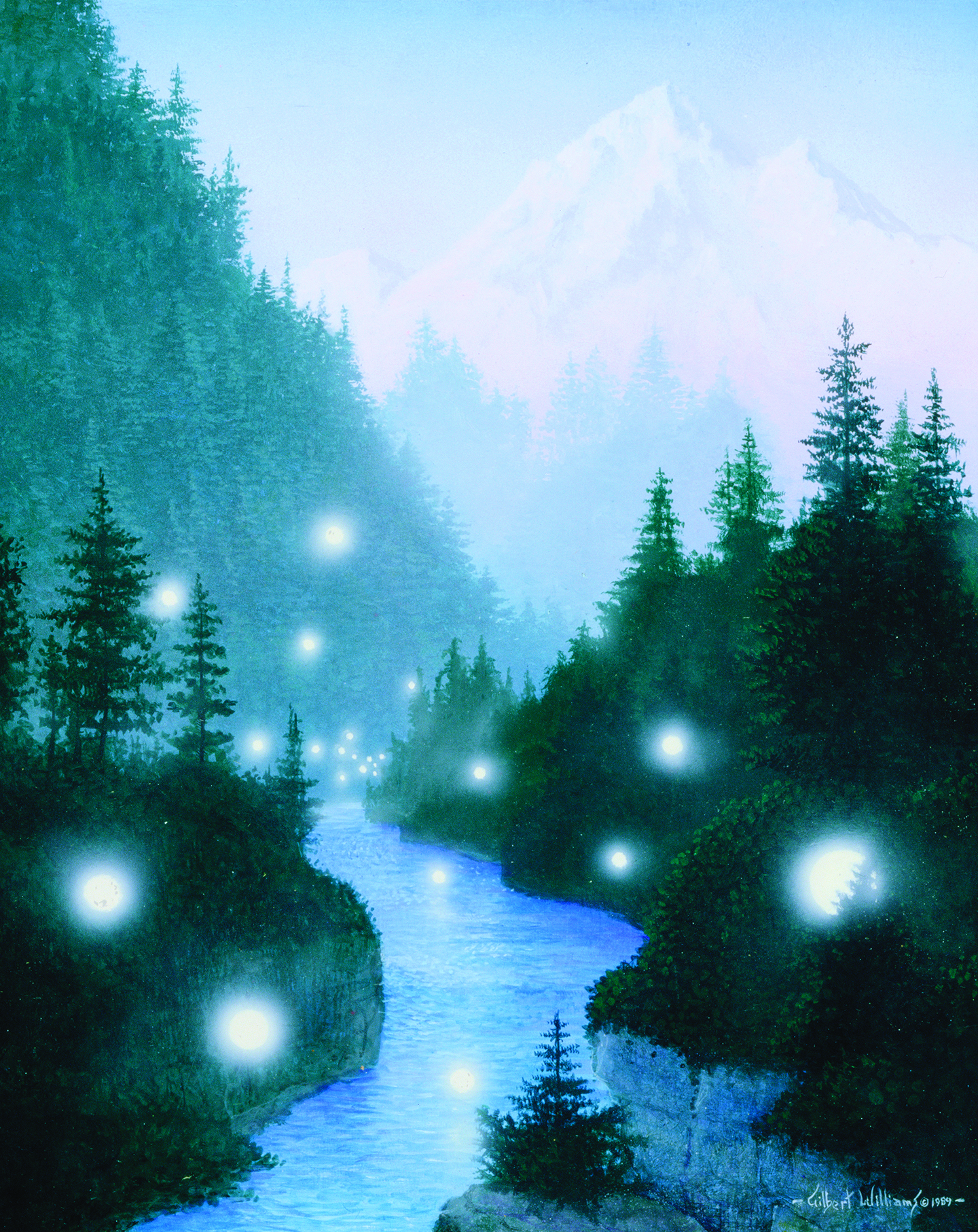 Gilbert Williams, Homeward Travelers, 1989. Courtesy: the artist
Tibetan singing bowls, gong baths, sheets of shimmering synths, strummed harps, lapping waves, and flutes whose sounds used to resonate, furtively, in "spas, wellness centers, yoga studios, and hippie bookstores" alone: for some time now, it has actually once again been okay to listen to these sonic hallmarks of New Age music—in fact, it has become inexplicably cool to flaunt your Deuter records and Iasos tapes of late. It wasn't always thus. In this wide-ranging consideration of the critical revival of the long maligned and ridiculed New Age phenomenon, Crystal Vibrations aficionado Dieter Roelstraete asks why the same hasn't happened to New Age music's visual pendant—the aesthetic scourge of Visionary art. Might its time have come, at long last? Let's see, and start by looking.
"It won't cure your problems, or the world's, but it can't hurt to immerse yourself in the music of Robert Schumann, a man who knew how to love."—Jeremy Denk
Étienne Léopold Trouvelot, Aurora Borealis: As observed March 1, 1872, at 9h. 25m. P.M., from The Trouvelot astronomical drawings: Atlas. The New York Public Library Digital Collections. C. Scribner's Sons, New York, 1881 – 1882. CC0
Q.
Did the so-called historiographic turn in art (Dieter Roelstraete, 2009)1 first announce itself in the realm of recorded music? Long before archival impulses (Hal Foster, 2004),2 archive fevers (Okwui Enwezor, 2008),3 and archive manias (Suely Rolnik, 2009)4 gripped the expanded field of visual arts; long before the reenactment industry took over the performance art world; and long before the likes of Goshka Macuga, Deimantas Narkevicius, and Paulina Olowska (to name but some of this movement's most high-profile practitioners) turned their attention to museum vaults and libraries simmering with forgotten histories and repressed memories, there was the deluge, unleashed by the compact disc and digital music revolution, of reissue culture. From Bob Dylan bootlegs and the Grateful Dead's legendary Dick's Picks series to Miles Davis studio sessions box sets and long-lost Gilels, Horowitz, or Richter acetates, it is in both the music business and music appreciation culture and fandom that retrospection has long been a (if not the) dominant optic.5 Long before theorizing the aforementioned "historiographic turn in art" or "way of the shovel," I was a confirmed audio archaeology enthusiast, and my first true taste of the curatorial may well have occurred in poring over the liner notes of some obscure 1970s (possibly East German) jazz-funk anthology or other. For many years now, this archival passion—an unquenchable thirst for the ever-new old—has matched my eclectic taste in music, and a typical day at the office may see me swerve from haunting 1930s Greek village folk dirges to field recordings of Papua New Guinea ritual flute music via obscure Soviet-era free jazz and early 1970s German electro prog freak-outs. Blogs, streaming services, and internet radio stations have expanded this musical multiverse in unfathomable ways, leading the inquisitive listener to despair that there are not enough minutes left in the future to properly process every sound made by human beings ever committed to disc. Every conceivable sound under the sun, it long seemed—except, perhaps, for… New Age.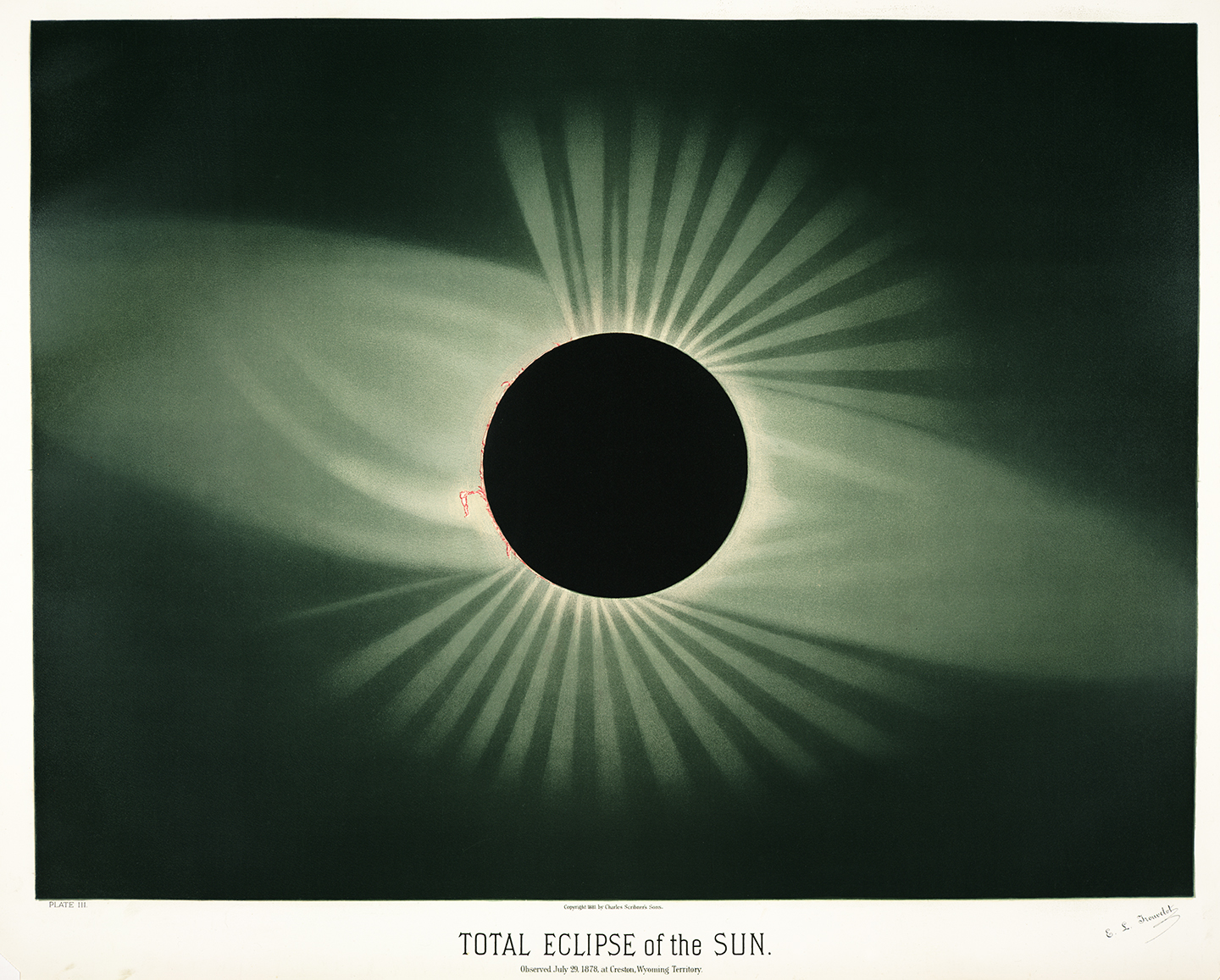 Étienne Léopold Trouvelot, Total eclipse of the sun: Observed July 29, 1878, at Creston, Wyoming Territory, from The Trouvelot astronomical drawings: Atlas. The New York Public Library Digital Collections. C. Scribner's Sons, New York, 1881 – 1882. CC0
New Age: for the longest time, this long maligned and ridiculed hapless cousin of ambient, drone, and minimal music, 1970s California born and bred, embodied the last frontier of an ancient audio underground culture just out of reach of the dreaded twin regimen of retro taste and curatorial curiosity. New Age bins in secondhand stores—ninety-nine-cent Andreas Vollenweider dross and Windham Hill samplers—were the last bastions of theoryless resistance to the critical upgrading of archival fetishism. Until that far-off and far-out sound world also fell for the relentless pressure of reissue culture, the recycling cult, and the rediscovery craze. (The historiographic turn is now complete: nothing left to redeem. Except, perhaps, full-on prog rock).6 Enter the "new age of new age": its unremitting mellowness and uncompromising cheesery, sheets of shimmering synths and oceanic schmaltz, may once have been "the province of spas, wellness centers, yoga studios and hippie bookstores, [but] these days, new age records—particularly the more rare LPs and cassettes released in the 1970s and 1980s—are a touchstone of cool. Younger record collectors have been rediscovering vintage new age records by musicians such as Iasos, Laraaji, Steven Halpern, Constance Demby, Michael Stearns and Suzanne Ciani. […] A recent Laraaji show in Brooklyn was packed with people in their twenties and thirties."7 (Until recently, the man born Edward Larry Gordon, a devotee of the late Shri Brahmananda Sarasvati, founder of the Ananda Ashram in Harriman, New York, was better known as the creator and facilitator of Laughter Meditation Workshops, "empowering workshops that acknowledge and honor the ability of our laughter to take us into deep relaxation and receptivity to meditation").8 Guardian music critic Geeta Dayal, from whose article I have been quoting here, points out a couple of benchmarks posted along this rocky road to recovery and respectability, such as the now defunct New Age appreciation blog Crystal Vibrations, run by Greg Davis (whose interest in the form aligns with the DIY of underground tape scenes), and Douglas MacGowan's critically acclaimed anthologies I Am the Center: Private Issue New Age in America, 1950–1990,9 released in 2013, and The Microcosm: Visionary Music of Continental Europe, 1970–1986,10 released in 2016 (some of the artists featured on the former, in addition to some of the names listed above, are Joel Andrews, J. D. Emanuel, Larkin, and Don Slepian; some of the artists featured on the latter are Peter Michael Hamel, Ariel Kalma, Popol Vuh, Vangelis, and Enno Velthuys). And don't forget to check your ironies at the door, y'all.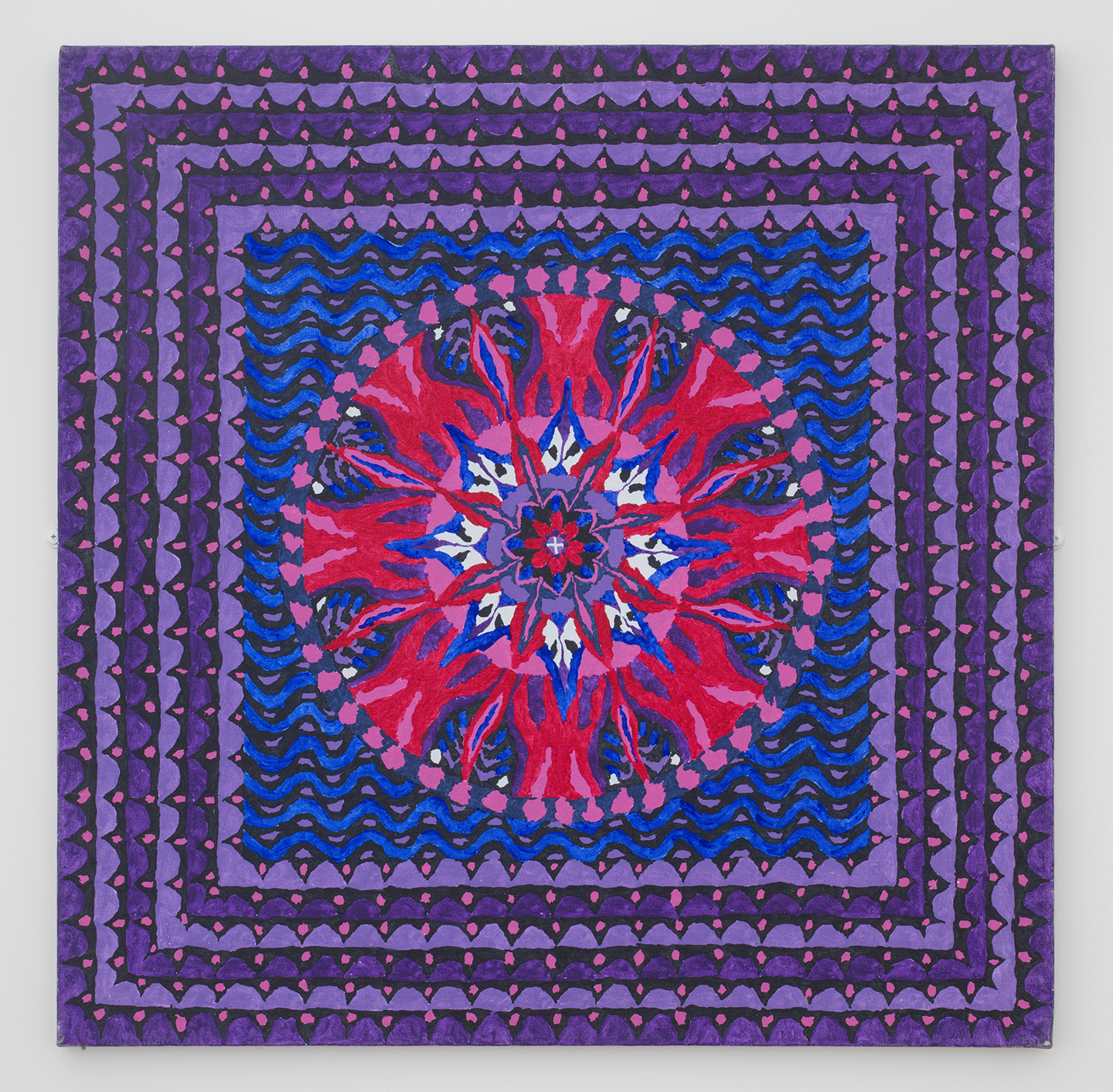 John McCracken, Ophirin, 1972. © The Estate of John McCracken. Courtesy: The Estate of John McCracken and David Zwirner
A.
As is so often the case with such subcultural phenomena, the pressing question is not is it any good? (Trust me: it is—better than any of us was willing or able to imagine). It is rather: why now? Why is one thing marginalized while another is being glorified, and why do the tables turn when they do? How come even the musically and philosophically most irredeemable forms are awarded redemption in the end, and why has that end come now? Can nothing safely be counted on to never come back from the dead? The answer to this tangle of questions, in the case of New Age music (as well as its attendant aesthetics, ethics, and ideologies), is a taut knot of musical and philosophical considerations, with the ambivalent charge of New Age's perceived escapist tendencies at its heart. In sonic terms and on a musicological plane, New Age trades in facile fantasies of escape: aural bliss, cosmic concord, heavenly harmonies, soothing soundscapes. A total lack of tension, and an overwhelming sense of stasis. Introspection gives way to blinding inwardness and self-absorption. Lured into an evidently false sense of peopleless security, we shut out the world in favor of the womb—or the sonic equivalents of a Tolkien pleasure dome. This, we are told (and we all agree—because we know), is bad—because it is a lie. The standard aesthetic objection to New Age, in other words, almost always, and automatically, morphs into an epistemological one: it is perhaps the one kind of music that is systematically faulted for lying about the state of the world, for misrepresenting the sorry state of our union. New Age's greatest transgression is to paint a picture in sound of a world that does not exist, no matter how hard we may, in many ways, want it to exist. (Much of the language of New Age musical culture is straight-facedly utopian). The picture thus painted, in fact, ends up becoming a quasi-perverse indictment of the world as we know (and found) it: how dare your zithers and harps coat our vale of tears in a deceitful veil of saccharine lies? Should this music even be allowed to exist, in a world that knows (and has spawned) Vladimir Putin and Donald Trump, Bashar al-Assad and ISIS, global warming and the insect apocalypse? The answer to this question, of course, tells you all you need to know about the remarkable critical resurgence of New Age music in the last decade: who wouldn't want to escape this infernal cauldron called planet Earth at this particular point in time? Has escapism ever been more warranted, and a more logically compelling ethical stance to take? Has there ever been a better time for art to truly soothe—and can the music show me the way out?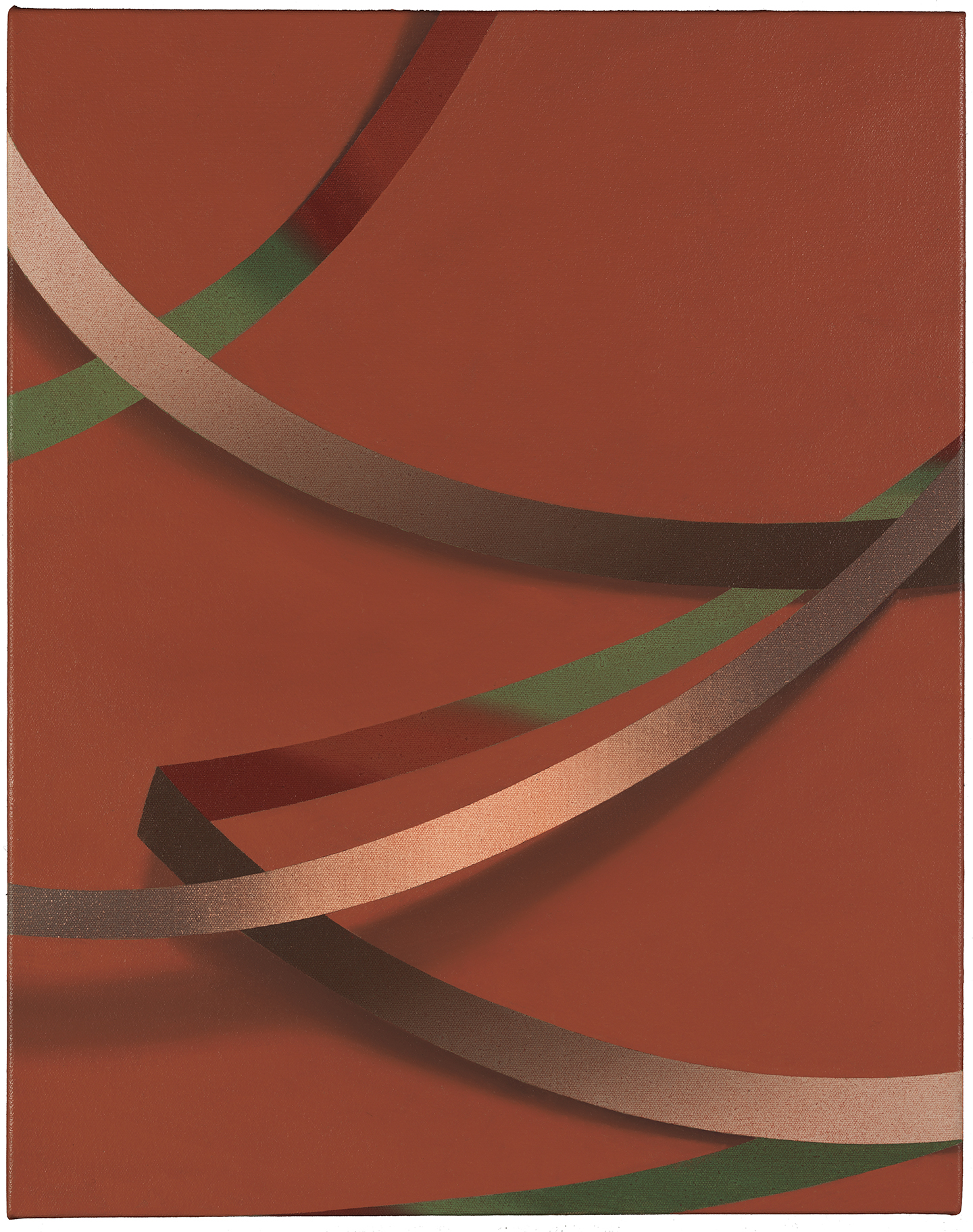 Tomma Abts, Weie, 2017. Private collection. Courtesy: greengrassi, London. Photo: Marcus Leith
Odd though this may perchance sound (pun intended), these thoughts were occasioned, in part, by a recent reacquainting with the work of Tomma Abts, the subject of a solo exhibition at the Art Institute of Chicago just now—a show that I, a longtime admirer of the work who just hadn't thought about it for, well, a long time, walked into asking myself the very same question raised above: why now? Indeed, there seemed to be something "off," provocative almost, in this hallowed institution's diplomatic insistence that we look at this particular work now, so curiously out of step, in a way, with "the times." (The times, to be short and to the point here, being so politically hypercharged, especially in my adopted home of the United States, and the depraved, abject American take on politics being so inescapable). I do not need to describe the formal features of this widely known and widely seen work here, and will only mention a handful of titles in parentheses (Feke, Fimme, Inte, Jeels, Weie), but the parallels seem obvious: not only would some of these gorgeous paintings, marvels of worldless self-sufficiency all, look singularly compelling on the cover of the next anthology of ridiculously obscure, self-released 1970s Northern Californian idiophone recordings (for instance!), these are perhaps paintings worth listening to as much as seeing—and I am only able, right now, to describe their sonic characteristics as… soothing. (In fact, they are mostly mute. Or just very, very quiet). Indeed, neither could walking into Abts's show at the Art Institute a couple of weeks ago—wandering into her painterly world, sleepwalking into these paintings themselves—be described in any other way than as an experience of escape. Escapism? Bring it on! Without remorse or regret, I leave this very world behind—for it is "better" over there, on the other side. We are, without a doubt, in New Age terrain—escaping into a future.11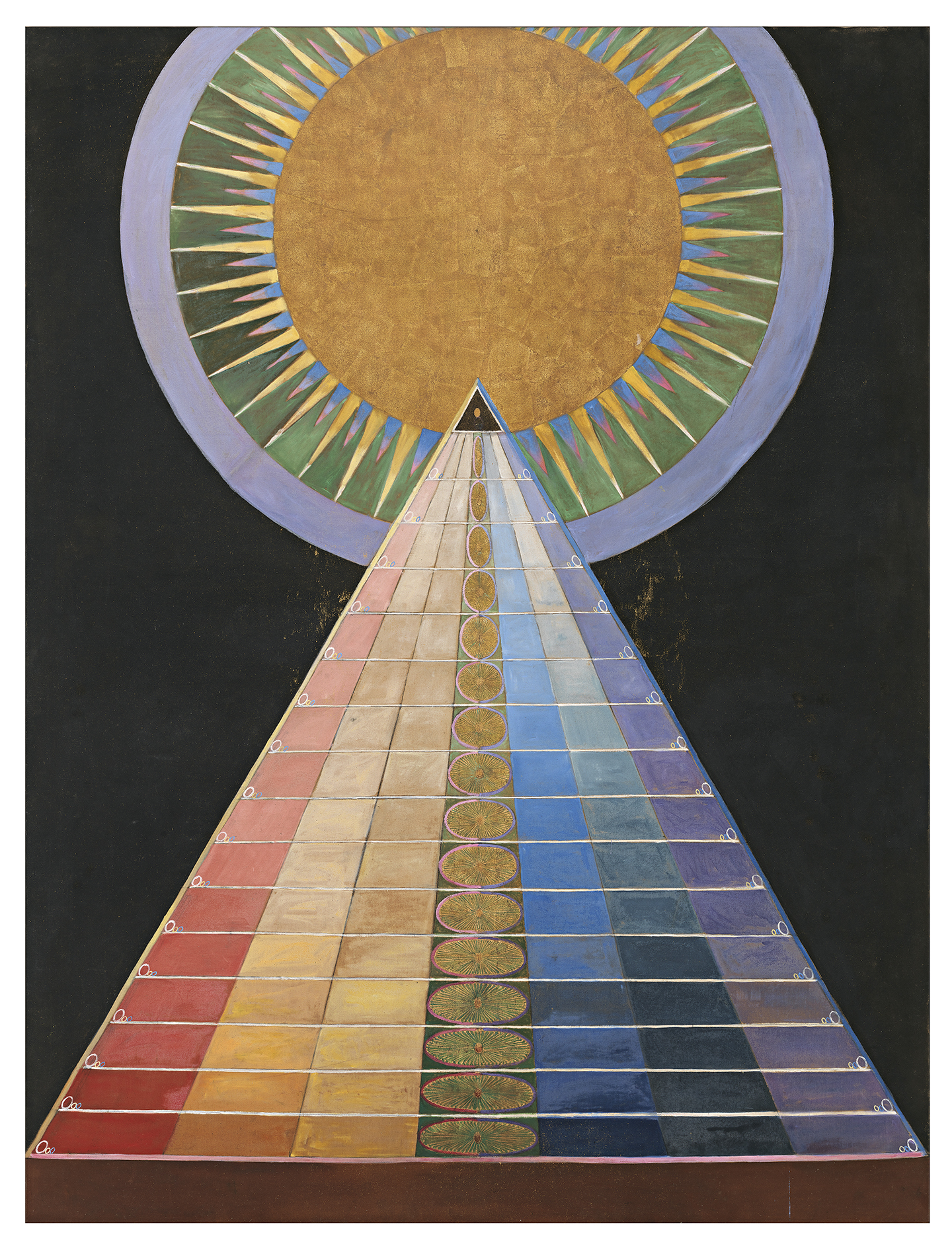 Hilma af Klint, Alterpiece No 1, 1915. Courtesy: Hilma af Klint Foundation, Stockholm. Photo: Moderna Museet, Stockholm
Okay—I am not saying, of course, that Tomma Abts is a New Age artist. Other people are, other artists are—but they, in contrast, wait fruitlessly for recognition and critical reassessment, and it is fairly safe to state that paintings of unicorns (to name but one fairly recognizable staple, alongside cosmic vistas, rainbows, and heroic-and-fantasy-styled Neuschwanstein-type castles) will never make the cut of critical consensus. What is allowed in music, and available for redemption in music, is rarely so in art—and why that is the case exactly is too monumental a question to field here. (The technical term for New Age painting appears to be "Visionary art": it has its own Wikipedia entry). But I dare you to look—really, really look—at the art of Gilbert Williams, for instance, framed as the visual pendant of the mesmerizing sonic riches of the aforementioned I Am the Center compendium. (The historical artwork on the cover of its European counterpart The Microcosm was culled from the oeuvre of one Etienne Trouvelot). Or look—really, really look—at this drawing of Ruth Bader Ginsburg riding a unicorn: now that New Age is once again heard and listened to, how about some looking, too? ("Idea for show.")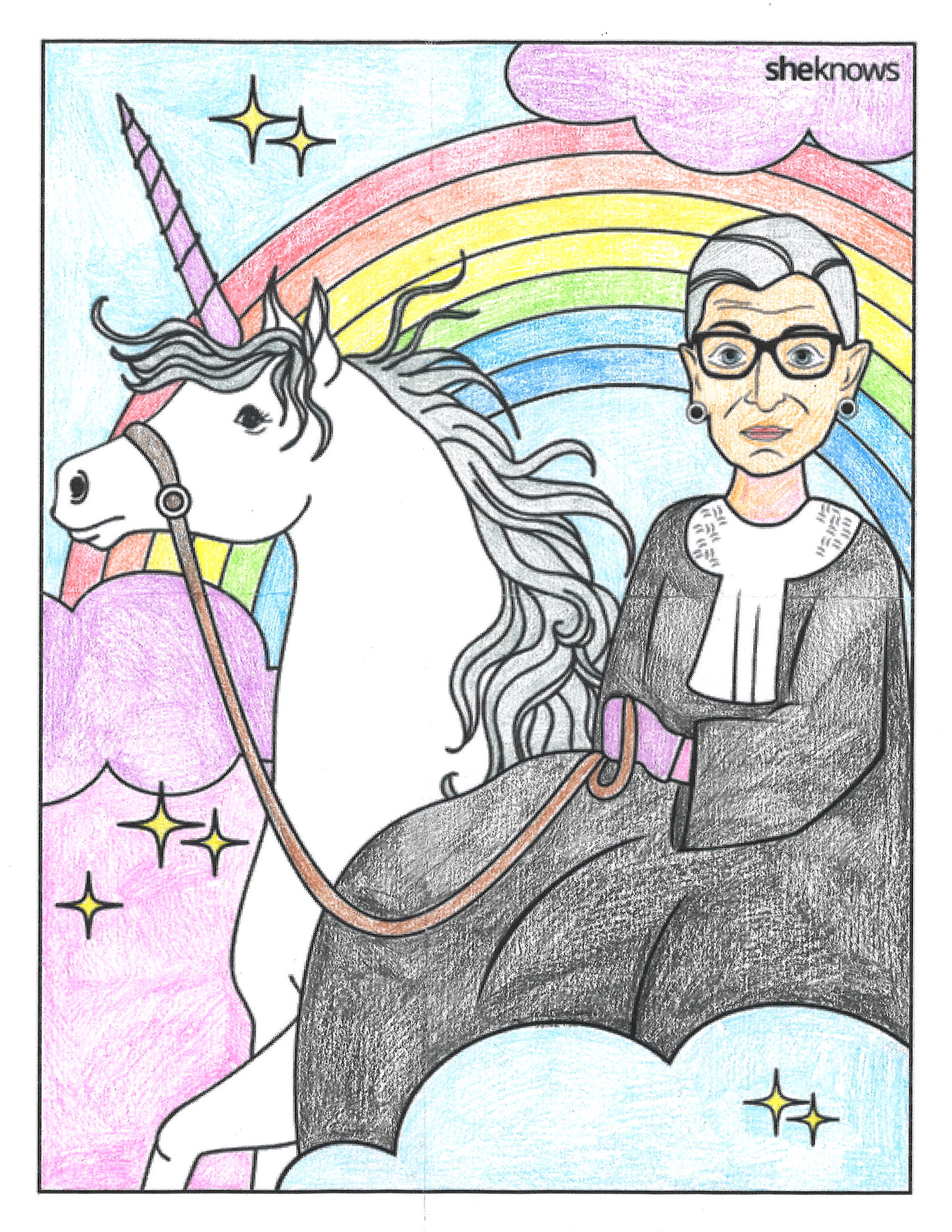 This picture of Ruth Bader Ginsburg riding a unicorn was hand-colored by Dieter Roelstraete at the Washington, D.C. bookstore Politics & Prose in a doomed attempt to reach a higher plane of consciousness or otherwise sedated state of mind.
[1] Dieter Roelstraete, "After the Historiographic Turn: Current Findings", e-flux Journal #06, May 2009. See: https://www.e-flux.com/journal/06/61402/after-the-historiographic-turn-current-findings/.
[2] Hal Foster, "An Archival Impulse", October 110, Fall 2004, 3–22.
[3] Okwui Enwezor, Archive Fever: Uses of the Document in Contemporary Art (Göttingen: Steidl, 2008).
[4] Suely Rolnik, Archive Mania (Berlin and Stuttgart: Hatje Cantz, 2012).
[5] Music may indeed be the one cultural form where, today, looking  forward really means looking back, and vice versa.
[6] This might be the subject of another, future essay—though there are obviously plenty of points of intersection between early New Age and vintage progressive rock. For a recent reassessment of the form, see Kelefa Sanneh, "The Persistence of Prog Rock," New Yorker, June 19, 2017, 64. (Stock phrase: "the genre's bad reputation has been remarkably enduring"). Sanneh's article leans heavily on two histories of the movement, published close to two decades apart: David Weigel's The Show That Never Ends: The Rise and Fall of Prog Rock (New York: W. W. Norton & Company, 2017) and Bill Martin Jr.'s Listening to the Future: The Time of Progressive Rock (London: Open Court, 1998). Tellingly, however, no such intellectually ambitious histories have been written yet about the largely contemporaneous New Age moment in music. I am, it should be added here, an occasional prog rock amateur enthusiast for reasons not dissimilar to my interest in New Age; that is to say, in part, this shared wrongness.
[7] See https://www.theguardian.com/music/2016/oct/12/new-age-music-revival-california-new-york.
[8] See http://www.dwij.org/rising_stars/laraaji.html.
[9] Various Artists, I Am The Center (Private Issue New Age Music In America, 1950-1990) (Seattle: Light in the Attic Records).
[10] Various Artists, The Microcosm: Visionary Music of Continental Europe, 1970–1986 (Seattle: Light in the Attic Records).
[11] The other memorable visual impression of my turn of the year? Hilma Af Klint: Paintings for the Future at the Guggenheim in New York. Above my desk, at all times: a postcard depicting one of John McCracken's early 1970s mandalas.
Dieter Roelstraete is curator of the Neubauer Collegium gallery at the University of Chicago, where he also teaches. He previously worked as a curator for documenta 14 in Kassel and Athens in 2017. From 2012 until 2015 he served as the Manilow Senior Curator at the Museum of Contemporary Art Chicago, where he organized The Way of the Shovel: Art as Archaeology (2013); The Freedom Principle: Experiments in Art and Music, 1965 to Now (2015); and Kerry James Marshall: Mastry (2016). From 2003 to 2011 Roelstraete worked at the Museum van Hedendaagse Kunst Antwerpen, where he curated exhibitions featuring Chantal Akerman, Liam Gillick, and Lawrence Weiner, and survey shows of contemporary art from Rio de Janeiro and Vancouver, among other projects. Recent curatorial projects include exhibitions at the Fondazione Prada in Milan and Venice; the Museum of Modern Art in Warsaw; the Garage Museum for Contemporary Art in Moscow; and the Neubauer Collegium for Culture and Society at the University of Chicago (Kleine Welt, winter 2019).
Originally published on Mousse 67