CONVERSATIONS
Nicole Eisenman at Susanne Vielmetter, Los Angeles Projects
Close
1
2
3
4
5
6
7
8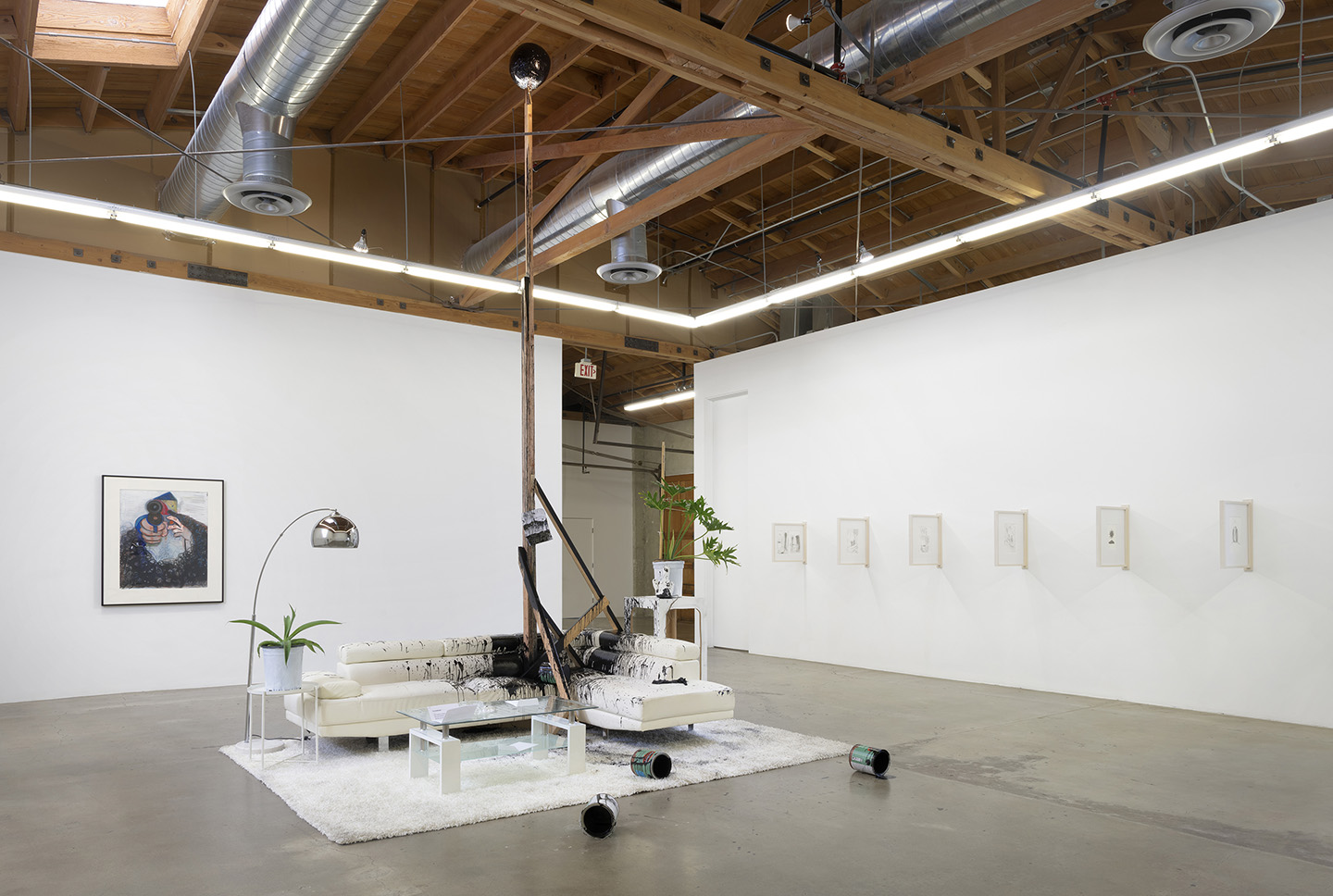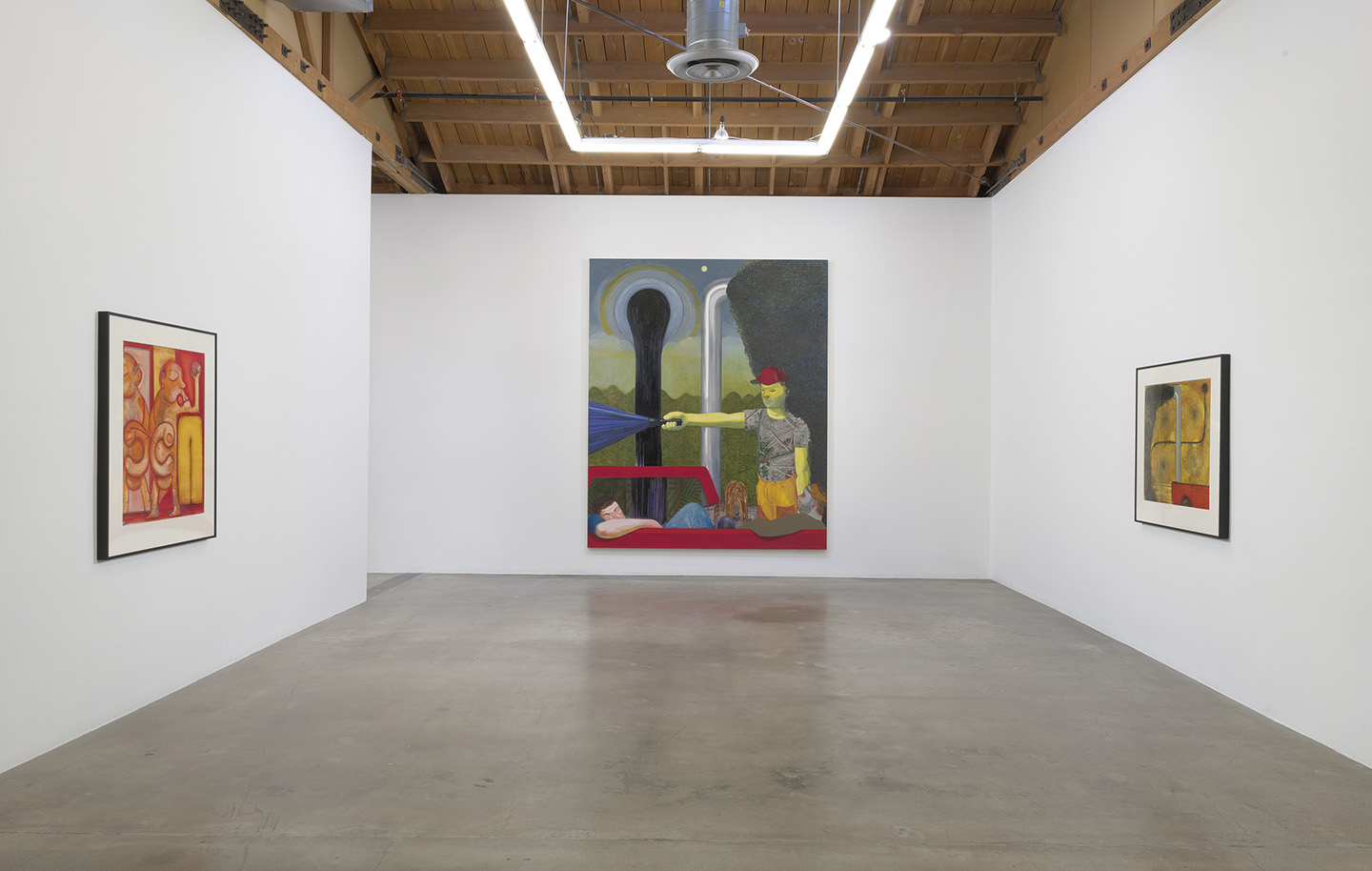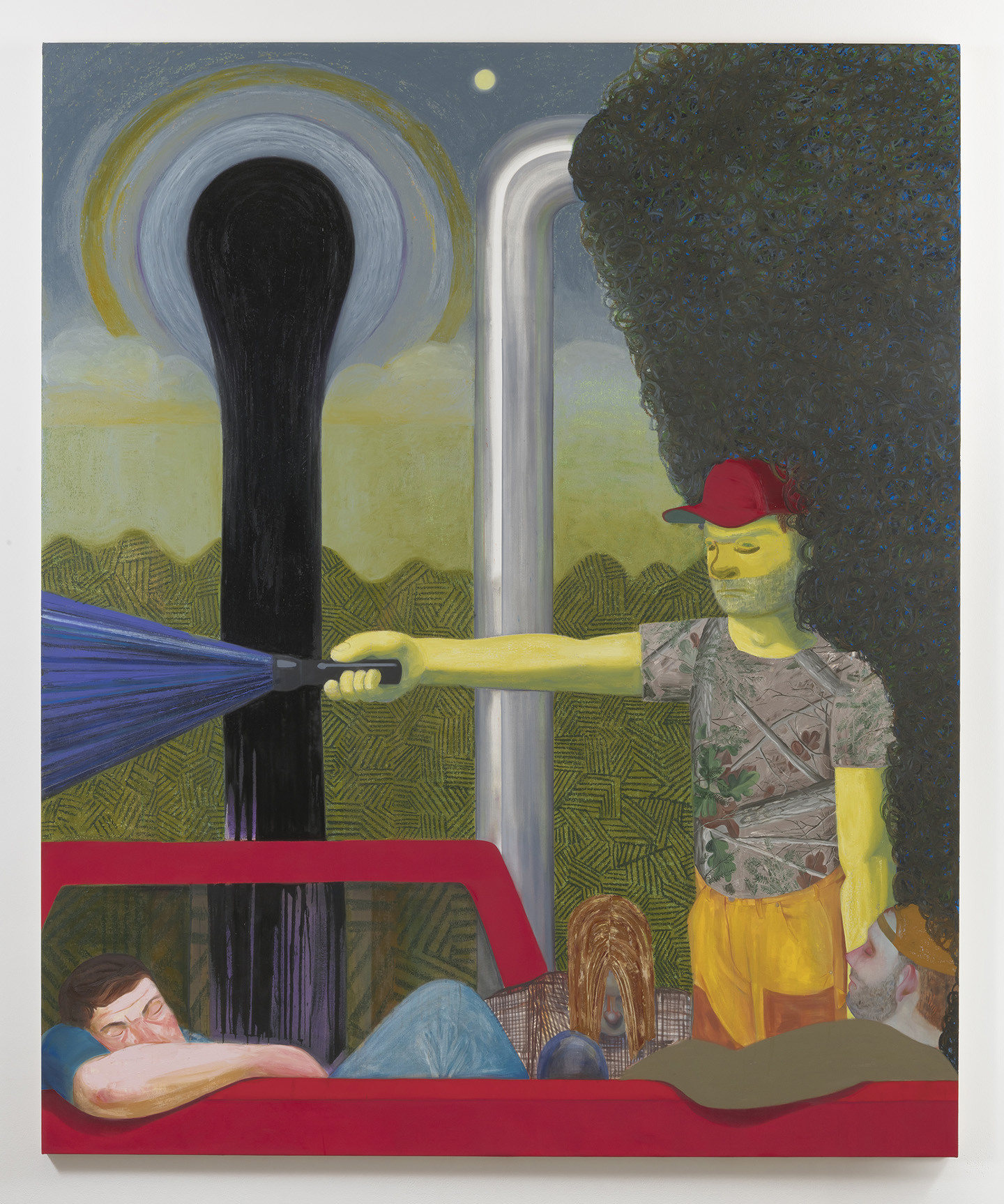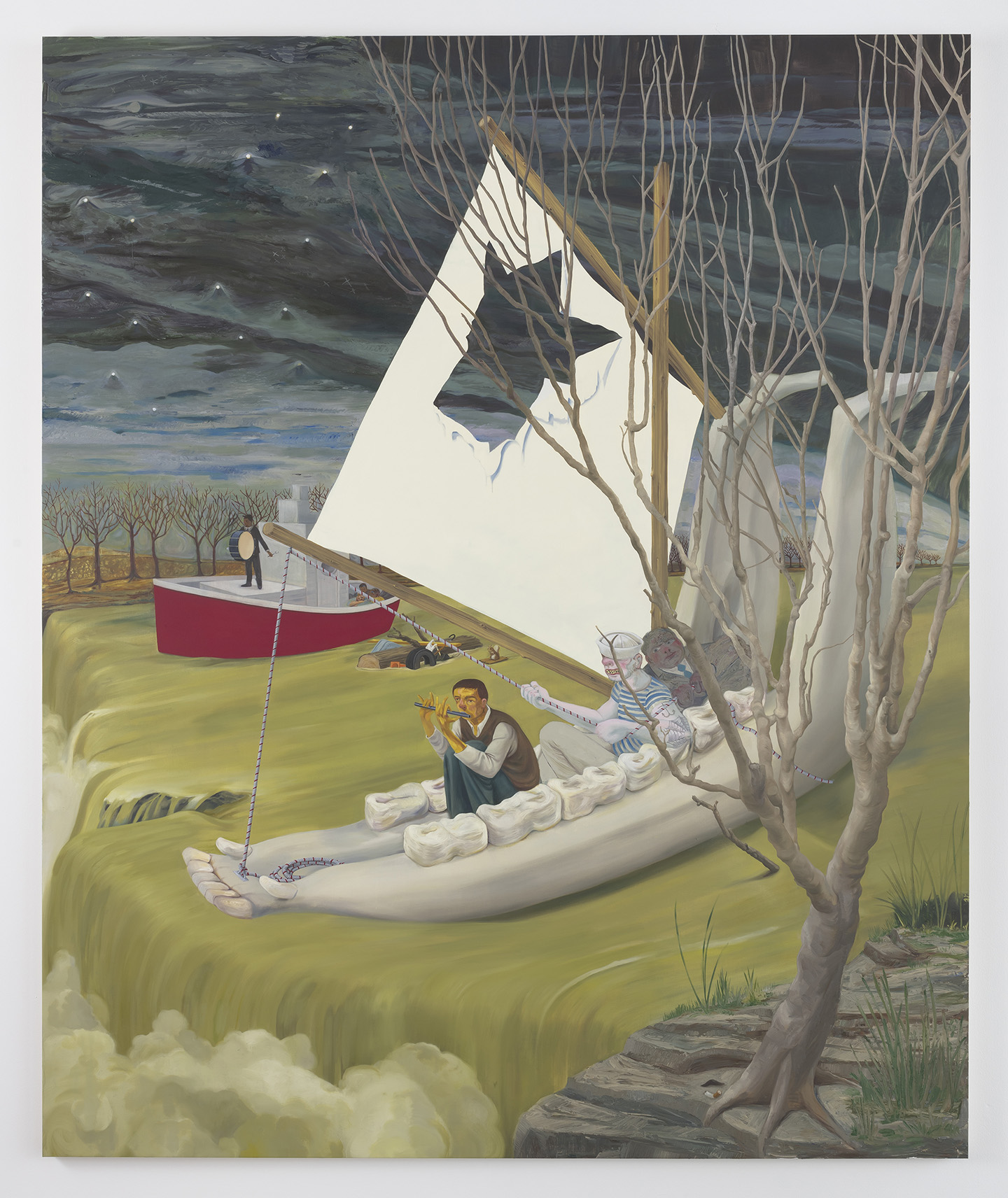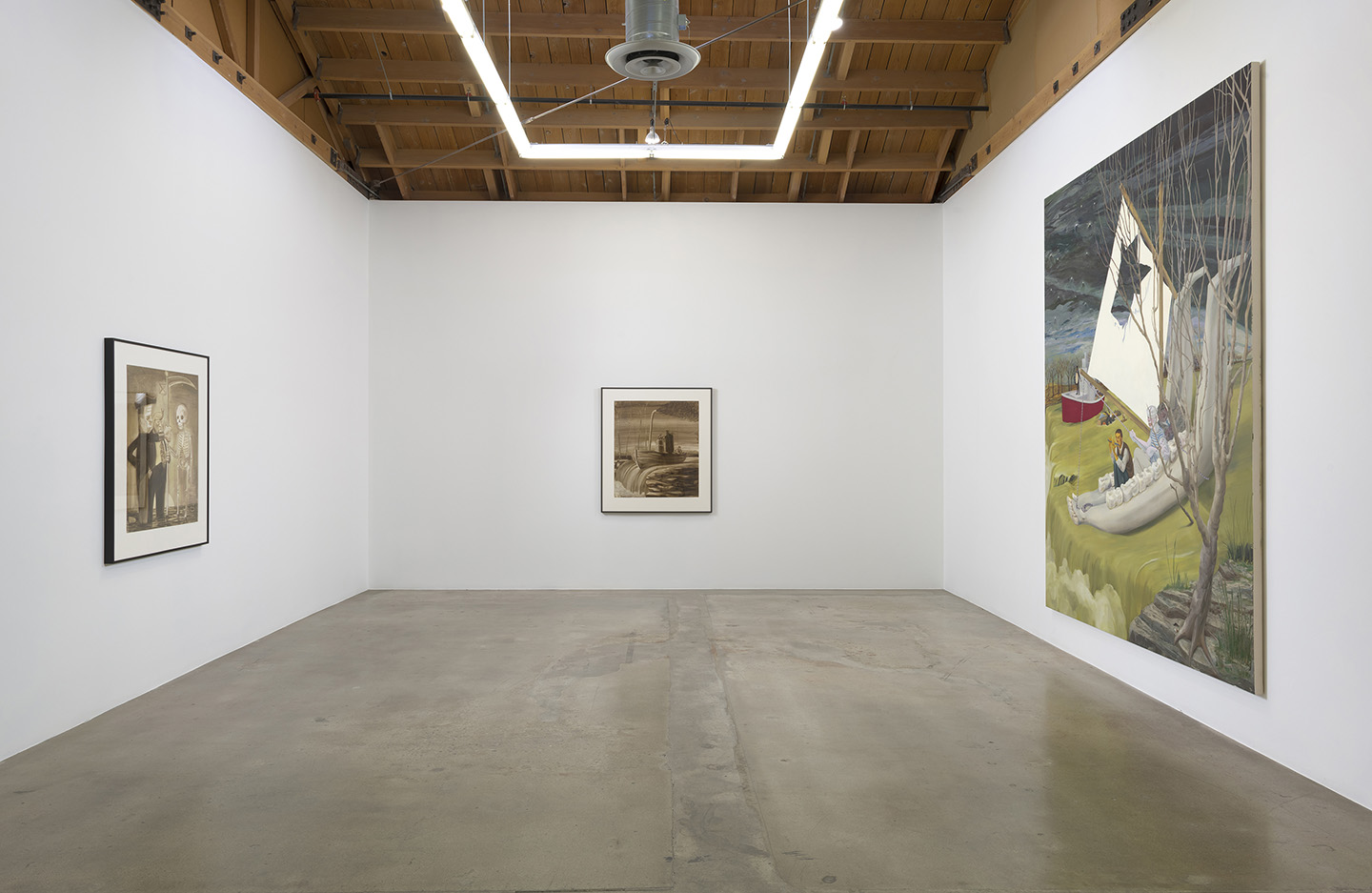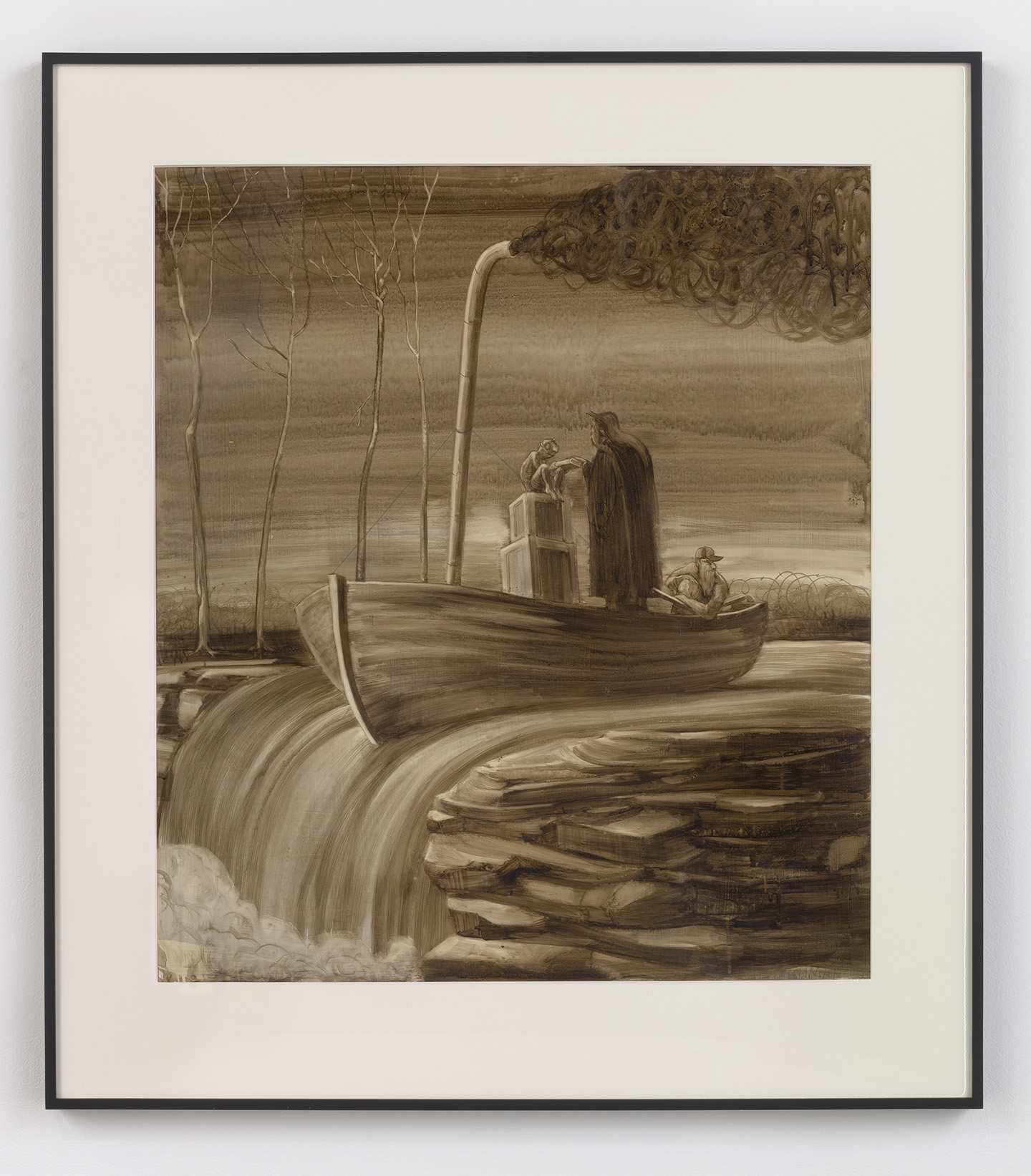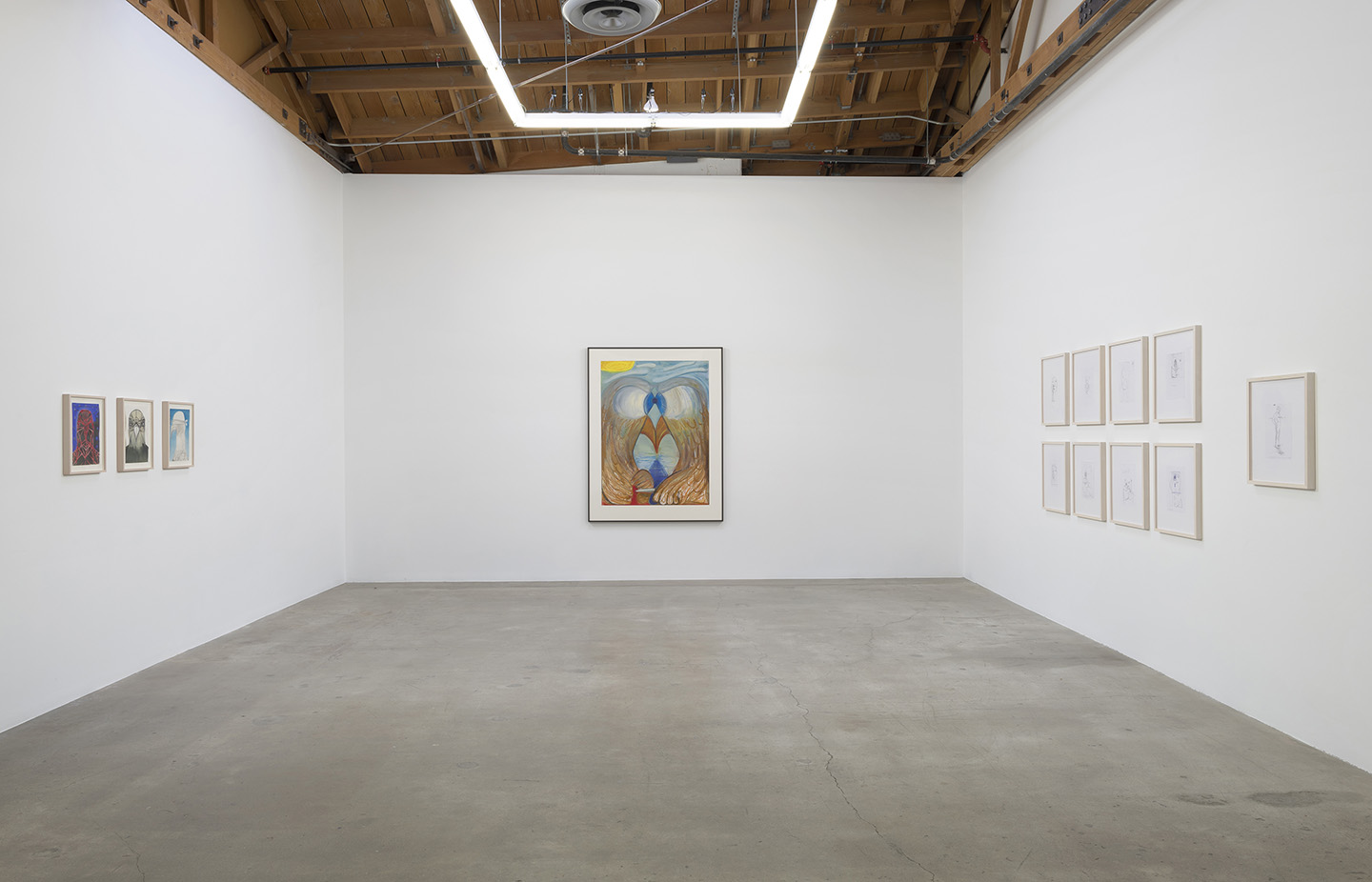 Nicole Eisenman interviewed by William J. Simmons
WJS: You wanted to talk about boredom, so I have a quote about it: "I am told the orgies I witness are a rupture, that something different is happening, but I don't see it. At the end they return to work, return to this fucked up world that makes them crazy and wanting and cruel and all I ever saw was a moment where everyone stopped caring about how normal it all was. How boring to expect that at the bottom of everything, if we only push harder, there will be something good. All Sade got was a lot of corpses who never had what he wanted."1 We expect the same things of paintings, especially with representational work. We think if we keep digging, we will find some truth. A painting is like a lover in that way.
NE: Yeah, the orgy is supposed to be a springboard for some kind of radical change or shift, and it is disappointing when that does not happen. It ends and we go back to our lives. That speaks to the surface nature of time. You're not going in it. You're skimming it.
It's also a question of what art can do and what we expect from it. It's always a complicated, push-pull thing where you want to effect change somewhere, or in some one person, even, but the chance or hope of that is nil. So why do you do it? Then, you ask, why be engaged in politics in your art? Whose quote is it—"painting the Titantic a nice color while it sinks"? Maybe I'm doing that. It goes back to my reasons for engaging with politics in my work. I don't think I ever had delusions of grandeur, that little me, or any one of us, could alone do something to shift things. But it goes back to a primal combination of a coping mechanism and an escape hatch. A lot of this work is giving me a chance to meditate on a subject for a while. I think back in the day I was much more into metaphor and allegory in my work, coming out of a place of storytelling. I'm interested in how to turn these mundane stories of politics in the here and now into myth or stories or representation, like they did with political cartoons from the 19th century. But to what ends, God knows?
WJS: When you're making work that deals with reality, you want the work to exist with people who have the same reality as you! Maybe an interesting place to go next would be narrative and time. You are able to understand an outsider narrative and an insider narrative, and you combine that with fantasy. I brought a quote from Anne Carson's Eros the Bittersweet: "But the boundaries of time and glance and I love you are only aftershocks of the main, inevitable boundary that creates Eros: the boundary of flesh and self between you and me. And it is only, suddenly, at the moment when I would dissolve that boundary, I realize I never can."2
NE: In my work, it's a yearning to be known—not for someone else to know me, but to know myself. It's such a funny thing how work comes out of you and you look at it, and then you have this connection and distance at the same time. It's an odd sensation of bringing yourself together. That quote is really something.
WJS: And how do you navigate bringing yourself together in this way, with the personal, your very real community, and the surreal?
NE: There are times you feel where you can step off the gas and relax and enjoy your surroundings and talk and celebrate your loves and your friendships and your desires. And then there are moments of disruption that feel so distant and abstract and these moments pull you into a surreality. Maybe that's where fantasy and the fantastical come in. It's like the shooters. It's so abstract. So, it's not exactly my reality, but it is affecting me and everything around me. There's a distance. I don't understand it, or how to deal with these big structural entities and issues and events. It makes me veer into a much more fantastical place.
WJS: That makes me think too that another narrative you're always balancing is art history. Oftentimes people reduce your work to art historical reference.
NE: I think so too. Thank you for saying that. It's a really simple way of thinking about things. If you look at the two big paintings in this show, they have very different structures. One is about time elongated and one feels like time compressed. You have this choice every time you make a painting of how you're going to treat time. Are you going back in it? Or are you going to mush it against the surface and flatten it out and destroy it? You can do both at the same time, which is what these paintings demonstrate. I was making them right next to each other, and they have formal connections that are really easy to pick out, which I allow you a little bit. In terms of history, one painting looks historical in the way we expect of history painting, with perspective and all that, literally going into the past. You see the boat coming out of a place where you imagine it once was as it is coming towards you and down the river. That's a funny metaphor for moving through painting space.
WJS: Your work presents a really important challenge to historians and critics because it is so uniquely yours, but also so deeply aware of art history at the same time. When people talk about your early work, they wanted to see it as very narrative driven: this is about lesbian bars. Then people began to understand that your work was also referencing the Impressionists, for example. And in both cases all people want to talk about is reference, maybe in different ways. Then your work dissolves.
NE: History eats it up, and then the work doesn't mean anything beyond history. How do you hold on to your uniqueness and still be in the flow of history? It's about collapsing time and seeing time for what it is, and history for what it is. It is a narrative, and the narrative is in the present tense because we are looking at it. It only exists when you are looking at it, right? History only exists when you crack open a book and see a Giotto painting. Or it exists when you go to Assisi and see the Giottos in real life. So if that's true, there is a freedom to move around and be a part of things that are happening simultaneously to you. There's no history. Everything is right here on the surface. But then the question is how you use time, and that's another thing about where you start and end and where the other starts and ends. We, as poets and artists and writers, part of the same project. We are all pulling from the same place, and there is not that much separation between your work and my work. We are all pushing the dung ball of culture forward, like little beetles. Now I'm lost in beetle world. Anyway, time is a construct.
WJS: The feminist historian Joan Scott calls history a "fantasy echo." It connects to the ways in which your work is building on itself in a way that doesn't feel too familiar. It feels like I've been here before but it's radically different at the same time—uncanny.
NE: Oh, that's beautiful. Fantasy echo. At the same time, you want to have something to believe in, because we are humans and we are built for stories. We are built to tell and believe stories. For instance, I saw this painting by Edvard Munch years ago. It looks like the letter "I" is painted in it, but I know he was not an English-speaking person, so it would not mean the same thing to him as it means to me. But I look at his paintings and see the letter "I" over and over again. It's made up of the sun setting over the water. It felt like a very personal message about finding yourself in painting. The "I," the sun, some weird message coming through. And I wonder if he was aware of it, but of course he wasn't. "I" did not mean that to him. It connects to the dripping anal cavity in these recent works. It's the same shape. It's this big ball with black dripping down. It's a nice metaphor for life and death too, and how we think of shit and the anus as being the lowest part of your body. A gravesite.3
1 C. E. "Undoing Sex: Against Sexual Optimism." Lies: A Journal of Materialist Feminism. 1 (2012): 15-43. 31.
2 Anne Carson. Eros the Bittersweet. Champaign and London: Dalkey Archive Press, 2009. 30.
3 Leo Bersani. Is the Rectum a Grave?: And Other Essays. Chicago and London: University of Chicago Press, 2010.
at Susanne Vielmetter, Los Angeles Projects
until 21 April