Mousse 73 TIDBITS
The Sound of Dissent: Nikita Gale
Close
1
2
3
4
5
6
7
8
9
10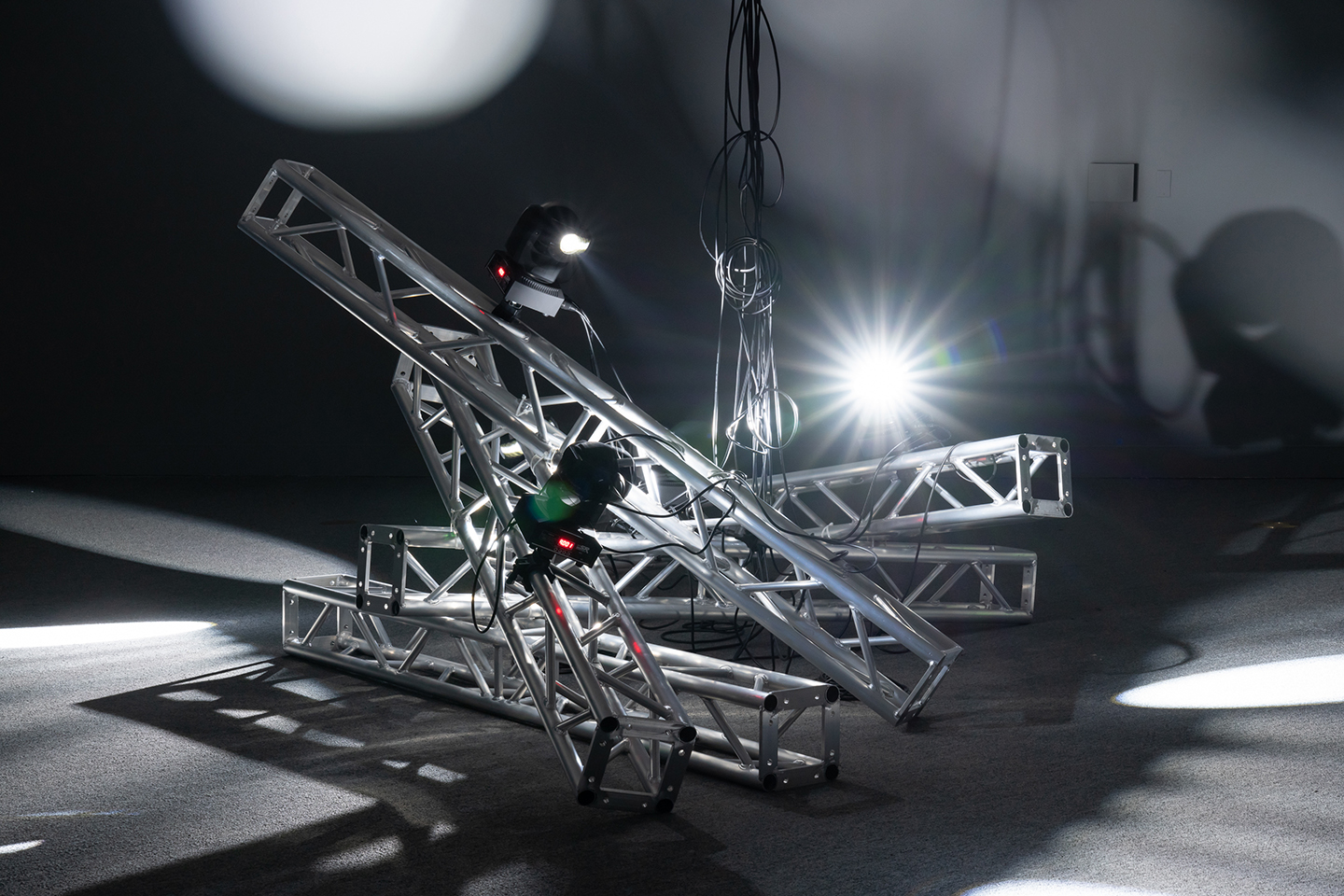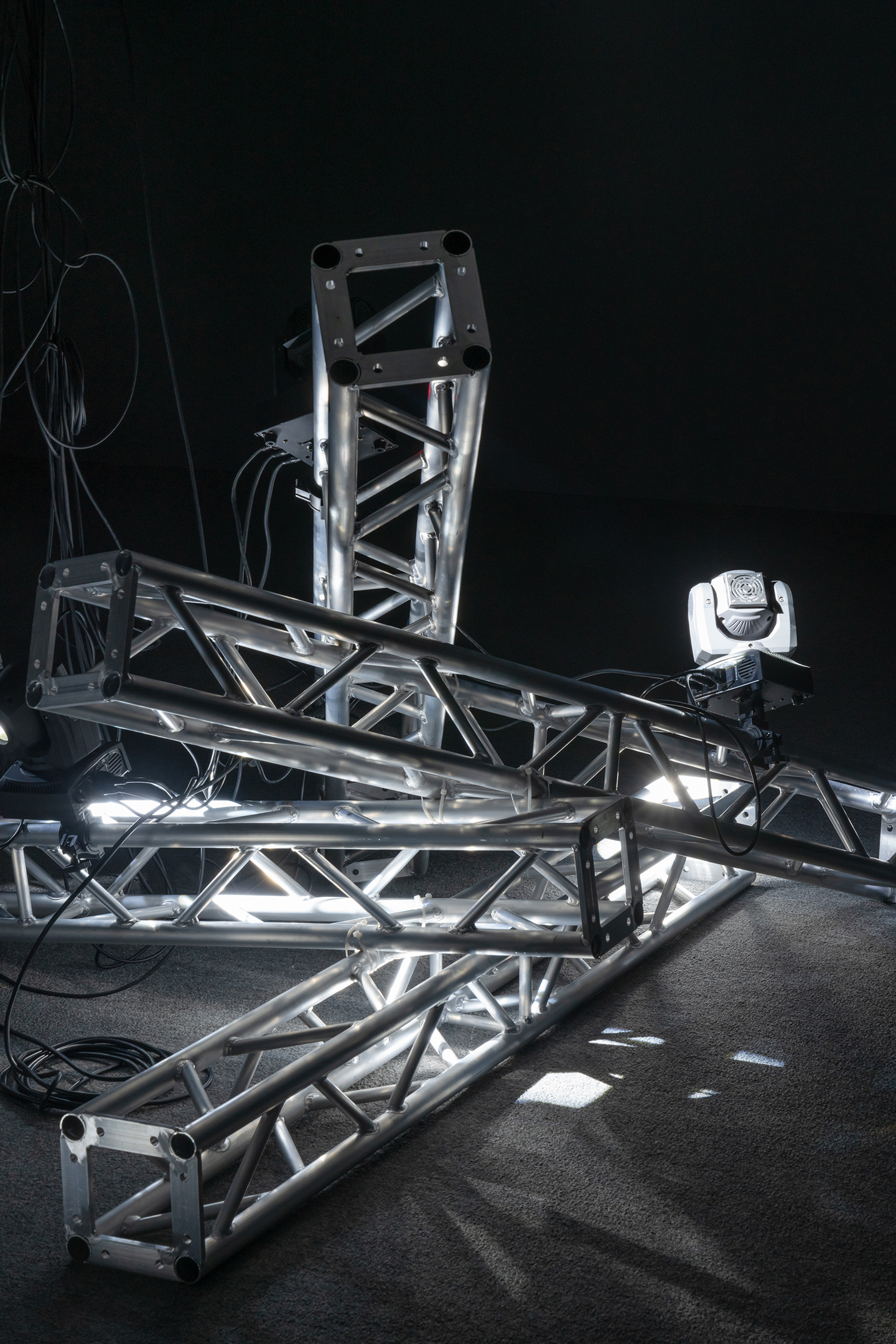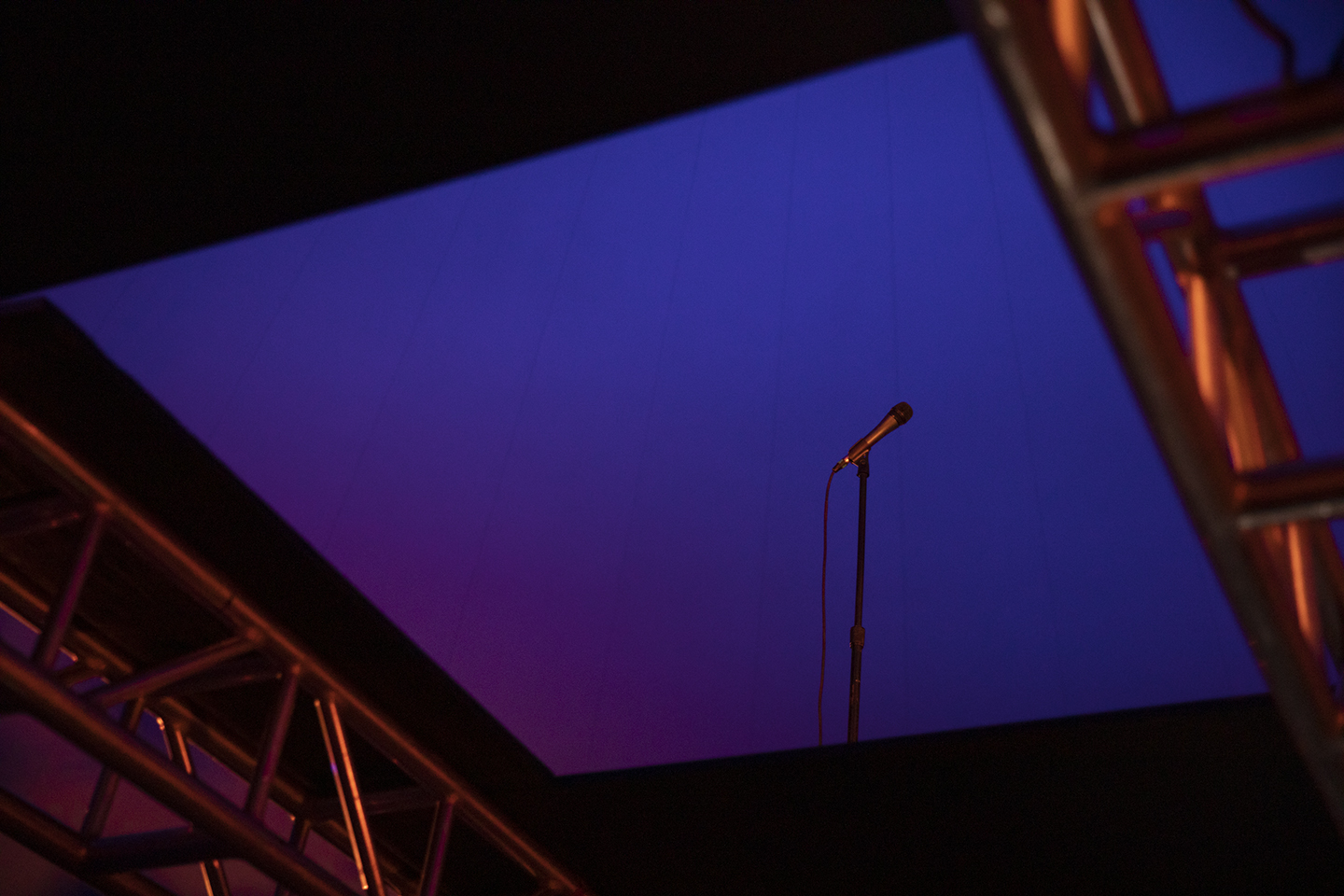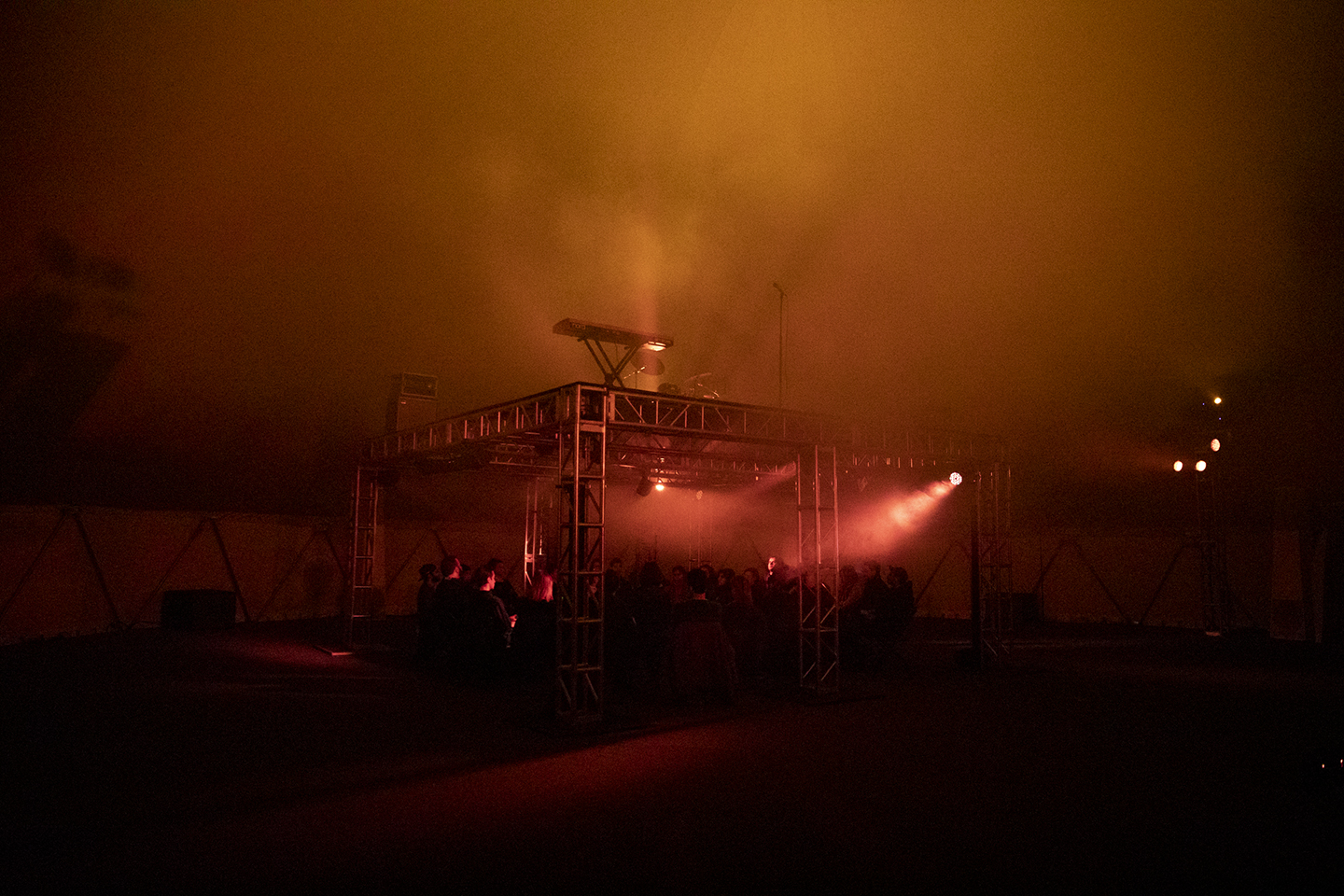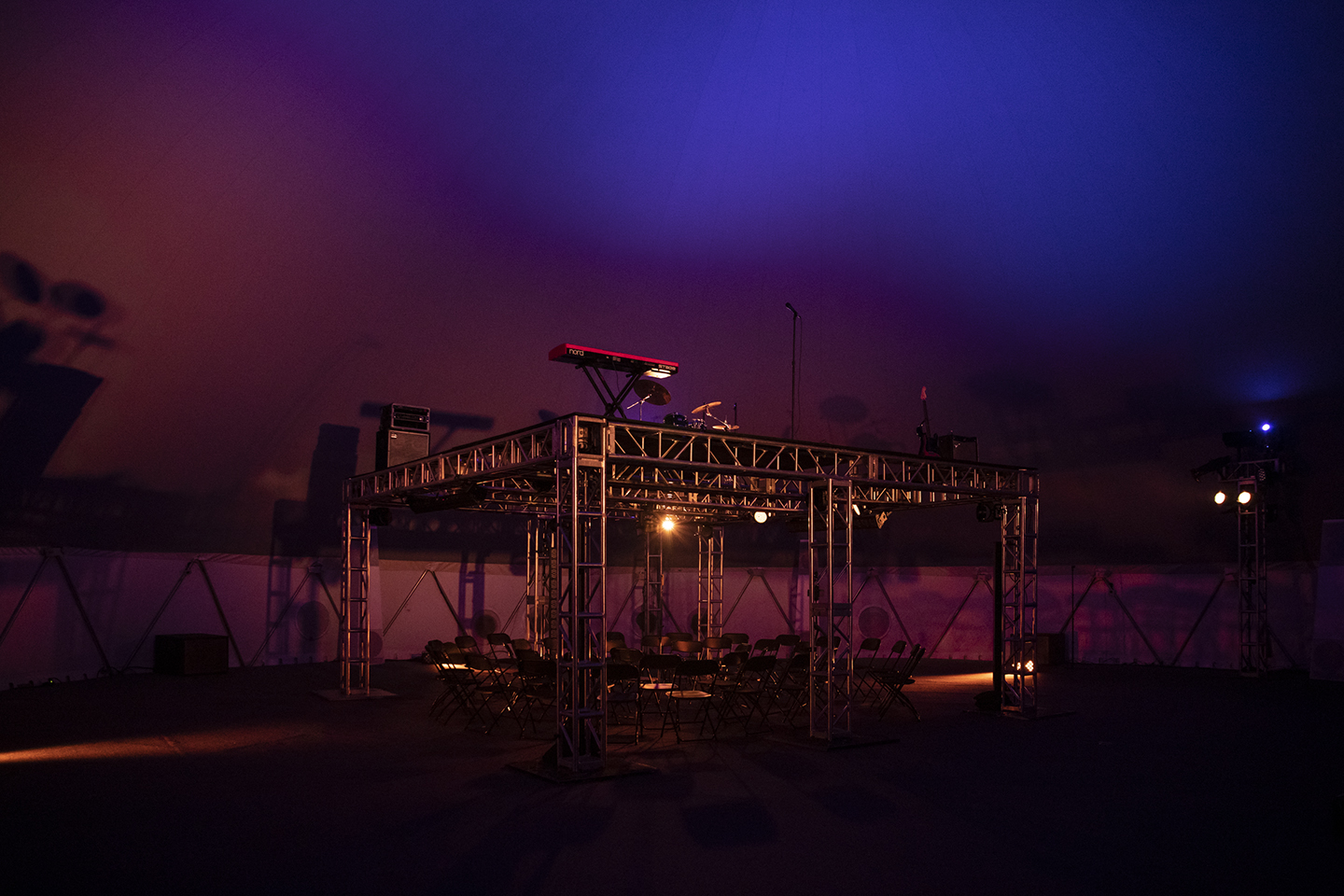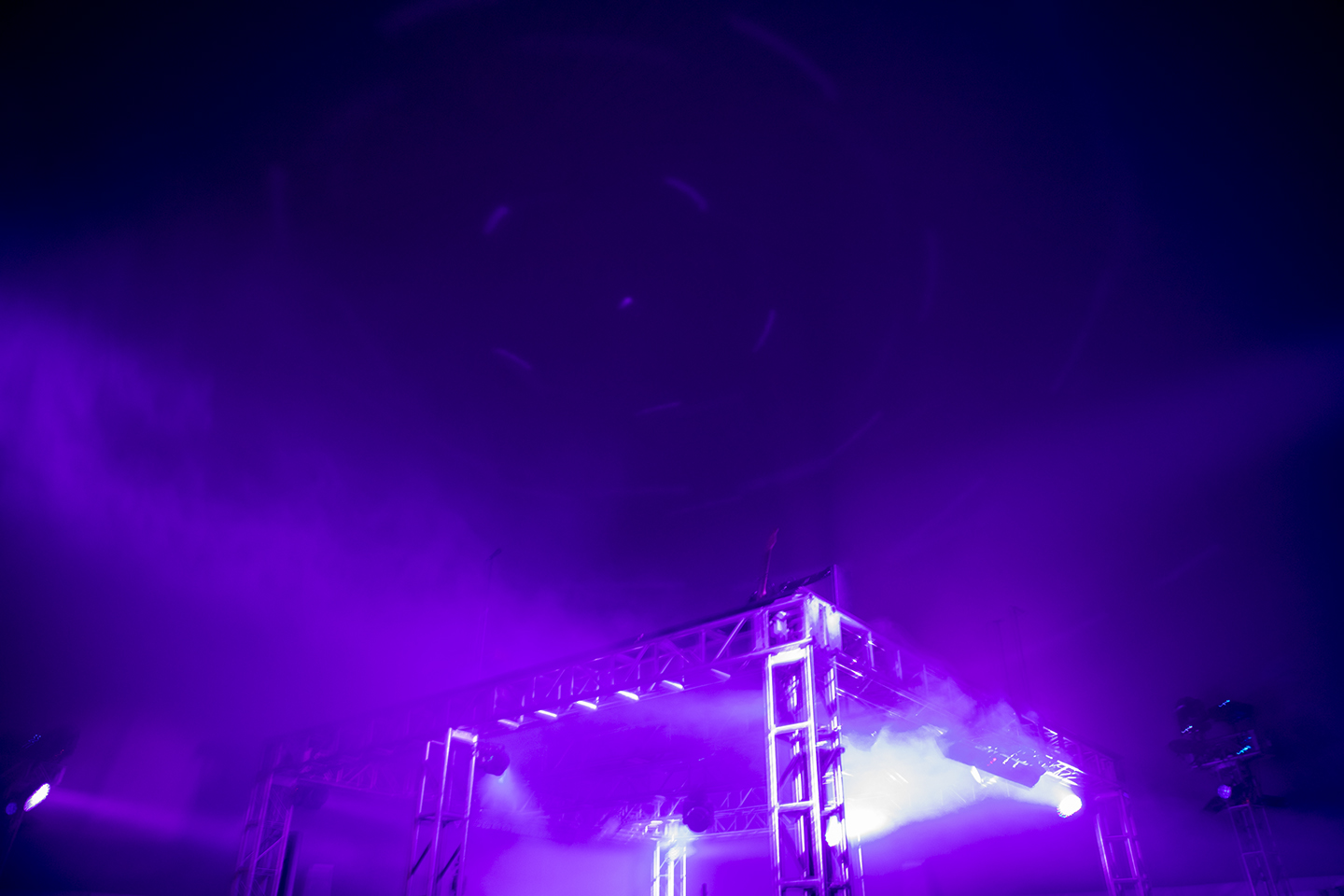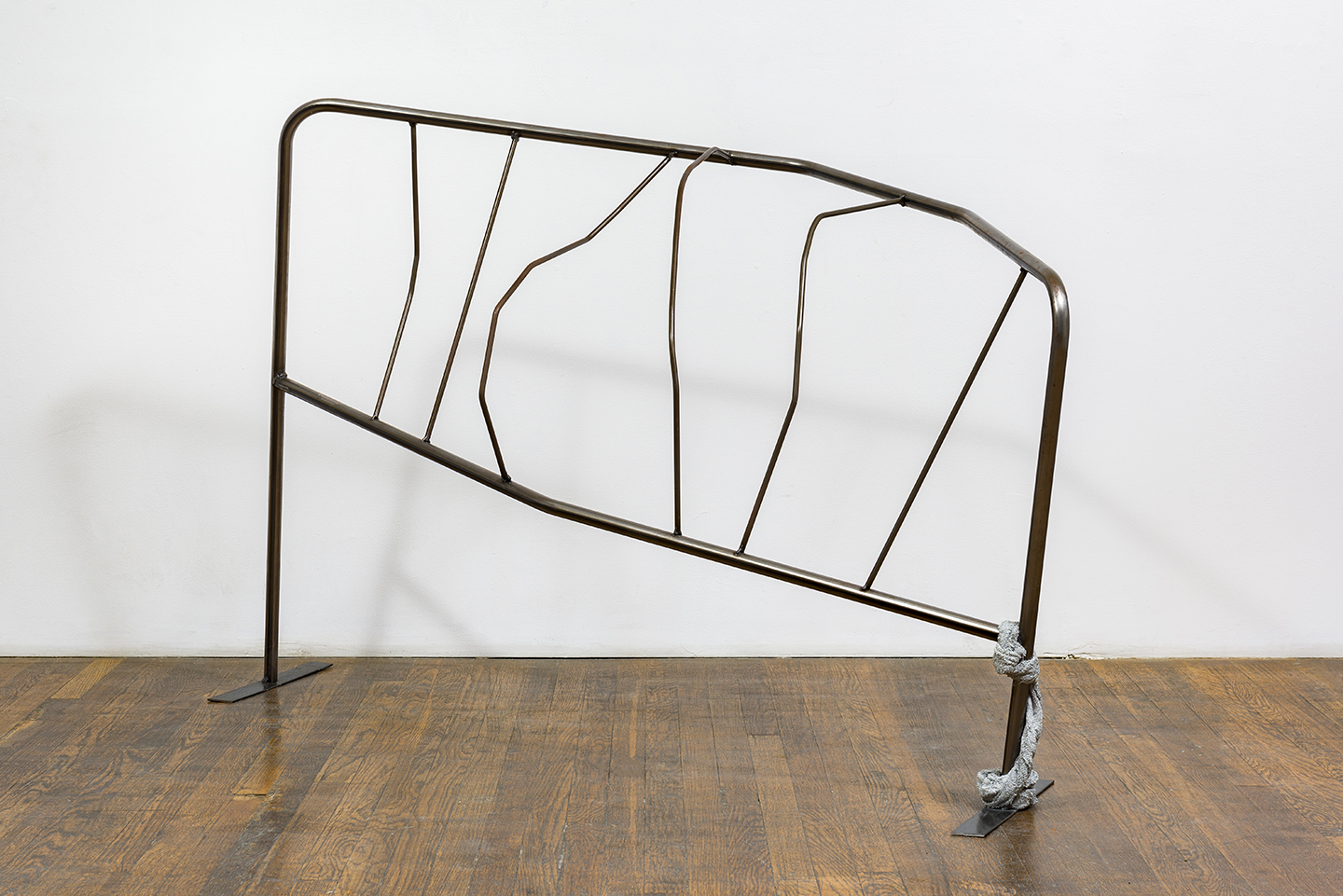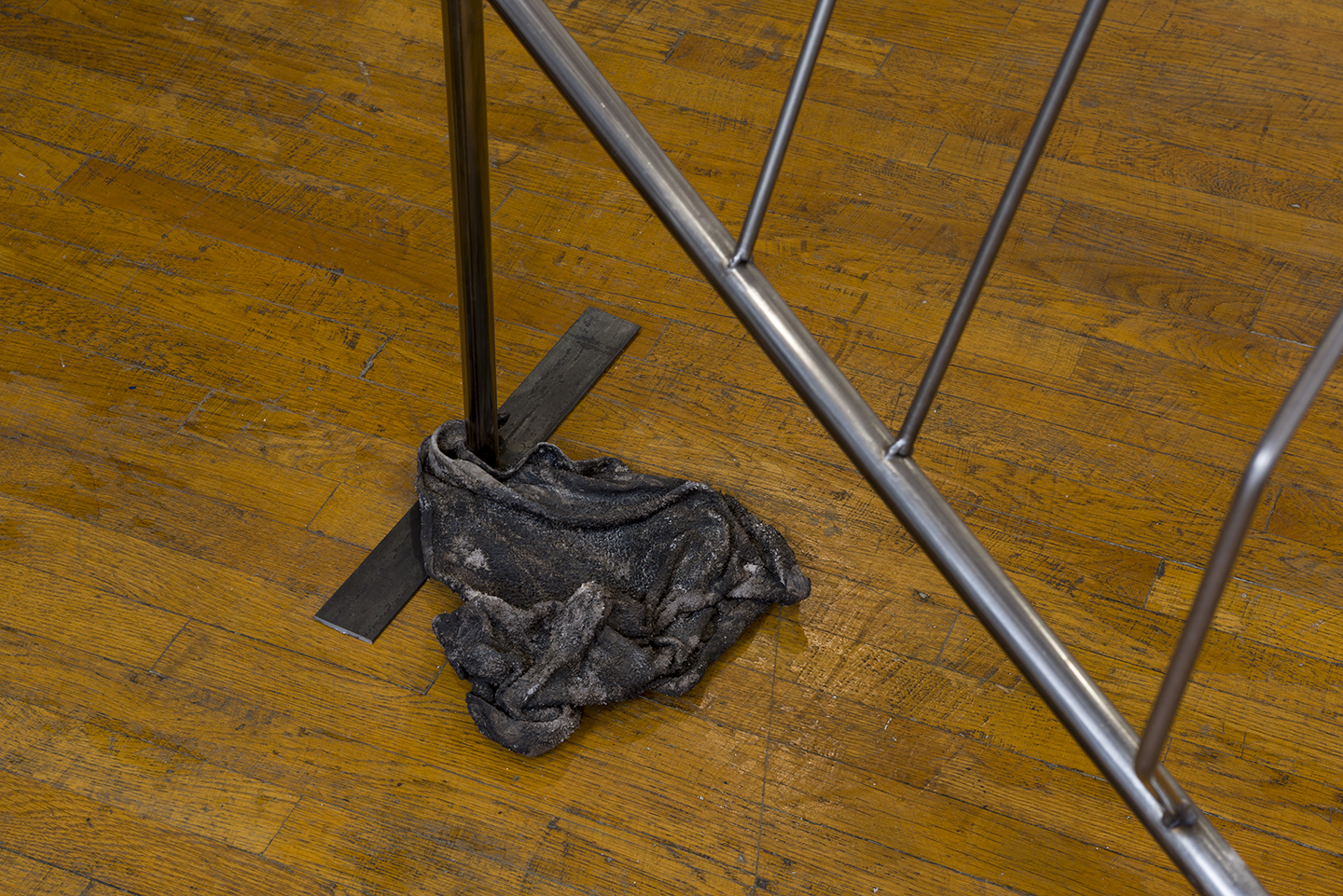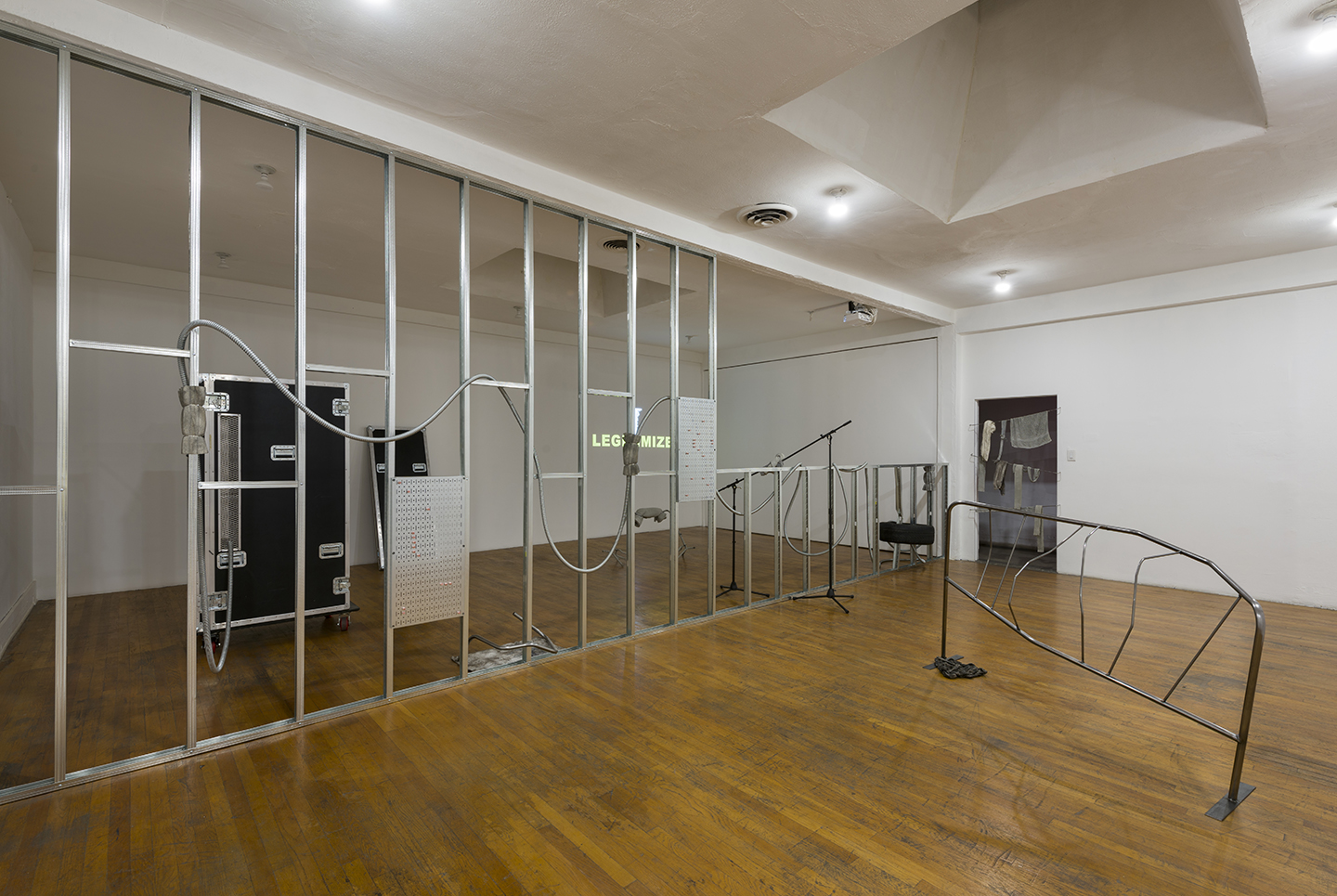 by Harry Burke
Los Angeles-based artist Nikita Gale employs objects like barricades, microphone stands, and spotlights to address the ways in which space and sound are politicized. Gale's broad-ranging installations blur formal and disciplinary boundaries, engaging with concerns of mediation and automation in contemporary performance. Through its sophisticated inquiries into labor and interpersonal relations, Gale's practice plots spaces of contingent collectivity that peer beyond the institutional mechanics of present-day state violence.
Two microphone stands linger on either side of a skeletal section of temporary wall framing. The boom arm of one tilts down toward the floor. The boom arm of the shorter stand points upward. The tips of the arms touch; they are clasped together by foam and cement. To my eye, they look like an elderly couple holding hands across a fence, or a friend helping a companion clamber over a gate. The modest arrangement waltzes with movement.
This sculpture, titled TOUCH AND AGREE (2018), was featured in Gale's 2018 solo exhibition DESCENT at Commonwealth and Council, Los Angeles. Nearby was RECOMMENDATION (2018), a warped, welded piece of steel that, with one leg longer than the other, resembled a barricade sidestepping pedestrians, or a bed's sagging headboard. A limp towel, caked in asphalt, laid stiffly at its base.
Microphone stands underpin the aesthetics of pop music and political rallies. By freeing hands to gesture or strum as a voice is amplified, they propelled the formation of the last century's mass cultural and political movements. Gale's soft, inquisitive assemblage, repurposing these objects, highlighted the intimacy that suffuses their function of support, thus meditating on the revolutionary potential of minor acts of care and transgression.
Gale's 2020 show PRIVATE DANCER at the California African American Museum, Los Angeles, likewise deconstructed the technology that spectacularizes performance. In this thoughtful arrangement, Gale stacked five overlapping theatrical lighting trusses on a dark-gray carpet. Spotlights attached to each truss threw beams of light onto the black-box gallery's walls—beams programmed to kinetically "dance" to a soundtrack by Tina Turner. The soundtrack, however, wasn't audible, leaving the animated equipment to gyrate to its own hypnotic whirring.
That artwork—which emitted light, aptly refusing illumination by an external source—points to the recurring importance of opacity in Gale's work. This antonym of transparency, as theorized by the Martinican philosopher Édouard Glissant, asserts the irreducible singularity of diverse communities and interests, sustained in spite of neoliberal capitalism's intense commodification of cross-cultural exchange. By dismantling and refiguring the apparatuses that make performing and protesting selves legible, Gale shows how difference, and not the fiction of cultural identification, compels political togetherness. Through its gesture of nondisclosure, PRIVATE DANCER opened a critical space for viewers to reflect on their relationship to the history and circulation of Black music.
A poetics of absence was likewise central to Gale's multiday performance exhibition AUDIENCING, staged in the orbicular VW Dome at MoMA PS1, New York, in February 2020. Gale has called this a "performance without performers,"1 a negation that, once sublated, points to the role of the audience, and even the infrastructure, as actors. Attendees sat upon a tight spiral of chairs underneath a tall raised stage, complete with a keyboard, a guitar, and a drum kit, each untouched. They experienced a forty-five-minute automated sound and light show, with spotlights directed down at them and purple and blue LEDs shimmering from the vertical stage trusses. The script combined philosophical fragments, penned by the artist and read by voice actors, with samples from songs by Britney Spears, Lizzo, Whitney Houston, and other media. The metallic, cocoon-like architecture scrutinized the algorithmic barriers and barricades that hinder Black performers from inhabiting or producing non-commodified public space.
As a study on group formation, AUDIENCING addressed concerns of complicity and implication in media consumption. Museumgoers were at once passivized and activated by its compositional dissonance. It evoked the emotive instability of online streams, while casting an ambivalent gaze back toward the figure of the audience, a format that often supersedes other types of negotiated solidarity in contemporary art and performance—such as the commune or assembly, to name some alternatives.
In the coda to her book Political Life in the Wake of the Plantation: Sovereignty, Witnessing, Repair (2019), Deborah A. Thomas muses on the shifts in orientation engendered by an analytical focus on repair. Repair, she writes, "demands an active listening, a mutual recognizing, an acknowledging of complicity at all levels—behavioral evidence of profound interior transformations that are ongoing."2 As an anthropologist, Thomas works to articulate a schema of recognition that is achieved through intersubjective dialogue—a process, she notes, that requires a transformative relationship between narrator and audience. Gale's installations and interventions push toward similar ends in the field of artistic practice. By staging indeterminate spaces of participation, the artist dissents from the muted institutional conventions of the present, and sounds out the forms and feelings of a world that is still to come.
[1] MoMA PS1, "Subject Matters: Nikita Gale," July 29, 2020, https://ps1homeschool.org/post/625031082338893824/subject-matters-nikita-gale-listen-to-artist.
[2] Deborah A. Thomas, Political Life in the Wake of the Plantation: Sovereignty, Witnessing, Repair (Durham, NC: Duke University Press, 2019), 212.
Nikita Gale (b. 1983, Anchorage) lives and works in Los Angeles. She received an MFA from University of California, Los Angeles, in 2016 and a BA from Yale University, New Haven, in 2006. Gale's practice is often structured by long-term obsessions with specific objects or classes of objects and the ways these gesture toward very specific social and political histories. Gale uses ubiquitous consumer technologies as frameworks to consider how individuals potentially reproduce their relationships to objects within their relationships to psychic space and political, social, and economic systems. Gale has had solo exhibitions at MoMA PS1, New York (2020); Visual Arts Center, University of Texas at Austin (2019); Reyes Finn, Detroit (2019); 56 Henry, New York (2018); Atlanta Contemporary Art Center (2018); Artist Curated Projects, Los Angeles (2017); and PARMER, New York (2014). Recent group exhibitions have been held at The Lobster, New York (2020); Matthew Marks Gallery, Los Angeles (2019); CUE Art Foundation, New York (2019); the Hammer Museum, Los Angeles (2018); Ceysson & Bénétière, Paris (2018); the Studio Museum, New York (2017); LUX, London (2017); LA><ART, Los Angeles (2016); and EFA Project Space, New York (2014). Gale is a recipient of the Rema Hort Mann Foundation Emerging Artist Grant (2017); the Toby Devan Lewis Fellowship, UCLA (2016); and the National Endowment for the Arts Southern Constellations Fellowship (2013), and has had residencies at Fountainhead, Miami (2019); Atlanta Contemporary Art Center (2011–14); and the Center for Photography at Woodstock, New York (2011).
Harry Burke's criticism has recently appeared in frieze, Spike, art-agenda, and elsewhere.