ESSAYS Mousse 19
Confiscating: Nora Schultz
Close
1
2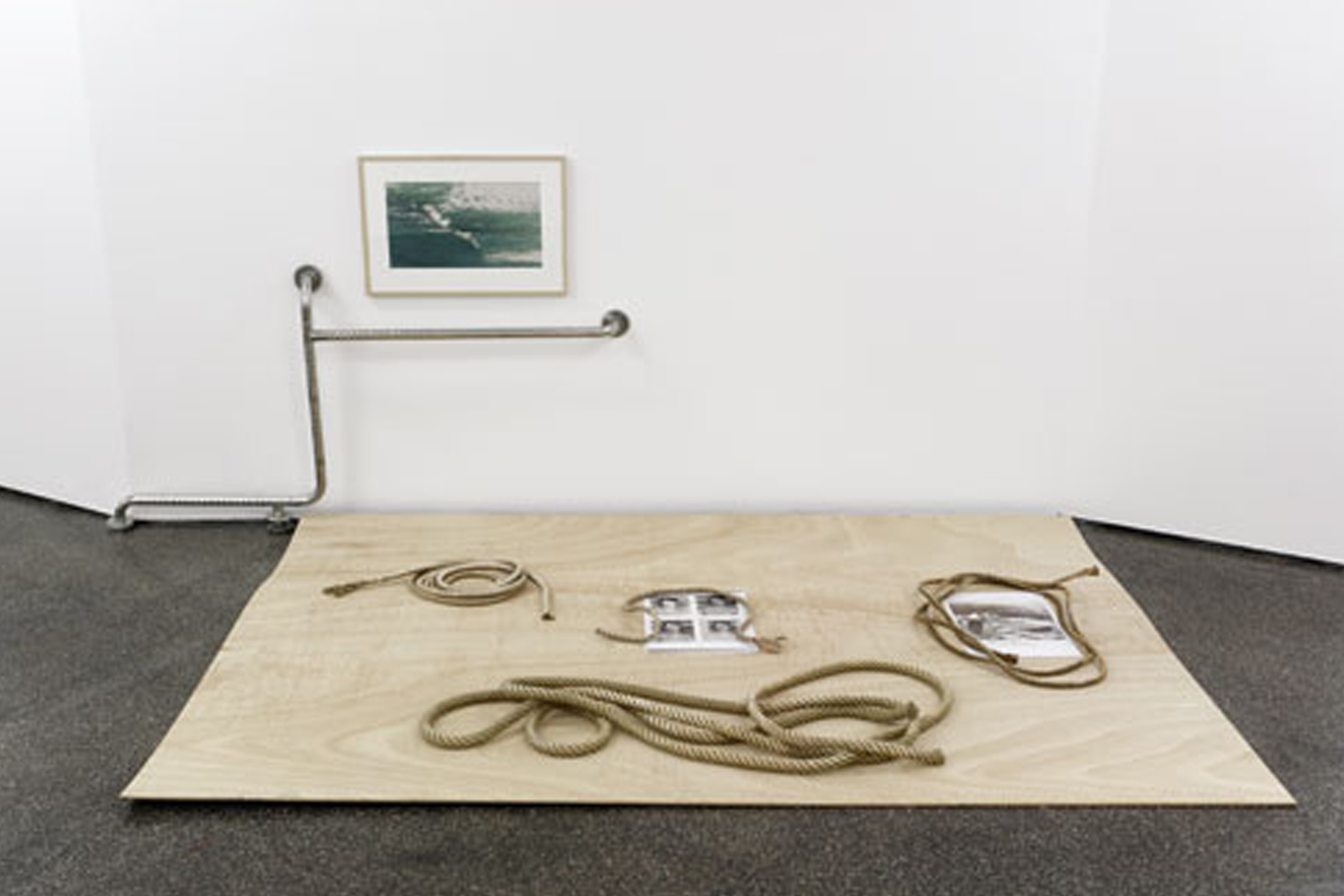 by Kirsty Bell
In Nora Schultz's sculptural arrangements, both authenticity and lack of authenticity are at stake. Often working with found elements, she engages them in simple, direct ways that nonetheless build up a density of allegorical suggestion. Schultz sculptures articulate cultural shifts, expressed in purely material terms. Kirsty Bell meets with the artist, whose first institutional solo exhibition recently opened at the Kölnischer Kunstverein, and who will be exhibiting together with Pernille Kapper Williams at the Grazer Kunstverein this summer.
Countdown
The countdown poses a formal conundrum that points in several directions at once. Spoken, it moves forwards in time: "ten, nine, eight…", while at the same time enacting a narrative rewind. Written, it takes on a horizontal trajectory, while all the time anticipating a vital upward vertical: "…blast off!" It articulates potential energy, marking off time while approaching zero. It enacts a multi-directional, counter-objective push-pull.
Nora Schultz performed a countdown, together with New Yorkbased artist Ei Arakawa, using a thin, flexible length of stainless steel that was bent into the form of each successive number. In the photographs documenting the performance, gloved hands hold the steel, wrested into its temporary shape. The physical nature of the material itself seems unreliable, not only due to its flexible contortions, tightly grasped, but also the highly reflective surface that mirrors its surroundings while casting silvery wisps of light onto walls, floor, bodies. And as each new number carries traces of the previous bended forms, it becomes increasingly warped. The final "0" is a roughly corrugated approximation of the pristine, smoothly curved original "10". The potential energy articulated here is that of material transformation, and the accumulation of allegory through simple means, from neutrality, through action. The zero point of this countdown—the return to neutrality—is impossible once the material has been loaded with the history of its transformations.
Found footage
Simplicity, directness, and a density of allegorical suggestion are characteristic of Schultz's work. On the one hand, there is the exaggerated directness of using the first thing that comes to hand, whatever is outside the studio window. On the other, there are the subtle complications involved in removing this object from its original location (which Schultz calls "confiscating"), and introducing it into a new context with a different, highly specific purpose. Both authenticity and lack of authenticity are at stake. The first thing you find when you look out in the street is not usually something with significant form, or symbolic qualities that can be called a "sign". It is more likely to be something insignificant, weak, forgettable. The network of decisions and transfers involved in the use of a found object ("found footage", as Schultz calls it, telling something of its inherently documentary nature, edited out of its original location) become like a series of contextual supports that cradle the weak element and give it another alternative authenticity in the exhibition space. This has to do with its origins, but is itself faked: masking, as it does, the ultimate insignificance and unreliability of the footage, and presenting it instead as a trustworthy statement symbolizing the real world.
Predicament
James Clifford, whose influential book The Predicament of Culture provided a point of reference for Nora Schultz's recent installation at the Kölnischer Kunstverein, describes identity as "mixed, relational and inventive". A group of sculptures titled Predicament occupy the upper hall of the Kunstverein like a landscape. They do not dictate the movement of the viewer throughout the space, but they inflect it. Combining chipped white painted railings found at the building site next door, lengths of narrow chromed steel tubing, ropes of various lengths and dimensions, and free-standing white painted structures, somewhere between walls and paravents, they suggest a chopped-up rhythm in space. The standing panels cut through on a vertical axis, while the lengths of steel, suspended from ropes, or wedged against the walls, create a horizontal cut, suggesting another ground level, a meter or so above the floor. There are a number of uncomfortable junctures where the fluid curves of the found railing meet, or refuse to meet, the rigid straight steel tubing (Predicament: Evacuation). Or when the steel lengths are forced to bend by being severed and fused back together to form a jolting, angular curvature (Predicament: Inauthentic Railing). In Predicament: Rope Collection, various lengths of black and jute rope slung over a railing at the top of the paravent are disturbed by an interloper—stiffly curving lengths of thin steel which refuse to adopt the languid forms of their rope counterparts. The cultural predicament of alienation, exoticism, mismatch, displacement, is delicately expressed here in purely material terms: mixed, relational and inventive.
Weight and Carriers
As separate as the elements in the Predicament arrangements remain, they are equally interdependent. The structures depend on their complementary physical relations with each other: the walls hold up the steel or railings, from which dangle the ropes, from which hang steel or railings, which jut again against the walls: all are held into place through physical laws of tension, support, balance and force. The separate elements together form a tentative but cooperative choreography in space. Downstairs, two works made from rubber mats and bent steel constructions are engaged in a similar dance of dependency. A metal strut raises one end of the floppy black mat, supporting it in an elaborate arabesque, while its end, like a metal foot, pins the tail of the mat to the floor. As with the Countdown performance, there are no cuts, breaks or material tricks here. Material can be fluid and perform in unexpected ways, if encouraged to collaborate.
What are you looking at?
Nora Schultz's works can look like next to nothing. They are reticent, unauthoritative, materially undermining, contingent. But perhaps the question here should not be what we are looking at, but what we are looking for.
Originally published on Mousse 19 (Summer 2009)