REVIEWS
Powerful Narratives in a Semantic Space: Nora Turato
Close
1
2
3
4
5
6
7
8
9
10
11
12
13
14
15
16
17
18
19
20
21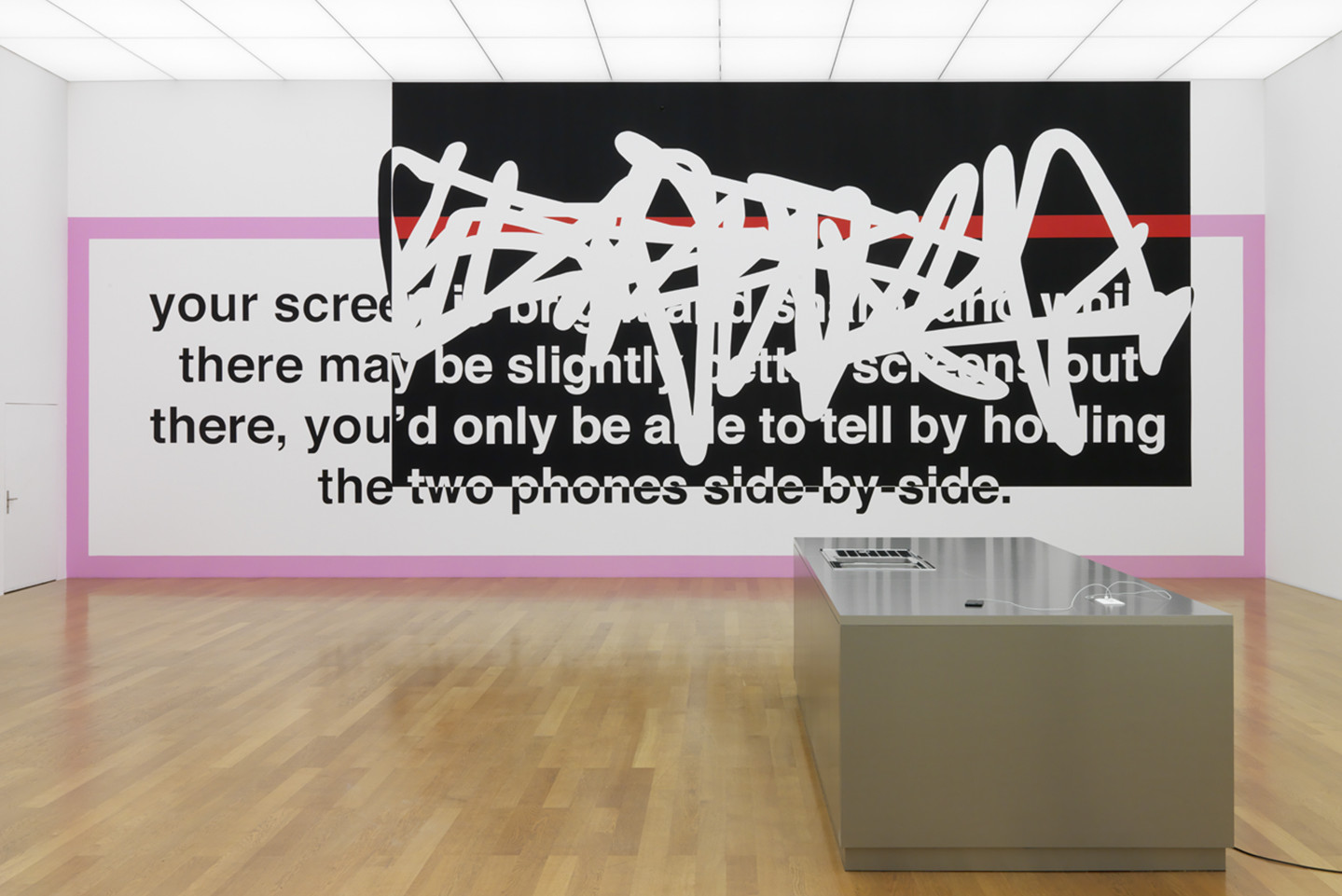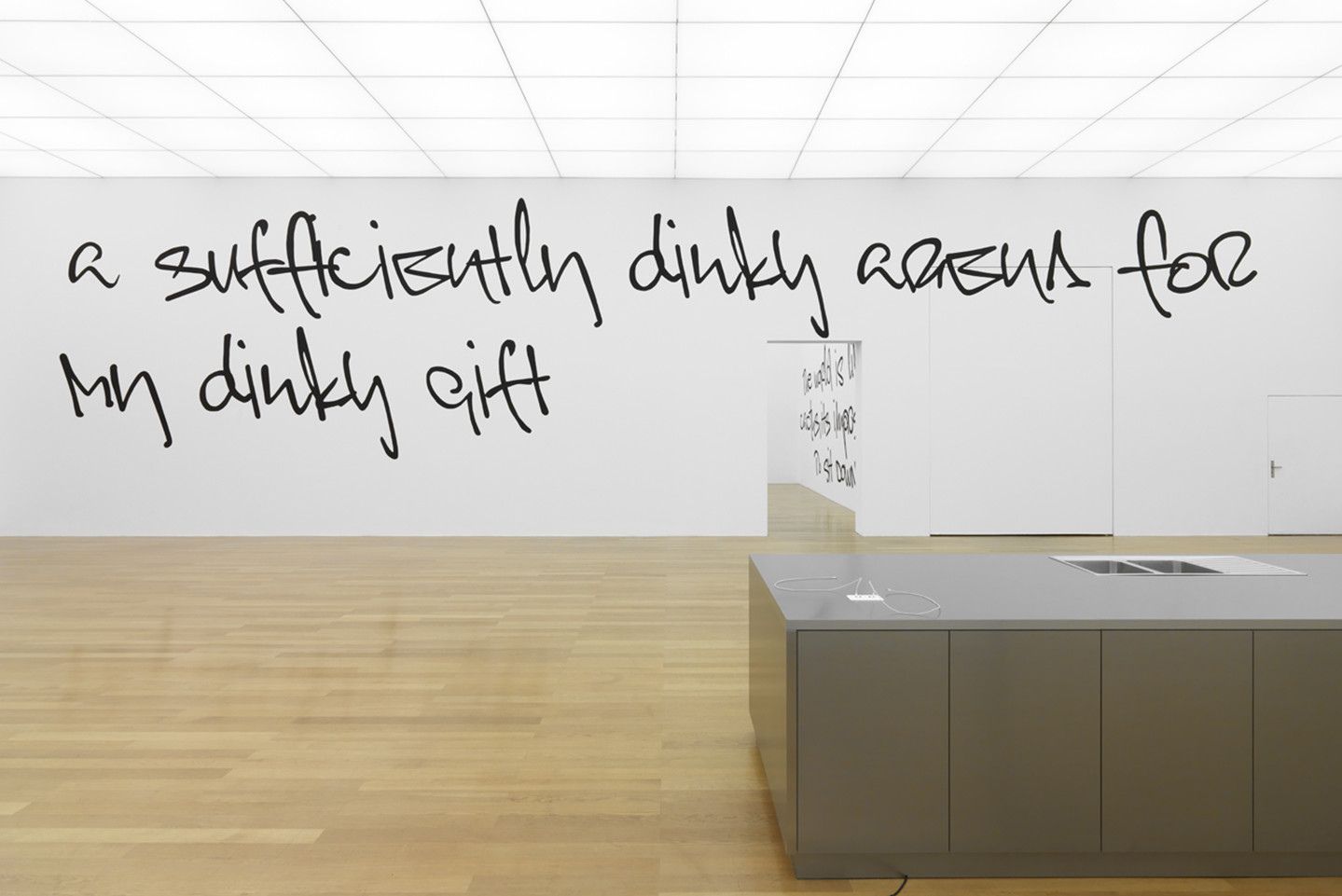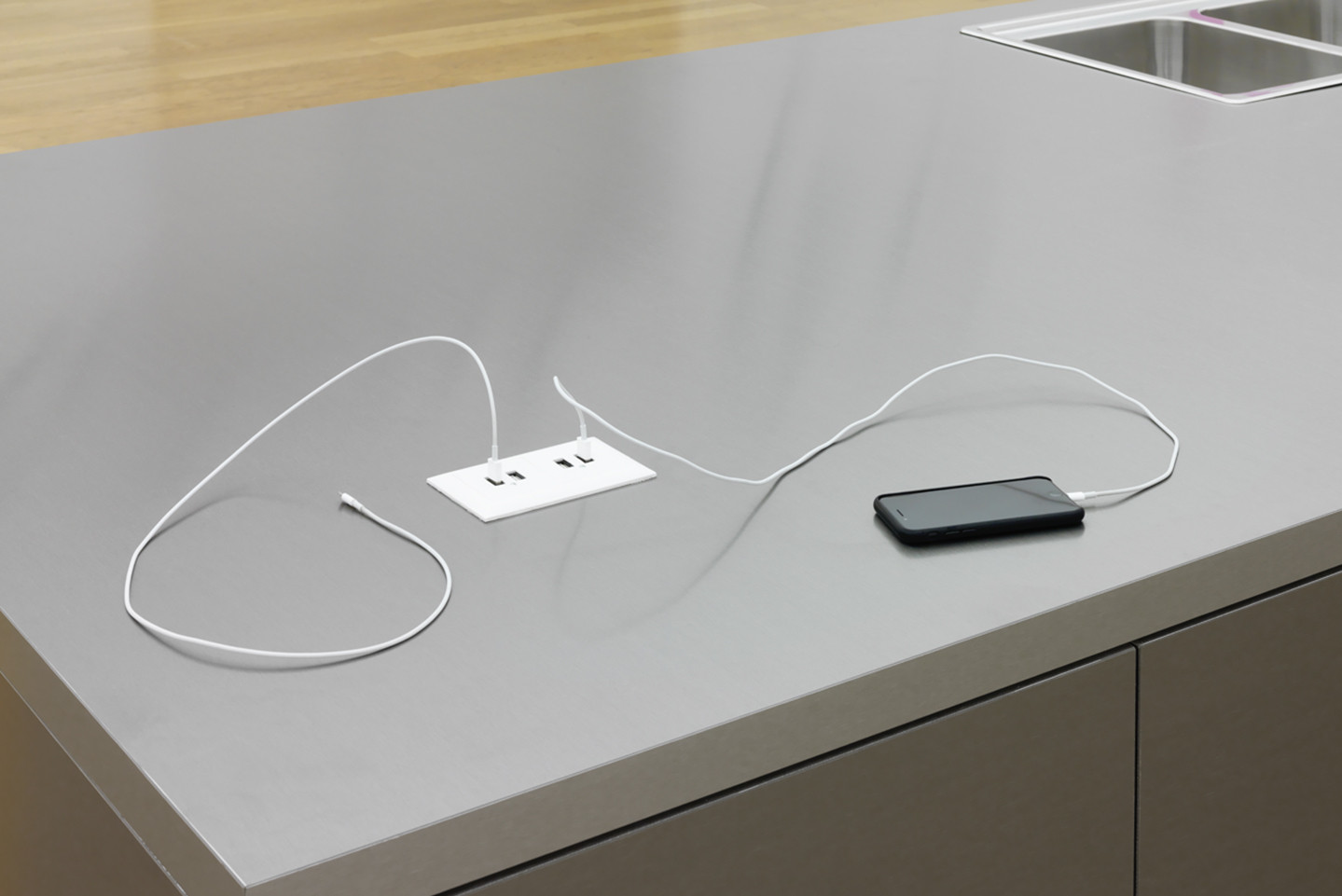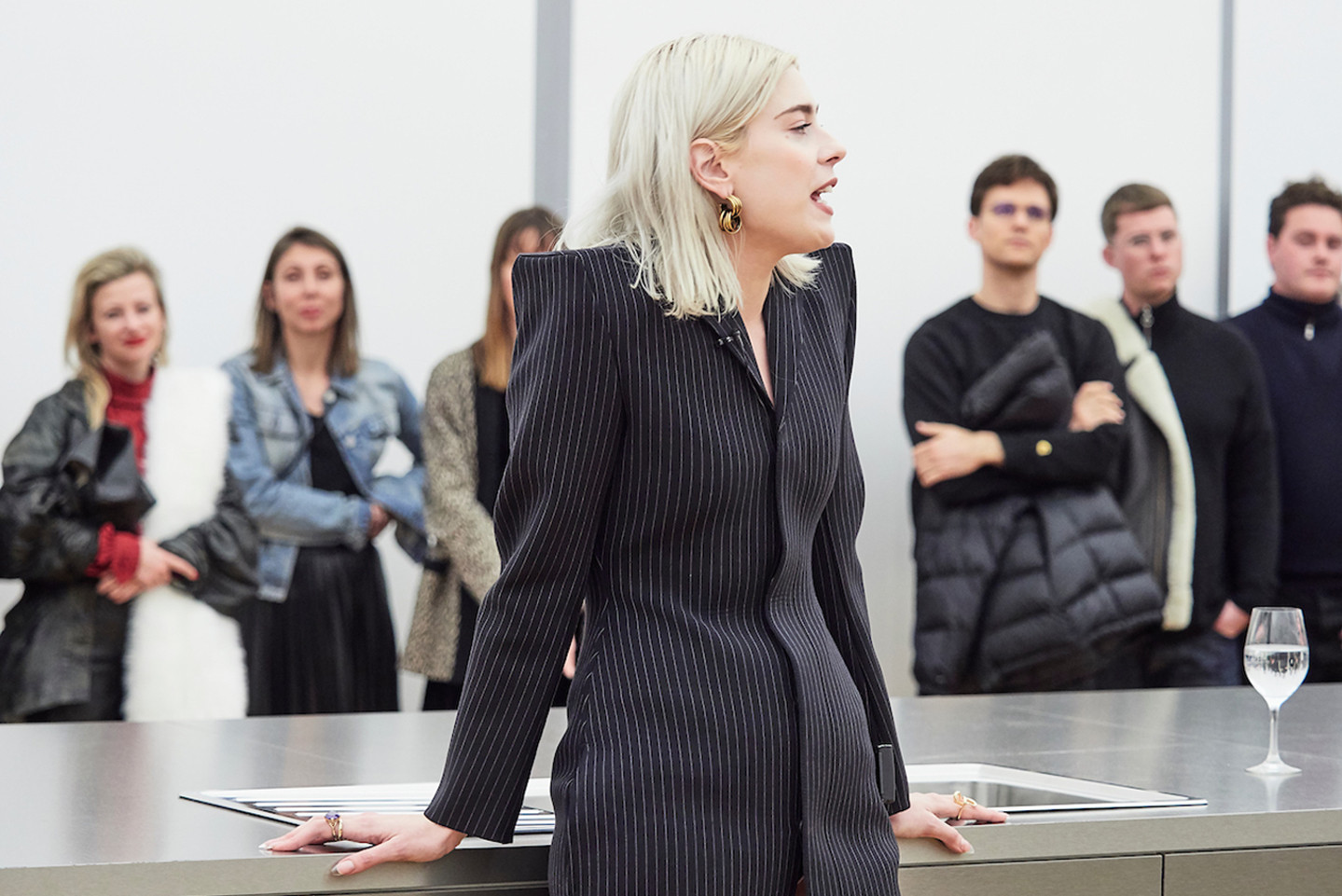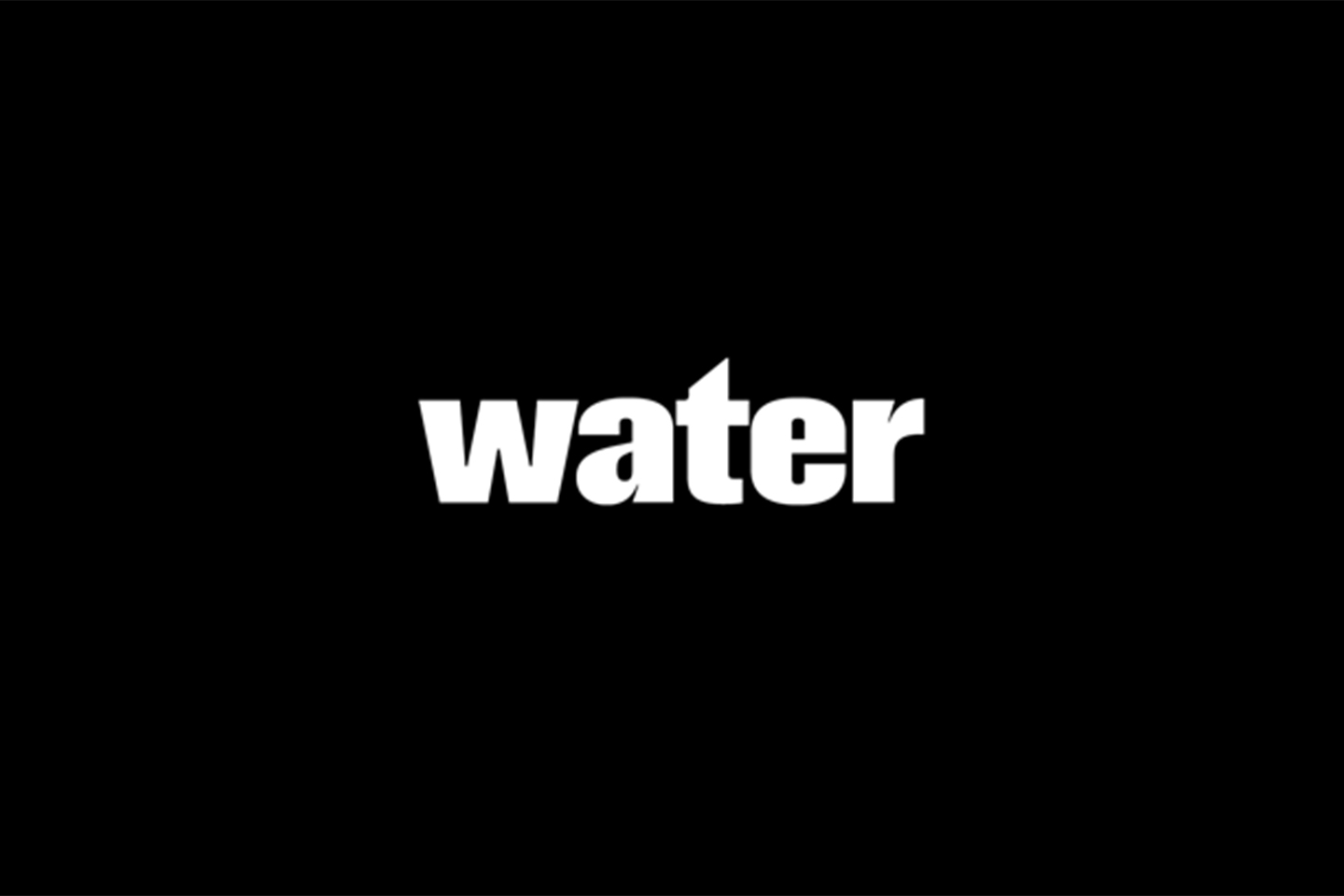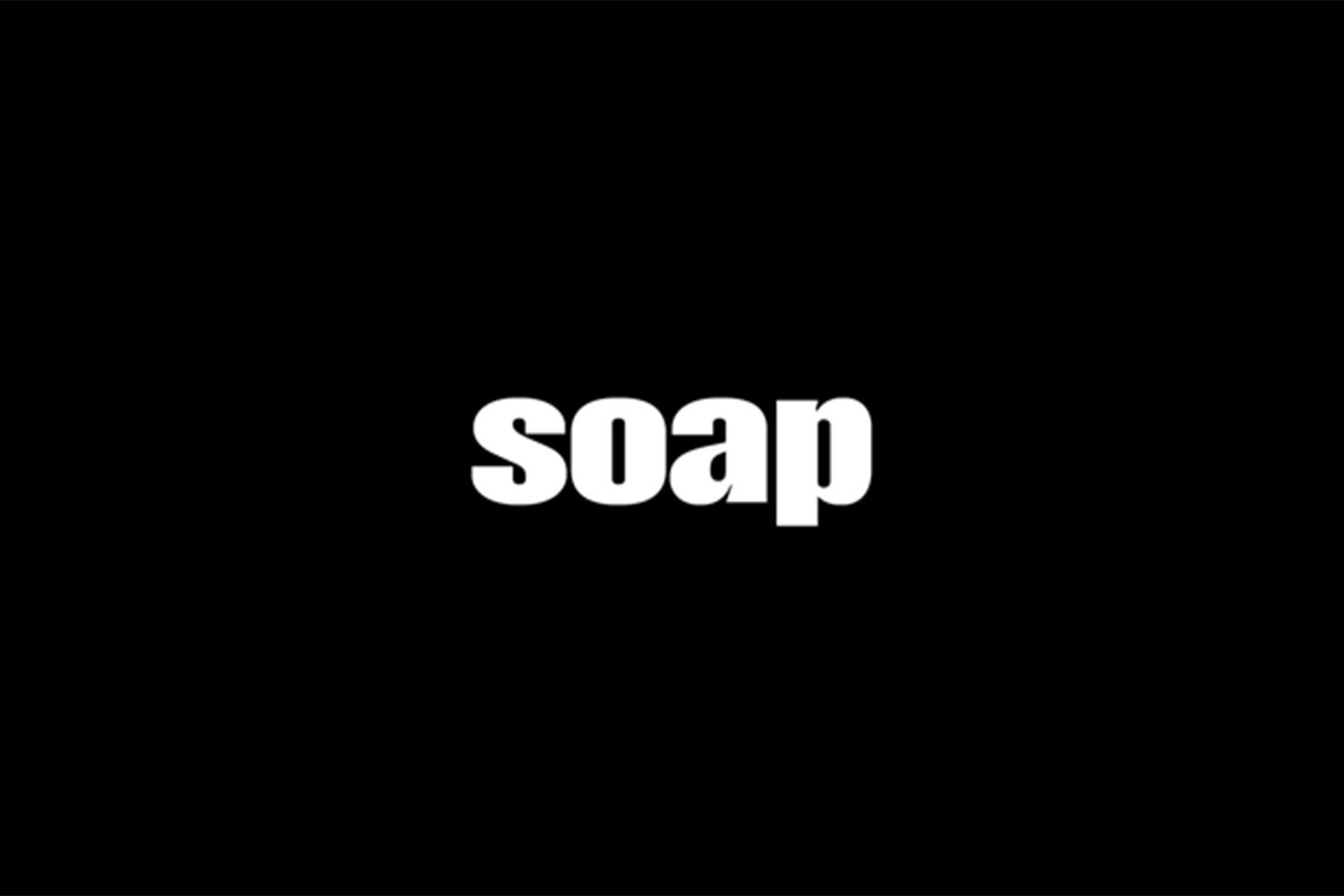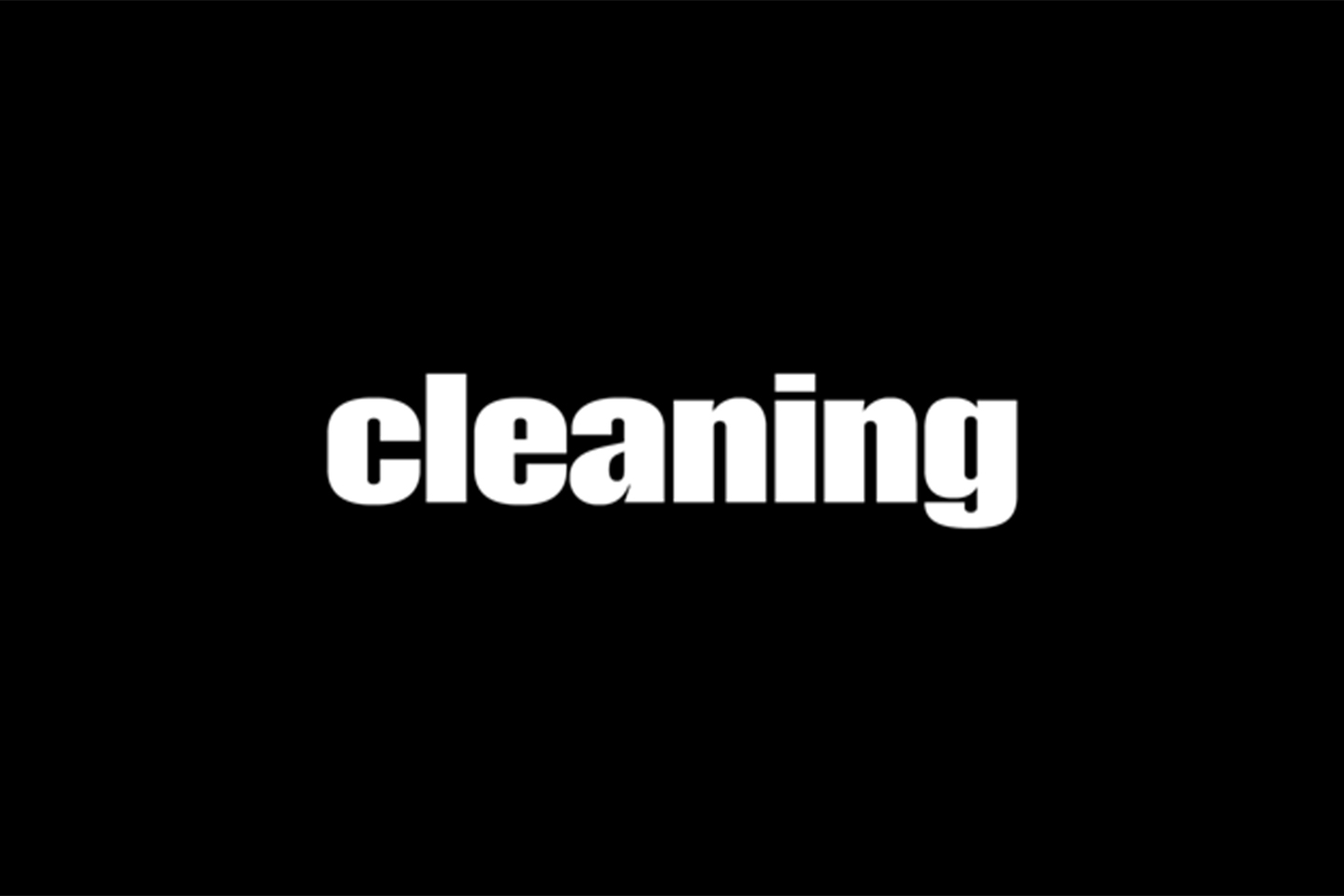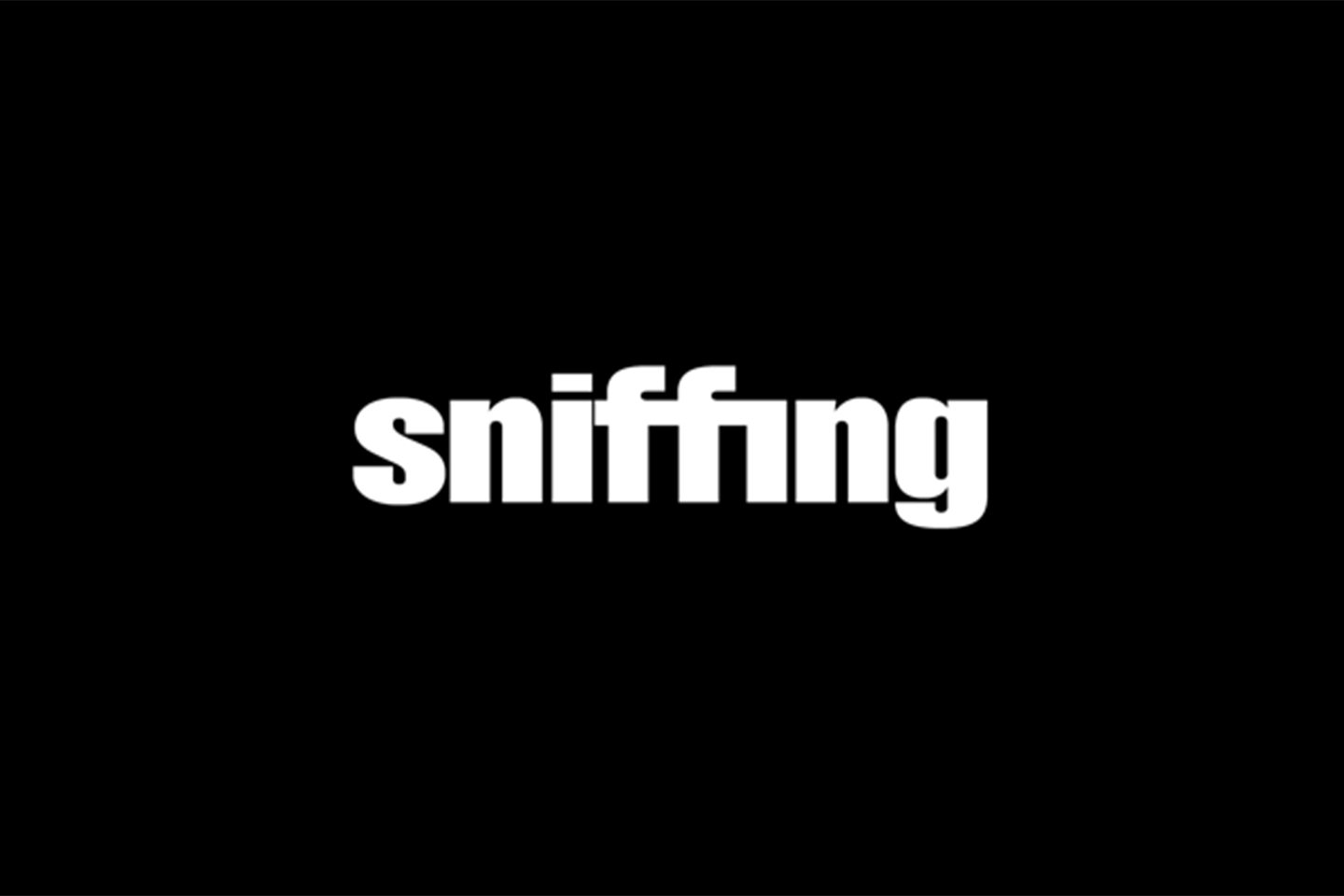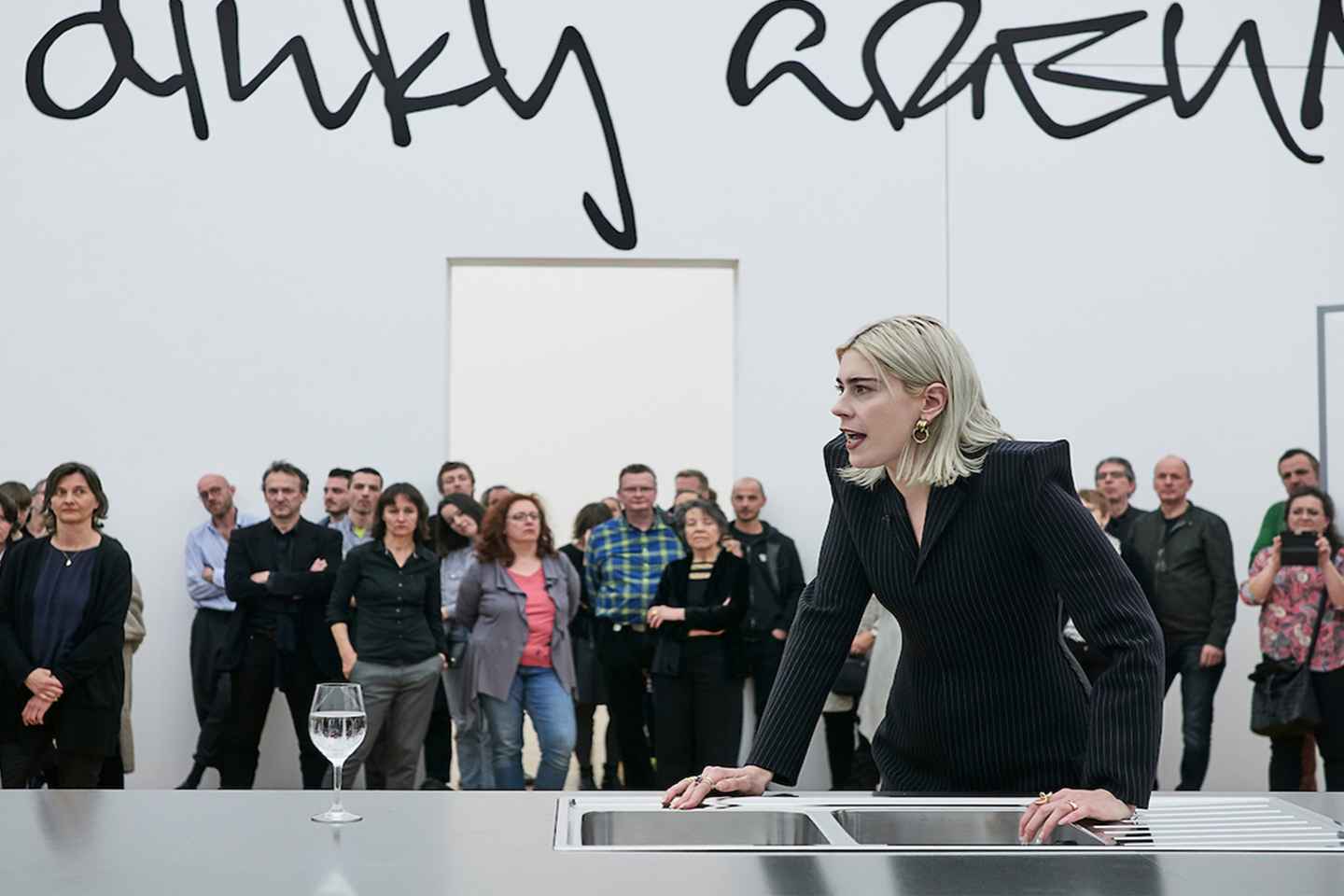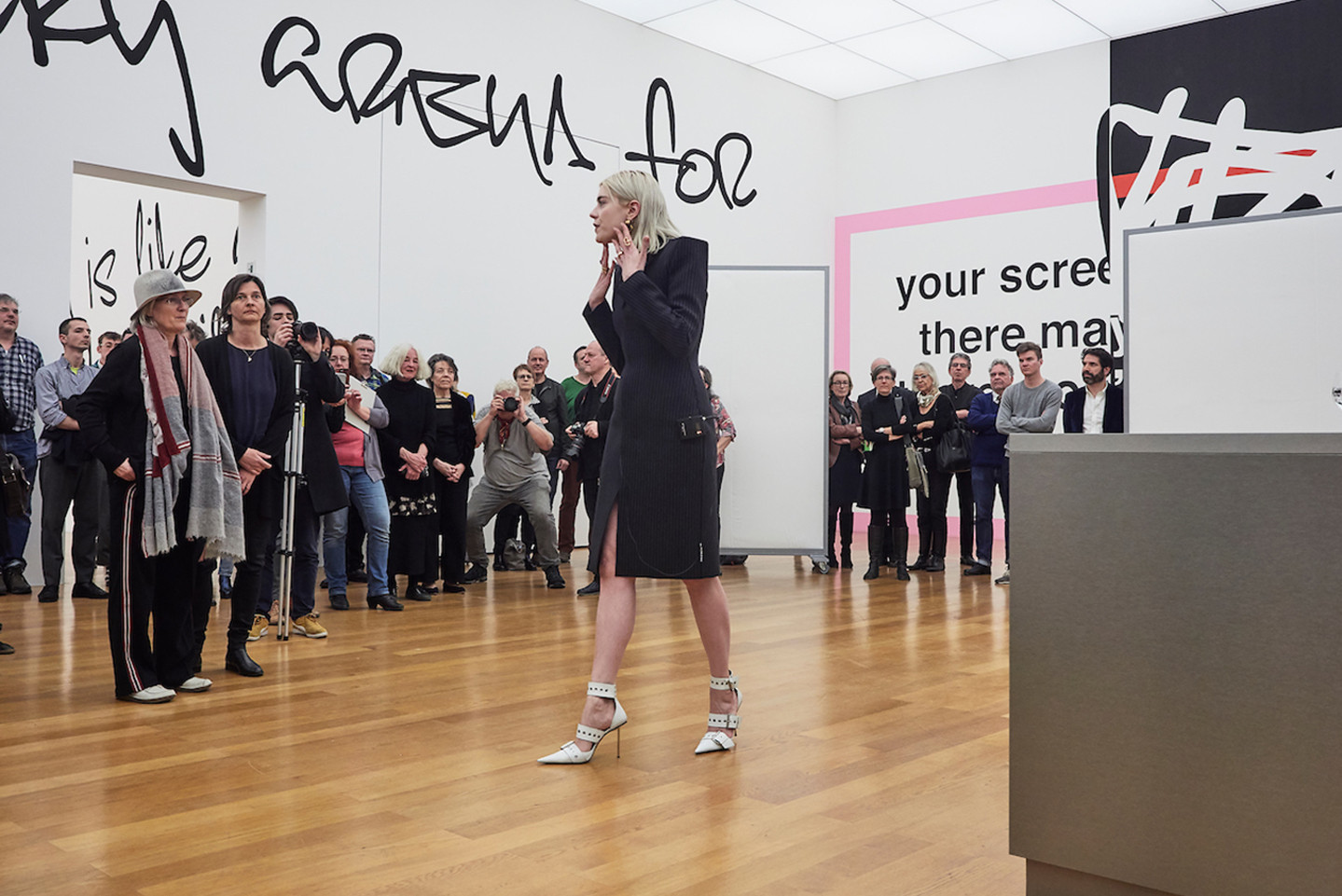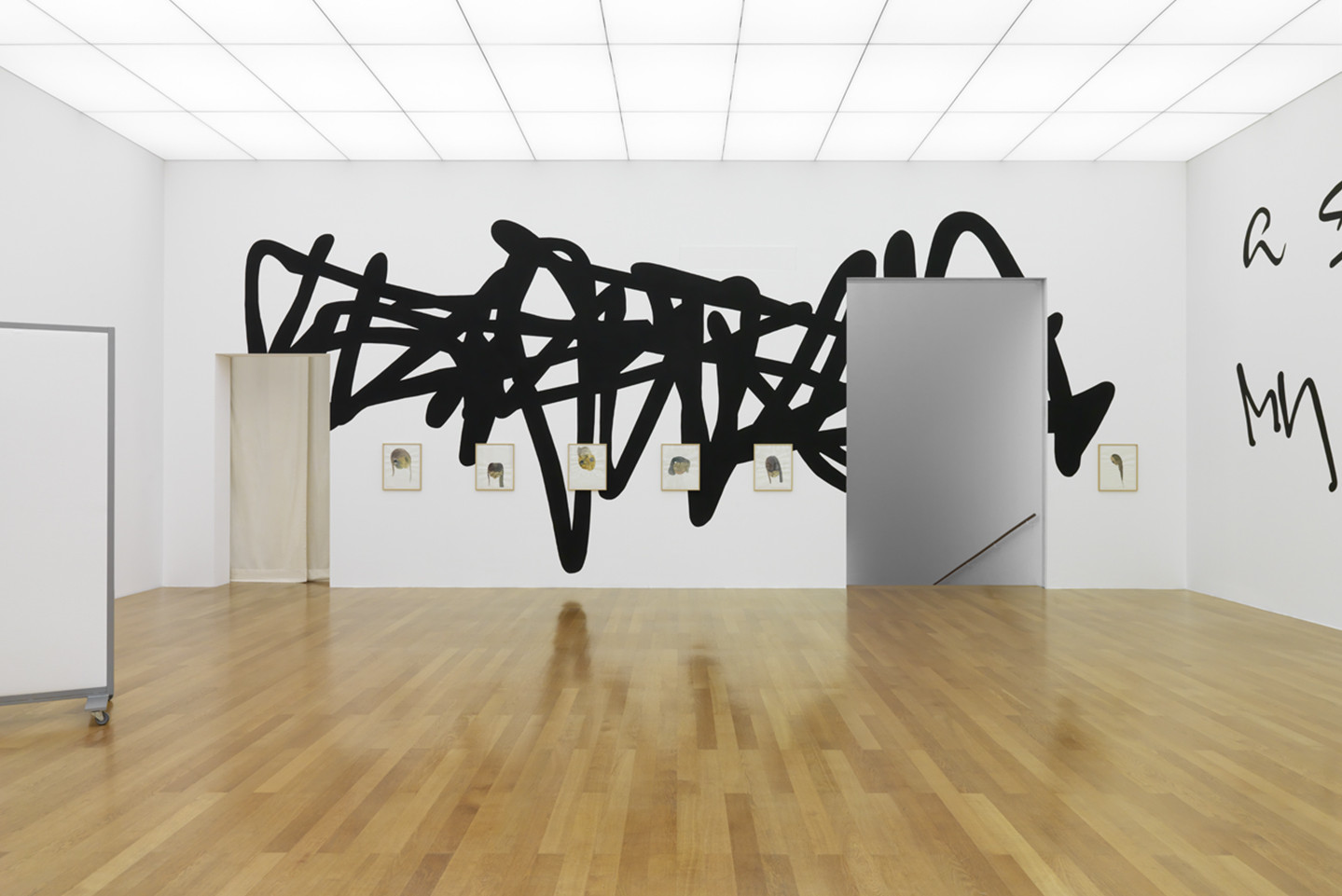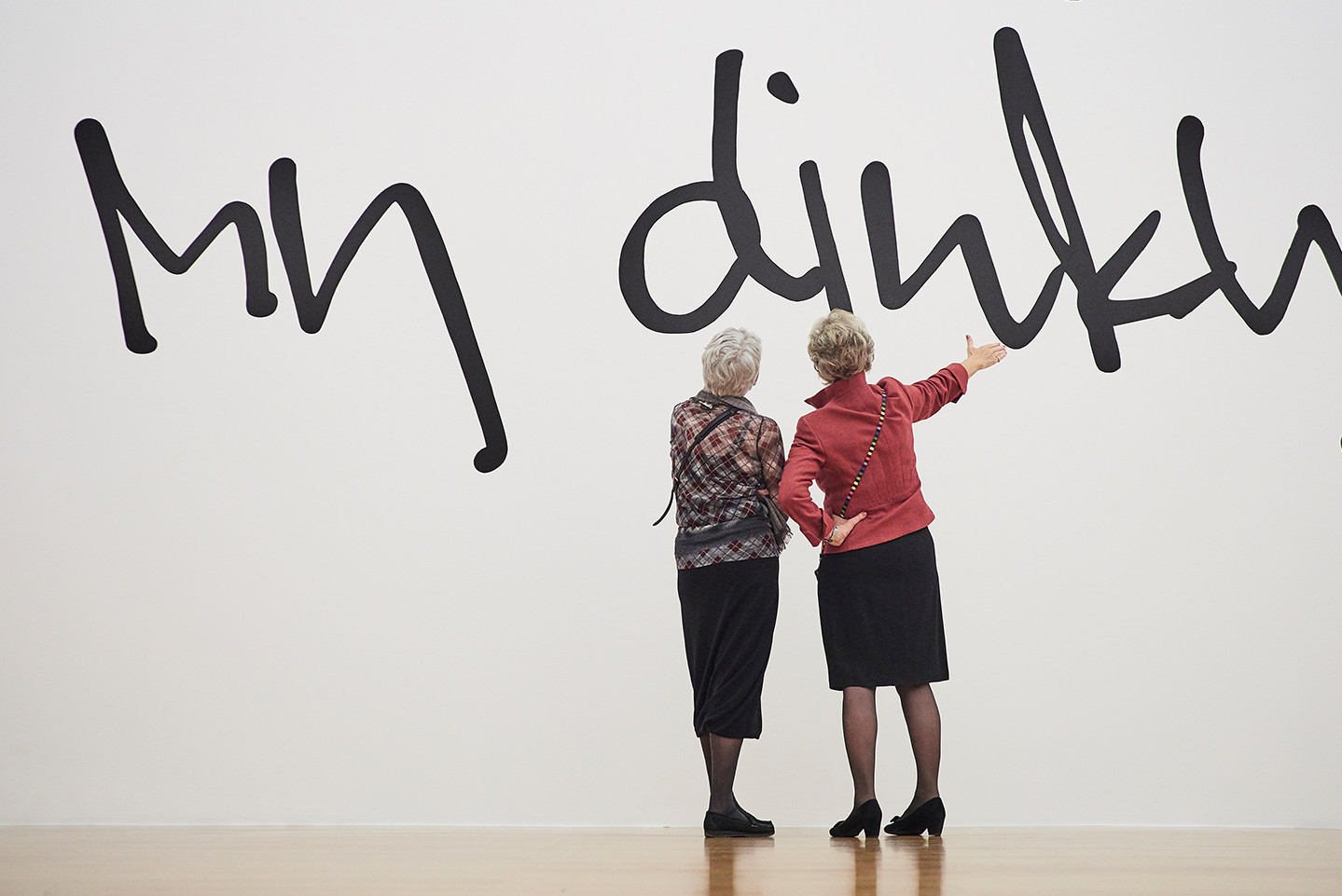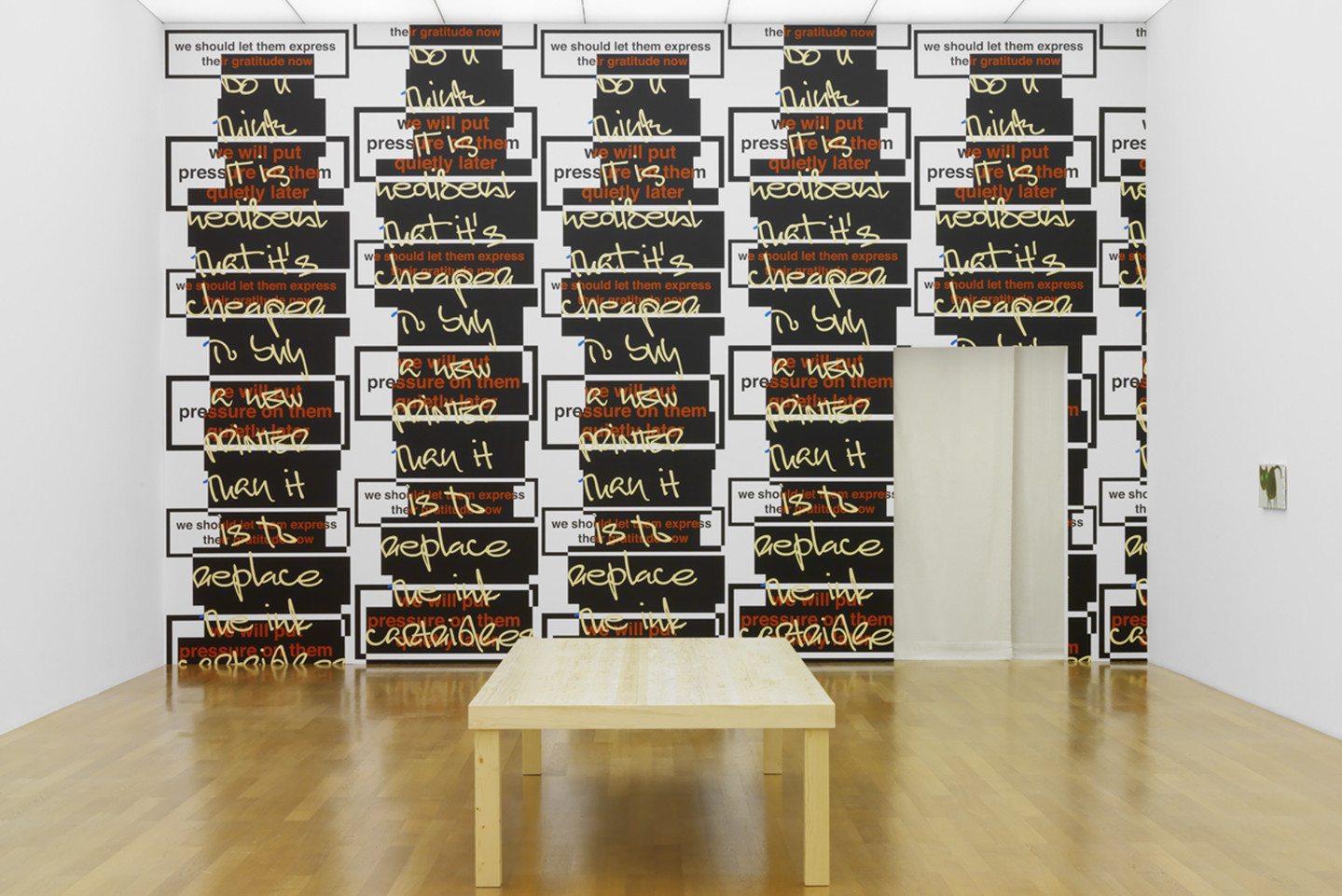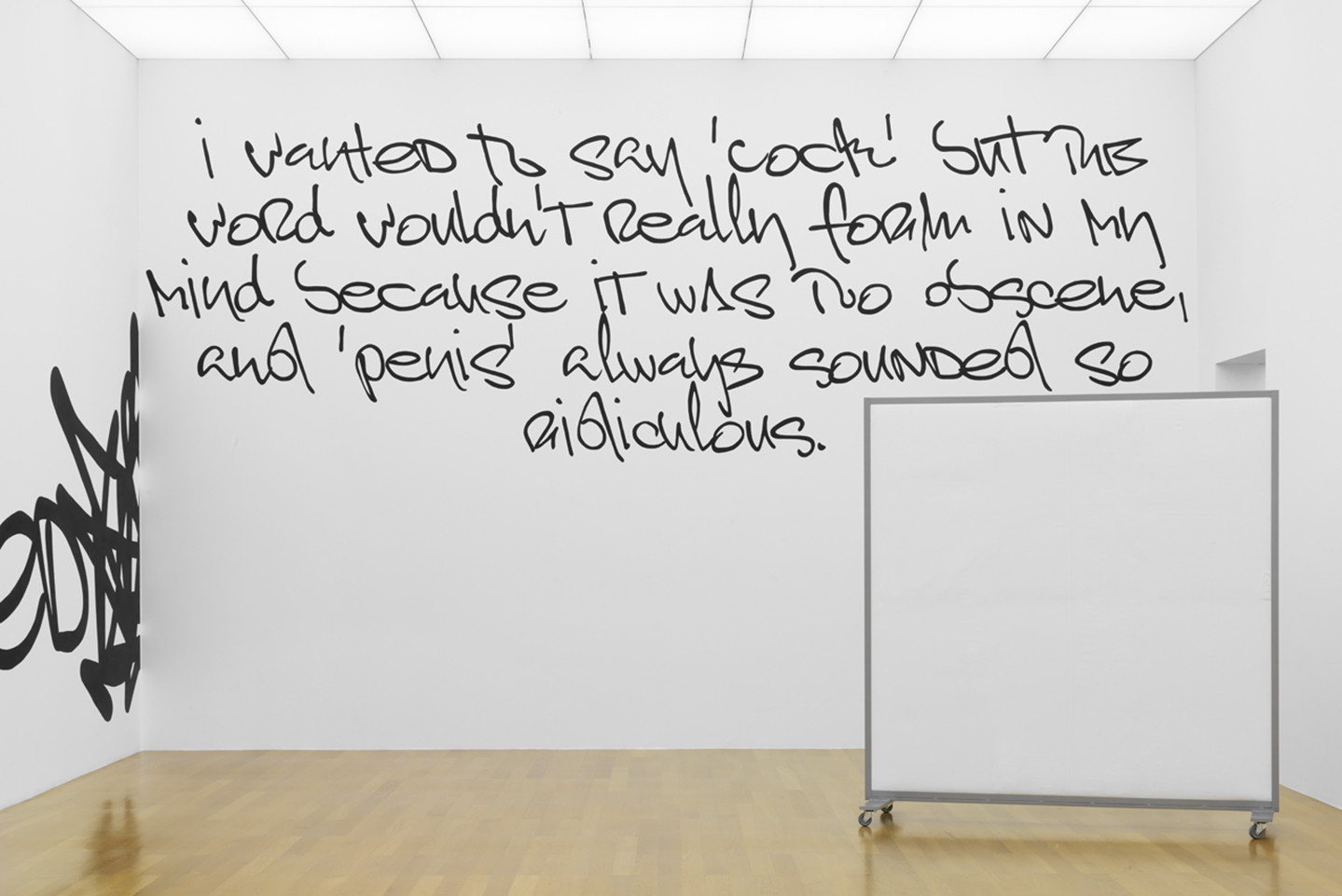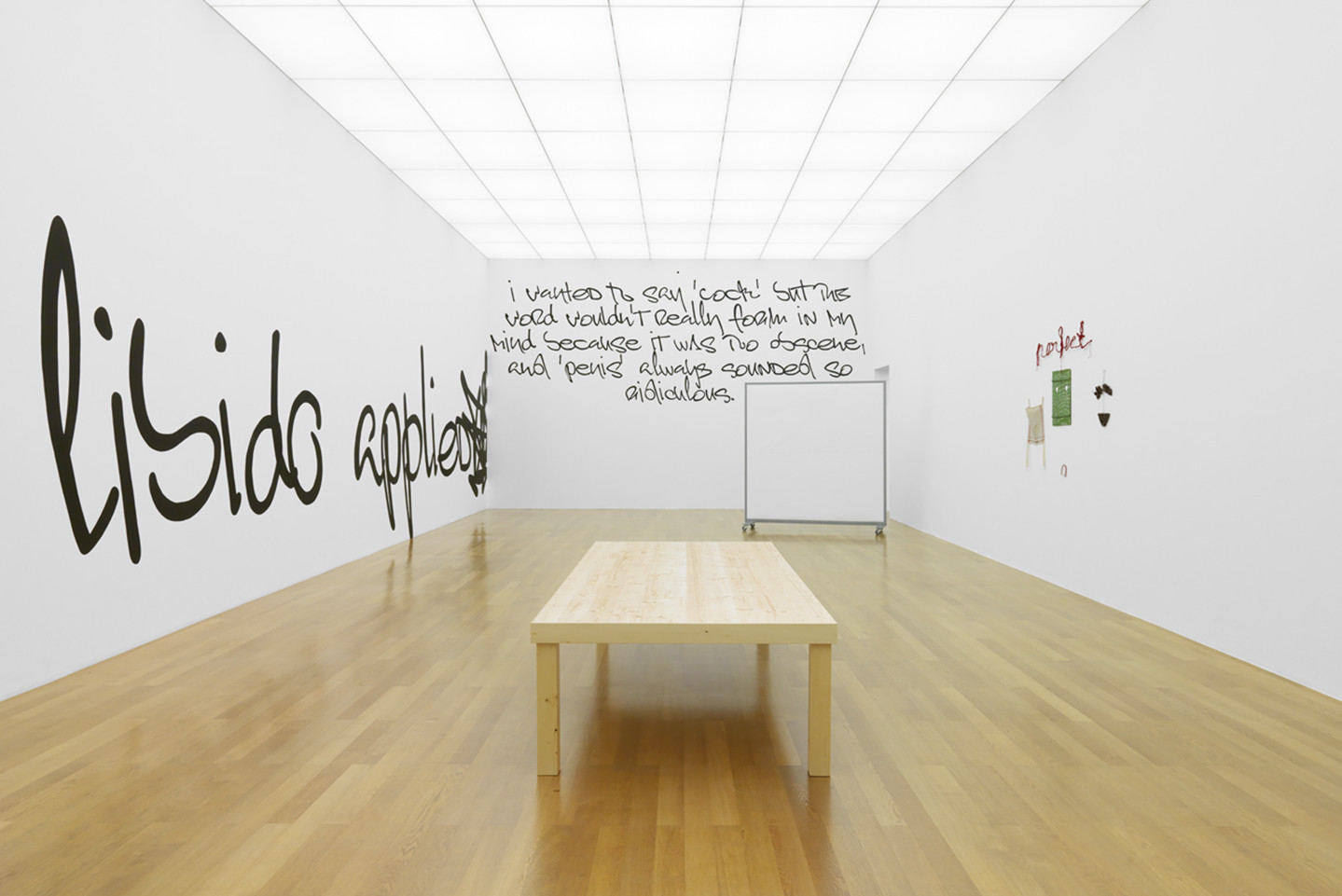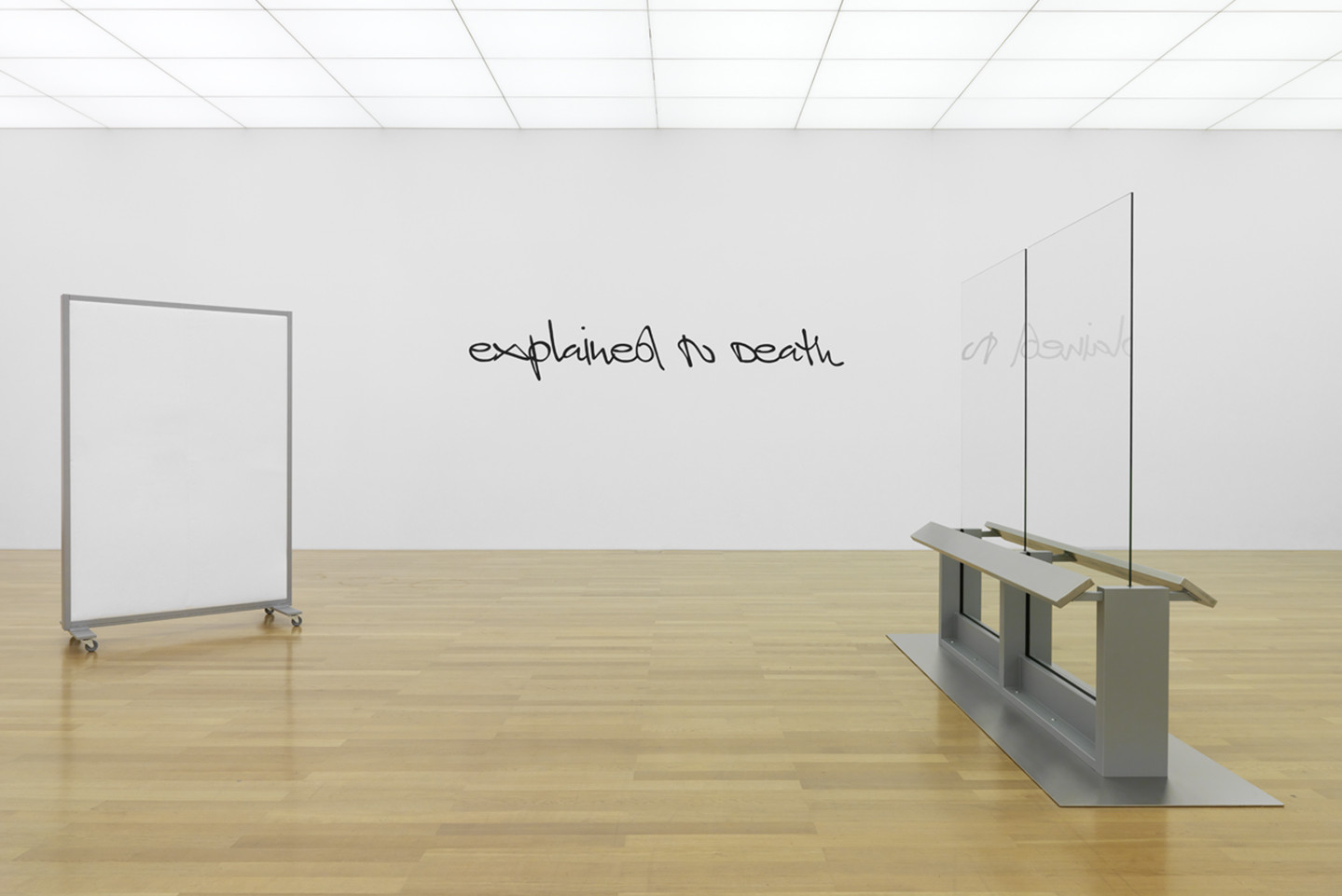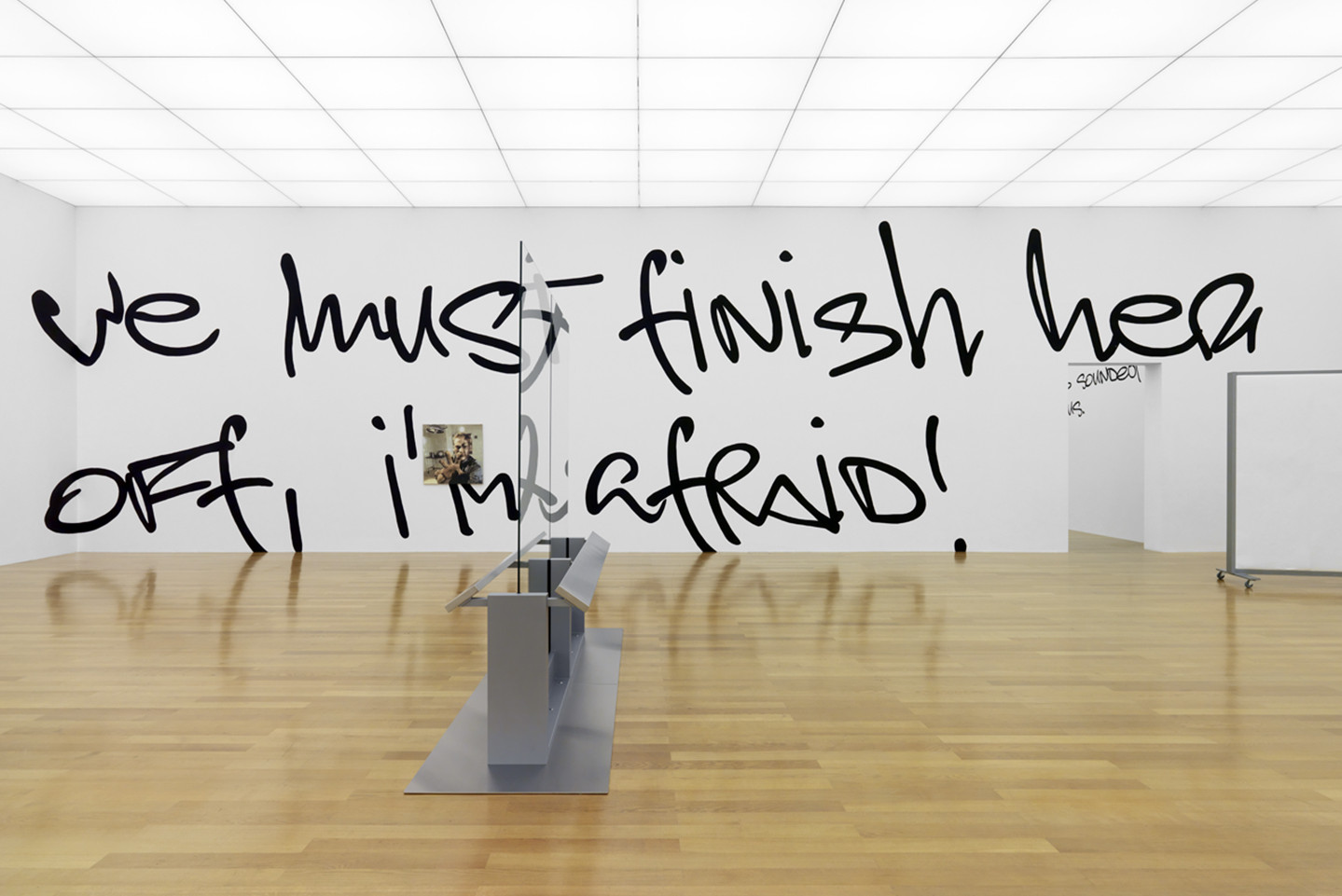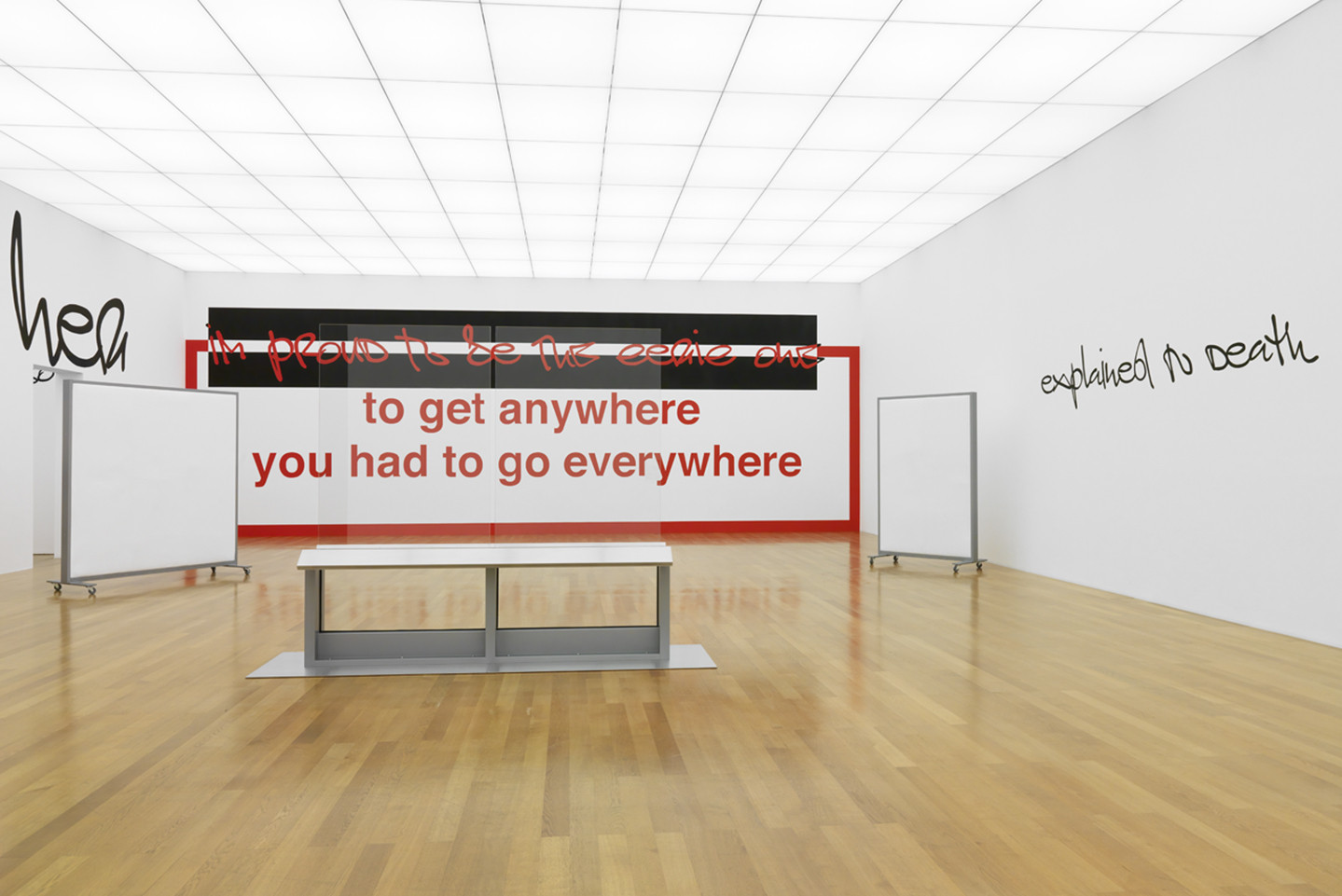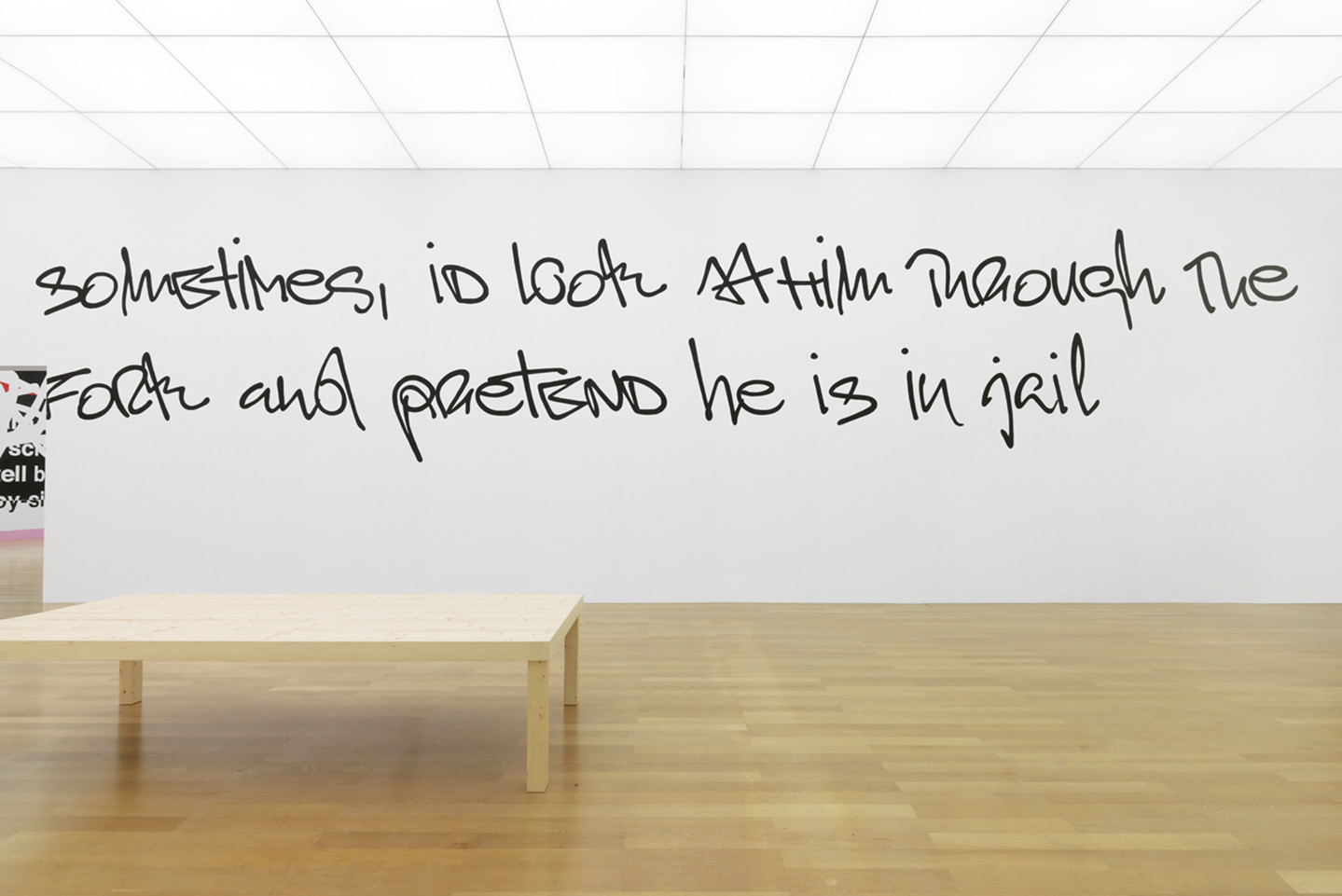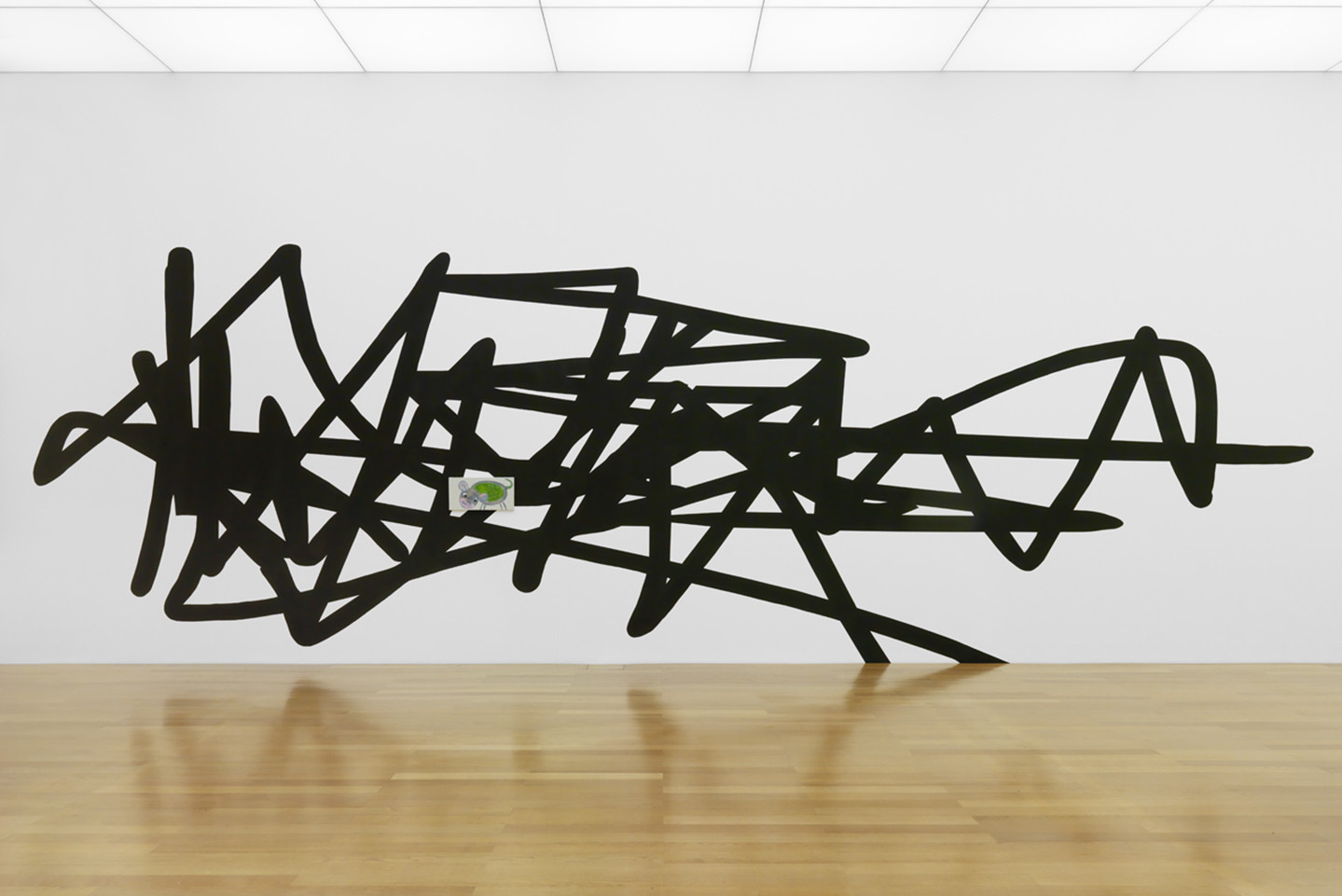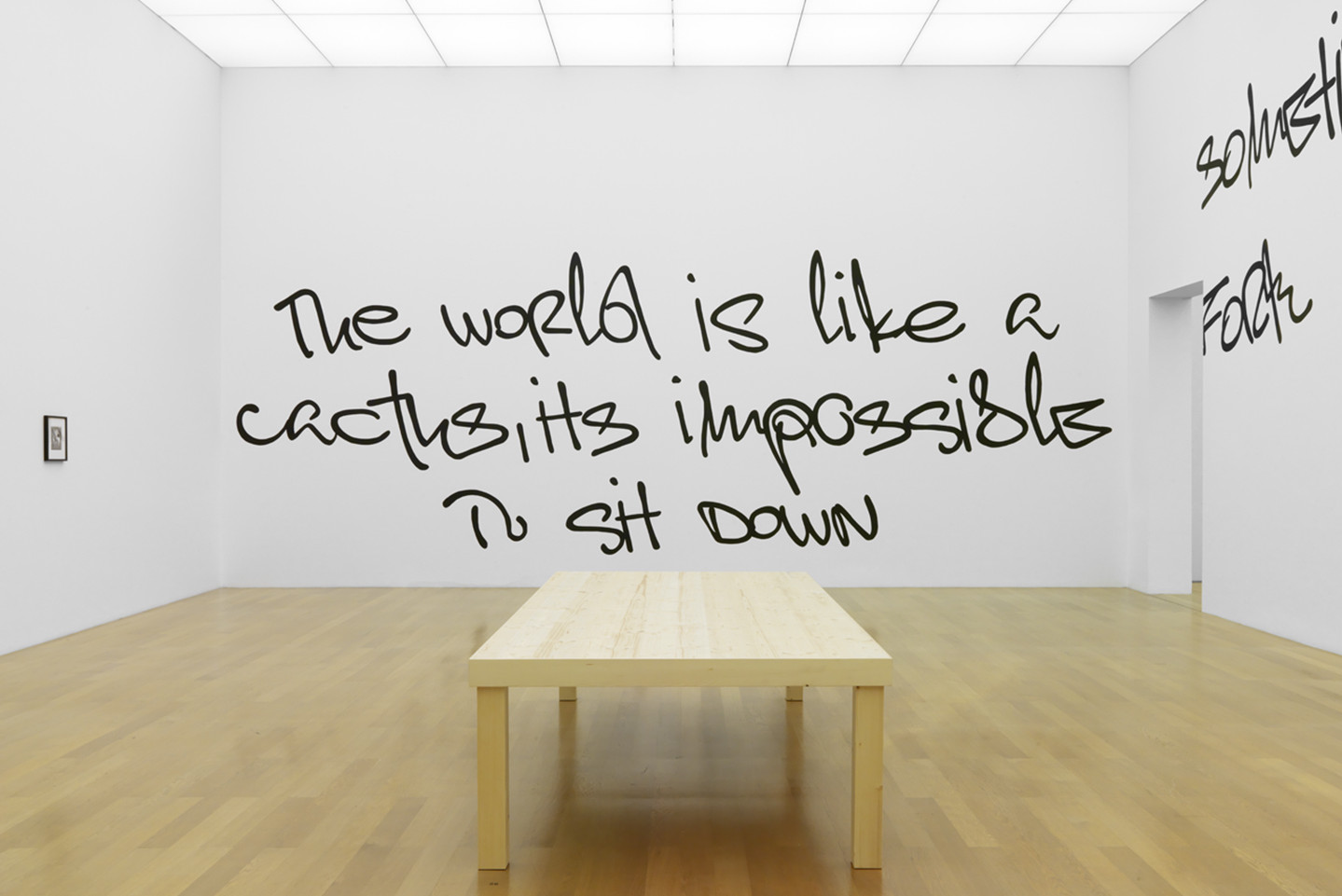 by Giovanna Manzotti
With explained away at Kunstmuseum Liechtenstein, Nora Turato's first-ever comprehensive solo museum exhibition, the Zagreb-born, Amsterdam-based artist explores language as a social phenomenon to be elaborated and digested in a nonstop process of reinterpretation. As an excerpt from her brand-new performance and a wall painting suggests—"I wanted to say 'cock' but the word wouldn't really form in my mind because it was too obscene, and 'penis' always sounded so ridiculous"—her work deals with the interpretation and translation of existing material, while processing meaning, sounds, and stylistic devices.

Straddling familiar modes of presentation and scenographies geared to performances, Turato outlines a complex and talkative space where a mercurial body of work—murals, audio pieces, wall paintings, sculptures as props, and spoken-word performances, all closely interwoven—responds to observations and reflections on the fluctuating circulation of information that overexcites our daily data intake. Playing with the fertility of a fast-paced language and a readymade vocabulary, Turato creates an "infosphere" of new narratives and powerful associations.
"we prefer our bottles with no messages inside": she processes meanings, sounds and stylistic devices.
"kiss me, I haven't had a cigarette in days": she examines and reinterprets existing material, recalling the methods of Pop art.
"the world is like a cactus, it's impossible to sit down": she rewrites notes and translates social preoccupations in a cutting and relatable style.
"you are not allowed to use the word 'partner' unless you actually run a business together": she invents new roles, negotiating social codes (with a touch of irony) and our relationships to consumer goods, politics, and cultural opinions.
In doing so, she constantly plays with ambivalence to the content, seeking a balance between the undeclared sources and their outcome stories, to surf the arena in an interstitial zone between explanation and no explanation, or rather, "between explanation and some sort of magic, and how those two can kind of push each other."1
The title of the show is symptomatic of this attitude. Chatting about its longer version—This was how people disappeared from history, wasn't it? They weren't erased, they were explained away—Turato says that this sentence "could be also read in the way that history is self-constituting over language, and you can also overwrite something with the power of language, and erase or make something disappear from the past." This belief in the power of language, and the way it can be digested, elaborated, and updated from time to time, is one of the most fascinating aspects of Turato's practice. "I just basically consume a lot of daily stuff," she explains to me, dressed in an angular Balenciaga dress and sporting a flawless manicure. "Then I take out what I find interesting or resonates, and copy and paste it into my page files… It's like a stock of language that I can employ even in social settings, and it is inevitably becoming part of my life."
Influenced by advertisements, journalism, music videos, chats, gossipy texts, theater, cinema, Netflix series, and literature (in no particular hierarchy), Turato's natural and spontaneous conceptual appropriation of words, fragments of sentences, and concepts converges in a constantly growing script that serves as basis for spoken performances and the realization of artist's books, wallpapers, and printed posters, belonging to the different cycles of the so-called pool project, a corpus of texts that the artist researches and collects relentlessly over the course of a single year.2 "Each pool reflects not only the cultural climate and what's happening in the world, but also who I'm interacting with and how I'm spending my time." This method allows the work to enter new fields and cross different levels of analysis while experimenting with various media.
Have you ever thought—for example—that a lot of mothers in movies lose their dignity and take care of their children but not themselves? Personally, no. Until now.
bambi's mother, shot.
nemo's mother, eaten by a barracuda.
lilo's mother, killed in a car crash.
koda's mother in brother bear, speared.
po's mother in Kung Fu Panda 2, done in by a power crazed peacock.
ariel's mother in the 3rd Little Mermaid, crushed by a pirate ship.
human baby's mother in Ice Age, chased by a saber-toothed tiger over a waterfall!
Taken from her brand-new performance the good, the bad and the viscose (2019), the above excerpt embraces possible interpretations of the theme of motherhood, integrating the frantic flow of the b/w audio-video piece from pool #3 (has anyone tried unplugging it and plugging it back in?) (2019), and isolating it, lastly, in the lithograph on paper titled the mothers in movies are either gone or useless (2019). Three levels of experiencing and rereading the same fragment of the same plot. Three moments of negotiating and playing with it as part of a continuous melt of signs and signals.
The tone and scripts of Turato's monologues are also sharply influenced by the nonstop process of acceleration in the way we access and consume information from physical and virtual spaces on a daily basis. Using different approaches, and distinctive traits of languages as tools to acquire and share ideas, Turato references the art, cinema, and literature of such personages as the poet, critic, and performance artist David Antin (1932–2016) and the Hollywood actor and writer Spalding Gray (1941–2004), both of whom worked in a manner quite opposed to hers. If Antin saw poetry as an open process that could only be fully developed in the course of the performance, and Gray's monologues and storytelling expanded while he performed them, for Turato, "the amount of time it takes me to write and research and rehearse the text is so disproportional to the twenty minutes it takes me to purge it out. There's this kind of effortlessness I'm trying to preserve. That's also why I don't read the text, or why I don't have a paper. So I do it faster. I want this effortlessness. I want this moment of a bit of uncertainty."
Curated by Fabian Flückiger, explained away is organized circularly around the entire upper floor of the museum, creating the effect of being in the middle of an accelerated loop of relationships between sounds, gestures, and images becoming texts (and vice versa). Four site-specific installations and two video rooms, flanked acutely by artworks from the collection (almost all portraits made by female artists),3 delineate an idea of symmetry in the space. The decision for all the rooms to mirror each other somehow imbues the presentation with a great sense of visual and acoustic déjà vu in an environment of familiar feelings, reflecting the way we absorb a superabundance of inputs in global societies. And while the text fragments on the walls add a two-dimensional skin to the show, the phonetic, semantic, and pictorial qualities of language fuse in the same space. Each room conveys a sense of being in the middle of processing an edited manuscript, and comprises a series of murals—presumed sketches, traces, and linguistic forms of internalization of labor—all realized in emulsion paint.
In the first room, the wall painting your screen is bright and it's sharp, and while there may be slightly better screens out there, you'd only be able to tell by holding the two phones side-by-side (2019) questions the minimal technological advances from one smartphone model to the next, pointing out and criticizing the prevalent strategy of selling without demonstrable progress. The adjacent text, titled a sufficiently dinky arena for my dinky gift (2019), is instead a sort of challenging opening announcement, probably pronounced by the artist herself, and ironically commenting on the whole exhibition project.4
Following the logic of Turato's scripts, which are copied by hand, edited, modified, and reconstructed in order to adjust the tone and general acoustic structure of the performances, this piece (along with others) has been created by turning her handwriting into a typeface named fuck, fuck, fuckity, fuck, fuck (2019), used for all the exhibition's wall texts. This further formal and stylistic expedient complies with the artist's intent in creating a systematized apparatus of means of expressions.
In the same room, a sculptural object conceived as a nonfunctional kitchen island serves as both prop and smartphone charging station for visitors and guards. it's a good thing he didn't click (2019) is "a sculpture that is evocative of both a middle-class open kitchen and a Minimal art sculpture of the 1960s."5 Calling to mind a Donald Judd desk, this piece is realized in chromium-plated wood and a stainless-steel sink, and, as with all the other sculptures in the show, it is sourced from life in the manner of language.
"I was thinking about the afterlife of all these objects, and I wanted them to signify both social classes and roles… It's funny because when I was thinking and talking about this kitchen, I always had this vision of me performing around it. I thought it was an interesting gesture to activate stories. And when everything was ready, and I was fantasizing about me performing around this sculpture, I saw a short video by Kevin Spacey on YouTube. It was so creepy. I remember the night the video came out, and this thing just accidentally made my kitchen island so on point in my head; it has turned into a huge political thing. This happened because Kevin Spacey, who was accused of sexual misconduct, was saying something very personal and intimate in a very professional way, while basically chopping spaghetti in a kitchen."
With its 9.4 million views on YouTube, this video, titled "Let Me Be Frank," plays with tones and associations in the same way Turato enacts her spoken performances.6 The literal and ironic double interpretation between Spacey offering to speak honestly (frankly) while his character Frank Underwood is a dishonest politician in House of Cards, and his use of language referring to roles, related facts, and fictional characters, is a powerful narrative and linguistic element through which to analyze Turato's artistic approach. "I know what you want," intones Spacey in the video. "Oh sure they may have tried to separate us, but what we have is too strong—is too powerful. I mean, after all, we shared everything, you and I. I told you my deepest, darkest secrets. I showed you exactly what people are capable of."
Two remaining sculptural objects installed in the other rooms respond to the same "helpful" logic. They serve both as flexible structural elements in the space and as parameters and props for the spoken performances, playing simultaneously with the history of sculpture, and the search for insightful meanings floating between the private and the public sphere. In the case of someone who was in two minds about things, perhaps (2019), we are in front of a reconstruction of a bus shelter, evoking the idea of "cruel architecture" that offers no rest for the physically challenged, elderly, or homeless. But its space-saving structure suggests that "public land is expensive, commuter flows can circulate more efficiently and that are more options for positioning commercial facilities."7 Reasoning on theories in architecture—in particular Douglas Spencer's The Architecture of Neoliberalism: How Contemporary Architecture Became an Instrument of Control and Compliance (2016)—this piece is an evident example of the evil and fascinating design of "leaning and not sitting," and a "bit more inflated replica of a station that I took every day from Arnhem, where I was studying at the Werkplaats Typografie," says the artist. too rare to dislike (2019) is instead a simple varnished wooden table operating as potential instrument for communication and familiar element for circulating information.
The ephemerality and versatility of language is considerably highlighted in the frame of explained away. If in the video projections of pool #2 and pool #3 words are shown so quickly as to be incomprehensible, the presence of the voice adds a kind of emotional degree. "Sentiment is ok, sentimentality is not. Multiple partners? In this economy?… How often do you see your children?"8 The same feedback loop is literally triggered in the stream of consciousness of the new performance, where melodious sequences are followed by shame-inducing sounds and fast speeches in a jigsaw puzzle of words and interpretations: "And you can't understand me, cuz my experience is so different, and you must understand me, cuz my experience is so important."9 Alternately affirming and intimate, angry and pretentious, the monologues drive the audience into a state of continuous partial attention where most of the time it's impossible to obtain a total overview of what's going on.
Be here, but unable to grasp what happened. Be here, and in a state of information overload where knowledge is perceived as fragment inside temporal disjunction and anachronism. As stated by Giorgio Agamben in his 2006 essay "What Is an Apparatus?," contemporariness is defined as the "singular relationship with one's own time, which adheres to it and at the same time, keeps a distance from it. Those who are truly contemporary, who truly belong to their time, are those who neither perfectly coincide with it nor adjust themselves to its demands."10 The common feeling of being in a sort of disconnection traces not only in the experience of the viewer, but also from Turato's point of view, as an artist and performer working with language as a sociolinguistic phenomenon:
"What I find interesting in my sturdy set script is that it's such an elaborate time-consuming craft thing to write it, to rehearse it, to make it work, to learn how to move with it… And when I realize what works, a kind of sad thing happens. The moment when you have it working at its best, is the moment the text also becomes outdated. So the text references become so old, but your craft and your delivery are so good. And that's the moment you have to kill your work and do another work, and perform it less well in order to get somewhere."
[1] From a conversation with the author, February 2019. All author quotes are from this conversation unless otherwise indicated.
[2] pool #1 (2017); pool #2 (2018), pool #3 (2019).
[3] Leiko Ikemura (b. 1951, Tsu, Japan; lives and works in Berlin and Cologne); Regina Marxer (b. 1951, Vaduz, Liechtenstein; lives and works in Liechtenstein); Anne Marie Jehle (b. 1937, Feldkirch, Austria; d. 2000, Vaduz, Liechtenstein); Gina Pane (b. 1939, Biarritz, France; d. 1990, Paris); Matthias Groebel (b. 1958, Aachen, Germany; lives and works in Cologne); Regina Marxer (b. 1951, Vaduz, Liechtenstein; lives and works in Liechtenstein); Bruno Jakob (b. 1954, Jegenstorf, Switzerland; lives and works in New York).
[4] The original source is an excerpt from A Hand Reached Down to Guide Me, a novel written in 2015 by the US journalist and novelist David Gates.
[5] From the exhibition press release.
[6] From the video "Let me Frank": https://www.youtube.com/watch?time_continue=100&v=JZveA-NAIDI.
[7] From the exhibition press release.
[8] From pool #2 (i don't need to make sense, i just need to let it go) (2018).
[9] From pool #3 (has anyone tried unplugging it and plugging it back in?) (2019).
[10] Giorgio Agamben, "What Is an Apparatus?" and Other Essays (Stanford, CA: Stanford University Press, 2009), 12.