EXHIBITIONS
Nora Turato "Pool 2" at UKS (Unge Kunstneres Samfund / Young Artists' Society), Oslo
Close
1
2
3
4
5
6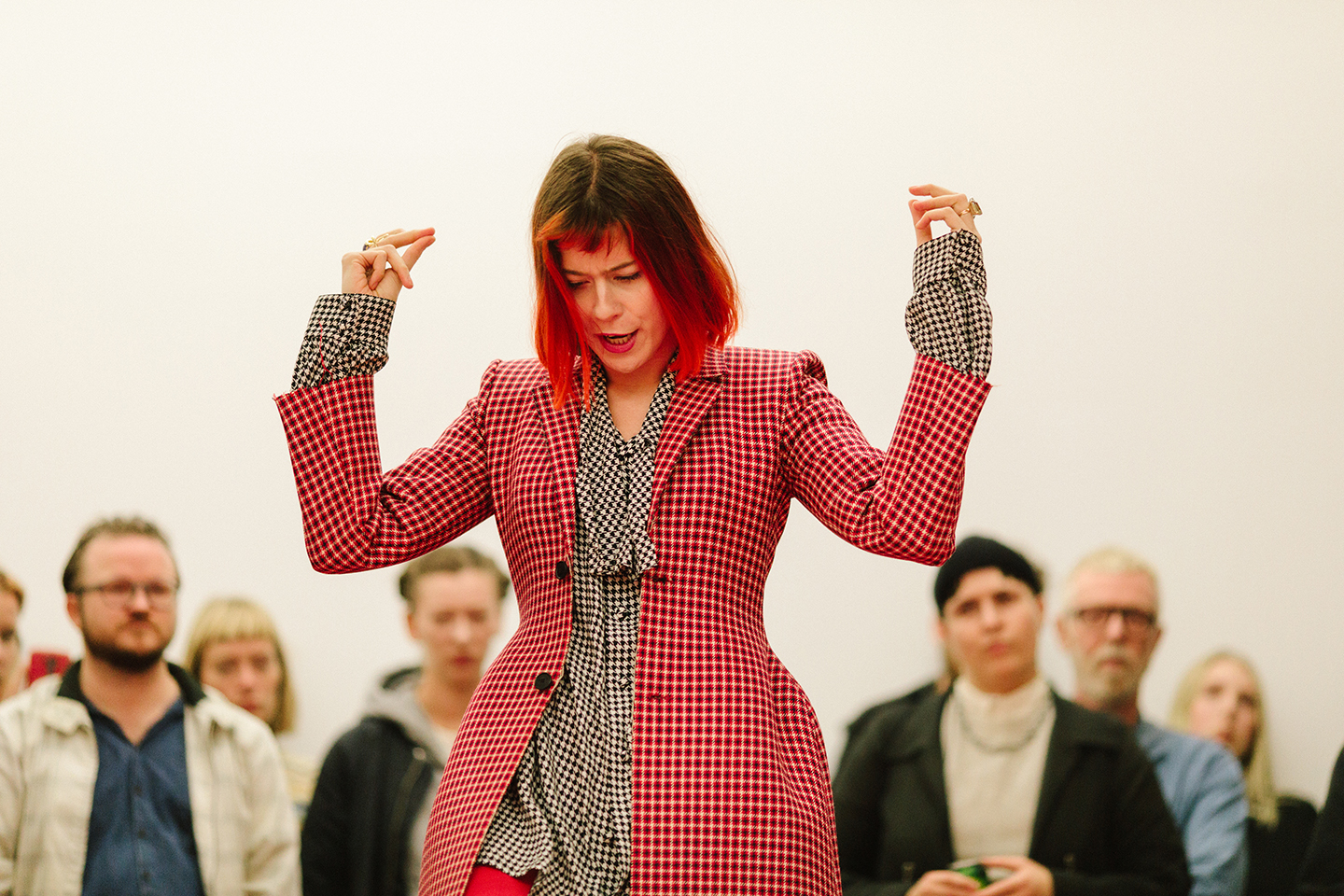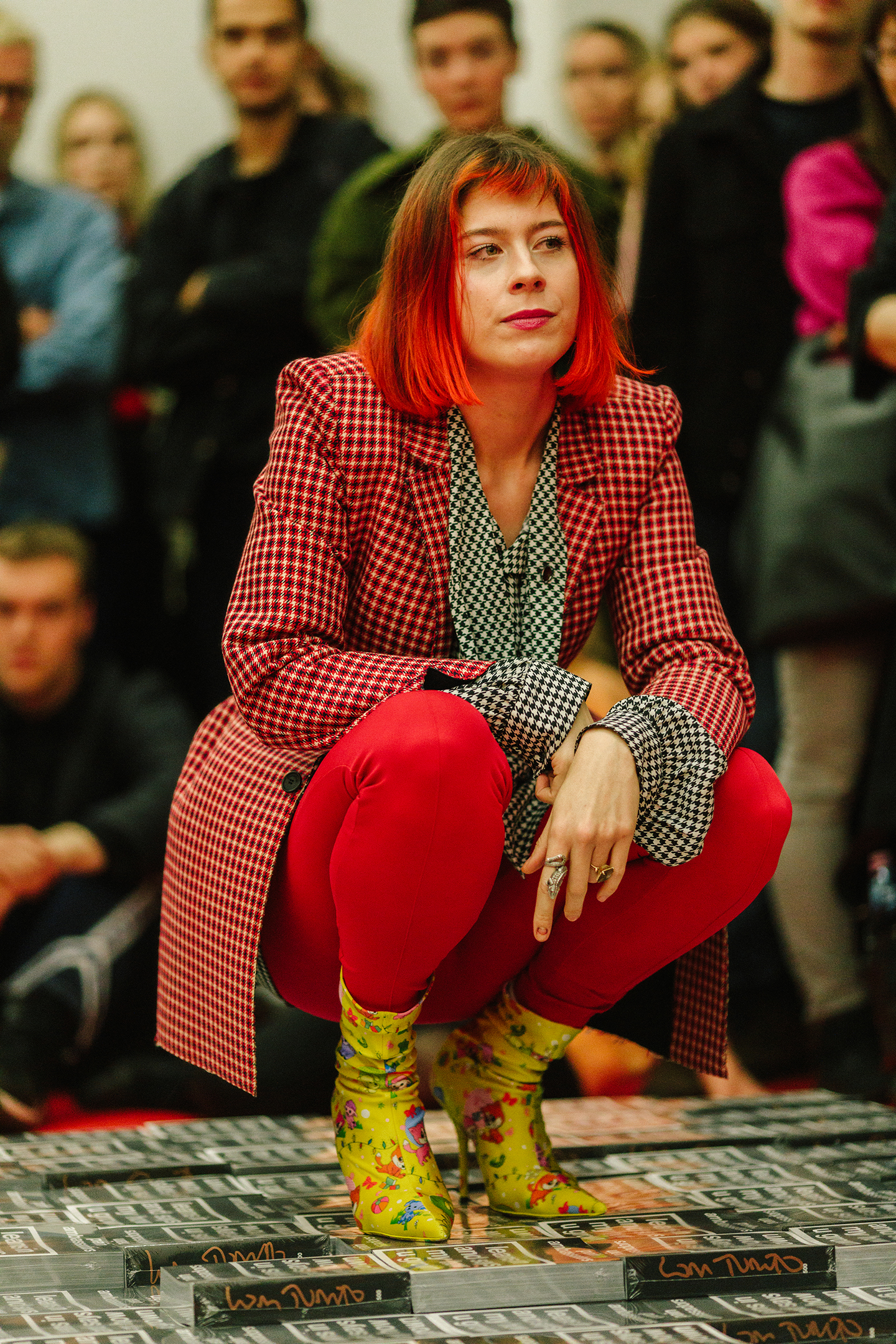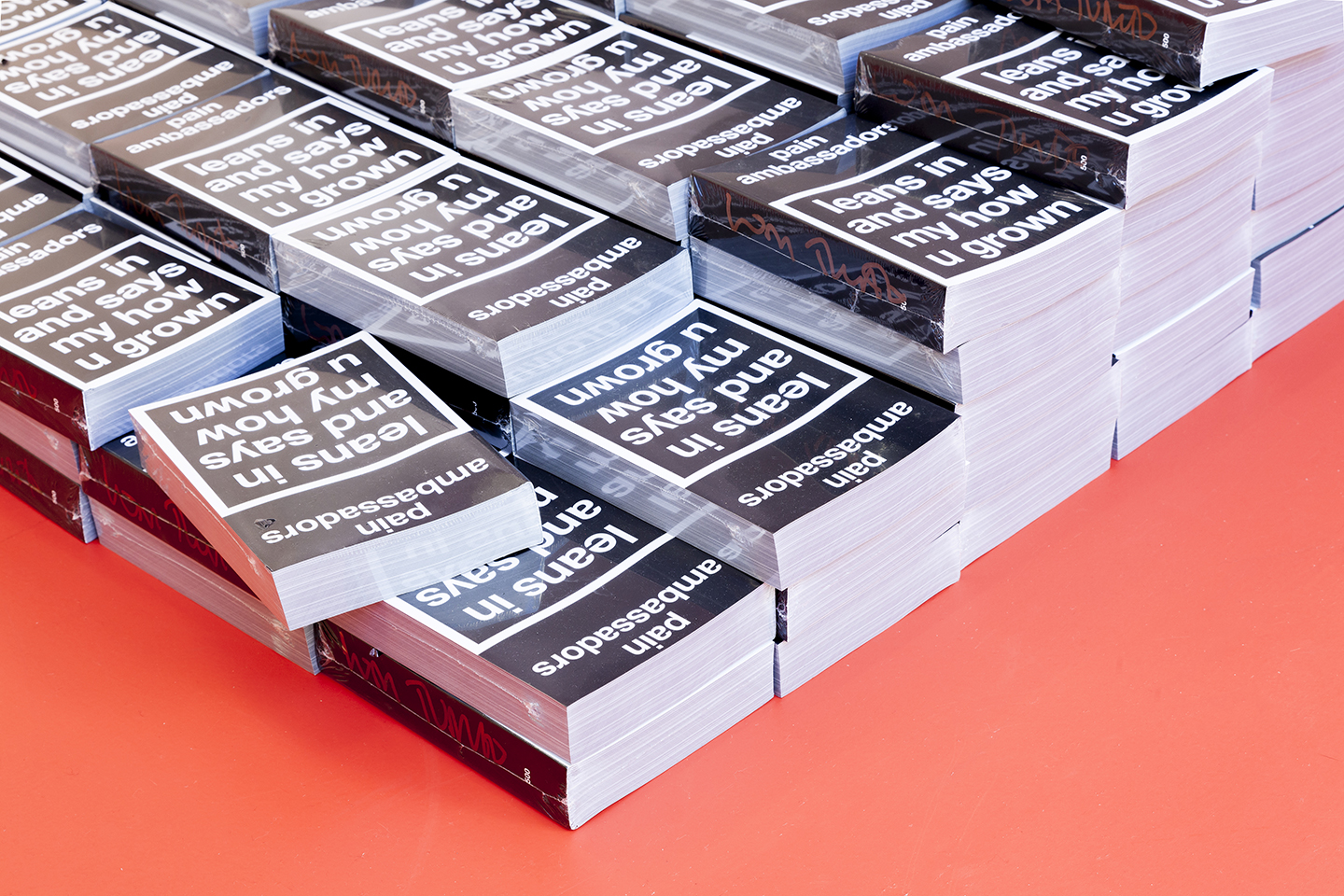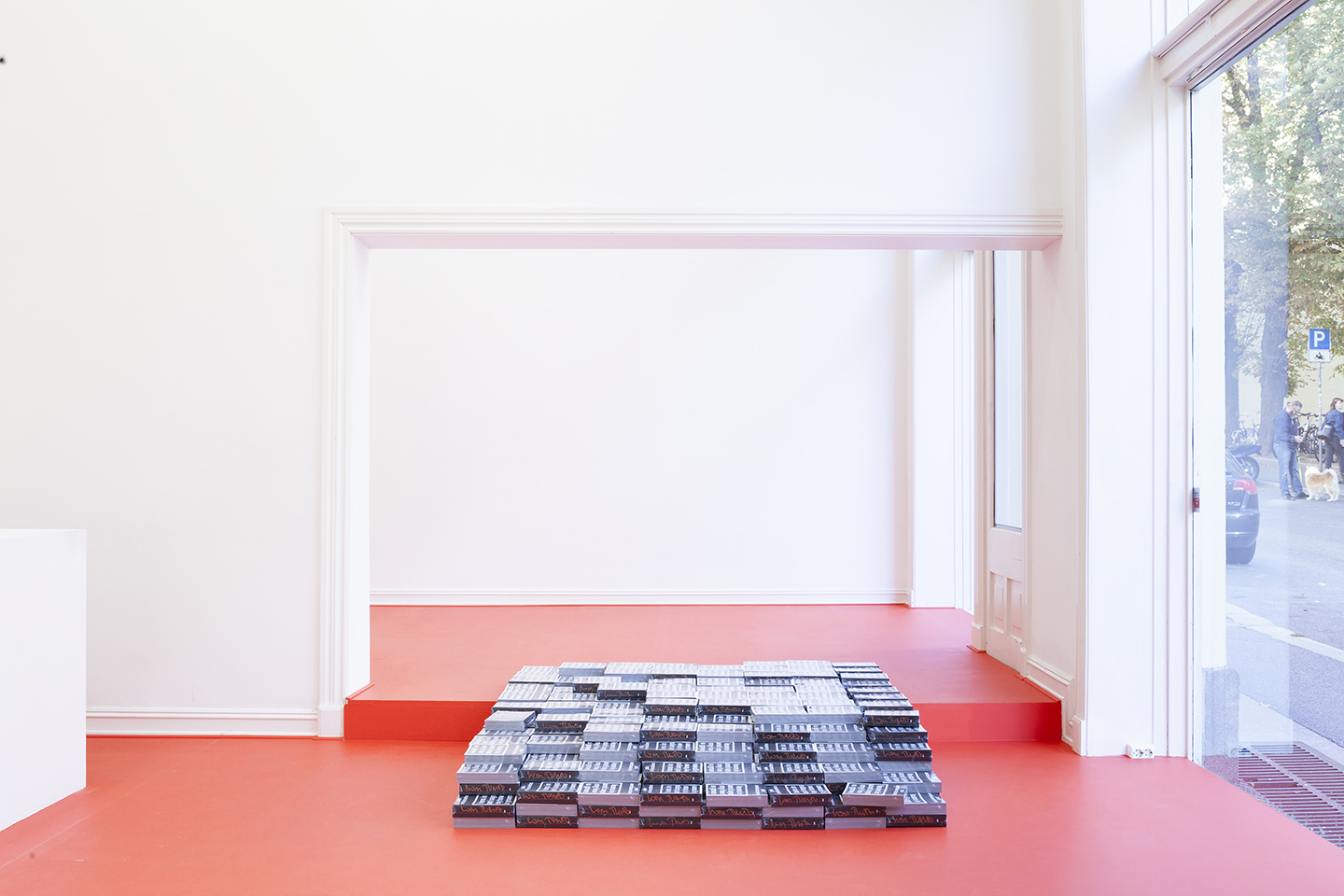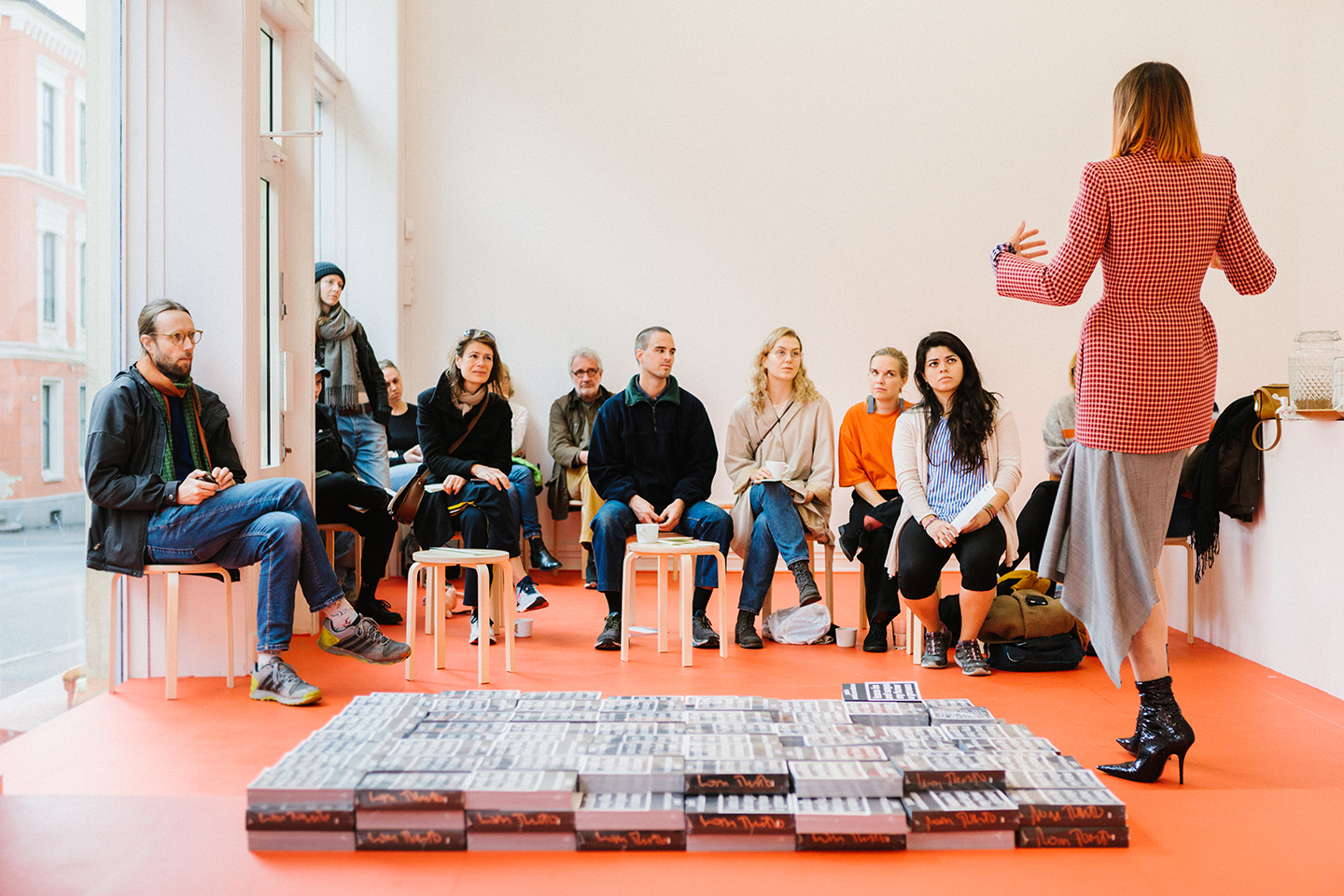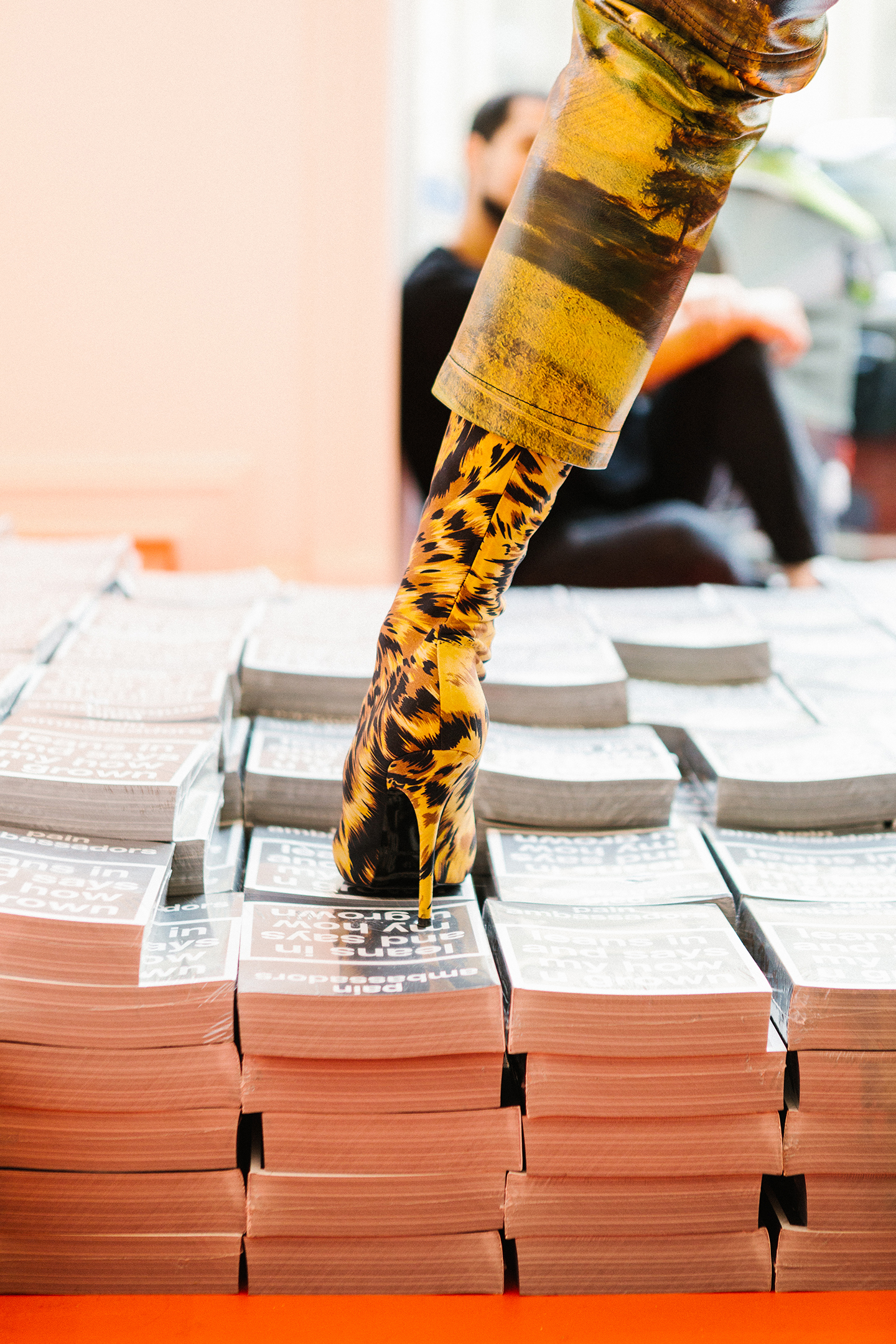 High-paced rhythm and shrill rhyme of recurrent figures of speech is a trademark of Nora Turato. At UKS, the centerpiece of the artist's show is a block-like publication, Pool 2, which in equal measure functions as prop, artwork, book, archive, and exhibition. 
Time-capsuling memes, catch-phrases, and private "oversharing" collected online, from movies, Twitter, scienti c journals, TV-shows, and conversations over the past twelve months, Turato's book records and reshuffles a particular "now" in contemporary culture. Visually taking cue from health warnings on tobacco packaging, the book's bold white sans-serif words and text bites are soaked into black boxes—creating a seemingly endless dark pool swallowing the patch-worked words. 
Using this gloomy word-base of newspeak as both literal dictionary and physical backdrop —the books are both the archival basis for her linguistic gymnastics and her material scenography—Turato performs her restless walk and logorrhea on a daily basis. The time of her act defines the opening hours. This means the display can be experienced live-only, in-time— pulsating in Turato's tense upbeat—or, alternatively, by bringing home the book-as-exhibition Pool 2, for a slow read and individual visual returns. 
A black bulky body set in UKS' dire-red space, toned to match the artist's dyed hair and designer garb, Turato's one-ton-heavy block of books shapes the show's sole sculptural gesture. A gesture that audiences, in turn, are encouraged to disassemble, devour, and remove over the course of the exhibition— emptying the UKS space by purchasing Pool 2. 

Liberalizing the exhibition and making it available for (cheap) consumption—the book is on sale for approximately half its production price—visitors are invited to take their time with the pool of words behind the accelerated regime of real-time phrases: Go experience the (digital) quotes in analogue! Read the exhibition—Pool 2—all alone on your sofa! 
Employing her background in graphic design —working on the page as a space, together with designer Sabo Day—the in-print black- and-white exhibition maps out the larger web of quotations used in Turato's potentially aggressive, maybe manic, and no-doubt intense presence in the UKS space. 
Visually mirroring her rhythmical and always also disjunct and confrontational live-performances, the vortex of words at times run freely in non-stop flows, before their layout returns to punctuation, division, packaging, the phrases being frugally metered in the crisp brevity of warning blocks. Longer passages—quoting from conversations, blogs, or books—are placed in a smaller font and seemingly again and again gain momentum as narratives with an autobiographical sentiment (with a few clips in Turato's native Croatian), only to be disrupted by yelling large-font signage, screaming off the page. The cut-and-paste streams are thus continuously cropped and halted, leaving the eye to crash into (twisted) pre-packaged slogans, such as: "retaining nothing | but the headline". 
Slicing through explanatory habitudes, Turato drifts from dryly distilling empty one-liners like "refusal | to be | vulnerable" or "not | available | in your | country" to turning online sales pitches into surrealist poetry as in "discontinued | dildos on | clearance" or "living your best life. | living your truth. | crystals". The insatiable desire of looking at hashtags and lingo is tactile and becomes palpable when the artist lets "can't wait to see | how u wash ur salad" stand all alone, in jaw-dropping and gutturally meaningful grand grand letters. Teasing the reader-audience to invoke the before and after of a sentence, Turato simply cuts out the instant: "that's the only way I can come." How, we want to know? And, WTF, are we left with, really, but our own imaginative nightmares? 
Turato's assemblage combines precise and pointed sentences with half-baked and hollow quotes, generating a hilarious "ready-made" vocabulary that both joyrides on and roaringly criticizes the current self-centric Western episteme. As poignantly put somewhere in her labyrinthine book-cum-artwork-cum-exhibition: "love a good | mood board". 
at UKS (Unge Kunstneres Samfund / Young Artists' Society), Oslo