REVIEWS
On Monstering: "My Head Is a Haunted House" at Sadie Coles HQ and "Dracula's Wedding" at Rodeo, London—Curated by Charlie Fox
Close
1
2
3
4
5
6
7
8
9
10
11
12
13
14
15
16
17
18
19
20
21
22
23
24
25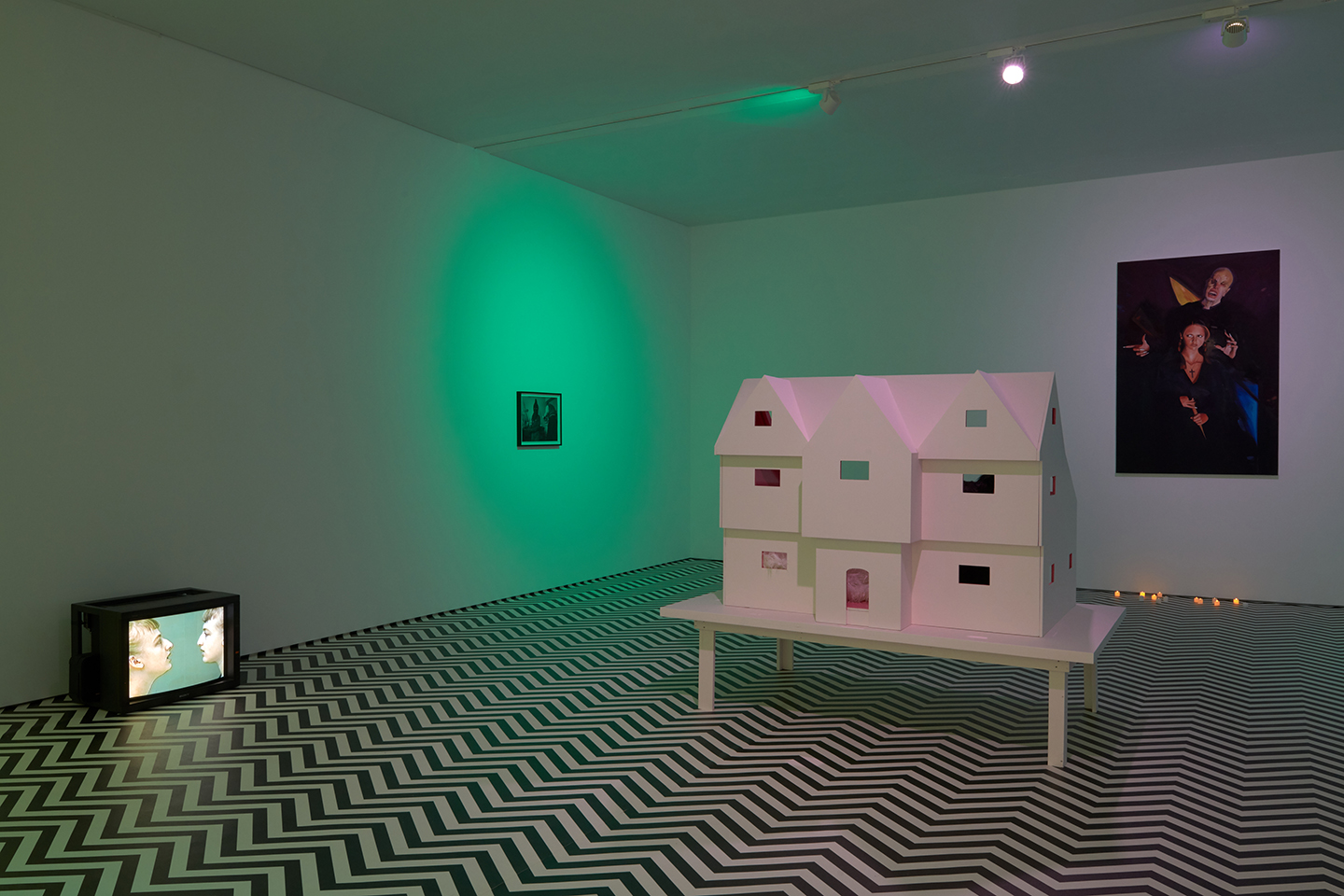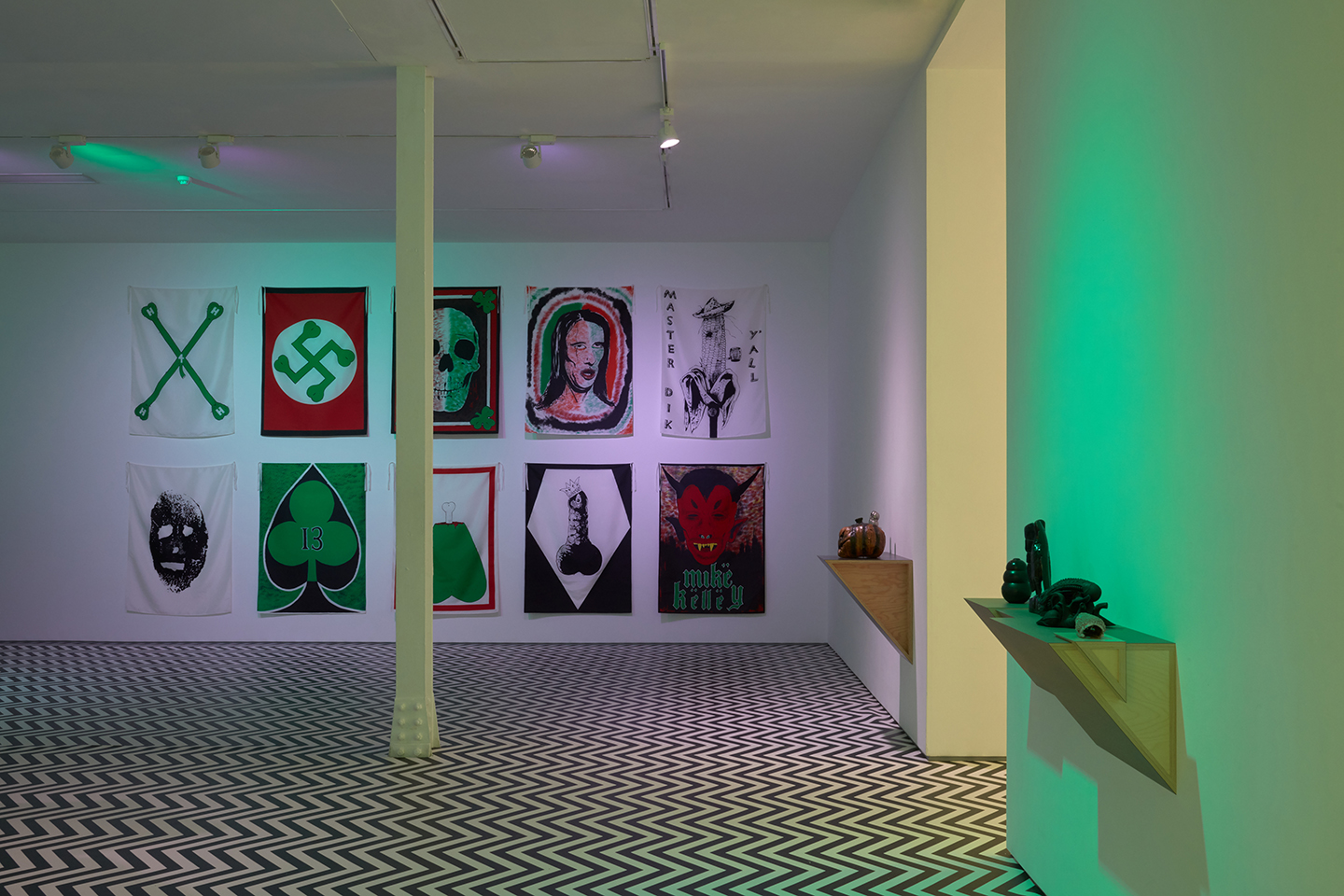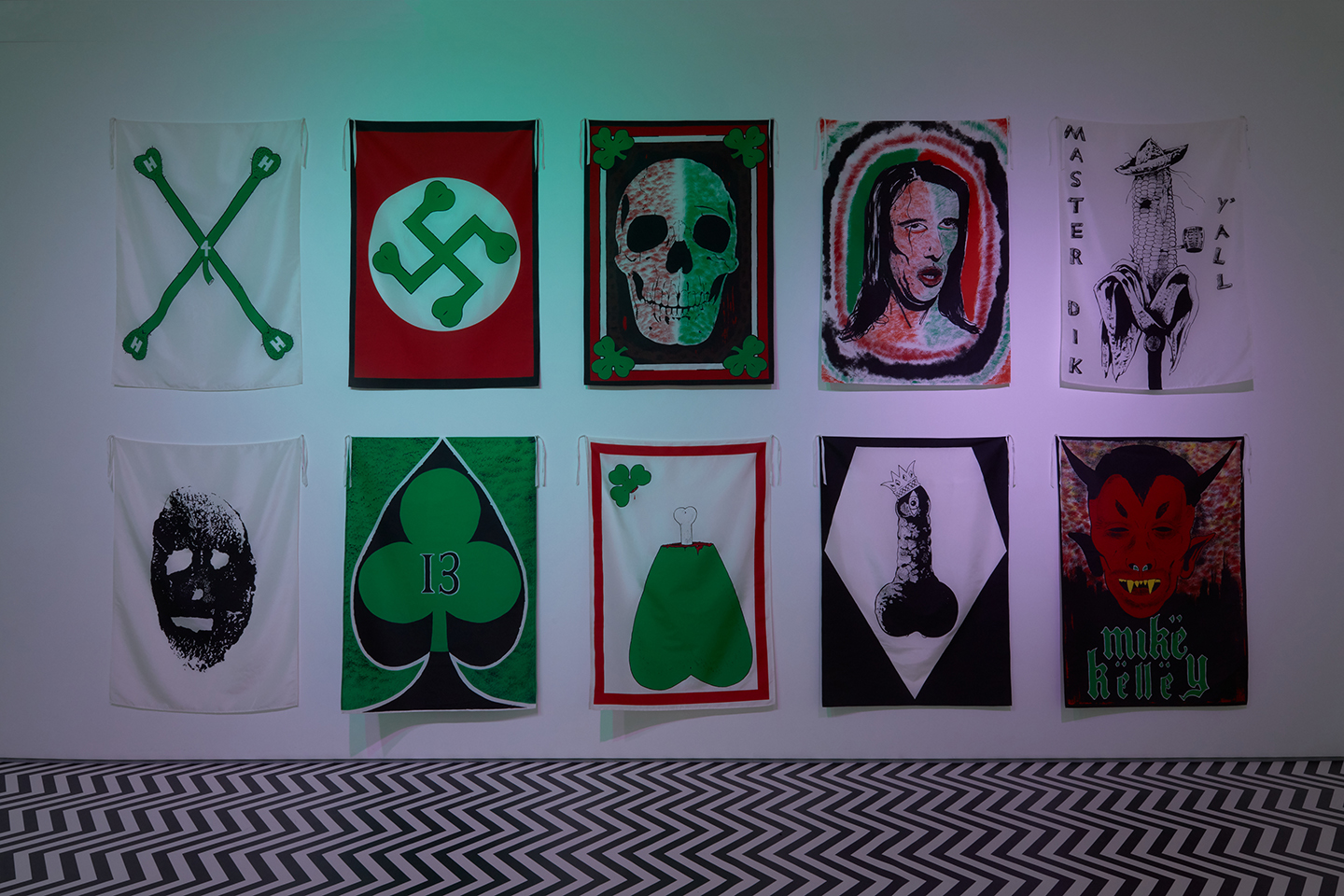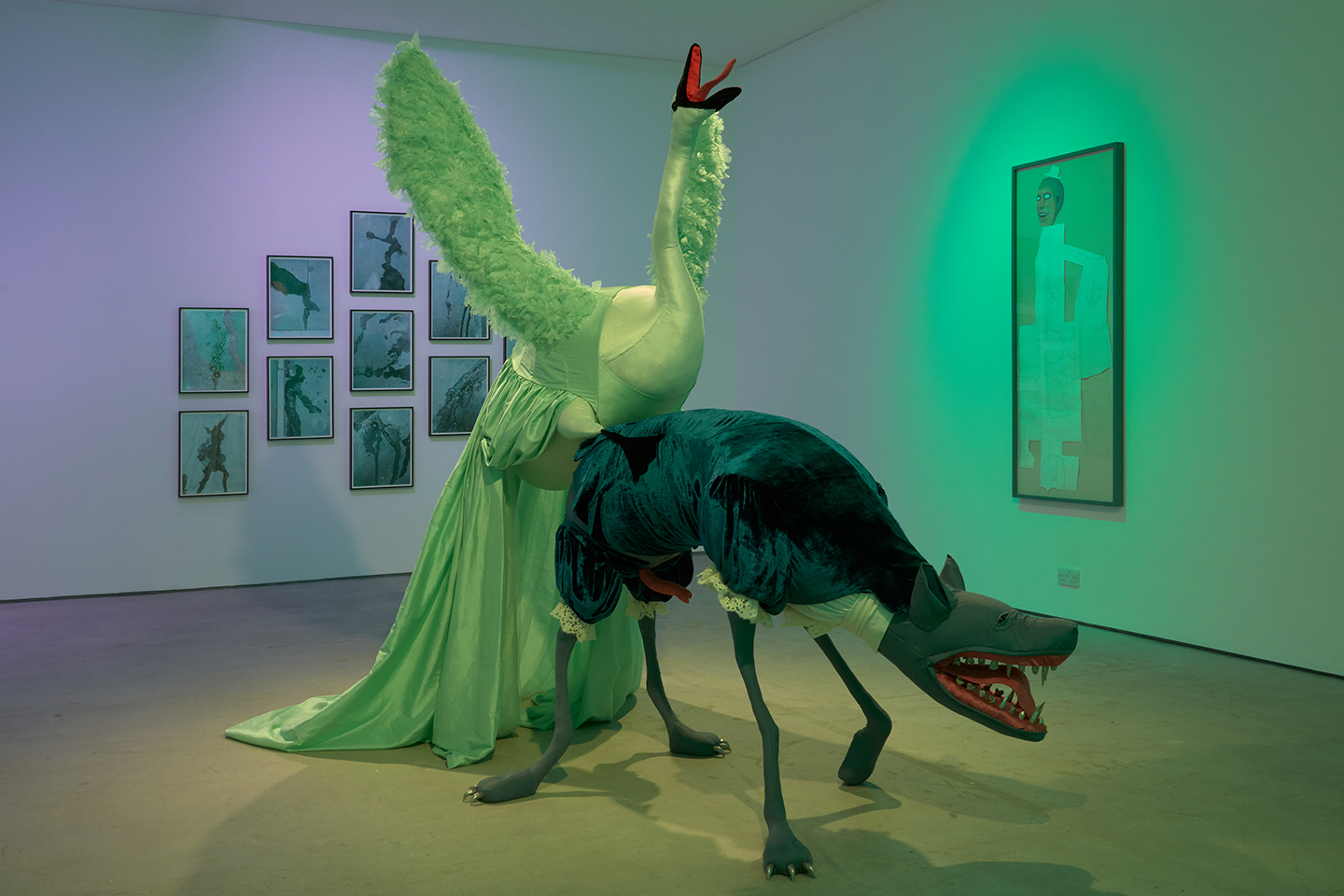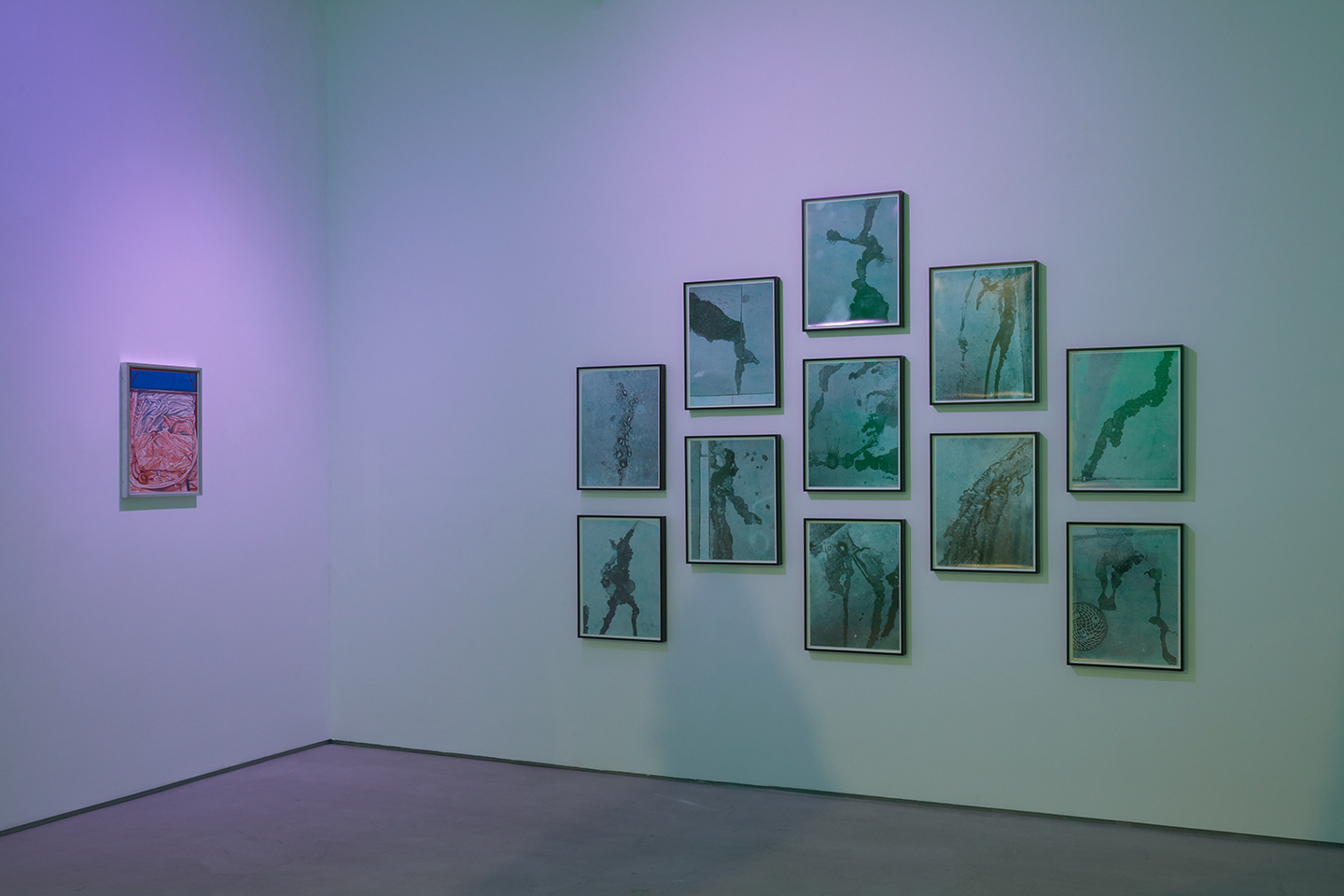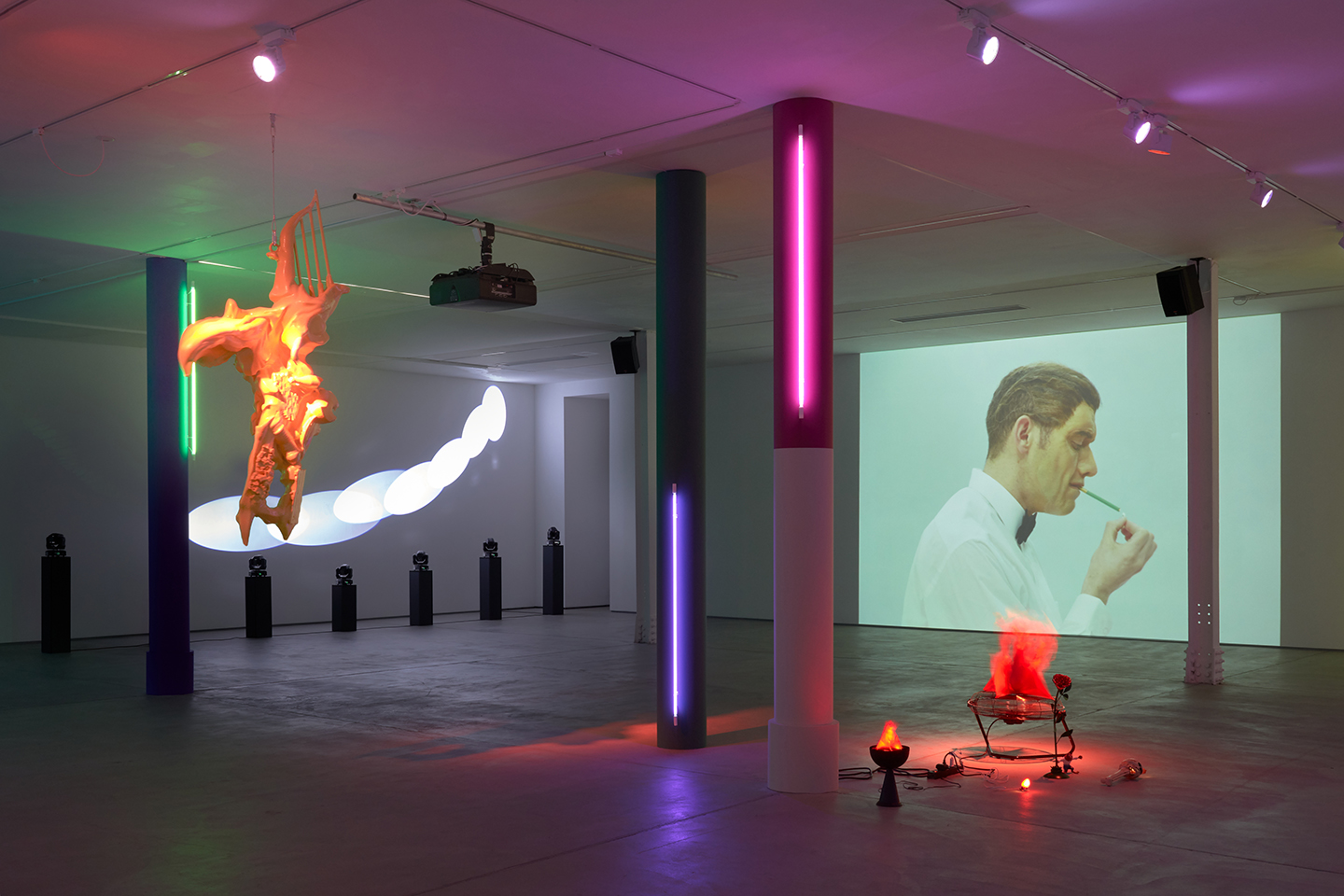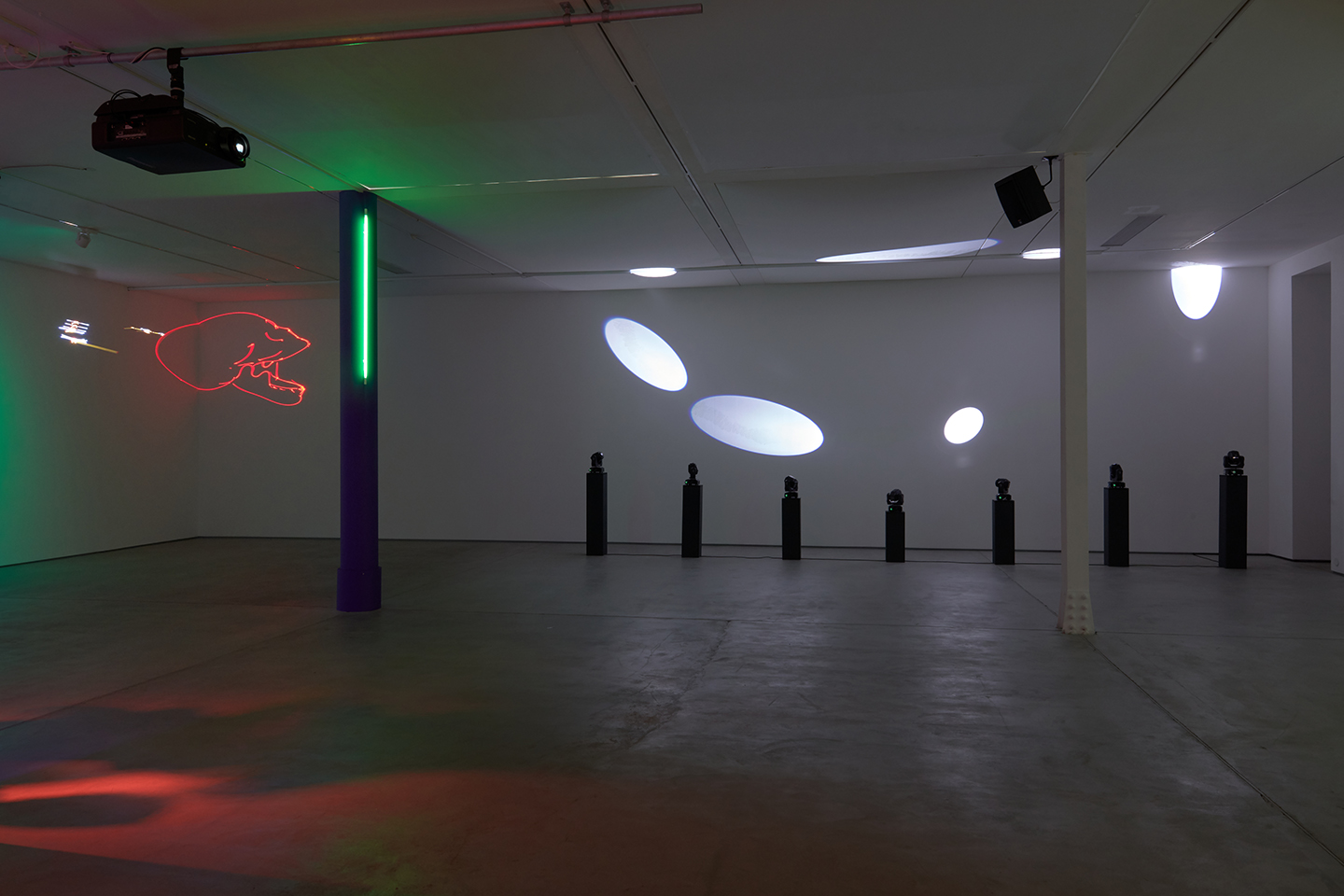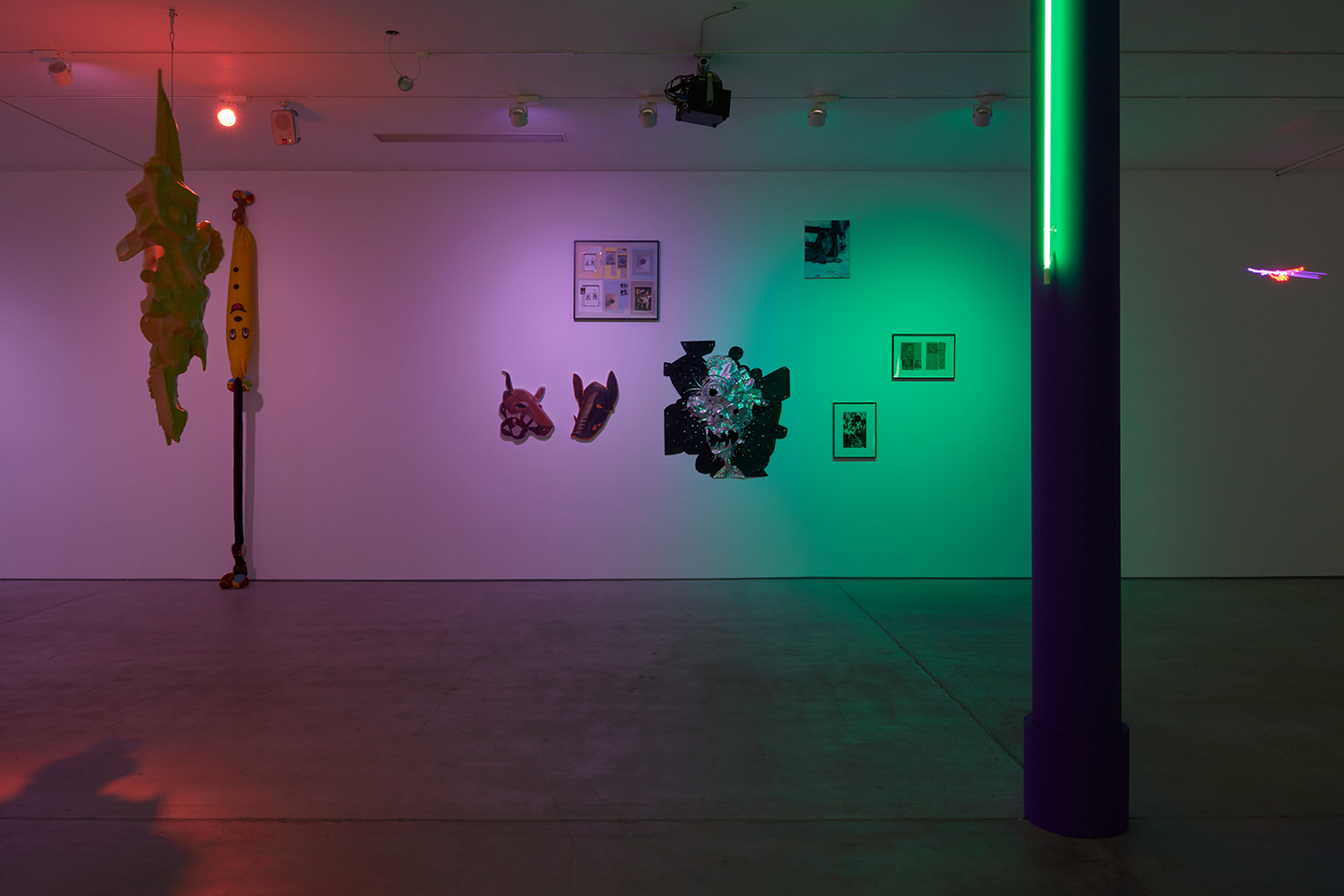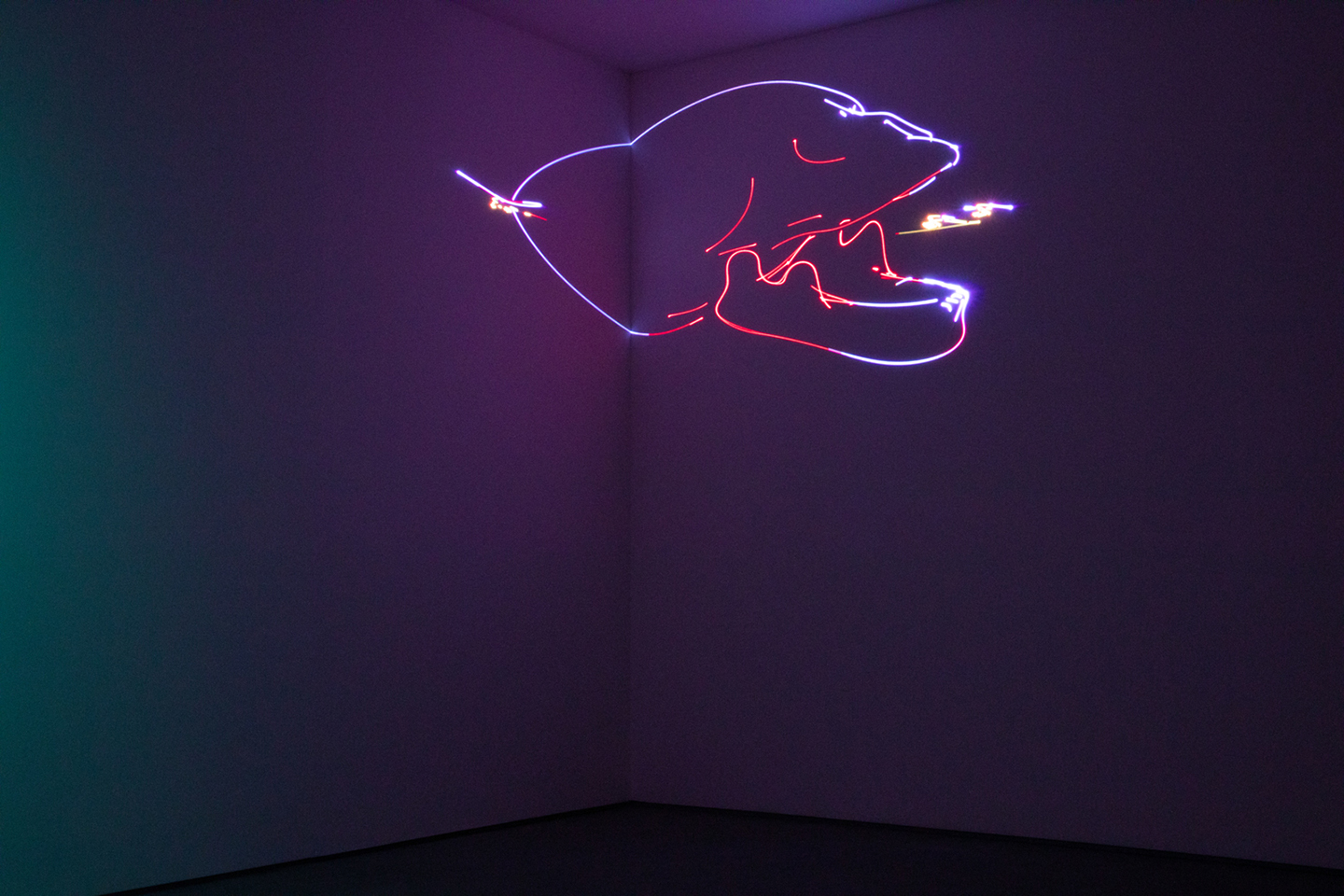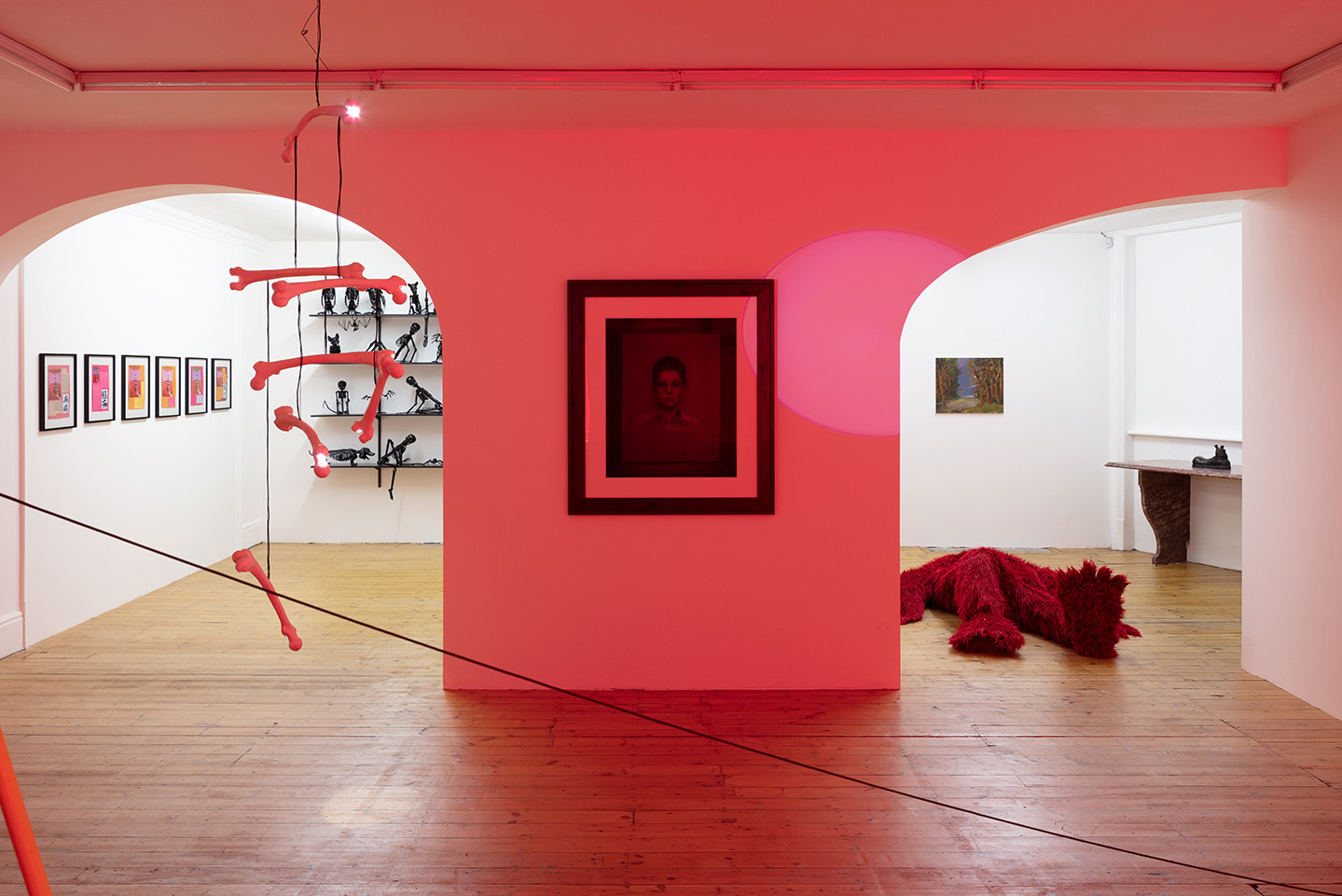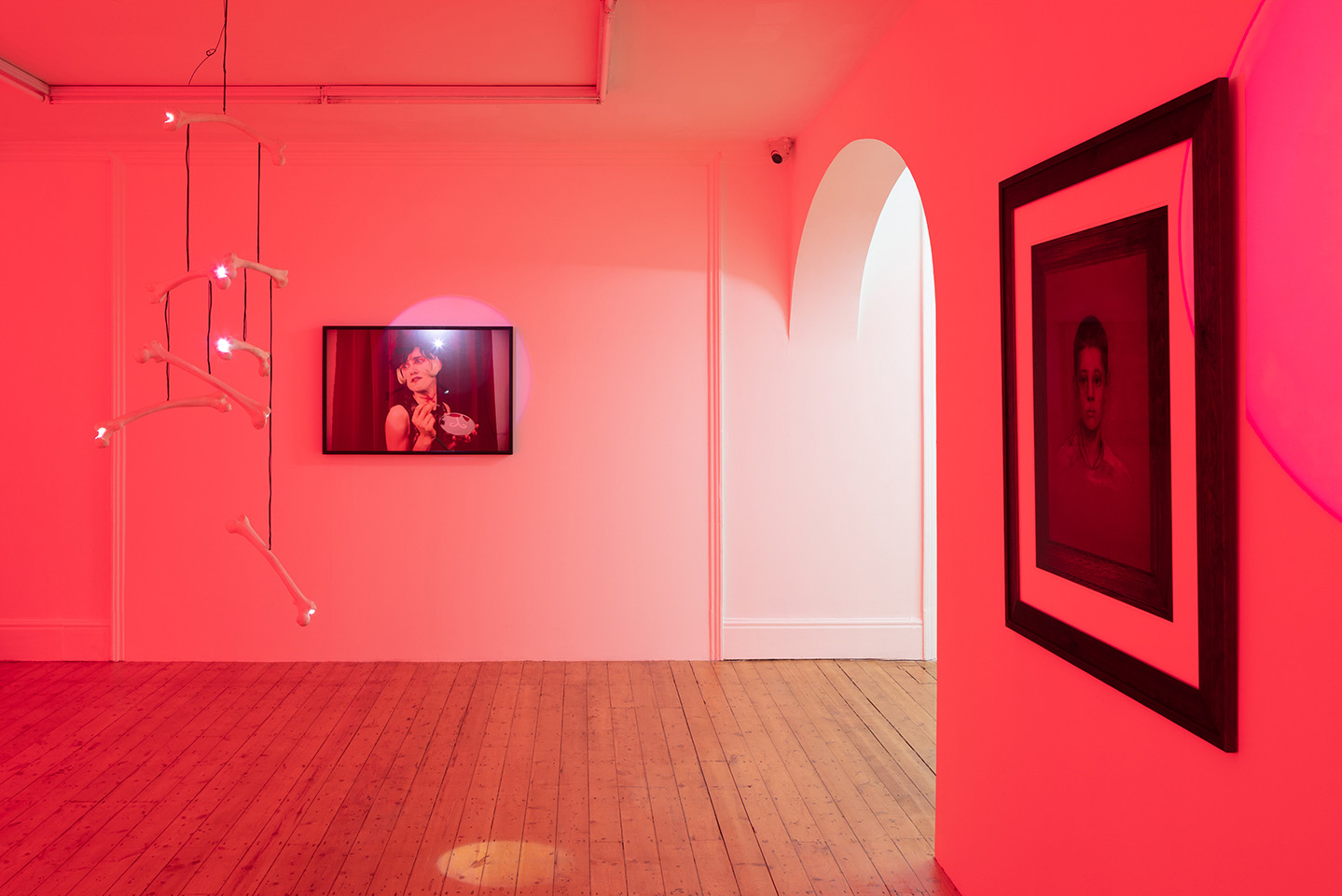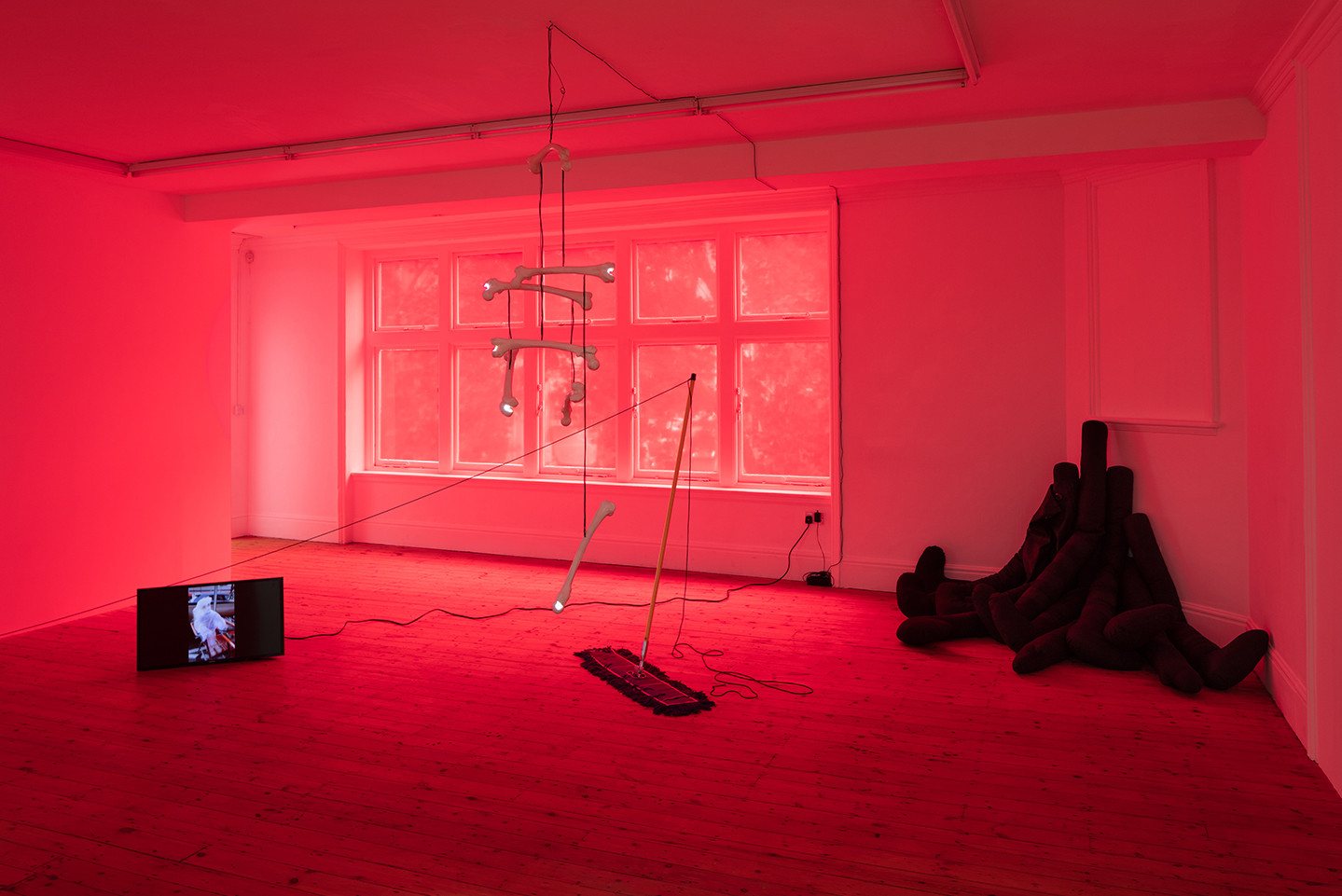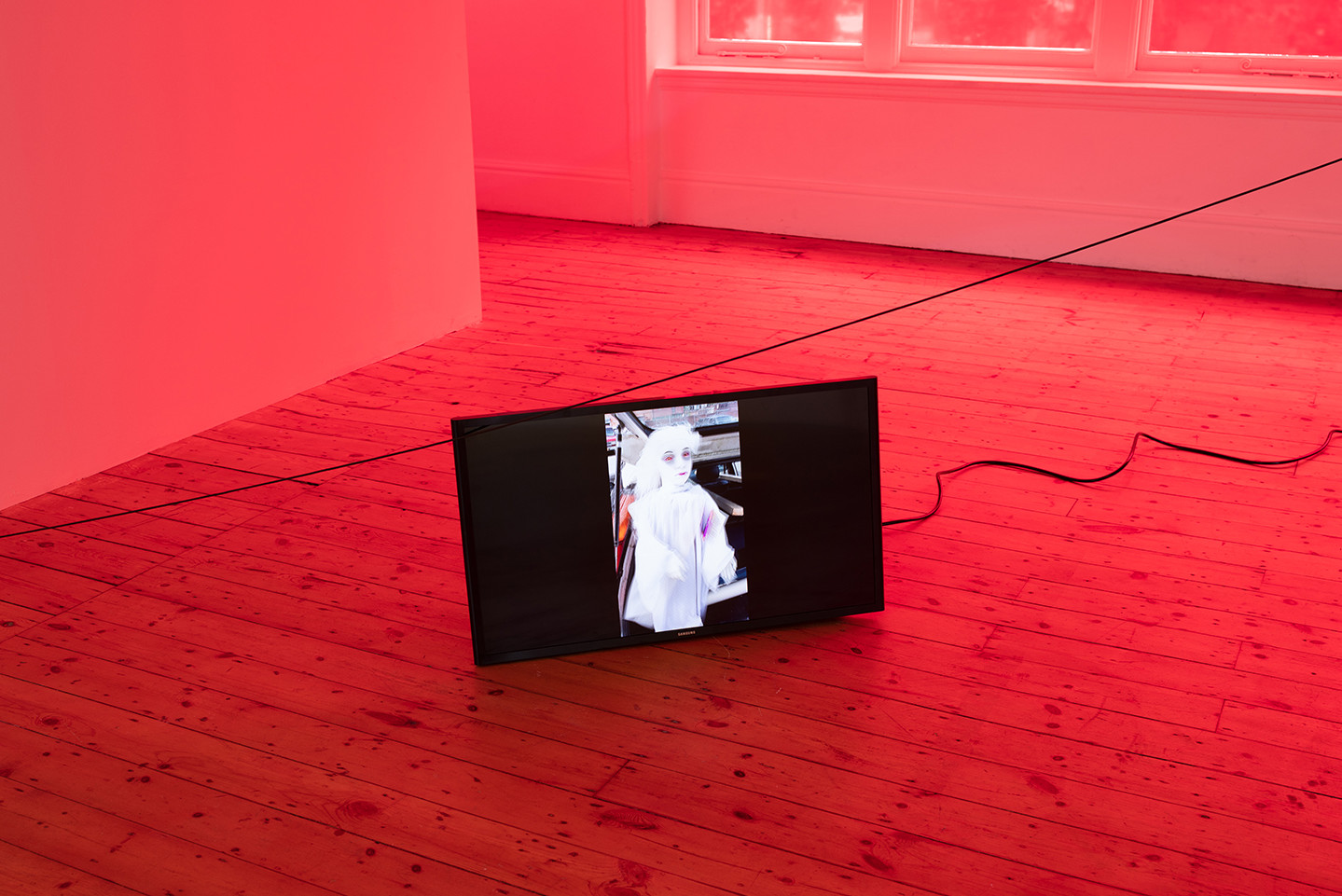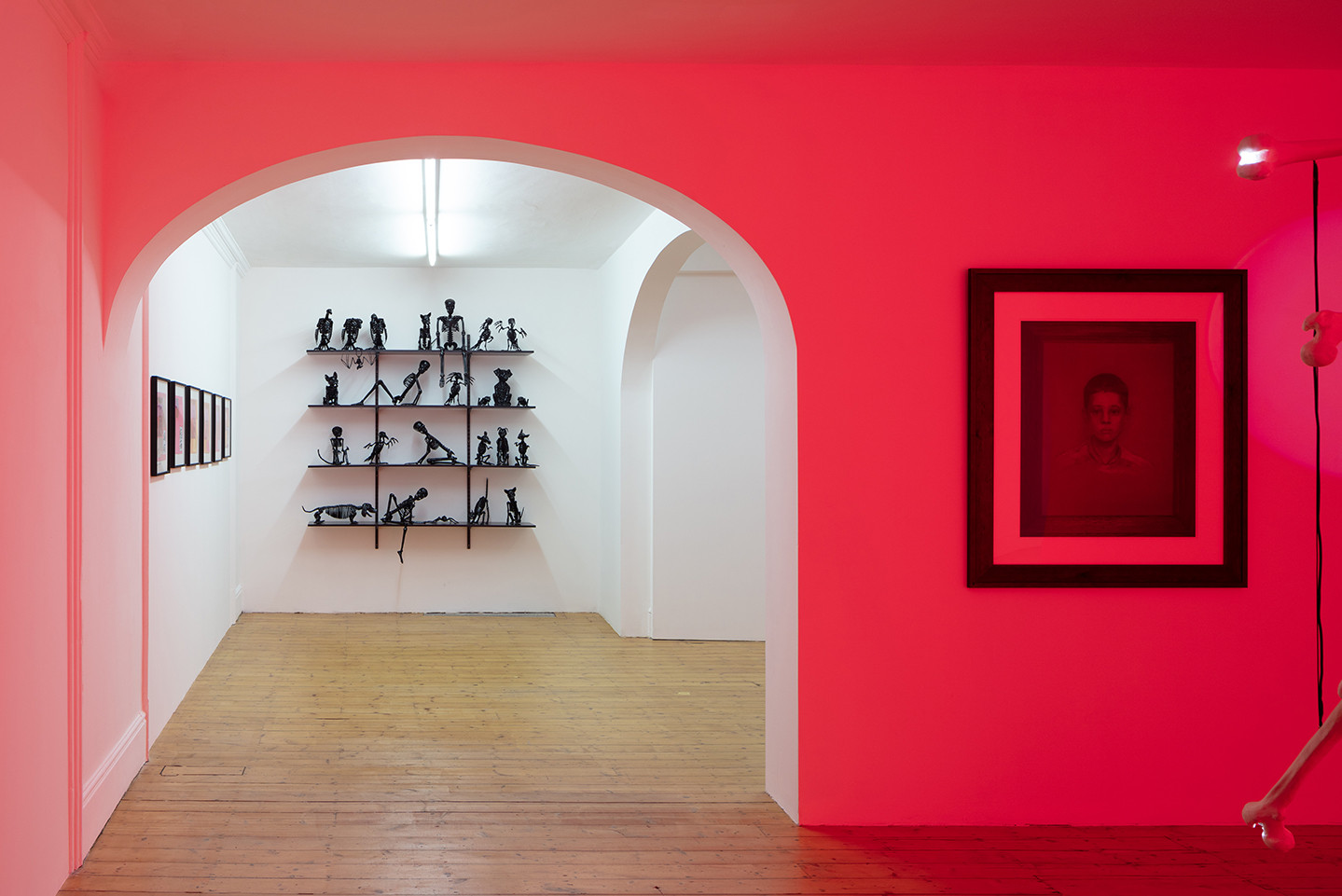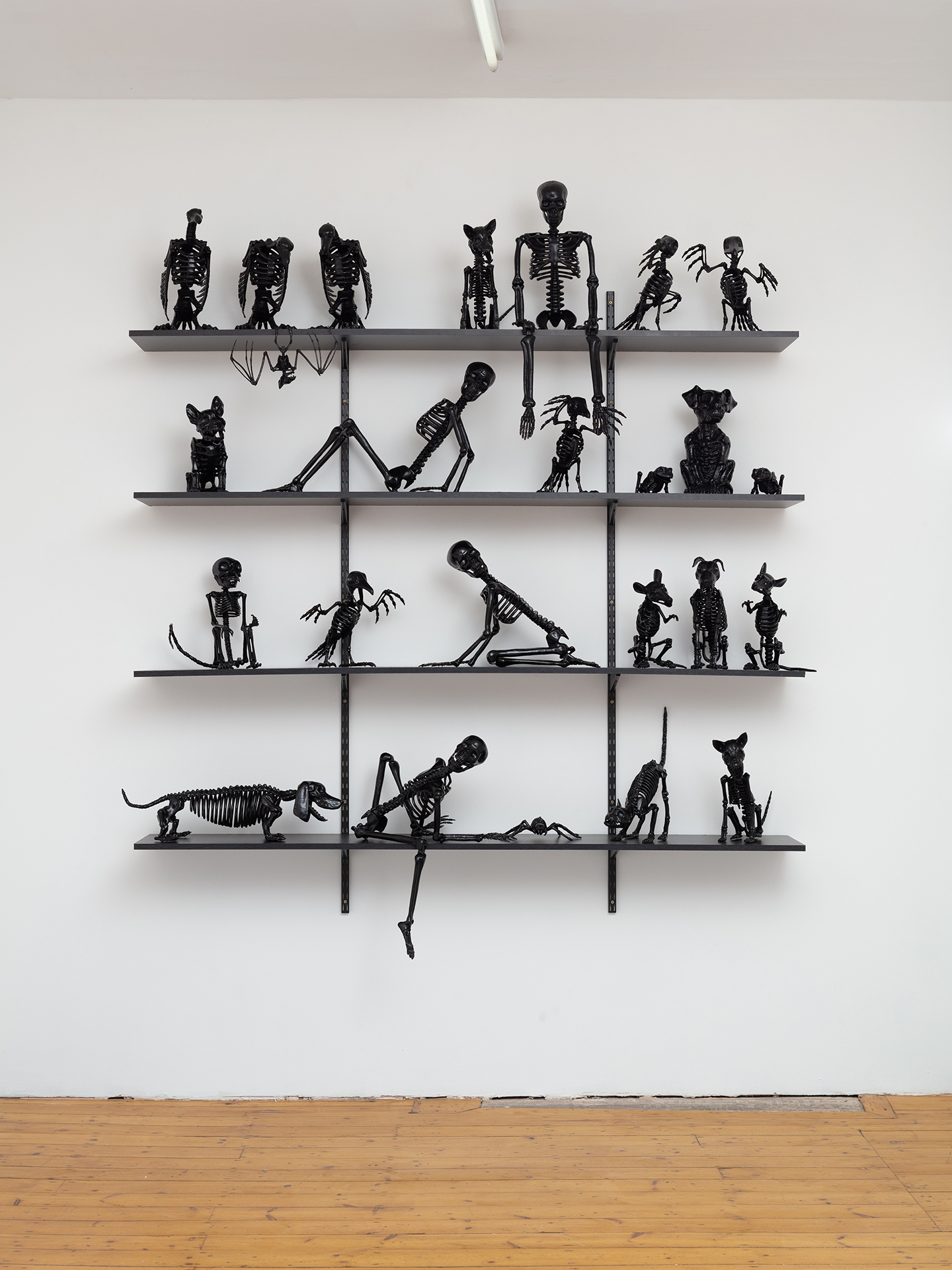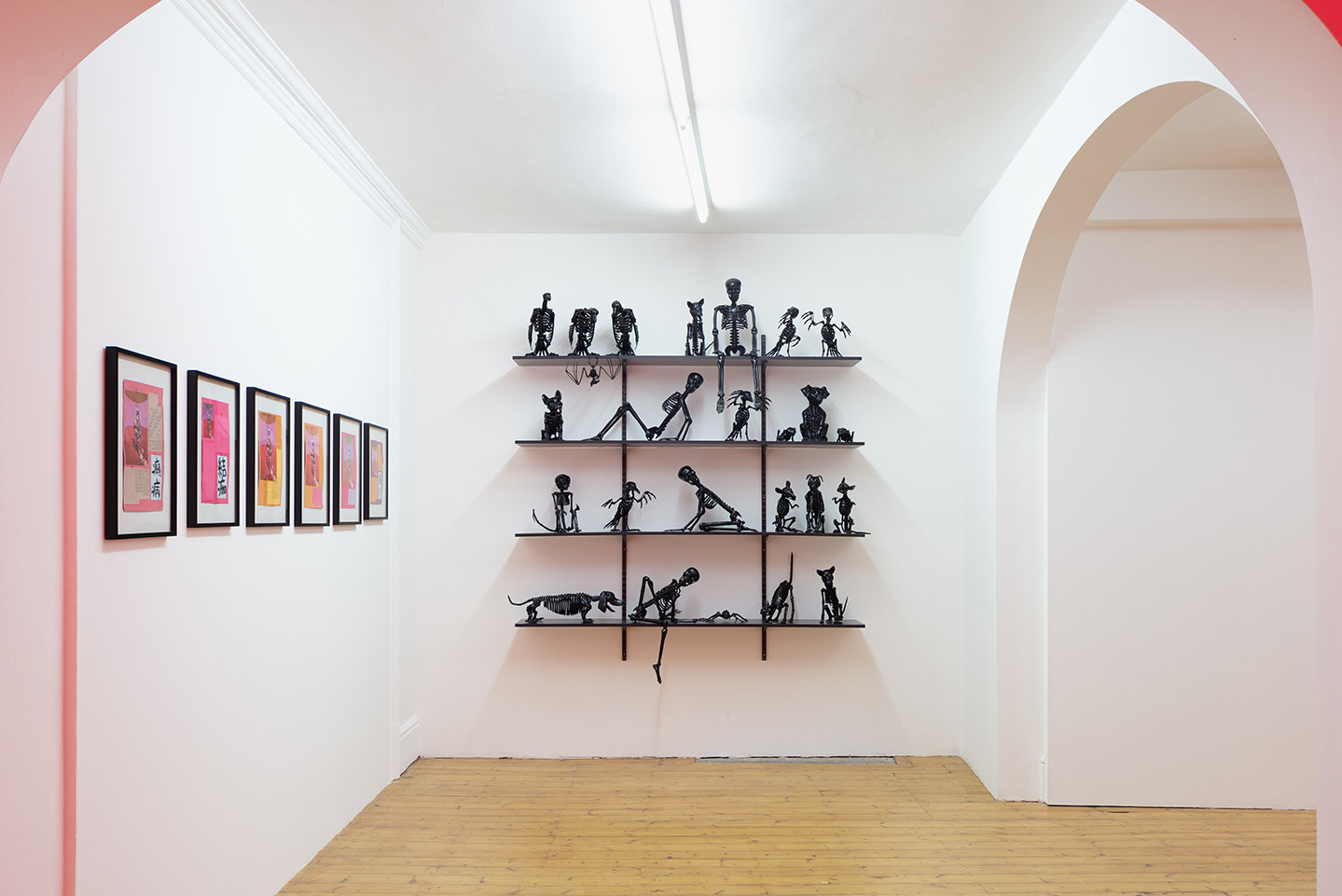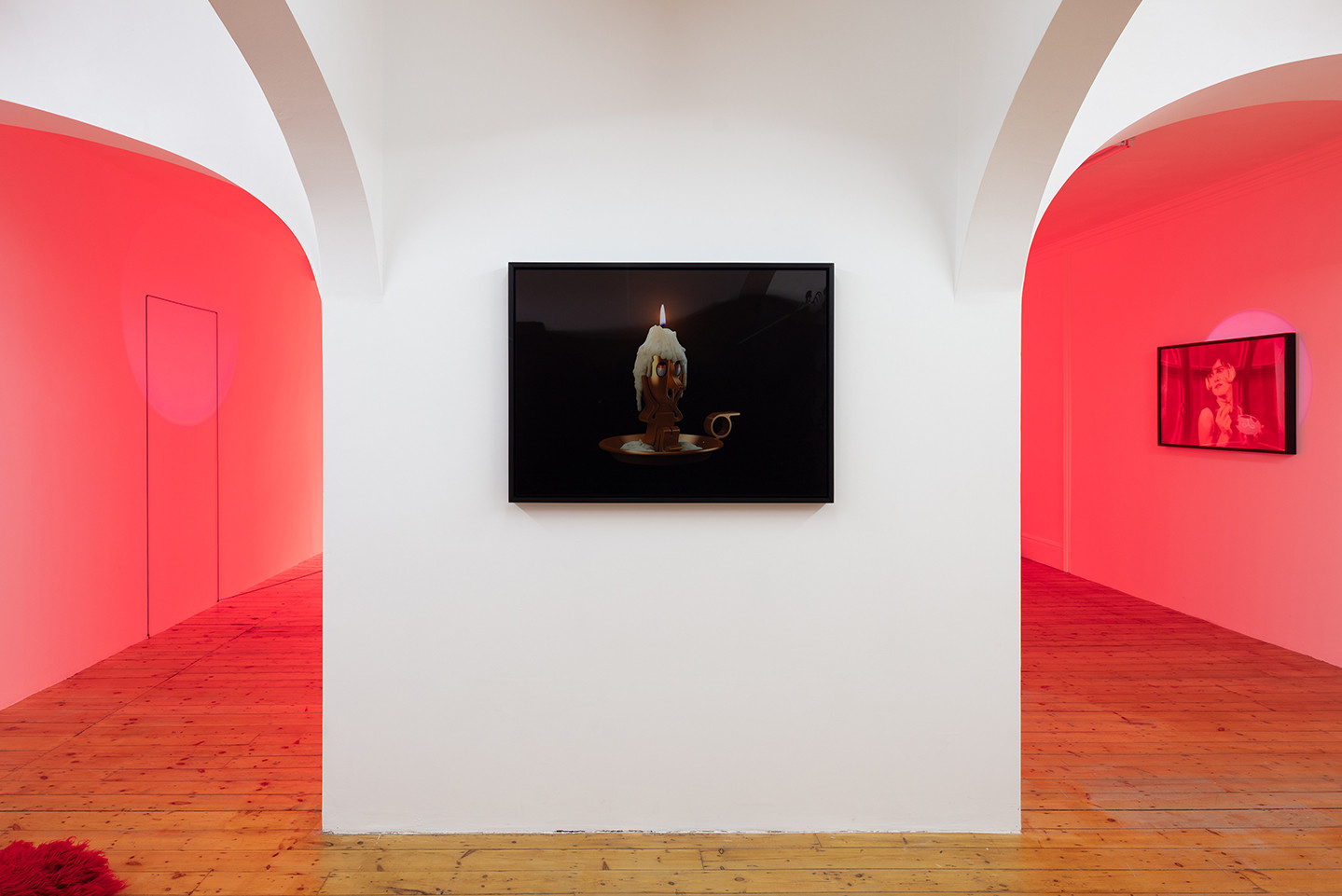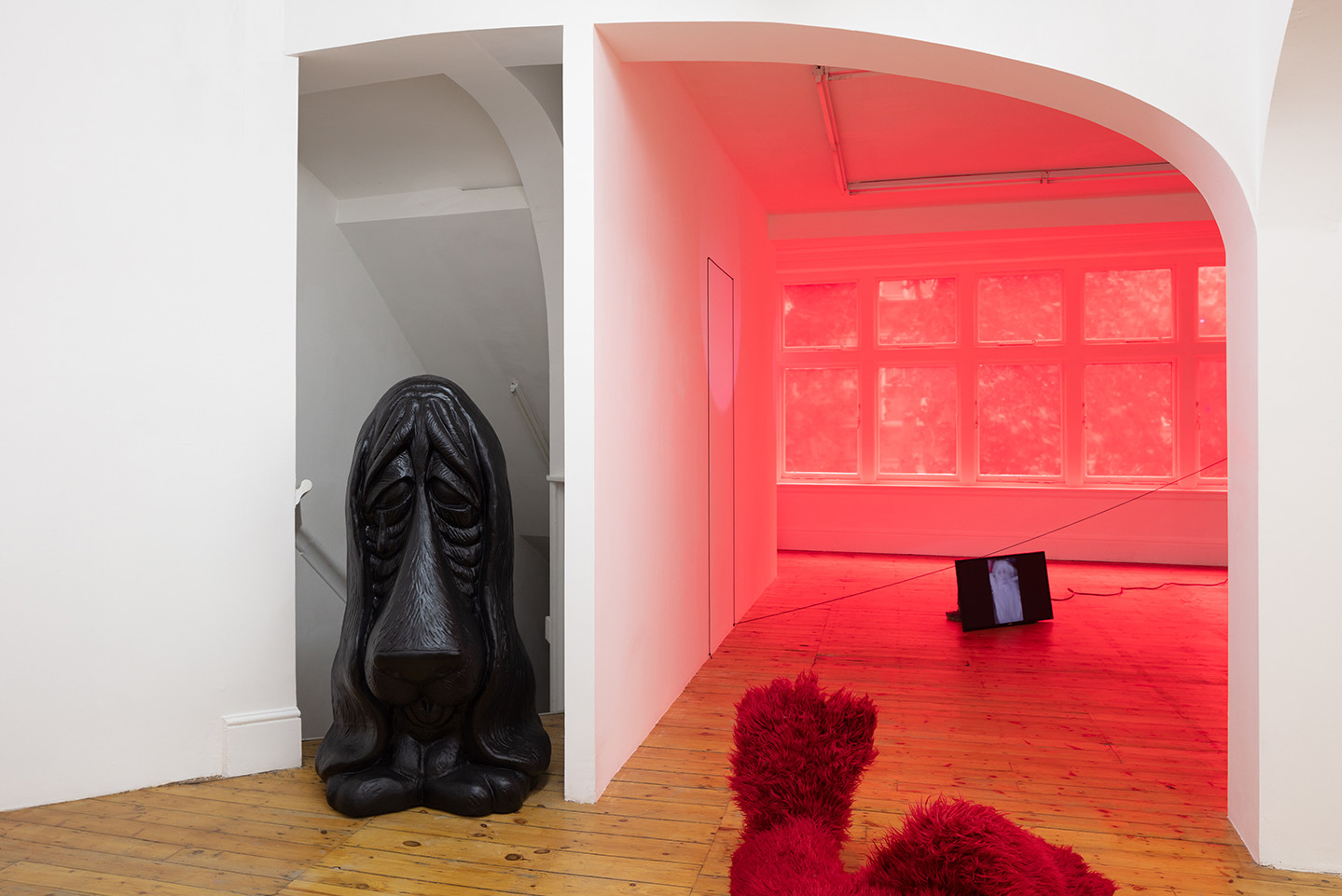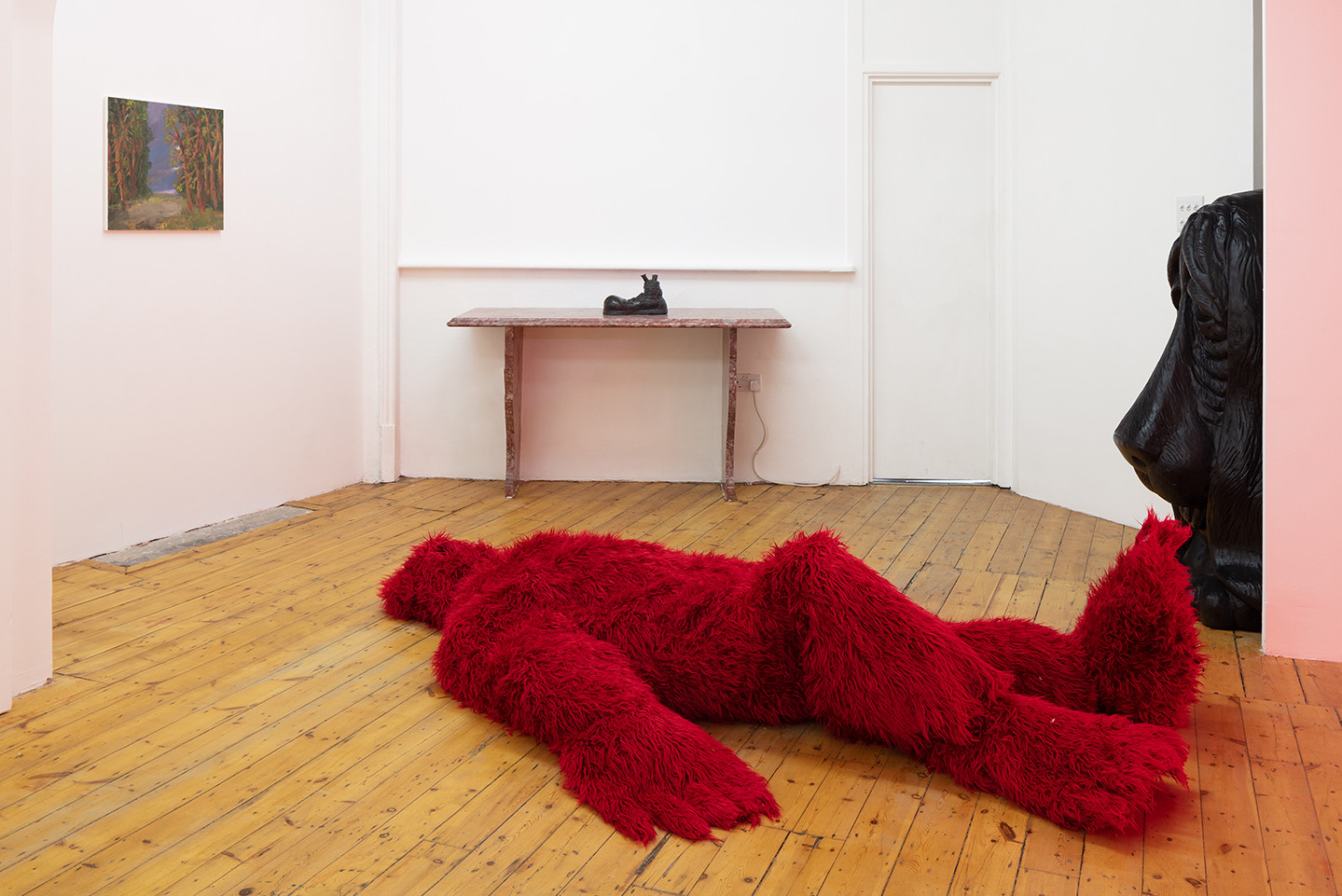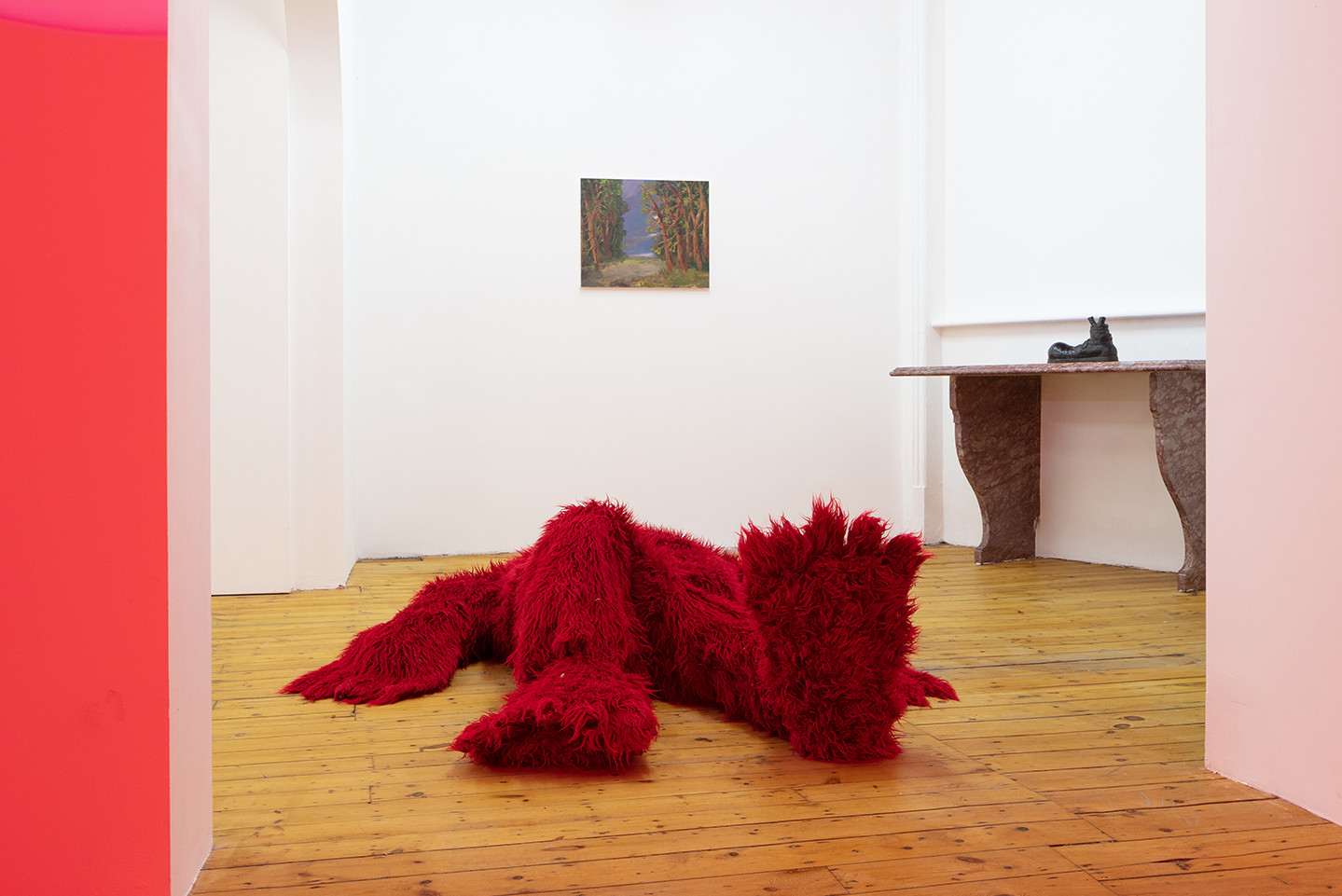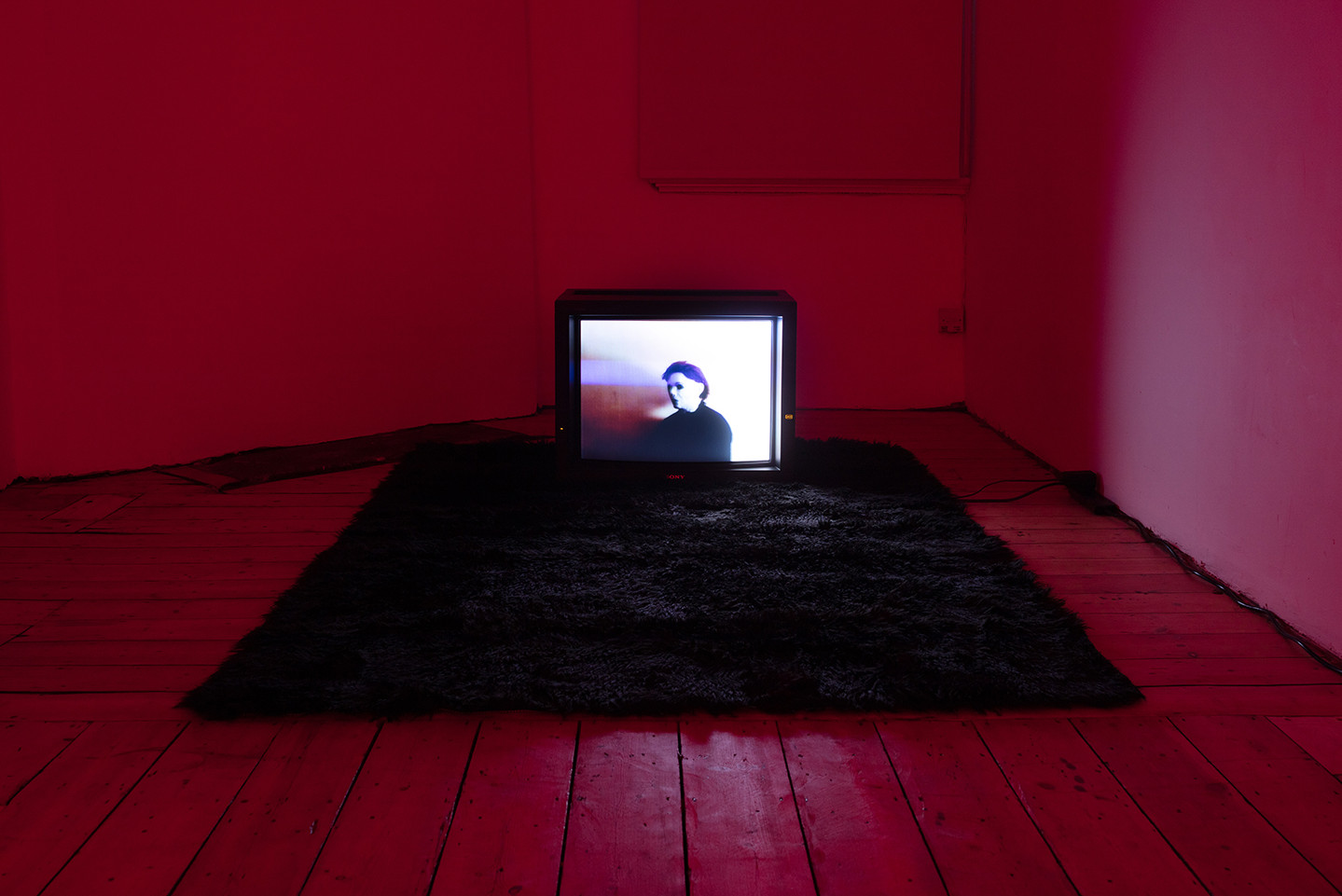 by Bianca Stoppani
Disorientingly familiar, the entrance of My Head Is a Haunted House is covered with a Twin Peaks–esque Red Room floor vinyl that grounds whatever happens there in another dimension. But in contrast to David Lynch's tricks, there are no velvet curtains bordering an outside;1 there is no alternative to rambling through the rooms suffused in green and pink lights and joining the mad tea parties thrown by the resident ghosts and ghouls. Among them is Charlie Fox, the orchestrator of this group show at Sadie Coles HQ and of Dracula's Wedding at Rodeo, both in London.

Charlie Fox authored This Young Monster (Fitzcarraldo Editions, 2017), a collection of letters, essays, plays, and diary entries that stays with the affects that monsters generate and by which they are generated, and that prompts their queering technology. Recommended reading if you, like me, sometimes need an extra hit of oxygen, his incantatory prose convenes troublemakers Diane Arbus, Leigh Bowery, Claude Cahun, Larry Clark, and Rainer Werner Fassbinder, among others, and turns his "I" into their many eyes.
Such cross-dressing blossoms in the works of the twenty-seven artists featured in the two shows, which explore feelings related to not only the brittleness of identities and bodies, the unspeakable slippages of gender and sexuality, and traumatic histories, but also to the power of storytelling.
 My Head Is a Haunted House, then, enacts the Freudian aesthetics of the "unhomely" (unheimlich) as an emancipatory practice of estrangement from an interior, the mind as much as the body, which is a haunt for and is haunted by desubstantialized ontologies.2 Sue de Beer inflects such identitarian strangeness in her white, doll-sized Witch House (2019), which has no rooms but has two costumes placed on the pink back side, one of a black, fully fanged lycanthropic bat and one of a white wolfhound. Repetition and doubling belong to the unhomely's engine and so to another work by de Beer, Making Out with Myself (1997), a wicked self-portrait in which we see a narcissistic, almost cannibalistic kiss between the artist's selves, and to Mary Ellen Mark's sinister portrait of a child wearing an executioner's costume (Edward Simmons, Halloween, South Bronx H.E.L.P. Shelter, New York, 1993).
Other works expose the body in its fragilities, leaks, horrors, and desires, including Cameron Jamie's neat composition of formless spillages of urine photographed on the streets of Paris and printed on blue paper (Peking Skinny, 2014). Robert Gober's Untitled Candle (1991), with its base clothed in human hair, is an erotic and melancholic cross-examination of the myths of masculinity, ready to be lit and to melt, and it is echoed by Mike Kelley's ironic iconography of bones and dicks in his series of silk banners Pansy Metal / Clovered Hoof (1989). Marianna Simnett operates an imposing, crude sex scene between a stuffed swan dressed in a silk and tulle emerald gown and a hyena in a laced blue velvet garment, which alludes to Leda's myth and possibly to the double moral standards related to rape and queerness (Hyena and Swan in the Midst of Sexual Congress, 2019).
Fox does not miss addressing the often pathetic psychopathological landscape related to toxic anxieties by excavating the wunderkammer of traumas produced by gothic literature, horror movies, and popular culture. Alex Da Corte's video Slow Graffiti  (2017) retakes Jørgen Leth's The Perfect Human (1967) but substitutes for the actors—a man and a woman—Boris Karloff and his interpretation of Mary Shelley's creature in Frankenstein(1931). Making the infomercial aesthetics of the former murky, Da Corte offers a humorous and heartbreaking account of making sense of oneself. Daggering (2011), also by Da Corte, shows a looped image of an emotionless, white-faced Michael Myers, who is stuck oscillating in a TV. Opening Dracula's Wedding, the Bogeyman in John Carpenter's Halloween (1978) is doomed to the automatisms of his alienation and invites us to ponder the dreams and fears negotiated within the self in relation to creaking/cracking social structures and how they are interpreted by the marketing-driven mediascape. Alex Bag's series Twelve Spells (1999–2012) expands upon these concerns and shows the "obvious" correspondence between astrological sign and favorite drug, commenting on the psychological dependency on prescribed identities.
Rodeo's windows have been covered with a blood-red film that makes the objects less detectable to the camera of my phone; contours are hazy, and time is out of joint. John Waters's John Jr. (2009) retro-inters the present into the past by adding his iconic moustache—a drawn prosthetic—to the reframed print of a tender portrait of him as a child commissioned by his parents. Black matte sculptures by Jason Yates punctuate the space, which brilliantly resembles the bedroom of goth teenagers, including the fiberglass basset hound with a disproportionate head (Please Don't Ever Leave Me (The Existential Sadness), 2019). Cornered, it cries over Stefan Tcherepnin's Crash Survivor (2018), a red version of Cookie Monster, here corpse-like, annihilated on the floor, and perhaps liberated from their fate of insatiable hunger. Similarly dug up from collective and personal memories, Matt Copson's Untitled (2019) is a macabre baby crib mobile made of resin bones, while Karen Kilimnik's approaching night, the edge of the forest (2013) is a romantic and spooky painting of a luring and unsettling threshold: What is beyond there? Where am I?
Fringing the affections and desires of fandom,3 these deliriously excellent shows engage with visible and invisible monstrosities from different moments in (art) history and speculatively reanimate them. At the same time, they de-monstrate that monsters per se are not the antidote to horrors, means of oppression, or retention of privileges.4 Rather, it is only when their logic of the undone is critically performed that destinies become reversible. And in such wayward misbehavior, we haunt back.
My Head Is a Haunted Houseat Sadie Coles HQ, London
until 10 August 2019
Dracula's Wedding at Rodeo, London
until 14 August 2019