EXHIBITIONS
Oscar Murillo "An Average Work Rate with a Failed Goal" at 40mcube, Rennes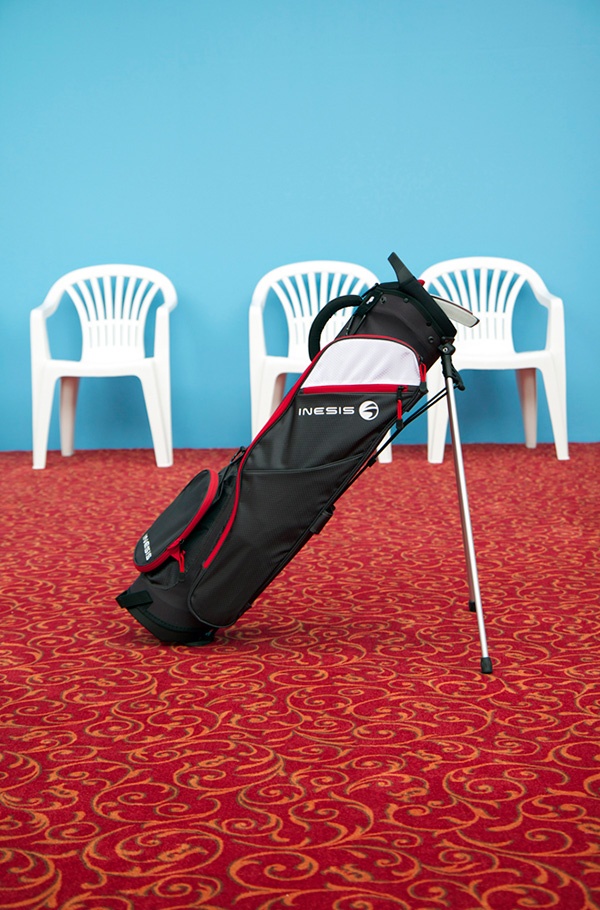 The work of Oscar Murillo is comprised of paintings, sculptures, videos and performances, and takes the shape of installations that preserve traces of former use. Although his works can be autonomous and viewed individually, it is truly within the exhibition itself, wherein the artist assembles all different mediums and aspects of his art, that they are truly able to find their meaning. For his solo exhibition at 40mcube for the occasion of the Ateliers de Rennes–Biennial of contemporary art, he presents a series of new works, one of which is a permanent performance that the public can activate.
Oscar Murillo uses the exhibition space as a workshop where he creates a part of the work to be shown, even presenting his work in different stages of completion. Thus, his paintings can be placed on groundlevel or on tables, as during their creation, and materials used in the creation of sculptures can be stocked in piles in a corner or in a wheelbarrow. His works are issued from different means of production: artisanal, industrial, individual, collective or participatory. For his exhibition "An Average Work Rate with a Failed Goal" at 40mcube, he creates sculptures from chocolate and cornflour. One can also find cement spheres made from oversized tennis balls. He uses different economic system and production networks, and sometimes hires people or asks companies to take part to the production of his work. Often, he integrates packagings into his works, including the logos and the brands.

The artist considers the workshop to be a living area, a space where he produces his works, but also a space for physical activity, for leisure. In this way, he includes daily activities into his exhibitions such as yoga, salsa dancing, cooking, cleaning and bingo. The exhibitions are not only works of art, but industrial production workshops, parties, yoga sessions or lottery drawings.
Like a thread, the work of Oscar Murillo unravels through different exhibitions and stages each one containing elements and traces of the one before. In this way, "An Average Work Rate with a Failed Goal" is the extension of the exhibition "A Mercantile Novel", at the David Zwirner Gallery in New York in the spring of 2014. This New York exhibition is the extension of "We Don't Work Sundays" at the Marian Goodman Gallery in Paris.
For the Ateliers de Rennes–Biennial of contemporary art, Oscar Murillo splits his work in two by presenting an installation pertaining to work at the Frac Bretagne, and an exhibition primarily pertaining to leisure at 40mcube, even though, for the artist, work and leisure, labor and pleasure, are well and truly connected. At 40mcube, the carpeted and painted space gives the allure of a game room. Small pats of cornflour dough are strewn on the ground, chocolate sculptures act as golf holes, and golf clubs are provided to the public. Bringing together activities from different social and cultural backgrounds, into which he integrates his own artistic practice, the work of Oscar Murillo is to be closely watched. Each nonchalantly placed element is no coincidence. It is a part of a whole that anyone can reconstitute.
.
until 29 November 2014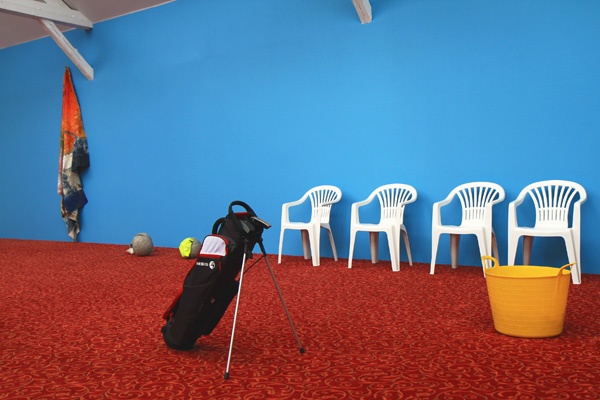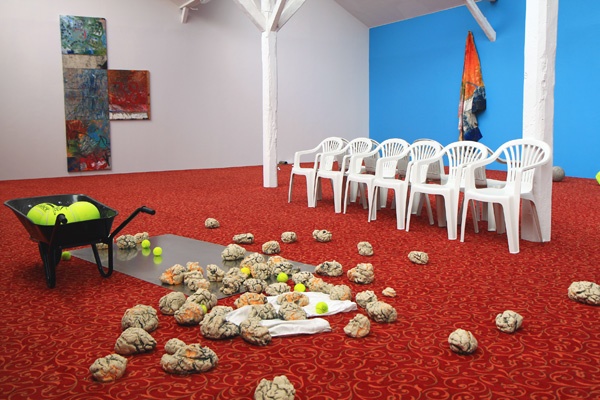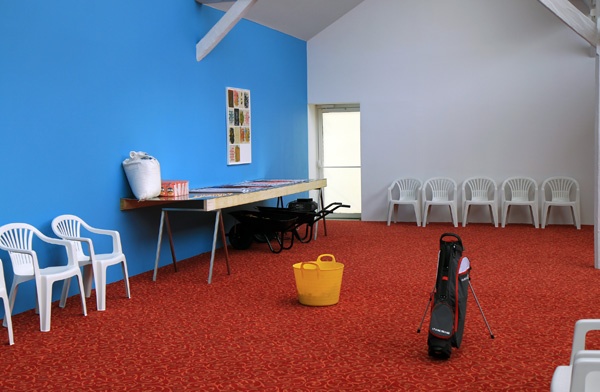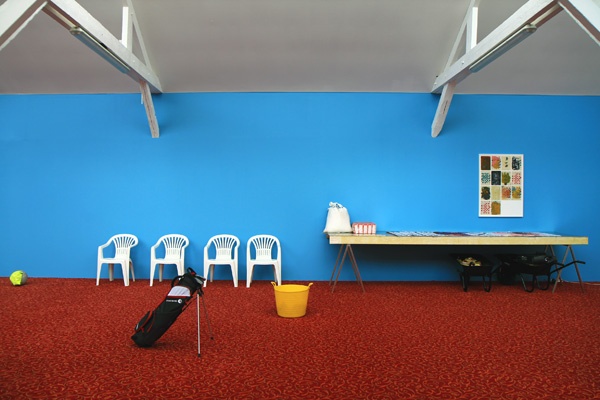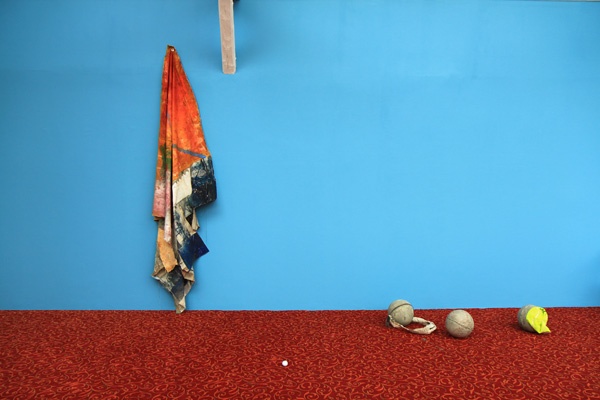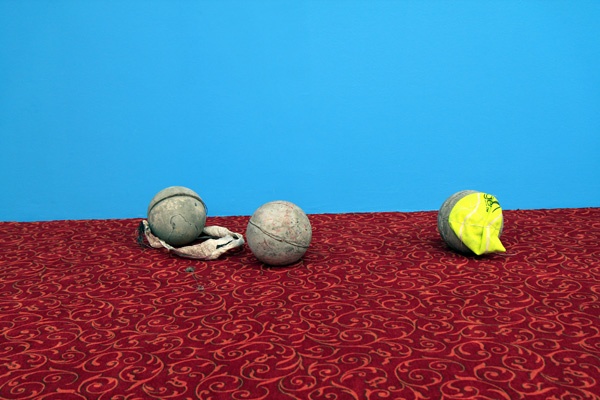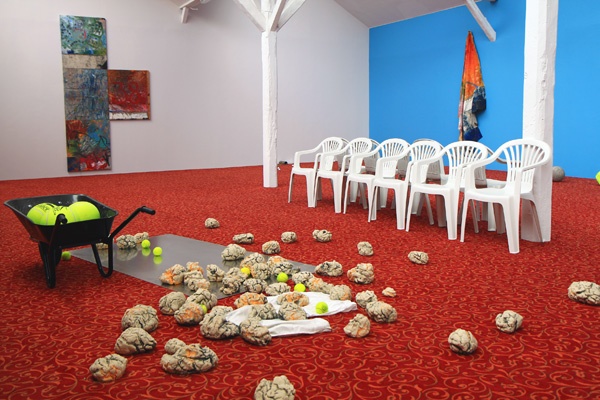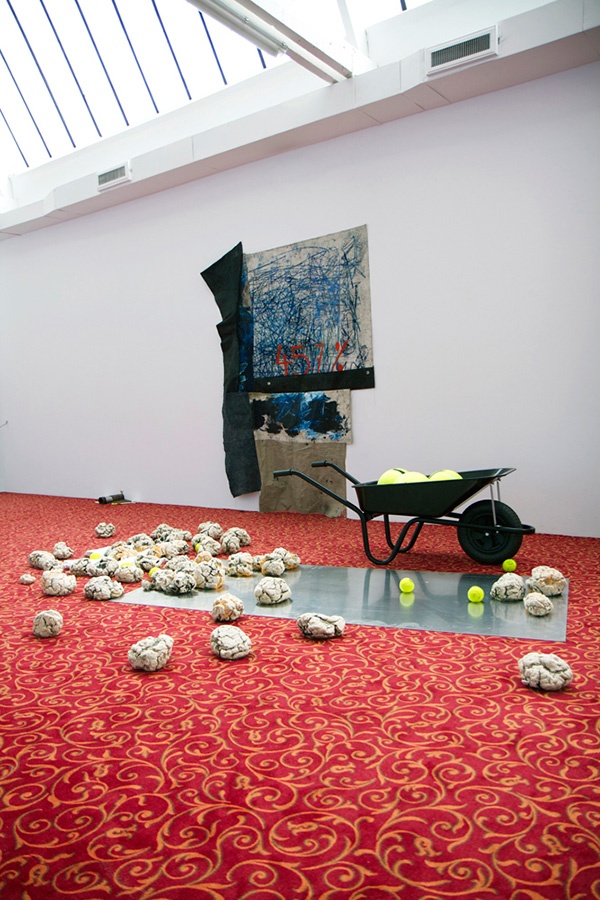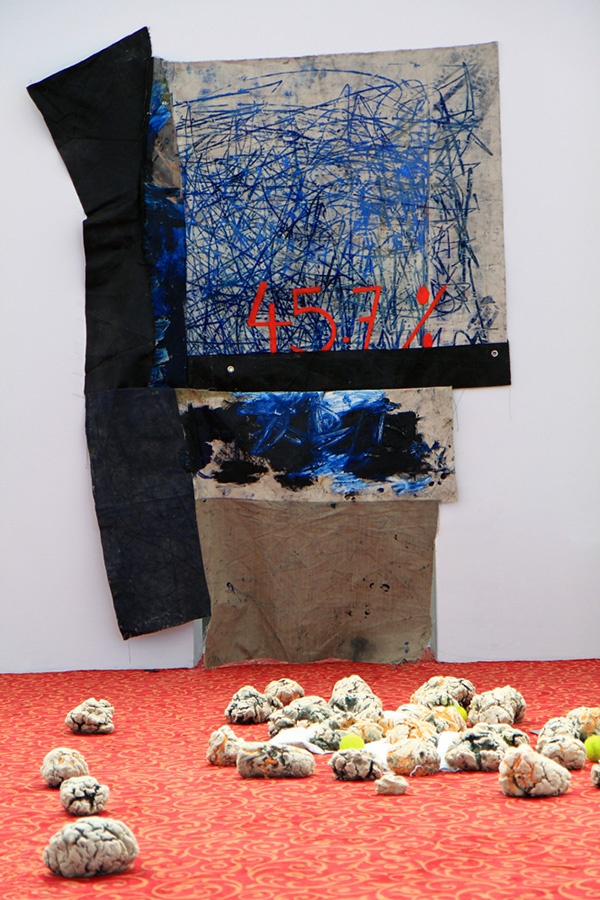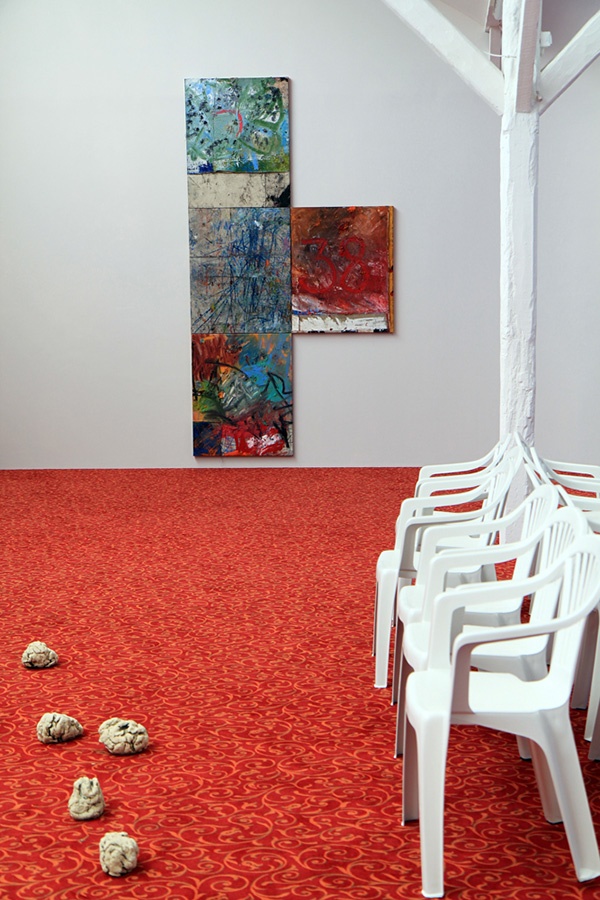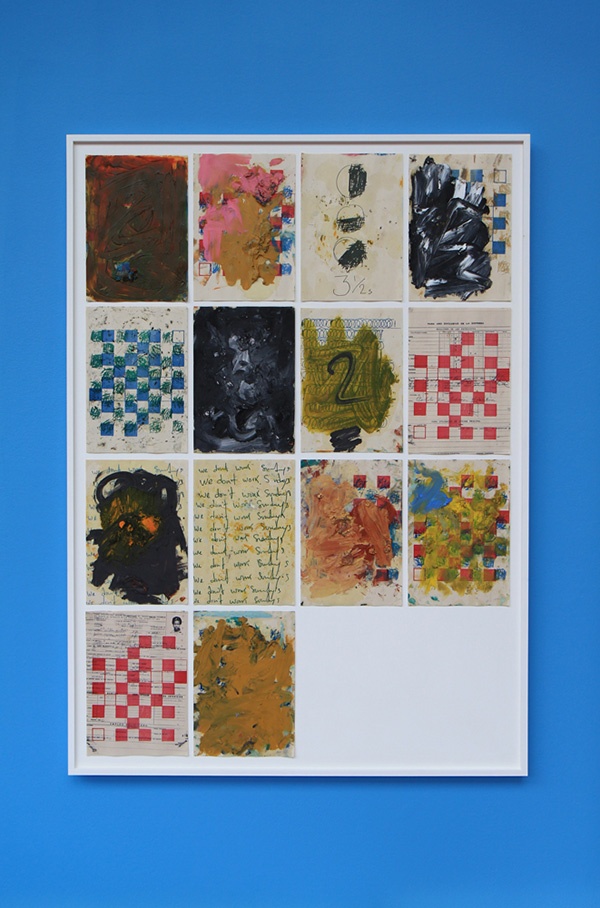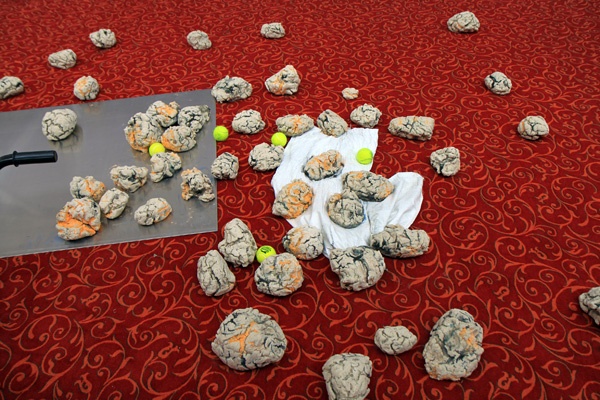 Oscar Murillo, "An Average Work Rate with a Failed Goal" installation views at 40mcube, Rennes
Courtesy: David Zwirner Gallery, New York and Carlos/Ishikawa, London. Photo : Patrice Goasduff.