EXHIBITIONS
Palma Bucarelli and Renato Guttuso at Galleria Nazionale d'Arte Moderna e Contemporanea, Rome
Close
1
2
3
4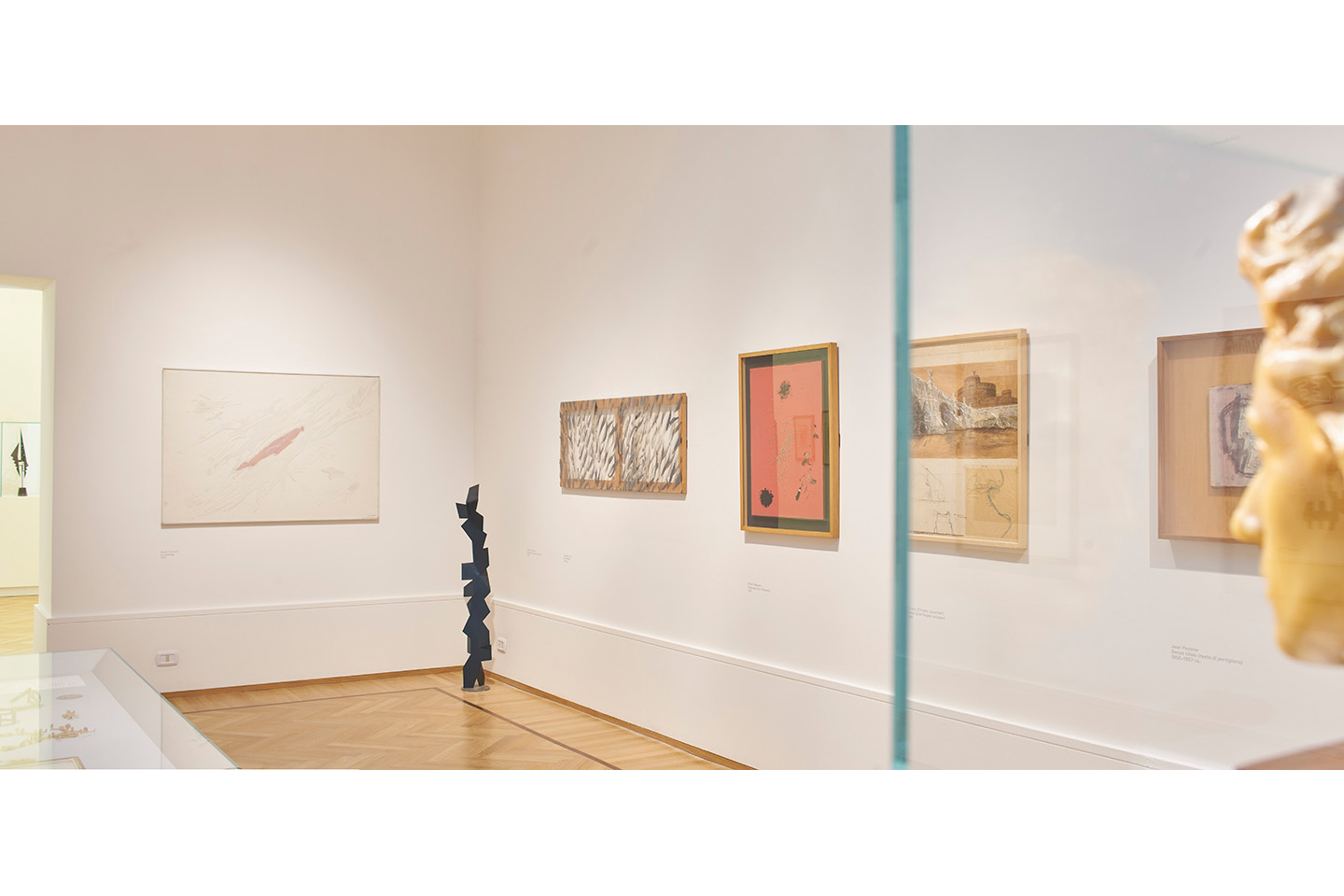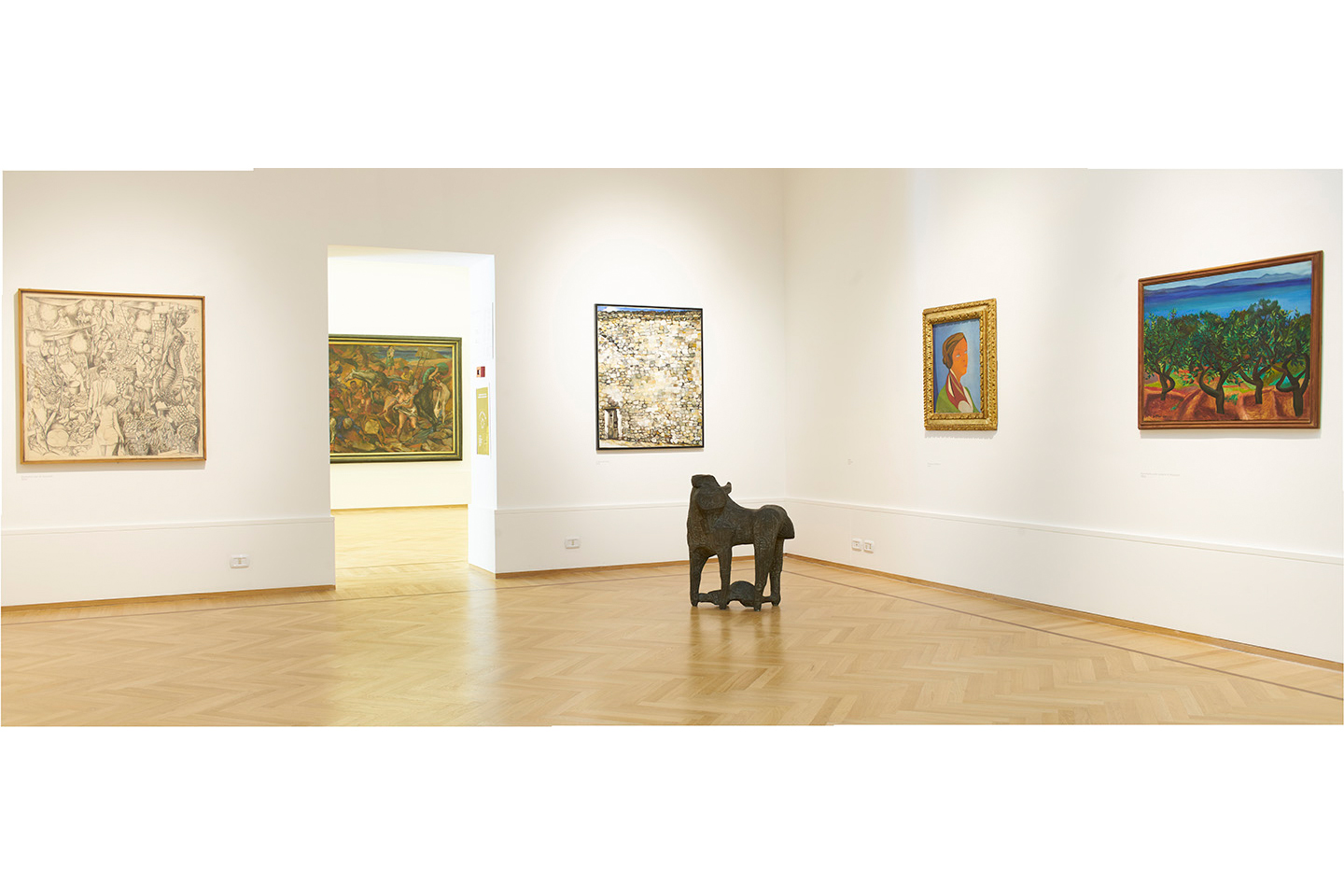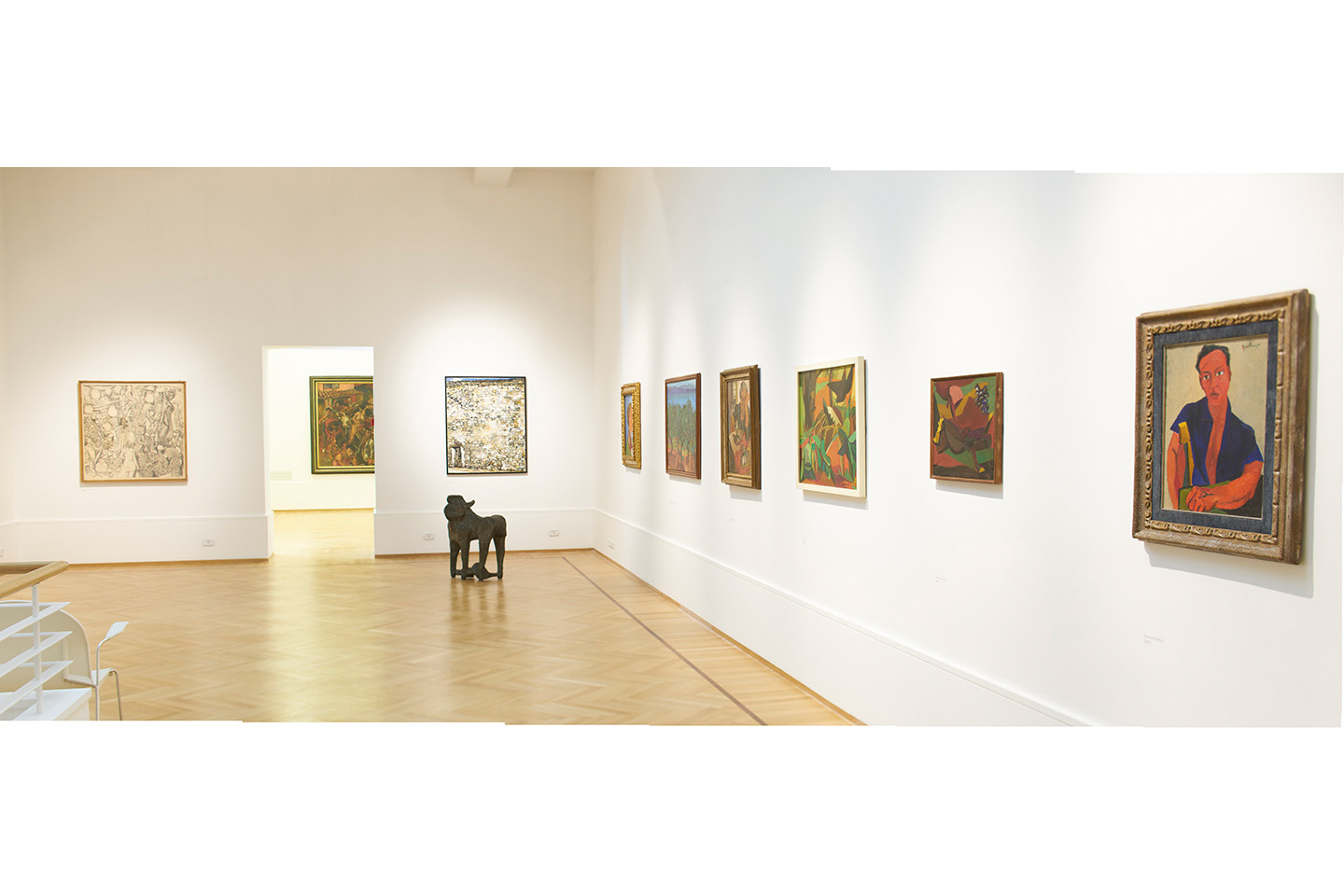 Palma Bucarelli: Her collection
The Galleria Nazionale d'Arte Moderna began to chart a new course as soon as it re-opened after the war in 1944. With Palma Bucarelli in charge, through the 1950s and '60s it primarily focused on acquiring artworks and promoting exhibitions of abstract/informale art from Italy and abroad. Ms. Bucarelli's private collection, which she bequeathed to the Gallery
in 1998, centers on 58 paintings, prints and sculptures from the 1930s to the '70s. Their enormous worth is enhanced by how they bear witness to many of the director's artistic predilections, as most of them were given to her by the artists in connection with a show.
The collection has two souls: one gurative and the other abstract. The former revolves around Italian gurative art in the '30s and '40s, including works by de Pisis, Mazzacurati, Savinio, Mafai, Scipione, Afro, Manzù and Martini, as well as a cluster of works on paper by Morandi. There is a clean split with the second, abstract soul, where Prampolini and "Forma 1" serve as counterpoint to the realism of Renato Guttuso in the impassioned artistic debate of the late 1940s. In this group are works by Dorazio, Franchina, Consagra, Turcato and Accardi (the latter two from a later period). There are portraits of Palma Bucarelli by Turcato and Savinio, Cecchi, and Mazzacurati's wax sculpture of her head. Pirandello, Mastroianni, Capogrossi, Scialoja, Rotella and Vedova complete the Italian line-up from the '50s and '60s, while international informalism is represented by Masson, Tàpies, Hartung, Toshimitsu and Twombly (in 1958, Bucarelli presented Twombly's rst solo exhibition in Rome at the Tartaruga). Of particular note is a set of works by Jean Fautrier, the subject of a substantial monograph Bucarelli penned in 1960.
The third and final soul, roused by the winds of protest, consists of Christo's 1969 plans for wrapping the Ponte Sant'Angelo and a '68 Pascali, Ruderi su prato, on display in Time is out of Joint. Her "art jewels," now kept at the Museo Boncompagni, illustrate Palma Bucarelli's keen interest in a segment she highlighted in her gallery redesign in the late 1960s.
Renato Guttuso: A man in love
Exactly 30 years since Renato Guttuso's death, we have the opportunity to sense in his works a strong creative energy that remains vital even in his depictions of violence and brutality, even in his later years of mature contemplation. It's much like the energy unleashed by falling in love, when the particular relationship —a relationship like none other— between the person in love and the object of his or her desire makes the perception of both something new and different and extraordinary. In this case what is special is Guttuso's relationship with reality: as Alberto Moravia put it in 1938, a sort of "anxious, sensual relentlessness in grasping reality in its most secret, elusive resources." We can attribute this to certain qualities the artist transmitted to his works, still perfectly evident today. One of these, as noted by critics in recent years, is the emotional, almost physical drive with which Guttuso approaches the things and occurrences around him. This is what has branded him as a passionate artist, striving to win over and cling tight to the reality of things, doggedly engrossed at all times and with a genuinely necessary sense of involvement, almost physiological as well as psychological and intellectual.
Guttuso was always in touch with major happenings in the art world, especially figurative painting, and with how the culture developed from the 1930s to the '80s. He was also interested in and keenly responsive to the historical and civil movements of his time, though his painting could never be described as a cold depiction of the facts. Without doubt, many of his moods spring from his ties to the environment in which he grew up, the landscape and the people, and farther o still the sedimentation of his own cultural traits that were so strong, and somehow so violent, as to resurface constantly (and without much cleansing) in his works. But what keeps the content of his work at the boiling point is his need to express himself in terms of an irrepressible vitality, his indulgence of a profound desire for impetus and verve, and ultimately the way he felt painting as the confirmation of his own essence and human capacity to participate and communicate, and his insistence on getting to the truth of things and feelings.
.
at Galleria Nazionale d'Arte Moderna e Contemporanea, Rome
until 26 November 2017