EXHIBITIONS
Paolo Novelli "La Notte Non Basta" and Sabrina Mezzaqui "I Quaderni di Adriano" at Galleria Massimo Minini, Brescia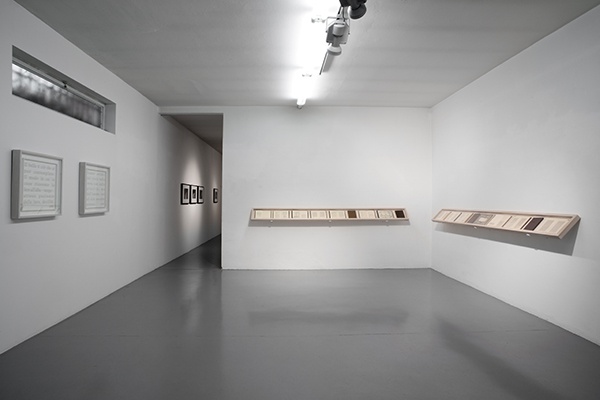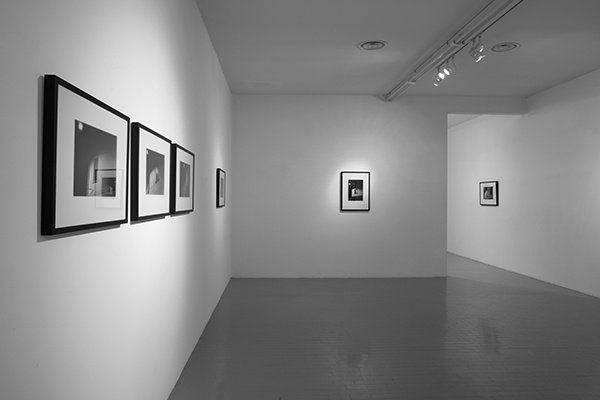 Can a mistake be made to work? / Massimo Minini
Of course it can. In fact, error yields new possibilities; without mistakes there would be no progress, evolution, headway. "Order and disorder" and the disorder leads to a new order. Nothing is set in stone, à tout jamais.
What holds true in one era no longer will in the next. The gods of Greece and then Rome all cave in like a house of cards under an ineluctable new vision of the world.
Likewise, the kind of photography that now reigns supreme—huge formats, color, a surfeit of emotion—could be supplanted by its opposite. A small, traditional photo in black and white has the same birthright as its glossier, trendier, prized and lionized compatriots.
Paolo Novelli is a young and yet classic photographer, with a new way of thinking, an old way of doing.
He takes his pictures with a fixed idea in mind, thinking about them at length, then striding down the path he has mapped out, pondered, intuited, not trying to avoid mistakes, but to turn them into strengths.
Turn setbacks into victories.
He explains that artificial lighting like street lamps, when photographed, creates prismatic ghosts.
What of it? These aren't mistakes, they're whims of God, caprices of nature, insurmountable hurdles. So he accepts them, incorporates them into the work, doesn't try to hide them, doesn't try to touch them up.
In short, he presses them into service, to add a touch of technical virtuosity to a series of images that are not random (one here, one there), but rather an organic whole.
He doesn't walk around waiting for opportunity to knock.
Novelli invites it over, meets it at the door, seeks it out, lines up his ideas and pursues one at a time, through a series of images with a continuous theme.
This time it was the windows of ordinary Italian houses, at night, their shutters and blinds all closed. Walls peeling with age or slipshod facades from the '60s.
Street lights glumly illuminate a scene of mute blankness.
What tormented soul peers out from behind those shutters? What lives, what disappointments, what abuses do they hide?
We'll never know, the press only shows up after the fact. Until it's murder, it's a private matter. And the shutters guard a secret world of love and violence.
Meanwhile, the night illuminates the night.
.
Artificial Heteronymies, Behavioral Heteronymies / Olivo Barbieri
Garry Winogrand: "I photograph to find out what something will look like photographed"
Towards the end of the 1970s, I began to photograph artificial lighting around the world.?First in Europe, then juxtaposing pictures taken in the West with others taken in the East.
Primarily China and Japan.
I undertook this project because I noticed no one else had thoroughly explored the subject yet, in color.
And few had done so with any continuity in black and white.
Though one should note Brassaï's Paris de Nuit, from 1933.
Film history includes many nocturnal scenes in color, and it seemed wrong to me for photographers to overlook the night.
Photographing artificial light became a sort of addiction: once you start, you can't stop.
You're so intrigued to see what the image will become, how the photograph will be once the roll is developed.
You invent a whole realm, a mode of perception.
This thirst for discovery has led many artists to create monumental works.
Garry Winogrand said he took photographs to see what the world looked like in black and white.
William Eggleston said he took photographs to see what the world looked like in color.?Paolo Novelli systematically roams around at night, observing lit streetlights alongside closed windows.
Closed windows are a literary, cinematic, photographic genre unto themselves.
He uses film, now its own heteronym: like a Fernando Pessoa character, that roll is him, but also someone else.
He uses a tripod, not lighting the subjects, but rather waiting for them, with long exposures.
He takes pictures that are imbued with time, pictures without seasonal inflections, atmospherically abstract.
Many of them he loses; the harsh, direct light of the streetlamps won't let him carry them off.
He forges on, looks for others, finds them.
He prints them by hand on baryta paper in a small format, thirty centimeters by forty.
In the '70s they were enlargements.
The first time he showed them to me I said, "photographically they're all wrong, but it's the kind of mistake that can work."
He liked that comment.
.
at Galleria Massimo Minini, Brescia
until 24 September 2016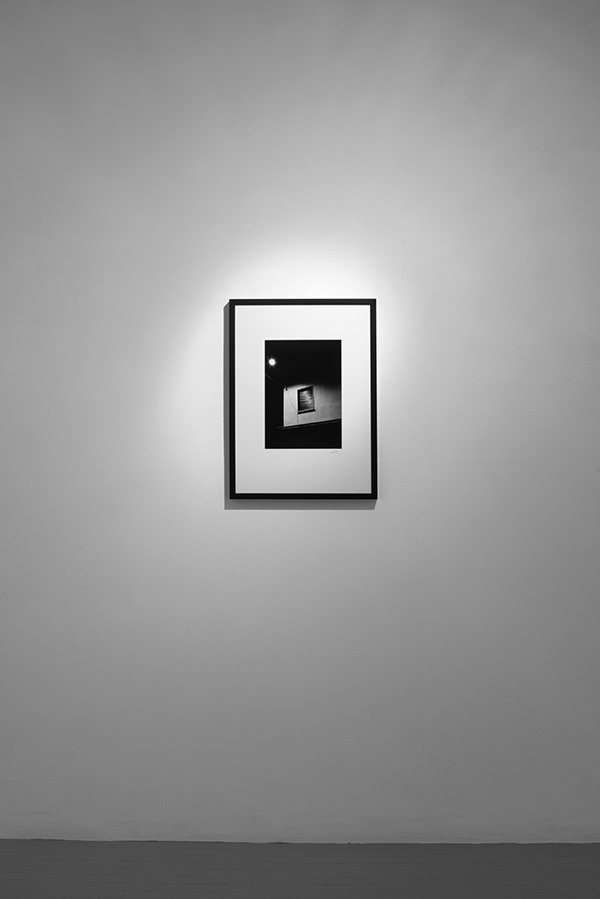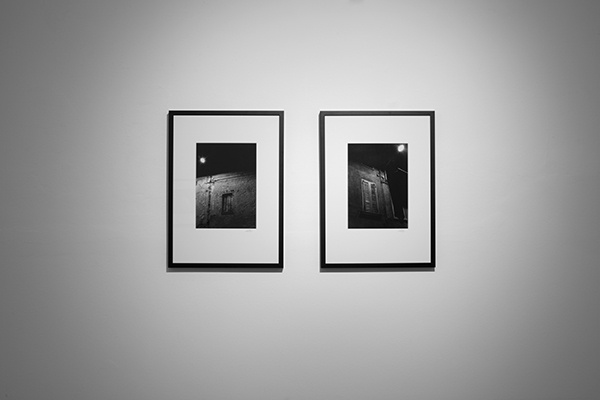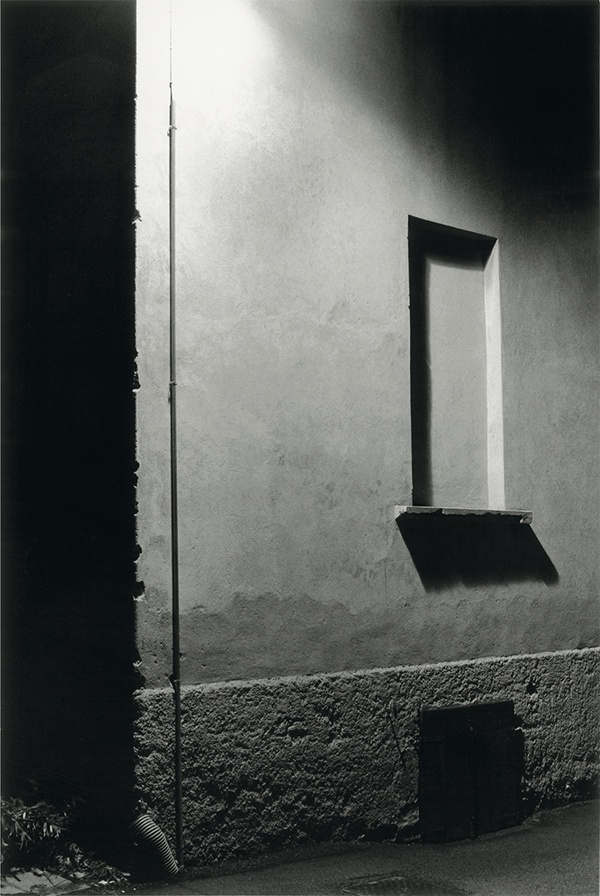 Paolo Novelli, Study n. 10, 2012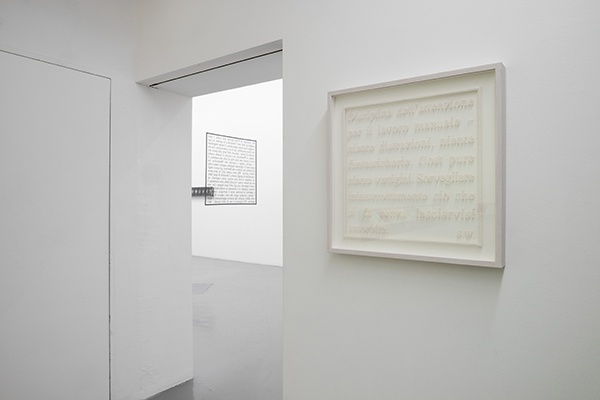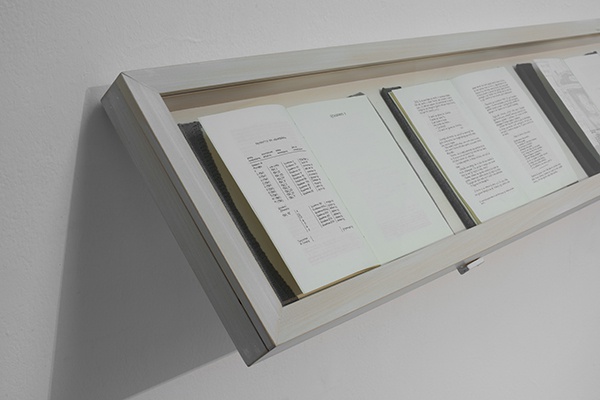 Sabrina Mezzaqui, I quaderni di Simone Weil, 2010-2016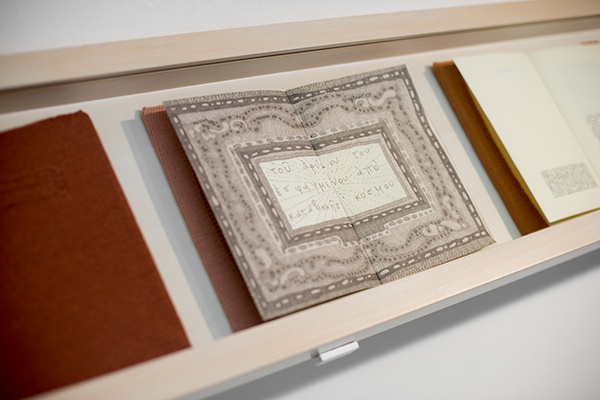 Sabrina Mezzaqui, I quaderni di Simone Weil, 2010-2016
.
Paolo Novelli "La Notte Non Basta" and Sabrina Mezzaqui "I Quaderni di Adriano" installation views at Galleria Massimo Minini, Brescia, 2016
Courtesy: the artists and Galleria Massimo Minini, Brescia. Photo: Bloomlab.it