Mousse 72 TIDBITS
Trademark Artist: Peter Nagy
Close
1
2
3
4
5
6
7
8
9
10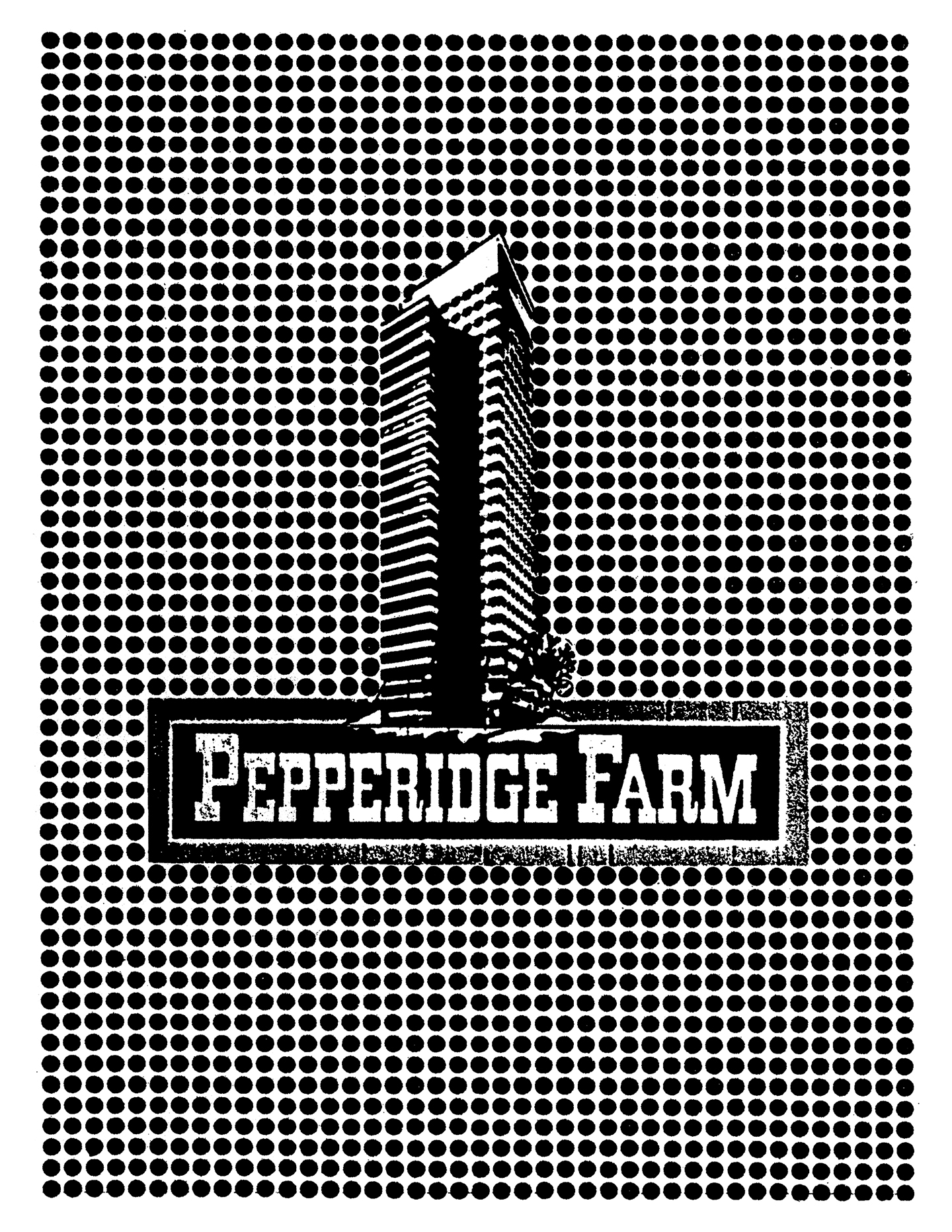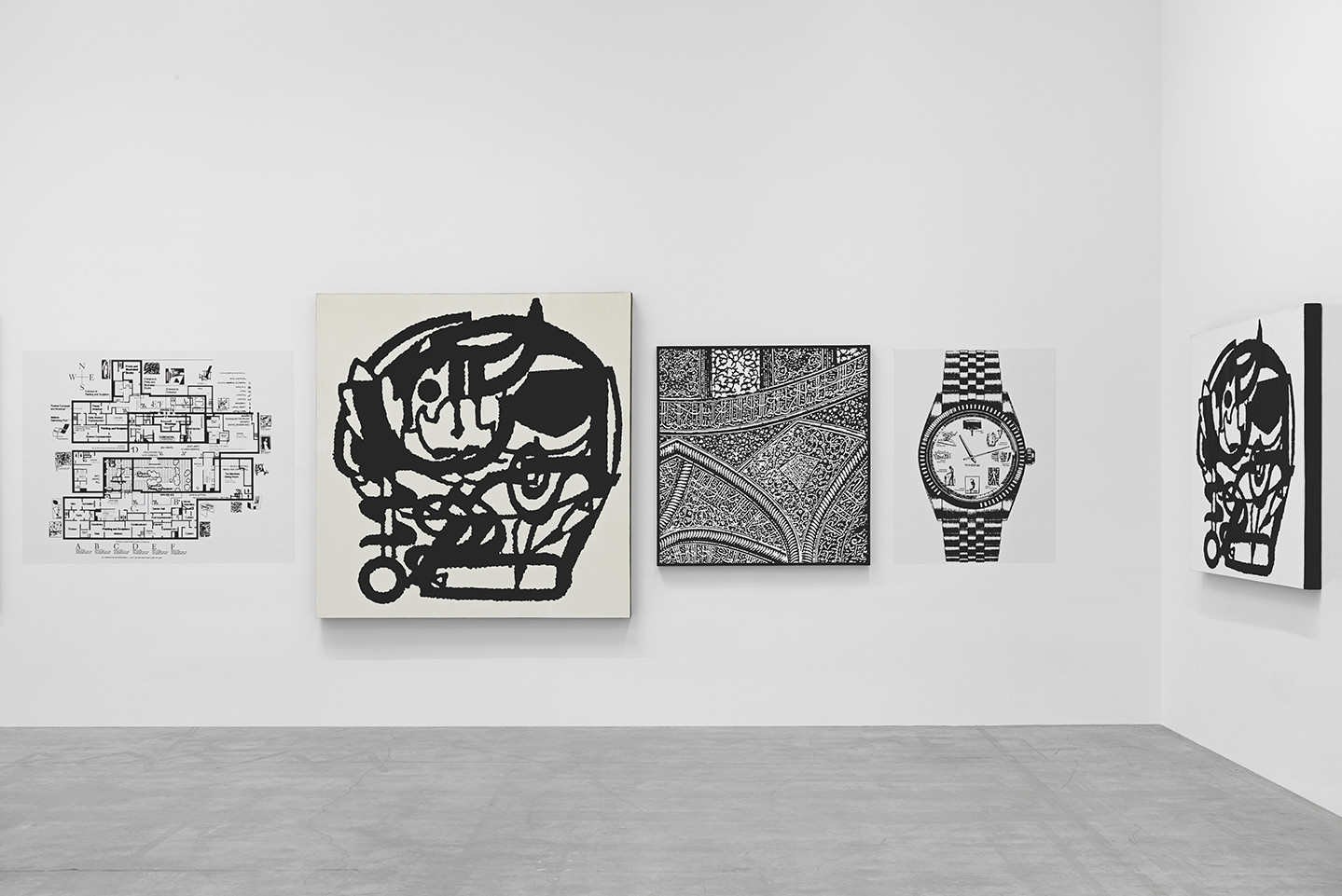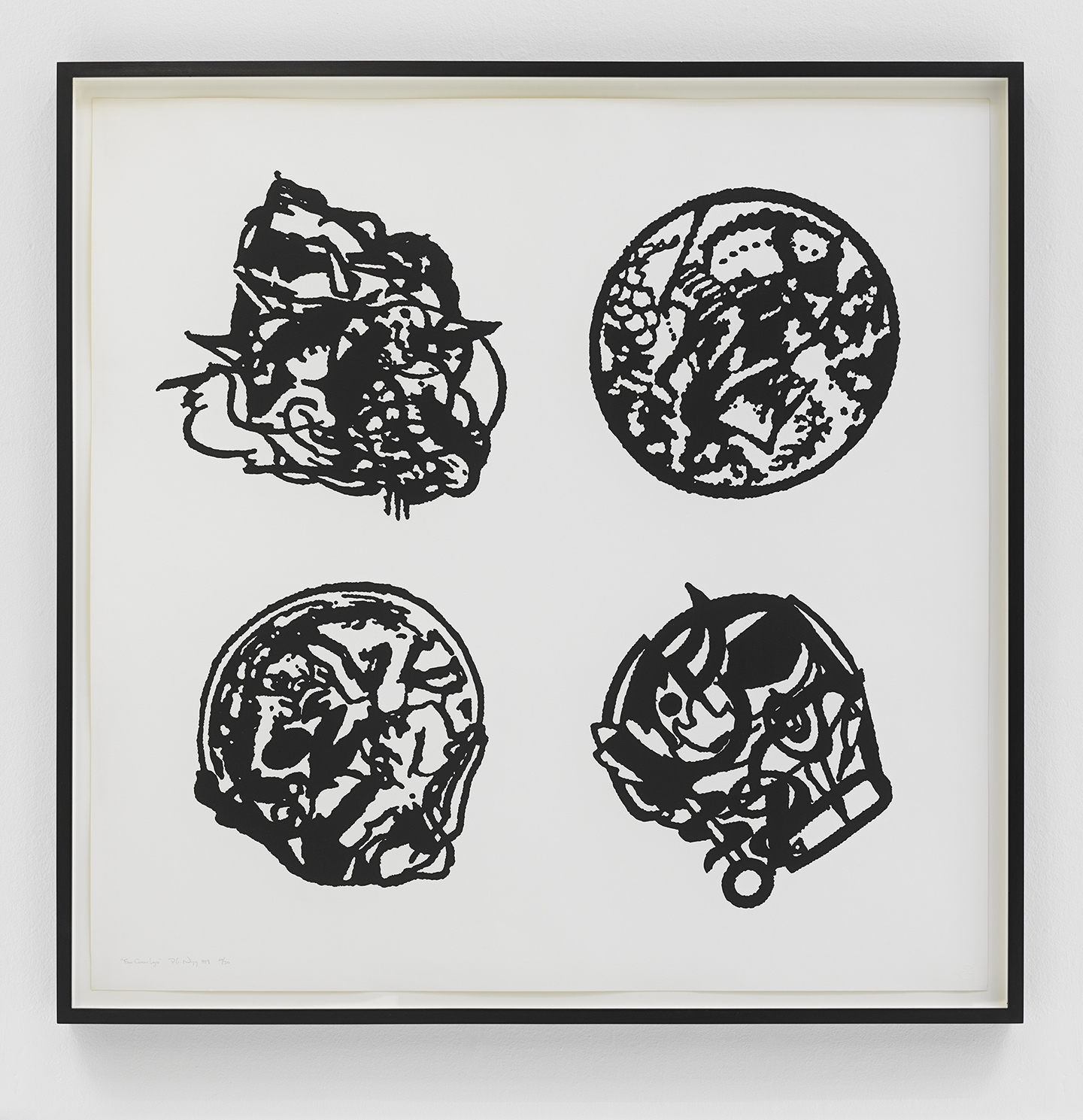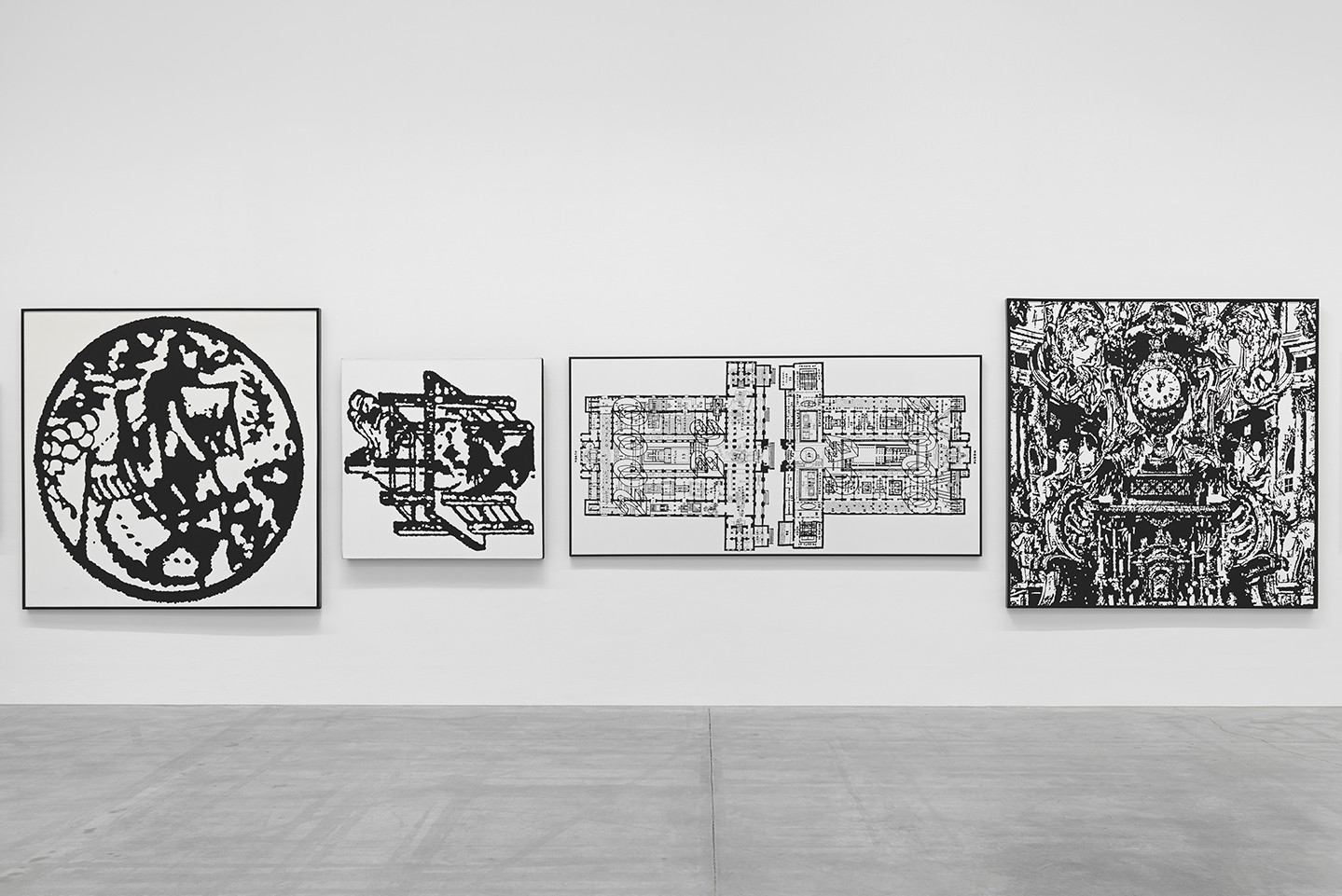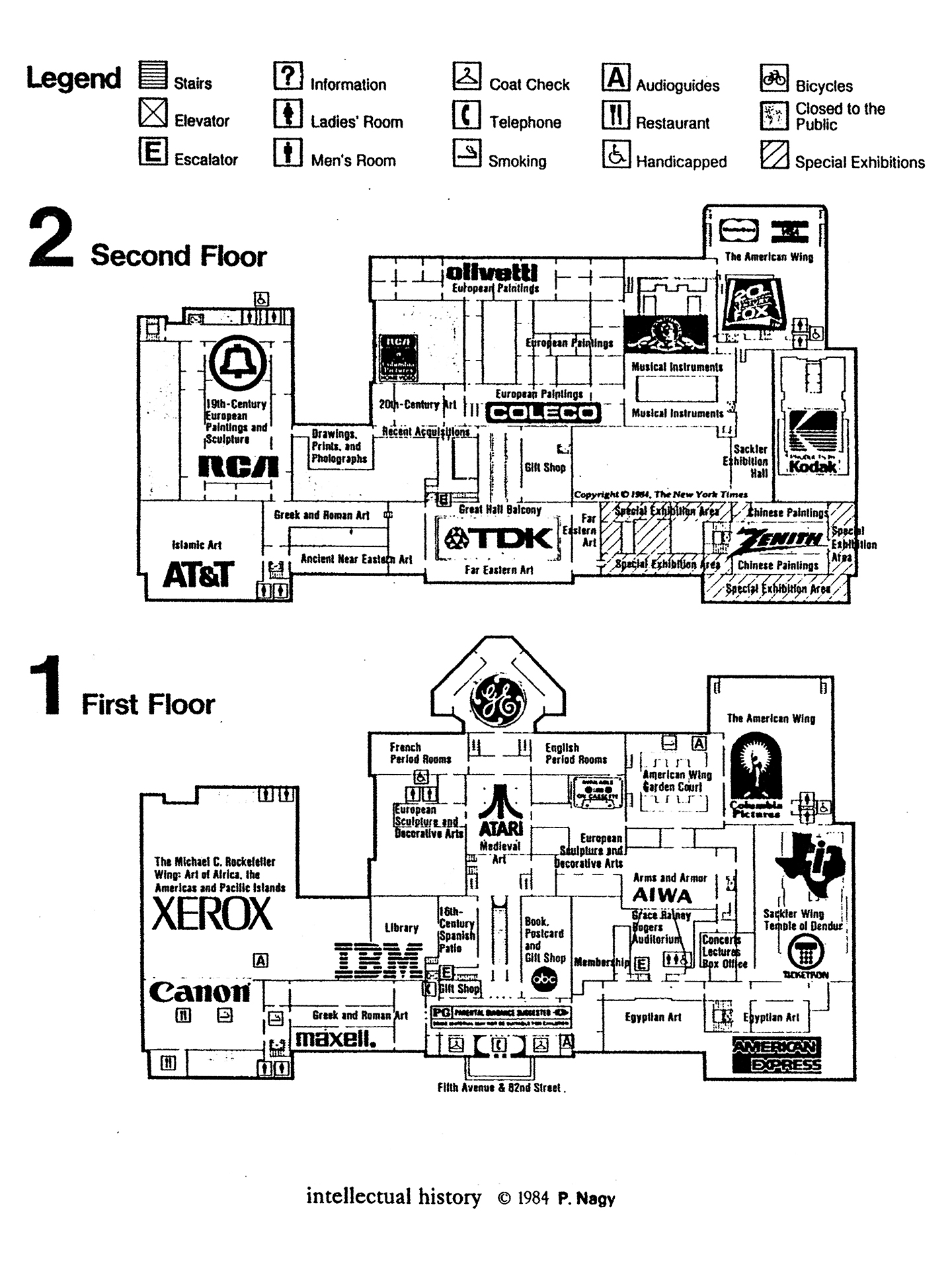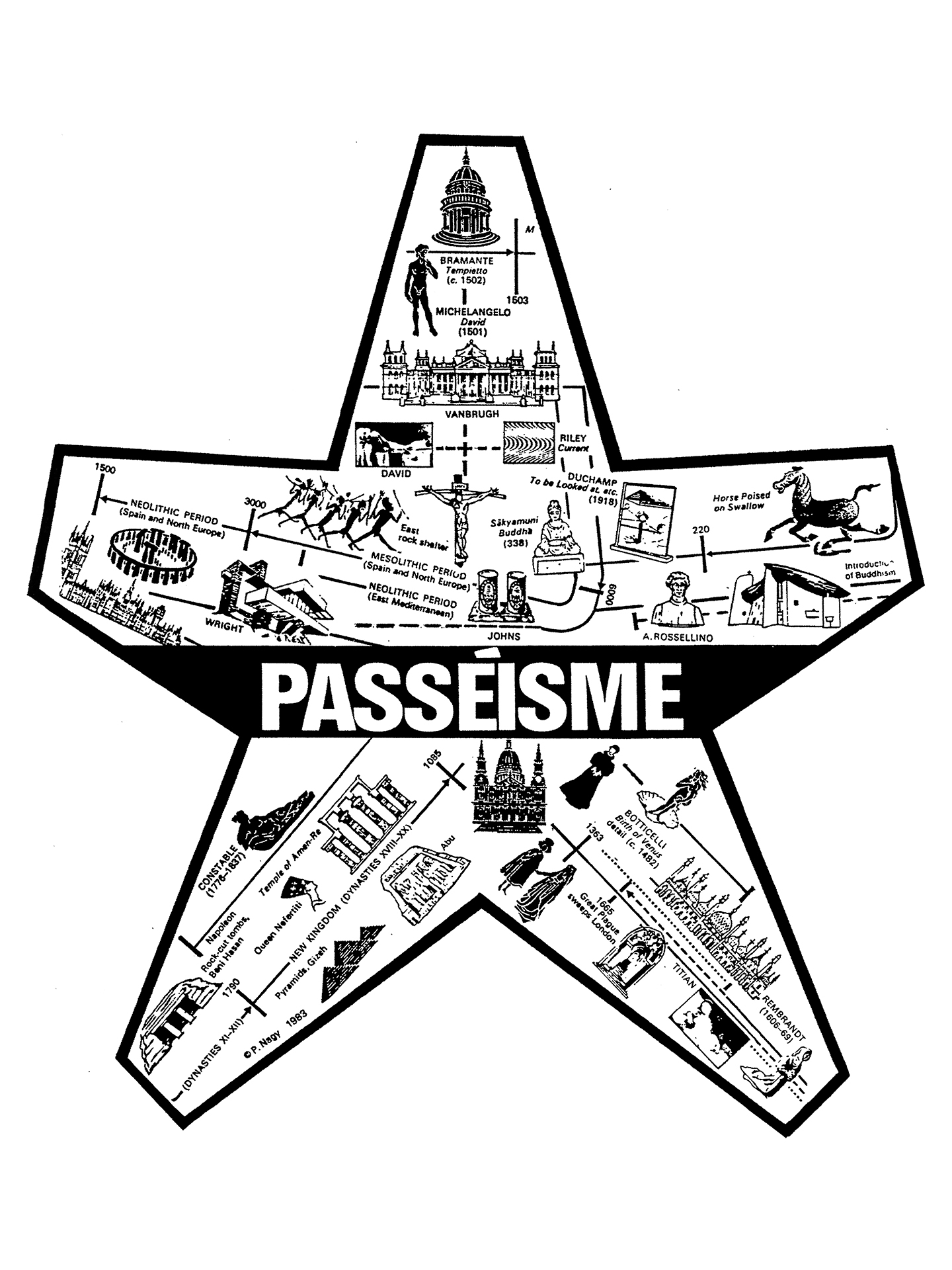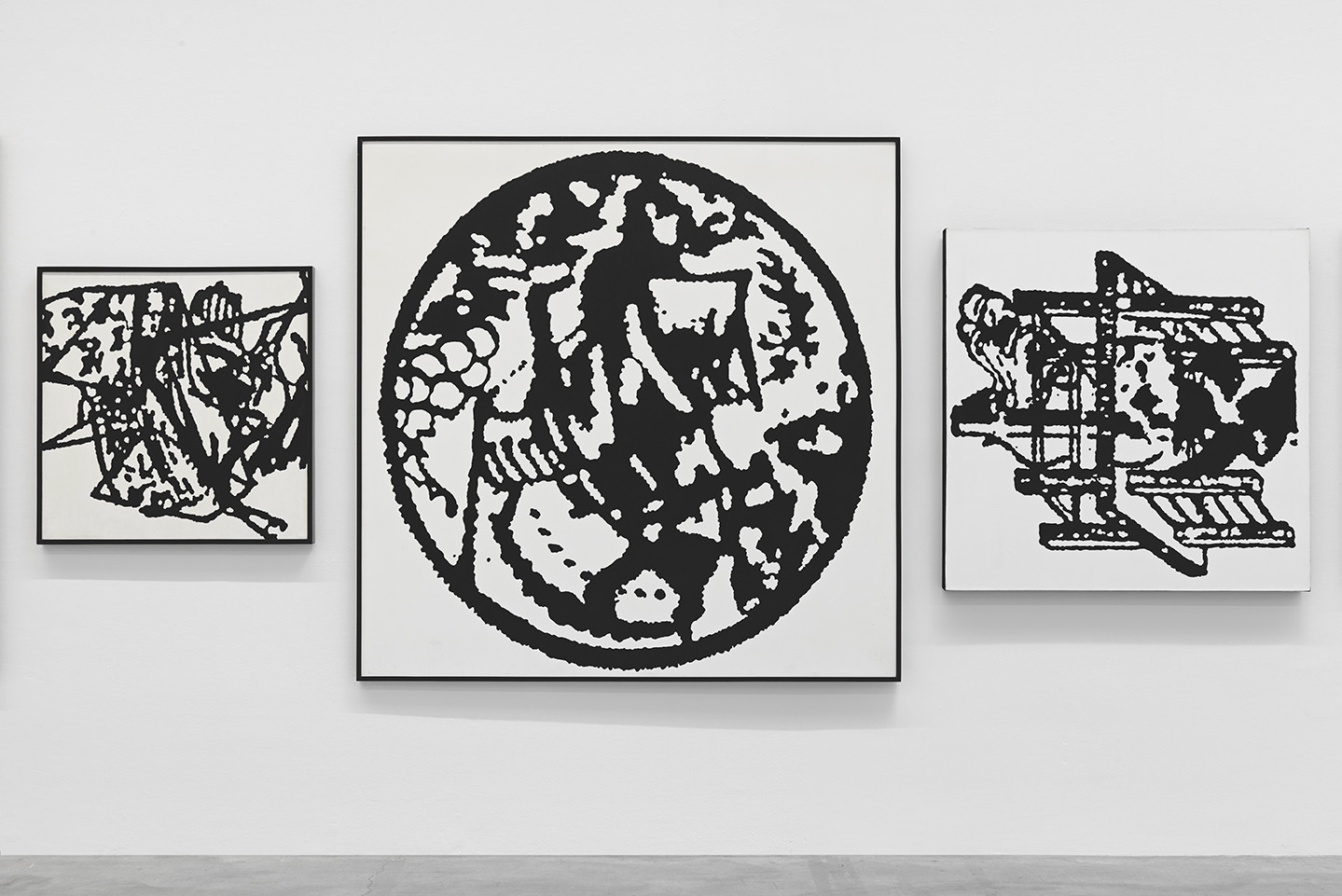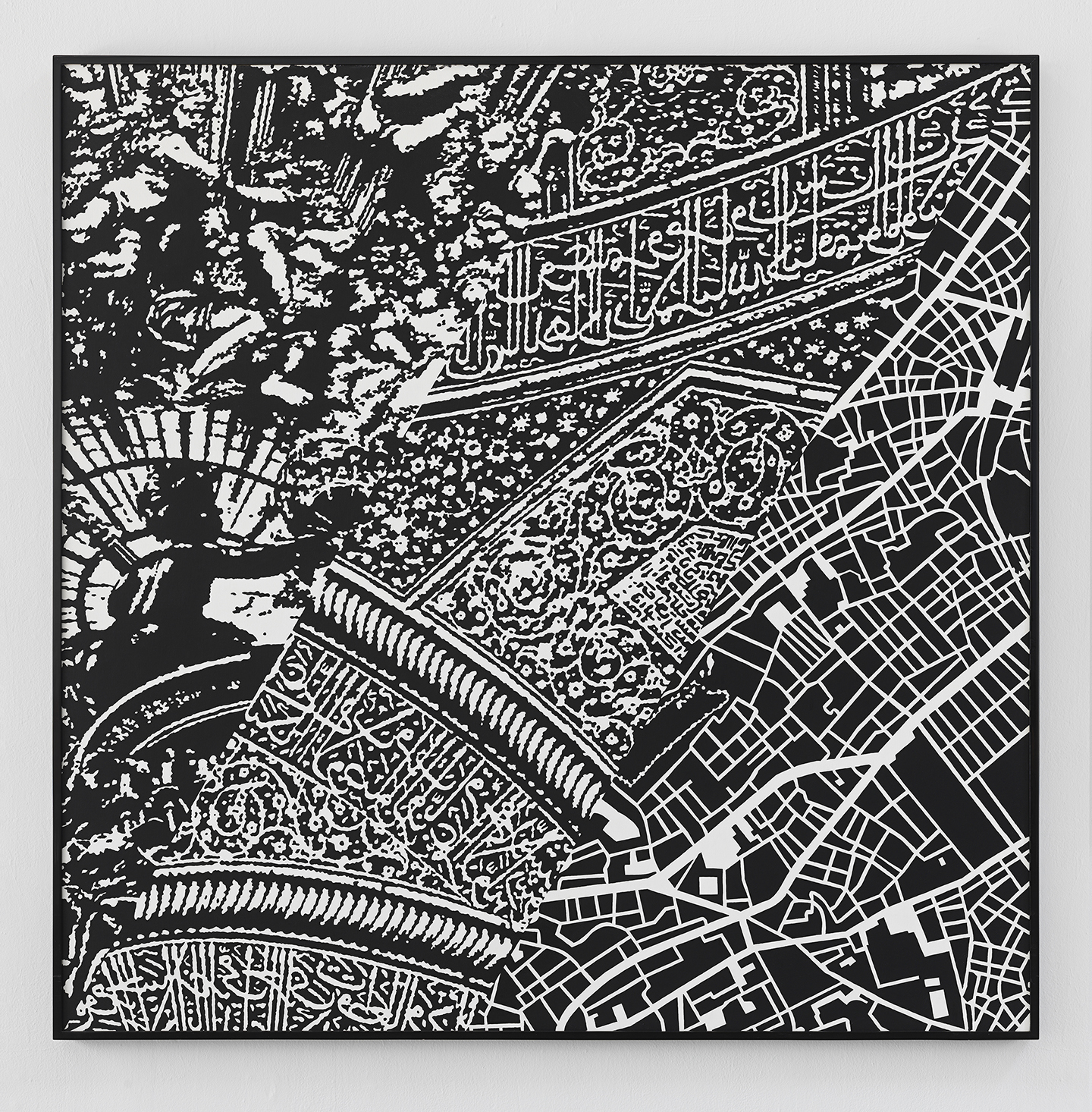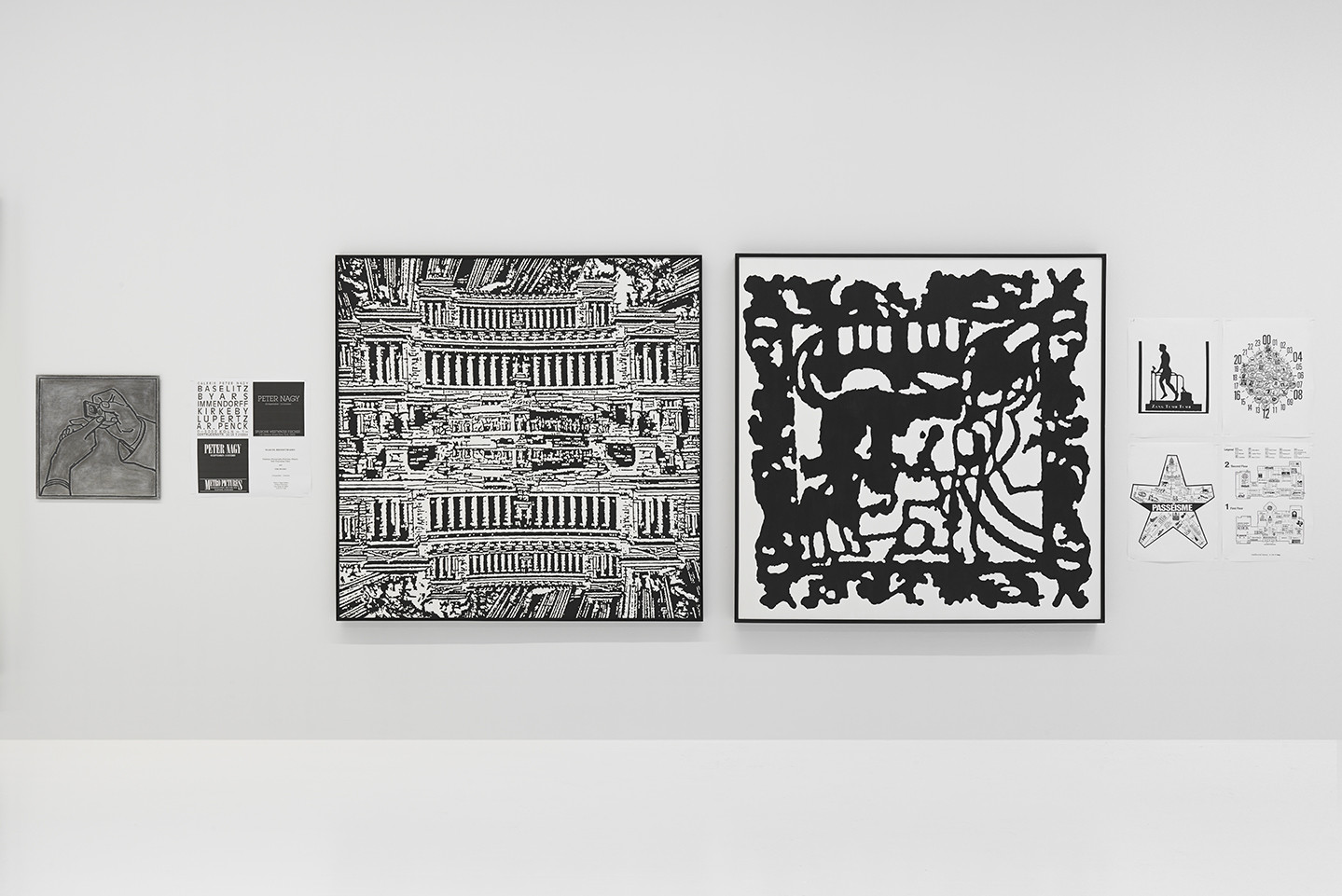 by Wendy Vogel
Entertainment Erases History (2020), Peter Nagy's latest solo exhibition at Jeffrey Deitch in collaboration with Magenta Plains, New York, takes its name from one of Nagy's Xerox works produced in 1983. The unlimited-edition Xerox of a black-and-white collage lays out a timeline of modern art movements from Dada to New Realism, replacing icons of artworks with images of the era's cutting-edge technology, like camcorders, synthesizers, and digital watches. The work seems a sort of manifesto for Nagy's practice, championing art as part of an informational infrastructure. Four decades ago Nagy established himself as an artist and gallerist, promoting a post-Pop generation of artists who were delivering ironic jabs at mass media and commodity fetishism. Today he is the owner of Nature Morte gallery in Delhi, one of India's leading galleries. The survey at Deitch revisits his work of the 1980s, positing him as a savvy artist-philosopher of media tactics before the digital age.
Peter Nagy graduated from New York's Parsons School of Design in 1981 with a degree in communication design. After meeting fellow artist Alan Belcher at their typesetting job, the two bonded over their shared tastes and decided to open Nature Morte gallery in the East Village. In an early interview, Nagy listed historical influences such as Eduardo Paolozzi, Robert Indiana, Yves Klein, and Op Art1—a European-leaning late-modernist roster at odds with both the 1980s market enthusiasm for Neo-Expressionist painting and the graffiti art favored by other East Village galleries like FUN. At the time of its opening in May 1982, Nature Morte was one of the few art outposts in the pre-gentrified neighborhood. Its commitment to artists invested in poststructuralist theory and media critique—while still desiring access to the upper echelons of the art world—put it in dialogue with nearby commercial spaces such as Cash/Newhouse and International with Monument. The latter venue showed, among others, Peter Halley, Jeff Koons, and, later, Nagy himself. 
Nature Morte supported a new Pop conceptualism that connected the Pictures Generation with its immediate descendants: Nagy and Belcher's peers. Artist David Robbins, who showed there, described their micro generation between Boomers and Gen X as the "children of Barthes and Coca-Cola." These artists watched the 1960s revolutions and the Vietnam War play out on TV, and would be the first to regard television as the "linchpin of a contemporary informational infrastructure."2 If the Pictures Generation—a group of artists associated with the gallery Metro Pictures, such as Jack Goldstein, Louise Lawler, and Robert Longo—was concerned with deconstructing filmic imagery through appropriation, the Nature Morte crowd leaned into mass media's seductive qualities. They showed works like Jennifer Bolande's sculptural photographs, Steven Parrino's punk take on the monochrome, and Gretchen Bender's stacked-monitor installations splicing advertising imagery. 
Nagy's earliest works—his Xerox series—borrowed from the paste-up techniques of his day job in design and the post-authorial attitudes of the Pictures Generation. In these infinitely reproducible collages, he used logos as his primary material. "People don't have anything to express, except the trademark," he said. "We're being fed information all the time."3 The Xeroxes include e.s.t. Graduate (1984), which superimposes the folksy logo for Pepperidge Farm packaged baked goods over a high-rise building and a field of dots. A version of e.s.t. Graduate made it into the politically driven artist collective Group Material's presentation Americana at the Whitney Biennial in 1985. In The 8-Hour Day (1983), Nagy pokes fun at his own profession as a gallerist-artist: the hours on the face of a watch are demarcated by tiny icons of works by contemporary artists such as Keith Haring and Georg Baselitz. 
His next phase of work remained monochrome, but turned to rendering vaguely unsettling iconography in an illustration-like style, reminiscent of Andy Warhol's early works. Chained to Life (1987), a sandblasted aluminum painting, depicts a schematic drawing of a handgun. For his 1986 exhibition at International with Monument in New York, Nagy showed his Cancer series, compressing different design elements via collage into abstract "cells." With these works, which distorted recognizable imagery into indecipherable blobs, he commented indirectly on the overproduction of signs as a kind of societal ill. In the mid-1980s he gravitated to producing vinyls for museum floor plans and condominiums, superimposing logos of corporations or of his own design.
By the time Nature Morte shut its doors in 1988, Nagy had turned his artistic attention to architecture and decor. He rendered cityscapes, building plans, and decorative patterning from around the world as large-scale black-and-white silkscreen paintings. He decamped to India a few years later and opened Nature Morte in Delhi in 1987. That same year he debuted riotously colorful new work at Nicole Klagsbrun, New York. For that exhibition, So Much Deathless, he combined his own works with pieces by artists in the US and India into meta-assemblages. It was his last major gallery show in New York until the present one at Jeffrey Deitch.
Nagy's work has been overdue for a reevaluation, though it has percolated at the edges of various historical reassessments. Over the past ten years, survey exhibitions have celebrated the Pictures Generation, the politics of global Pop art, and even members of his own circle, such as Gretchen Bender. Today we might recognize Nagy not only as an artist who anticipated the trends of art that critiques information overload, but also as a savvy dealer who understood the creative packaging of art, including its marketing, as an integral part of the work itself.
[1] Peter Nagy, "Brie Popcorn," interview with David Robbins (pseudonym Rex Reason), Real Life, nos. 11/12 (Winter 1983-1984): 32.
[2] David Robbins, "ABC TV," Artforum 38, no. 2 (October 1999): 160.
[3] Nagy, "Brie Popcorn," 30.
Peter Nagy (b. 1959, Bridgeport) earned a degree in communication design, art history, and theory from Parsons School of Design, New York, in 1981. His work has been included in exhibitions at the Metropolitan Museum of Art, New York; the Whitney Museum of American Art, New York; the Museum of Contemporary Art, Los Angeles; Tate Modern, London; and Centre Pompidou, Paris. In 1982 Nagy cofounded the gallery Nature Morte in New York with fellow artist Alan Belcher, and it became one of the most influential artist-run galleries of that decade, showing conceptually oriented artists such as Sherrie Levine, Vito Acconci, and Richard Pettibone. Nagy has lived and worked in India since 1992 and reopened Nature Morte in New Delhi in 1997. In this new chapter, the gallery has brought a generation of Indian artists to international recognition.
Wendy Vogel is a writer, critic, and independent curator. She regularly contributes to Artforum, Art in America, and art-agenda, among other publications. Vogel teaches in the photography department at Parsons School of Design, New York. She is a 2018 recipient of the Creative Capital | Andy Warhol Foundation Arts Writers Grant.