Mousse 71 TIDBITS
;*)%,"""!@;,: Pierre Guyotat
Close
1
2
3
4
5
6
7
8
9
10
11
12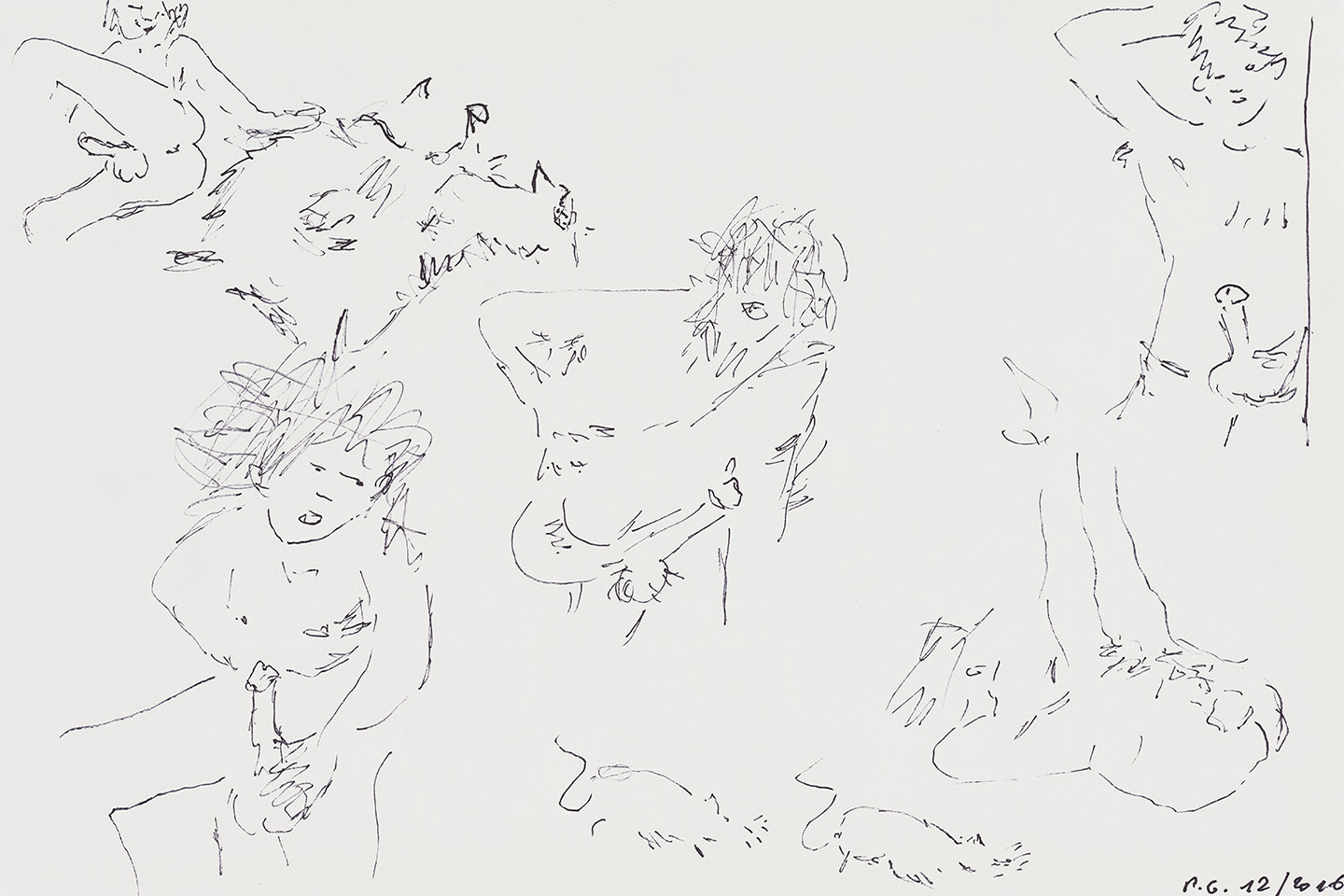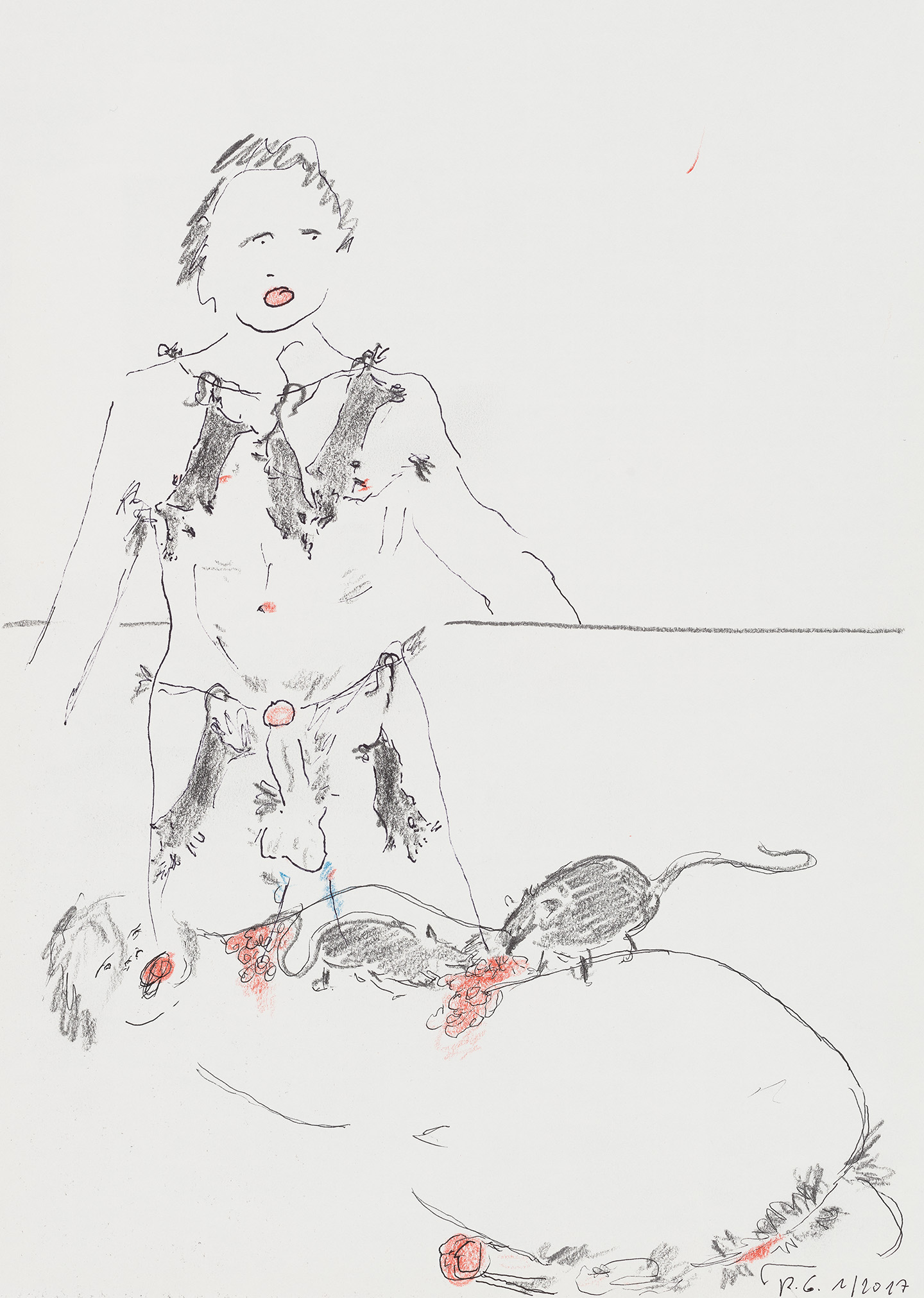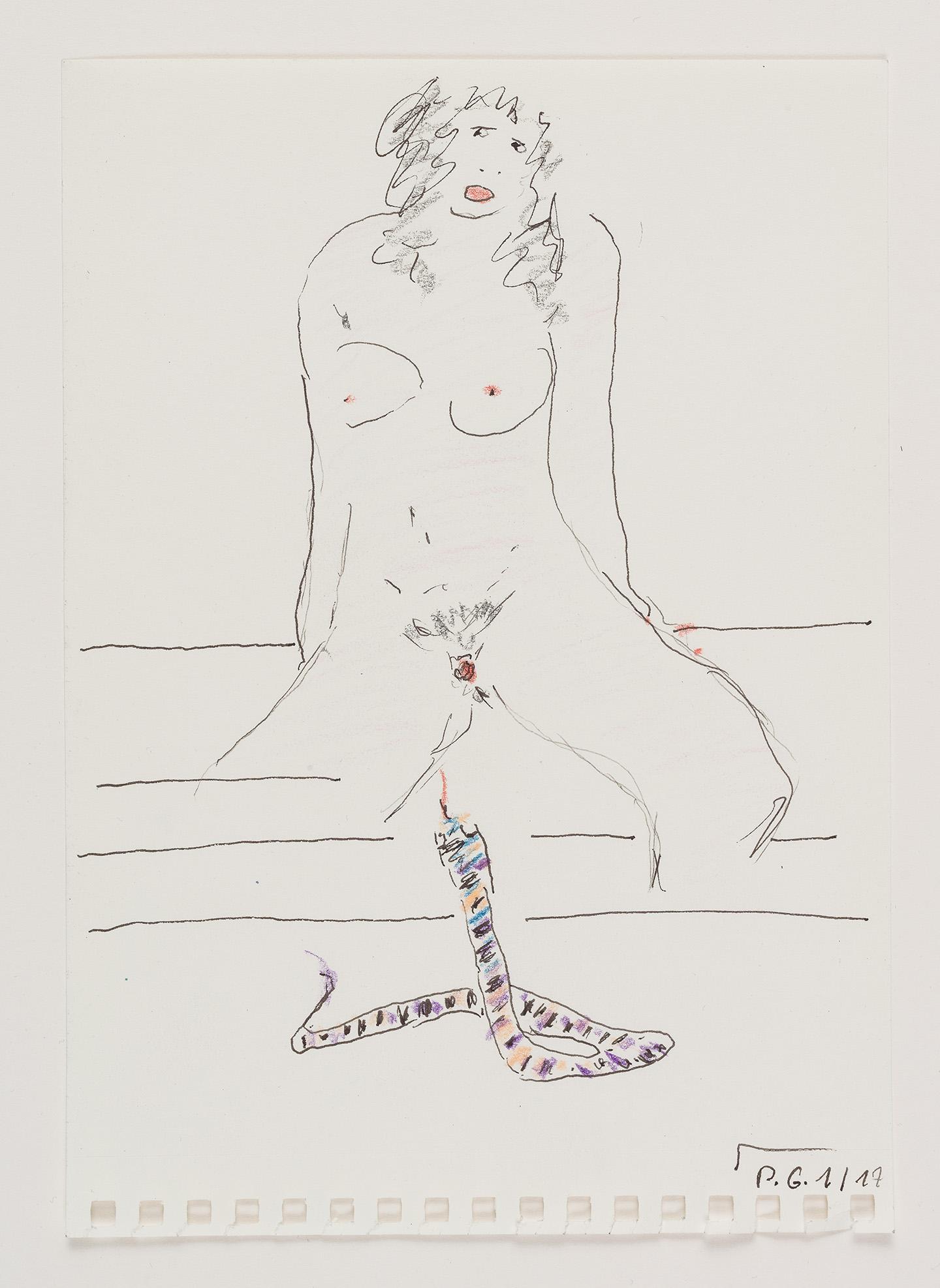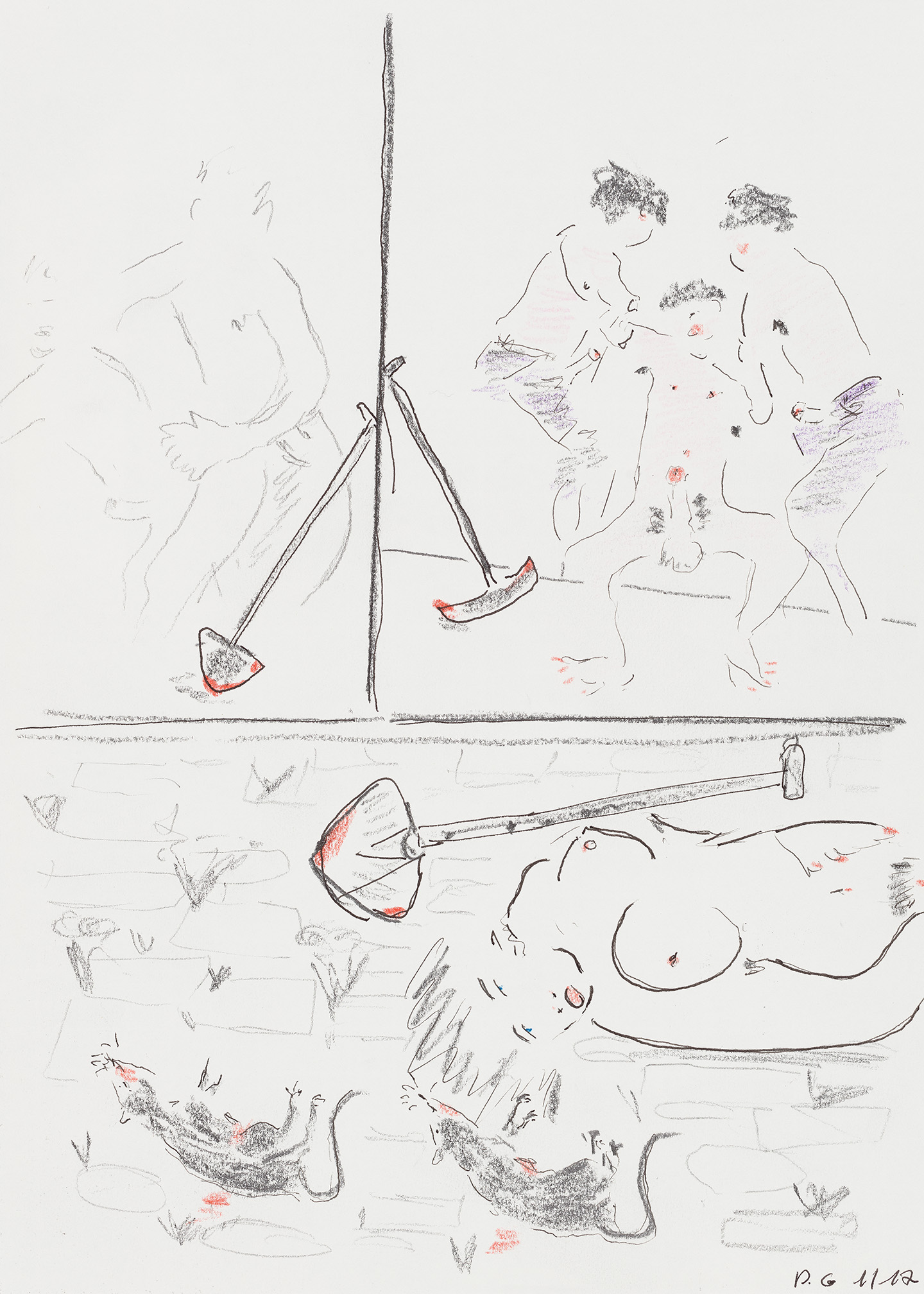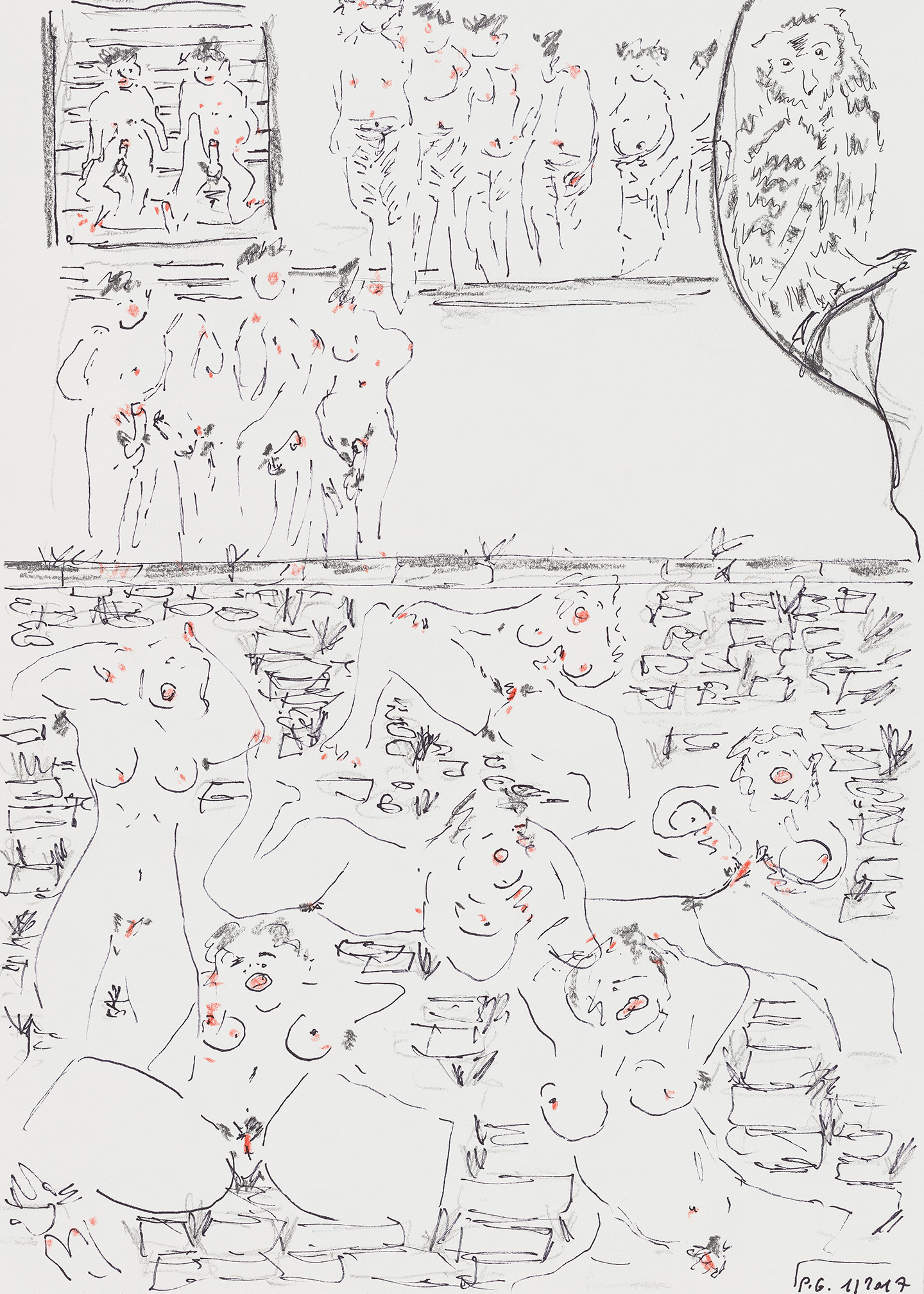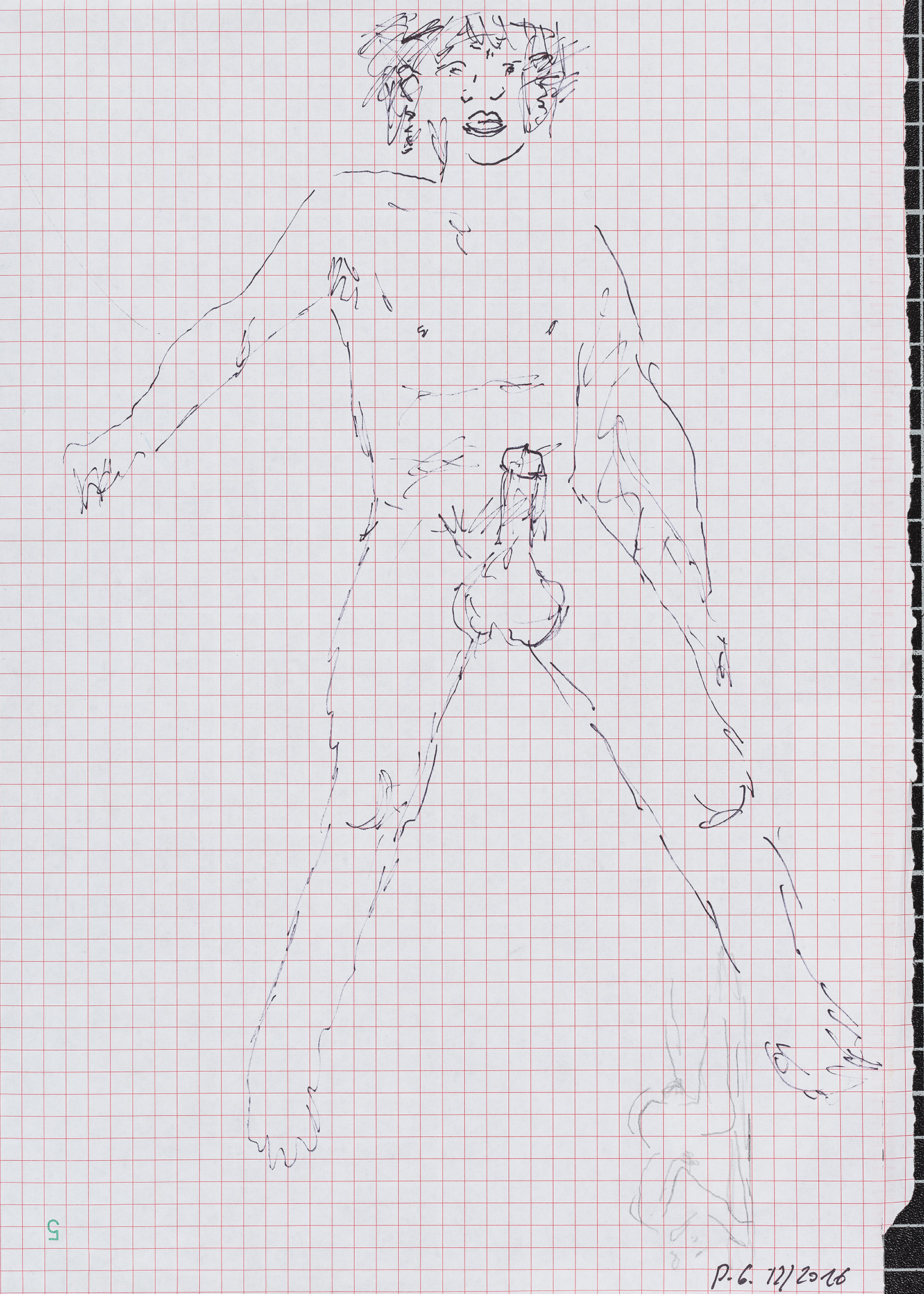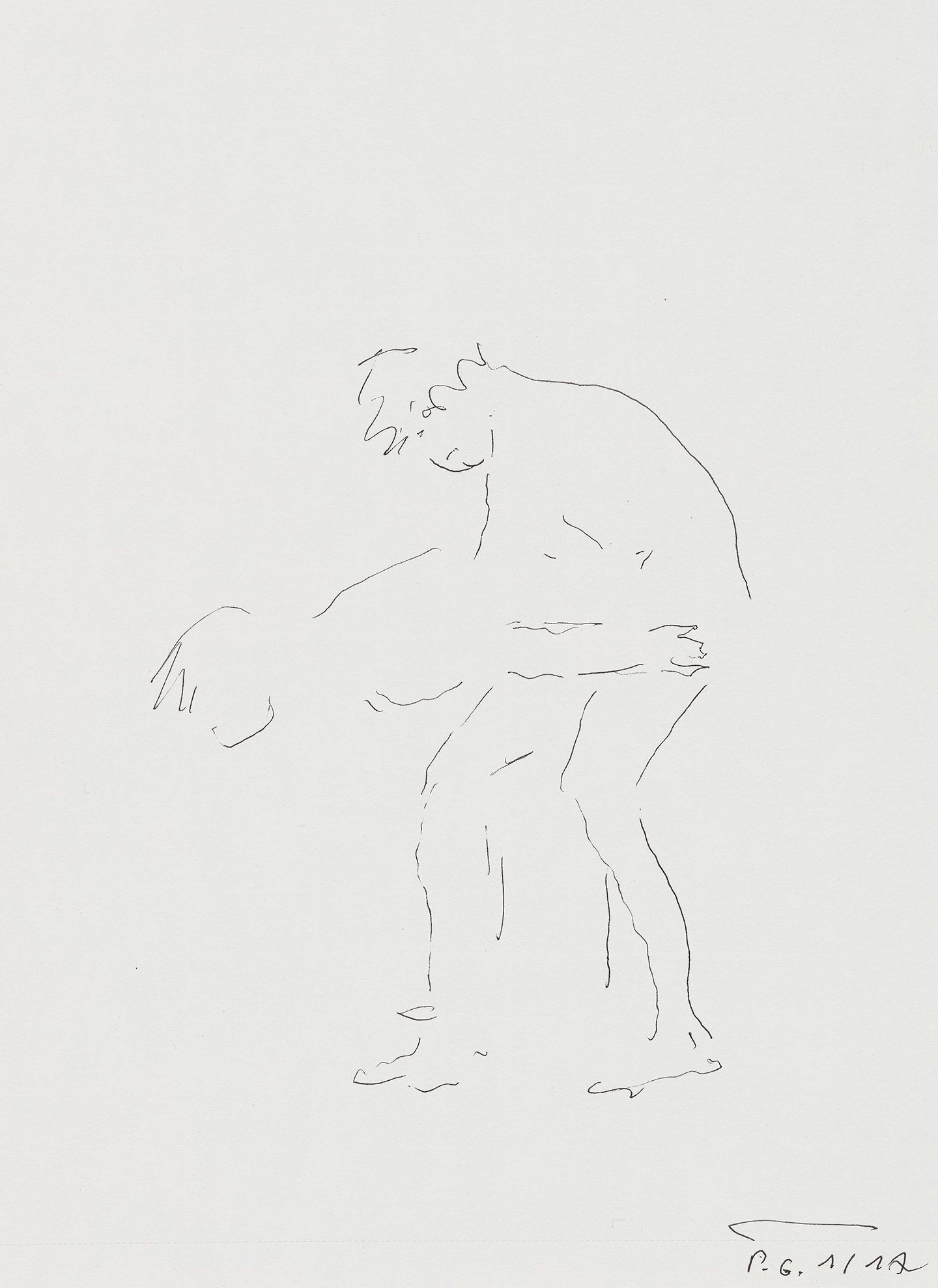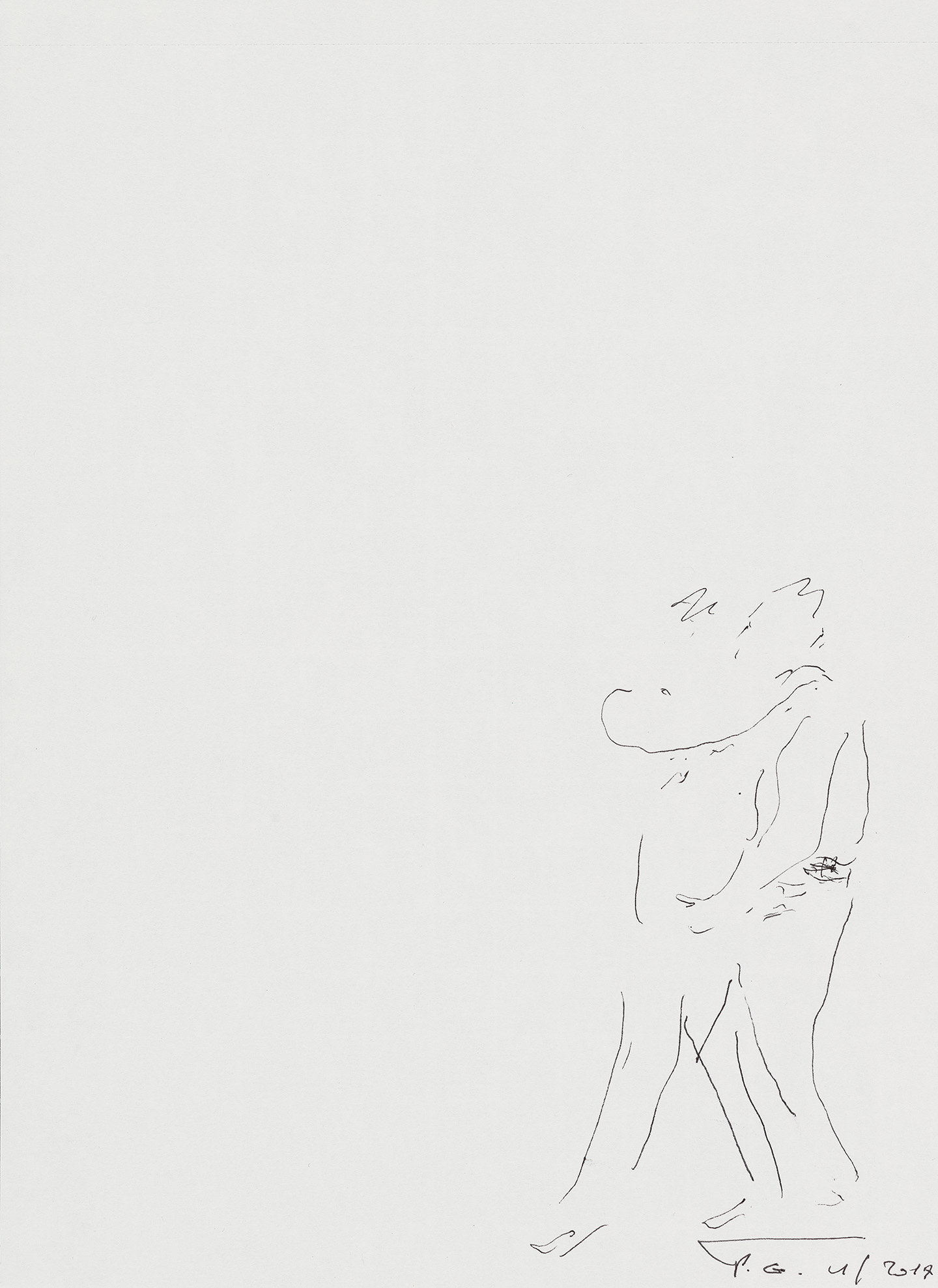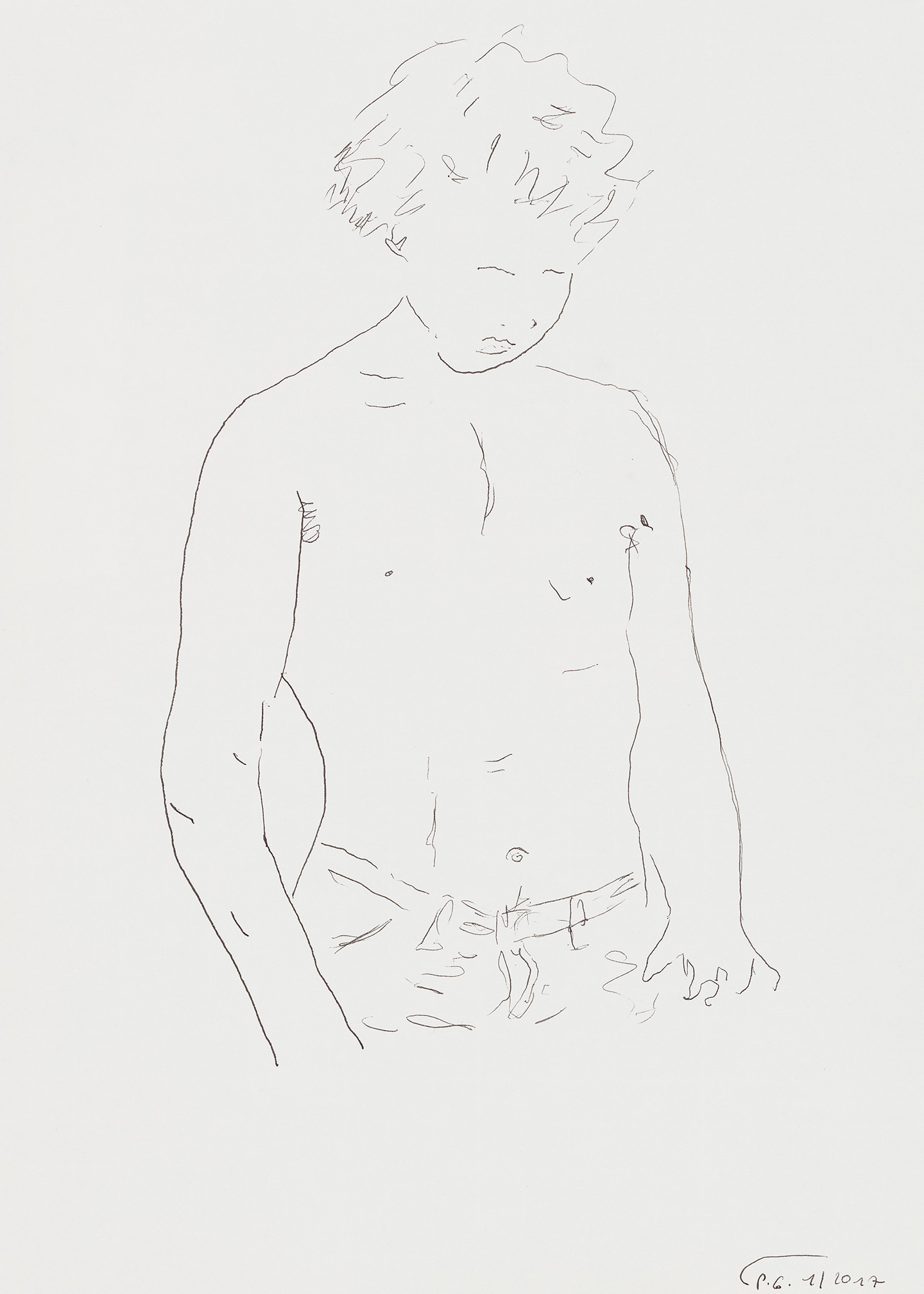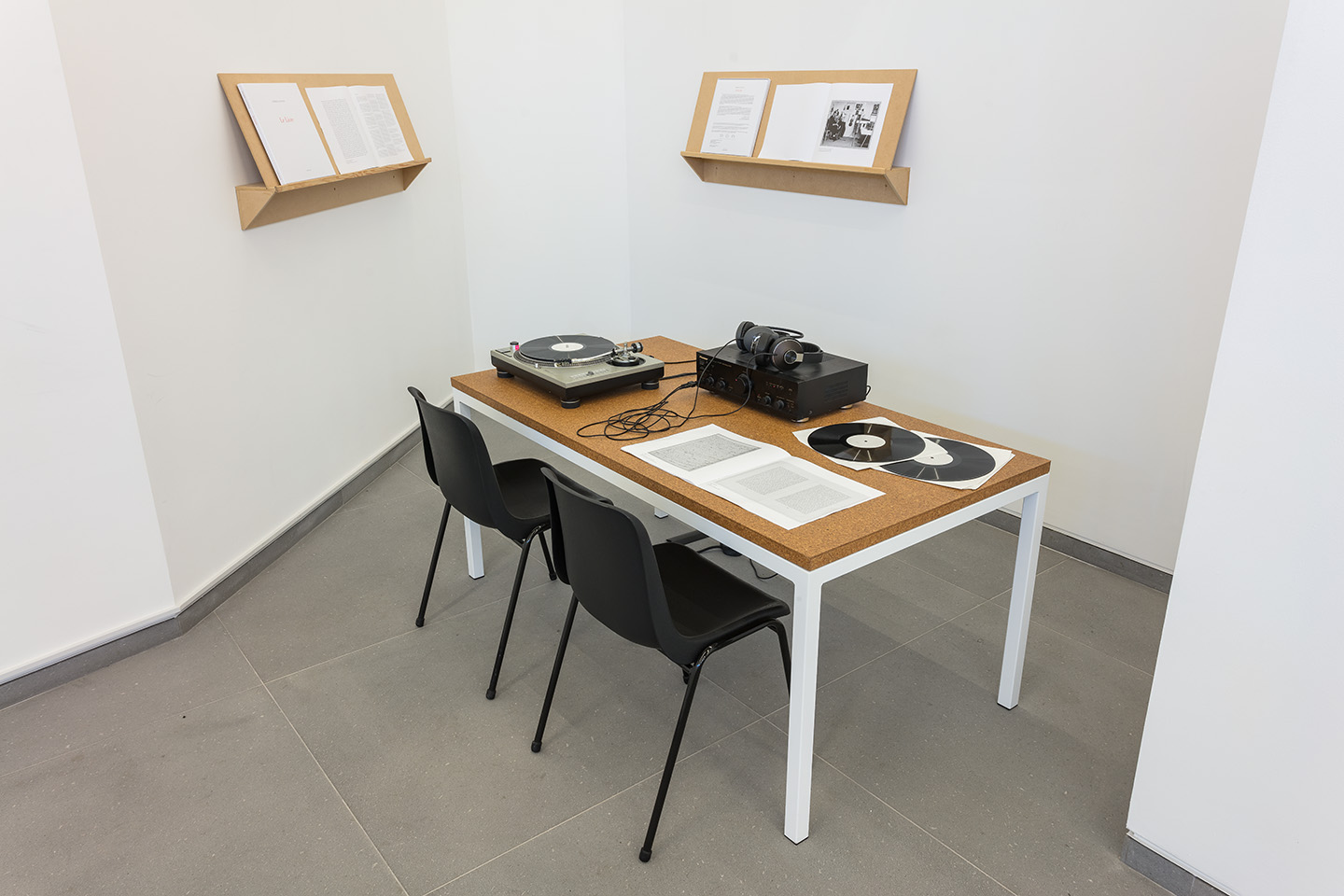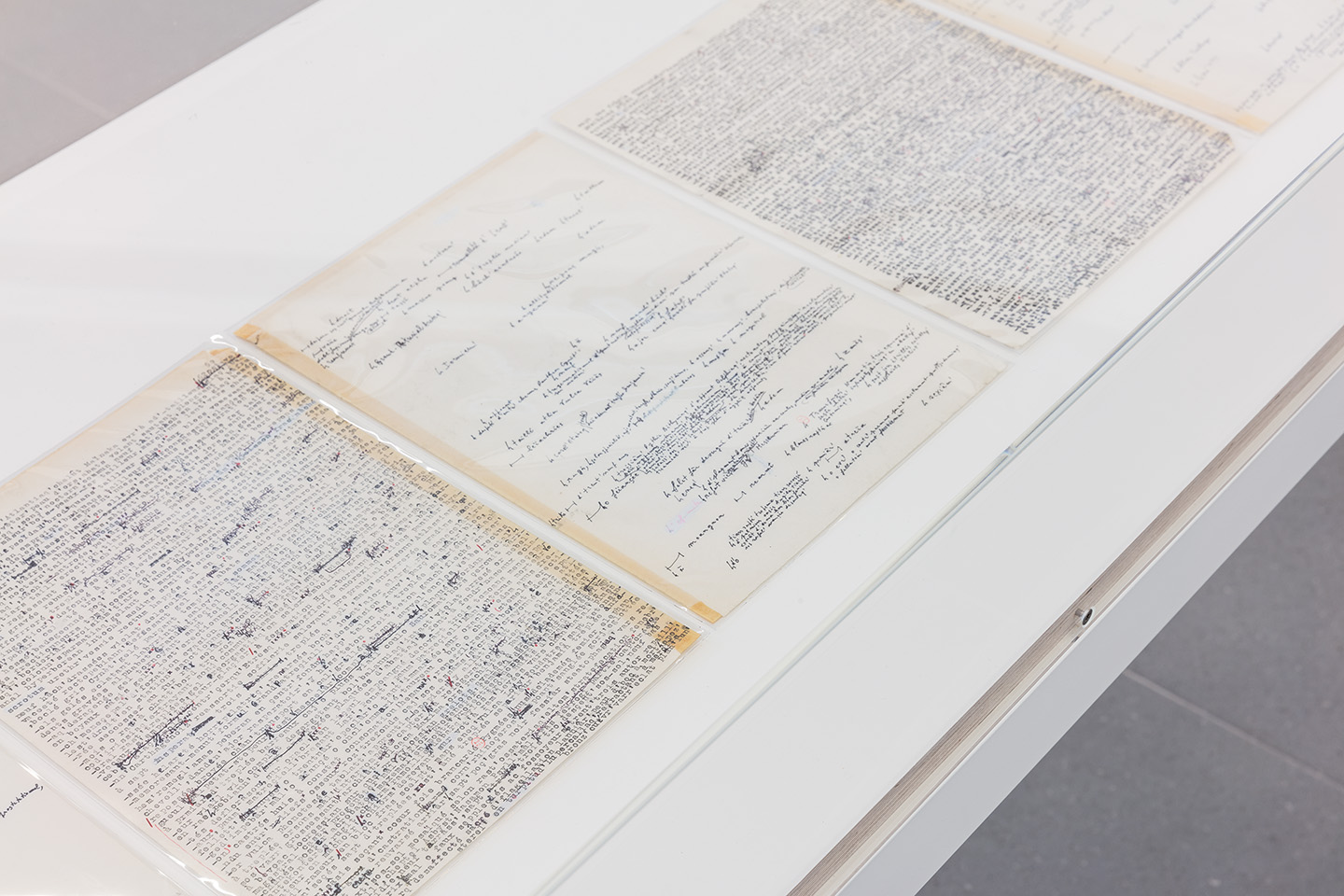 by Estelle Hoy
Jailed in 1962 for publishing forbidden material in his first novel, Sur un cheval (1960), French heavyweight Pierre Guyotat was also known for his Dionysian joie de vivre and artistic scandals.1 One of the great avant-garde visionaries of the twentieth century, Guyotat agitated the conventional novel with his signature linguistic materiality, blasphemy of syntax, and dismemberment of sex. His plaintive drawings slid down a vertical chute to a dystopic never-never land. He was the Lost Boy of self-exoneration, a degenerate tu-whit-tu-whoo. His stilt-walk over ethics, humanity, obscenity, and God sabotaged political prohibition, and, ultimately, even himself.
The divinity of Guyotat's "inhuman" oeuvre includes his second novel, Eden Eden Eden (1967), banned by the French government from being publicized or sold to minors from 1970 to 1981. Extreme and obscene, Eden Eden Eden is set in a polluted zone of the Algerian desert during the civil war. Immediately greeted with both furor and acclaim, it is today recognized as one of the major works of the last century—an egalitarian pageant without hierarchy or ethics where erotic kinetics are the rule and nothing can be declared precious nor malignant; a stage where morality and debauchery are thrown in a queer melee close to psychosis; a Rabelaisian juncture of blood, saliva, excrement, and brain, performing the astronomic duty of celestial mechanics. Criticism advises us to taste his work in homeopathic doses, as if overexposure would kill us. But in a world turned upside down, to rephrase Guy Debord, it is necessary to go mad to arrive at sanity. Roland Barthes captures its ultraviolet transcendence in the book's introduction: Eden Eden Eden must be "entered, not by believing it, becoming party to an illusion, participating in a fantasy, but by writing the language in [Guyotat's] place, signing it along with him."2
Guyotat's tour de force metastasized with In the Deep (2007) and his infamous "beat-sheet": a masturbatory writing practice that caused scandal in the 1970s.3 In conversation with his translator Noura Wedell in 2014, Guyotat reflected: "At the time, I wanted to have the masturbatory act find some utility apart from ephemeral pleasure, in the writing of a text marked by desire and imminent ejaculation."4 A mesmeric account of three days and nights pulled from the summer of 1955, In the Deep maps the verdant development and significance of Guyotat's creative vocation. It inhabits the sordid daydreams of an adolescent boy just discovering his calling to write, while also tormented by the failing of his Catholic faith and its Cartesian education. It's in this falter that he's driven to construct a different faith, glorifying hedonism, contradictions, and their sacrilegious implications. A faith that chains us to contingency.
Guyotat's parodying mitzvah and blue psychoanalytic period spilled earnestly into his drawing life. Nimbus clouds converted into desire on paper, pen and ink, modest scrawls of figures in sex acts, erotic entanglements, visceral—more puddle than person. Mutated, indistinct outlines of sex contortions and secretions are gnawed at by rats, an unambiguous castigation suggesting that all life under capitalism, God, and government is a type of prostitution reluctantly undertaken, potentially transactional. Congenital mutations are scratched on paper reenacting a physical and psychic crisis—too much, or too little, in ink pustules. Petitioning an imaginary cure. A truth too intolerable to franchise.
In December 1981 Guyotat entered a coma, self-induced by ascetic fasting rituals that had become an integral part of his writing ethic—an interminable, delusory stasis of psychosis that led to his autobiographical book Coma (2006), winner of the 2006 Prix Décembre.5 And yet Coma feels alive, vibrant, a glittery phantasmagoria. A death-adverse cocktail party generating language through the lambaste of silence, marking the intolerable presence of the body through the suspension of movement. A suspension of life held up by intravenous drips, intubations, breathing apparatuses, and catheters, living on the turnpike of hermetic nonexistence. A nervous illness, a nervous book filled with the needles of Franz Kafka's torture and Graham Harman's object-oriented ontology, with "its insistent, pathological engorgement of narrative, a continual demolition of structural elements and distinctions between 'I' and others, self and things, places, animals, trees."6
There's no linear narrative in Coma: Guyotat shifts from dream to cold-tiled floor to memory, back to ghostly apparition, signaling a departure from idealism. His manufactured self-memoir with its real and invented quirks, no pathos, and depraved indifference ends with the implacable final words: "Patience, Patience," sans full-stop and instead a comma—a gesture of continuation, scamming us out of finality, a treachery. As if to say, in prefab abjection: I'm here, I sin, I go on in a Quaalude wake, I starve, but I survive. Guyotat's entire oeuvre briefly occupies the void of erasure-as-cultural-morphine, the slum queen of savage obliteration of war, soldiers, sex, and self. A comma/coma orienting us toward a spectacular future that may never arrive, 
[1] Pierre Guyotat, Sur un cheval (Paris: Éditions du Seuil, 1960).
[2] Roland Barthes, preface, in Pierre Guyotat, Eden, Eden, Eden  (Paris: Éditions Gallimard, 1967), 19.
[3] Pierre Guyotat, In the Deep (Los Angeles: Semiotext(e) Native Agents, 2007).
[4] "Pierre Guyotat by Noura Wedell," BOMB, no. 130 (December 10, 2014): https://bombmagazine.org/articles/pierre-guyotat/.
[5] Pierre Guyotat, Coma (Los Angeles: Semiotext(e) Native Agents, 2007).
[6] Gary Indiana, preface, in Guyotat, Coma, 9.
Pierre Guyotat (b. 1940, Bourg-Argental; d. 2020, Loire) was a French writer and artist. Notable works include Sur un cheval (Seuil, 1961); Ashby (Seuil, 1964); Eden, Eden, Eden (Gallimard, 1970); Prostitution (Gallimard, 1975); and Coma (Mercure de France, 2006). Translations of Guyotat's work into English by Noura Wedell have been published by Semiotext(e) Native Agents, including Coma (2007) and In the Deep (2014).
Estelle Hoy is a writer and academic based in Berlin. Her second book, Pisti 80 Rue de Belleville, was just released (After 8 Books, 2020), with an introduction by Chris Kraus.