Mousse 74 TIDBITS
To Hold a Door in One's Arms: Piotr Łakomy
Close
1
2
3
4
5
6
7
8
9
10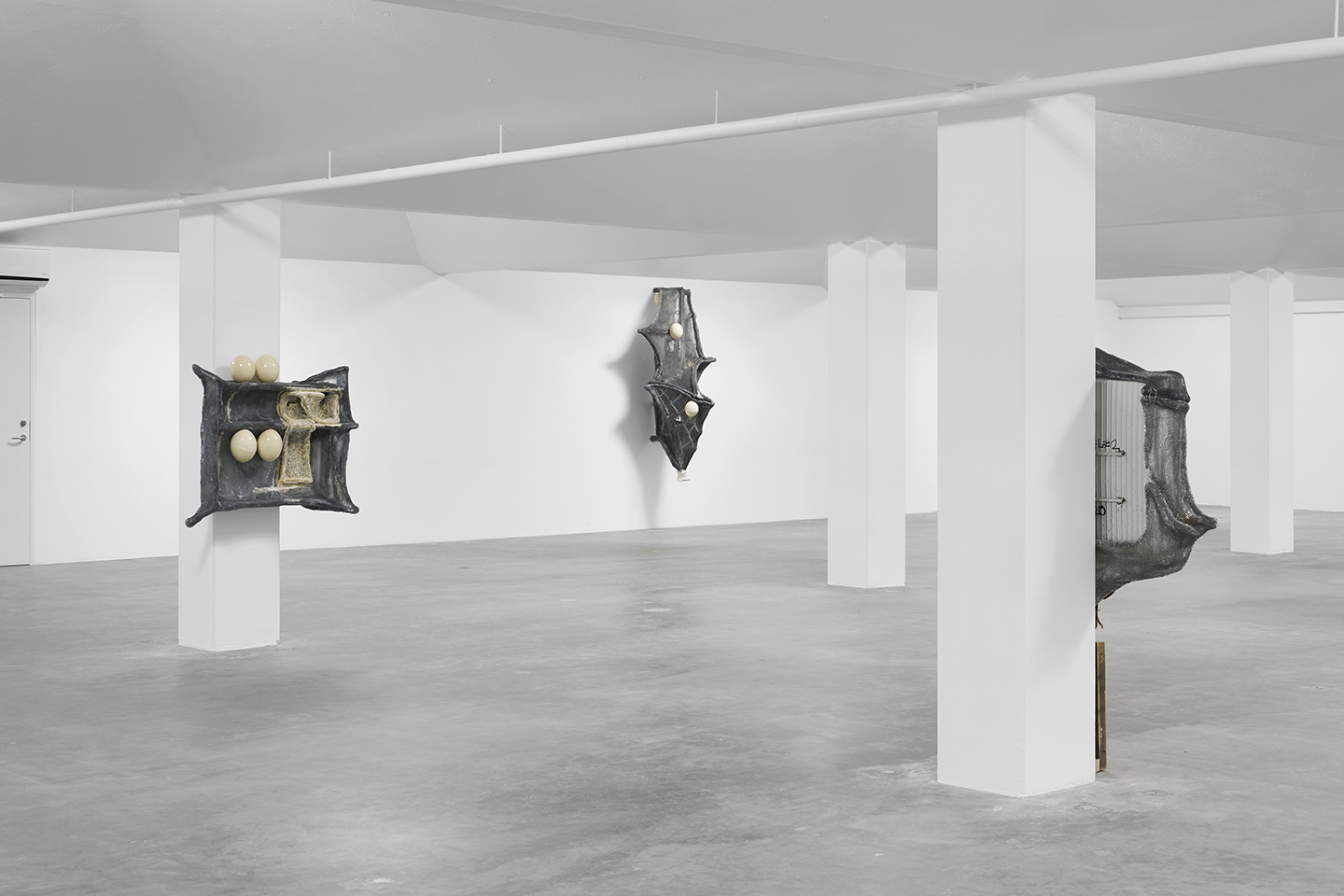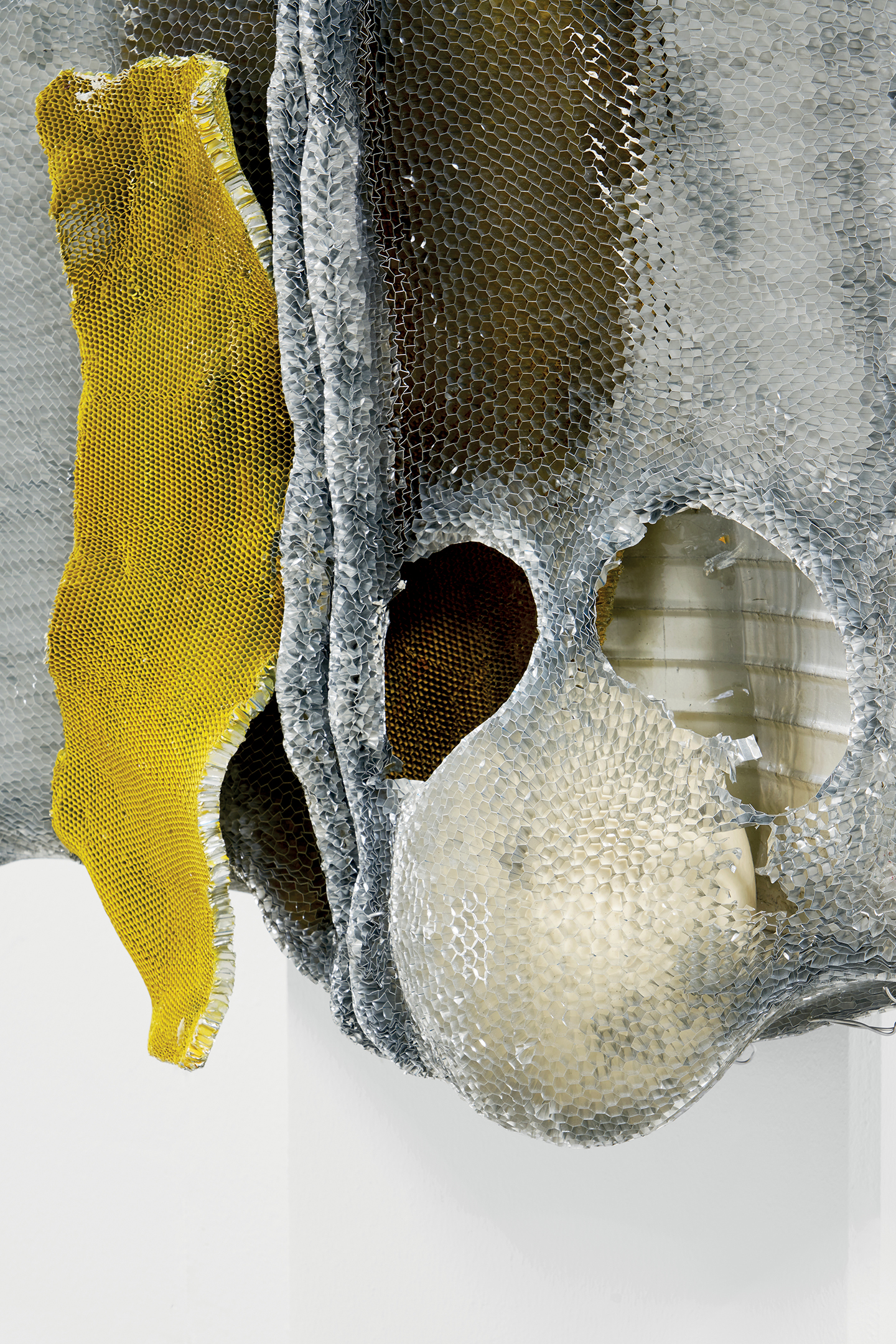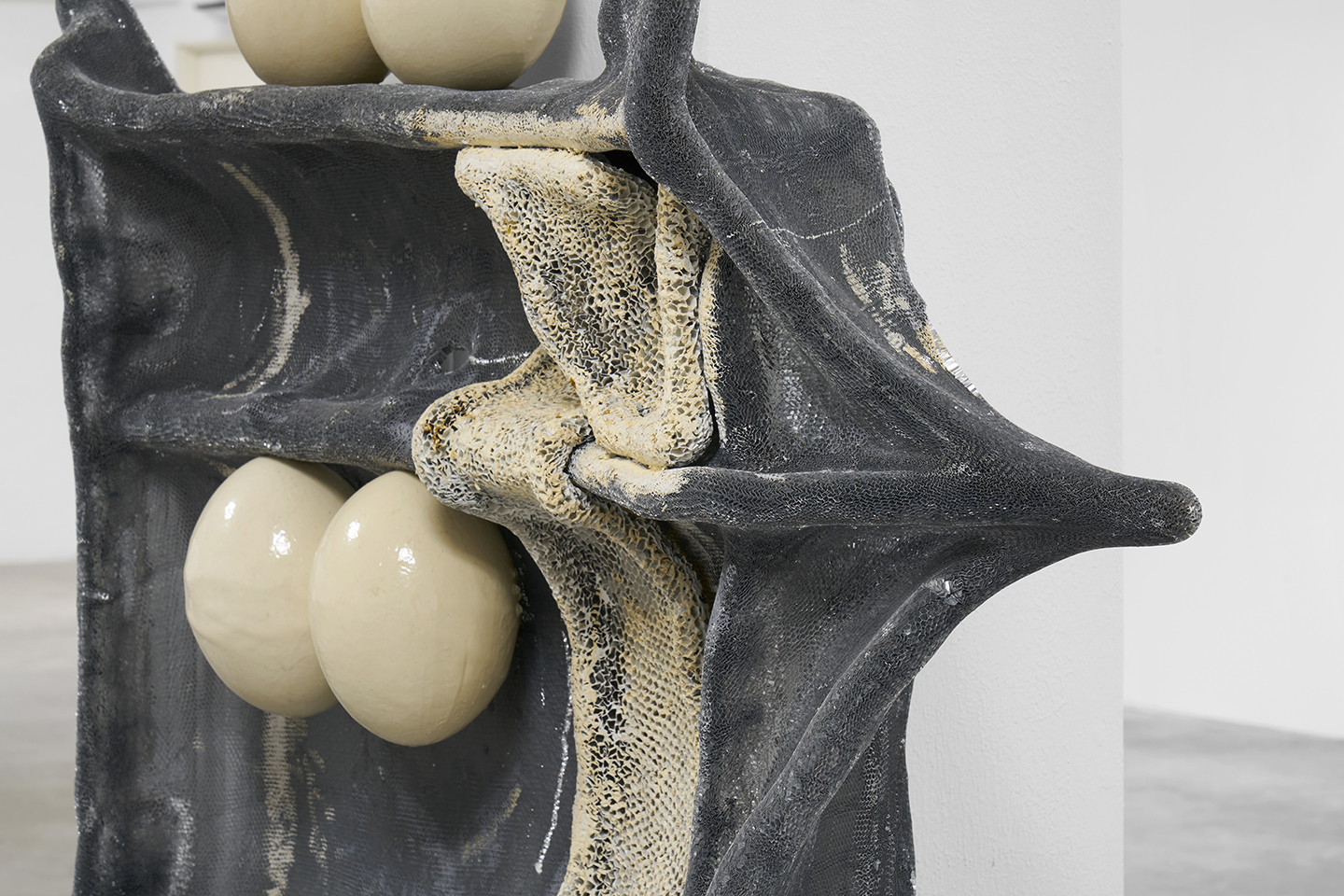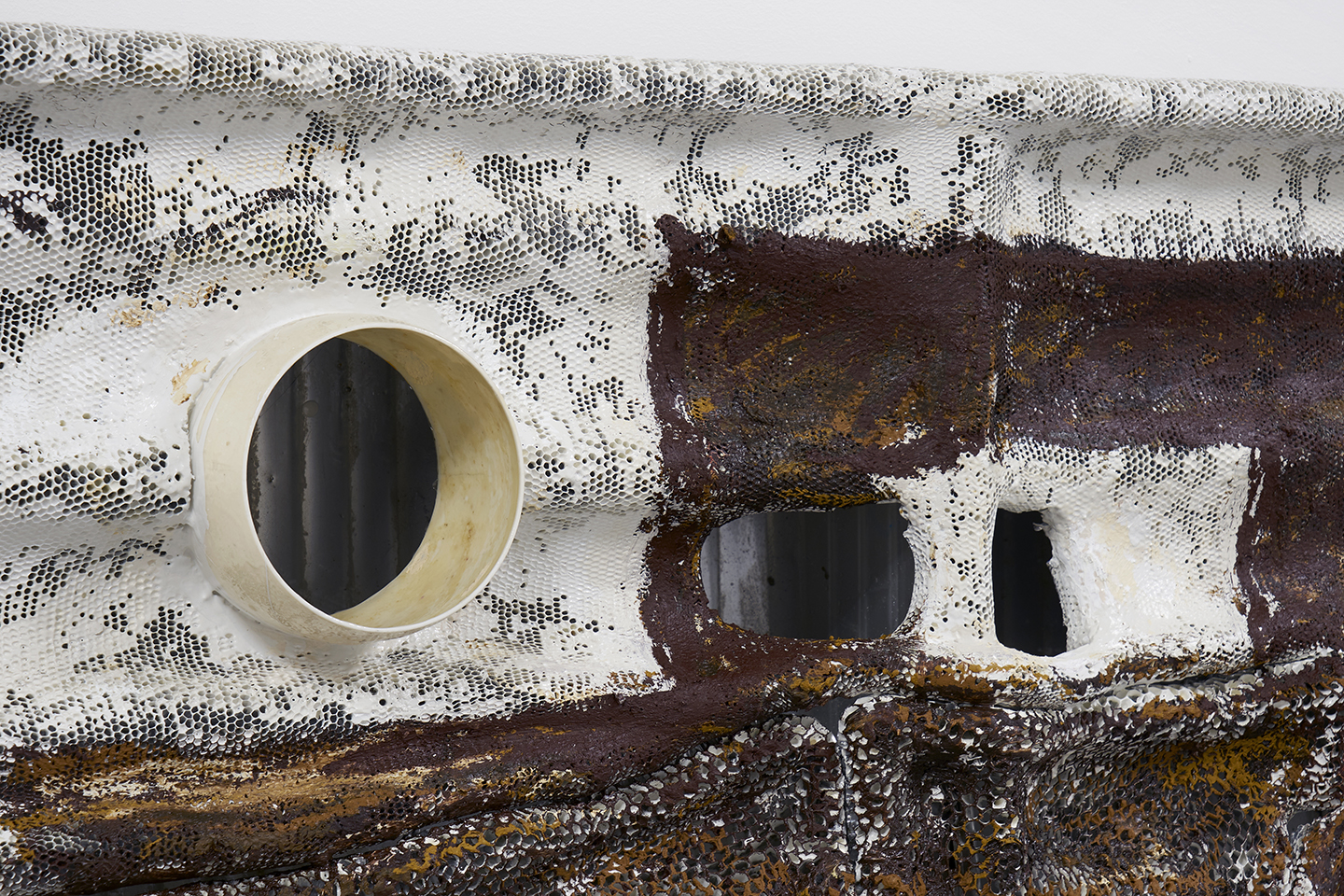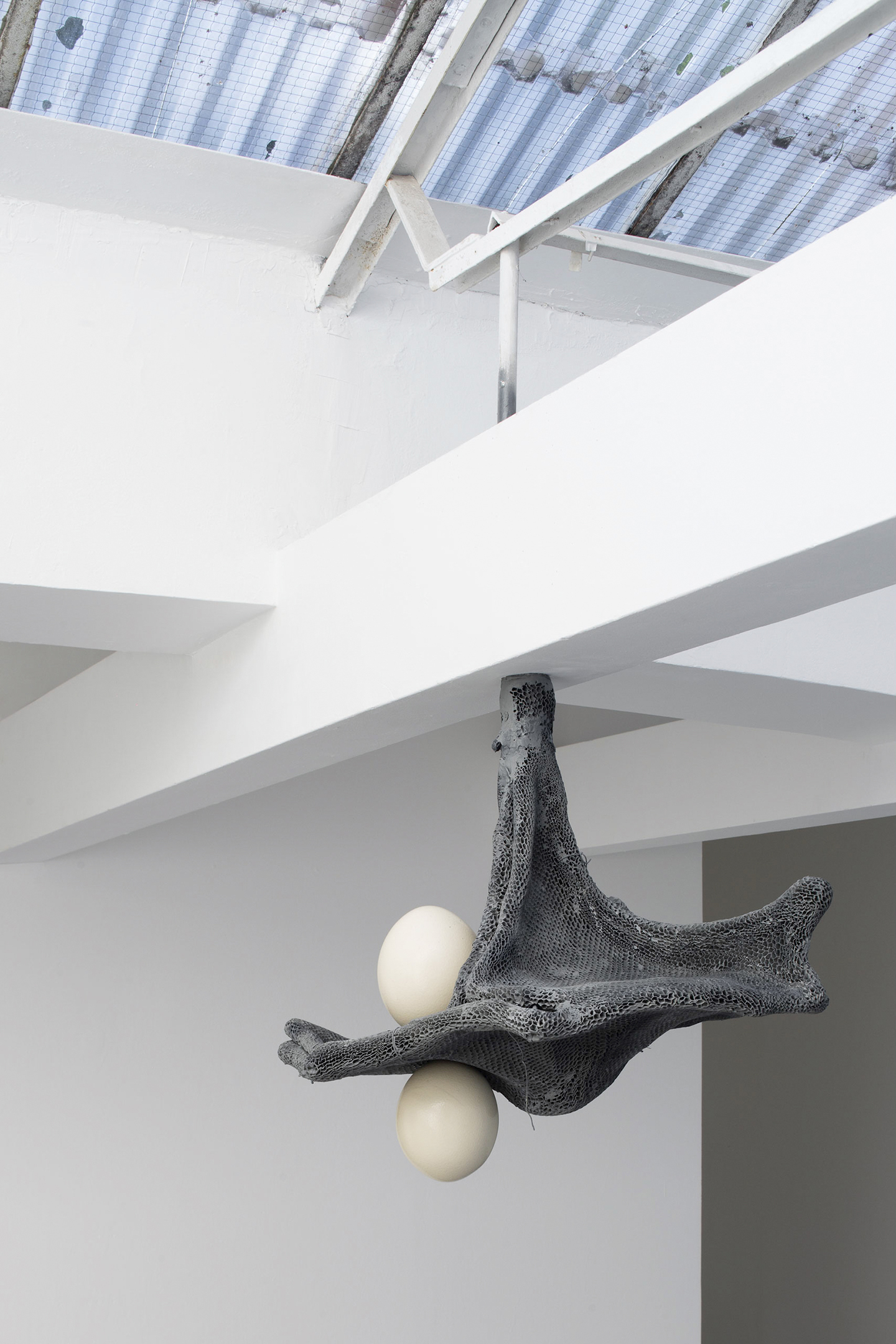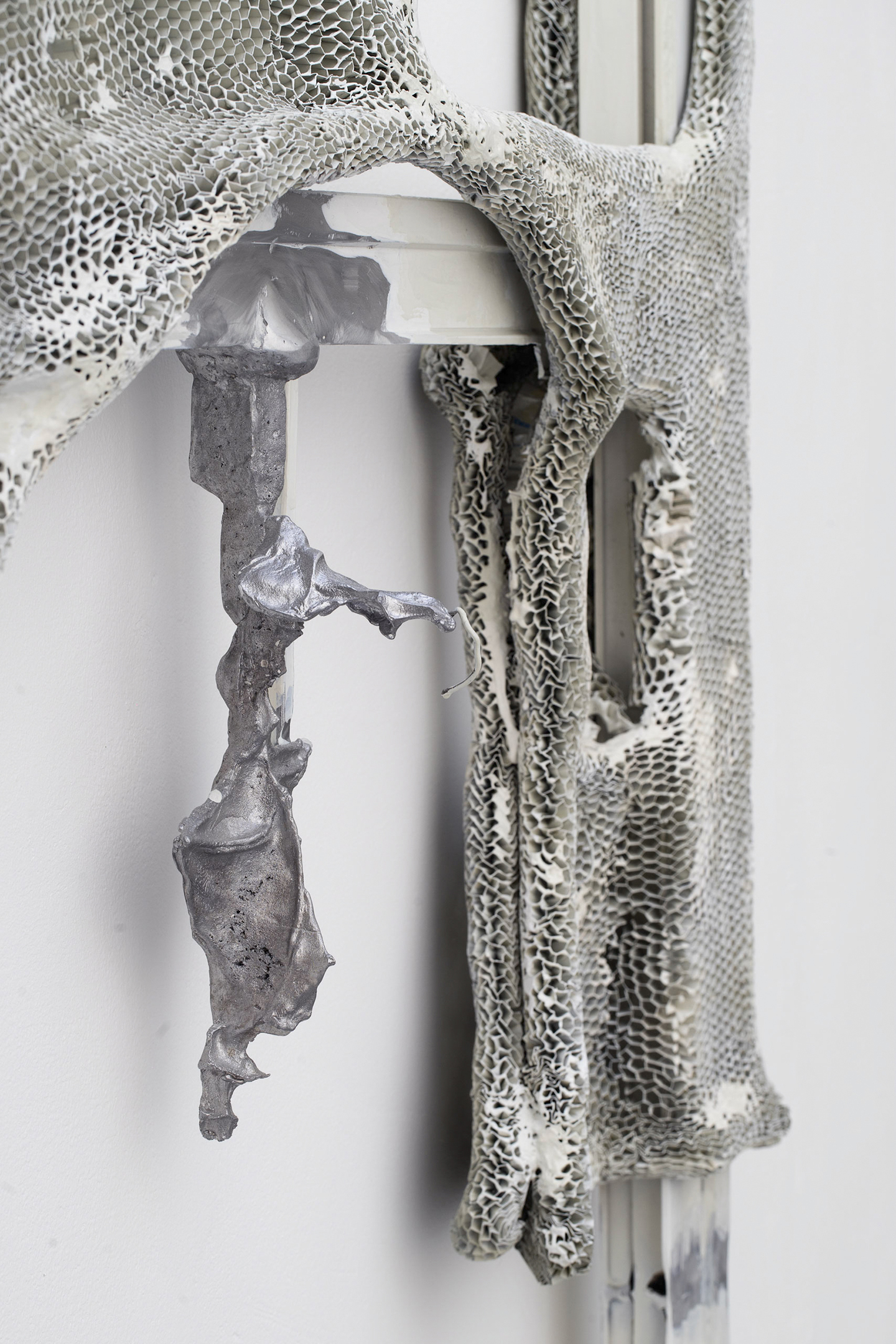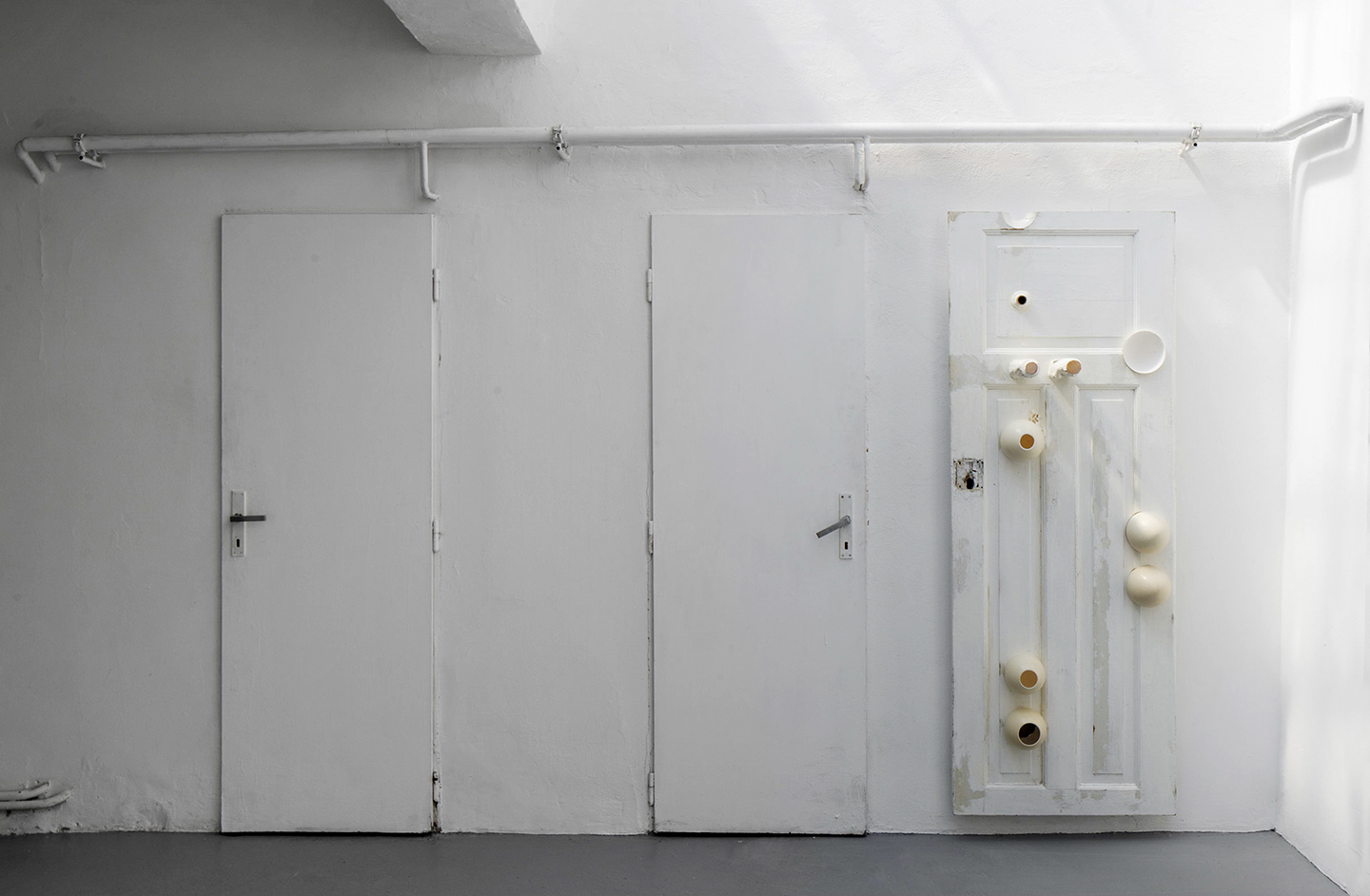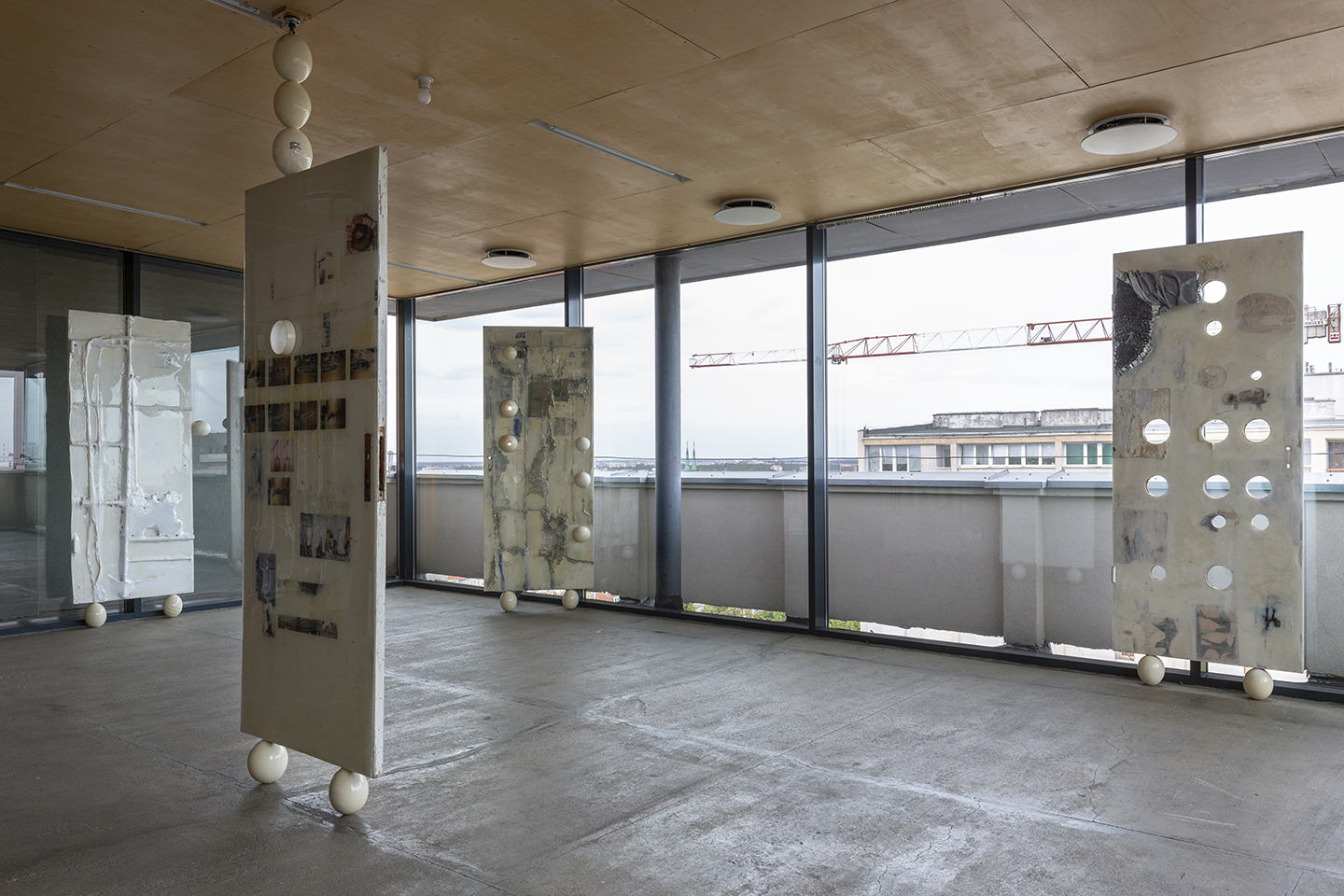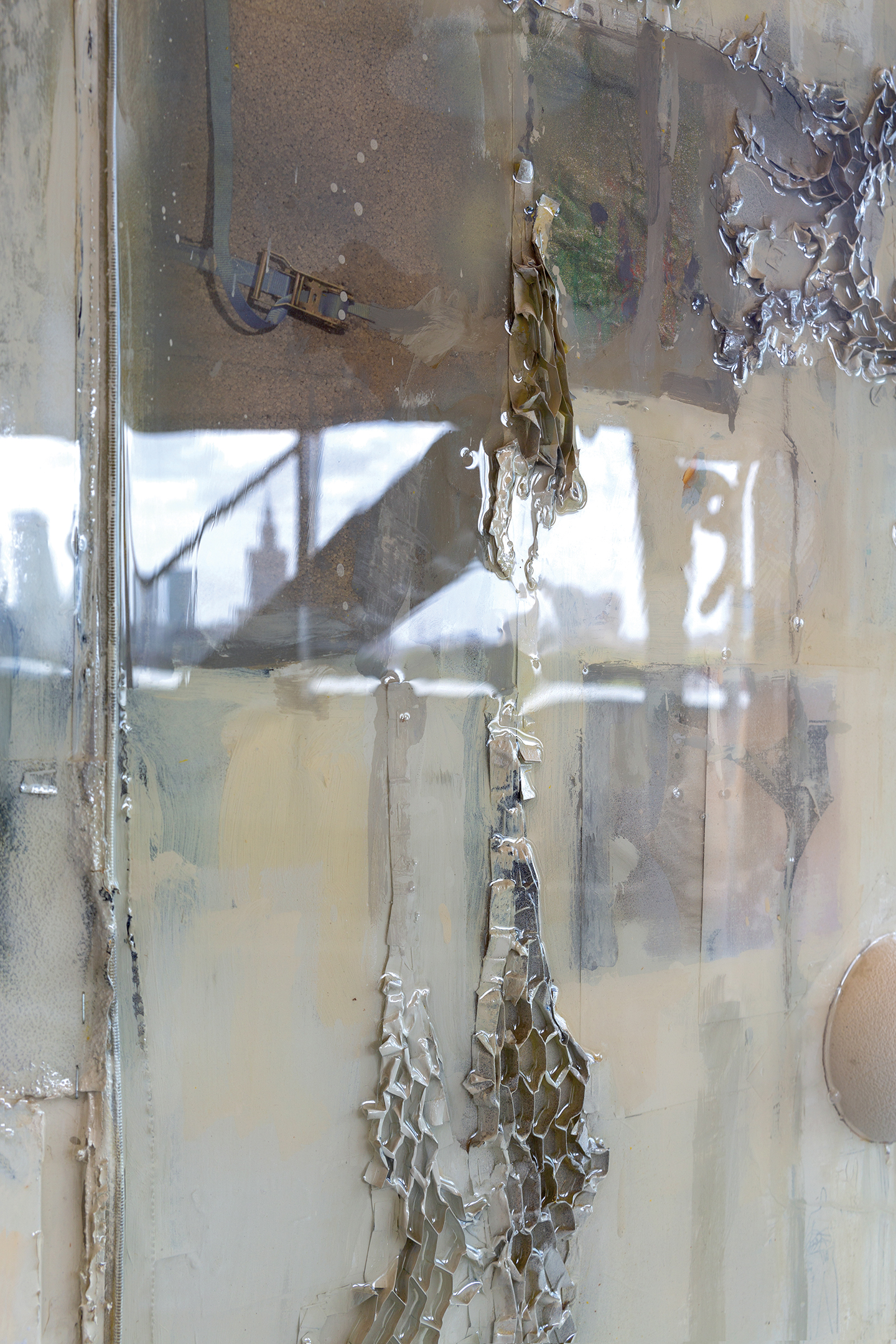 by Kristian Vistrup Madsen
Wrapped in aluminum honeycomb, resin, ostrich eggs, and the occasional dried plant, Piotr Łakomy's sculptures look like they grew out of the wall, but also like they came from some other time and space entirely. His adorned doors and suitcases bridge the gap between organism and object, inciting us to consider what we thought was merely an opening, or a vessel, as a presence in its own right.
There used to be a door between Łakomy's apartment and his neighbor's. Or, rather, part of his neighbor's apartment has become part of his own, and a door has been removed. For a time there was an opening—a blurring of boundaries—and now there is not. In autumn 2020 that door was shown at the Ludwig Museum in Budapest as part of the group exhibition Keeping the Balance. Bedecked with hollow ostrich eggs, it was accompanied by a number of works by Eastern European artists that reflected on the instability of core concepts like nationhood, ideology, or belonging in the wake of the dissolution of the Soviet Union. Emblematic among them was Ciprian Mureşan's text work, which simply states its title across the wall: Communism Never Happened (2006). Where this statement somewhat provocatively proposes that certain histories are not only left behind, but wholly erased, Neighbour Bathroom Door (2019) reinvigorates the traces that inevitably remain. It is a memorial to a passage and to a room whose definition has changed; a mediator between present and past, presence and absence.
A door is something that very rarely changes location. But when it does, it takes something of its original space with it. For his 2019 exhibition Fenix, Łakomy cut the doors of his studio in Poznań down to human size as determined by Le Corbusier's Modulor system, and installed them, balancing on ostrich eggs, at the Avant-Garde Institute in Warsaw. The aptly named venue is housed in the former studio of the neo-avant-garde artist Edward Krasiński, who, for more than a decade shared the studio with Henryk Stażewski, a major figure of Polish interwar Modernism. In the context of the historic rooms and given the artist's continuous references to figures like Le Corbusier, the Fenix works (all 2019) offer a tangible encounter with an otherwise vague echo of twentieth-century ideas on aesthetics. But by changing their height to the "standard" 183 cm, Łakomy also turned the doors into something closer to a human—potentially messier and more idiosyncratic, with memories and emotions attached to their uneven surfaces as photographs, fabric, wax, or bamboo poles.
Łakomy's sculptures stand between a room and the people in it as moderators, asking us to engage in the ontological question of what these components are—humans, space, sculptures—and what makes them distinct from one another. Very often, the sculptures will loiter close to columns and ceilings, or borrow the proportions of the room, in an effort to commune with the architecture. The pole-like Untitled (Tail-bone or Coccyx) (2015) acts as a human-size measuring stick on a staircase, while in Untitled (Closed) (2015) reflective fabric makes an extra layer of skin for the wall. These works do not aim to catch your eye, but toy with obscurity in order to induce a sense of intimacy. If they ask for attention, they do so very quietly, simply by reminding us that it is ours to give.
In Vessel at Simian in Copenhagen (2020–21), a Rimowa-based series of sculptures (all 2020) are attached onto the pillars of the large underground space, accentuating its freakishly wide and low dimensions. The prestigious metal suitcase, likely chosen for its standardist design, also indexical of the human form, is barely recognizable, but appears as if half-reclaimed by nature, or time. Like the door represents the room you'd enter through it, a suitcase is a compact and portable emblem of its owner. If the eyes are the mirror of the soul, what might we see by looking through the shell of a bag? Facing the Vessel sculptures, what emerges from inside their frames is so messy and multifarious, it evades your grasp.
Łakomy refers to his sculptures as "new bodies" to say something about their changeable nature. Doors are the orifices of the bodies of rooms, like the egg is the wall between a fetus and the world, or, as in Frederick Kiesler's also cocoon-like Endless House—another mainstay of Łakomy's semantic scaffold—shelter from life and its conditions. There's something nebulous about these strange objects, almost as if, rather than filling the room, they are the points into which the room will disappear.
Piotr Łakomy (b. 1983, Gorzów Wielkopolski) studied at the Institute of Fine Arts, Zielona Góra University. Recent solo exhibitions include Vessel, Simian, Copenhagen (2020–21); Waiting Room, Koenig 2, Vienna (2020); Through the Ribs (with Frederick Kiesler), SKALA, Poznan (2020); Fenix, Avant-Garde Institute, Warsaw (2019); and 3 Inch Giant in Your Bathroom, Center for Contemporary Art FUTURA, Prague (2019).
Kristian Vistrup Madsen is a writer based in Berlin. He is a contributor to magazines such as Artforum, frieze, and Kunstkritikk, and the recipient of the 2020 Broken Dimanche Press novel prize. Doing Time, a collection of essays about prison correspondence, appropriation, and the boundaries of fiction, will be published by Floating Opera Press in March 2021.