News
Alfredo Pirri "Arie" and Gianni Piacentino at Galleria Giacomo Guidi, Milan/Rome
Alfredo Pirri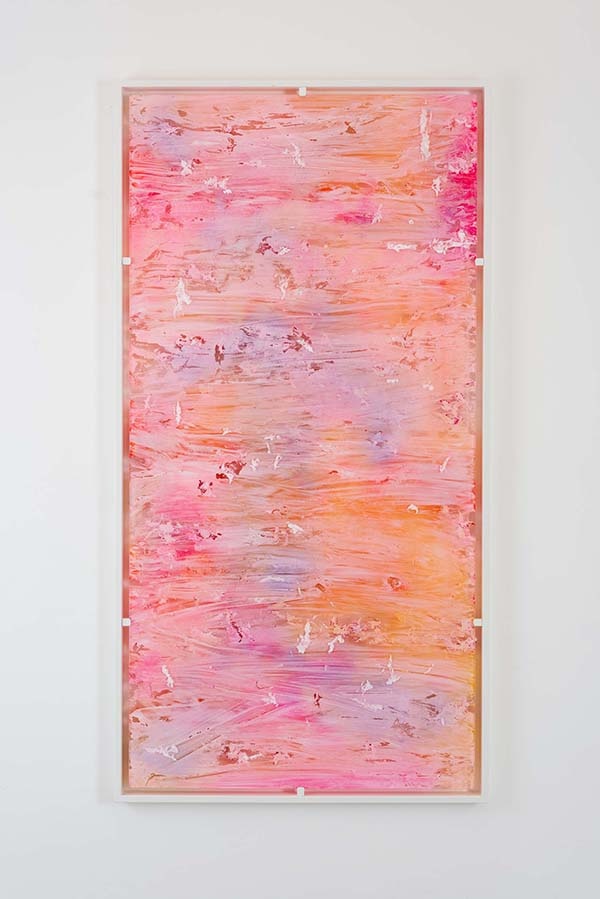 Giacomo Guidi Arte Contemporanea is pleased to announce the opening of "Arie", a solo exhibition by Alfredo Pirri, artist known in the Internazional arena for his inclusion in important exhibitions such as the Venice Biennale, MOMA PS1 in New York, and Havana Biennale.
The artist will present a body of work produced especially for the exhibition. All the works bare the same title – Arie – and are of identical dimensions – 208 x 108 cm each.
Balanced between abstraction and figuration, between the perception of something material and something immaterial, each piece is the result of a long and meticulous process of layerings and passages.
The artist firstly applies with special resins numerous feathers on sheets of coloured plexiglass which are subsequently brushed with one or more pure pigments, then washed and dried, and eventually hand painted with acrylic varnishes.
A steel frame is to complete the works, and is thought to function as a reflective screen that reverberates the synthesis of both the colours of the paint and the plexiglass itself.
Therefore the painted matter becomes a fragment of delicate light and impalpable colour, somewhere between 'something pungent and wild, and something ethereal', as the artist himself describes it.
Each work appears as an airy vortex of feathers, frozen in its dynamism like a temporary and elusive moment in a film frame.
.
at Galleria Giacomo Guidi, Milan
until 10 May 2014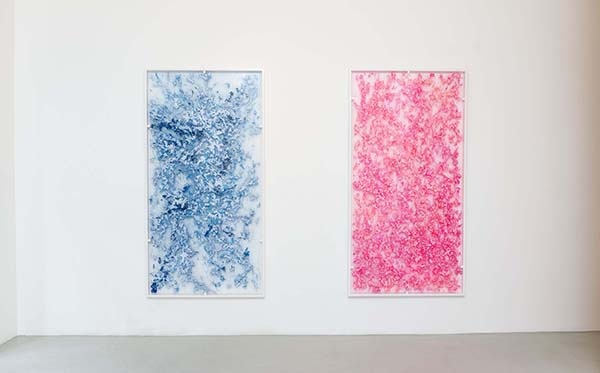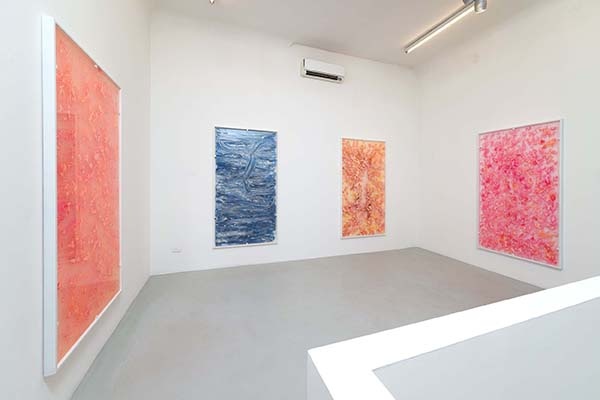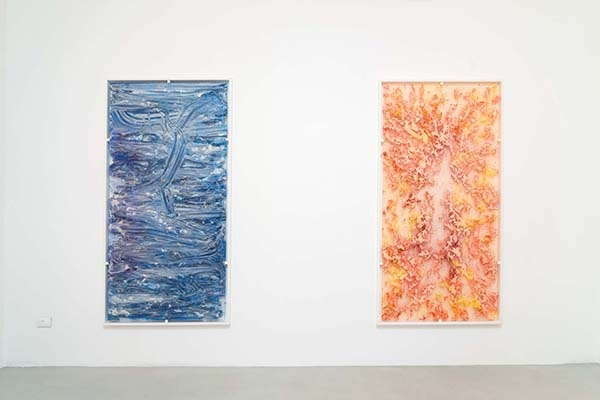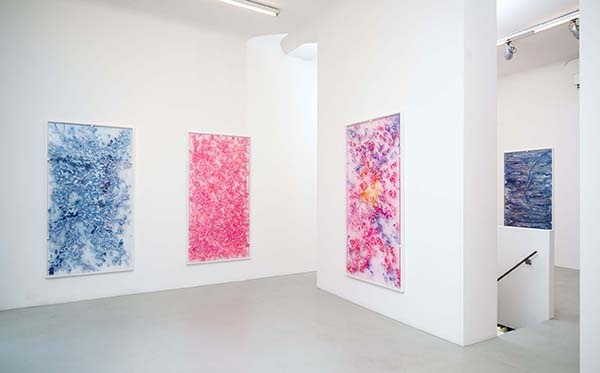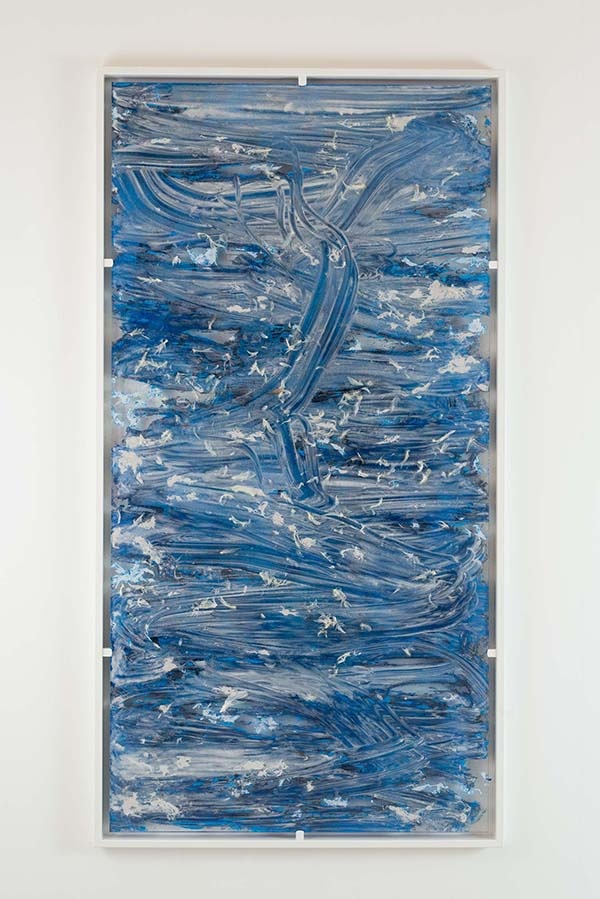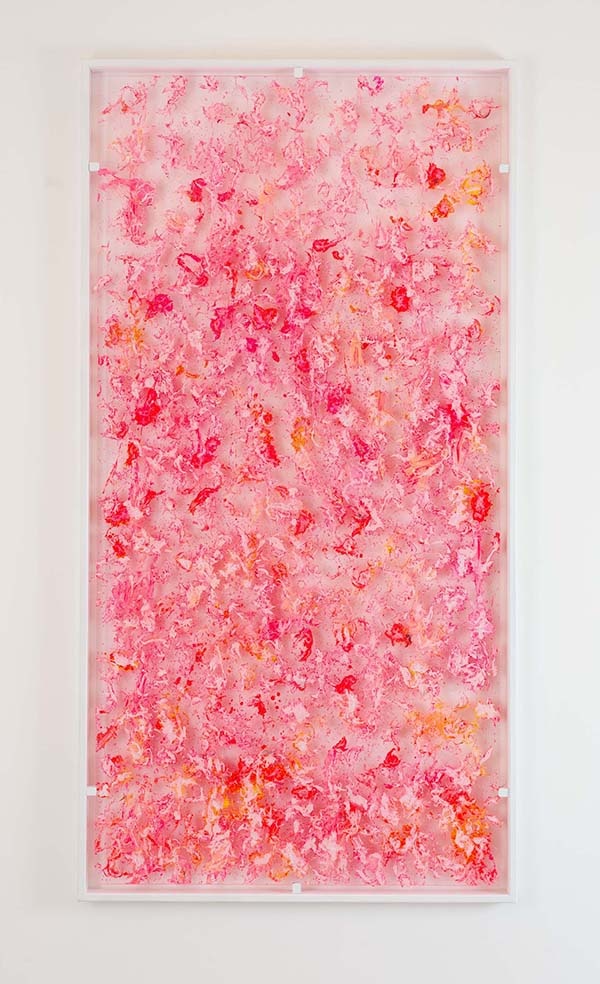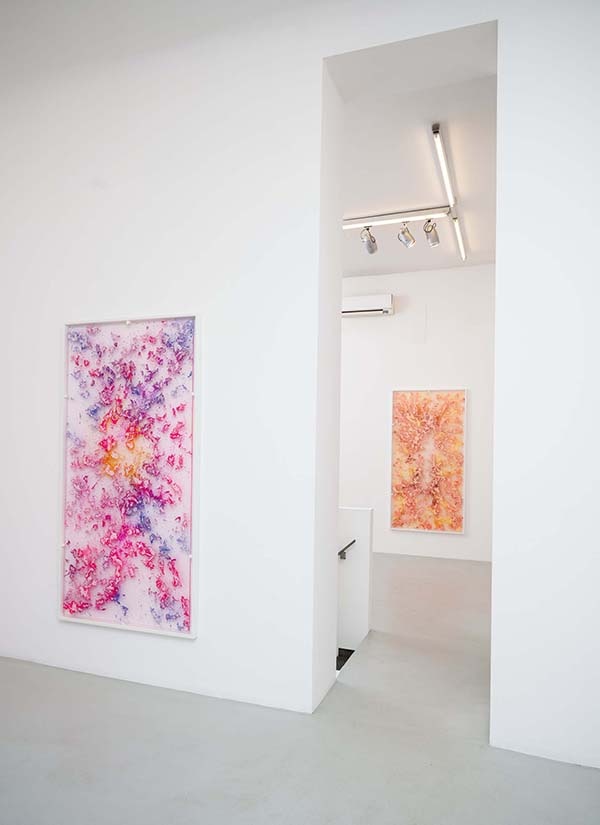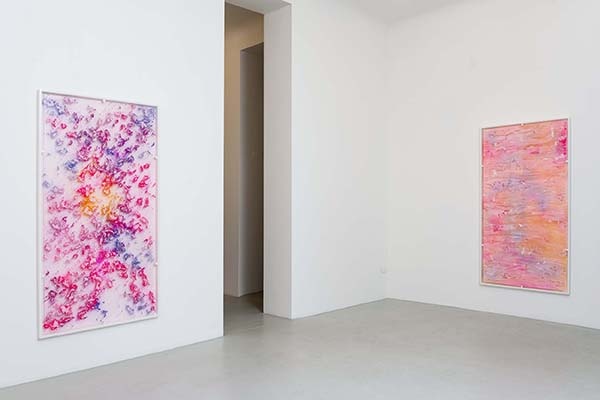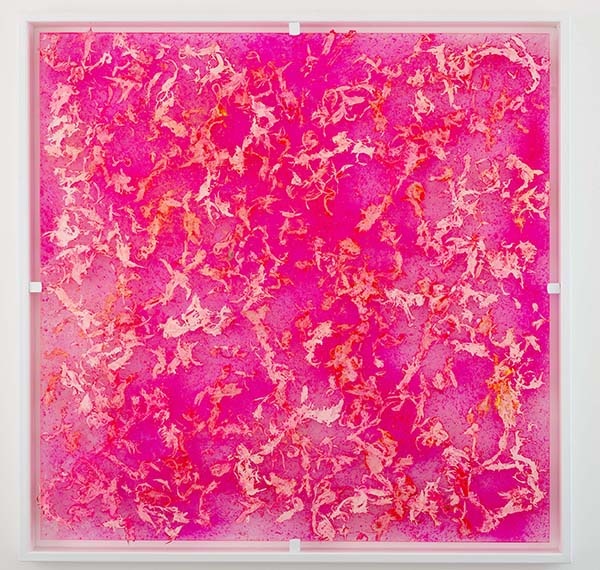 Alfredo Pirri, "Arie" installation view at Galleria Giacomo Guidi, Milan, 2014
Courtesy: Giacomo Guidi, Rome/Milan. Photo: Giorgio Benni.
.
Gianni Piacentino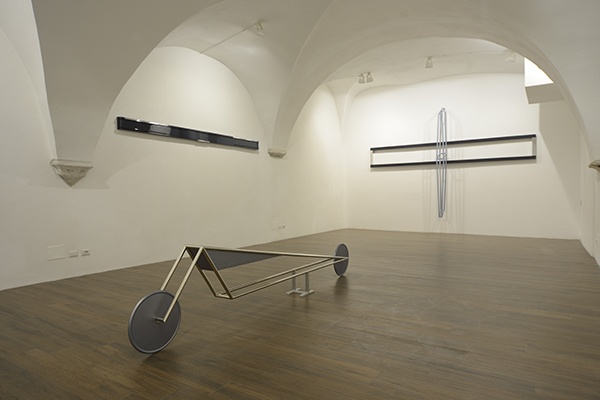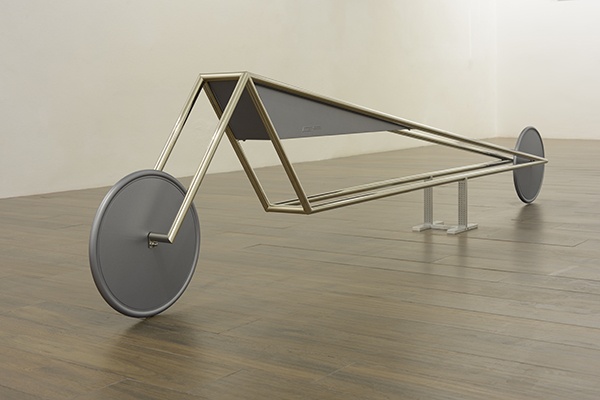 Giacomo Guidi Arte Contemporanea is pleased to present a solo show by Gianni Piacentino. The exhibition features a selection of works by the artist from the 90s to today that testify the great vitality and versatility of its production in the last two decades, in addition to a 2013 version of his classical vehicle with a tubular frame and triangular tank.
The work of Gianni Piacentino turns out to be a unique case in the Italian and international scene. He started his career in '65 with large monochrome canvases and in '66 with large geometric elements finished with absolutely invented colors, contemporary to the minimalist American art, at the time unknown in Europe, where there still was a total pop culture.
Initially associated with the Arte Povera, he participated in the first exhibition of the movement at the gallery of Gian Enzo Sperone in Turin in 1966 and to the most important group shows of Arte Povera, in particular, "Arte Povera Piú Azioni Povere" at the former arsenal of Amalfi in 1968 – and then the exhibition "Prospect '68" at the Kunsthalle Düsseldorf.
Piacentino, however, has developed its own autonomous language disaffiliating himself from the group. The symbols or geometric forms of his earliest works (poles, triangulars, crosses, disks, trapezoids), make space at first to everyday objects (tables, portals, windows), and consequently, by the late '60s, his minimalist sculptures translate into aerodynamic shapes which tend more and more to celebrate the myth of speed and engines, the movement and dynamism of the machine.
Piacentino is an artist and also manufacturer, combines an aesthetic approach to a maniacal perfectionism and self-discipline in the technical formal yield – in fact it was also a consultant for a manufacturer of specialty paints, designer and racing Sidecar "passenger".
His passion for "The Aesthetics of Technique" will become his trademark. His works are improbable objects, impossible vehicles prototypes, automobiles, motorcycles and aircraft, while metaphors of an object and constant investigation of the relationship between artistic creativity and the industrial process, the boundary between art and real objects. He remains a figure of great importance in virtue of originality and modernity of his vision.
.
at Galleria Giacomo Guidi, Rome
until 18 May 2014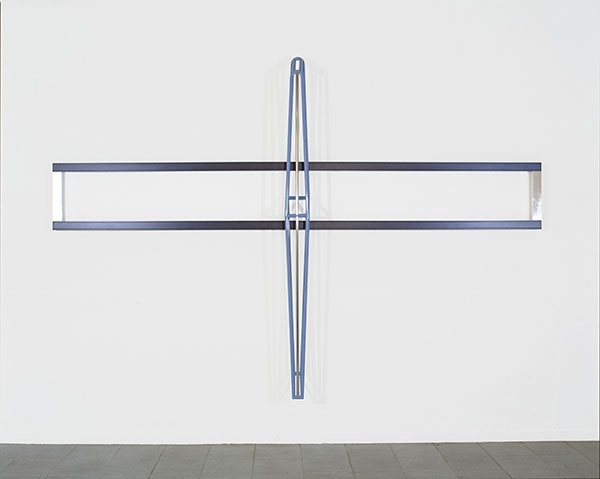 CROSS RACE 1 (H.R.V.F.W.), 1999-2000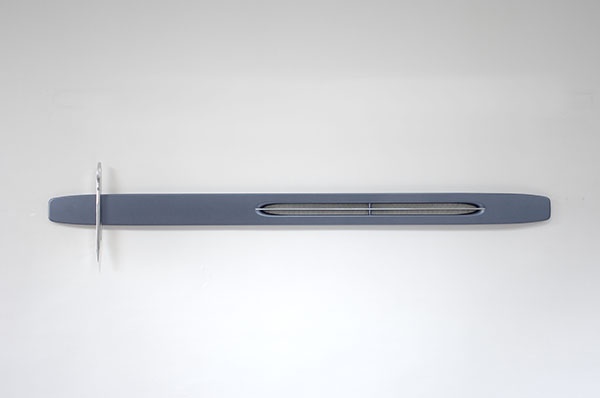 FRONTAL 4_6 (Mat Metal Titanium Gray ),  2005-2008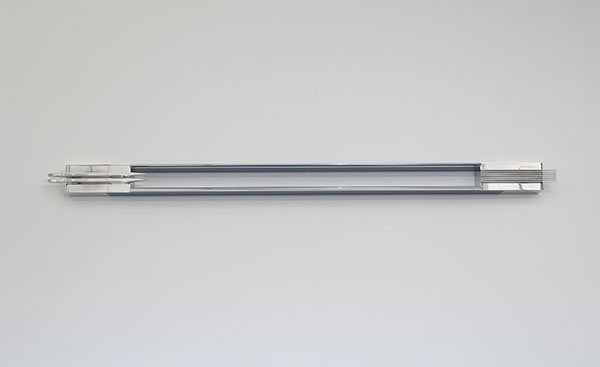 AILERONS ALU_SCULPTURE MS ( 2 A. 2 RV. F. W.) _2, 2007 – 2008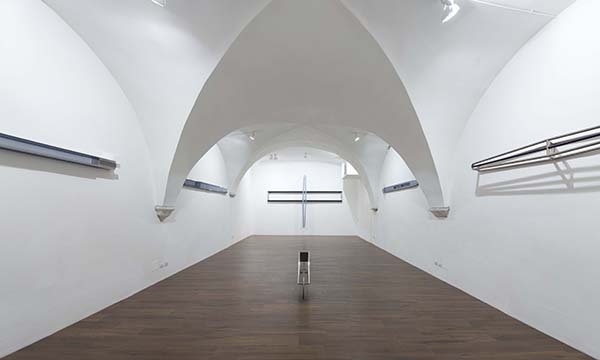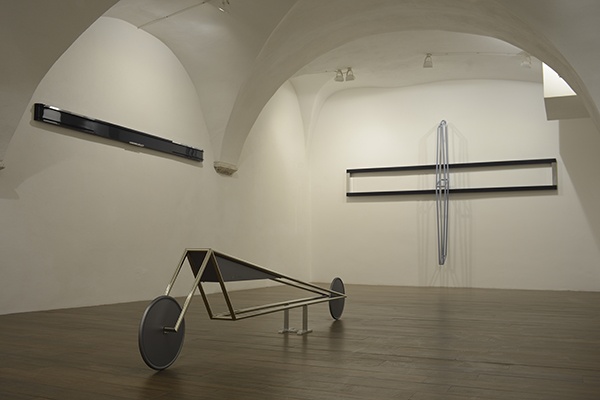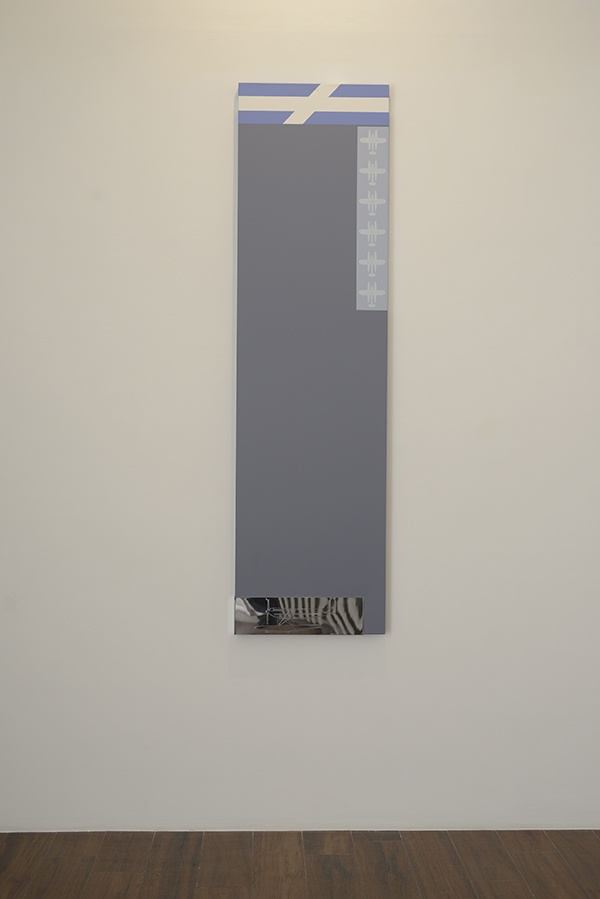 Gianni Piacentino, installation view at Galleria Giacomo Guidi, Rome, 2014
Courtesy: the artist and Galleri Giacomo Guidi, Rome/Milan