EXHIBITIONS
"Poetry will be made by all!" at Luma Foundation, Zurich
89plus and the LUMA Foundation are pleased to announce the inaugural 89plus exhibition "Poetry will be made by all!"  at the LUMA/Westbau within Löwenbräukunst in Zurich, Switzerland. The exhibition is co-curated by Hans Ulrich Obrist, Simon Castets and Kenneth Goldsmith, with Danny Snelson as exhibition advisor and program coordinator. Additionally, the exhibition features a film selection curated by Kevin McGarry. "Poetry will be made by all!" is partnered in association with UbuWeb (ubu.com), the world's leading collection of avant-garde material online. Expanding on the emergent poetics of online distribution systems and the prominence of poetry in 89plus projects to date, the exhibition brings together works from renowned and upcoming international poets and writers within displays created by their peers working in design, visual arts and architecture. Inspired by the seminal exhibition "Transform the world! Poetry must be made by all!" curated by Ronald Hunt at the invitation of Pontus Hulten for the Moderna Museet in Stockholm in 1969, the inaugural 89plus exhibition highlights how the written word, far from being diminished, finds a renewed importance within today's digital information networks.
The exhibition features an installation for multimodal media and social engagement designed by acclaimed Japanese architectural firm Atelier Bow Wow. The installation features a manga pod for reading new books of poetry, active workspaces for the creation of spontaneous works of poetry, a book forest hosting a variety of poetic titles, a moving track of curtains for projections, and a proscenium stage for conversation, readings and viewings. In a spirit of collaboration, the exhibition also features graphic design by Content is Relative, design by Josh Bitelli, and architectural concrete poems by Augusto de Campos, Eugen Gomringer, Karl Holmqvist, and Amalia Ulman.

The opening days of the exhibition featured readings and performances by numerous poets, artists and writers. Emerging poets Harry Burke, Andrew Durbin, Mashinka Firunts, Rui An Ho, Sophia Le Fraga, Sang-Woo Lee, Trisha Low, Sarah Ortmeyer, Steve Roggenbuck and Dena Yago performed alongside established mentors, including Etel Adnan, Caroline Bergvall, Stefano Boeri, Christian Bök, Anton Bruhin, Karl Holmqvist, Tao Lin, Tracie Morris, Mendi + Keith Obadike, Eugenie Paultre, Robert Whitman and many others. Archival works by Robert Barry and Augusto de Campos were performed and displayed as part of the exhibition opening. These events have been held in conjunction with a celebration of concrete poet Eugen Gomringer's remarkably aligned 89th birthday.
Over the course of two months, poets-in-residence will offer readings, conduct discussions, and produce an expansive library of new works of poetry and innovative writing. These activities bring poets into productive dialogue with visitors to the exhibition as well as a robust network of young poets worldwide, culminating in a library of one thousand books edited, designed and coordinated at LUMA/Westbau and printed on demand by Lulu.com. Through these publications, "Poetry will be made by all!" showcases the breadth and depth of the poetry in real time—locally produced in Zürich and circulating among emergent writers from around the globe.
Continuous screenings will take place on the second floor of LUMA/Westbau throughout the exhibition, presenting a range of poetic film and video practices. The artists selected for this program utilize language itself and the grammars of cinema to convey the ineffable, in what this exhibition frames as distinctly writerly practices. A number of artists included are prolific makers of short films—Kevin Jerome Everson, Stephanie Barber, Laure Provoust, for example—whose work is often shown in thematic programs alongside other artists. Instead of this, every three days of the exhibition will be devoted to works by a single artist that will be repeated throughout the day.
.
until 30 March 2014
Tracy Morris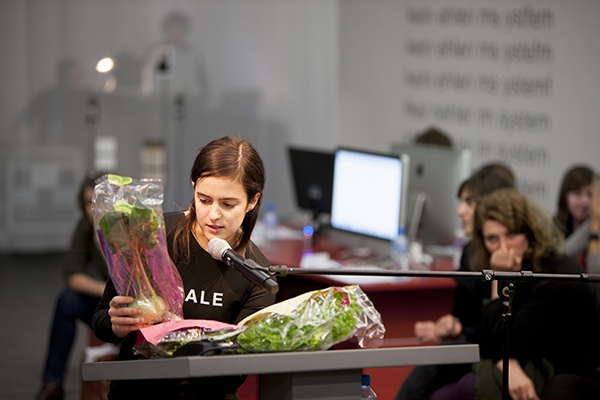 Dena Yago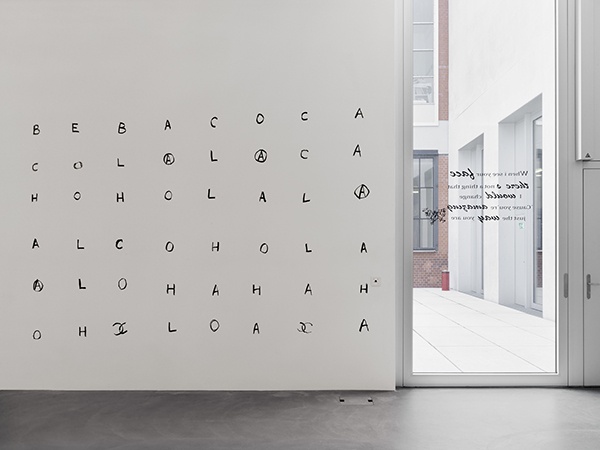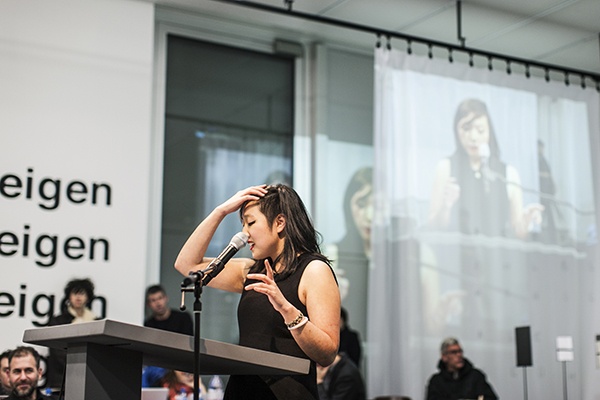 Trisha Low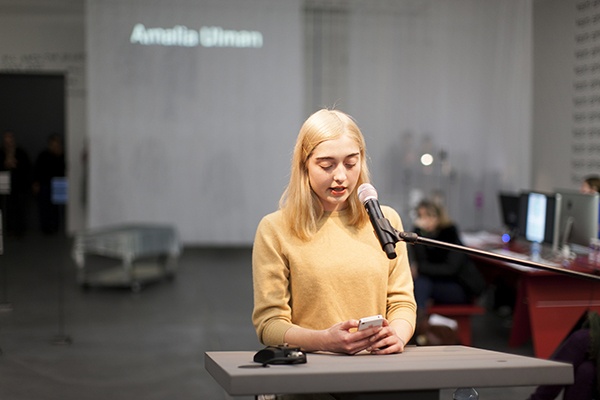 Amalia Ulman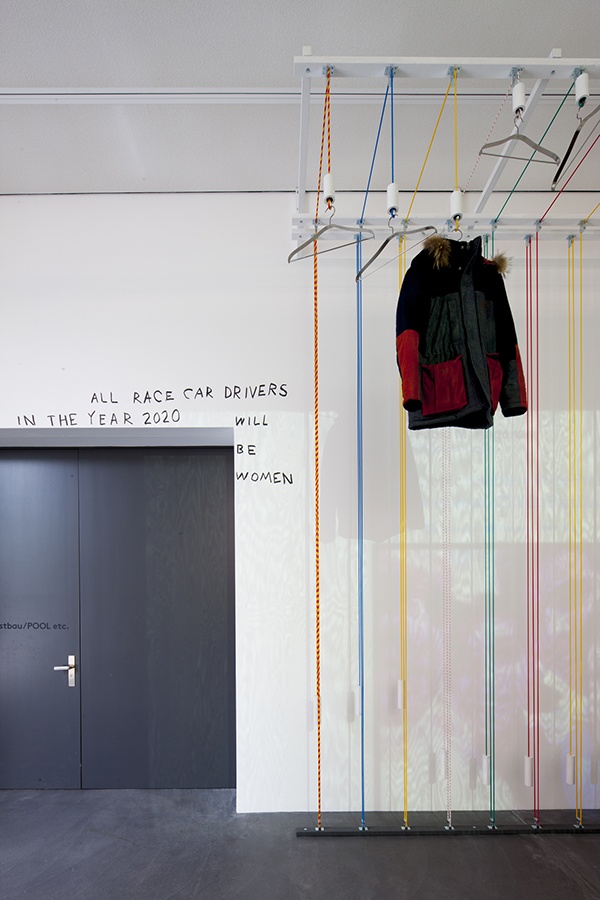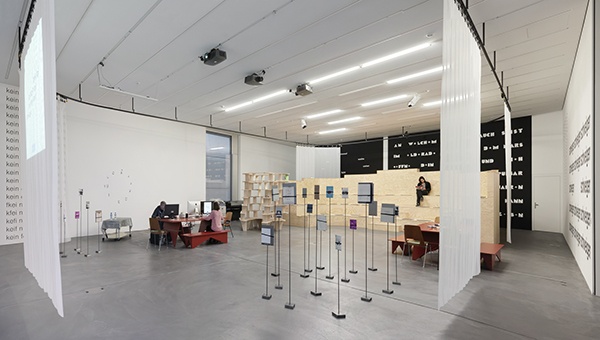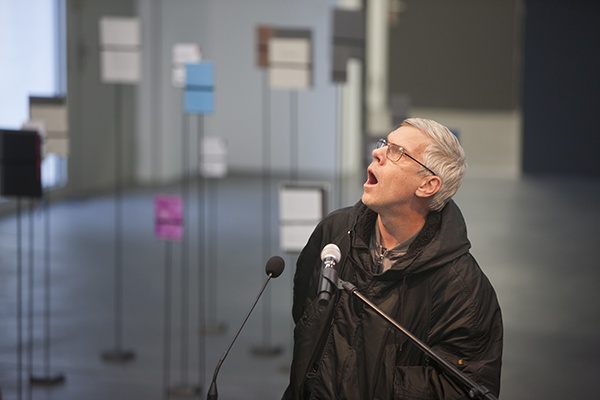 Karl Holmqvist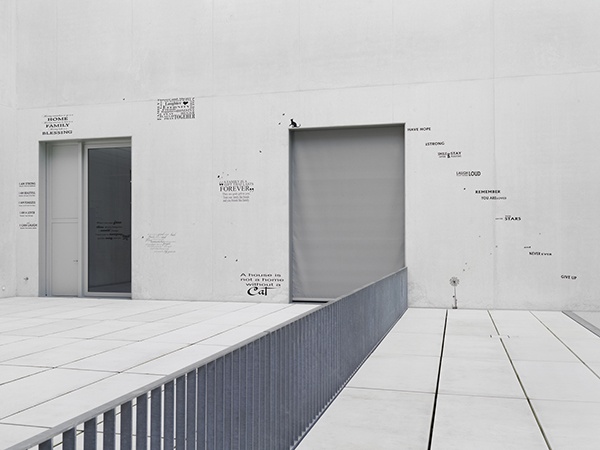 "Poetry will be made by all!" installation views at Luma Foundation, Zurich, 2014