REVIEWS
The Postnational Artistic Imaginaries at Work in Yto Barrada's Double Skin at Casa Estudio Luis Barragán, Mexico City
Close
1
2
3
4
5
6
7
8
9
10
11
12
13
14
15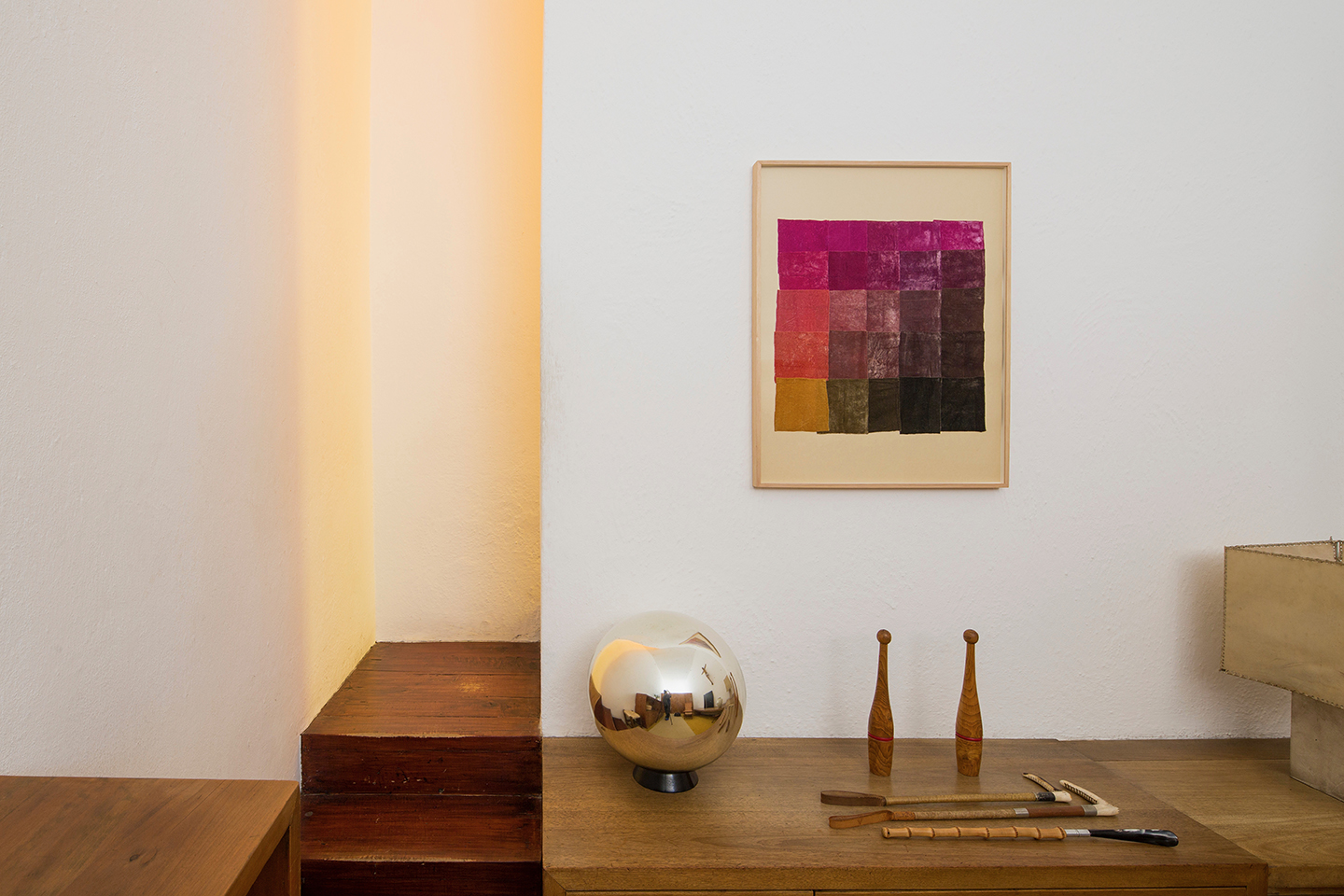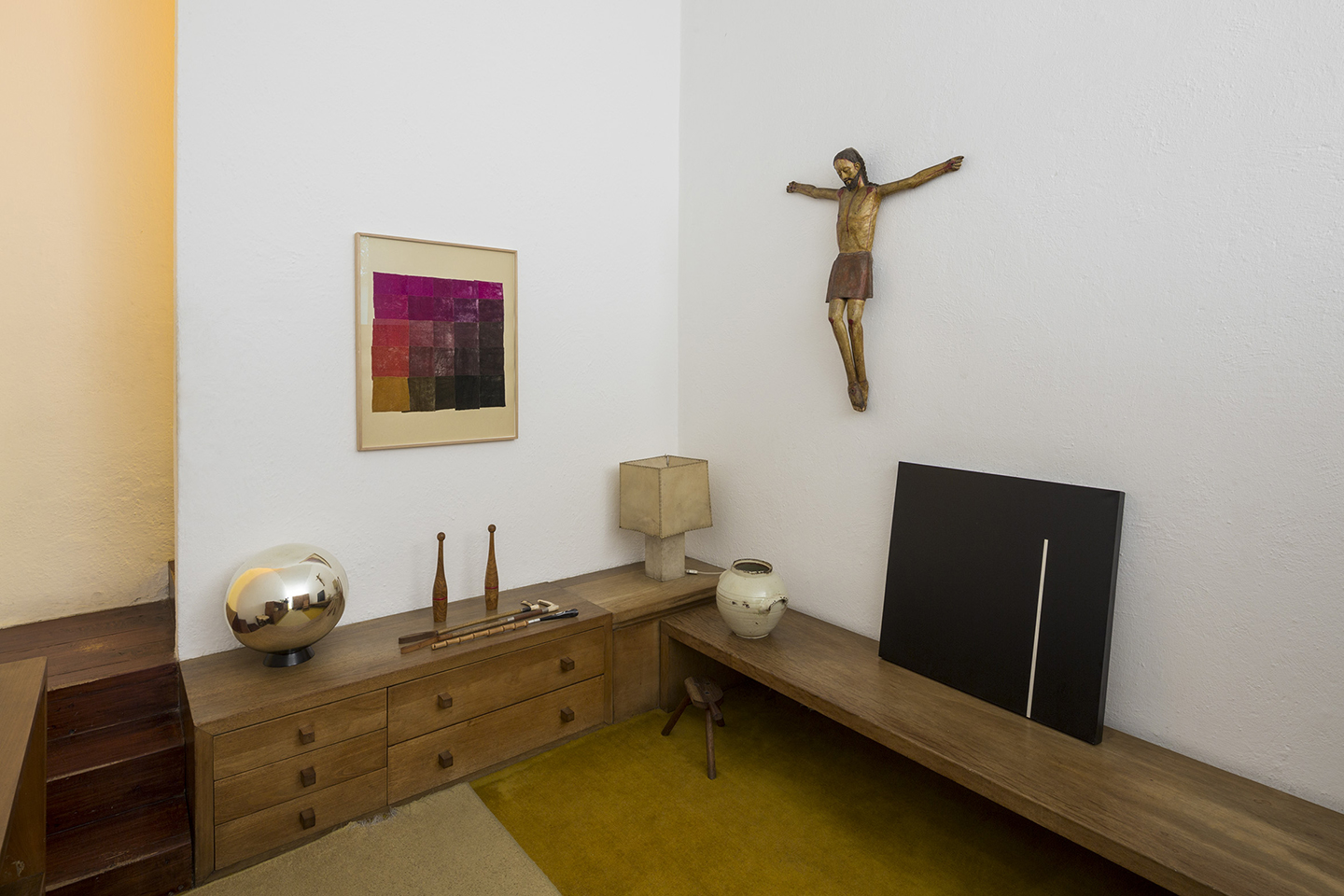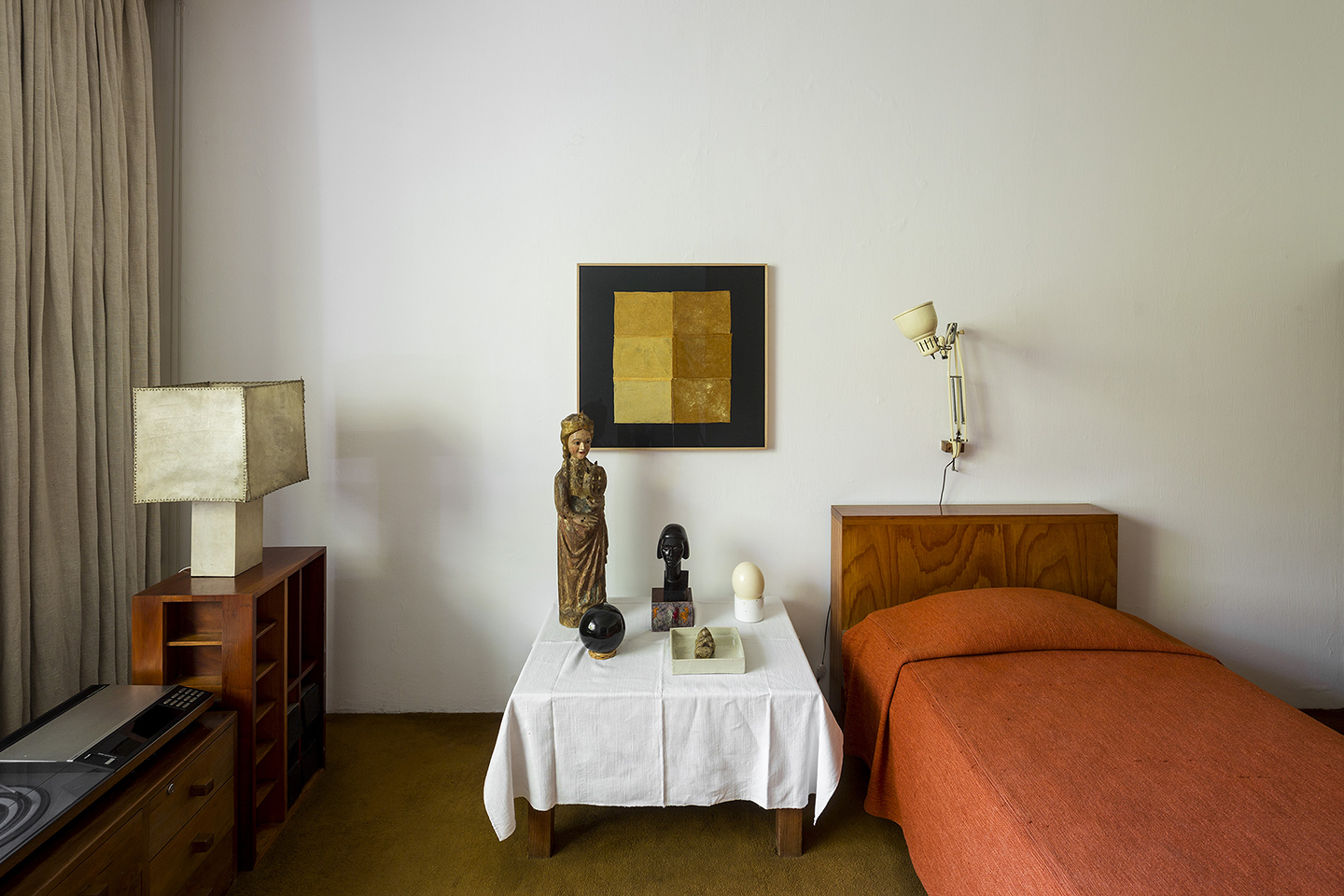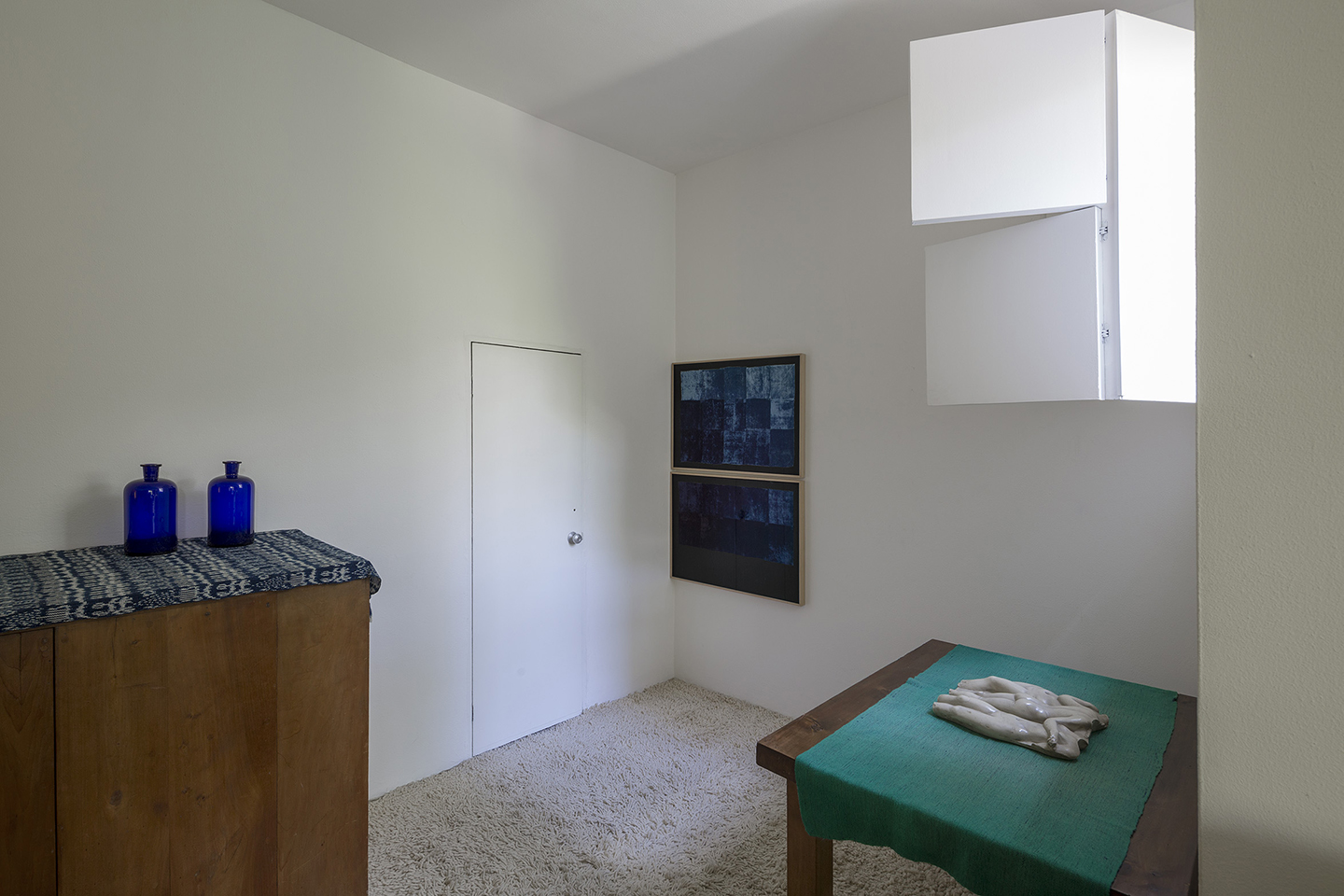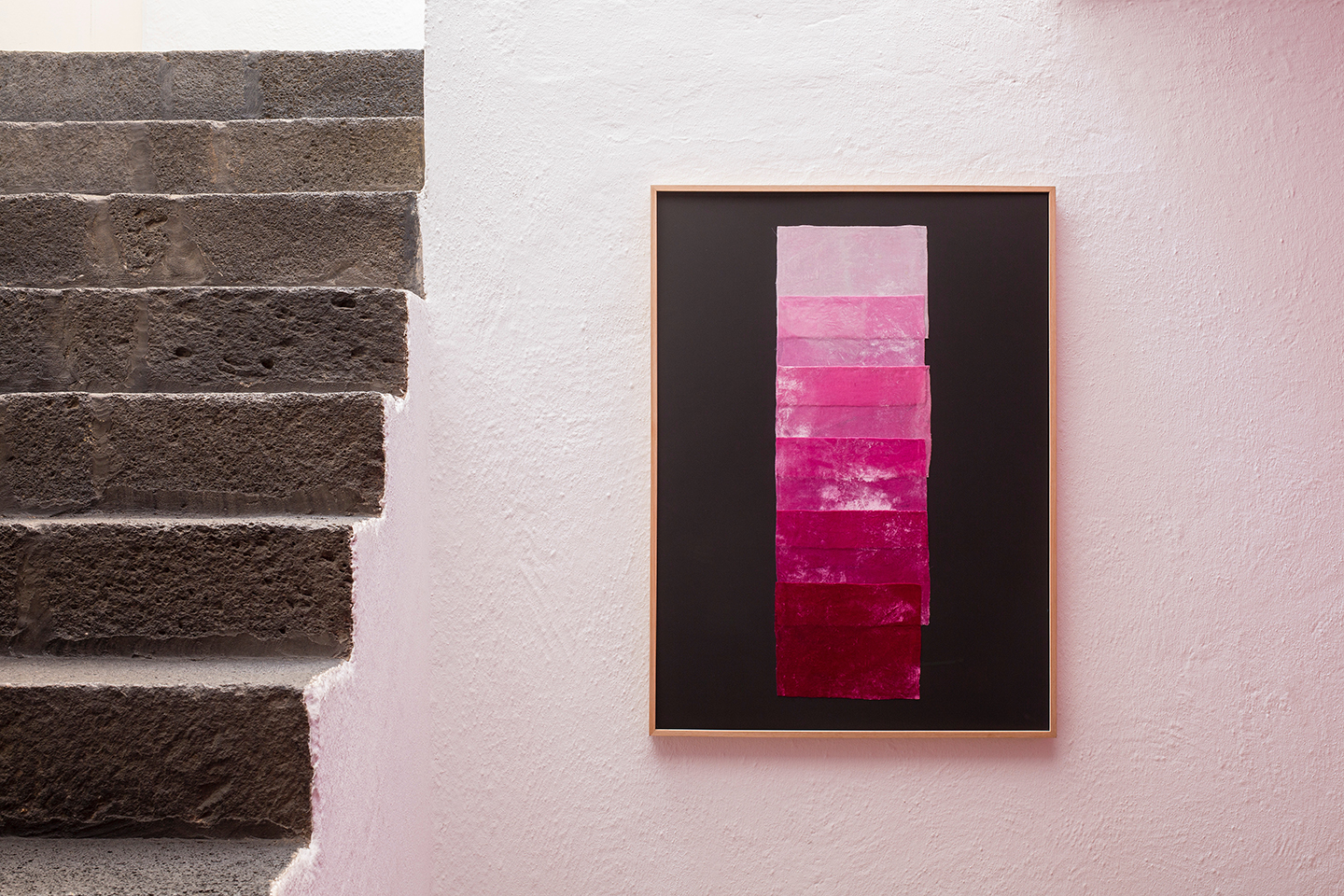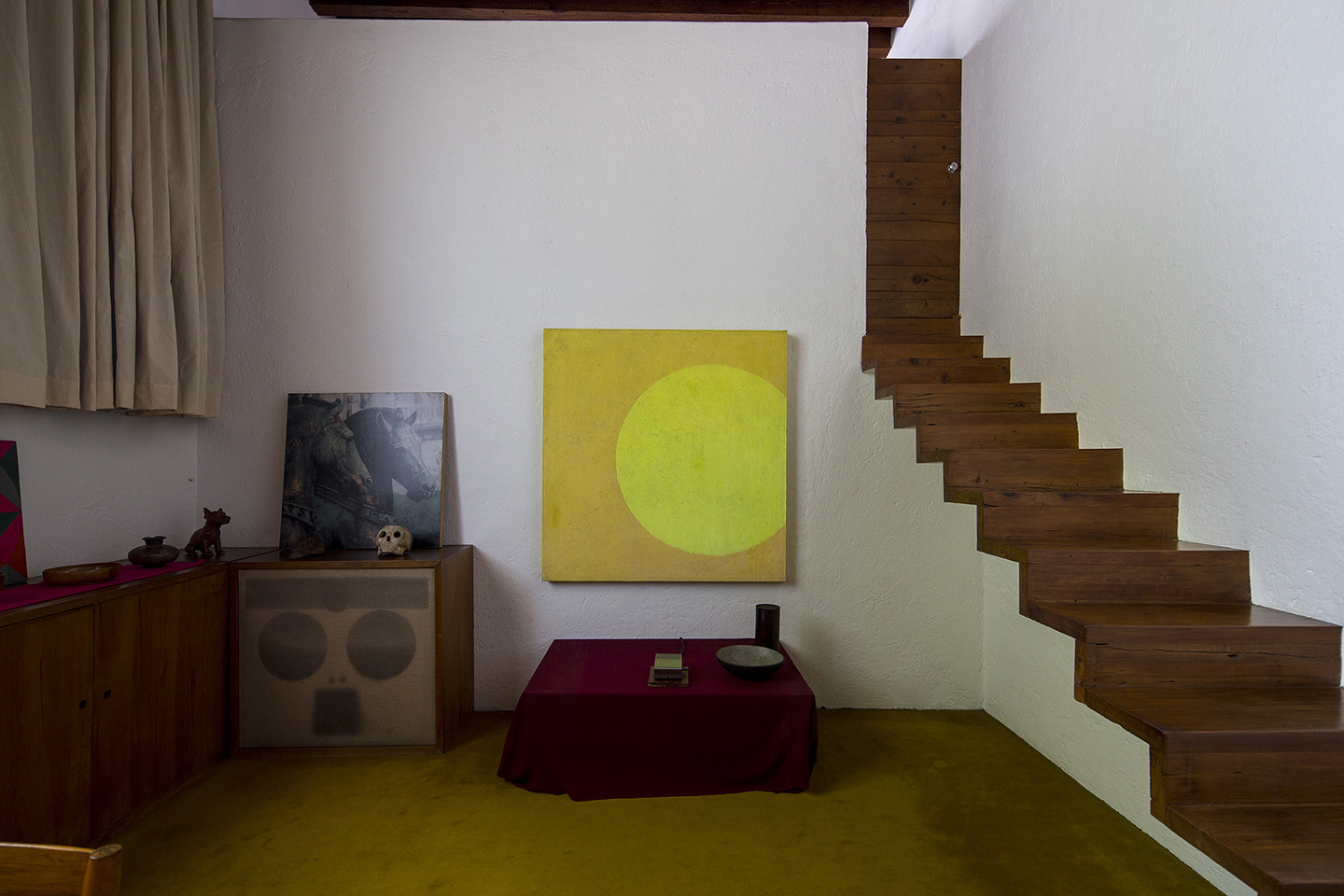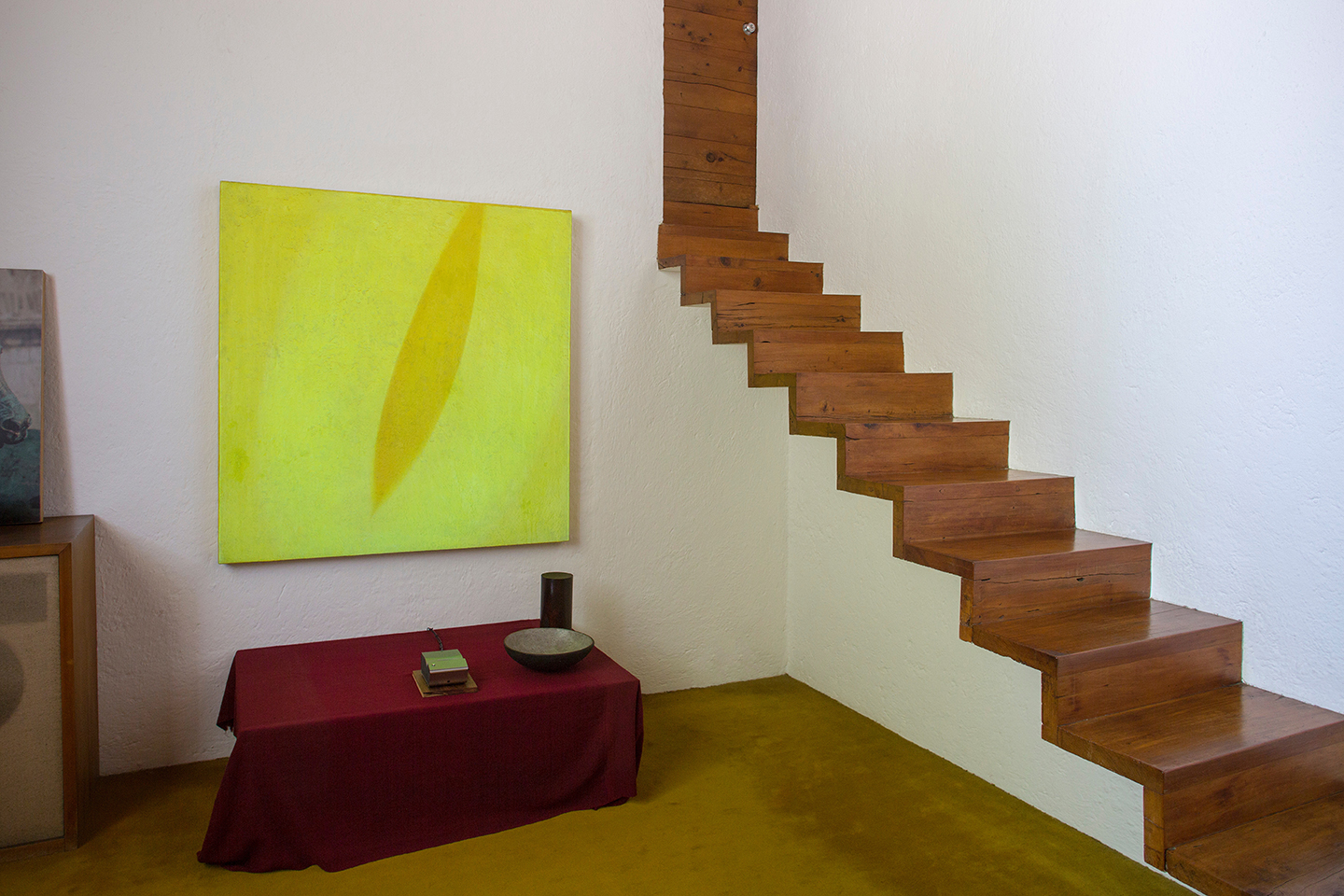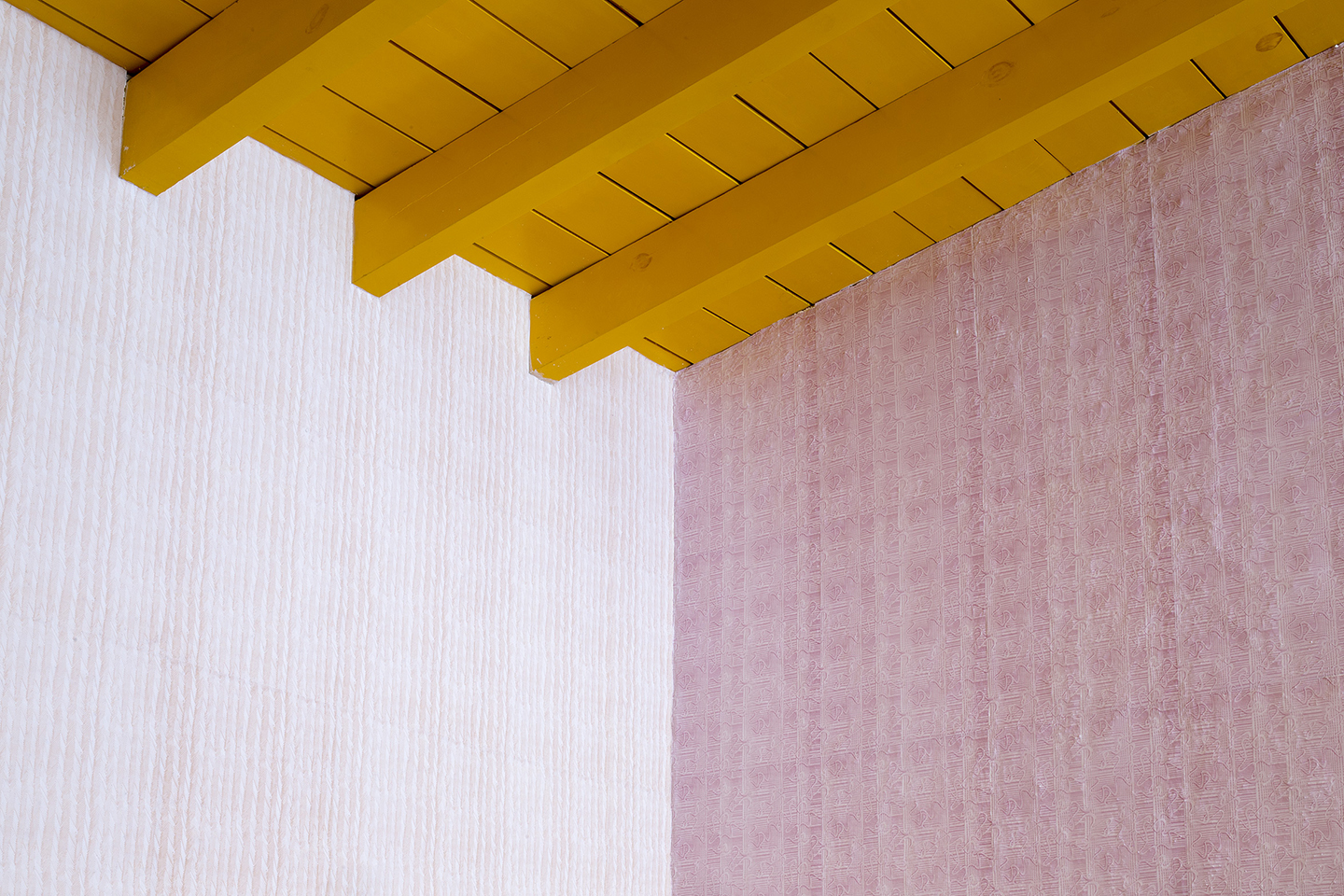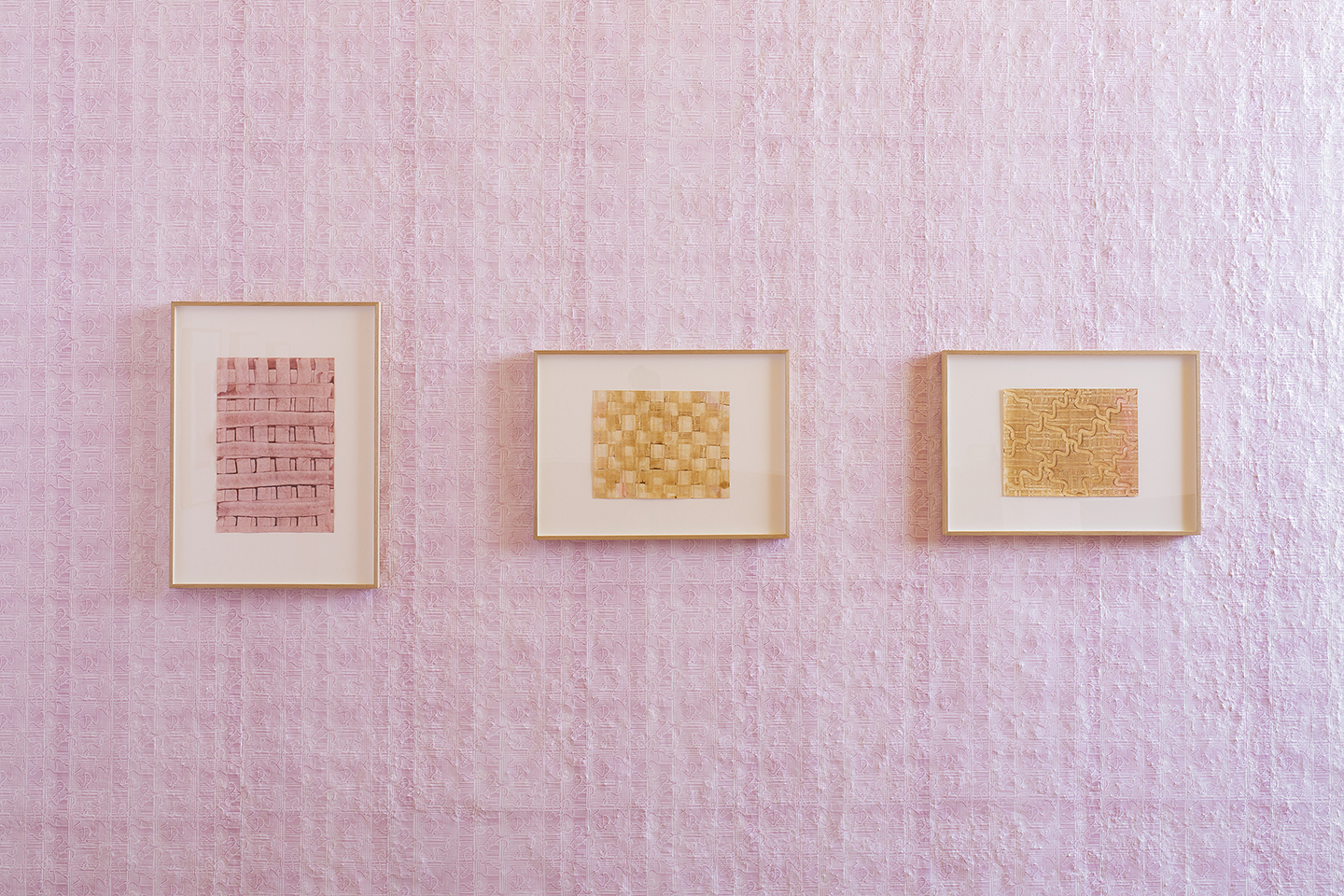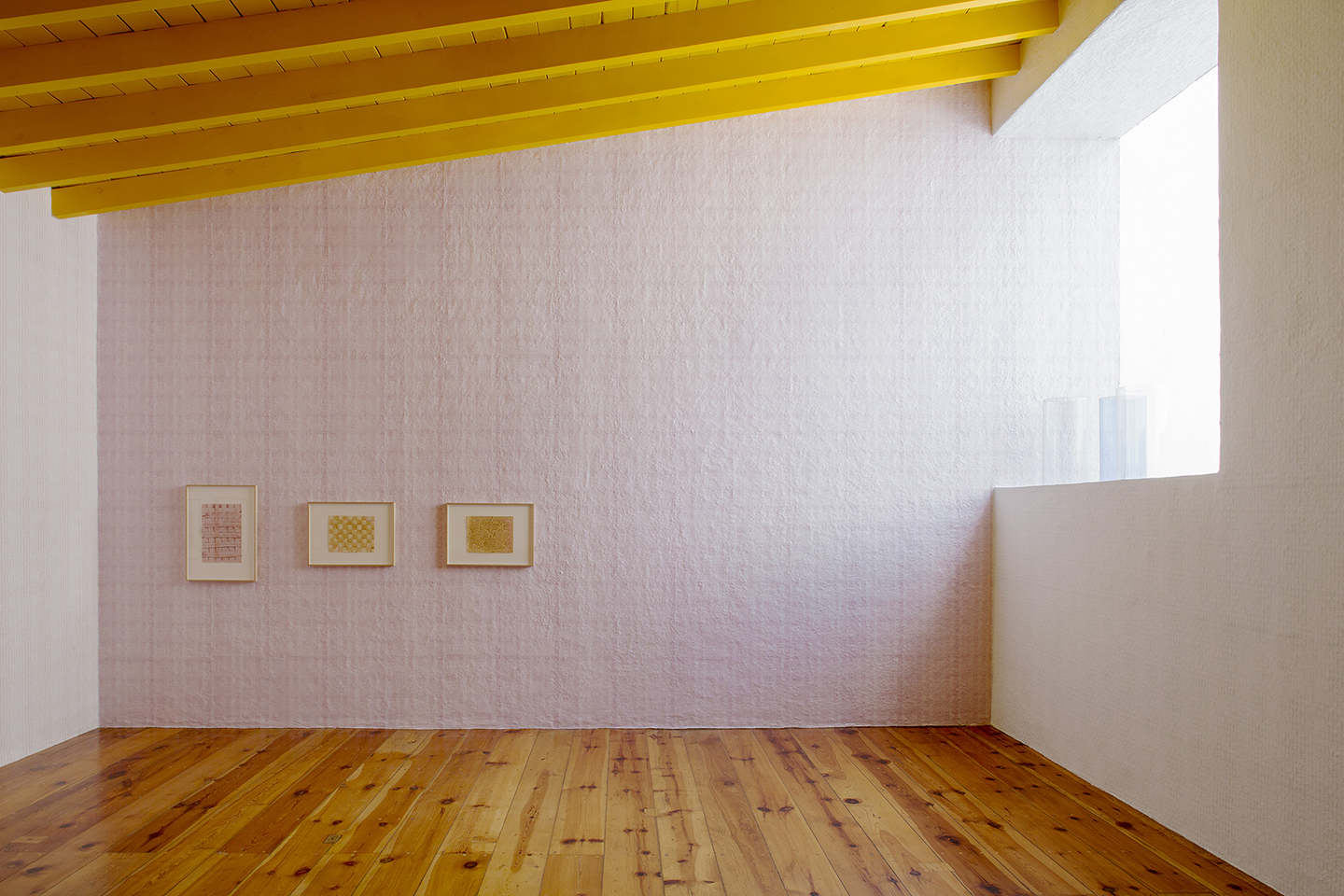 by Kim Córdova
No. 12 Gral. Francisco Ramírez is a pine door set in a ruthlessly plain cement wall on a pinched cul-de-sac in Mexico City, teetering on the edge of a freeway. The dark, narrow hallway leads visitors to a set of volcanic stone steps atop which another door, kept fastidiously shut, opens to a high-ceilinged entry flooded with soaring natural light. This commanding effect caused by the blink-inducing forced contrast of light and space is a signature flourish of the home's visionary and former occupant, Pritzker prize–winning Mexican architect Luis Barragán.

Double Skin, Yto Barrada's exhibition in the architect's home, presents her works in three main thrusts: prints and wallpaper inspired by paste papers found in books in Barragán's personal library; a continuation of her work with natural dyes; and abstract video animations. The restrictions stemming from maintaining UNESCO-pristine conditions mandate a decidedly light intervener's touch, keeping the home and all its personal effects collectively foregrounded as protagonist. Accordingly, Barrada's works subtly installed in the home's living quarters nearly hide in plain sight. The palette of velvet chiaroscuros layered in tones of avocado leaf, chestnut, cochineal, and indigo in her five Practice Pieces (Color Charts) (2019) so precisely coordinate with the house, and their rectilinear compositions are so reminiscent of the Barragán-Goertz windows in the Mexico City Cathedral, that one may be forgiven for not realizing they are not original. In the library, her Horsehair, Confetti and Rice (2019) animation is beamed onto an ochre-colored canvas in the same spot the architect projected films for guests. It's hard to not get a romantic thrill from imagining the host's projector flickering to life once more.
The subgenre of home-museums presents an enigma of liminal existence to be curated with—the man is gone but his legacy remains, looming. Five years after Barragán passed, the house was acquired by the Fundación de Arquitectura Tapatía Luis Barragán and the state of Jalisco. It was restored and converted into a museum with the intention of maintaining the home as though the bachelor's key might sound curtly in the lock at any moment. However, legacy preservation is not just about holding back physical deterioration, it's about deploying strategies that bolster against forgetting.
French Morrocan Barrada is well acquainted with these motives. Among her works that blend family lore, sociopolitical histories, and a critical awareness of the politics of representation, her art house cinema Cinematheque Tangier uses relevance as resistance to address both legacy preservation and exoticism in media products. Likewise Estancia FEMSA, curated by Eugenia Braniff and Patrick Charpenel, was founded as a four-year platform to invite contemporary artists to give talks, stage performances, and produce exhibitions in the domestic context of the architect's home with the mission "to increase Latinamerican artistic offer [sic] through an exhibition and curatorial platform that positions Estancia FEMSA as an innovative project among the contemporary production."1 The project is a collaboration between the museum and the corporate collection of FEMSA—the world's largest bottler of Coca-Cola, owner of Mexico's largest convenience store chain, OXXO.
In the home's entry, under the permanent supervision of Mathias Goertz's gold-leafed panel, temporarily hangs Yto Barrada's modest-size framed collage of silk velvet squares. The hand-dyed slips of fabric make a gradient of carmine tonalities produced by grinding the dried bodies of cochineal—cactus-feeding parasitic insects. Set on a matte black board, the swatches radiate from blush to deep scarlet. In the center of the suave color chart glows "Barragán pink," matching with Pantone accuracy the color of the adjoining wall.
Barragán's work was, in a way, a precursor to what we now think of as land and light art. Whether for people or for horses, he framed sky and space to experiment with light's power to shift our experience of space and color long before James Turrell came along. Indicative of Barrada's interest in educational materials and charts, these color-swatch works document not just indigenous knowledge as it relates to the Oaxacan textile dye process but also the instability of our shifting chromatic experience as the sun moves through the sky illuminating, in this case, a painted wall—much the way legacies and imaginaries change over time.
Yet it is possible to hold two ideas about a thing in our minds at once. While the reading of Barrada's work as a conversation with Barragán's engrossment in light, color, form, and the enigma of experience is valid, at the same time there's a question of cultural imaginary as product for export. The first Barrada piece visitors encounter in the Casa Estudio Luis Barragán is her cochineal velvet work. Prized for the brilliant intensity of red it produced, cochineal was the "red gold" that built Oaxaca City and that paradoxically insulated the isthmus's indigenous knowledge and culture from Spanish eradication because of its dynamic between land, labor, and microfinance—somewhat unusual as far as colonial systems of value extraction go.2 With this in mind, Barrada's collages could just as easily be read as a spectrum of light experience as a quality-control reference chart.
Today the instruments by which the value of our attention and information are extracted are SEO-boosting ledes and pleasant images. It's a cruel cooption of the information age that the famously private architect, and by extension his hallmark color, have come to circulate as nostalgic shorthand for an imaginary of modern Mexico. Barrada's works usually critically reveal the construction of imaginaries of place and culture as a process of hollowing and isolation by holding these empty symbols up to social realities but here the free-floating referents in Double Skin–coatlicue's serpents, cochineal pink, attractive wall art–behave  more like abstracted currencies than elements of a structured argument. 
[1] See https://estanciafemsa.mx/en/nosotros/.
[2] See Jeremy Baskes, "Colonial Institutions and Cross-Cultural Trade: Repartimiento Credit and Indigenous Production of Cochineal in Eighteenth-Century Oaxaca, Mexico," https://pdfs.semanticscholar.org/2cec/011a97aba10b120db15fde65b7d2d8cbc098.pdf; Carlos Marichal Salinas, "Mexican Cochineal, Local Technologies and the Rise of Global Trade from the Sixteenth to the Nineteenth Centuries," December 7, 2017, https://link.springer.com/chapter/10.1007/978-981-10-4053-5_12.
at Casa Estudio Luis Barragán, Mexico City
until 8 September 2019