REVIEWS
Raqs Media Collective "In the Open or in Stealth" at MACBA – Museu d'Art Contemporani de Barcelona
Close
1
2
3
4
5
6
7
8
9
10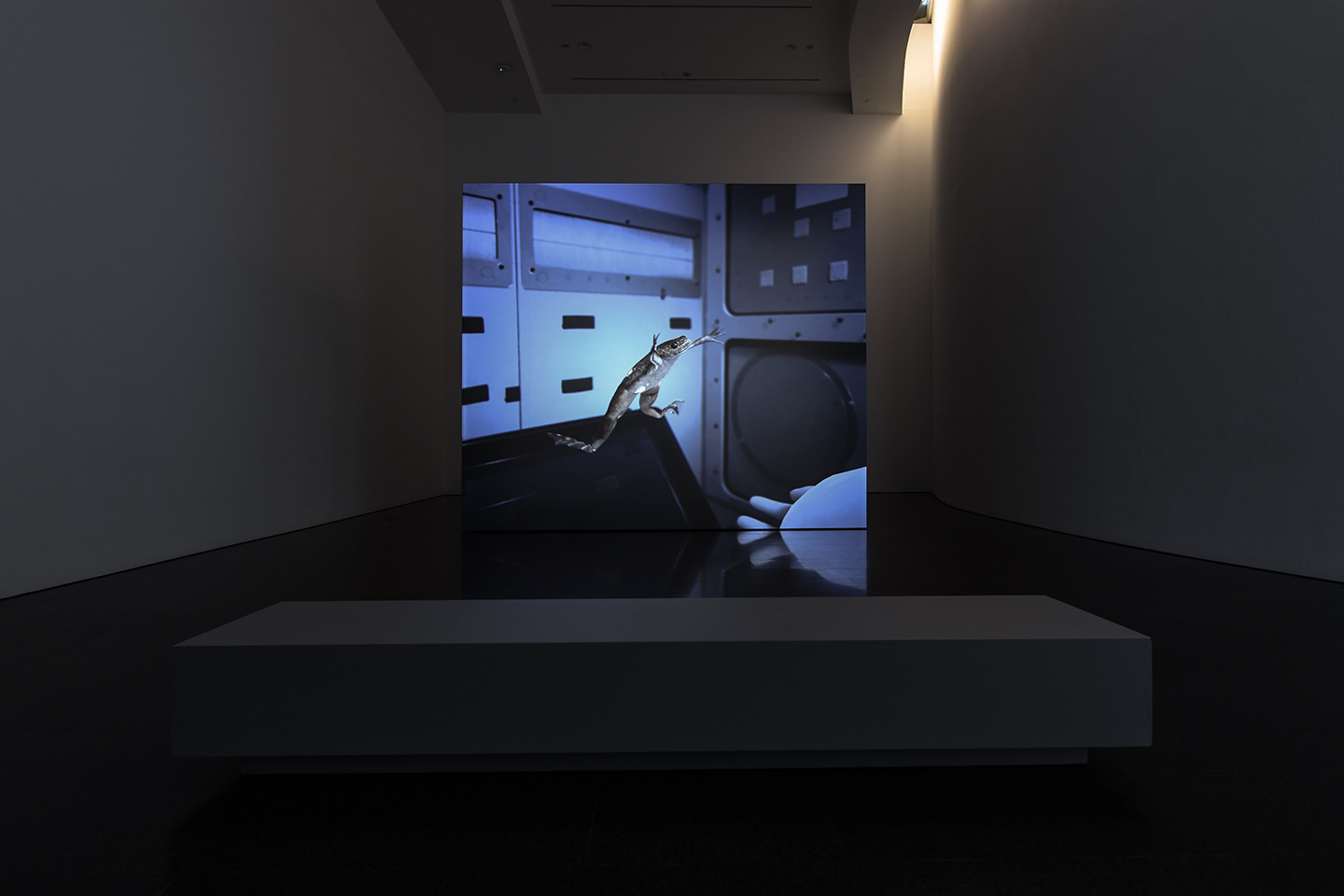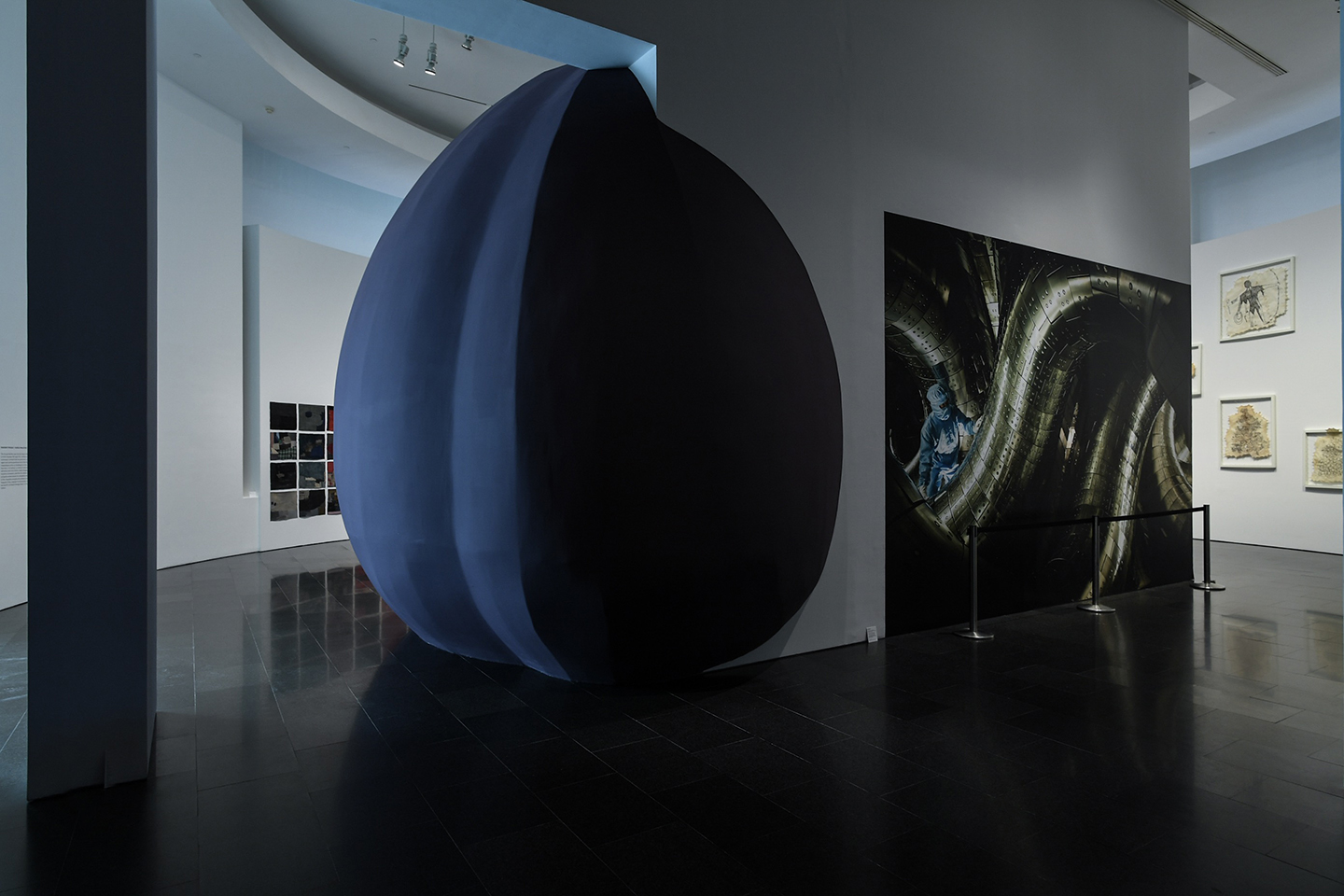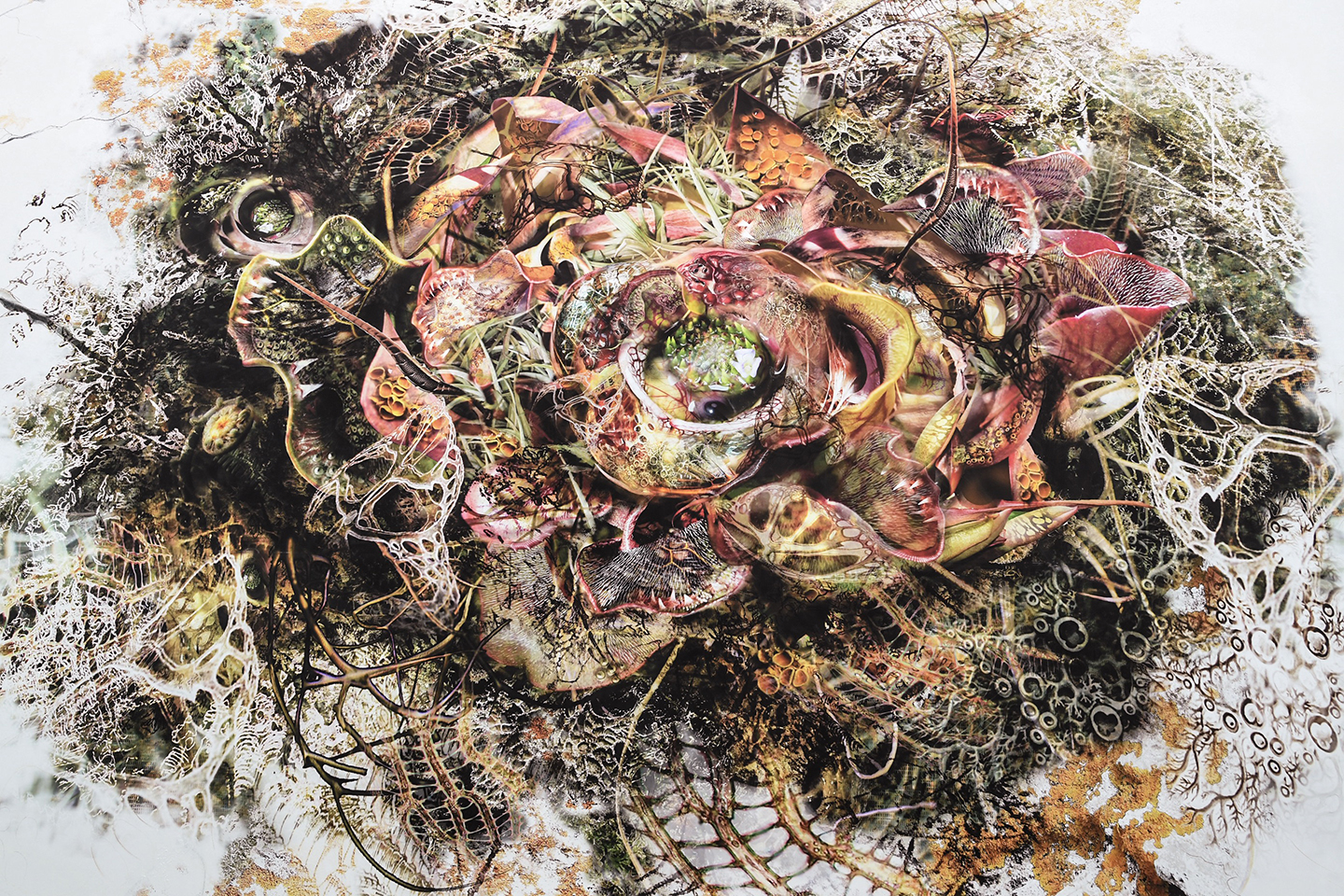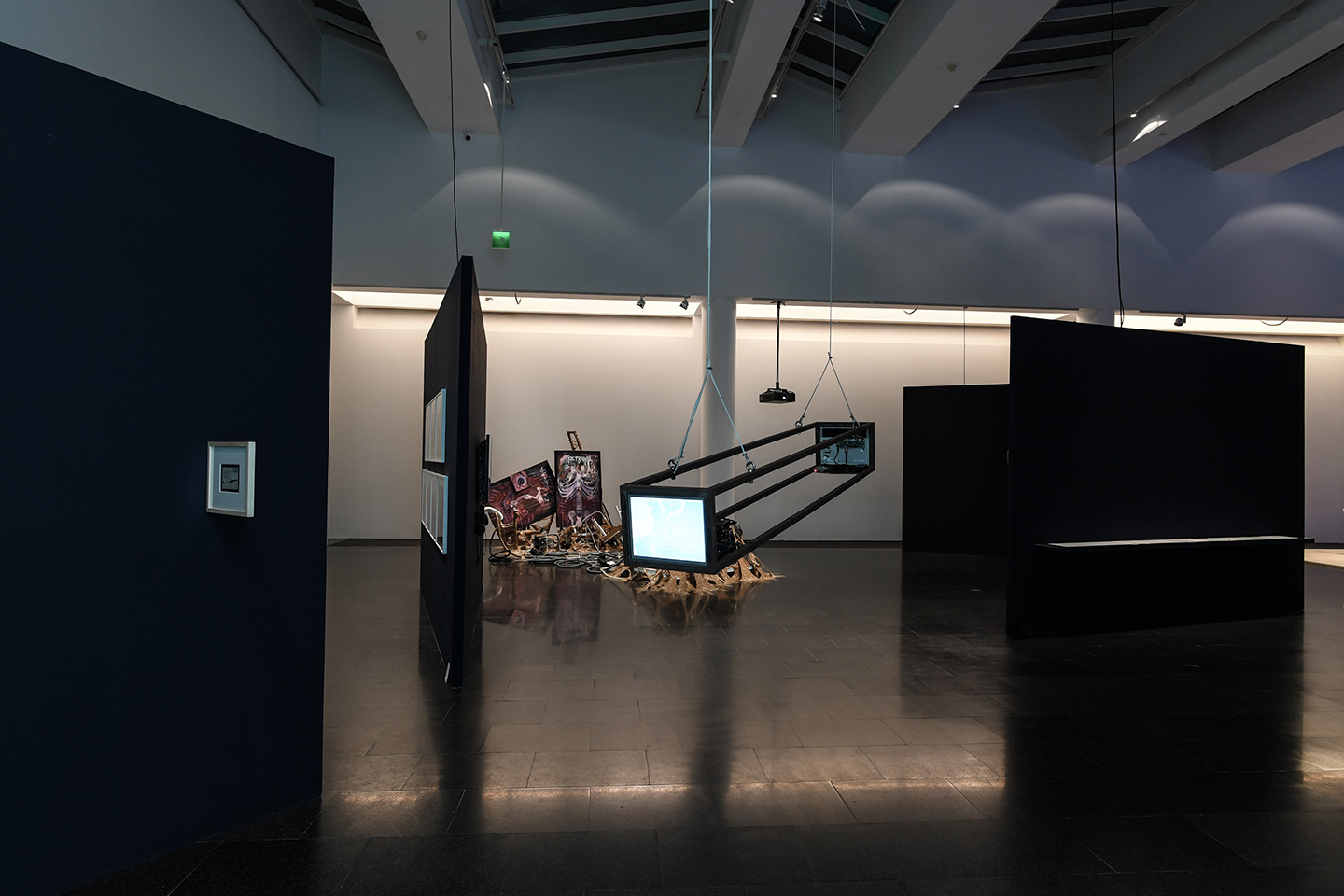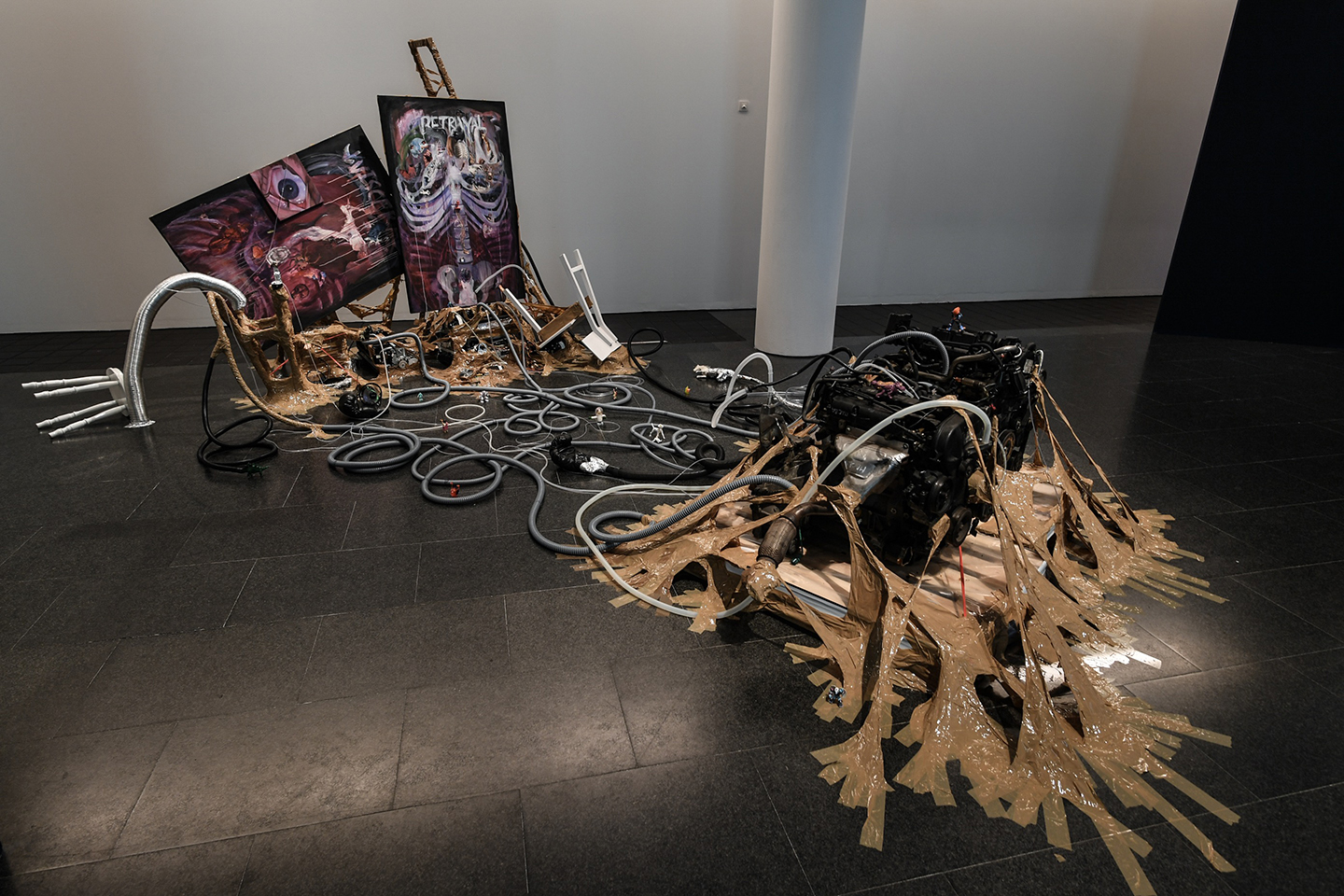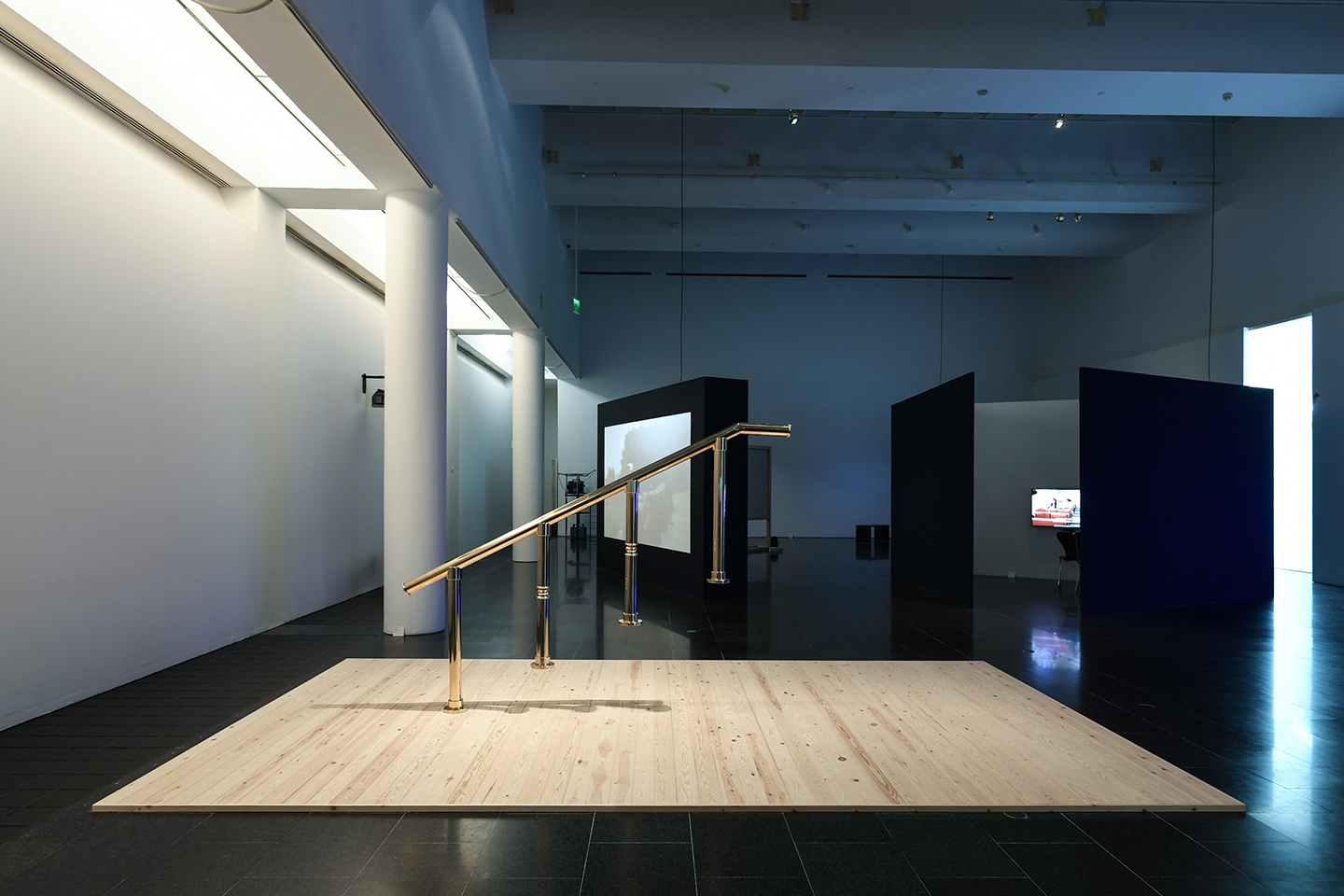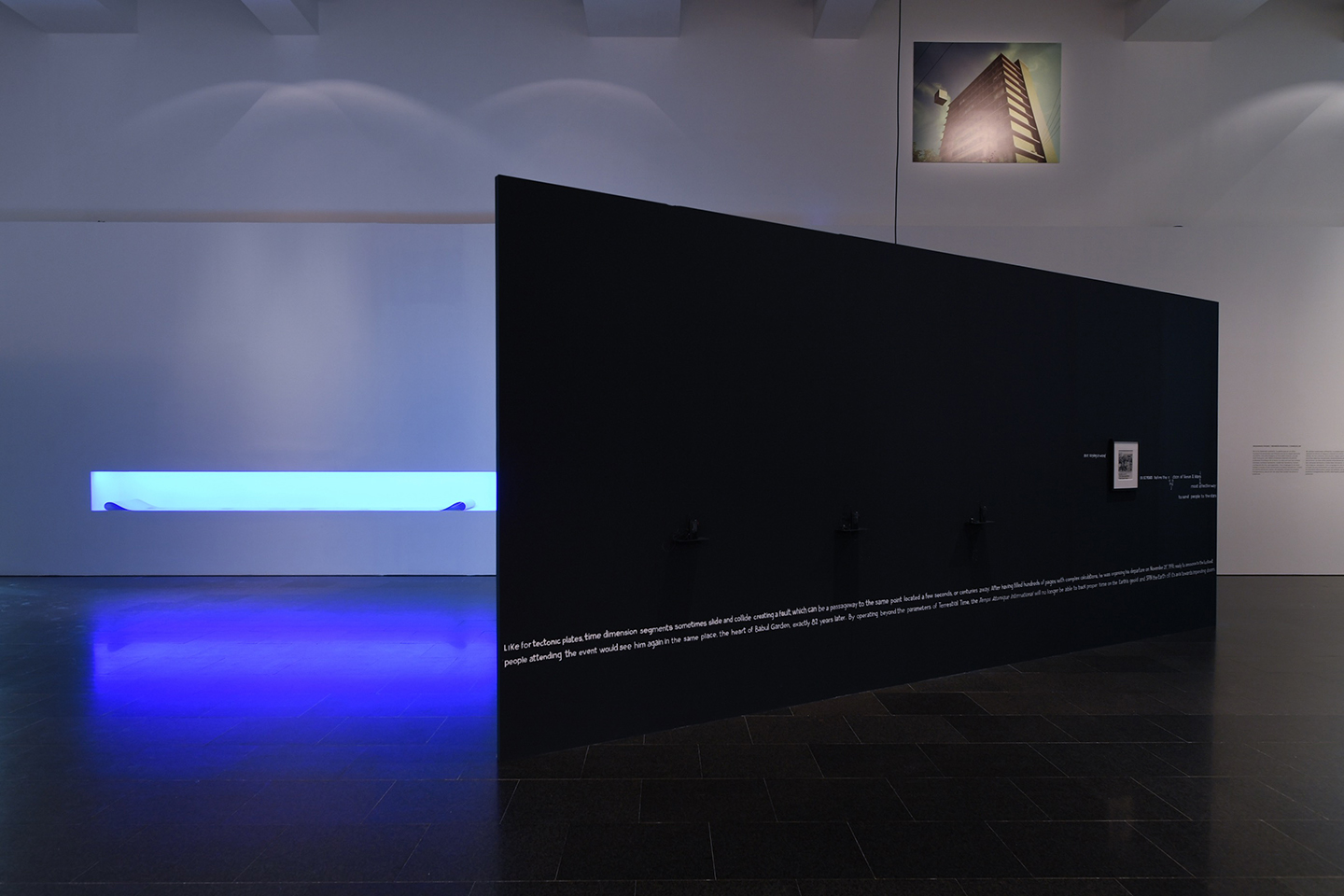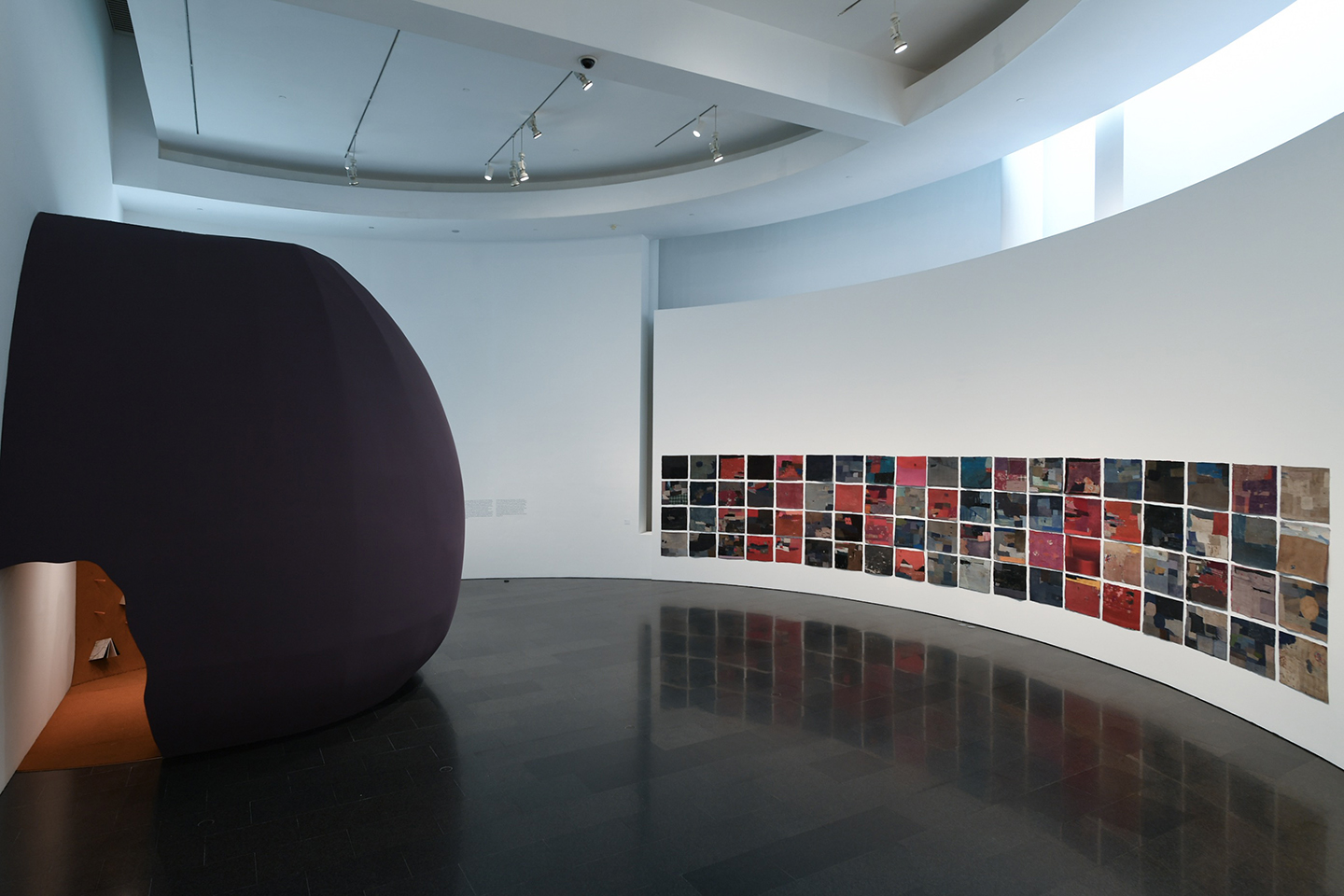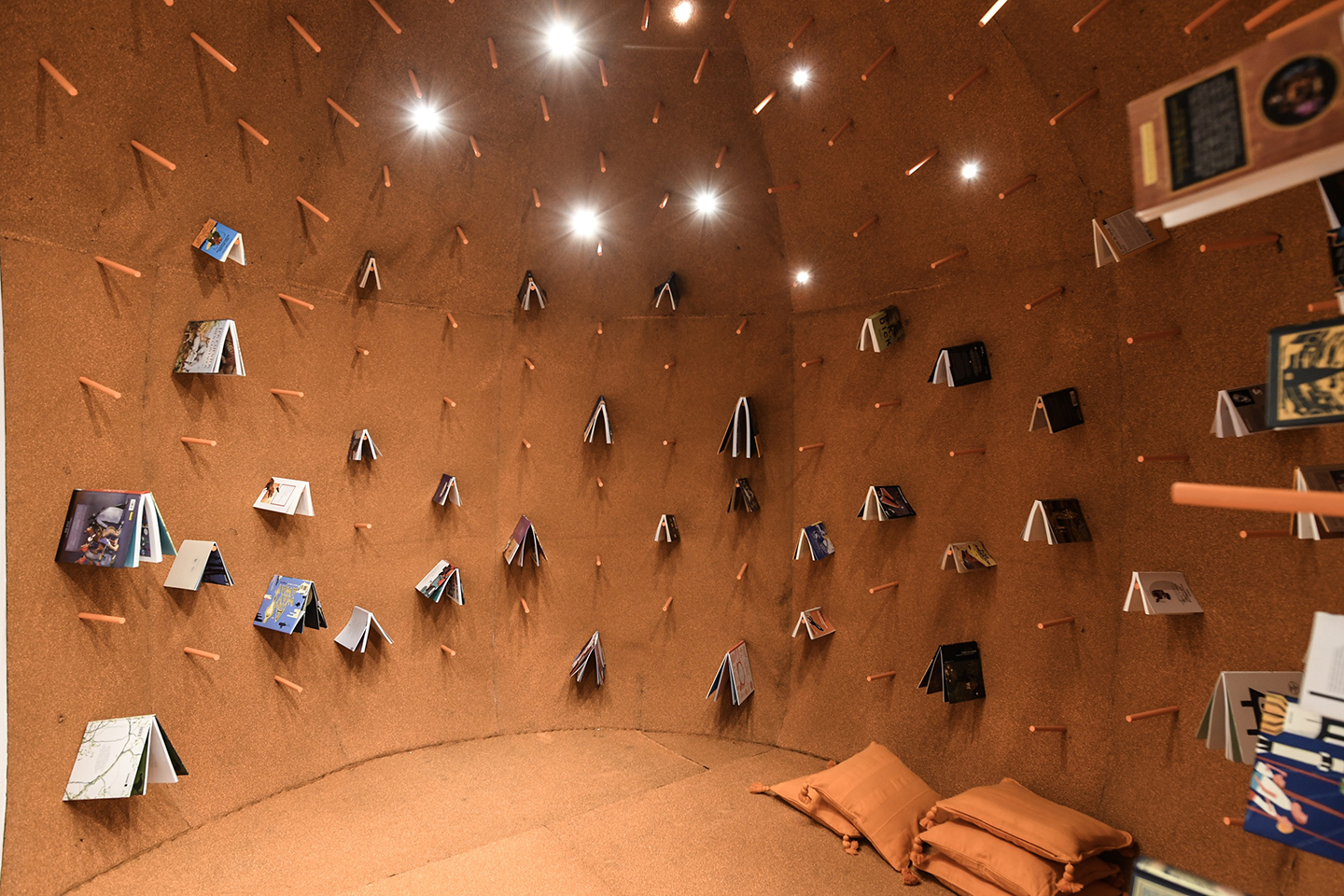 by Aurélien Le Genissel
Everyone knows Paul Klee's famous painting Angelus Novus (1920), described by Walter Benjamin in one of his famous "Theses on the Philosophy of History": "His eyes are staring, his mouth is open, his wings are spread" carried by a storm from Paradise that "irresistibly propels him into the future to which his back is turned." Something similar happens with the fascinating frog that visitors discover in John Gerrard's video installation X.laevis (Spacelab) (2017), on view in the first room of In the Open or in Stealth, the new exhibition curated by the Delhi-based collective Raqs Media Collective at the Museu d'Art Contemporani de Barcelona (MACBA). But that storm, which "is what we call progress," according to Benjamin, no longer exists here; the frog seems to float passively and impotently in an extraterrestrial world, without gravity, in which any force that pushes it forward has disappeared. This is an ironic reinterpretation of that "angel of history" who, instead of looking back, horrified by the ruins left by the past but unable to face the future, remains strangely suspended, lethargic, without knowing where to move, locked in a disturbing and futuristic environment where the idea of ​​evolution seems frozen, where a canceled temporality prevails.
This point of view of a linear, empty, and homogeneous historical time, constructed by the classical-modern Western metaphysics, is the one questioned here by Raqs Media Collective, who propose instead a network of temporal, geographical, and metaphorical games that remind us that "we always swim between the present, the past and the future," as Raqs curator Monica Narula explains. Each moment then contains the past and the present but above all the future, a future in suspense, an infinity of potentialities that, if we do not take care, drag us as a ghostly guide that is already among us.

Seeing the future has always been every human's dream. But perhaps the future is already here, in potentiality, pending, a silent and elusive guest, a shadow in stealth, as the title says, in the same way that it was already inscribed in Leonard Shelby's tattoos in Jonathan's Dolan's Memento (2000) or had already been seen by the protagonist of Chris Marker's La Jetée (1962)—even, or maybe because, they couldn't understand it. That's the case, for example, in the photographic series For What It's Worth (2014), in which Dillon Marsh visualizes the output of various mines in South Africa by creating digital scale models of the materials removed from the ground, or in Charles Lim's video Sea State 6 (2015), in which the artist dives to explore the gigantic electric cables hidden at the bottom of the oceanic darkness that are essential for our communications today. As for Lantian Xie, he builds an installation of six speakers that collect and combine all the bland and/or annoying noises that surround us on a daily basis, to which we do not usually pay attention.
Glimpses, sounds, invisible or covert gestures that may be anticipations of what is coming—Benjamin explained that the historical index contained in the images of the past shows that they will reach readability only at a certain moment in their history. He was talking about the past, but let's not forget that our present is the future's past. That means that the importance of some contemporary images—and, of course, mechanisms, structures—will only be understood when they have triumphed, in a few years. This is the case, for example, with some social and political power structures shown in Lucy Parker's videos Evidence (2015) and Apologies (2016), or in Jeamin Cha's film Autodidact (2014), that appear as the uncanny presence of a not-so-distant future: that discreet passenger whom nobody sees and which the exhibition invites us to unmask. Or perhaps what is coming is the ruin disguised as a success, as shown in Hassan Khan's gleaming sculpture Bank Bannister (2010), a flashy vestige of an Egyptian investment bank that no longer exists after the economic crisis.
In the Open or in Stealth offers "attempts to exorcise the ghosts that haunt the machinery of capital", as we read in the curatorial text, through flashes and fragments—in the sense of Roland Barthes's fragments in A Lover's Discourse: Fragments (1978)—sparkles and glitters, a sort of updated version of the fireflies (lucciola) that Georges Didi-Huberman talks about in his book Survival of the Fireflies (2009).1 Perhaps it is not a coincidence that most of the exhibition rooms are in the shadows, or that one of the most striking works of the show, Lovers Seeing Darkness, Ubiety Unknown (2017) by Ivana Franke, is a dark room where the viewer has to progressively adjust his or her gaze to the flashes of light that appear on the lines surrounding, in a sort of dance-sculpture of modest fleeting points of an alternative, resistant light, as Huberman might put it. Giorgio Agamben already wrote that to be contemporaries was "to perceive, in the darkness of the present, this light that strives to reach us but cannot."2
In this mosaic curatorial view, the works underline some problems that manifest as symptoms, survival (Nachleben) of a time to come, to use the vocabulary of Aby Warburg's philosophy of history, to which the exhibition borrows the fragmentation of the significant gesture so characteristic of the Mnemosyne Atlas. However, this is not about montage or dialectics but about an apparition, a constellation, a force field, a poetry of the encounter between forms and devices that answer, dialogue, murmur at each other like "long-distance lovers at two ends of a jagged chat line," as the curators explain. Gerrard's frog responds to his counterpart in Hieronymus Bosch's The Haywain Triptych (1500-1516), placed just in front of him, while it also resonates with the drawings of the scientific experiments of the optical system of Santiago Ramón y Cajal, at the end of the show, which are similar to those of Luigi Galvani, whose work Gerrard's is based on.
A game of reflections, echoes, and winks that advocates a new way of observing the world. A statement confirmed—without much success in this case—by the curatorial intervention on the inner facade of the MACBA, covered for the occasion by a huge blue canvas. A slip that does not tarnish a demanding, complex, and risky proposal that makes us reflect on the concept of future, indicating that this may not be that distant and unreachable sun behind which runs the character of Mark Chung's video I Follow the Sun, Forever (2015), but a daily and stealthy companion to which we must pay more attention. Because the original task of an authentic revolution—and this is what it is about here—is no longer simply "changing the world," but also and above all "changing the time," as Giorgio Agamben reminds us time and again.
[1] A reference to Pier Paolo Pasolini's article "Il vuoto del potere in Italia" (The Power Void in Italy) published in Il Corriere della Sera on February 1, 1975.
[2] Giorgio Agamben, "What Is the Contemporary?," in "What Is an Apparatus?" and Other Essays (Stanford, CA: Stanford University Press, 2009), 46.
at MACBA – Museu d'Art Contemporani  de Barcelona
until 17 March 2019