CONVERSATIONS
Reckoner: Patrick Fabian Panetta
Close
1
2
3
4
5
6
7
8
9
10
11
12
13
14
15
16
17
18
19
20
21
22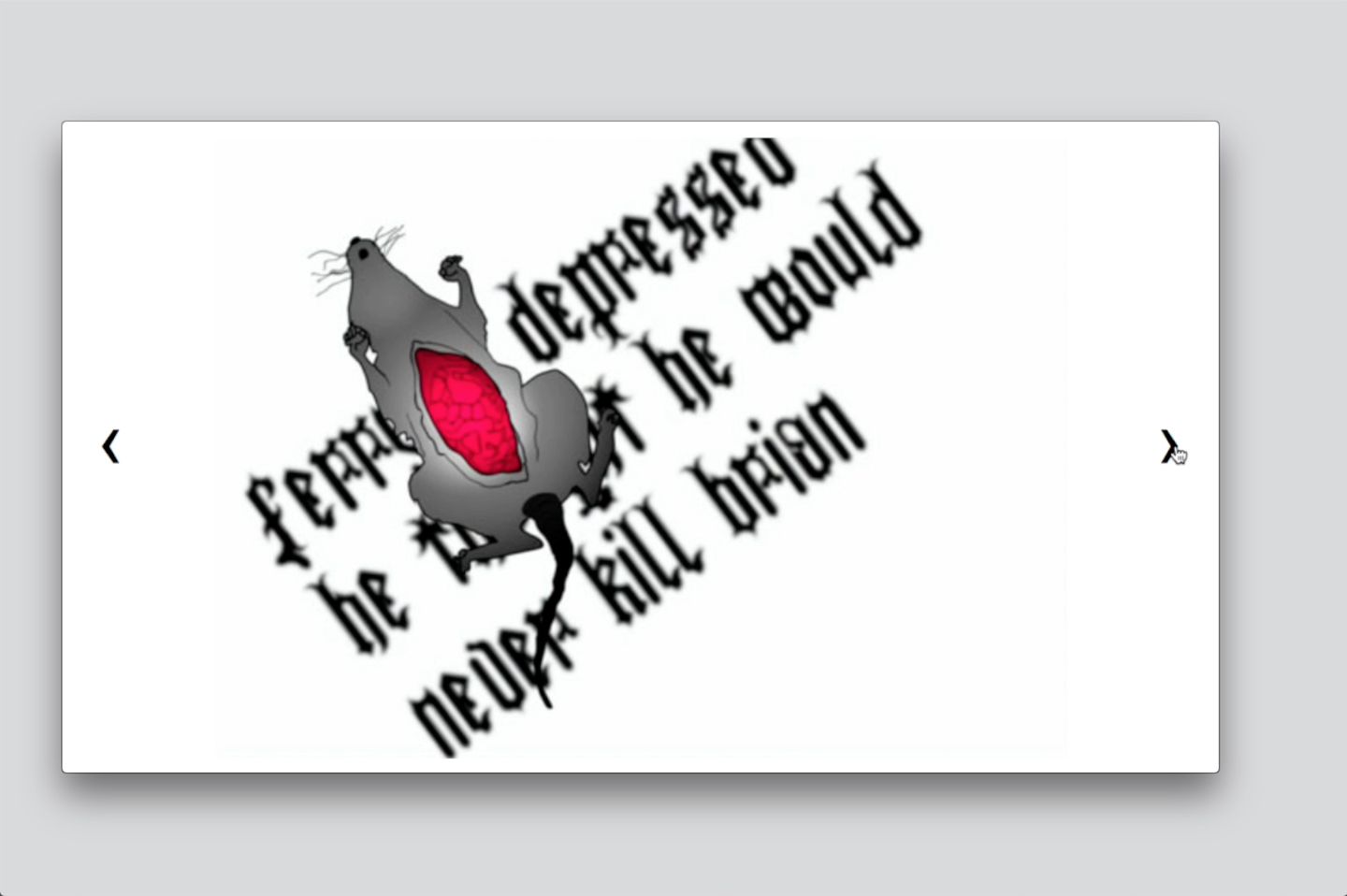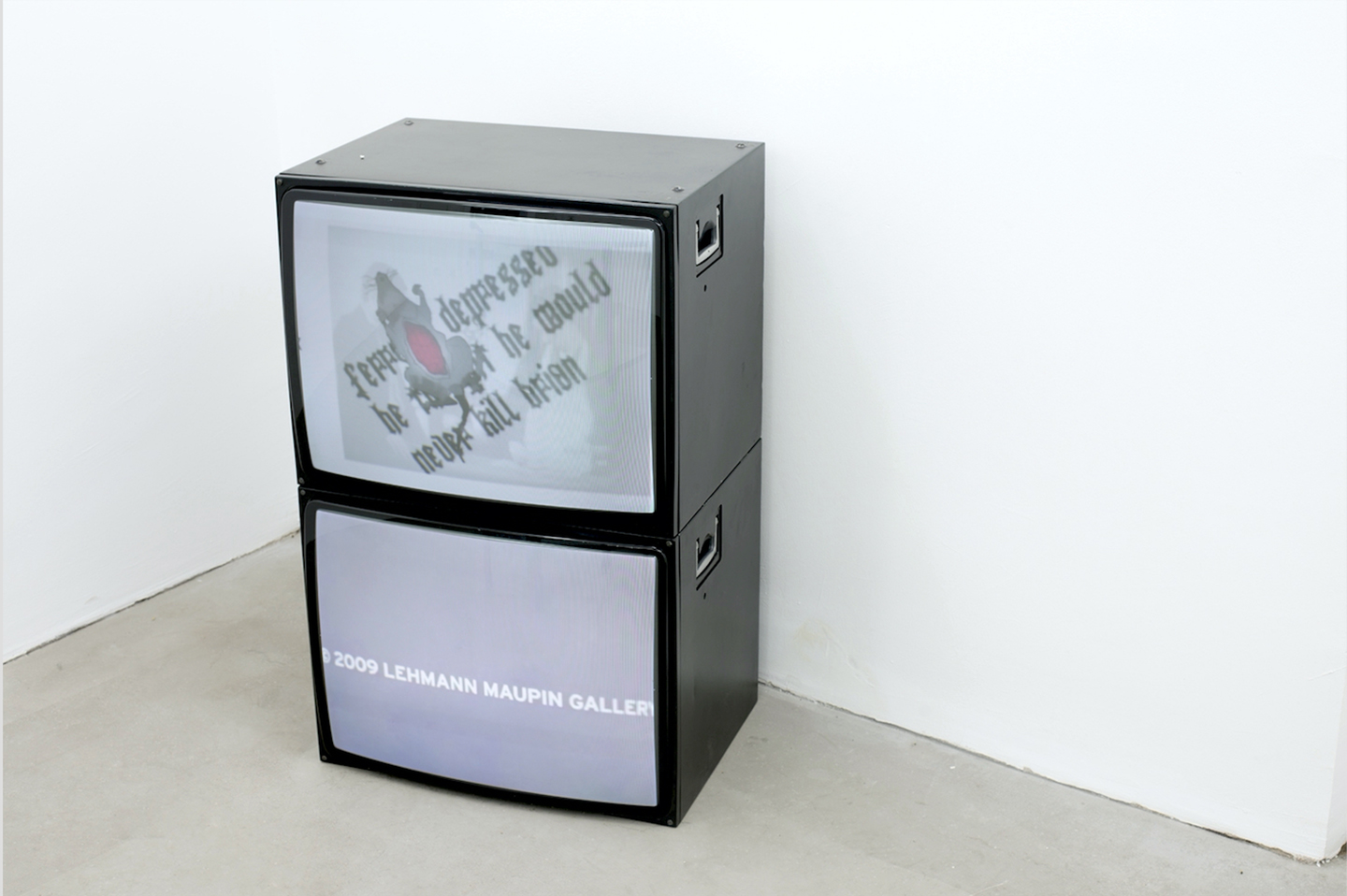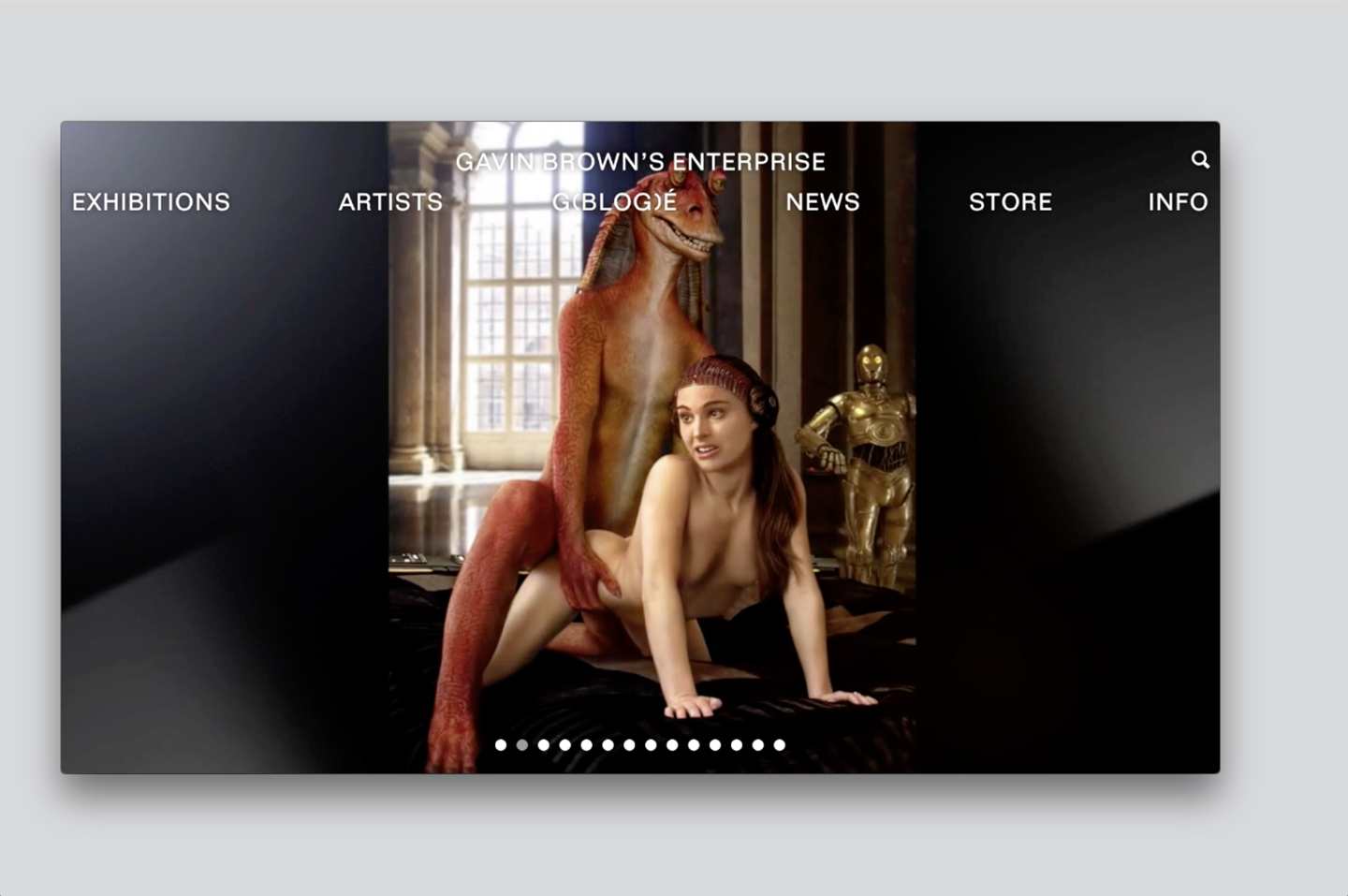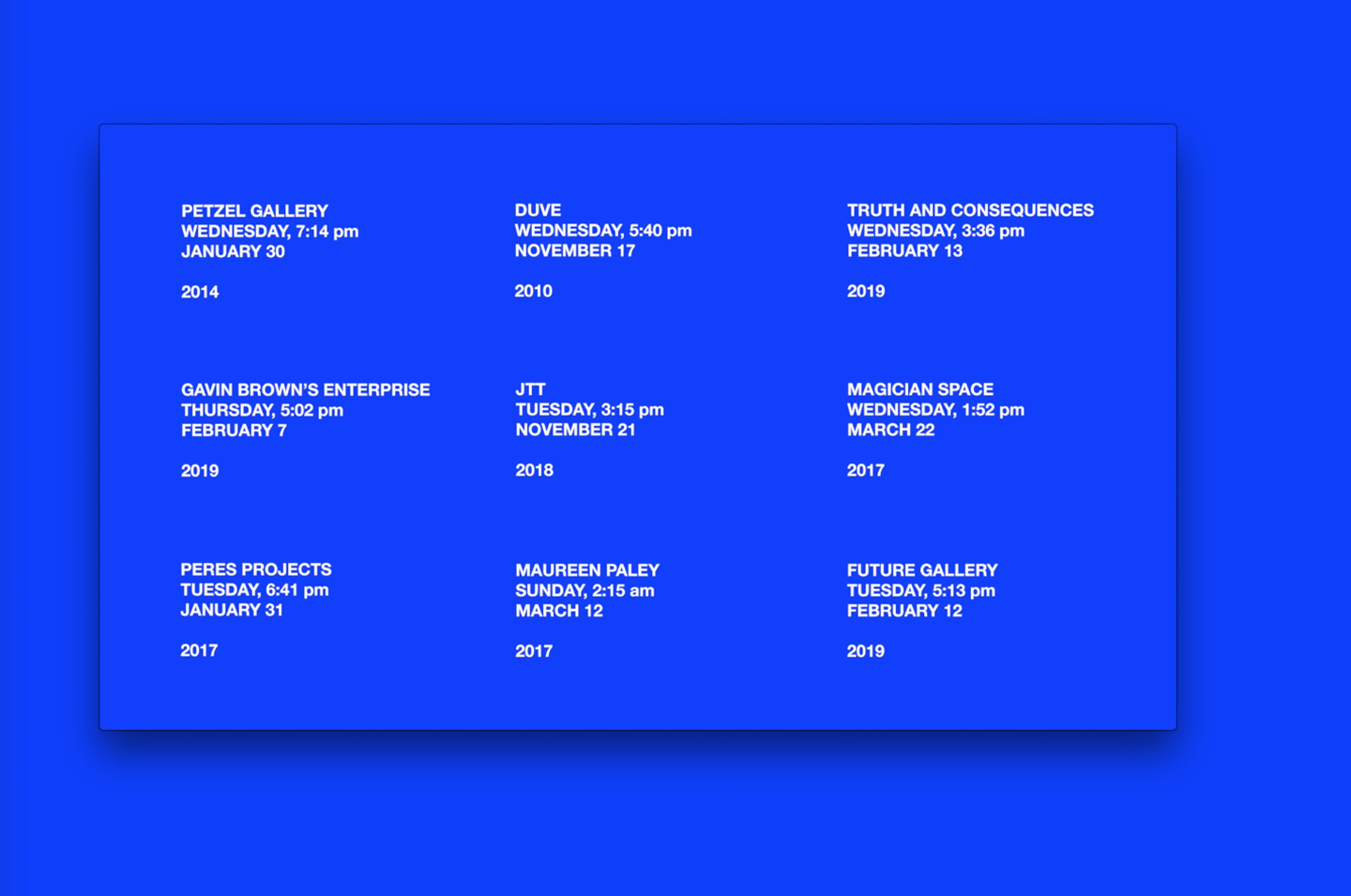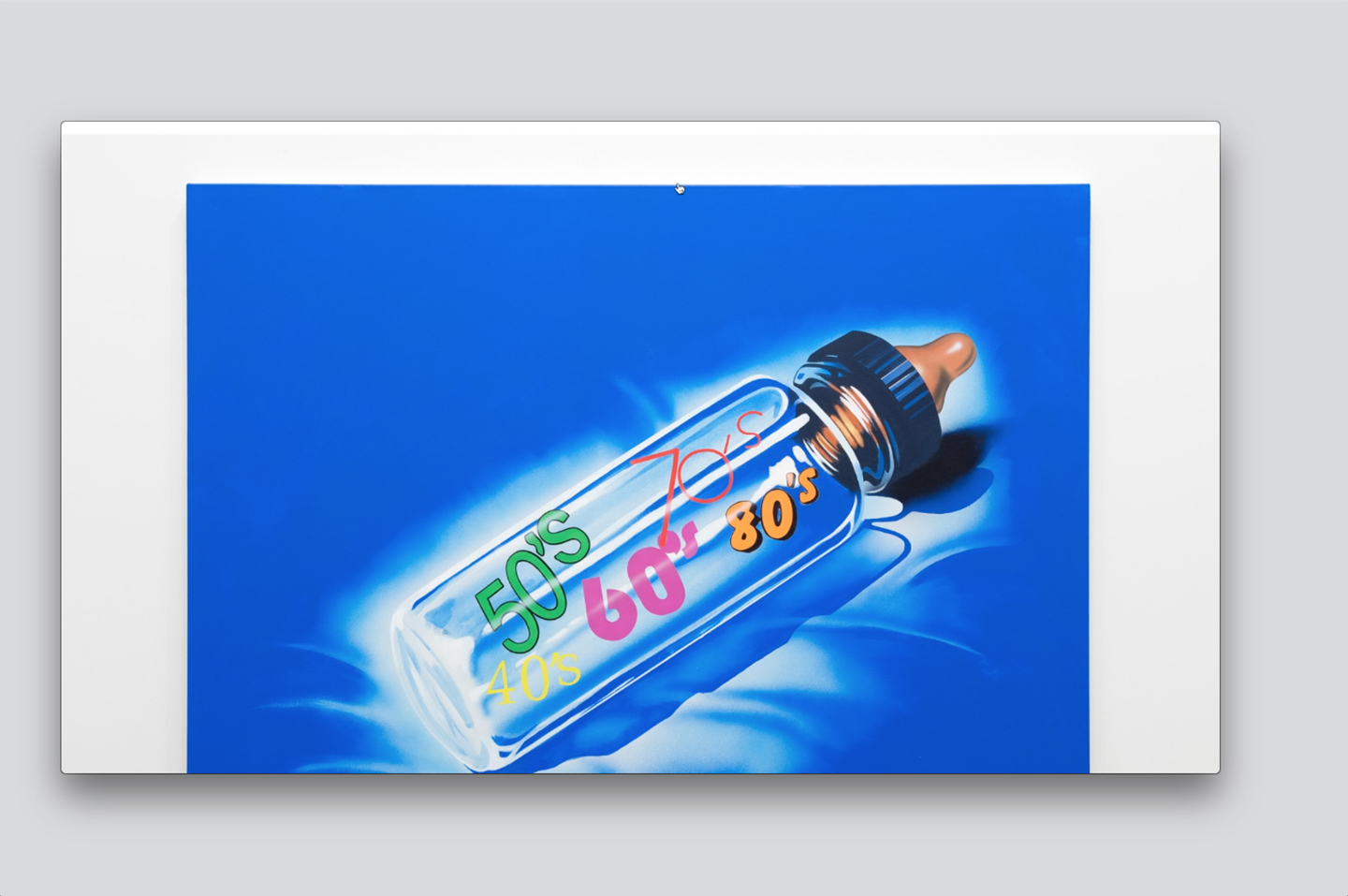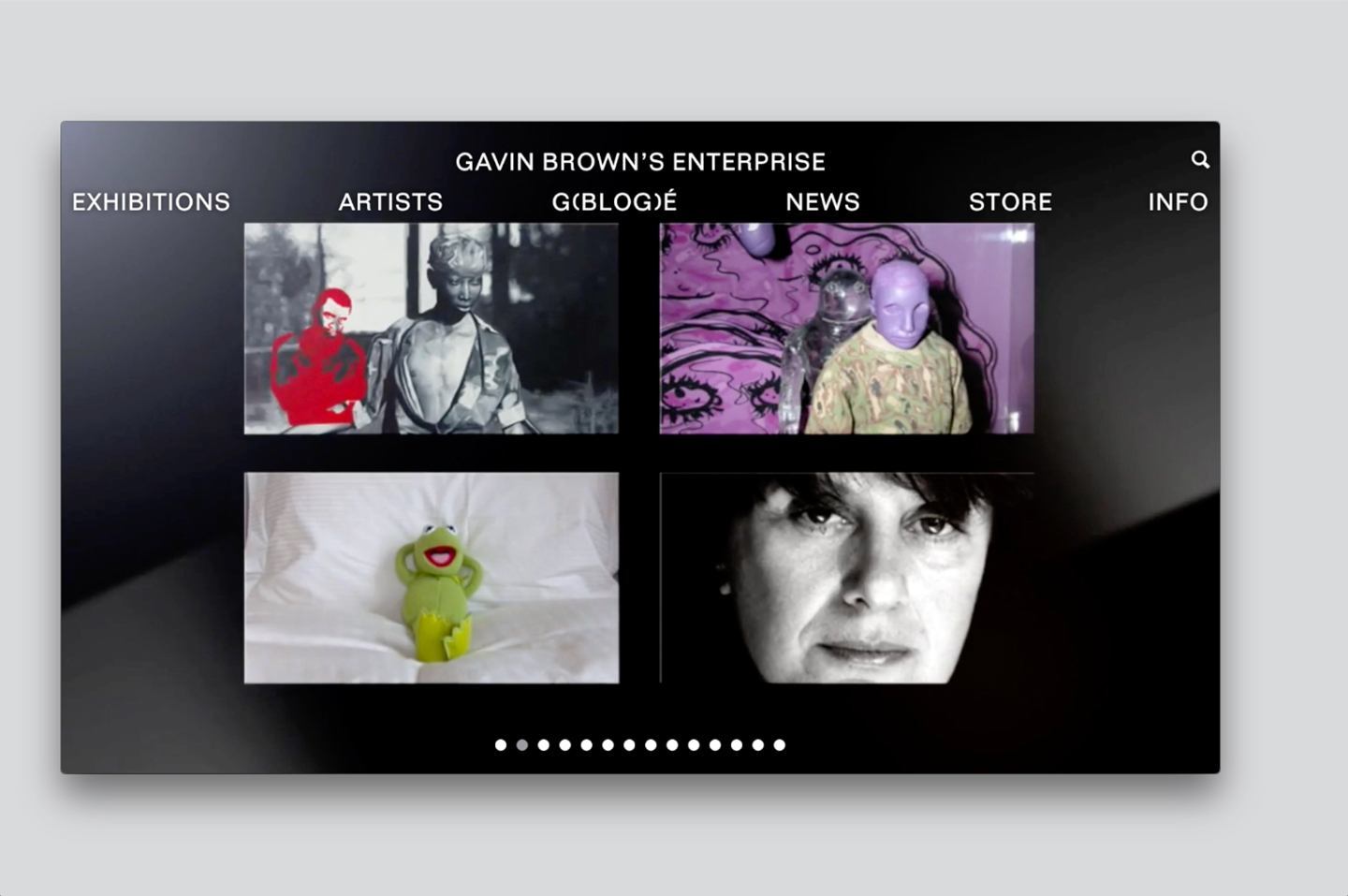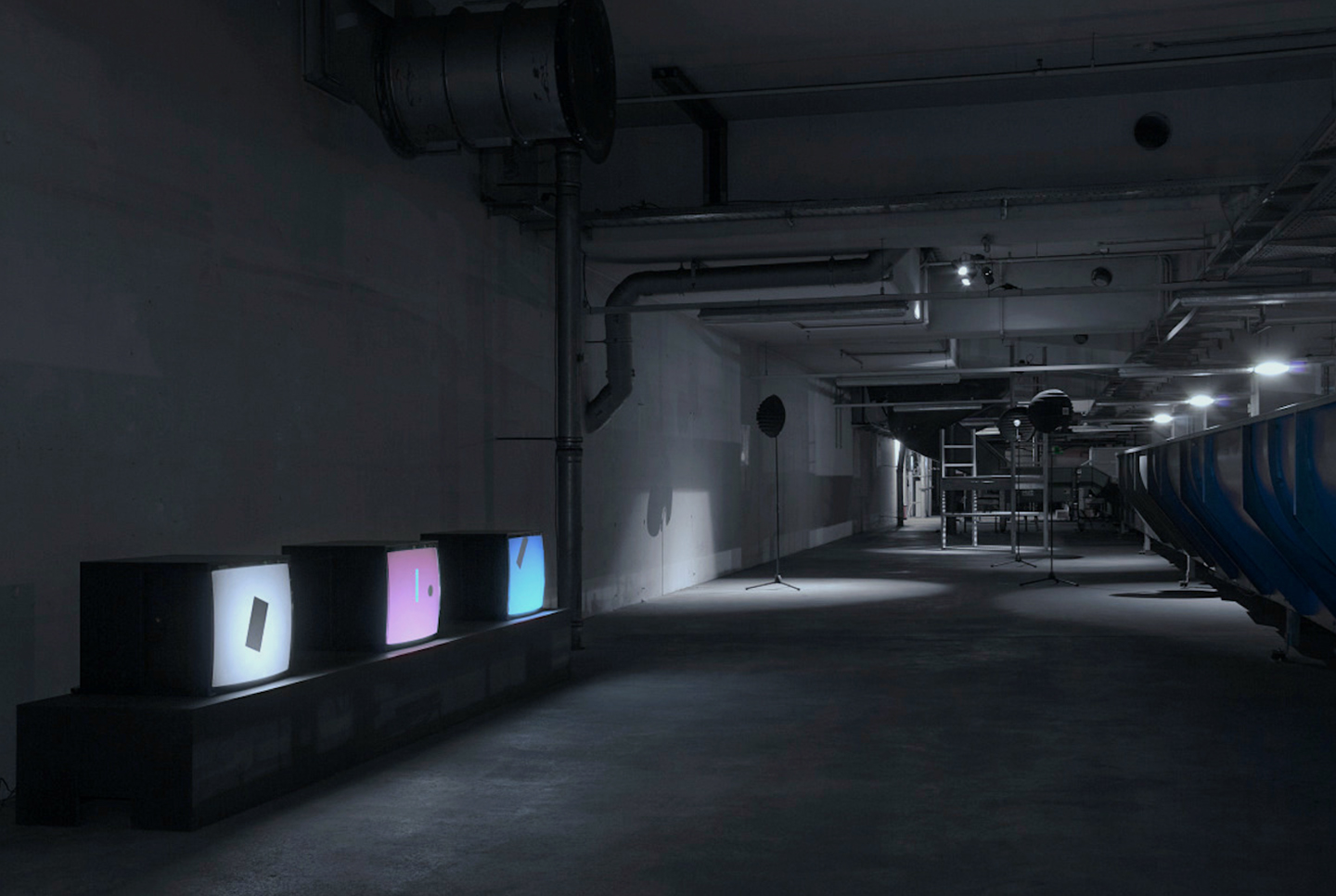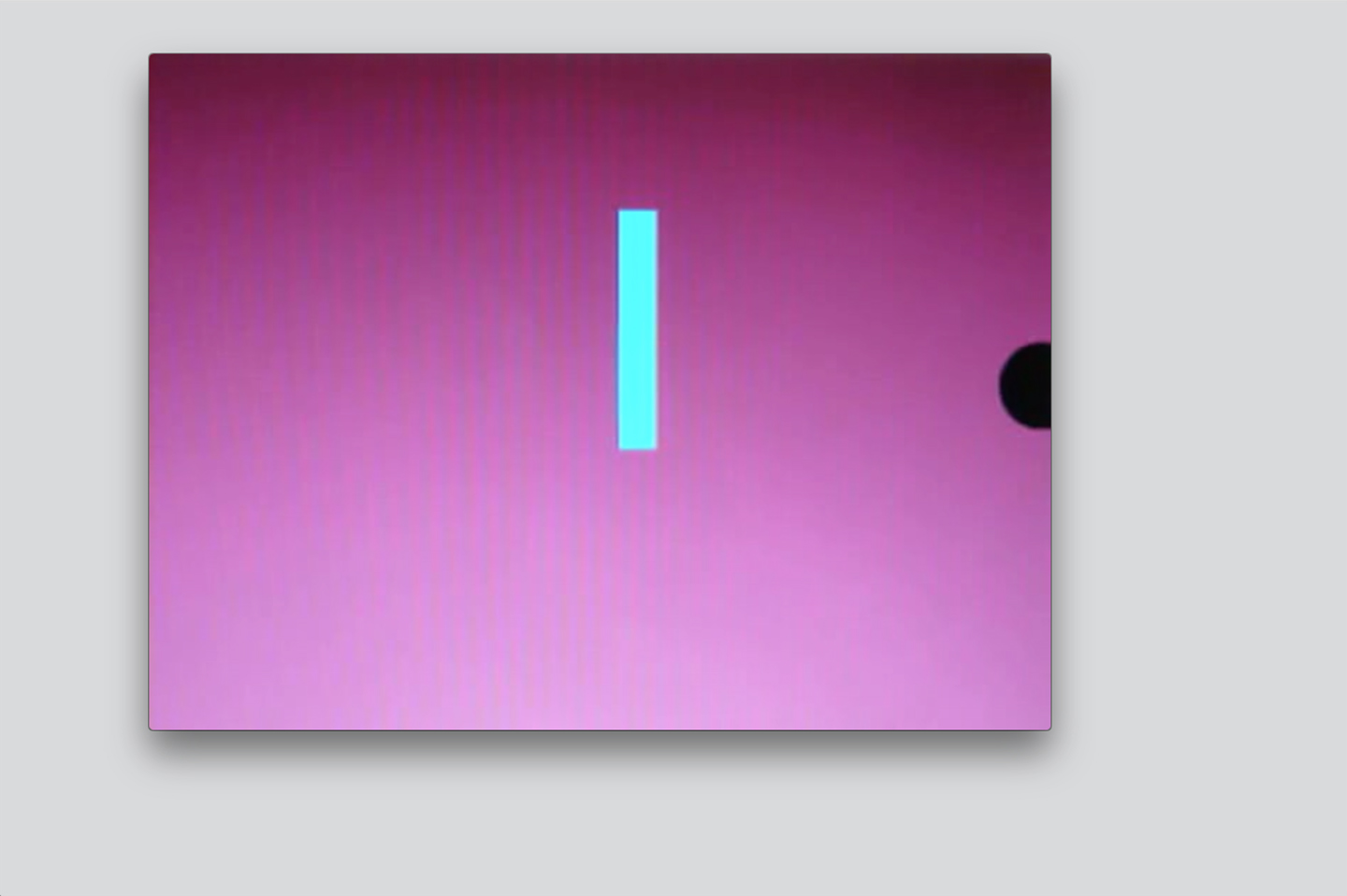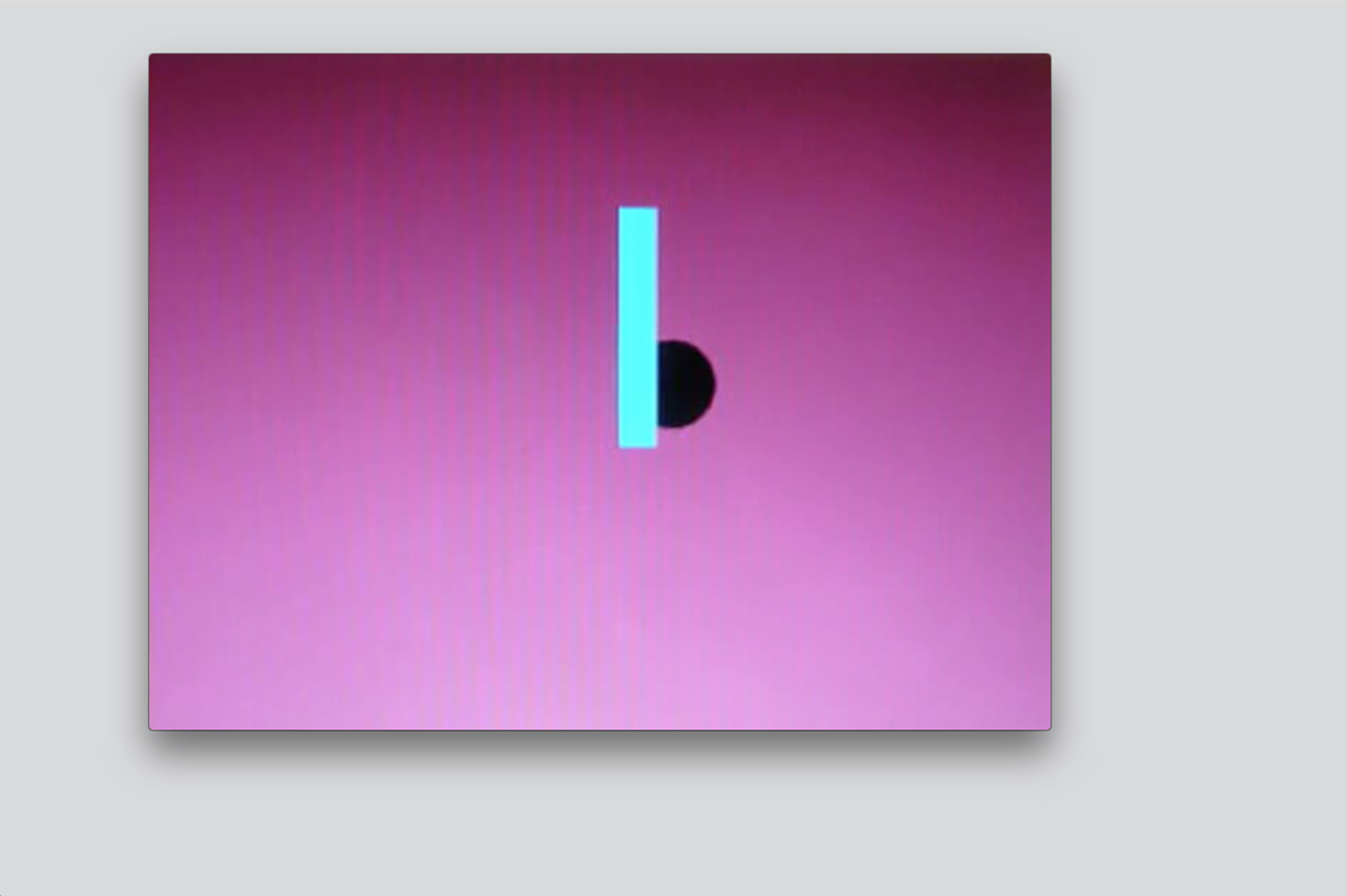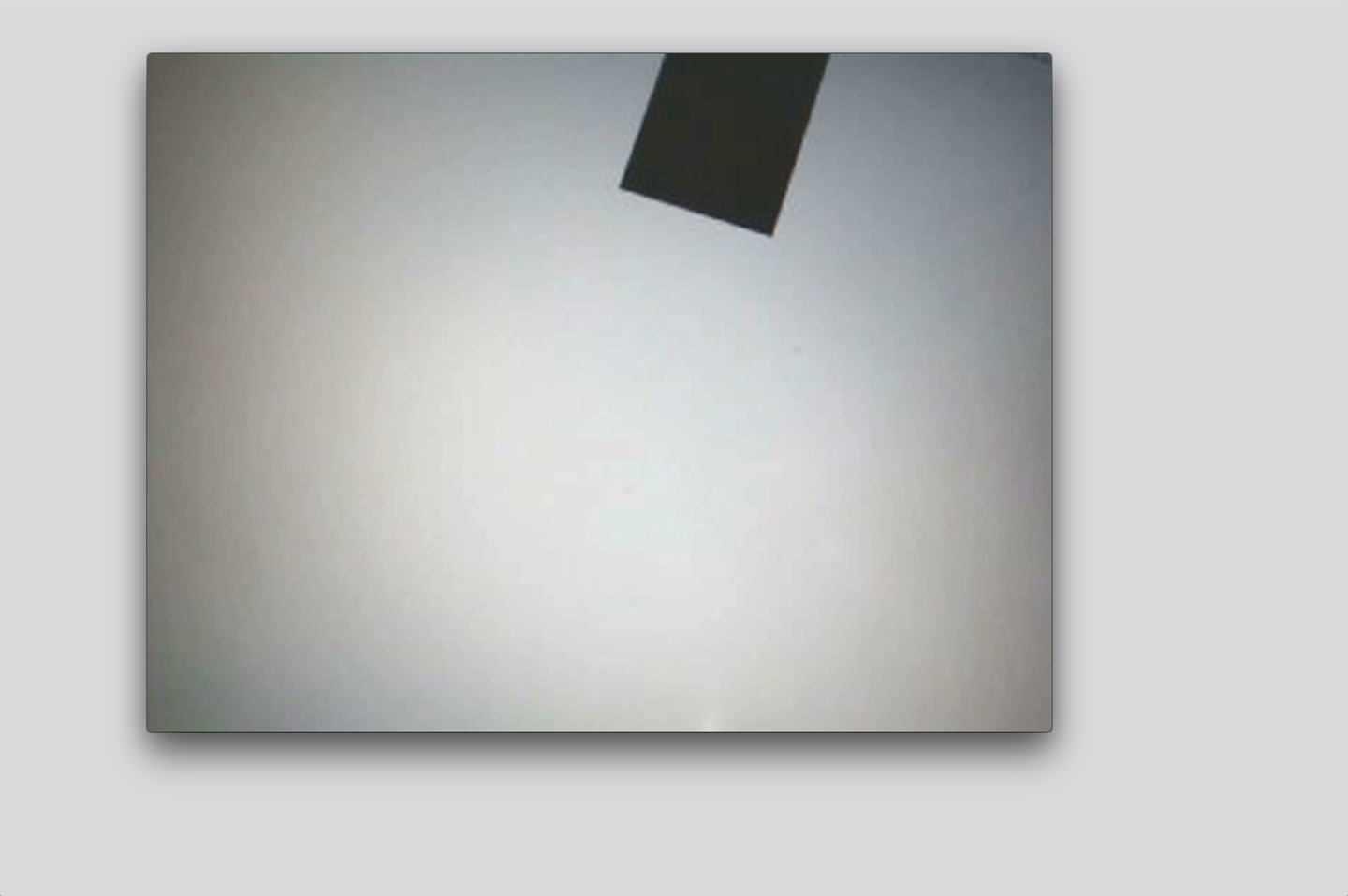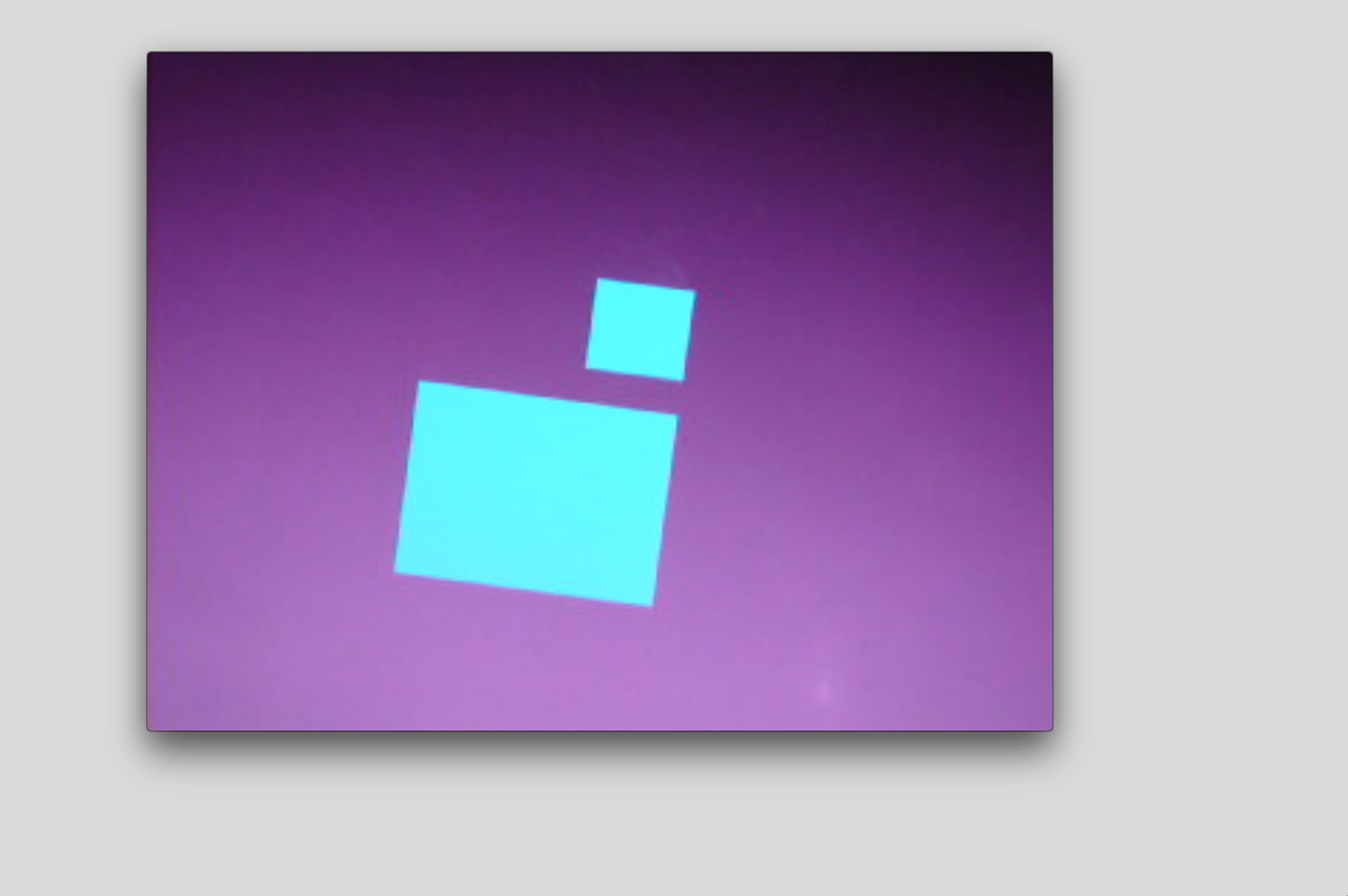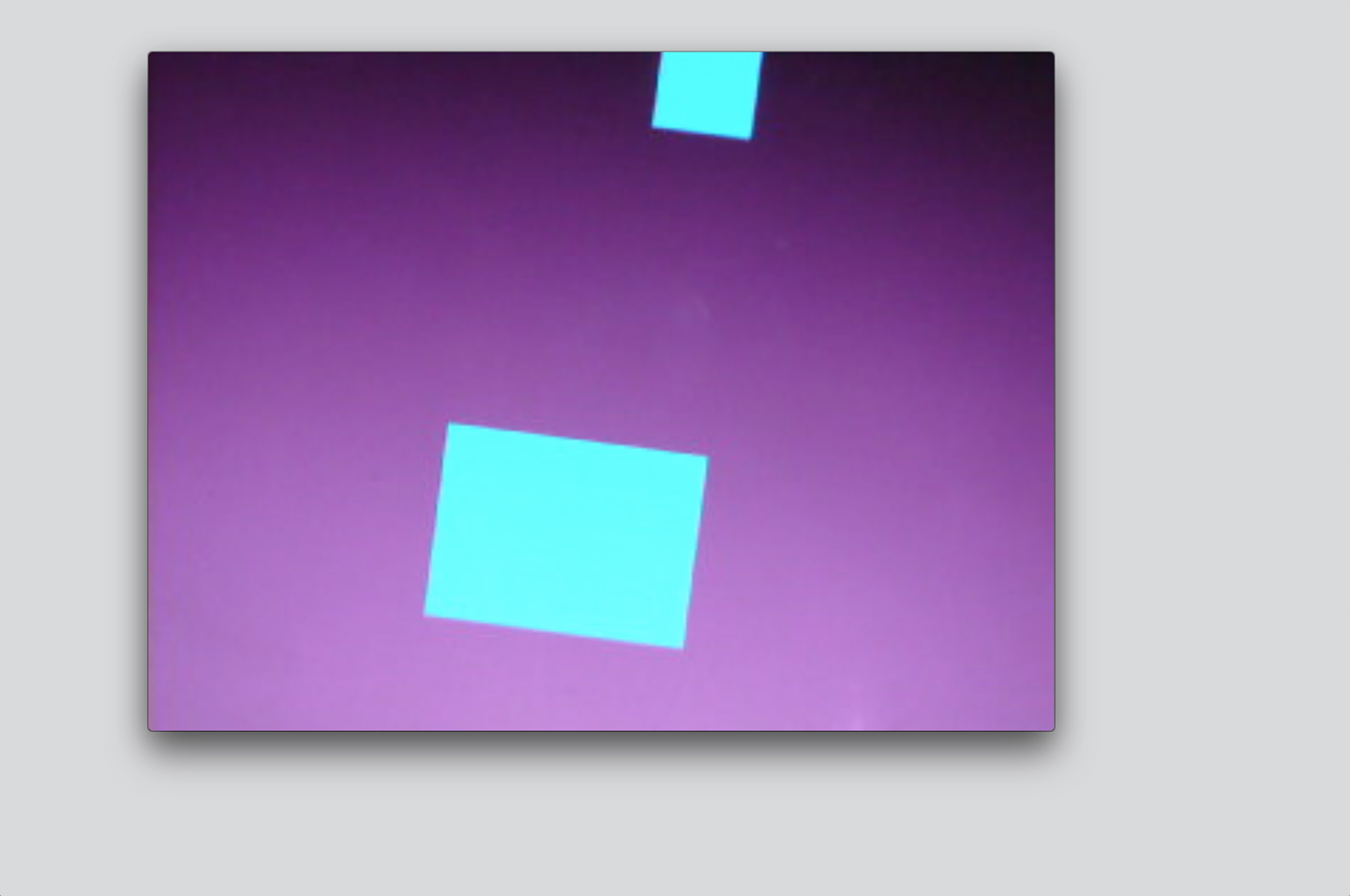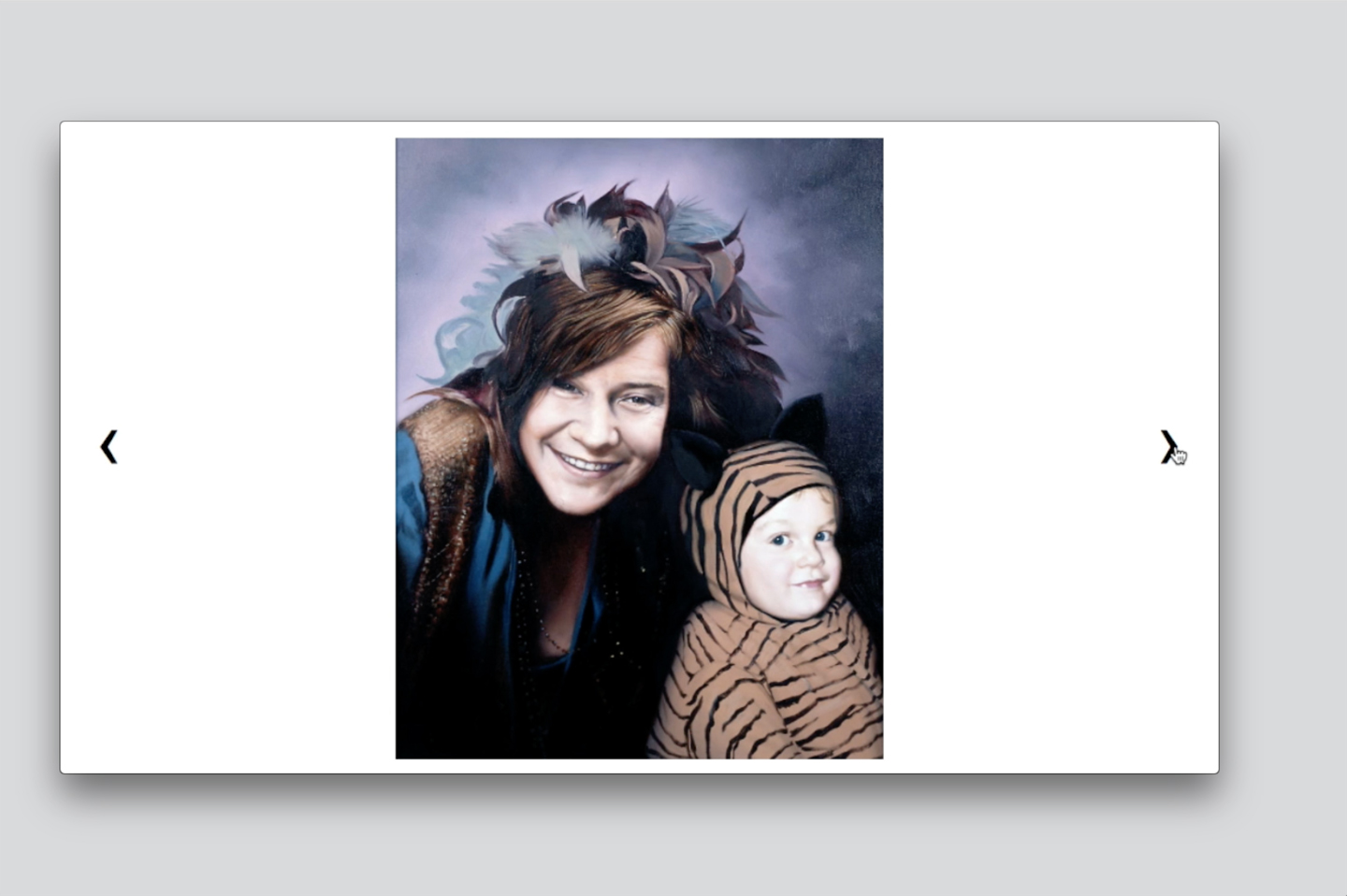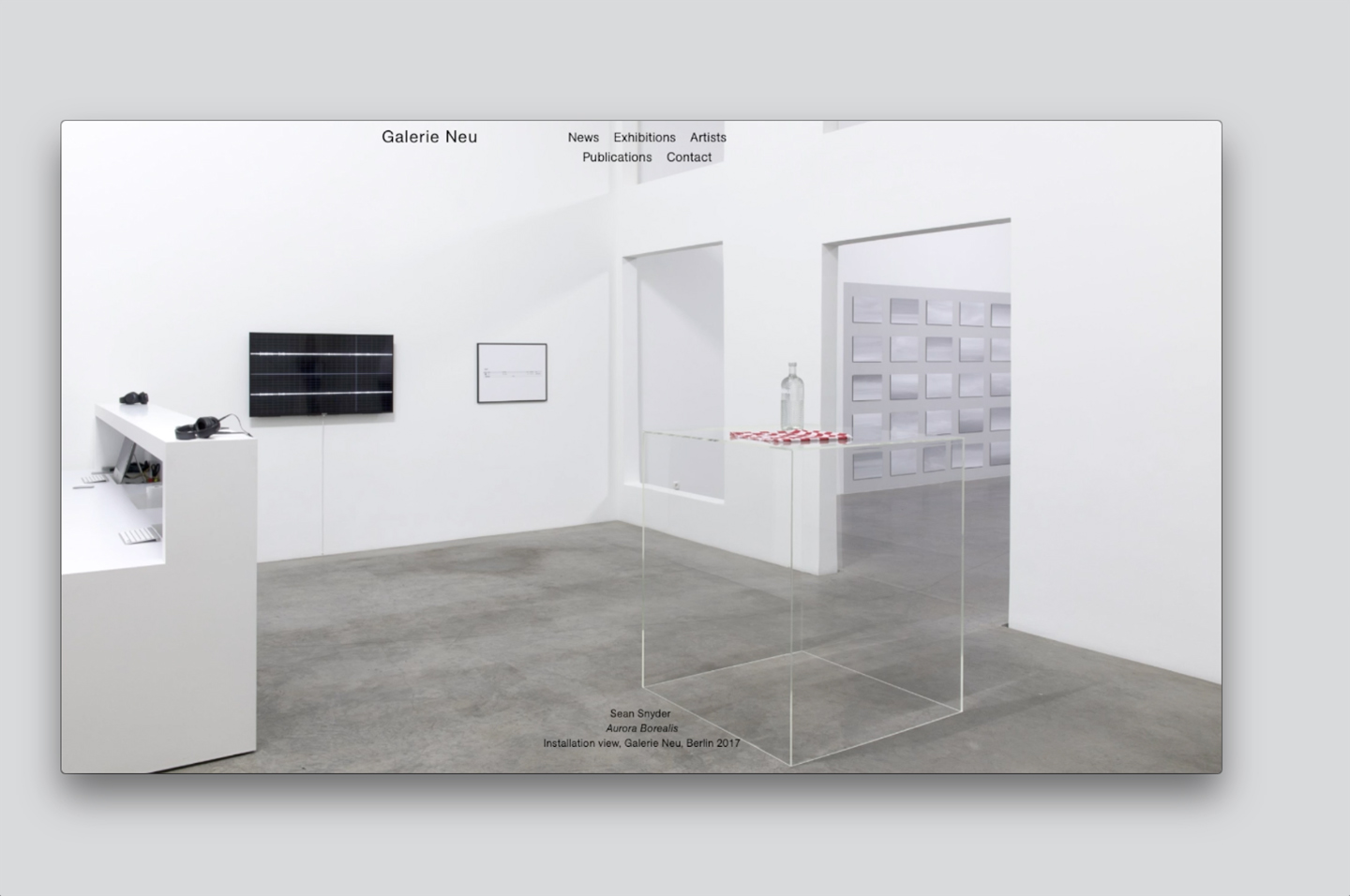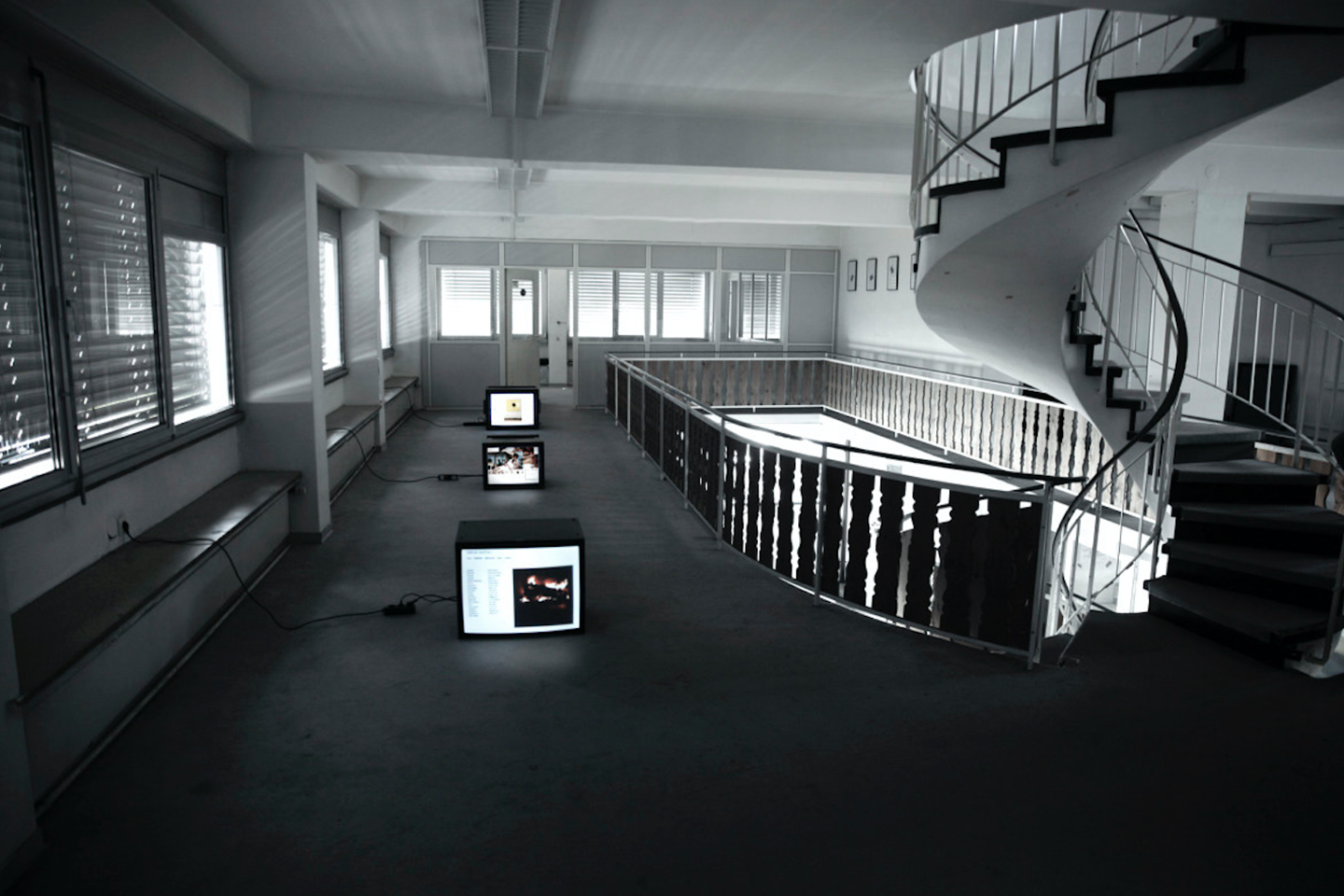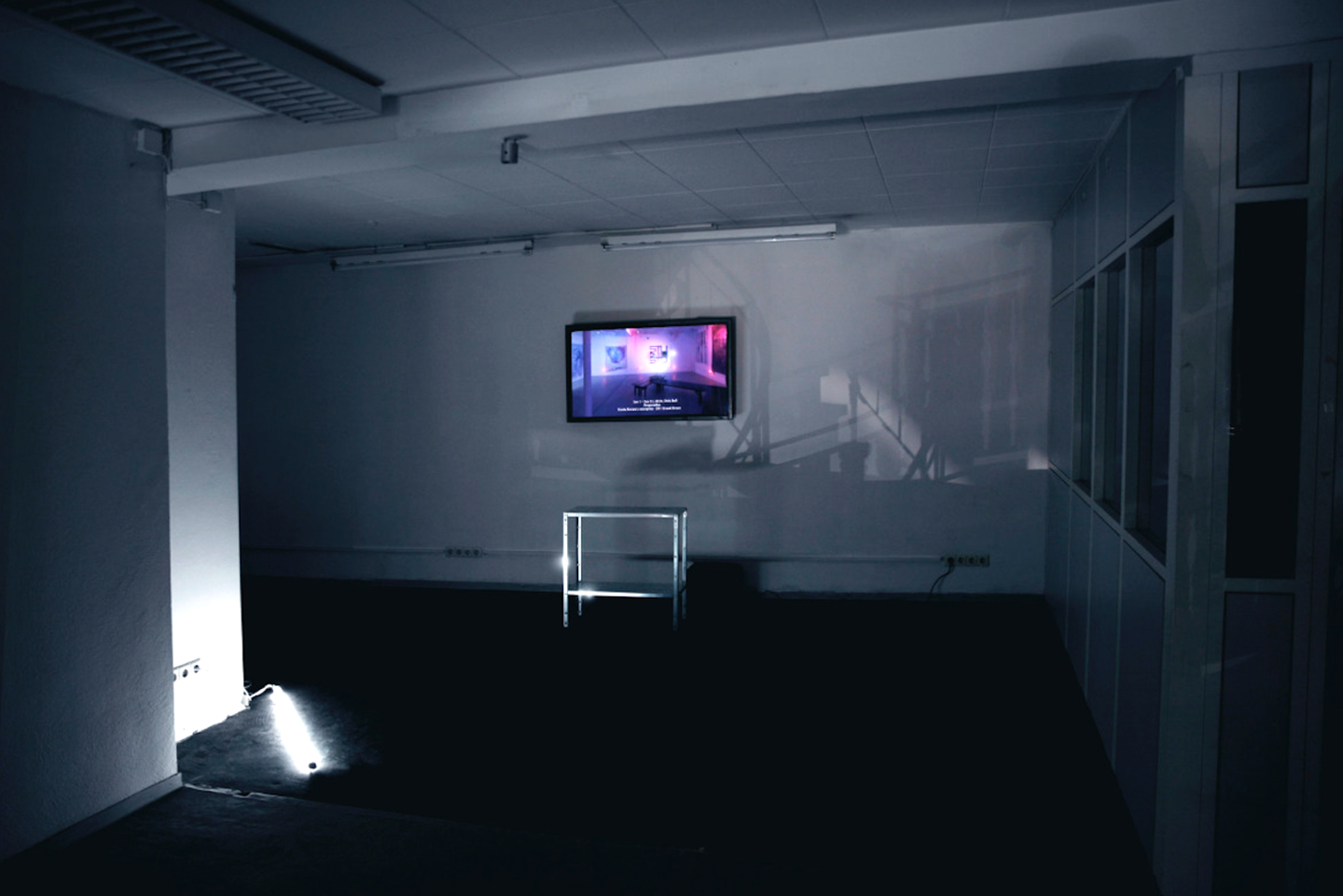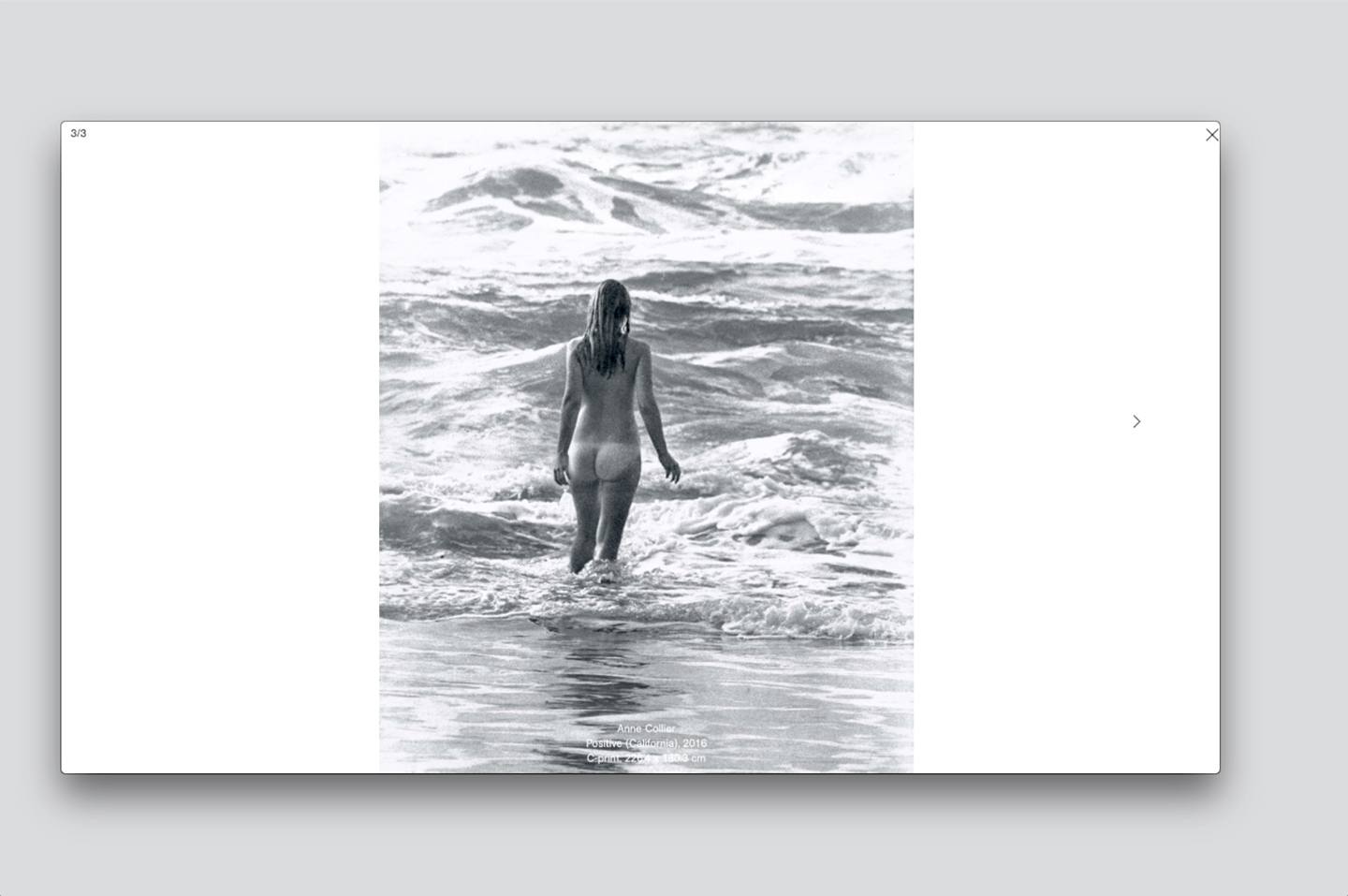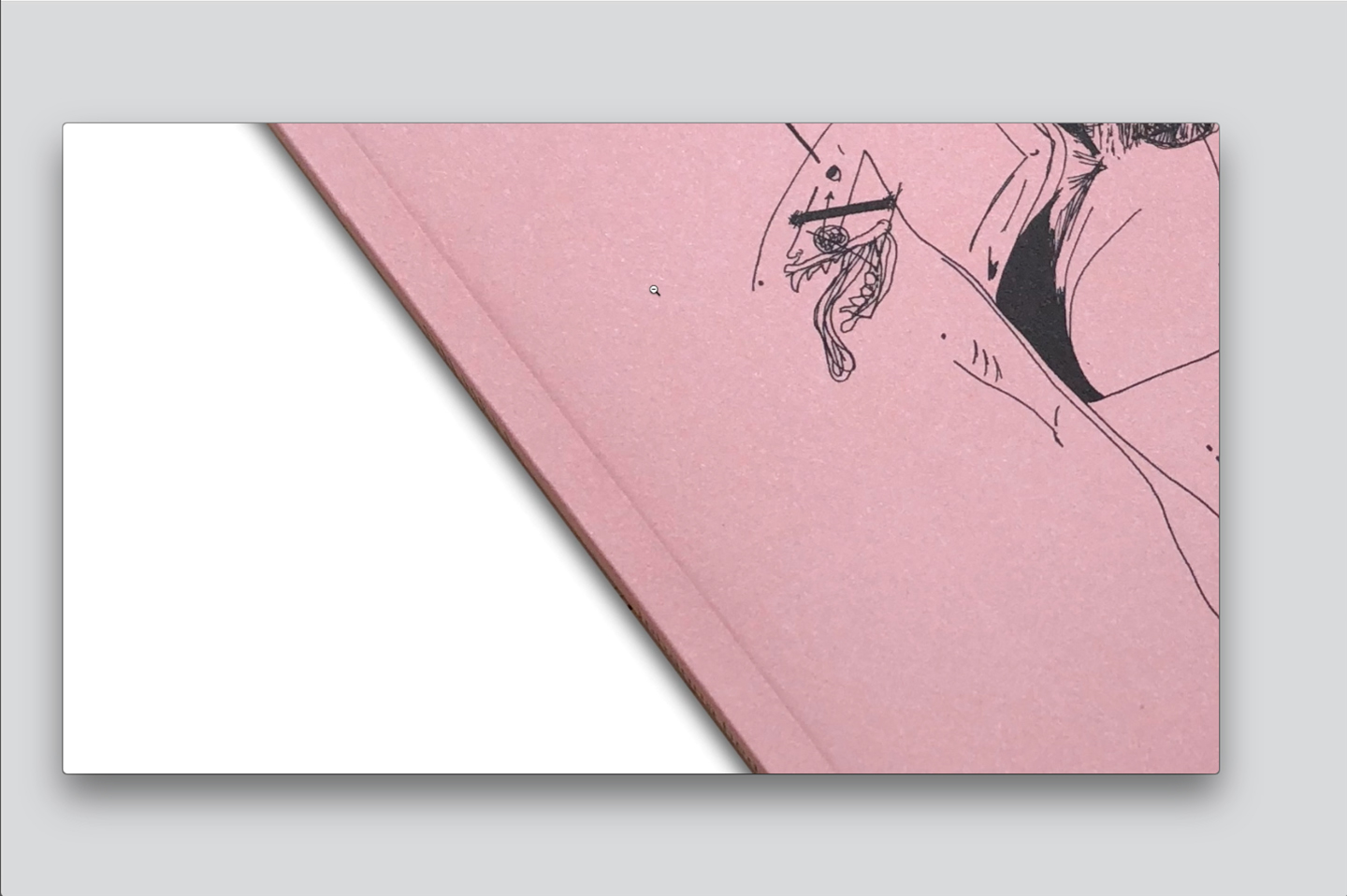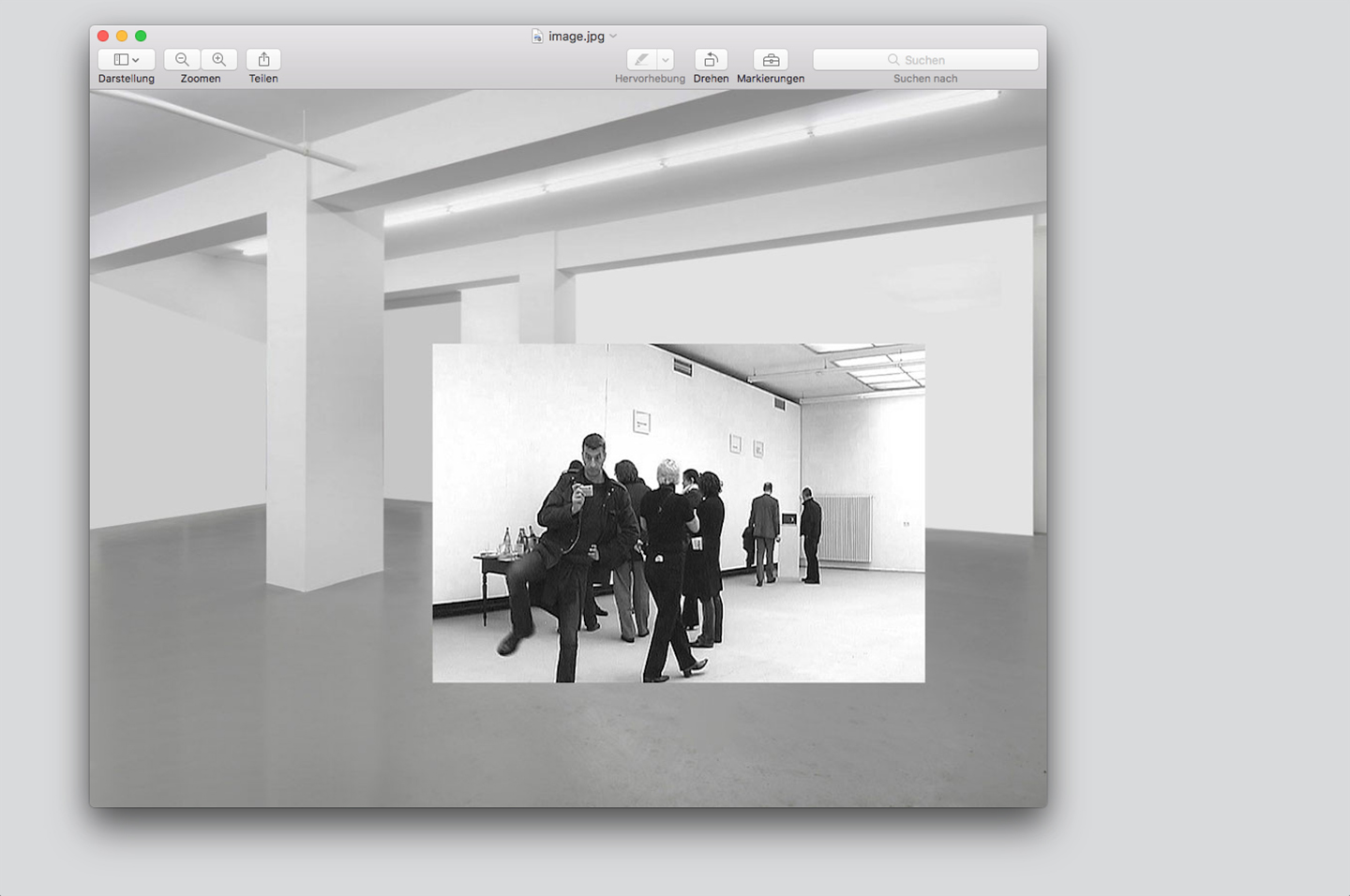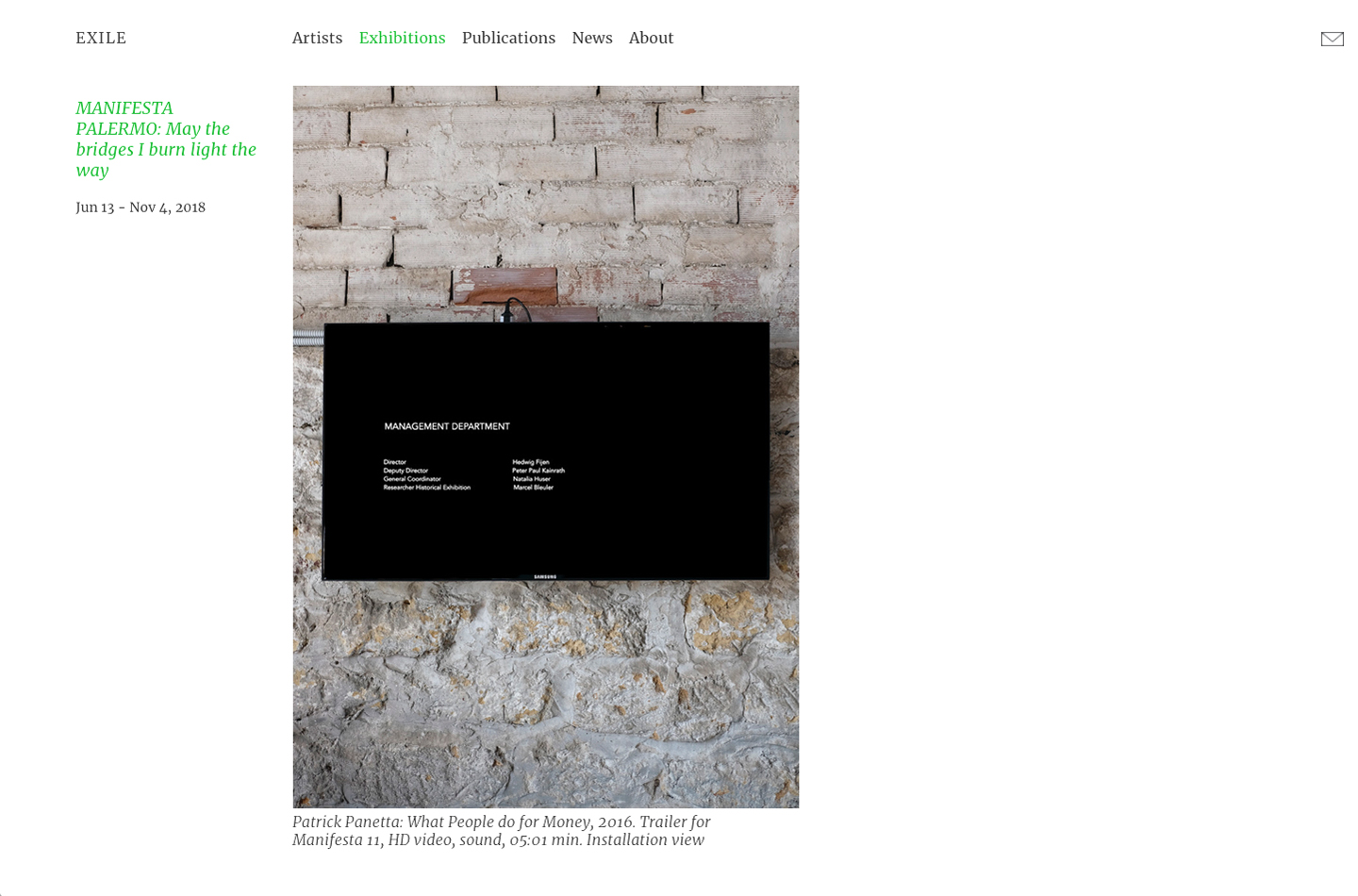 Patrick Fabian Panetta interviewed by Chiara Moioli
"If you know, you know
This thing of ours, oh, this thing of ours
That's the reason we ball for
If you know, you know"
.
—Pusha T, "If You Know You Know," from DAYTONA (New York: G.O.O.D. Music / Def Jam Recordings, 2018)
Imagine walking into a gallery to find, neatly displayed, screened videos capturing websites of several well-known galleries, their online portals lustrously gleaming, random songs playing in the background. This bizarre rendezvous forces us to deal with a kind of "contextual Daltonism" that is ostensibly enigmatic. One might ask whether this arrangement is an appendix of the gallery's setting—a brand-new promotional tool considerately shared among associate spaces—or a blunt joke we're not "schooled" to get. When confronted with Patrick Fabian Panetta's work, the weirdest queries arise, and it's legitimate for the viewer to question whether everything's gone bananas. Maybe that's exactly what Panetta intimately aspires to achieve.
Distinguished by a reckless gusto for probing the very activity characterizing artistic practice, Panetta also shares a considerable skepticism toward the status quo with respect to authorship and authenticity. His soliciting of art's axioms—possibly an outcome of his early involvement in the art system—has over the years led him to investigate art's power structures and their patterns of action; to analyze markets, trends, and forecasts that are being exploited in art production. To Panetta, delving into contemporary art allows for a better understanding of art's contribution to the debate of its own field, and to make something out of it. Panetta is ultimately a reckoner: to him, art making is raising questions; his practice is made of the art world by means of its auto-poetic powers.
On the occasion of EXILE's presentation at Ars Electronica 2019, for which Panetta exhibited a long-ongoing work, Formal Structures (2004-2019), the artist retraces the genesis of the project and his steps into the artworld; the computer as a tool to think about physical space, and the issues virtual space has generated over the years; the forces and mechanisms ruling art's context as a way to highlight its contradictions and redefine our perceptions by putting a crack through an established format of what we call "art."
CHIARA MOIOLI: Showcased at Ars Electronica 2019, Formal Structures started way back in 2004. How does this work relate to this year's festival program, titled The Midlife Crisis of the Digital Revolution?
PATRICK FABIAN PANETTA: Formal Structures was chosen for different reasons. The videos are incredibly simple. They were a mindless play, in a way, but I now feel they are quite effective at hinting at larger ideas of progress—and lack of progress—within art and technology. The three videos shown at Ars Electronica are a small portion of an immense collection that makes up the series. I see these thousands of videos as practical parts of a system where the piece can take on many shapes and ultimately be adapted into various and endless combinations. There are so many segments that seem to unintentionally reenact the phases of abstract art, from its very beginnings to its never-ending repetition (or reinterpretation) in the digital age. These somewhat primitive digital videos raise questions about progress, while emulating a kind of modern crisis. The Formal Structures videos seem now like ancient digital mantras foreboding current questions and uncertainties. I think it is easier to understand this work as a whole, a collection. The collection itself is more important to me than the individual parts.
CM: What was the original concept behind the Formal Structures videos, and how has it evolved over the last fifteen years? How did you handle the aesthetic changes of the platform employed to realize them (Photoshop) according to its improvements in interface, speed, quality, et cetera?
PFP: In 2001 I started capturing more or less random and banal material with a crappy digital camera. In the beginning I did so obsessively from whatever media sources I could find: TV, magazines, photos, DVDs. After a while I also began to film my own actions on the computer screen, like filming an open Photoshop window while playing with the trackpad. Accidentally, the first thing I moved over the screen in Photoshop was a black square on a white layer, and the sound recorded was a random song playing on iTunes. Over the years the practice of collecting thousands of short clips without intent, especially without improvement in terms of quality—or even content—felt extremely right for me without knowing exactly why. From today's point of view, I see this as a kind of premonition of what was to come. Simple videos of banal moments are now common ground. The more unpolished they are, the more they reveal. Digital imagery has a different currency—you can also say that digital imagery has become currency.
CM: What's the reason you decided not to screen-capture the animations directly from the monitor, but settled on filming the live action instead, outside of the actual production machine?
PFP: I like the idea of using contrary technics and strategies to reflect and challenge given structures. To use screen-capture technology—which was not common at that time and diverged from my intuitive approach (which at times lacks technical knowledge)—never came to mind. Using the camera was instead way simpler, but as a result it got aesthetic and, in terms of content, more complex.
CM: Soundtrack is very relevant in your production, for instance in the already-mentioned Formal Structures, but also in WATCHED AND RECORDED (2010-2019). Would you open up about this?
PFP: Music and the consumption of pictures are equal in my production. I usually record sound, music, and pictures in an indirect way, through filming the sound or picture source directly in the physical space, to get a certain distance between the two. I've never consciously decided to use music and sound. They were simply there. There is no silent picture; there is always environmental sound.
CM: Your work is concerned with the very activity characterizing artistic practice itself—its expectations and assumptions, its trends and flows. You have to research pretty hard to keep up with this fast-paced environment. How do you do it?
PFP: On the surface it's not that hard, as most power structures and their leading representatives are quite obvious in their patterns of action. In the last decades the concept of an avant-garde has been more or less replaced by an economy of attention. I no longer see any difference between artistic practices and other forms of production in terms of economic success, because they depend on the same sources. It is fascinating, banal, and truly way too complicated. I don't think market analyses, trends, and forecasts are interesting topics on their own, but nonetheless they are being used in art production.
I believe we should notice the forces and mechanisms in distribution and marketing at all times, to understand the changes and transformations of values and their reliability. In 2002 I started to take pictures of gallery ads in art magazines, which years later led to WATCHED AND RECORDED, an ongoing observation of gallery websites recorded while listening to random music and talk radio. It's now an archive of hundreds of videos screen-captured over the last ten years, displayed in a variety of common modes of video-art scenarios such as stacked-cube monitors, flat-screens, projections, and multichannel presentations. The content of these websites focuses the viewer's perception processes not on the artworks, but on a hyper-visuality where the experience is flattened and limited by the screen. The hyper-visuality does not communicate the quality of individual works, or the artist's intentions or concerns, but sells an overall necessity for visual satisfaction.
It's my impression that the virtual space has generated the same issues that the physical space—museum or gallery—has dealt with in past decades. At the core of this conflict is the impossibility of justification or authentication of art's quality. Virtual and physical spaces construct an amplified visual experience where the intention of the artworks doesn't necessarily challenge an idea, or reconstruct, destroy, or create a new perception. This material way of working begs the question of authenticity and authorship. The works I talked about are a denial of the idea of "artistic production"—even a resignation that there is anything new that can be produced.
CM: Institutional critique, appropriation art, and practice of dissent from the early days of the net are all inherent in your practice. You equate "creativity" with "well-employed strategic decisions." What are you aiming to expose through your work and "parasitic strategies"? And what role has digitalization and its new paradigms (peer to peer and copy and paste, to name a few) had in the redefinition of what creativity is, for you?
PFP: As Gilbert and George said: "It's rude to choose." I've always seen myself confronted with very specific decisions in terms of making art, and art in general. From my first interaction as a student with the art system and its history, I had the strong feeling that everything had already been said, produced, and reappropriated thousands of times. Using a computer or working with new technologies felt already old-fashioned and not at all interesting or exciting even in the early 2000s. Yet somehow the computer was a good tool to think about physical space, and material and economic sustainability.
Everything I built, painted, or drew at that time had more meaning and potential after taking photos or short videos of it. The intension wasn't documentation at all, but rather finding a plausible form (Werkform). I began to organize the files into digital archives with ongoing numbers and titled them Proxies, which describes the preliminarily status of their existence. To show or to produce physical work no longer made sense to me; it didn't even feel possible. In 2005 curators first asked me to do a studio visit to show my work. This put me in a contradictory situation: How could I physically show work without contradicting the ideas taking form? The decision was to take a different approach, which emerged in NICE TO MEET YOU (2005), a work in progress carried out over the period of one year, regarding the 4th Berlin Biennale curated by Maurizio Cattelan, Massimiliano Gioni, and Ali Subotnick.
I cleared my studio of all traces of work and painted the floor and the walls. I set a table with glasses, cooler, bottles of Veuve Clicquot, and mineral water. In one corner there was a monitor installed and a video camera. On the wall were three frames that held printouts with the phrases: "Nice to meet you," "Fantastic," and "It's been a pleasure talking to you." In the background, music by Charlie Parker was playing. During the studio visit there wasn't much to see or to talk about; the mood was pretty good and after a few drinks the visitors left. Then the actual work began: I edited the footage the camera had captured, extracting a sequence where Cattelan noticed the camera and began to play with his image on the monitor, making a face and taking selfies. Later I looped this sequence, accompanied it with music and put it on DVD, which was then published in a boxed edition of five. The contact name on the case was Maurizio Cattelan. Three copies were sent anonymously to Cattelan's representing galleries (Emmanuel Perrotin, Marian Goodman, and Massimo de Carlo). Whatever happened to these DVDs is not really important. One year later, I managed to convince three Berlin-based gallerists (André Buchmann, Barbara Thumm, and Christian Nagel) to present this work during the 4th Berlin Biennale in their spaces. In the end it's art as a system shaping itself into a work of art by means of its auto-poetic powers. This way of producing was an initial development that informed later works, such as The Absurdity of Marking Art, curated by Hans Ulrich Obrist (2006), which questioned again the power over meaning and their given structures.
CM: How do you deal with being recognized as an artist—hence taking part in the system you put into question? Do you perceive it like being an insider's—or a reckoner's—act of witnessing? How would you define your role in the contemporary art scope?
PFP: To me, art making is raising questions, and defining what makes a good idea "good." All the good ideas throughout art history were about targeting with a fine-toothed comb how we see things, highlighting contradictions and redefining our perceptions by putting a crack in an established format of what we call "art." I would assume that every artist strives for this, but I don't really know. I'm often confused by the intentions of others within the art system. My attitude toward the art system is affirmative: I analyze less than I perform a synthesis. I do not question the system, but I use it as my working material. Behavioral patterns become form in a way; individual attitudes become color. By their own accord and by virtue of their inherent potential for complicity and appropriation, they develop into a structure or shape. This should be understood like an abstract painting. This painting, however, is not a painting of the art world but rather a painting made of the art world.
Patrick Fabian Panetta (b. 1977, Germany) lives and works in Berlin. Selected institutional shows include: Ars Electronica, Linz; Manifesta Biennale, Palermo; Museum für Konkrete Kunst, Ingolstadt; Bury Art Museum, Manchester; Museo di Santa Giulia, Brescia; Kunsthalle Göppingen; Kunstmuseum, Stuttgart; Serpentine Gallery, London; DAC, Daimler Art Collection, Berlin; Brandenburgischer Kunstverein, Potsdam; Heidelberger Kunstverein; Kunstraum München; Württembergischer Kunstverein; Western Front, Vancouver; Wilhelm-Hack Museum, Ludwigshafen; Kunststiftung Baden-Württemberg; Städtische Galerie, Delmenhorst; Köln Museen, Artothek, Cologne; CAAC, Chinese American Art Council, New York; Melange, Cologne, Haus am Luetzowplatz, Berlin. Selected gallery shows include: EXILE, Berlin; Polanski Gallery, Prag. Maccarone Inc., New York; Galerie Christian Nagel, Berlin; Buchmann Galerie, Berlin; Galerie Barbara Thumm, Berlin; Galerie Weissraum, Kyoto; Workspace, Los Angeles; Helper, New York; Galerie Gebrüder Lehmann, Berlin; Galerie Michael Sturm, Stuttgart; Ludmila Bereznitska Gallery, Kiew; Palermo Gallery, Stuttgart; Galerie Andrae Kaufmann, Berlin; Adamski Gallery, Berlin; Galerie Nicole Gnesa, Munich; Patrick Fabian Panetta is represented by EXILE, Vienna.