CONVERSATIONS
Replication and Circularity: Justin Matherly
Close
1
2
3
4
5
6
7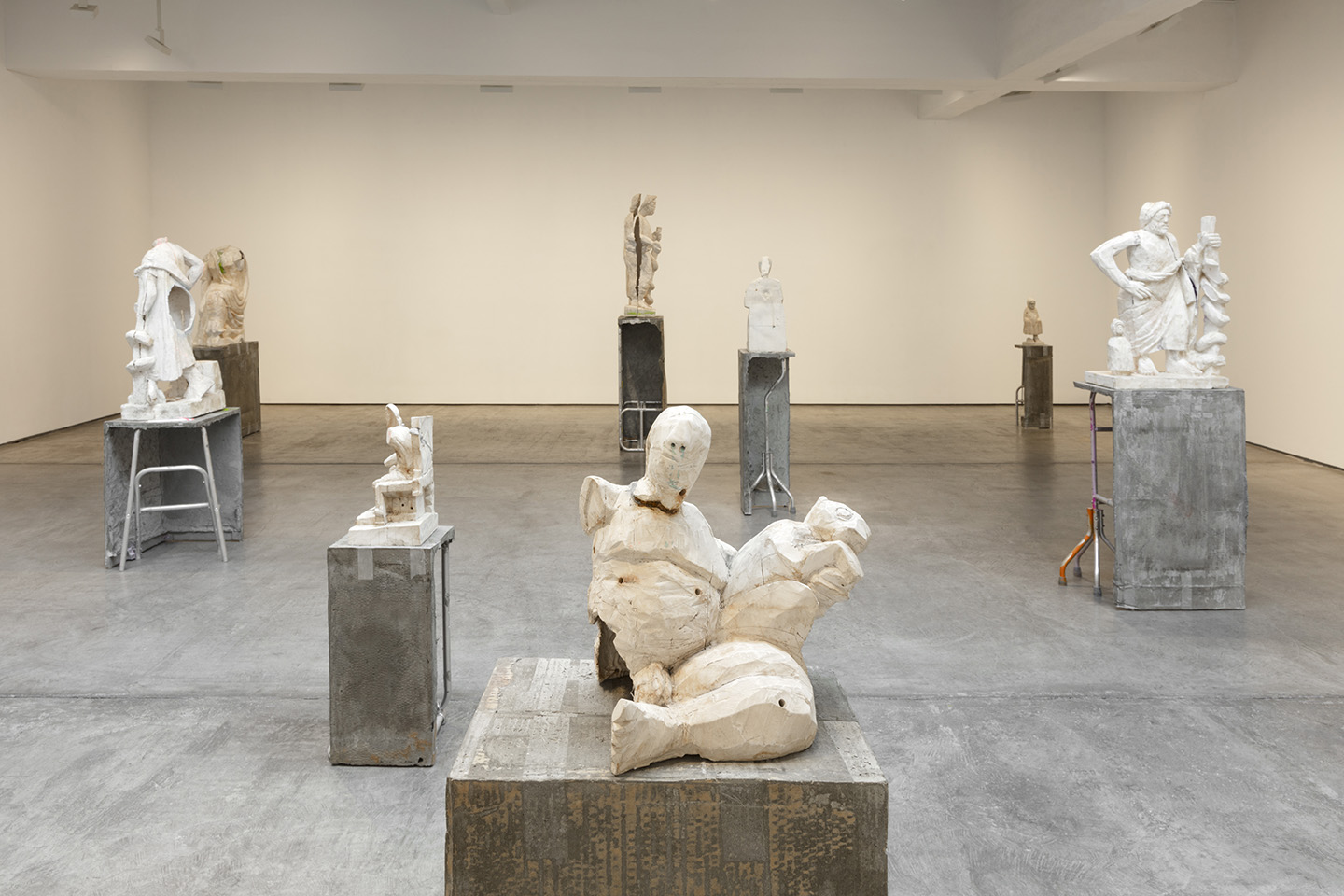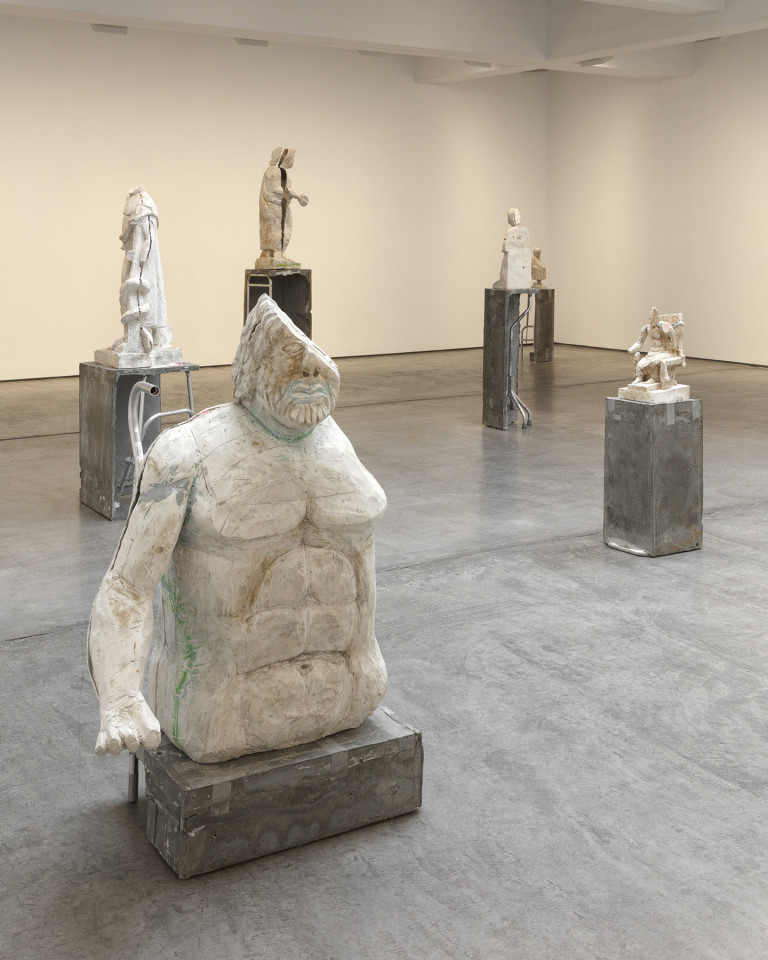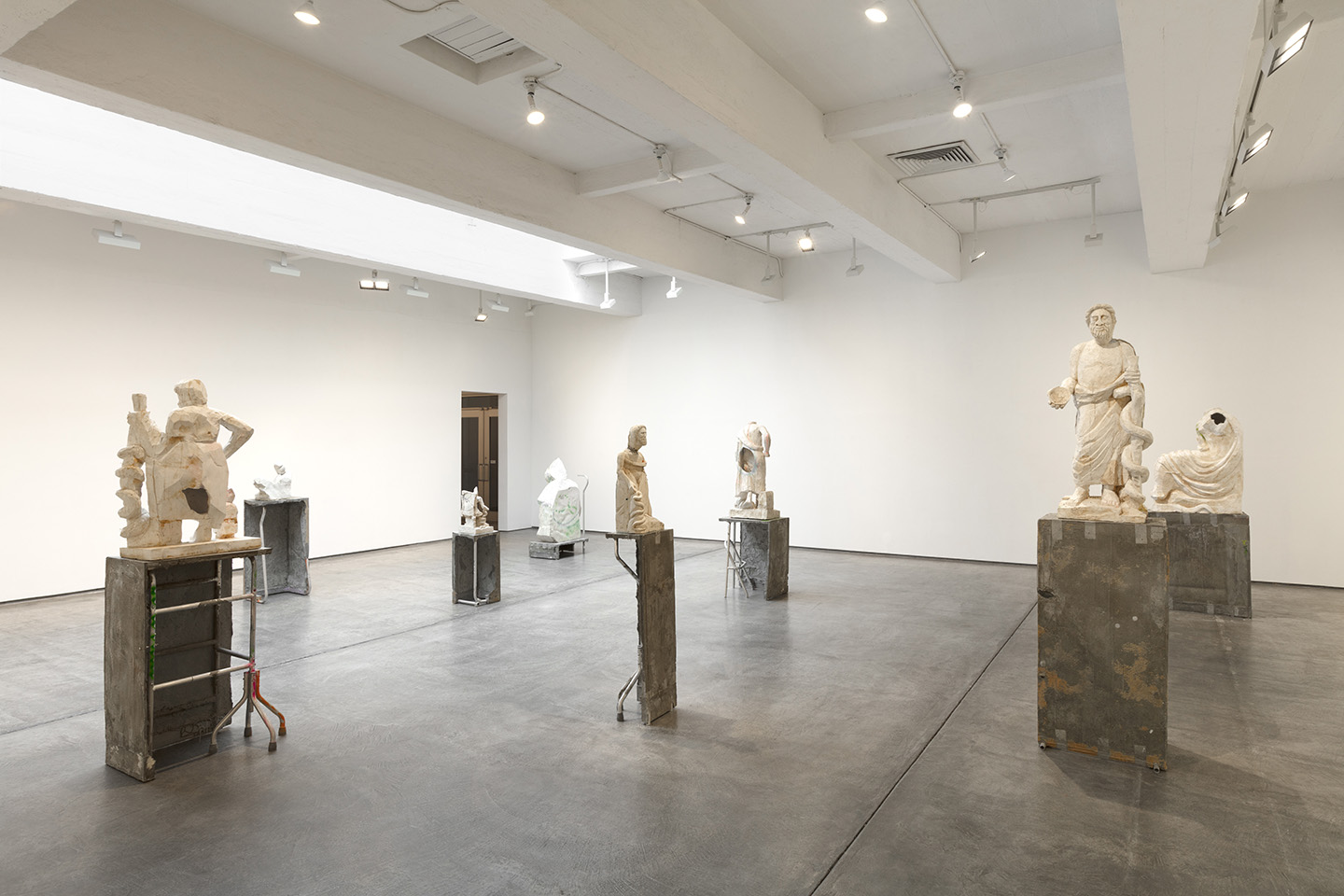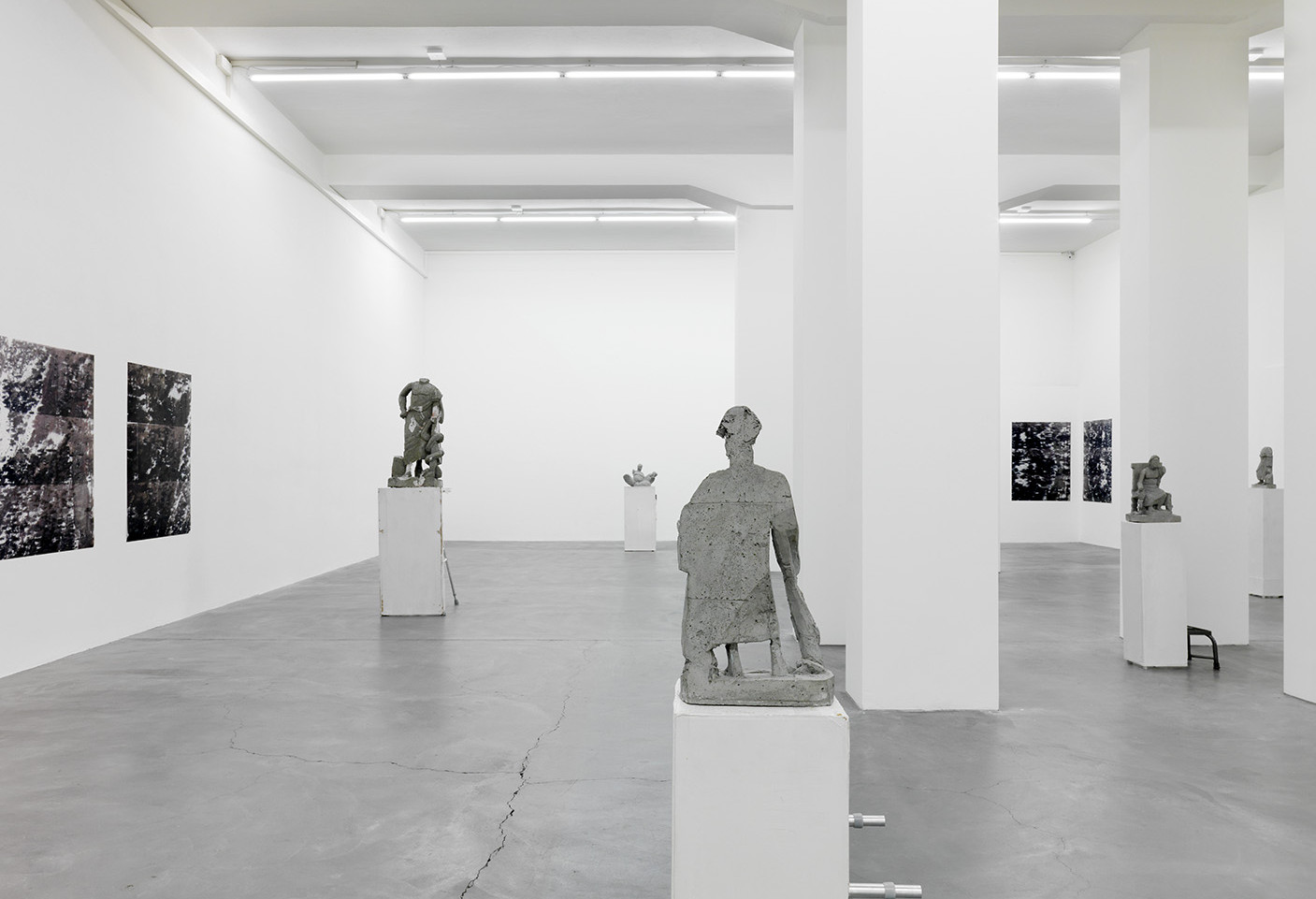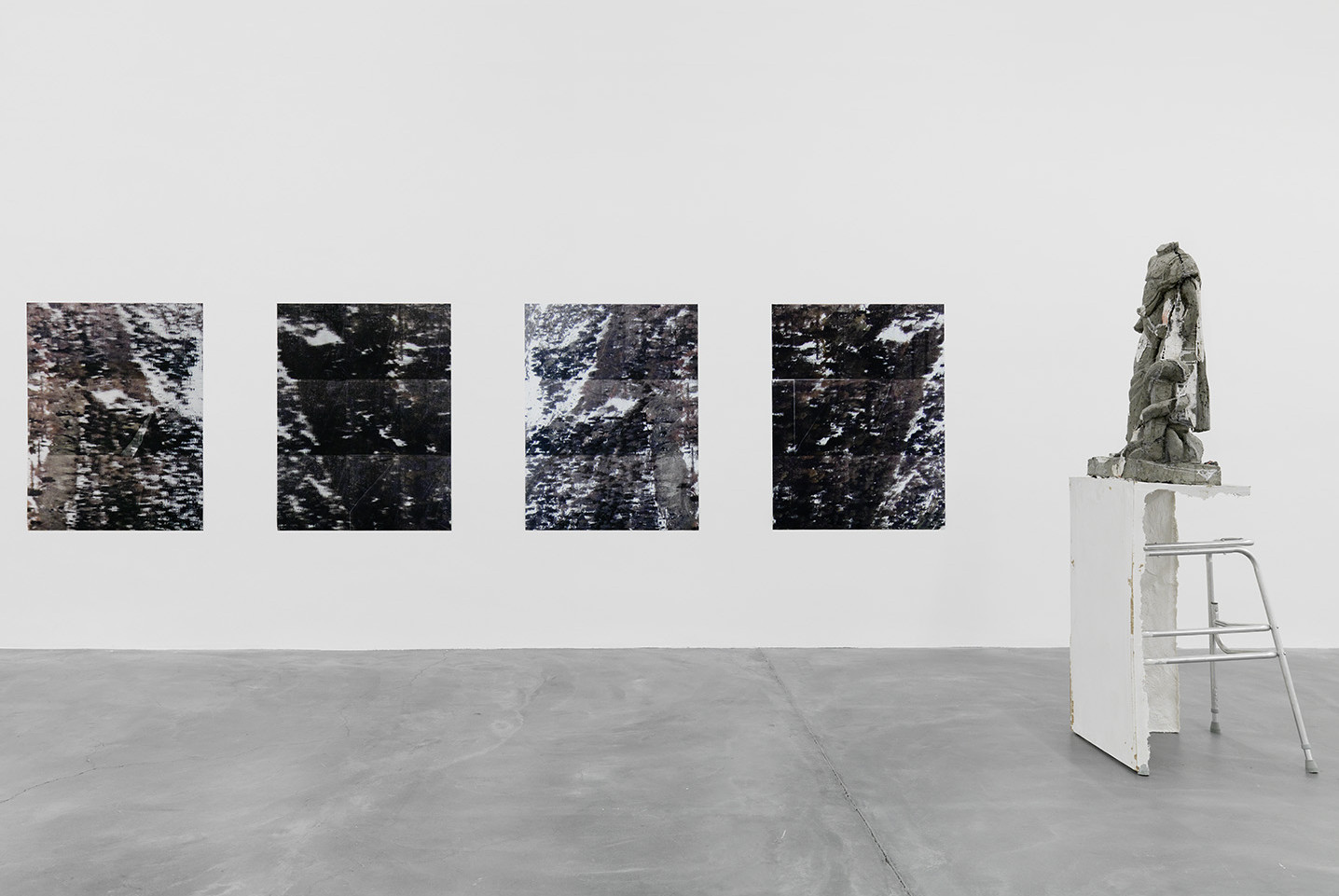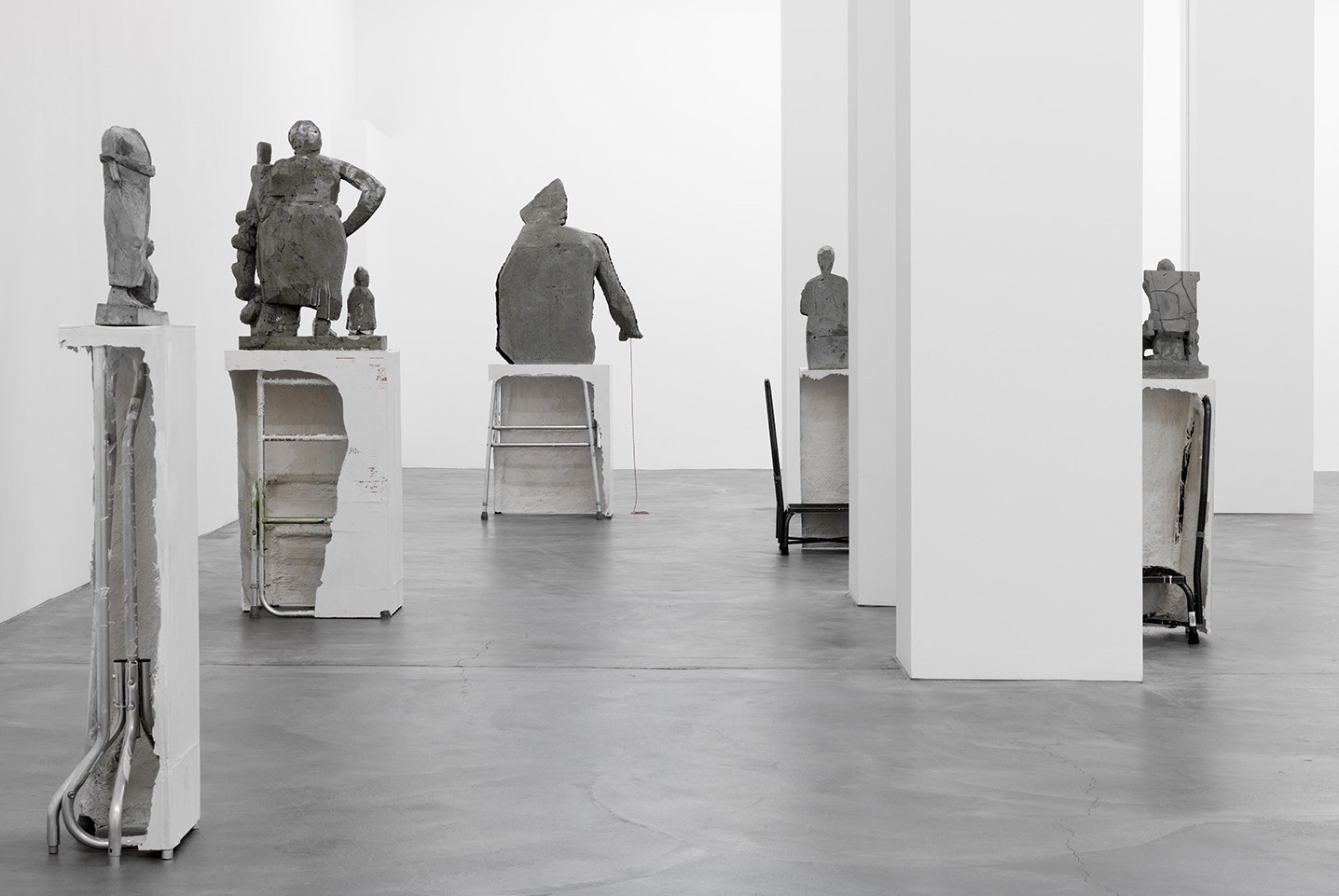 Justin Matherly in conversation with Anne Doran
"Reading is fundamental to my process," Justin Matherly told Artforum in 2011. From a 2006 rendering, upside-down and in particle board, of the desk described by Kafka in his satire Amerika, to an interpretation of the Belvedere Torso prompted by the writings of Johann Winckelmann, Matherly's sculptures and prints are often physical workings-through of ideas encountered in his readings. This spring, Anne Doran interviewed him about his current show at Paula Cooper Gallery in New York, and the large-scale piece he is fabricating for Skulptur Projekte Münster.

Anne Doran: For Skulptur Projekte Münster you're fabricating a sculpture of Nietzsche's rock, the place where, by his own account, Nietzsche conceived of the idea of eternal recurrence.
Justin Matherly: That's right.
AD: Your show last year at Eva Presenhuber in Zurich consisted of renditions, carved in foam and cast in gypsum, of classical images of Asclepius, the Greco-Roman god of medicine, and his son Telesphoros. But along with those sculptures, you also exhibited a number of monoprints based on views from Nietzsche's rock. Clearly, you've been thinking about the rock for some time.
JM: Yes. Nietzsche's rock was present in the Presenhuber show but not yet visible at that point. I made two different visits to the rock—one in 2014, and one more recently last September. The first visit was by way of being a pilgrimage. I wanted to see the rock where the concept of eternal recurrence occurred to Nietzsche. There was no idea of a project, necessarily. Upon returning to New York, I printed out the pictures I had taken, and put them up. The images in the show at Presenhuber were views from the rock. But I had also taken a lot of documentation of the rock itself, and those just remained in the studio for a period of time.
AD: Simmering away?
JM: Yes. When I first found the rock—it's not that difficult to find—part of me was hoping for a revelation. Which didn't happen. But having the images of it up on the studio wall, seeing it every day, spending time with it, it started to become more interesting to me as a potential project. What helped with the final decision was being invited to make a work for Skulptur Projekte, which seemed a good platform for the piece. And so, last year, I visited the rock again to further document it.
AD: It's in the Swiss Alps, correct?
JM: Yes, in the Upper Engadine valley, on Lake Silvaplana.
AD: So your project is to make a full-scale facsimile of the rock?
JM: Yes.
AD: How big is the real rock?
JM: It is approximately seven meters by three and a half meters by three meters high.
AD: Amazing.
JM: First it's carved out of foam, and then molds are made of silicon. Right now the molds have been made and it's about to be cast.
AD: I assume you are casting it in pieces, like your other works?
JM: Yes, it will be cast in pieces. So the process is similar to the process used for the sculptures in the Presenhuber exhibition and the current show at Paula Cooper. But at a much different scale, so that's presenting, uh…problems. There's a lot of stress attached to the production process. Which is normal. Not the stress exactly, but the challenges.
AD: Uncertainty does to be an integral part of your working methods.
JM: Uncertainty is very much a part of the process. And it's interesting—each time, I make a body of work I think to myself that I really need to make some changes. And changes have been implemented to some extent. But in the end the challenges that come up are really what is interesting to me about making things. And so there's a level of acceptance that needs to happen along the way.
AD: Rather like Nietzsche's concept of eternal recurrence, which, as I understand it, is couched as a question: if your life began anew every moment, the same in every respect as before, would that prospect horrify you or would you not only accept it, but see it as your heart's desire?
JM: Exactly. That's what I find so fascinating about the idea. Ultimately it's a purely affirmative thing. But Nietzsche also refers to it as the heaviest weight. He could never fully accept it himself. And so it seemed on a number of levels something very interesting to deal with sculpturally.
AD: It does seem to me that there is a particular thread in Western philosophy that you are attracted to and which seems to replicate itself both in your interest in circularity and the uncertainties of your working process. Kafka, Sade, and Malevich, and now Nietzsche, among other writers, have all been touchstones for your work. Is there a through line in your reading?
JM: There's an absurdism—in the best possible sense of the word—that runs through the writings of all of these authors, along with a bizarre sense of humor. And what they ask the reader to submit to is absurd: Kafka's endless descriptions of nightmare bureaucracies, or Sade's incredibly brutal descriptions of humanity, not to mention the extremely clinical nature of the texts themselves. And certainly this is true of Nietzsche as well; the concept of eternal recurrence is seemingly something incommunicable. A lot of times I think I read Nietzsche as a kind of Chicken Soup for the Soul, but it's a spoiled can of soup. Ultimately, though, I want the objects to have a life of their own outside of specific references, or whatever has helped generate decisions about how they are made.
AD: The majority of the works in your current show at Paula Cooper are recastings of the sculptures of Asclepius and Telesphoros in the Presenhuber exhibition, with the addition of one figure representing Asclepius's daughter, the goddess of health. What is your interest in Asclepius?
JM: It's very much related to my interest in Nietzsche, in terms of Nietzsche's illnesses, and the circumstances that either kept him from being lucid or allowed him to be lucid. The climate in Switzerland, for example, enabled him to write, to function, for a time. Telesphoros, who is the subject of one of the sculptures, and who appears with Asclepius in some of the other works, was a demi-god of convalescence.
AD: Is Nietzsche's concept of eternal recurrence one of the reasons that you remade these figures?
JM: Yes. It is. It was a way, very literally, to deal with them again.
AD: The idea of eternal recurrence has resonance with Freud's notions of repetition and return. I'm wondering if you are interested in the writings of Freud.
JM: Very much so. I think there is a real connection between Nietzsche and Freud, Nietzsche and psychoanalysis.
AD: Can we look forward to a piece that takes Freud's writings as a starting point?
JM: Already, Freud's ideas have been important to the work, specifically his idea of the death drive. But the short answer is yes.
Born 1972, Matherly received his BFA from the University of Pennsylvania and his MFA from Hunter College. His work was included in Kunstler und Dichter (Artists and Poets) at the Vienna Secession (2015), A Triple Tour: Works from the Pinault Collection at La Conciergerie, Paris (2014), the Public Art Fund's 2012 show Common Ground at City Hall Park, and the Sculpture Center's In Practice Projects in 2010. The artist will participate in the 2017 Skulptur Projekte Münster, Germany, with a monumental public installation titled, Nietzsche's Rock (2017).  Matherly currently lives and works in New York.